Christmas is here and we can already see a big increase in sales! This is why I decided to write a third part to this popular series in order for you to have a great Christmas and not worry about possible stuff that can ruin your sales. Enjoy!
Read the previous articles:

1. Making Unnecessary Fields On Checkout Page Mandatory
When you create a new store with Shopify, some of the fields like Phone Number and Company Name are "optional" by default. Unfortunately, some sellers decide to make the phone number a mandatory field thinking that the customer automatically understands that his phone number will be used by the shipping company only.
At first, it may seem like a really logical thing to do. If USPS can't find the address or there's something wrong, they can always call the customer or send him a message about the status of his package. But in reality, a big percent of people don't want to give their phone number because they're afraid of spam, telemarketing, etc. This is one of the things they prefer to keep private and if their home address is clear and easy to access, the package should just sit in their mailbox without any problems.
So by making phone number mandatory in the checkout, customers who were ready to purchase your product will back down and leave your store. Make sure to double check your checkout settings and change these fields to "optional" if you don't want to lose extra sales.
2. No Exit Popups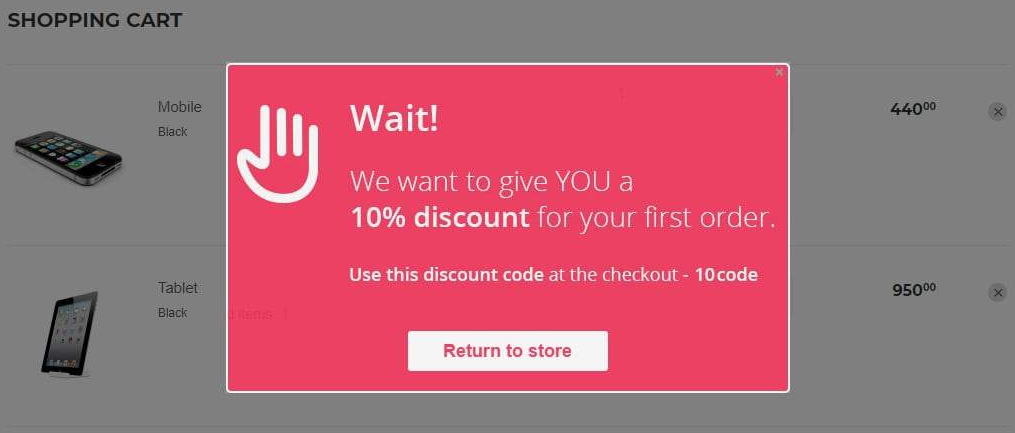 An exit popup is something you must have on your store in order to stop customers from leaving without buying. And it's also not that spammy like all the other popups that appear to just take your email and are there even before the customer has a chance to check your product.
One more advantage to an exit popup are emails – Some popups don't offer the discount right away and ask for an email first. It's a quick process and even the customer doesn't purchase, you still get something out of it which is his email.
There are quite a lot of apps in the Shopify App Store you can choose from and some of them are free or have a totally free plan you can use. Some are really simple and others offer a lot of customization options and can be trigerred in different locations in your store like only in your cart page. Usually the complex ones are the ones you have to pay for but I strongly recommend trying them because you'll usually get back a lot more from what you actually paid.
Setting up an exit popup isn't hard and the default settings are what most store owners use.
3. Focusing Too Much On Your Store's Looks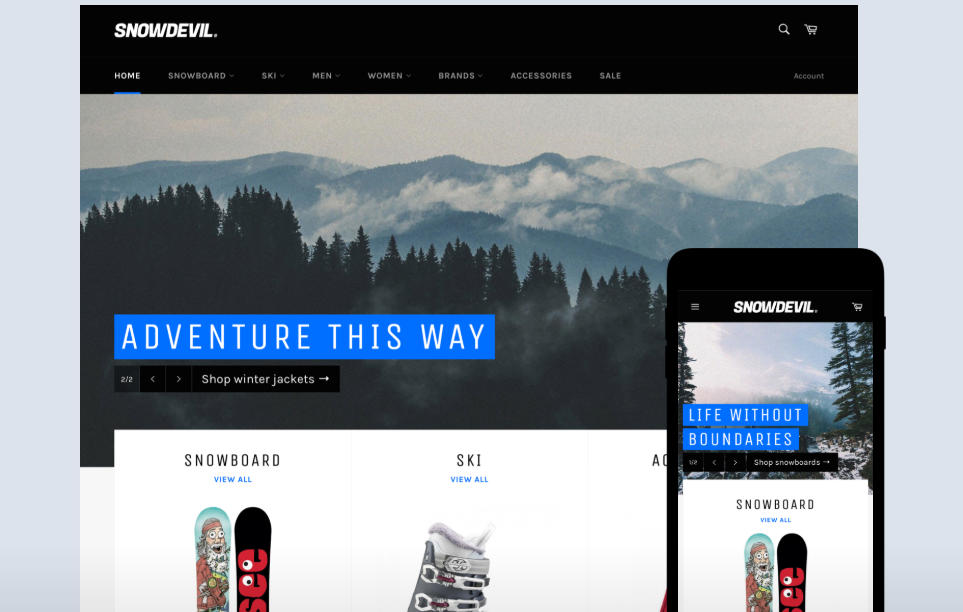 What if I told you that I can create a full functional Shopify store and run my first ads in 2-3 hours? I hope you don't get the wrong idea after reading this and think I'm bragging of how much of a "professional" I am compared to you guys. This is just an example to show you guys that spending days on your store isn't at all necessary and it's basically a waste of time.
Some waste their time by not launching their store before they have at least 50 products listed. Some go out of their way and hire designers and copywriters at Fiverr for hundreds of dollars to write their descriptions and design a "top notch" logo/Ultra HD banners. Wasting time and money instead of focusing on the real important stuff like products, understanding your audience, tweaking & optimising your store, selling strategy and more.
This is how I do it: I install a free theme(Debut) and list the product I want to advertise. On top of that product, I list 2-3 more for my front page to look a bit better. I design a simple clean logo on photoshop or use services like Placeit($29 a month – coupons exist for lower price). If I want a banner or two, I either design them myself or use the free stock photos available on each theme and they're usuall are great to begin with. I arrange the front page a bit like displaying the "top selling" products.
For the descriptions and pages in my store, I just copy them from my existing stores and change the necessary stuff like store name and product details etc. If you don't know what to write, you can always visit other shopify stores and get ideas how these pages should look. I install necessary apps like sticky cart(free), abandonment protector($8 a month, 30day trial), Oberlo(to import), exit popup, review app(free version to begin) and that's it. My store is ready and it will definitely get sales if the product, ads, targeting and all the rest are fine.
Now this isn't a competition and you don't have to create a store in 2 hours or less but you must not spend weeks just to create one. And later announce to the world that your store is finally "Live and Ready" after 2 weeks of hard work!
You can take your time, but focus on the important stuff and don't spend your money for jobs and optimisations you can make by yourself.
Not sure what to do? Read these articles:
And just go over the recent articles including the winning product articles just to see how I and Mordechai work. And you can always visit the Ecomhunt Youtube channel for more information
4. Lack Of Trust
Customers are not dumb and they will leave your store if it's not trustworthy. It isn't enough just to add some trust Visa/PayPal/Mastercard badges and a "Mcafee Secured" photo on your product page and site's footer. Customers may look for more details about your store like:
About Us page – Don't look for shortcuts here and write something interesting about your store and about the people behind it. If you're in the baby niche store and also happen to be a mom, then talk about how you were looking for cheaper solutions but didn't find anywhere and because of that, you decided to open this store and help other moms and dads. Add a few photos of yourself if you're not shy and just be yourself. People like to see a person behind the business.
Contact Us page – It's really important to have a contact us page and a working contact support email shown both in the header and footer and on each product page. This is to build more trust between your store and the customer in order to show him that he can reach someone if he has a problem.
And of course all the other necessary pages like Returns, Privacy Policy and Shipping times. You also want to pay an extra attention to typos not only in your store's description and pages but also the reviews you import from aliexpress. Some customers find it hard to purchase from stores with typos or broken english and something as small as writing "custumer" instead of "customer" can make you lose a sale.
If you want to increase your conversion rate, check your store and see how can you make it more trustworthy.
To Sum It Up:
Sometimes something as small as asking for a phone number to ensure your customer's package arrives safely to it's destination can lead to you losing a sale. As we approach Christmas, it's import that every dollar spent will be used to it's maximum. And in order to do that, we must first tweak and fix our store so our customer's purchase experience is as smooth as a baby's bottom.
Hope you loved this week's article and let me know if you have any questions.
Good Luck 😉
Struggling to find good products to sell? Not sure who's your target audience? Tired of losing money on products you were sure were "winners"?
Then Ecomhunt is what you need! Find hot winning products that are added daily, spy on their ads & stores and import them into your store in 1 click and Start Selling Today!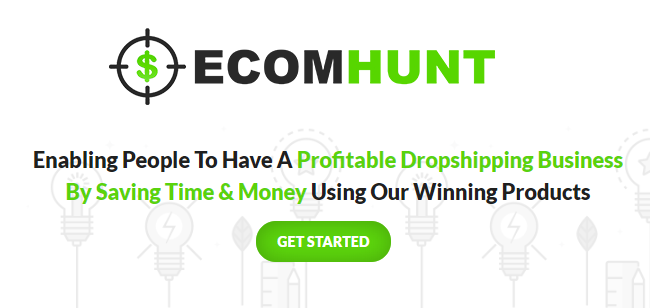 Must Read Articles: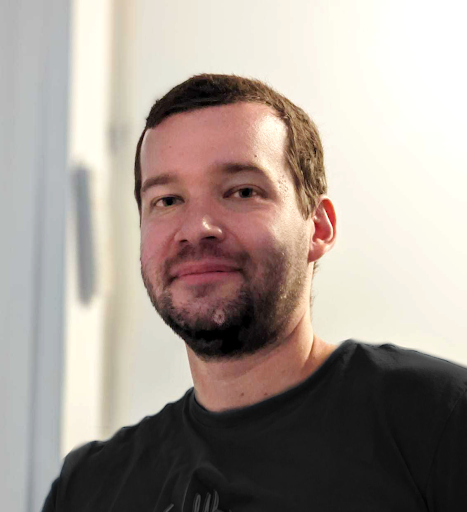 Daniel Aloni is one of the leading mentors in the Ecomhunt family. Daniel is a highly experienced Print On Demand seller with multiple 6 figures successful launches.