This week's product is the Animal Baby Romper.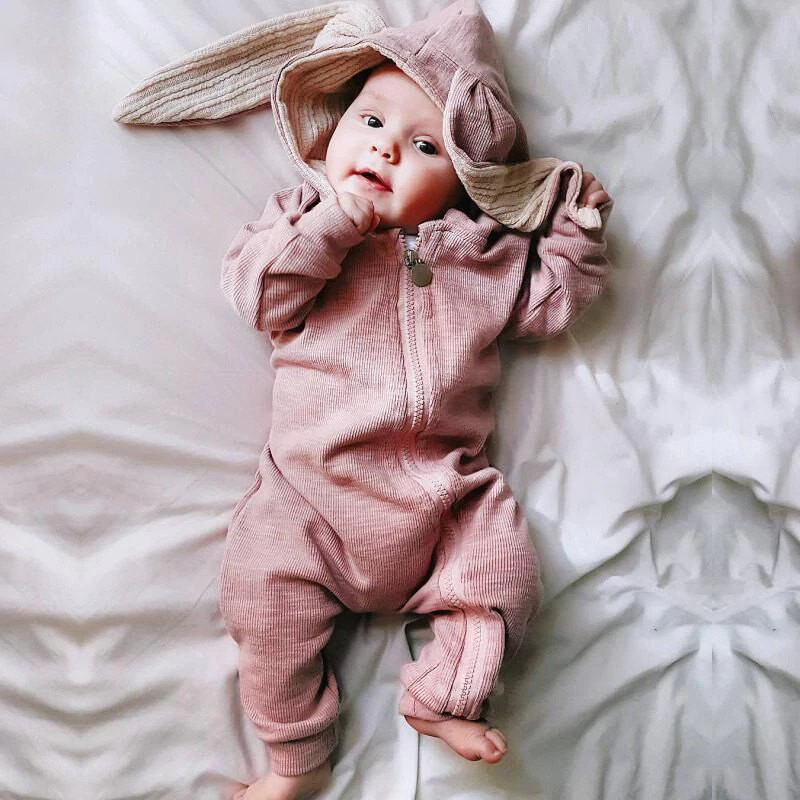 Right on time for the Winter, Moms and Dads will be looking to buy warm clothes for their kids. These rompers are super cute and they're selling like crazy on aliexpress now with a lot of excellent reviews. This product looks like a possible winner and you should give this one a solid chance!
So let's jump in and see how can we sell this product with ad examples, selling strategies and more just for you 😉

1. Campaign Type & Optimization:
I begin with Website Conversion campaign optimised for Purchase. I don't care about having zero data and the red color "warnings". I ALWAYS go with a Website conversion campaign optimised for purchases.
If your ad, targeting and product are good then you will see link clicks followed by actions on your site.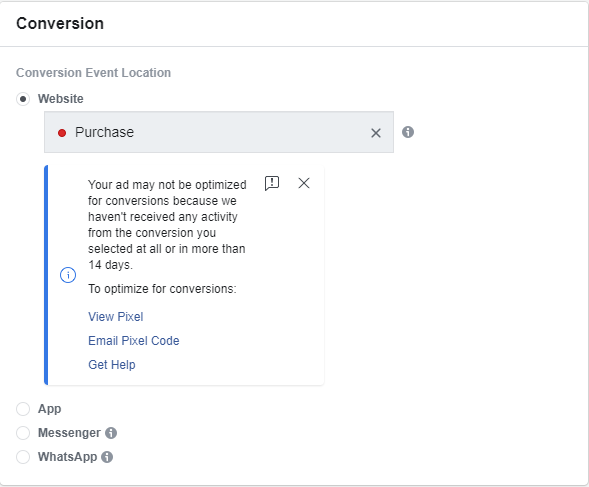 Sometimes, I may choose the "Add to Cart" optimisation and that works too(Sometimes it can even work better than purchase optimisation). Each ad account acts differently and this is something you will have to test for yourself.
Facebook tries to scare us because we're using a pixel with no data and warns us that we won't get any sales. This is their way to drive us into choosing a different optimization event to milk even more money from us. They want us to start from View Content optimization and slowly progress to Purchase optimization. And by doing that we will burn a lot of money…
And I usually go with 1 day click conversion window.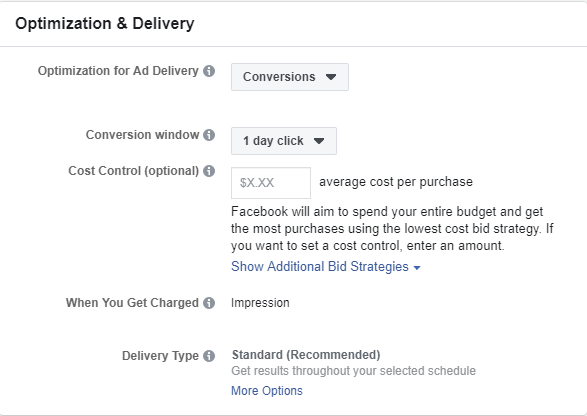 2. Number of Adsets & Daily Budget:
I recommend launching 3 to 5 testing adsets per campaign. You should test out different targeting options, different audiences, different ad types and not just launch 5 identical adsets.
Recommended daily budget that I successfully use: $7~$10

I usually go with $8+ budgets.
3. Targeting & Strategy:
The targeting options are pretty easy time for these baby rompers. We are going to target parents with newborn babies with a bit more focus on Moms first as I believe they are the ones who will get it(or ask their husbands to get it).
Now we have few options here:
Create one product page all rompers(Not recommended) – One product page with all rompers and colors displayed for parents to choose which one they like. This will give parents a lot of options to choose from and it can hurt the conversion rate.
Create two product pages: One for the bat romper and the second one for bunny&dinosaur(Recommended) – This way we give less options to parents to speed up the buying process and I can maybe target parents who are Batman fans and sell them the cute bat romper.
Create three product pages: One for each romper(Recommended) – Less options to choose from and we can target parents who like bunnies, dinosaurs(jurassic park, etc) or bats(Batman, or just bats as animals).
Important: By targeting Batman or Jurassic Park, I am not committing copyright infringement. These are just animal rompers with no Batman or JP logo on them and have no connection to any trademarked brand. I am also not allowed to call for Batman fans in my ad text so it must be clean – For example:
"This bat romper is a must have for Parents who are Batman fans!" – Not allowed
"This bat romper is so cute <3 Your baby needs one!" – Allowed
Note: If you have trademarked products on your store, even if it's parody, you should remove them ASAP. The best case scenarion is getting a DMCA and the worst case scenario is getting sued by a big company.
I decided to target:
Women(18-37) with kids aged 0-2 – I am going to offer them the dinosaur & bunny rompers together as if I had one product page for both.
Men with kids aged 0-2 – Same as above but only with men.
Men and Women(18-37) with kids aged 0-2 who like Batman– One product page with only the bat romper displayed. We can keep only the black color romper as an option but if you like, you can offer the other colors too. Targeting the "nerdy" parents.
Women(18-37) with kids aged 0-2: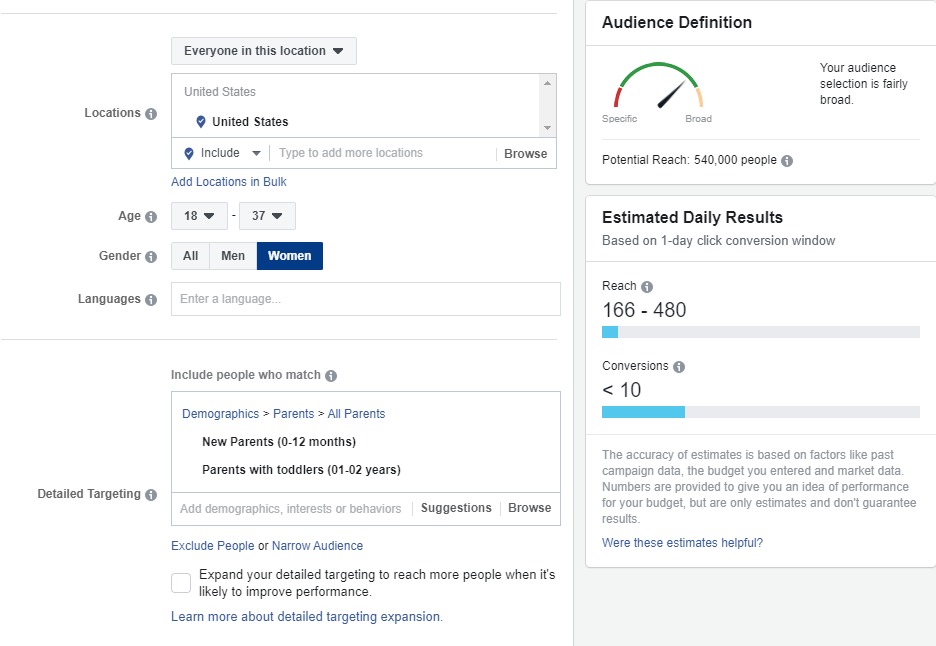 Men(18-37) with kids aged 0-2: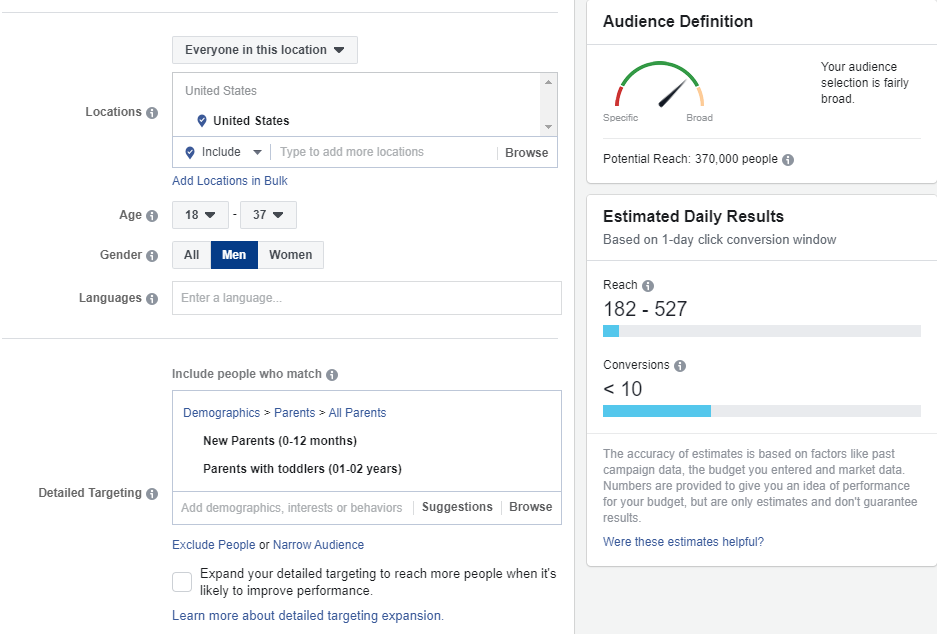 Men and Women(18-37) with kids aged 0-2 who like Batman: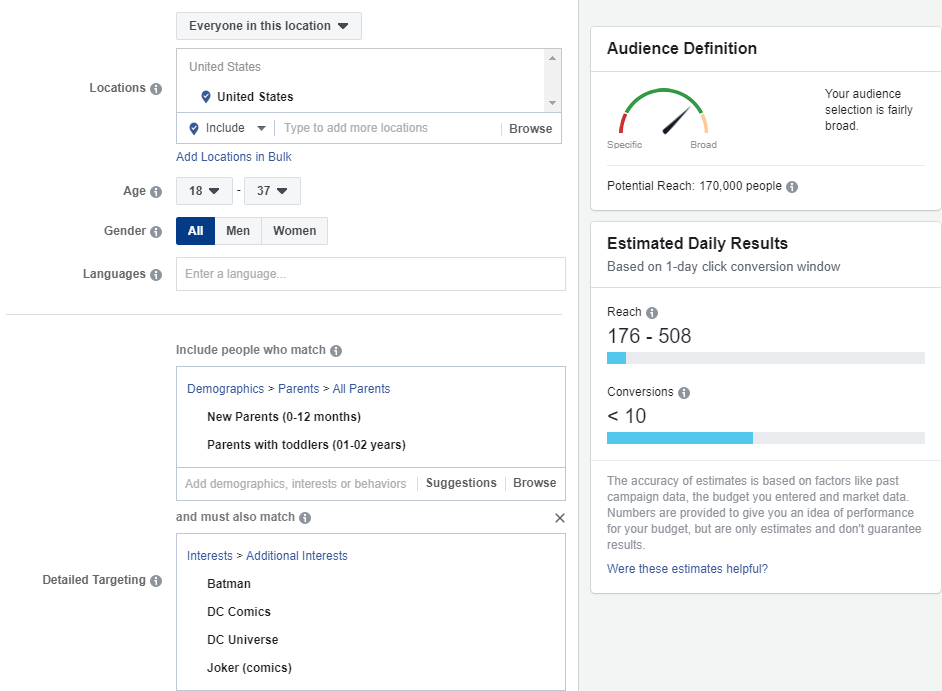 With Batman interest, my audience size was 63,000 so I decided to add a few more Batman related interests like DC Comics, DC Universe and more. There's no problem targeting small audiences but when testing, I prefer having an audience of 100k or more. But if you want to, you can always test it out only with Batman interest.
4. Ad placements:
I usually start only with Facebook feed but sometimes I mix it up and run it also on Instagram feed. Although if I decide advertising on Instagram then I usually separate and run a new adset only for Instagram users.
It's just something I prefer doing but in both cases it should still work.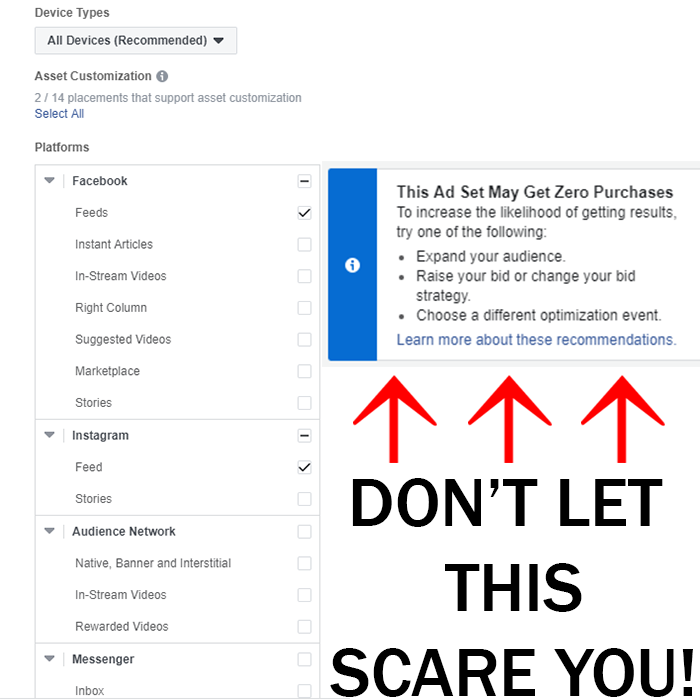 I run ads both on desktop and mobile. For Instagram ads, I target mobile users only.
Note: As you can see in this picture, I attached another "scare tactic" from Facebook that pushes you to basically spend more money by either raising your budget or going for a different optimization event. Do not be scared and run website conversion campaign optimised for purchase even if you have zero pixel data.
5. Ad Type & Copy:
The photos we have on the aliexpress page are amazing and we can create some amazing photo ads – This will be enough for testing. You can always send a message to the aliexpress seller and ask if he has available video footage for you to use. A video of the baby in the bat romper moving his hands can be really cool and will probably get A LOT of attention.
Here are the photo ads and ad text examples I created.
Examples:
The first 1200×1200 photo ad for women and men with kids: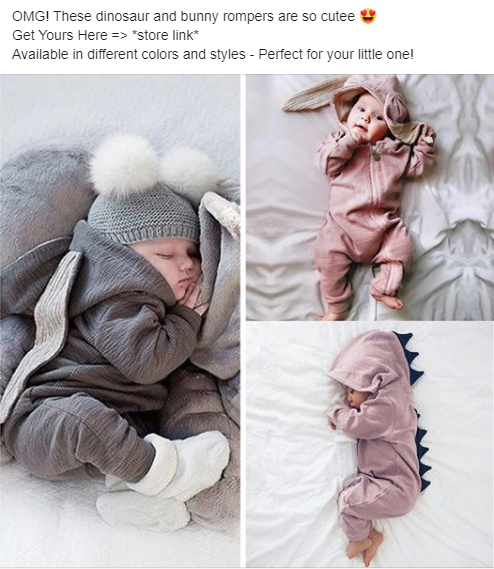 The second 1200×1200 photo ad for women and men with kids who like Batman: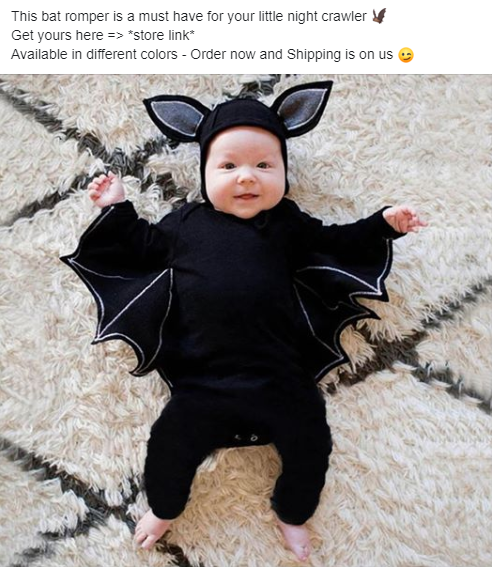 These photo ads are perfect for both Facebook and Instagram Feeds. And as you can see, I showed both the bunny and the dinosaur rompers in the first ad.
Make sure to offer a few color options so your customers spend less time choosing. Go for white, black, pink and another color – This will be enough.
6. Product Pricing & Selling Strategy:
Setting a price is an important step that if done right will help you keep getting sales with a healthy conversion rate. And if done wrong, your conversion rate is going to suck or you won't even get any sales.
Product price on aliexpress is $4~$5 depending on the size and $5 for epacket shipping(USA) which is a bit expensive… That makes our total price somewhere from $9 to $10. You should look around and find maybe a different seller with a lower epacket cost. If you can't find one, we can still work with this seller and make some good profit 😉
I think we can easily sell this product for $24.99 + free shipping. Maybe even for a bit more like $27.99 + free shipping. You need to have a good looking product page with a cool description + photos showing the fabric and every small detail. And don't forget adding reviews!
Sometimes a lower sale price with a small shipping fee(like $21.99 + $2.95 shipping) can work much better than just selling it with free shipping. This is something you'll have to test for yourselves.
Selling Strategy:
Profit margin is normal and we will use quantity discounts for parents who are looking to buy more than 1 romper. Don't forget that Christmas is coming so even if a parent has only 1 child, they can buy another one for their friends or family kids.
Offer your customers a good quantity discount. Don't just go with 5% or 10% for 2 items but start from 15% for 2, 20% for 3 and 25% for 4.

Summary:
This product is HOT and parents seem to really love the quality. There's a lot of reviews on that aliexpress listing which will help to increase our conversion rate when we import the reviews to our product page. Photo ads for this product are great and you can create more of your own from the photos provided by the aliexpress seller.
Overall this product looks like a real winner and it can easily sell in non english speaking countries as well.
Keep testing and success will come – Good Luck!
Looking For More Winning Products?
Ecomhunt got you covered – Discover winning products that are selling right now and get access to our analytics, ads, targeting suggestions and much more. We made it easy for dropshippers to find the best products to sell online.
Must Read Articles: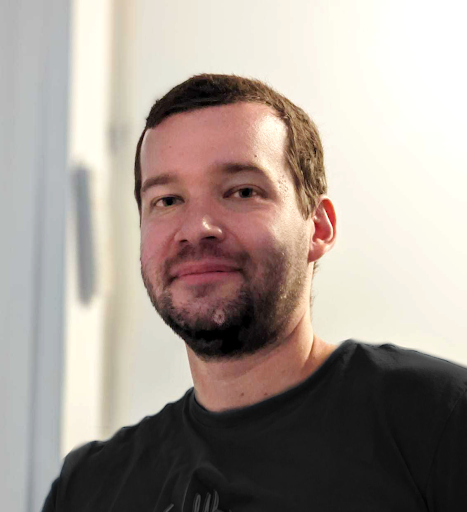 Daniel Aloni is one of the leading mentors in the Ecomhunt family. Daniel is a highly experienced Print On Demand seller with multiple 6 figures successful launches.