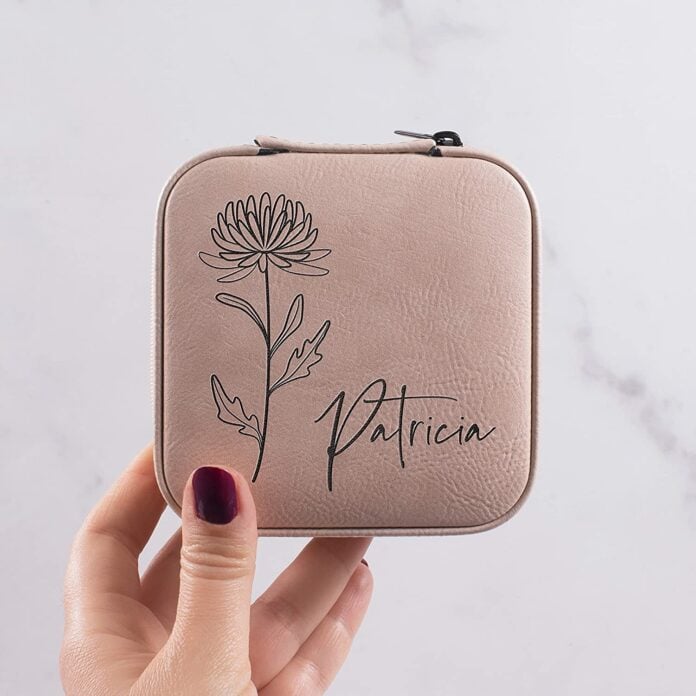 If you're looking for a great product to sell all year round, then make sure to check out this personalized jewelry box which is currently exploding in sales on Facebook.
With the right ad to the right audience, and a conversion optimized store, you can take this product and make some bank too!
And the best thing is that it has the potential to sell as an Evergreen product!
In this week's article, I'll give you a detailed review of the Facebook ad library and the Shopify store selling this product. You will get a FULL review with all the juicy details!
On top of that, you will also receive Ad examples I personally made for this product, Professional Targeting suggestions, and a selling strategy.
Everything you will ever need to start selling this product is in this article 😉
There's plenty of money to be made from this product so hurry up and start testing it right after you finish reading this article!
Enjoy.

The Product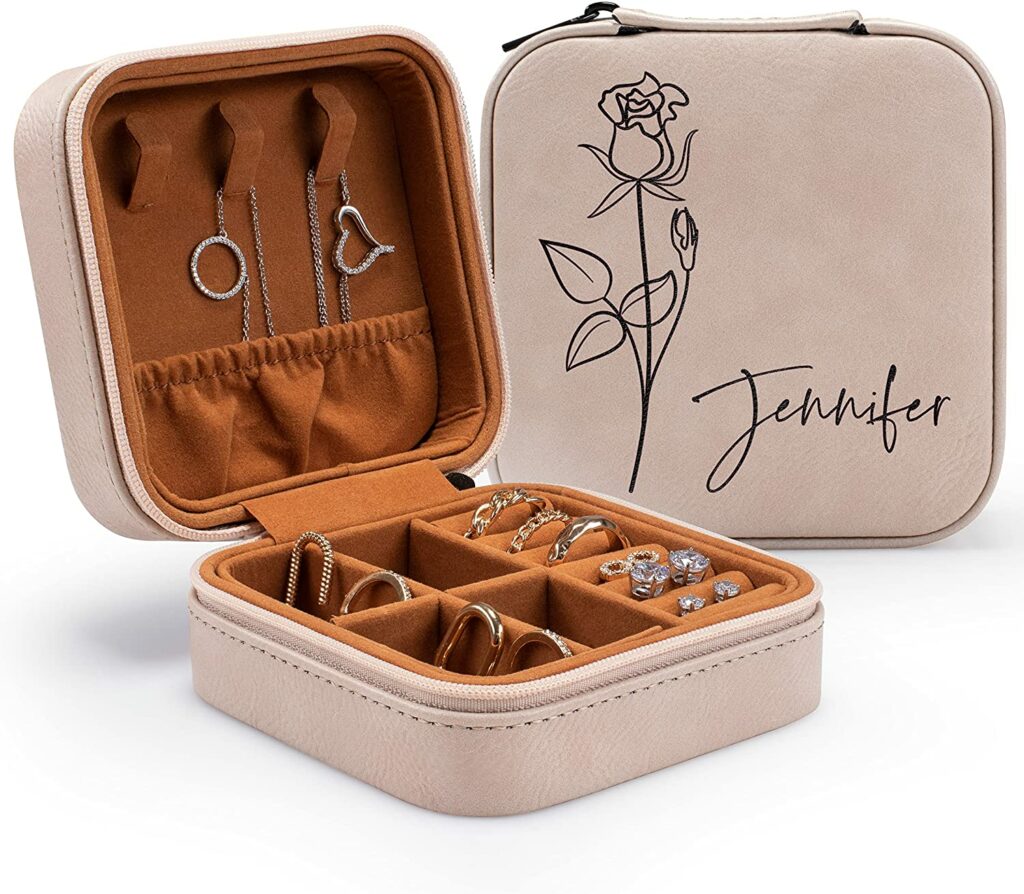 This week's winning product is this personalized jewelry box for Women. It's elegant, has 5 different color options, and it can be easily personalized which makes it pretty special.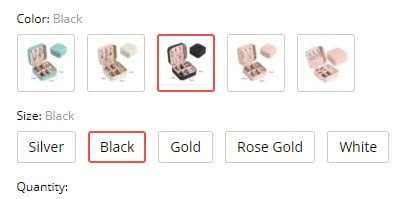 The featured product pictures are professionally made which will help you A LOT when you sell this product. And the pictures coming from real customers reviews are also great, which means the product is exactly as described.
Overall this one is a premium quality product and you can safely dropship it on your online store.
The best thing about this custom jewelry box is the Evergreen selling potential which doesn't limit us to holidays such as Mother's Day, Valentine's Day, etc.
With the right targeting and ad, you can sell this product all year round – I will tell you more about it and show you how it's done later 😉
So don't wait too much on this product and start testing it right after you finish reading this article.
The Ad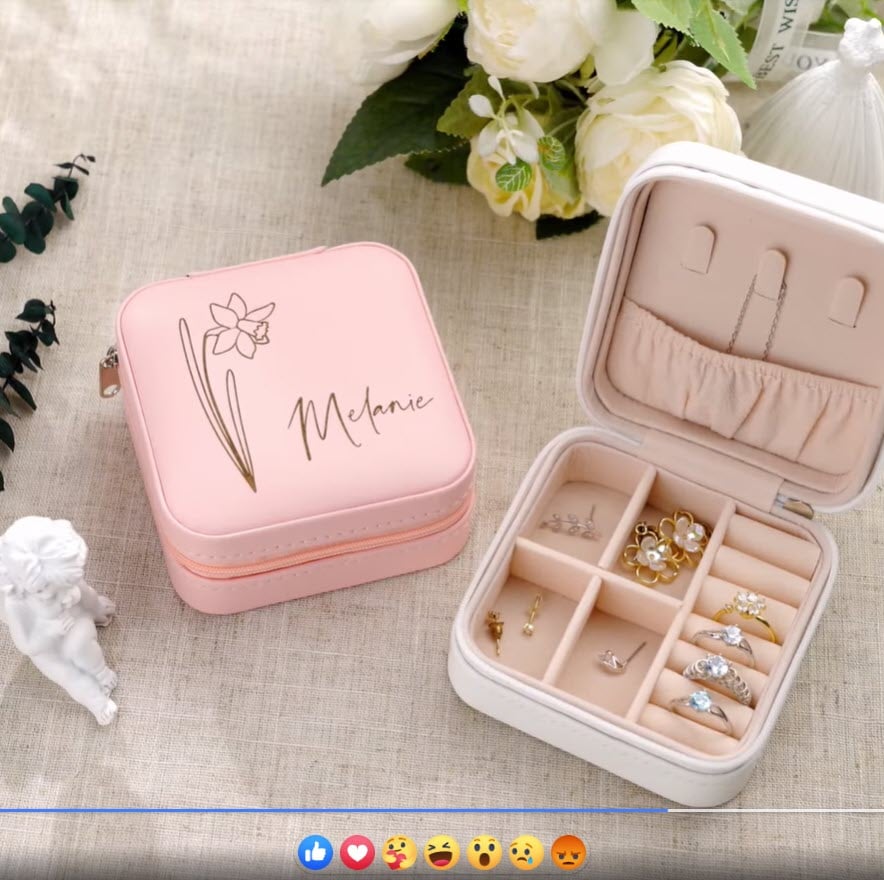 When this product was first posted on Ecomhunt(about a week ago), it had only 1.3k likes, 102 comments, and a bit more than 330k views.
Engagement:

Since then, the ad literally exploded and gained more than 4k likes, 200 new comments, and almost an extra 1 million views!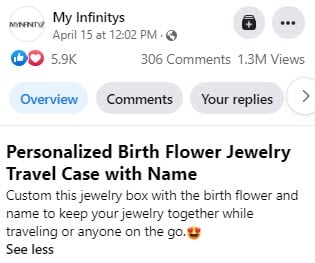 It's safe to say that this product is a best seller and the company selling this jewelry box gave their ads a nice boost.
Of course, being that close to Mother's Day greatly helped but there's still a lot of potential left for this product to keep on selling.
The comments:

As you can see, Women really LOVE this jewelry box so it's definitely selling out fast(and not just for Mother's Day).
Also somewhere in the comments, there's a small hint which will help you sell this product non-stop. If you can't see it, then don't worry because I will talk about it later.
Ok… Back to the ad itself, let's do a quick review: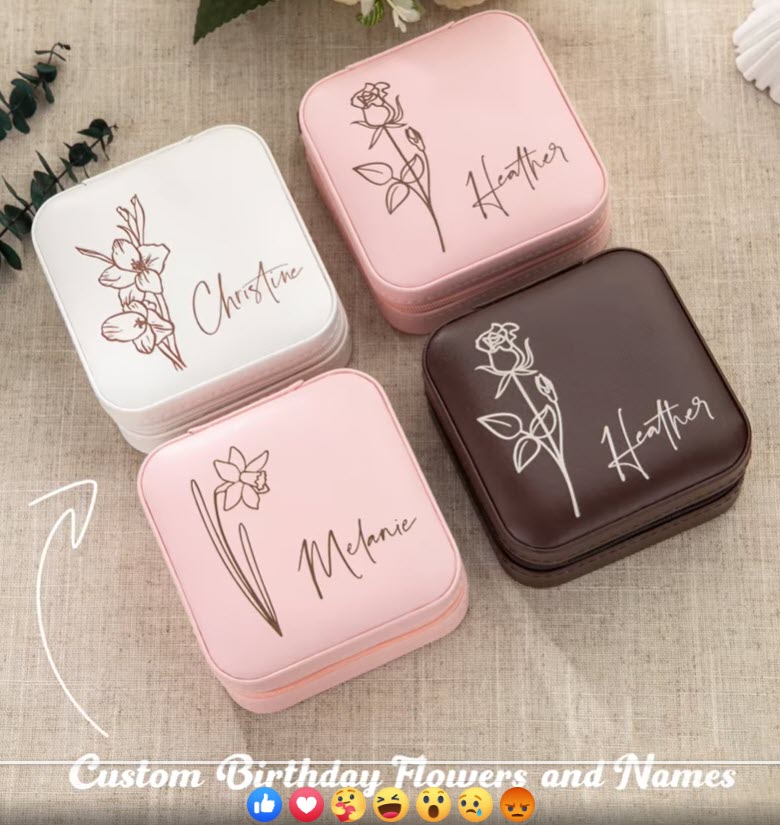 The video ad is awesome! It has no music but it manages to show everything you need to know about the product in 14 seconds.
The first 3 seconds of the video show the text appearing on the jewelry boxes which is a great attention catcher. And after that, they show the jewelry box more into detail.
Overall a great ad that gets the job done!
If it was me, I would've tested it with photo ads too because these type of products tend to work REALLY well with photo ads.
There's not much to explain about this product except the personalized name, so a photo ad is a good option(and sometimes a better option than a video ad).
I'll show you one or two photo ad examples in this article so you can copy what I've done and launch your own ads fast.
The ad copy: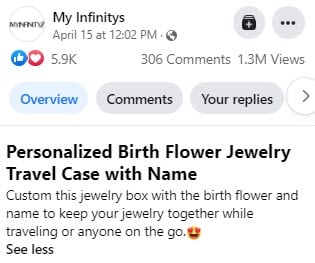 A simple ad copy with a normal looking text – Nothing wrong about it really but I would've used a bit different text here.
For example:
Carry your most precious jewelry pieces with you in this stunning personalized jewelry box 💖

Grab yours now => *store link*

Order yours now and receive 50% OFF + Free Shipping!
Their ad copy doesn't have any emotion in it and for a product like this one emotion it's a MUST!
Now let's take a look at the ad library to see if we can discover more ads running for the same product: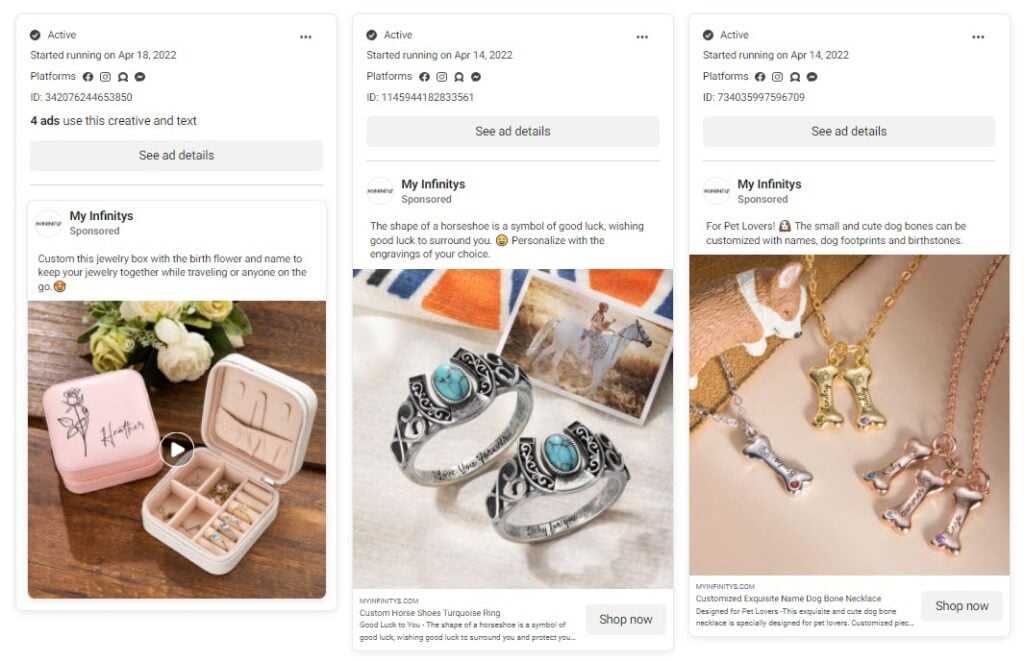 They're running a huge amount of ads for other personalized products together with this jewelry box. I didn't find a different ad for the jewelry box so it looks like they're dumping all their budget on a single creative.
It isn't the best practice but I guess it's because their hands are pretty full with an insane amount of other products they're promoting at the same time.
More products from their ad library: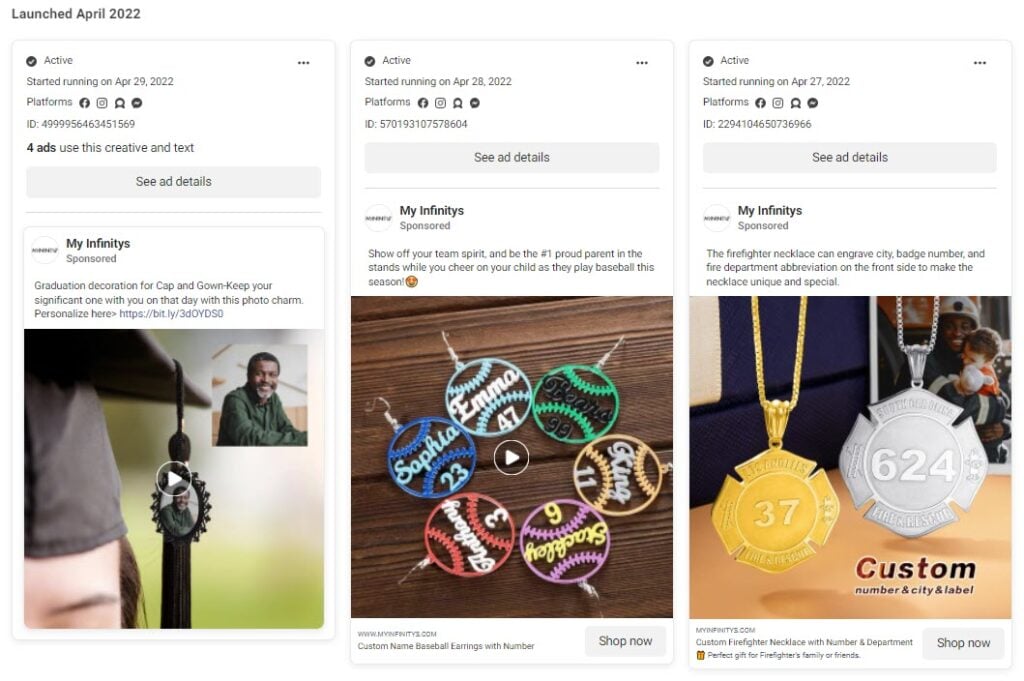 The ad library is one of the best places to discover new products to dropship and I absolutely love this feature from Facebook. Always, and I mean ALWAYS, check the ad library of any page you're currently spying on.
It's just a goldmine of products you can dropship and cool ad creatives to learn from.
The Store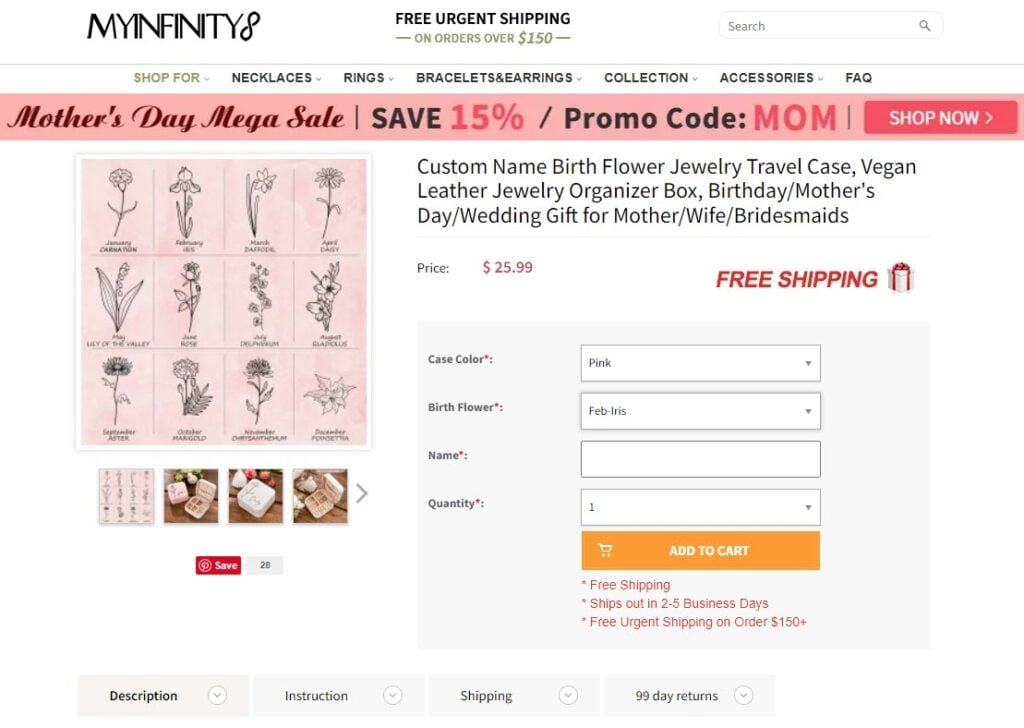 A pretty solid looking product page with almost everything a product page needs to have. It's a big store with a good amount of traffic and they're probably also getting a good amount of sales.

They offer only 3 color options which is great because people won't be thinking too much about the color options as there are not many to choose from.
With less options to choose from, the customers will move on to the checkout page faster.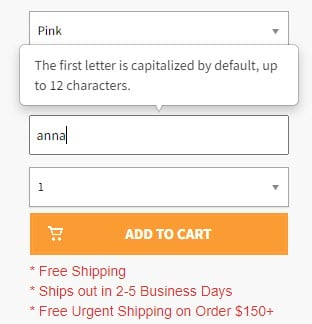 Their custom name field which is limited to 12 characters and they even give the customers an option to choose the flower they want(based on the birth month).
The customization fields are well organized so there won't be any confusion here and sales should roll in normally.
Note:
If it were me selling this jewelry box, I don't think I would've offered a custom flower on top of the custom name option.
What if the birth flower isn't as beautiful as the other options? it's 12 flowers we're talking about here so it can definitely prolong the purchases process…
In my opinion, the best option is to choose one beautiful flower(or something else) and just roll with it. The flower design will remain the same and the customers won't have the option to choose a different one.
There's also plenty of other designs available to choose from on Aliexpress: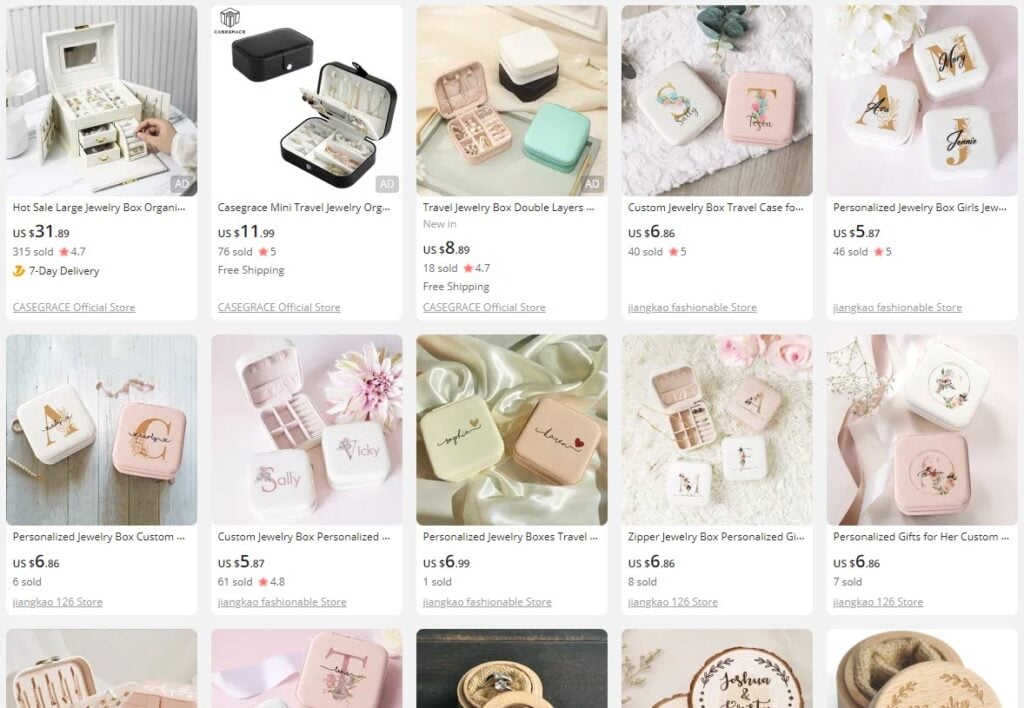 So you don't have to stick to the same jewelry box design as seen here. The designs available on Aliexpress are even better looking so go exploring a bit and choose the one that looks the best.
Product Description: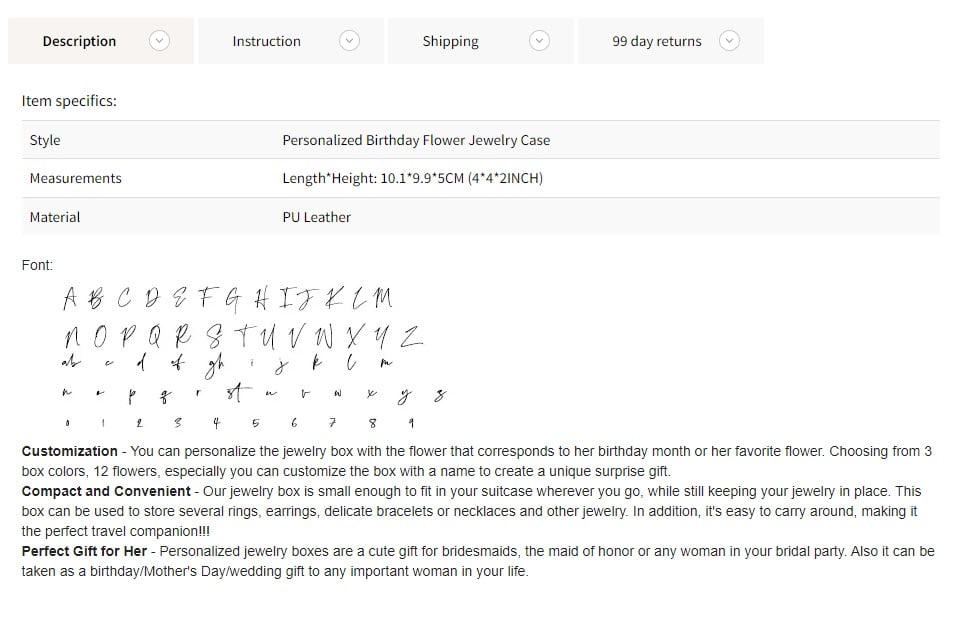 The description breaks into 4 cards to keep it more organized. Nothing fancy about the description, they keep it pretty basic and short.
There's nothing wrong about a description like this one for such products, but I would still prefer having a more "fancy" description with additional product pictures and GIFs.
The sellers on Aliexpress were kind enough to provide us with some amazing product photos we can use, so why not display some of them in our product description.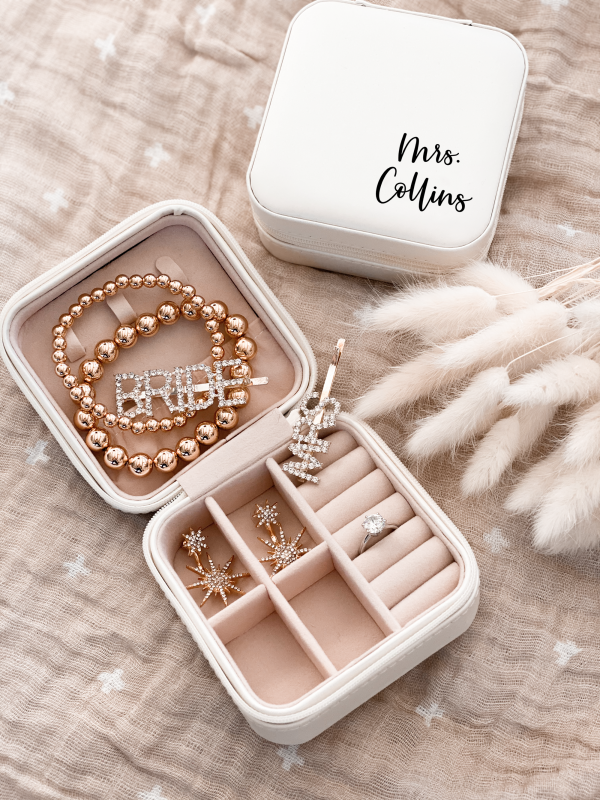 Emotional connection is important here so displaying more GIFs/Pictures may help us sell the product better.
Return policy & Shipping information:

They have a 99-day return policy which is a bit overkill… Well it doesn't matter really because the product won't be returned so it's just a "trick" to show how confident you are about the product you sell.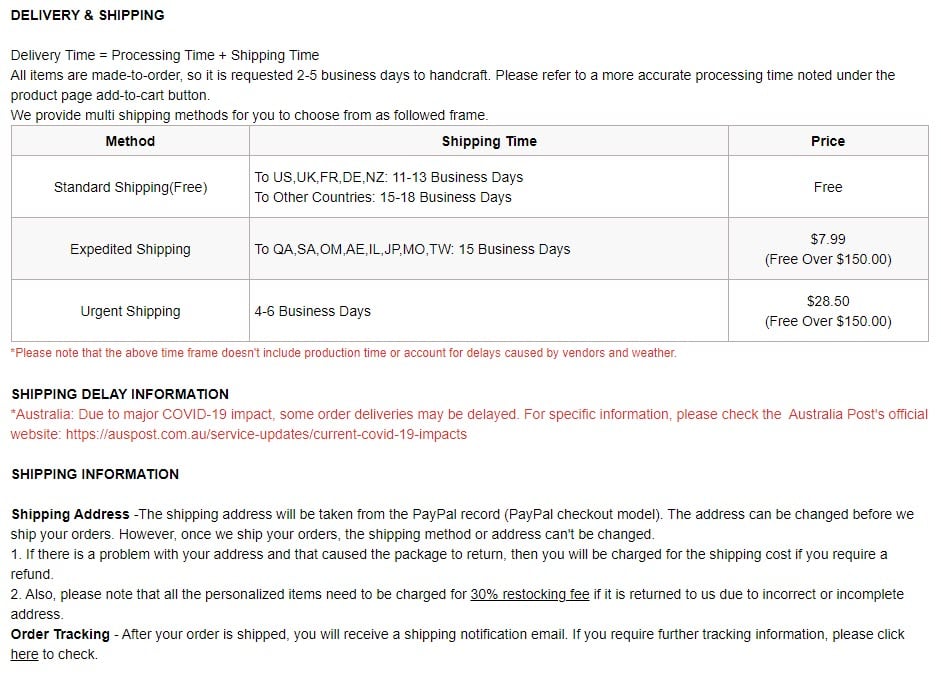 I love the fact they took the time to explain about ALL their shipping options and about the expected delivery times. They also provide instructions and explain about all possible scenarios that can happen with the package.
For the next product you test, I suggest explaining about your shipping times and methods the same was as they did here.
Footer:

They have all the necessary pages an online store should have(Privacy policy, Terms and Conditions, etc.) including a tracking page and sizing guides for different products.
The store is almost perfect but I was REALLY surprised that there are absolutely no reviews!
Honestly, I have no idea how a store that sells personalized products doesn't have any reviews. Especially on products they consider as their best sellers…
It's not like there aren't any reviews you can import from Aliexpress: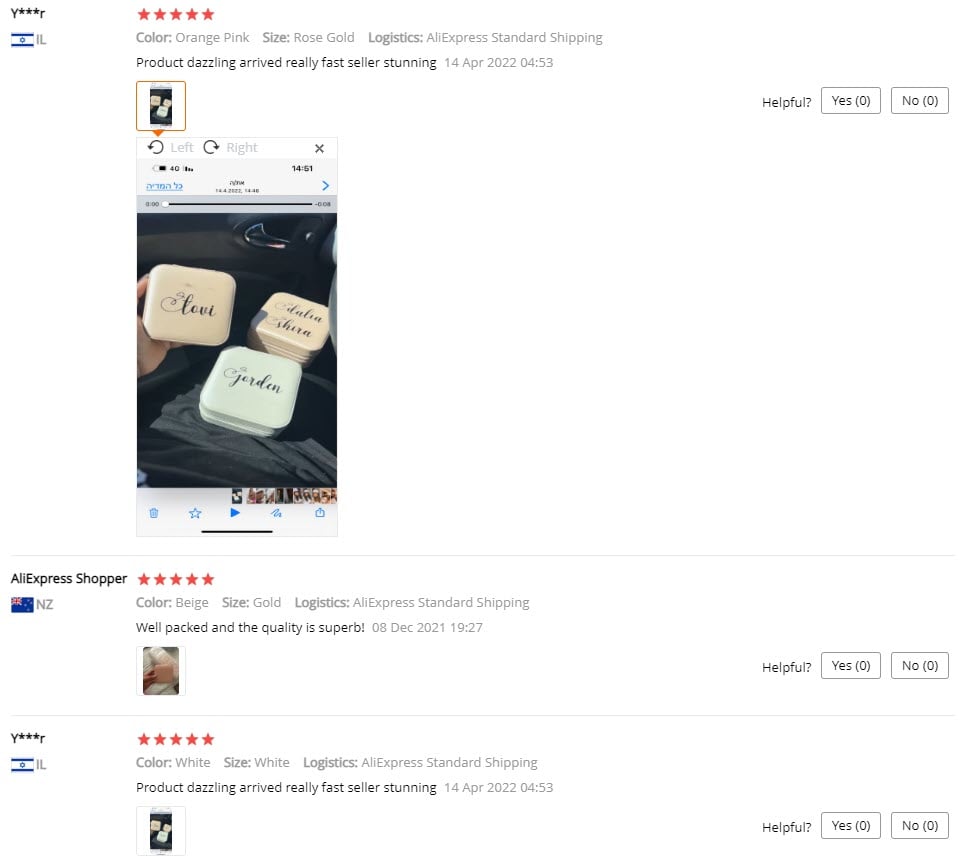 Plenty of custom jewelry boxes on Aliexpress with great reviews so it would've been much better for them if they had at least some of these reviews displayed on their store.
If you plan on testing this product, or any other product, Always import reviews from Aliexpress. It's a 10-minute work that will greatly increase your store's trust and get you a better conversion rate.
IMPORTANT:
This store isn't hosted on Shopify so you can't always achieve the same look. Though it doesn't really matter as we have everything we need on Shopify to create a much better product page.
If you're looking for personalized fields, you can download an app from the Shopify App Store and you will have a custom field in no time(customized to your needs and usually a FREE plan is enough).
The description can also be customized into sections but this isn't really necessary.
The Checkout Page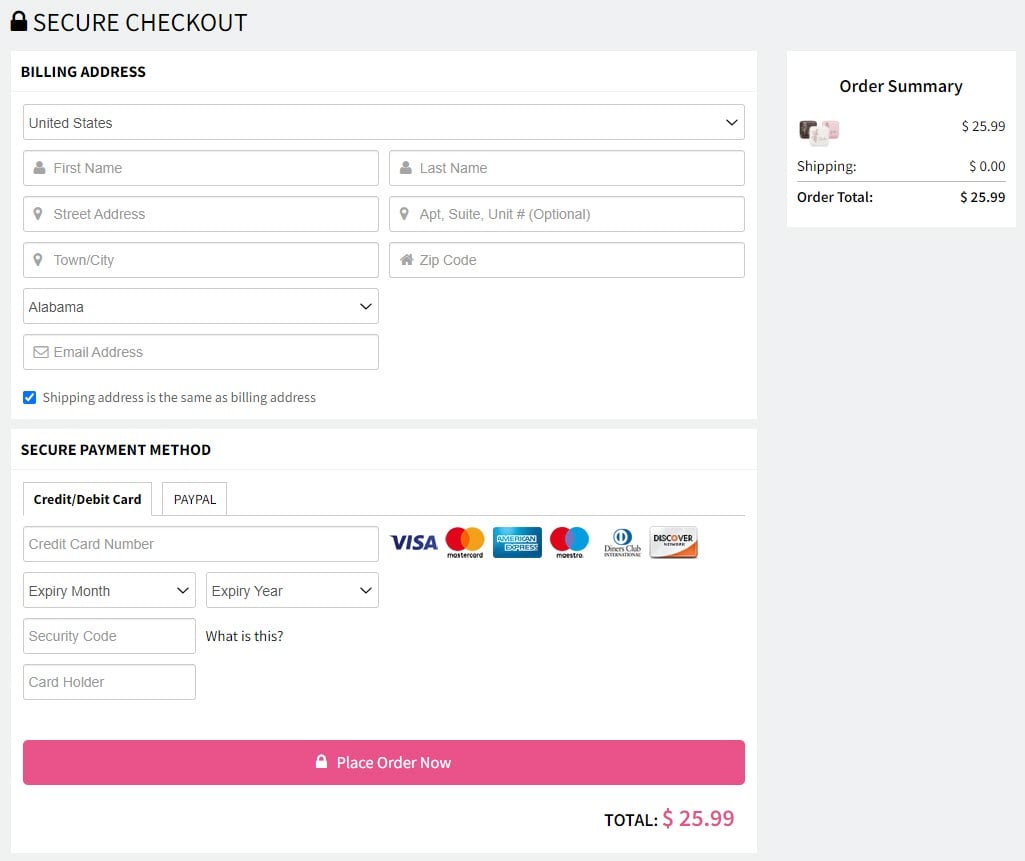 The checkout page is pretty standard and they accept both Credit Cards and PayPal. As I already said, the store isn't hosted on Shopify so you won't be able to get the same checkout page as theirs.
The regular Shopfiy checkout page is more than enough and it will get you some great sales if everything else is in good standing.
So there's nothing really to talk about their checkout page, but let's take a quick look at their cart page: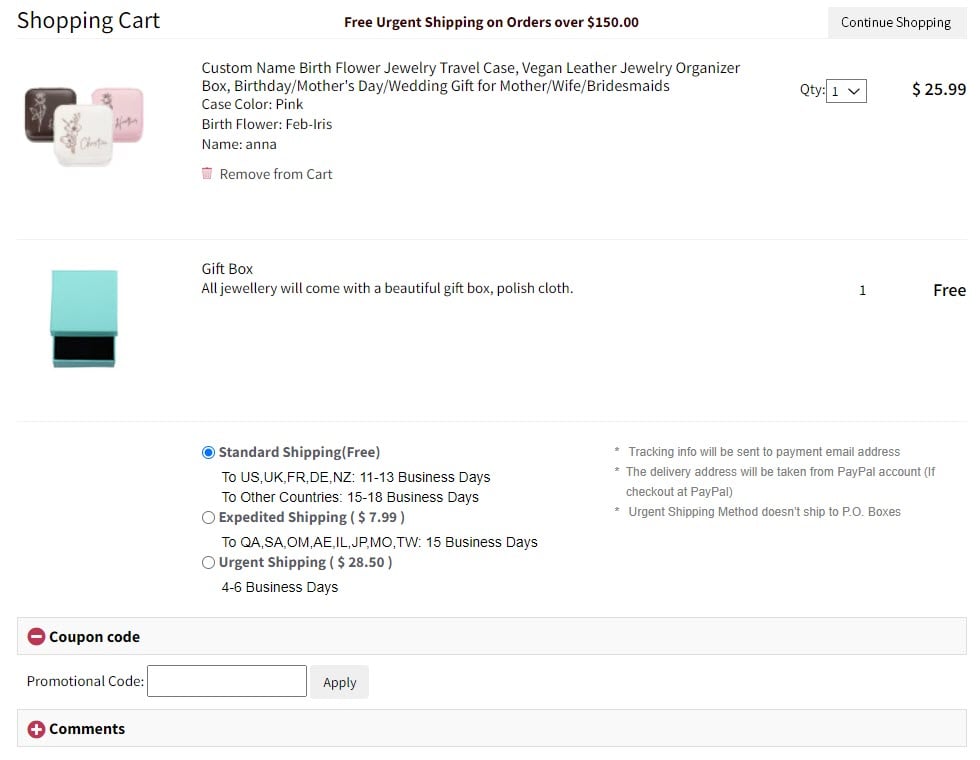 I love the little Free Gift Box they add as a default in the cart page to probably every product they sell on their store. Customers love freebies so this free gift box will definitely help getting more people continue to the checkout page.
I also love that fact that their shipping times are well explained and show the expected delivery time. They've done it inside the Cart Page, but in Shopify you can show the expected times in the Shipping section at the Checkout.
They also have trust badges on their Checkout page which is always nice to have to increase your store's trust.

You can do something similar by adding trust badges to your logo in the Checkout.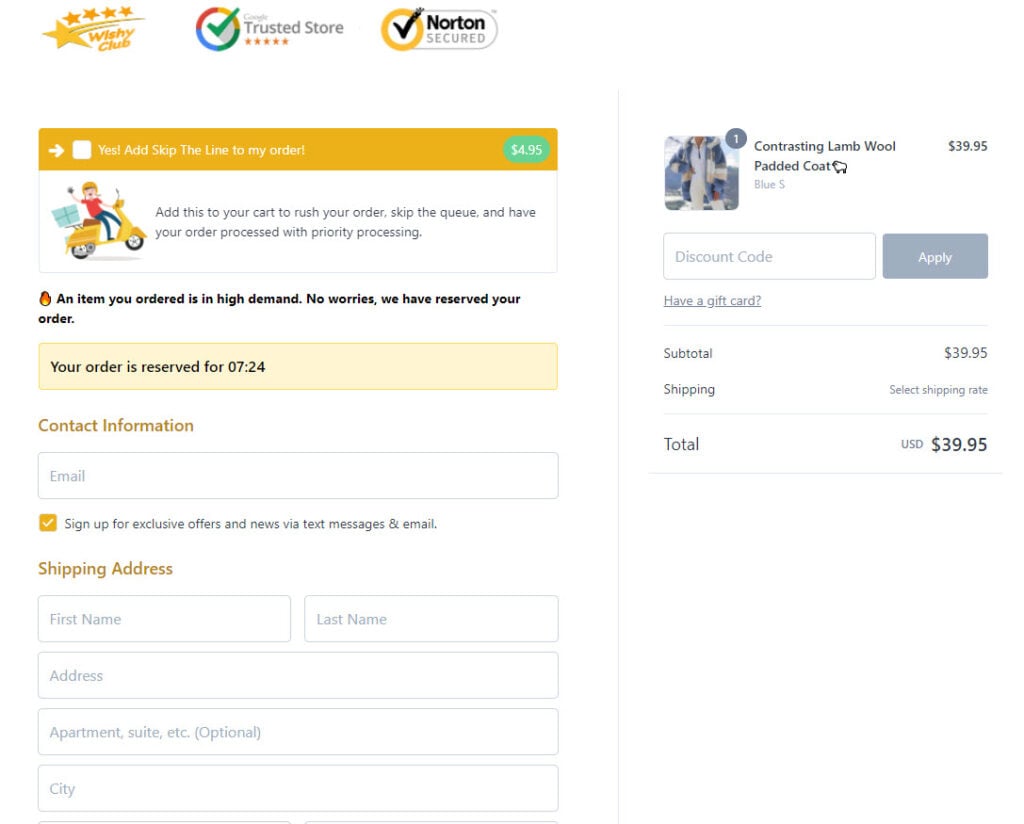 As you can see, you can add a few trust badges icons to the checkout page and make it basically look the same as this jewelry box store did(preferably with your logo too).
Selling Strategy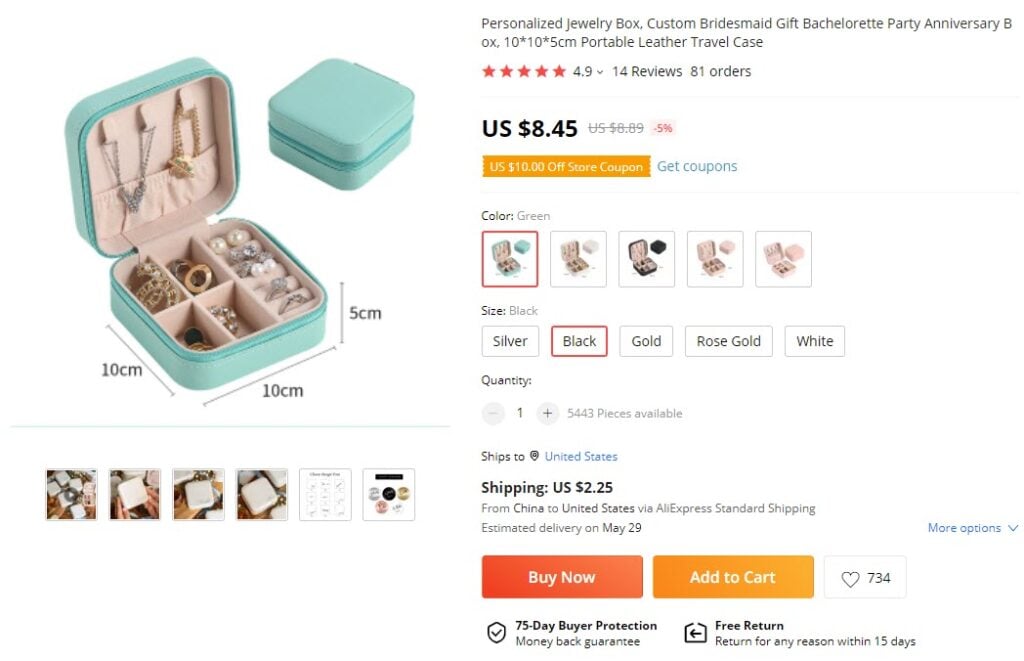 The product cost on Aliexpress is about $10 including shipping, which means that we can easily sell it for at least $29.99 + Free Shipping.
This gives us a profit margin of about $20 while managing to sell it for a reasonable price.
With a great looking ad and a conversion optimized store, we will have no problem selling this stunning jewelry box for $29.99.
As I already said in this article, you can offer different designs on the box so do a bit of extra research and maybe you'll find a much better version than what I reviewed here.
The only thing that matters is keeping the name field custom and all the rest should remain static. Too many personalization fields will make the purchase process too long and that's something we don't need.
We want our customers to visit our store, choose their preferred color(3-4 options max), write their name and proceed to checkout right away. Anymore options aren't necessary here!
Quantity discounts:
Quantity discounts are a MUST as their will be customers who will definitely buy more than one piece. It can be an extra piece as a gift to someone or a dozen of pieces for a bridal party.
You can't really know who will need more than one piece but the fact is that it will definitely happen…
So offer a good discount on 2 or more pieces – Start with a 10% discount on 2 pieces and jump up by 5% for each additional piece.
Targeting: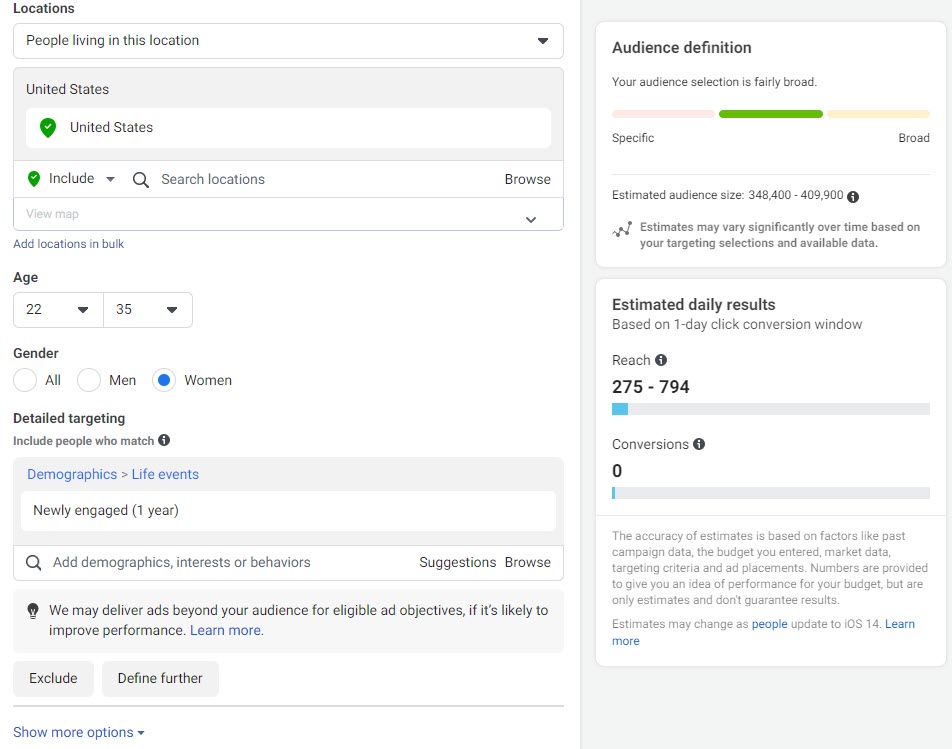 We want our product to sell all year round so I instantly thought about Bridal parties. In these parties, it's accustomed to give gifts and this cute jewelry box can be a great gift from the Bride to her Bridesmaids.
The Bride can get a few personalized boxes shipped out to her and it will be a gift everyone will truly appreciate.
Note: Even if I didn't have this targeting idea, if you read the comments you will see Women mentioning Bridal parties there. So reading the comments can help you get targeting ideas, product ideas, and much more.
So for the first targeting option, one that has an audience that ALWAYS renews, are newly engaged Women in the past year.
Someone who is engaged will get married eventually so this box can be a great gift for the Bridesmaids or even for the guests 🙂
Facebook has 4 more interests like the one above we can use so feel free to test them all out: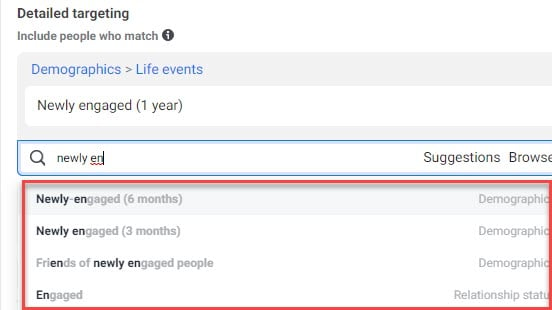 These interests give us EXACTLY the audience who will be interested in this product.
And you can even target engaged men who will probably tag their Fiancées in your ad(but allocate a smaller budget to it as we want the main budget to go towards Women).
Targeting option #2: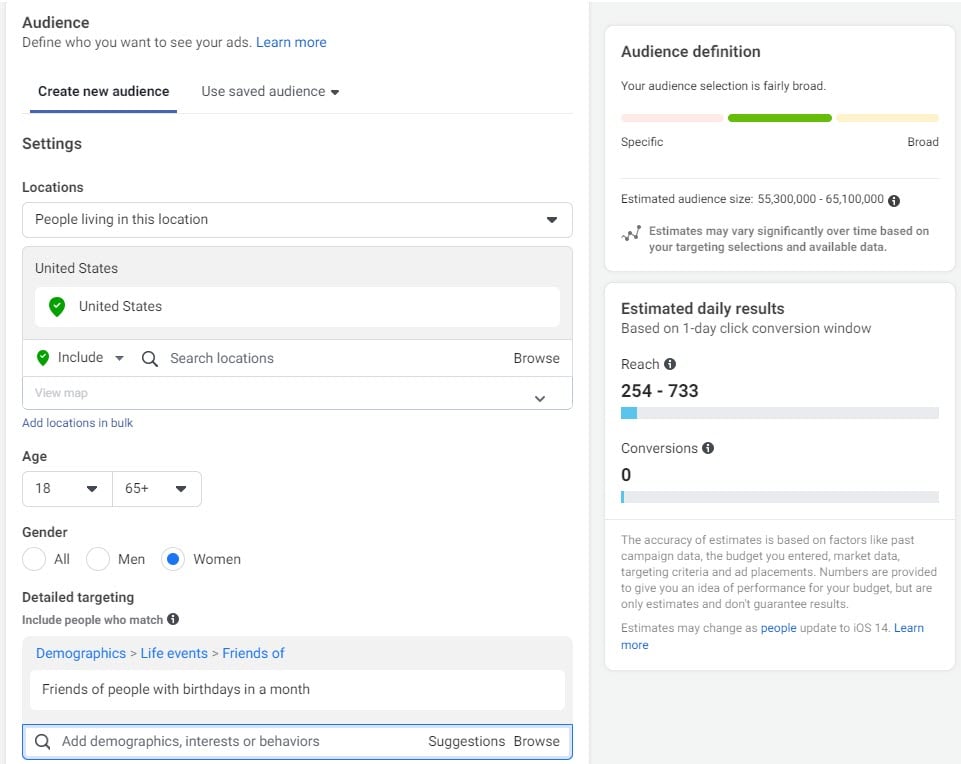 Another targeting option you should try is to target Women whose friends are having birthdays is a month or "X" available time.
This jewelry box might be just the perfect gift for a friend and it's something the receiving side will truly appreciate. And the personalization makes it even better!
There are a few more targeting options like this one that you can play with, so make sure to check them out.
Targeting option #3: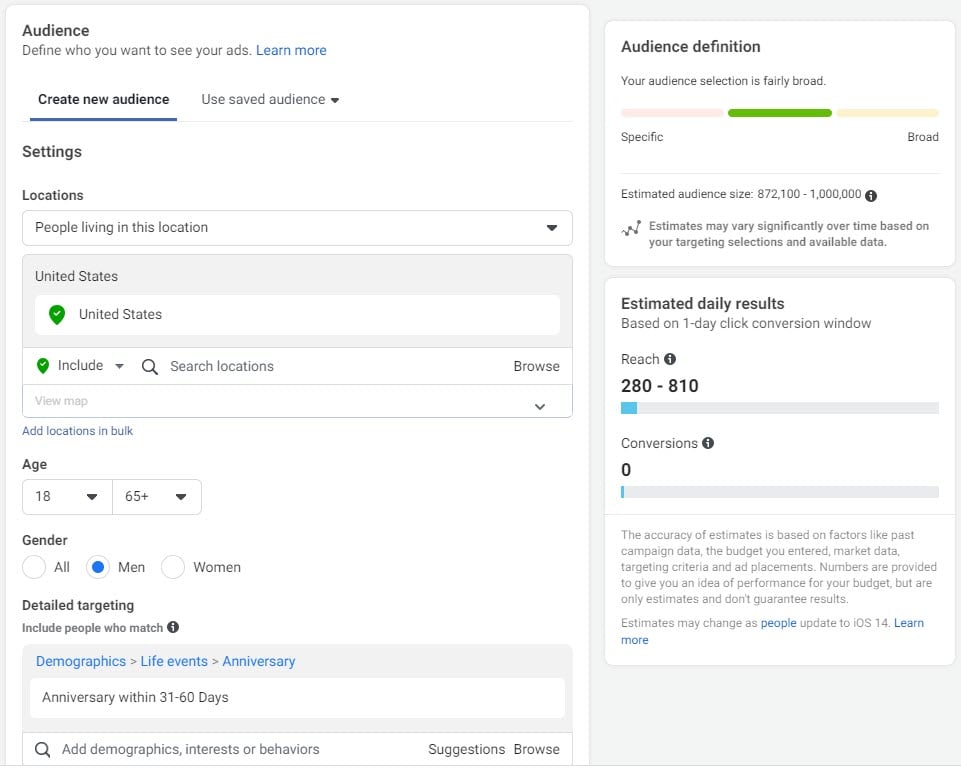 And the third option will be to target men with a coming soon Anniversary.
We can offer this personalized jewelry box as a possible gift for their wives and maybe add in other gift suggestions as an upsell.
Husbands with Anniversaries coming soon will be looking for gifts like crazy so we can help them out by showing them our ads 😉
Ad Examples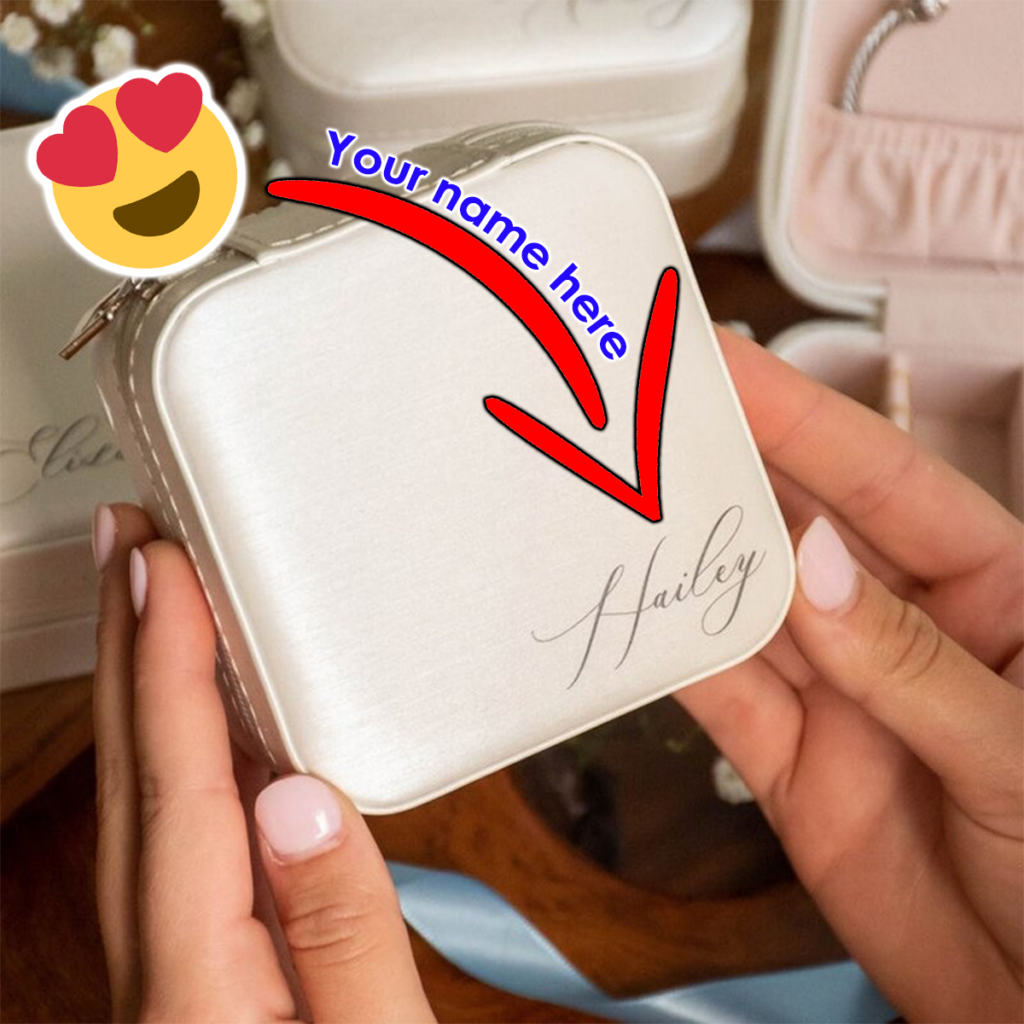 As I already said, this product can work really well just by using photo ads, so you don't have to go out of your way and prepare a video ad just to test this product.
And to help you do that, I prepared 2 photo ads as an example which you can basically take and use for your own ads.
I would highly recommend to use your own photo ads but if you want to try it out by using mine, then be my guest 😀
So the first photo ad I have prepared is the one you see above – It's a 1200×1200 square photo ad I took from the Aliexpress product page, and I added to it a few elements to let people understand it can be personalized.
The ad copy to this ad can be the same I showed you in the ad review section. People will surely understand this one is a jewelry box.
Photo ad example #2: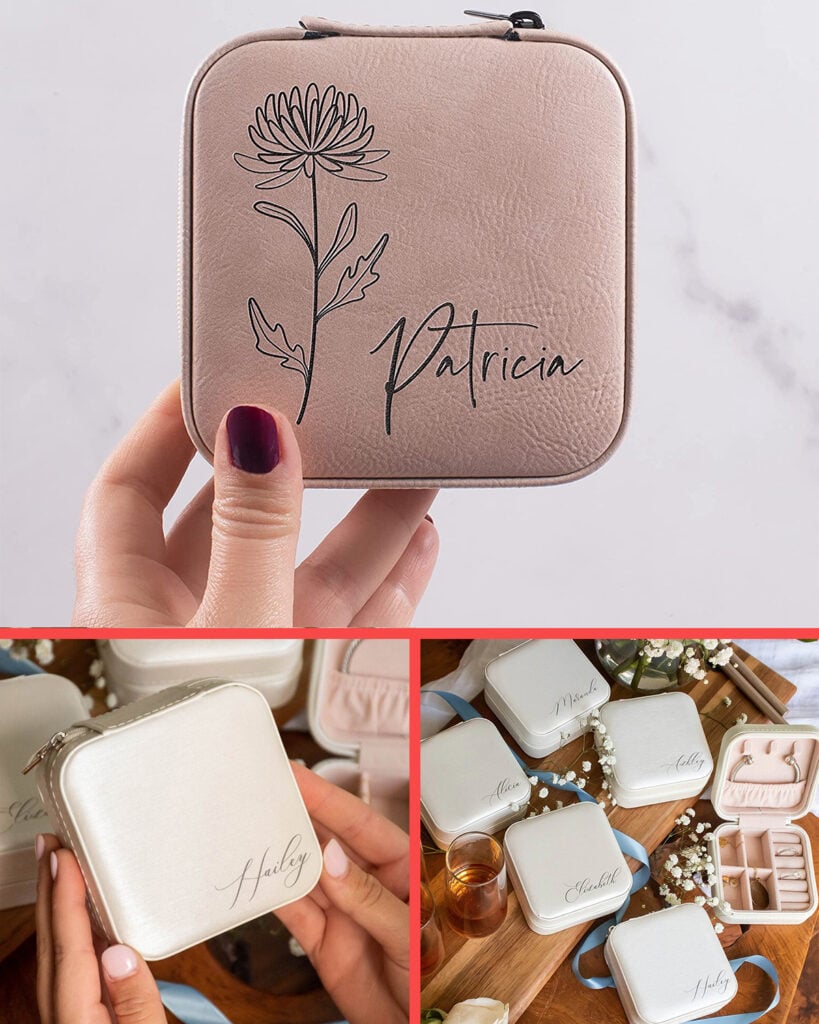 This one is a collage of photos serving as one photo ad for Facebook. The size is 1200×1500 and we use these type of photo ads to show how a product looks like in a cooler way.
The ad size is pretty big and as a photo ad it's pretty catchy so people will definitely notice this ad when scrolling their feed.
The main photo is the most important one and we want to show there the main aspect of our product. In this case, it's the name personalization and the rest of the photos are there to explain that this is a jewelry box.
You can do something similar, maybe invest a bit more effort to make it really standout, and launch your ads.
To Sum It Up
This product is definitely a winner and with a good looking ad and a conversion optimized store – It will explode in sales!
Follow this article's tips and implement them to take this product to the next level!
If there's something you don't understand, you can always check out Ecomhunt's learning resources which has everything you need to run a successful dropshipping business.
With this product, you can also enter into the personalization gifts niche and from there the sky is the limit.
So don't sit out on this product and start selling it right now!
If you have questions, feel free to ask me in the comments.
Good Luck!
Struggling to find good products to sell? Not sure who's your target audience? Tired of losing money on products you were sure were "winners"?
Then Ecomhunt is what you need! Find hot winning products that are added daily, spy on their ads & stores and import them into your store in 1 click and Start Selling Today!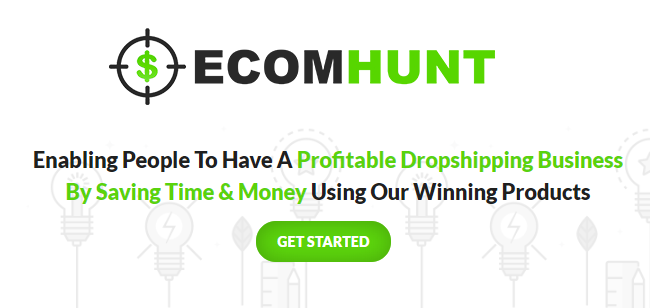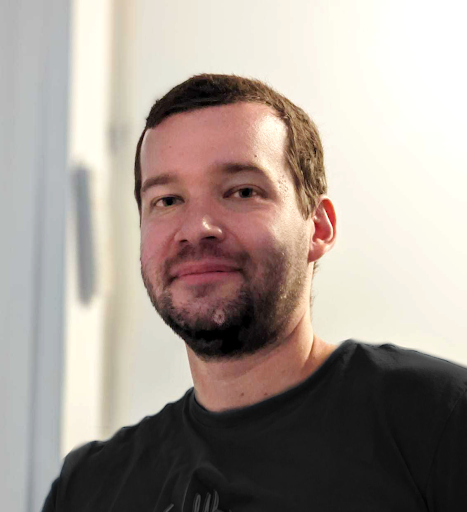 Daniel Aloni is one of the leading mentors in the Ecomhunt family. Daniel is a highly experienced Print On Demand seller with multiple 6 figures successful launches.