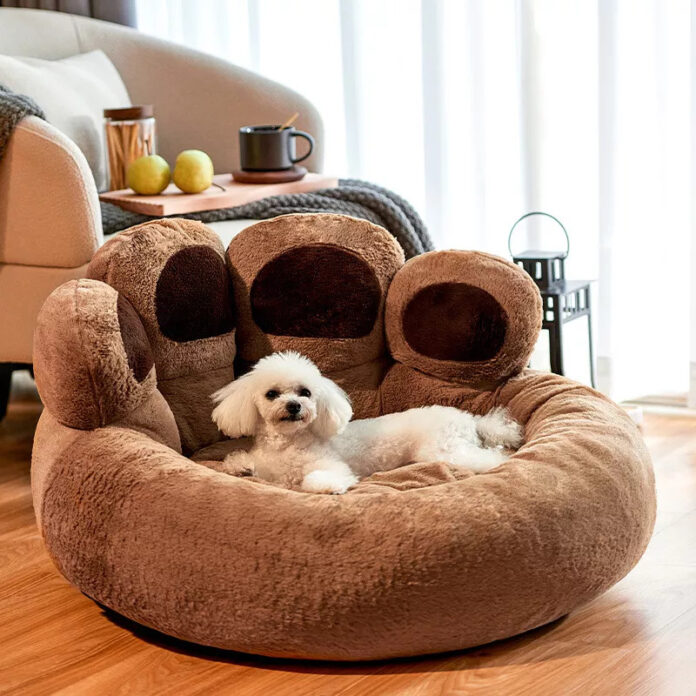 If you're looking for a great pet niche product to start dropshipping right now, then make sure to check out this amazing old winning product that's making a HUGE comeback as we speak.
Suitable for both cats & dogs, this product was always a top seller with many Ecomhunt dropshippers selling it successfully on their online stores.
But this time the product has its own twist which makes it look as a completely new product!
The new look definitely makes it much easier to sell as you have an upgraded version of the old winning product, new materials to work with for the ads and simply a cool looking product that a lot of pet owners will love.
This one product is your best chance to make some bank dropshipping, so don't wait on it for too long and start selling it right now!
And as always, I'm going to give you a full Facebook ad & store review of this product and additional tips on how you can take this product and dropship it successfully.
Enjoy.
The Product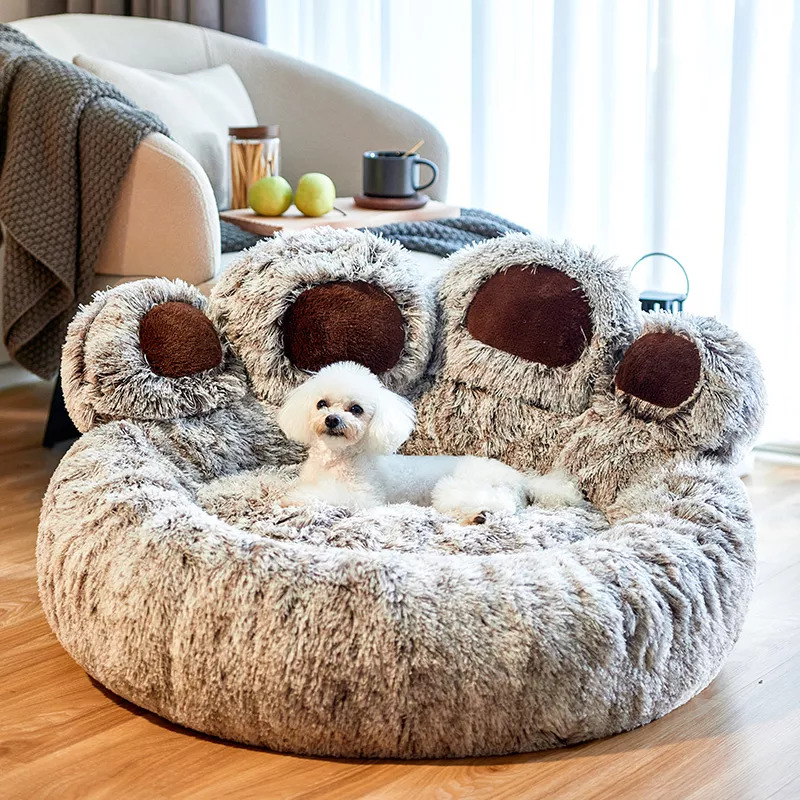 This week's winning product is one that you have probably seen a lot in the last 2 years, but this time it's a bit different.
Looks like the manufacturers decided to release a new version of it, and it's absolutely gorgeous! From the moment I have seen it on Facebook, I knew that I had to recommend it for you guys.
If you've been following my articles, you already know that there's no such thing as product saturation. If a winning product was selling in the past, it can still sell again if you have a real marketing strategy to make it work again.
I'm not saying it will be as easy as selling it for the first time, but it's possible if you put some effort into it.
If you plan on marketing an old winning product exactly the same way as it was done by some other dropshipper, then of course your chances to succeed are almost zero.
But if you put your mind into it and decide on trying a different approach, then you can even do bigger numbers than when it was originally advertised.
And by effort I mean:
Creating new ad creatives by using new materials other dropshippers haven't already used
Targeting different audiences and not just USA like everyone else with the same interests
Offering a different and more attractive deals
Promoting using Influencers
Advertising on different ad platforms and not just Facebook
Product branding and selling it on a one-product store
and more
Or looking for a different version of the same product which will allow us to create fresh new ad creatives and sell it as a new product.
And this is exactly what's happening here – The original seller did some research and found this new version of the same pet bed and started selling it.
Now… You can just take this product above and market it in your way or you can go to Aliexpress and search for other variations of the same product.
Both options are good so just make your choice fast and start testing out these pet beds before more dropshippers join in the party 😉
The Ad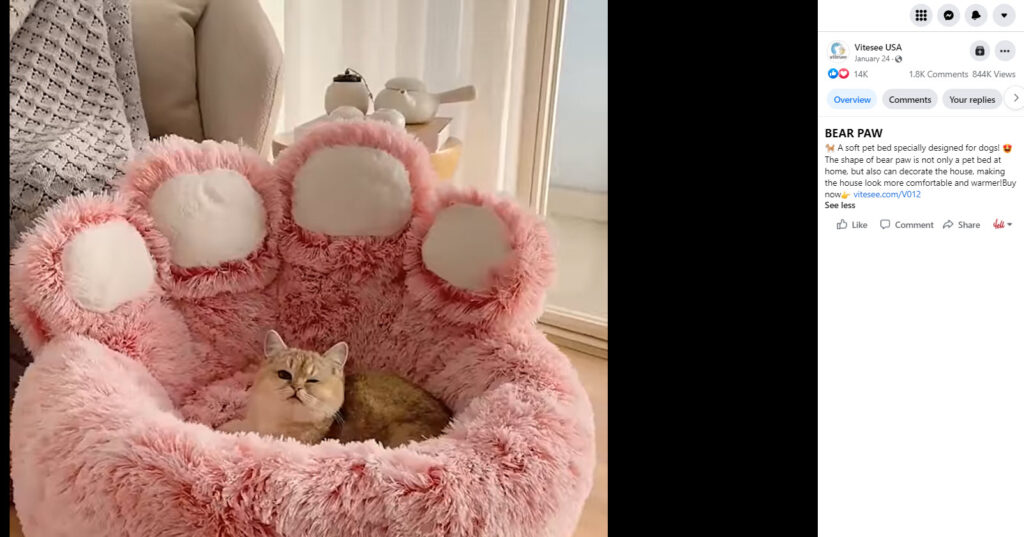 This product is going viral on Facebook as we speak with some crazy engagement around it. The comments on the promoted post are mostly positive so this product is definitely a winner.
The video ad itself though doesn't have anything special in it – It's a simple video showing a cat and a dog relaxing in the bed with some copyright free music playing in the background.
The video ends with a few shots showing the softness of this product and that's basically it…
No call-to-action or product description texts and nothing about the relaxing features of this pet bed. It's just an Aliexpress video that's being used for a Facebook ad.
If you're going to sell this product, there's so much more you can make of the materials available for you. Give it to a good video ad editor, and you'll receive an amazing video back that can be used for your ads on Facebook or other platforms.
I recommend checking out Waving Pandas if you don't know anything about creating video ads. These guys are the best in the business when it comes to creating ads!
So right from the start, you already have an option to make it better by creating a more engaging video ad.
By the way, I have checked their ad library to see if they're running different video ads for this product and all I've found is the same videos but with different thumbnails.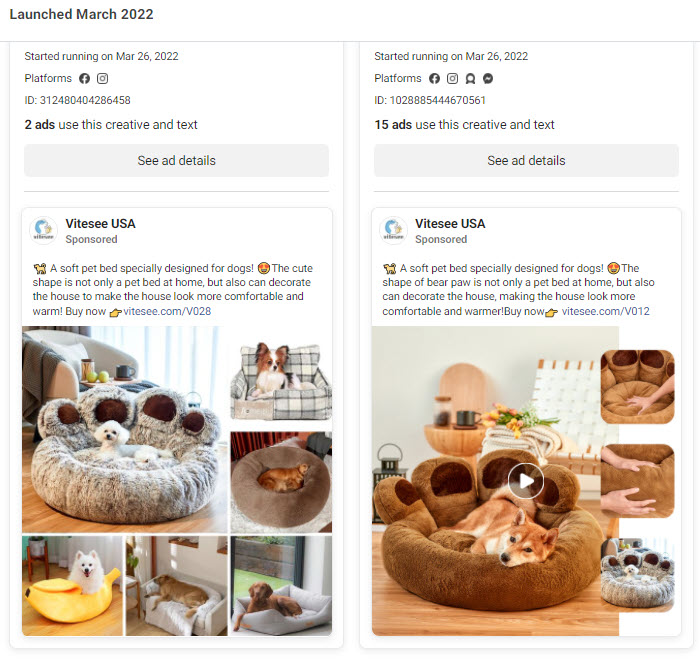 As to their thumbnails, I personally think they're really good and you can try copying the same style for your own video ads if you plan on selling this product.
The Store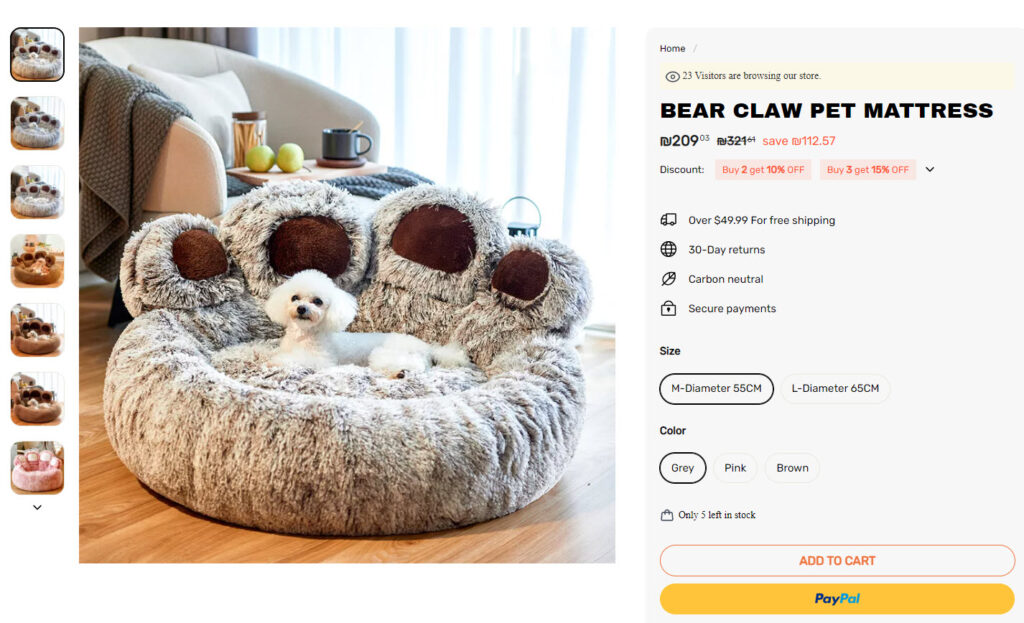 When it comes to the store, and especially the product page which I am going to review, the amount of work put into it is much higher than what was put into the ad.
The store is really well made with everything an e-commerce store should have, and same goes for the product page. If I find some mistakes, I'll make sure to point them out so read the review carefully.
Sometimes even the smallest mistake can hurt the conversion rate, so it's really important you avoid it to get the most sales out of your customers.
The product page:
I like that they offer only 3 colors and didn't go crazy offering 10 colors or even more. We want our customers to choose relatively fast what they like and proceed to checkout.
If you offer too many options to choose from, it can prolong the buying process and sometimes even drive customers away. For products like this pet bed, there isn't really a big need in lots of color options.
So by offering only 3 color options, they will get customers to choose faster.
They still had a small mistake here which is the name of the product – It's not critical but I personally think it's not attractive.
Something like "Paw Shaped Calming Pet Bed" as a name would be much better.
Next is the bundle right under the Add to Cart button: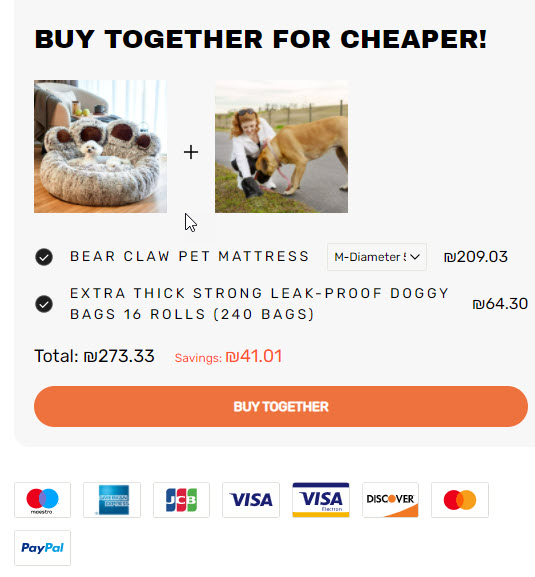 I like how this bundle looks design wise but I am missing the amount of discount the customer gets if he chooses to take it.
Usually bundles show the amount of discount in percentage for each product, or at least for the second one, but this bundle just shows the total savings at the bottom and I think that's not enough.
If you already offer a bundle, it's better to show the discounts received on both items together. The one here looks like you're paying the full price for both items.
For the product offers, I like that there's a connection between the products(both pet products) but there's still an issue as this bundle maybe random.
Take a look at the second bundle suggestion I received when writing this article: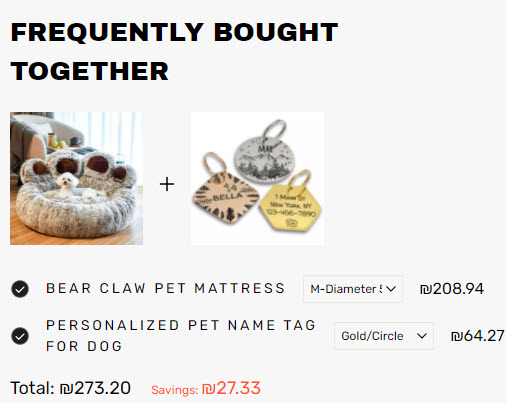 As you can see, the second product is now different and it's also personalized. You can't personalize this in the bundle square so there's chance the customer will be clicking on the product to see how it's done.
Stuff like that are what I like to call "conversion killers" – You fail to keep the customer's attention on the product you're selling and he's now browsing your entire store just for fun.
There's a chance that right after he clicks on the dog tag product, he will keep browsing for other stuff until he decides to just leave your store. This without buying a thing…
So keep your customers attention on the product that they came for, and if you offer a bundle then at least make it easy to understand(like on the first bundle example).
Product description: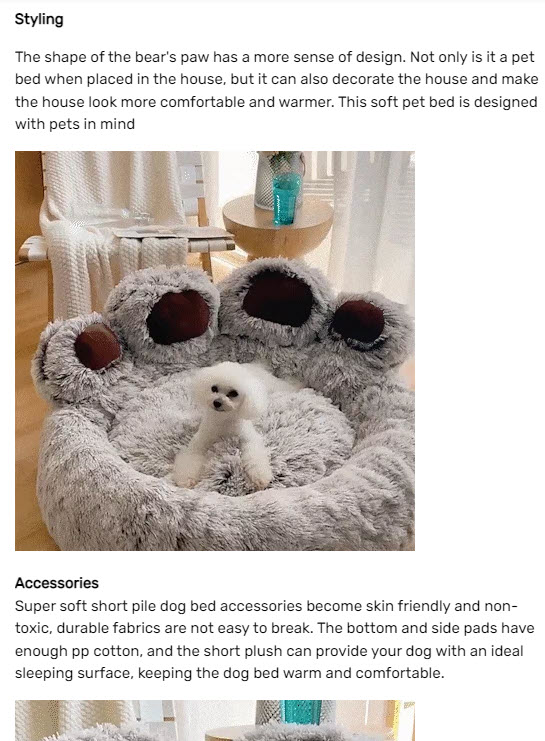 The product description looks nice with good quality GIFs and pictures to show the product's features. Everything is great except the text.
The text looks a bit like an auto translation from Chinese to English with some effort to make it readable enough for the English speaking audience.
If I were selling this pet bed, I would definitely write it a bit differently with some additional text about how this product helps to calm your furry friends.
Shipping time & Store guarantees:
They have no guarantees and no shipping info at the end of their description. Customers want to know how much time it will take for the product to arrive and if there are any guarantees if something goes wrong.
Having it at the bottom of your product page will really help to calm your customers and make them feel more secure about the purchase they're about to make.
If you're looking for a good example of shipping & guarantees texts, then just check my other product review articles in this blog.
Reviews: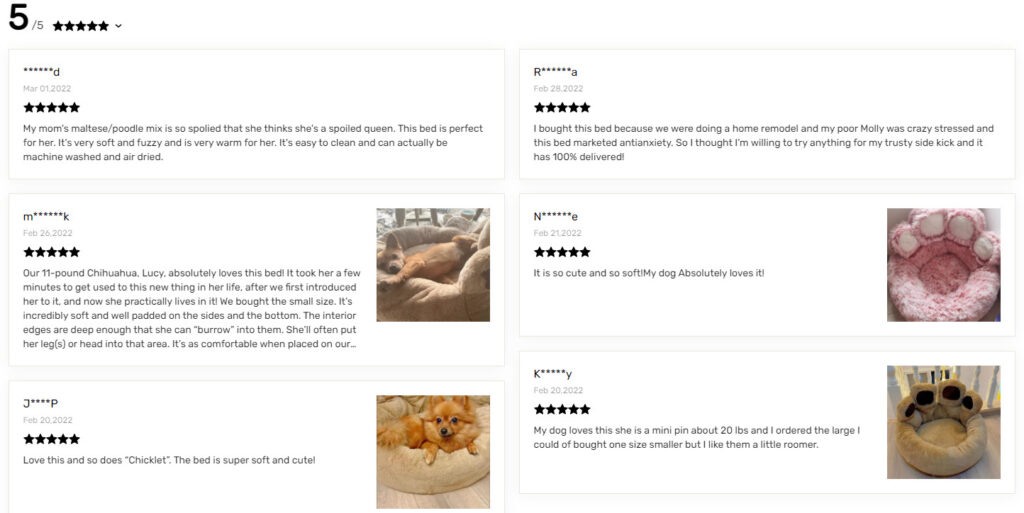 Both picture and photo reviews are present with normal texts on them and not some gibberish auto translated texts. Overall a good looking product review section that adds trust to your store.
The Checkout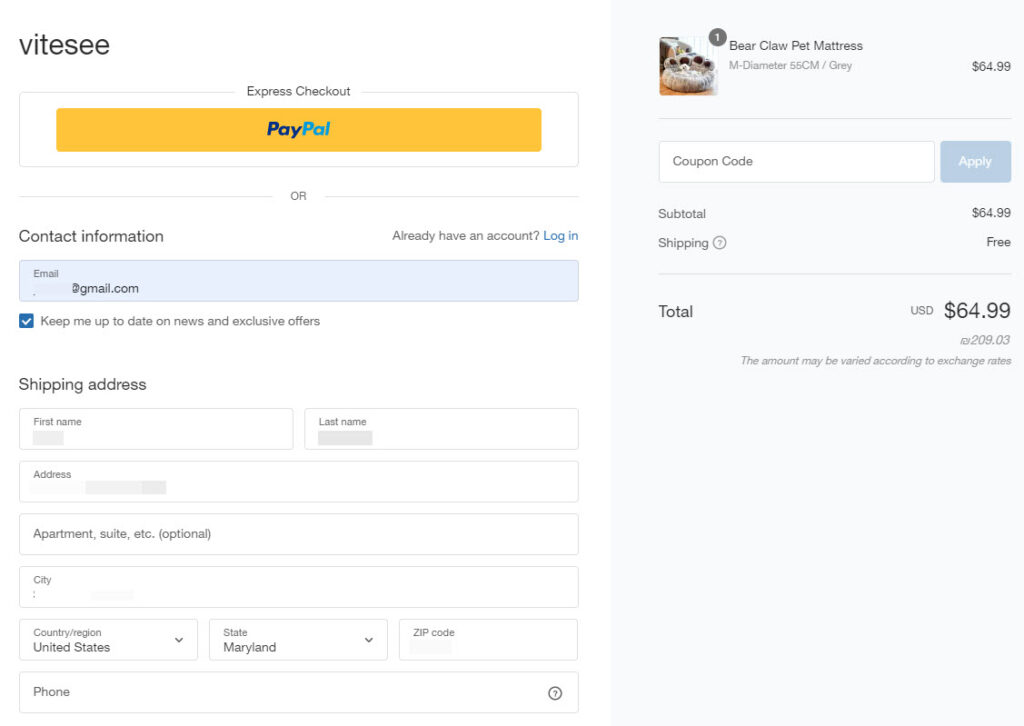 It's the second store in a row I review that has a one-page checkout. A one-page checkout, as the name implies, is a checkout page with everything in it in one page.
Customer information page, shipping prices, and the payment are all in one page which makes the whole checkout process much shorter.
It's no secret that a one-page checkout increases your store's conversion rate, so it's a good thing if you can have it installed on your store.
It will require from you to install and app and do some changes, on top of paying an additional fee, so only do that if you're 100% sure it's worth it.
Shopify's standard 3-page checkout is more than enough and you can get excellent results from it. I suggest starting out with it and later, if you get good sales and want to get even more, you can move to a one-page checkout.
Back to the checkout review…
The first problem I see is the text logo – They forgot to upload their logo as a picture to the checkout page. It happens quite often actually so please don't forget to upload your logo to the checkout page.
Other than that, everything else looks good to me.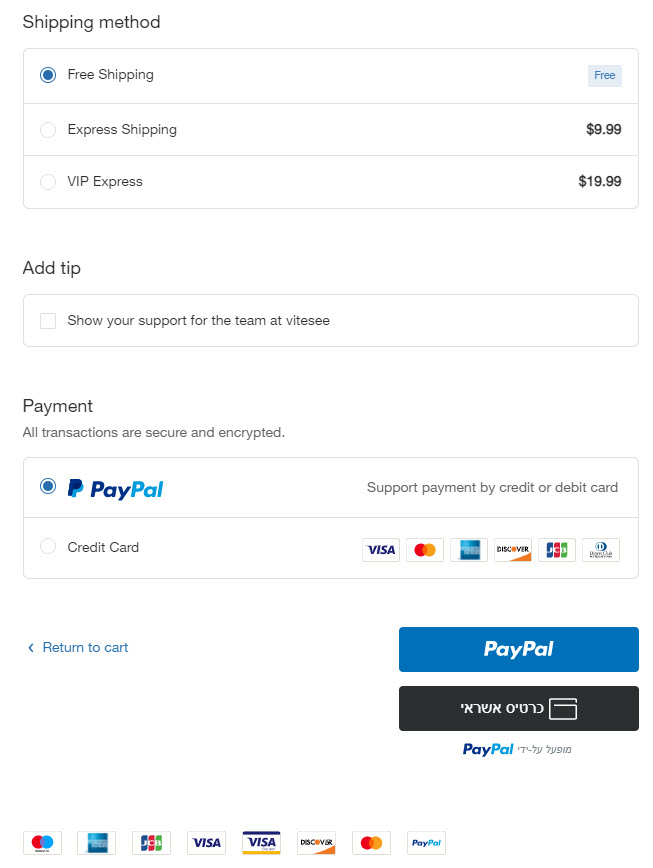 They offer free shipping with this product which is good and they have extra shipping options called "Express" and "VIP". The only thing missing here is the actual time it will take for the product to arrive if one of the paid options is chosen.
You don't want your customer to click on some other link, or worse go back to your store just to check how about the paid shipping options.
So if you already offer premium shipping, then make sure the time is in brackets near the shipping name.
For example:
"Express shipping(3-7 business days)"
"VIP Express (1-3 business days)"
This way the customers knows exactly what to expect and you have better chance to get a few extra bucks as profit 🙂
Payment:
Both PayPal and credit cards are accepted on this store which are the most popular payment options. No problem in this case…
Selling Strategy
This product can be easily sold for $49.99 or even $59.99(depending on the size) and it should fly off your virtual shelves especially well if you add Free Shipping to your offer.
I also suggest adding quantity discounts instead of different product bundles. People tend to have more than one pet so it's possible they'll be looking to buy more than one piece.
On top of that, make sure to do some research on Aliexpress to maybe find different variations of the same product. Maybe you'll be lucky enough to find even a better pet bed from the one I reviewed here.
And last but not least, try targeting different countries and not just USA like everyone else. This product can work exceptionally well in Europe where people love pets and it's still cold enough for them to think of buying this warm pet bed.
To Sum It Up
This product is easily a best seller and you should jump on it before too many dropshippers join the party. As you can see, there's a lot you can do to improve your selling chances.
The biggest of them all will be the creation of a better and more engaging video ad than what you see here. Trust me, it will have a big impact and should get a lot more people to actually click on the ad and go into your store.
The pet niche isn't an easy niche to get into, but once you're in the possibilities are endless. This product right here can be your way in so don't miss out on it!
If you have questions, feel free to ask me in the comments.
Good Luck!
Struggling to find good products to sell? Not sure who's your target audience? Tired of losing money on products you were sure were "winners"?
Then Ecomhunt is what you need! Find hot winning products that are added daily, spy on their ads & stores and import them into your store in 1 click and Start Selling Today!