One of the most important aspects of an online business is if it's trustworthy enough to keep our information or money safe & secure.
Not every business out there is as big as Amazon or Ebay which we can completely trust. There are a lot of small businesses too that sell stuff/provide services, and sometimes we have no choice but to purchase directly from them.
And just before we purchase anything from these unknown online stores, we usually search for some guarantees that our money is safe and our information is secured.
We look for SSL certificates, TrustPilot reviews, regular reviews, etc, before we decide to make our purchase. If the online store doesn't give us any guarantees, most chances we will not make any purchase.
So it's really important for us, the store owners, to have all that information displayed in order to get the maximum amount of sales possible.
In this week's article, I'm going to show you exactly what you have to do in order to increase your online store's trust and get more sales.
Make sure you read the whole article and implement it all so you don't miss a potential customer just because he didn't trust you enough with his money.
You're Not Shopify…

One of the many reasons so many online store owners choose to create and host their store on Shopify is the security and support it provides to its users.
Yes, your store is now hosted on one of the best platforms out there but this is something only the store owner knows. 99.9% of your customers won't even know it's hosted on Shopify so you have to make additional changes for them to trust you.
And no, the "Powered by Shopify" text in the footer isn't going to make it…

If you don't touch a thing and leave it as it is, the only place that guarantees a safe transaction is the Payment page: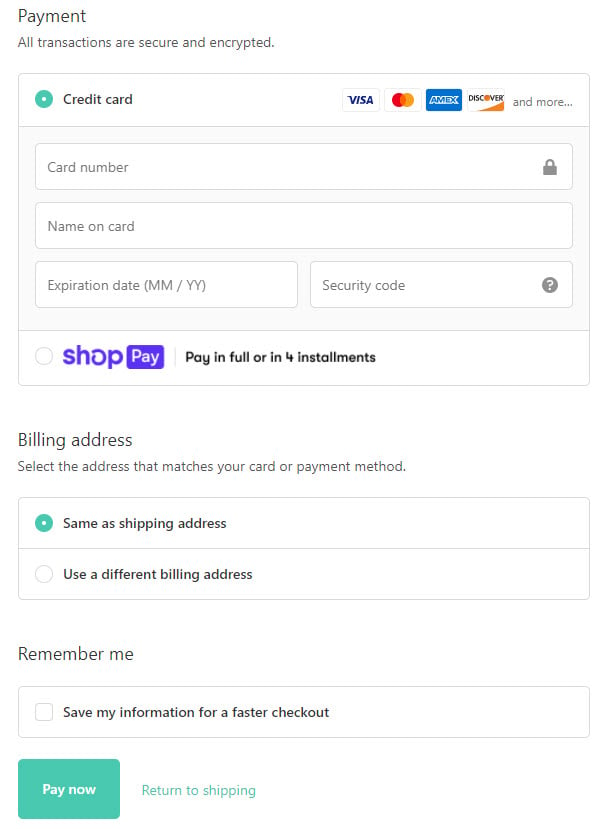 This is just to show you that Shopify doesn't do nearly enough to make sure your customers know that your store is secured. You will have to add your own stuff to make sure your customers know right away that your store is 100% trustworthy.
There's also other must have pages to add that have nothing to do with the payment, and without them your customers will be less likely to complete their purchase.
So please, Don't take this lightly and implement all the steps you see in this article.
1. Adding Must Have Pages That Increase Trust To Your Online Store.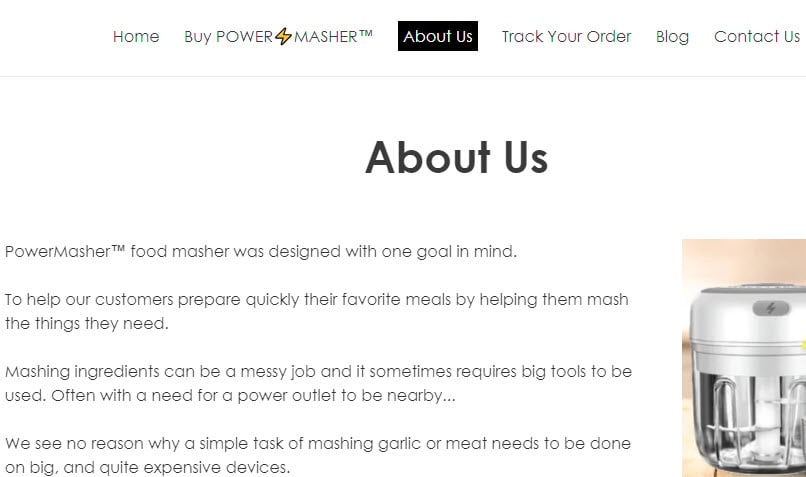 As I already said, the trust isn't just about payment & information security. You have other things to add as well to your store that will make your customers feel better about their purchase.
So in this part, I'll show you the must have 7 pages you should always have on your store. Three of these pages are auto generated in Shopify's settings and the other four are created manually.
Let's begin with the 3 auto-generated pages:
These pages can be easily created on Shopify's Legal section and with just 1-click you can auto-generate these pages and add them to your store.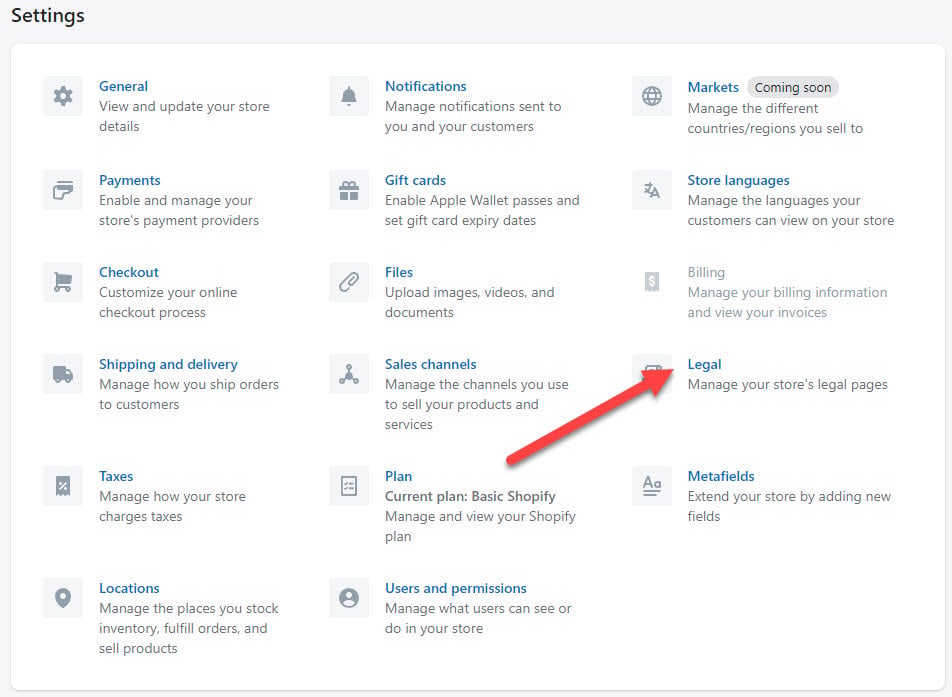 Once you're in the Legal pages section, just auto generate the Privacy Policy, Refund Policy, and the Terms of Service pages.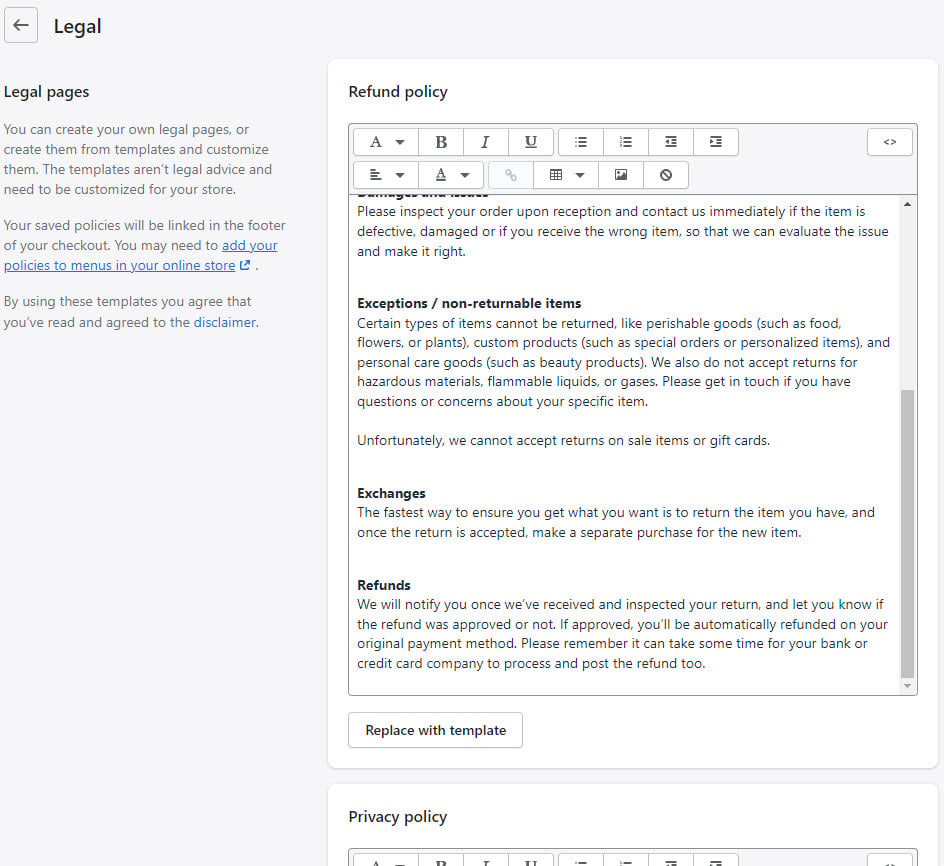 Shopify automatically adds details like store name, address, and contact email to these templates. You can always edit this ready template and edit the text or the details.
Once you have these pages saved, go to Online Store and click on Navigation: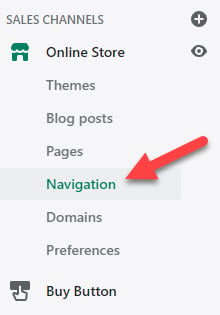 Choose the Footer menu because that's where we want these auto-generated pages to be displayed:

And from there click on Add menu item, give a name to your page(keep it the same as the original policy name), and choose policies to see your newly created policy pages.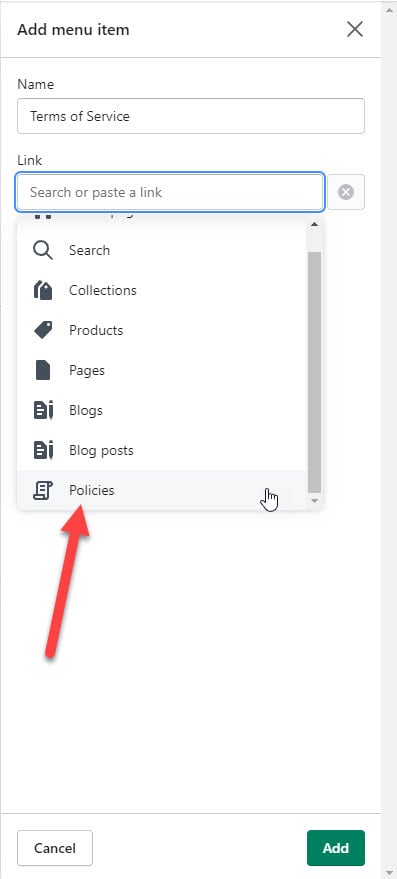 Choose the right policy page and click on Add: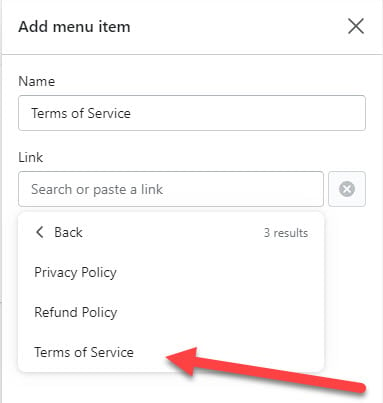 Repeat x2 times and that's it! The policy pages you just created will now appear in your store's footer menu. They will also appear on your checkout pages as well.
Why Footer Menu and not Main Menu? That's because we have other more important pages to put there.
IMPORTANT:
There's another policy page we can generate in Shopify's Legal settings which is the Shipping Policy page: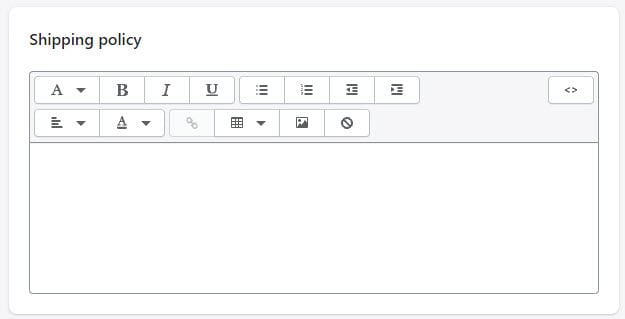 We recommend creating your own Shipping page where you write how much time in average it will take any item ordered on your store to arrive.
Make sure to let your customers know the countries you ship to, and the time to arrive per country + possible delays. Contact the shipping company/Aliexpress seller you're working with to know the exact numbers.
This is the 4th page you have to create and you can place it in the Footer Menu as well.
Next are the three super important pages that you have to create and place in your store's Main Menu:
The first page you should create is the About Us page – Tell a short story about your store and your mission.
Most dropshippers write something about their store being the "only one" that finds helpful products from around the world for the best price possible + a quick explanation about what they sell and their niche.
There's nothing wrong with generic About Us pages, but if you can be a bit more creative that will always look better.
And of course, add your support email and let customers know they can always contact you if they have any questions. If you're extra creative, you can even add a discount banner to promote a collection/product.
How to create an About Us Page?
Go to Online Store and click on Pages: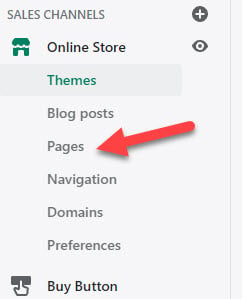 Then click on Add page to create a new page:

And now you can use Shopify's editor to create your About Us page and other pages if needed:
Click the green Save button and you're done. You have now created a new page in your store and you can display it in the Main Menu or the Footer Menu.
The About Us page should be displayed in the Main Menu, so now we will have to go to our online store's navigation and place our newly create page in the Main Menu.
The same as we did with our Policy pages, but instead we now choose the Main Menu:

And from here we click on Add menu item and pick the page we want to be displayed: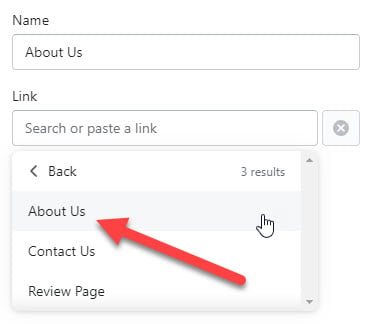 Repeat the same process with the second Main Menu page which is the Contact Us page. Luckily for us, Shopify has a ready template for us to use so we don't have to install any app to create a contact us form.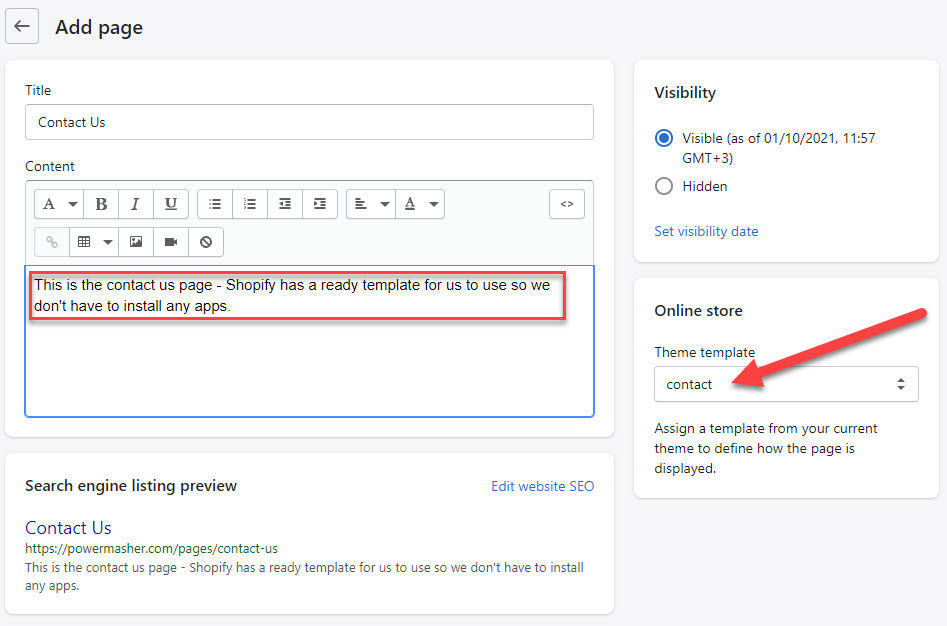 The only thing you have to do different this time is to choose a different Theme template. Instead of a Default Page template, choose the Contact template and Shopify will do the rest.
A simple contact us page will be created on your store and all you have to do now is to add it to your Main Menu. This is how the Contact Us page looks like on Shopify: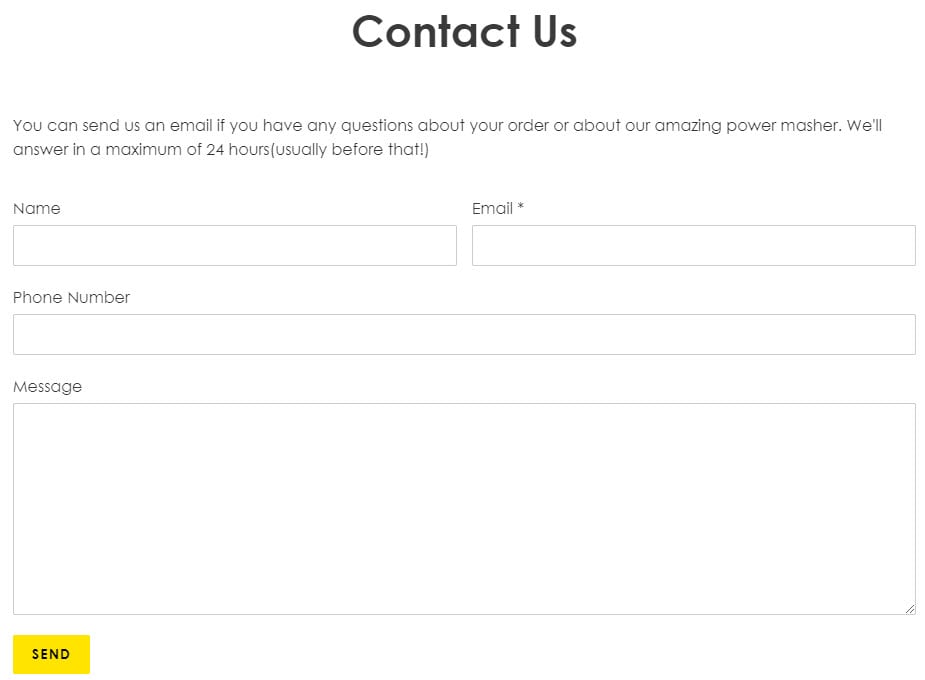 You can add 2-3 lines of text like we did in the example above for your customers to know how much time it takes to get a response.
And last but not least is the Track Your Order page: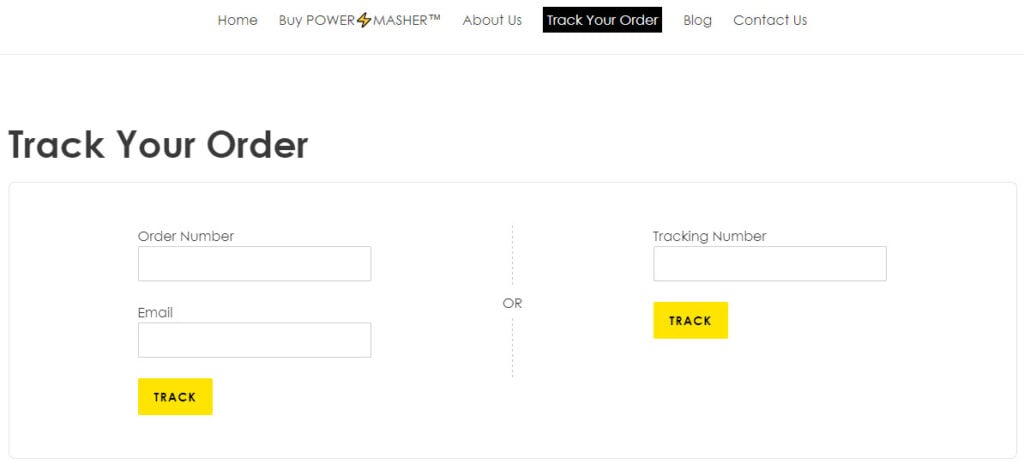 To create this page, you'll have to install an app from Shopify's App Store – There are many tracking apps available so feel free to choose the one you like the most.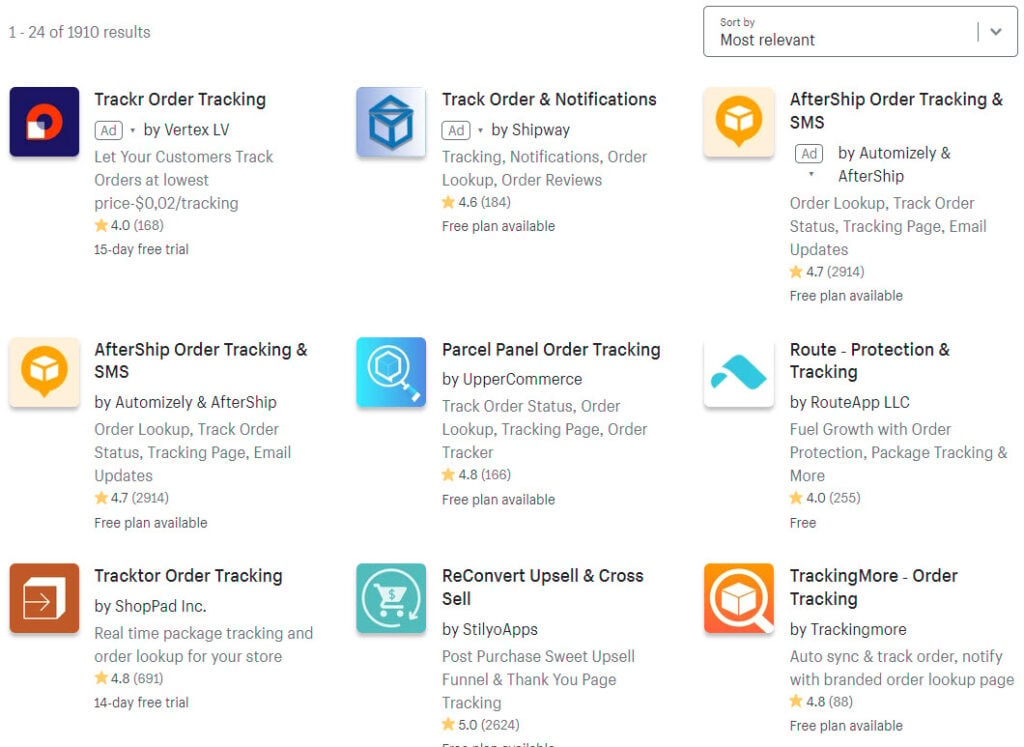 Most of these apps have a free limited plan which charges you after a certain amount of orders/tracking requests so you don't have to pay right away.
The way these apps work is that they create automatically a tracking page on your store and all you have to do is to add this newly created tracking page to your Main Menu.
The same as we did with the other pages, your tracking page will now have a form inside just like the example tracking page I showed above.
Now that we have all these pages ready and displayed on our store, our customers will feel a lot more safer to purchase anything from our store.
The policy pages + shipping page will answer all of our customers questions regarding their order, and the other 3 pages are there to show that we're a serious business capable of delivering the ordered goods.
2. Adding Badges & Guarantees To Your Product Page To Increase Trust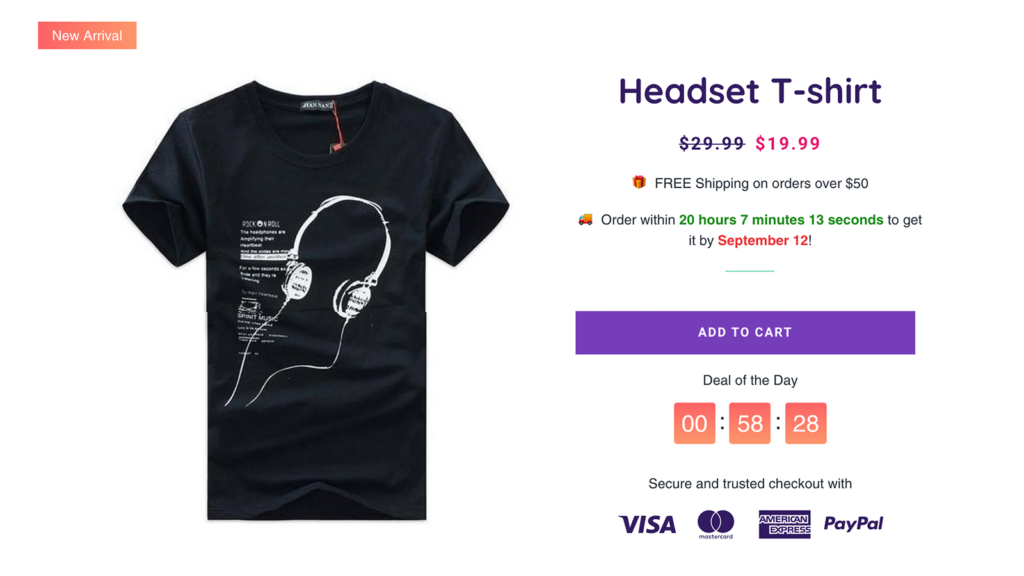 In most cases, dropshippers that advertise a specific product send their traffic directly to the product page. This means that your product page needs to look clean, have all the needed information about your product, and have all the necessary stuff to make your customers trust your store.
First things first, we need to add payment trust badges as you see above to ensure our customers their money is safe with us. You can do it with an app or by adding a picture manually to each product you have listed on your store.
I usually use the Ultimate Sales Boost app for that – Their trust badges are included in the free version, so you don't have to pay a dime for it.
After that, we should add our store's guarantee: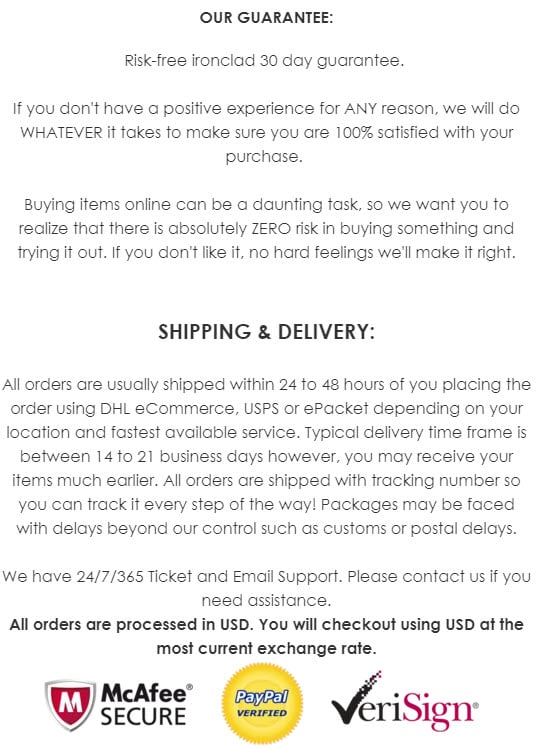 Our store's guarantee text is always at the end of our description and it includes our shipping times, return policy, and a quick word about how to contact support if needed.
I recommend adding your support email address or phone number to make it look extra professional. You can also add a few more trust badges as you see in the picture above.
Bonus:
You can add these badges somewhere in the middle of your description just before you go over what is included in each package. We add this arrow to let people know they can scroll down to also see our excellent reviews.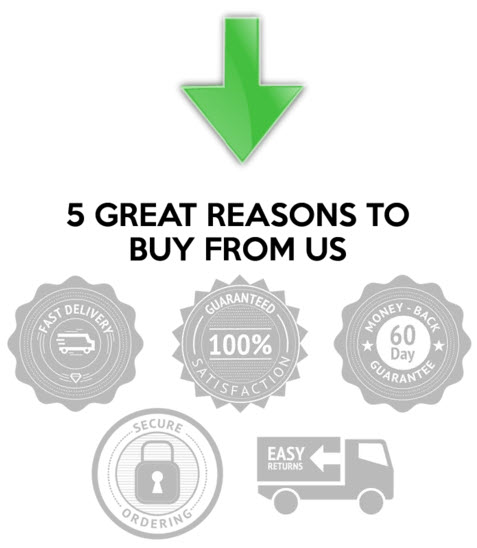 Feel free to download the picture above and use it on your stores(with or without the green arrow).
3. Adding Reviews To Your Product Page & Main Store Page To Increase Trust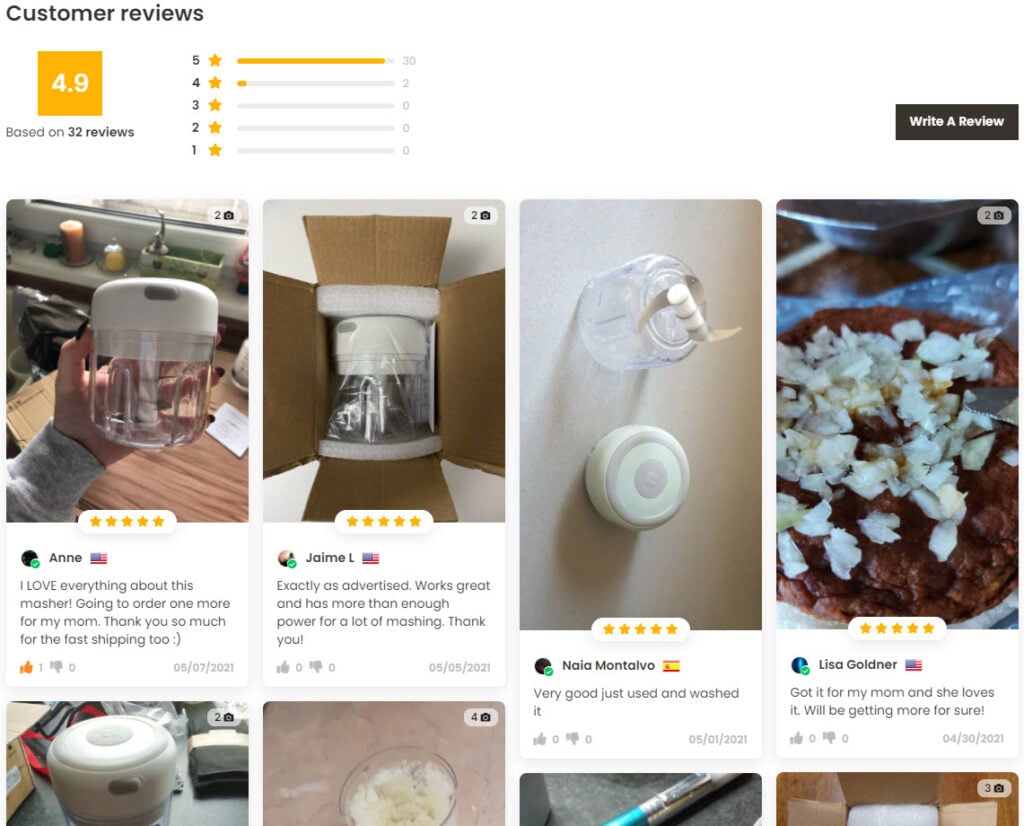 Having product reviews significantly increase your store's trust and quite a lot of customers tend to check reviews before making a purchase.
Fortunately for us, we don't have to work hard to get reviews and we can import them directly from Aliexpress. There's plenty of apps you can use to choose the one you like the most. I personally use Ali Reviews and it's getting the job done.
You should also use reviews on your main page: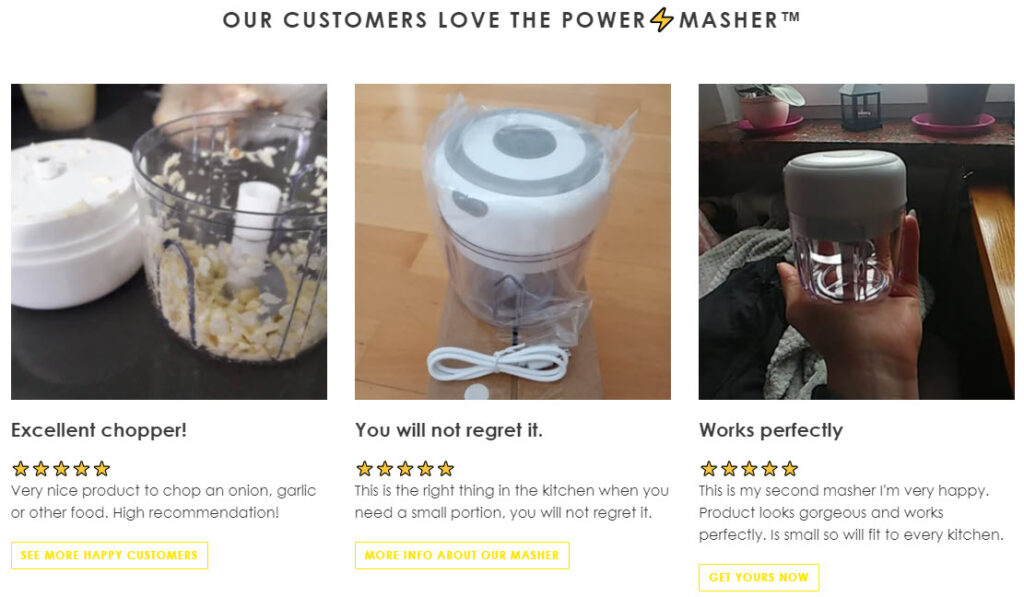 It doesn't matter if it's a one-product store or a general store… Just add a few reviews to show customers that you're a legitimate business that delivers its goods.
Note:
Always look for photo reviews you can import and make sure the best looking ones are the first to appear. If you don't have good photo reviews to import, it's better to stick to text only.
4. Optimizing Your Cart Page To Add More Trust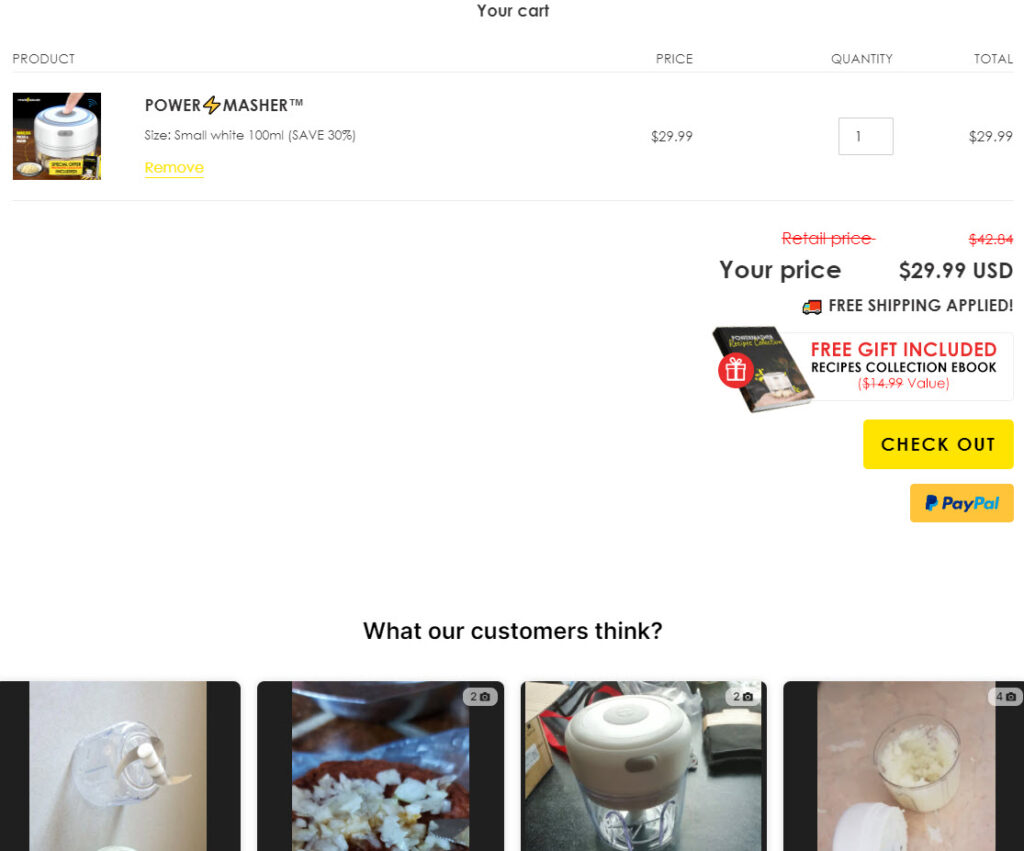 It's important to stay consistent with what you advertise and making sure it's the same on every page of your store. If you advertise Free Shipping, your cart page should have Free Shipping text displayed as well.
I've seen a lot of dropshippers that use Shopify's default "Taxes & shipping calculated at checkout" text when they offer free worldwide shipping.
This can confuse your customers as they don't understand why they suddenly have to pay for shipping when it was advertised as free on the product page + the ad.
So the first thing you have to do is to make sure the promotion you advertise is the same on EVERY page of your store.
Once you have this done, you can edit the cart page a bit and add a few icons or even reviews again as a reminder for your customers.
Adding reviews to the cart page may require some coding or a special theme installed, but don't worry about it too much. This isn't a must have so you can keep the default cart page and later upgrade it to a better one once you get sales.
5. Adding Badges On The Checkout Page To Increase Trust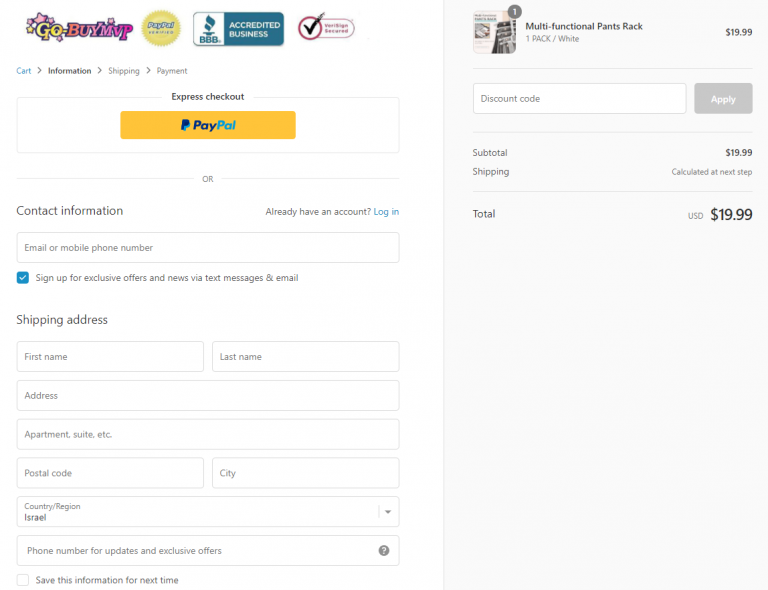 This isn't really necessary but if you really want to you can add a few trust badges next to your store's logo. You can do the same thing as you see in the picture above, just make sure the badges you use are legal and not false advertising(like BBB accredited business badge).
You can always just use the same logo and get done with it, but I personally think that trust badges around your logo makes your store look more professional.
And as I told you in the first part, the auto-generated policy pages will appear automatically at the bottom of the checkout page. There's no need to add them manually 🙂
To Sum It Up
Unlike other big brands, small dropshippers like us have to work extra hard to get traffic and sales. We can have the perfect winning product and ad in our hands, but it doesn't mean we can just neglect everything else.
Having our customers to trust our store is not less important than having a winning product, and by implementing all the stuff shown in this article, you're almost guaranteed to have the maximum conversion rate possible.
So don't be lazy and take 15 minutes to optimize your store for it to be ready for Q4.
Good Luck!
Struggling to find good products to sell? Not sure who's your target audience? Tired of losing money on products you were sure were "winners"?
Then Ecomhunt is what you need! Find hot winning products that are added daily, spy on their ads & stores and import them into your store in 1 click and Start Selling Today!
Must Read Articles: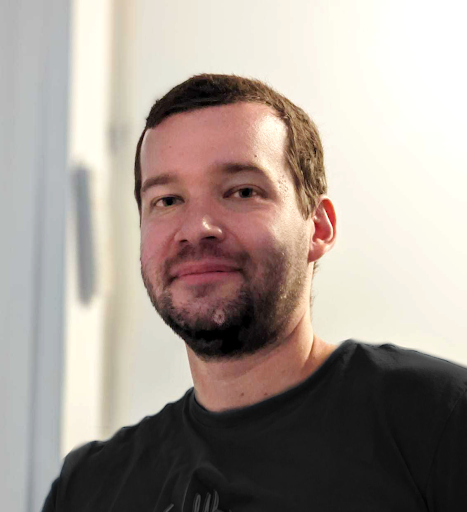 Daniel Aloni is one of the leading mentors in the Ecomhunt family. Daniel is a highly experienced Print On Demand seller with multiple 6 figures successful launches.