This pet bed has been selling for years now and each time some dropshipper out there manages to explode with it.
Now the question asked is how come this dropshipper is able to sell this "saturated" product successfully while many others fail.
Is it a special trick he's using? Or maybe a new marketing technique only he knows about? What did he do right to make this product blow up again on Facebook?
The answer is quite simple actually:
He just created a new ad creative that was good enough to stop people from scrolling. That's it.
It could also be the timing of this ad and the targeting, but it's mostly a new ad creative followed by a good store & offer that easily converts visitors to actual buyers.
In this week's article, I'm going to review everything there is about this product and give you my own tips on how you can take this product and sell it too.
Or you can look at this case as an example and search for other "saturated" products on Ecomhunt that you can bring back to life.
The Ad:
As you can see, this ad is going crazy on Facebook with 26k likes, over 5M views, and almost 4k comments.
When this ad popped up on my feed a few days ago, it had only 21k likes and 3.2k comments – It's still going strong and they haven't stopped their ads.
A video that keeps on getting good engagement in a short period of time is an indication of a healthy ad that works and brings sales.
Now let's review the actual ad:
The ad starts with a "bang" by showing the product being dropped on the floor and put to use almost instantly.
This is a GREAT scroll stopper! A scroll stopper (for those of you who don't know what it is) is the first 3 seconds of the video which should make people on Facebook stop from scrolling their feed and focus on our ad.
If the first seconds of your video are boring, you will find your CTR(Click Through Rate) to be lower than average and less people will notice your ad.
BUT if you make it interesting, you'll get much more clicks and interest which will increase your chances of getting actual sales.
So just by looking at the first 3-4 seconds of this video, I can see that the original seller did some research and knows how things work in the marketing world.
The rest of the video is focused on a single dog really enjoying his new pet bed followed by some scarcity texts and a call-to-action.
The video is pretty short, there's no other dogs or cats being shown, but this isn't really an issue because it works great for him.
I remember seeing much longer video ads for this product explaining all the Pros about this product, but this seller just skipped all that.
Sometimes skipping some obvious explanations about the features of a product and cutting it short can work even better.
But you still have to test different ad creatives to see which one performs better!
Ad copy:
Instead of talking about it in the video ad, they mentioned the anxiety calming features in the ad copy which is totally fine.
Their Buy One get One Free deal is at the top for people to not miss it, and you have a few emojis here and there + a call-to-action text at the end.
Pretty standard ad copy, but I see already a small problem which I'll talk about when we get to the store review.
Overall, the video ad and the ad copy are pretty good and the only thing I would've done differently is adding another animal to the video.
If you're also targeting cat owners, it would be cool to show a cat enjoying this bed as well.
The Store:
First of all, I really like the branding work on this store. They made sure their logo appears on every product photo on this store, including the greenish color as a background as well.
The logo is also really cool and it's not just a static image – This one is a GIF and you can see the cute dog blinking and wiggling his tail. Overall, really nice job on the branding and great choice of colors in my opinion!
The product description is pretty standard, although it would be a lot better if there were a few more picture or GIFs instead of so much text.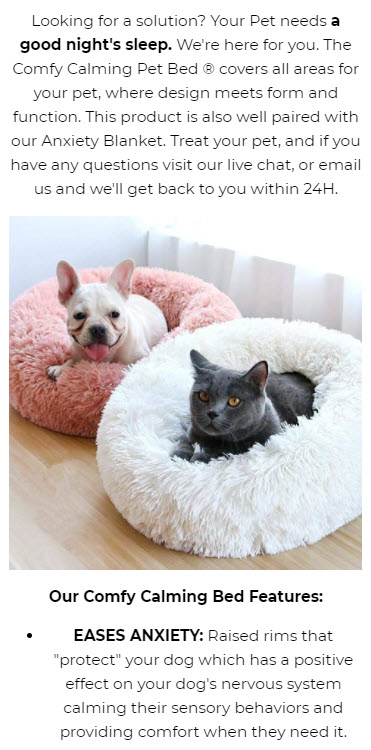 The size chart also isn't the best as it's text only and doesn't come as a picture. It can be a bit of a struggle to some because they'll have to scroll way too much to see what size they need to purchase.
If all this information was available in one picture, it would've been much easier for the customers to quickly understand what size they need to buy.
Reviews: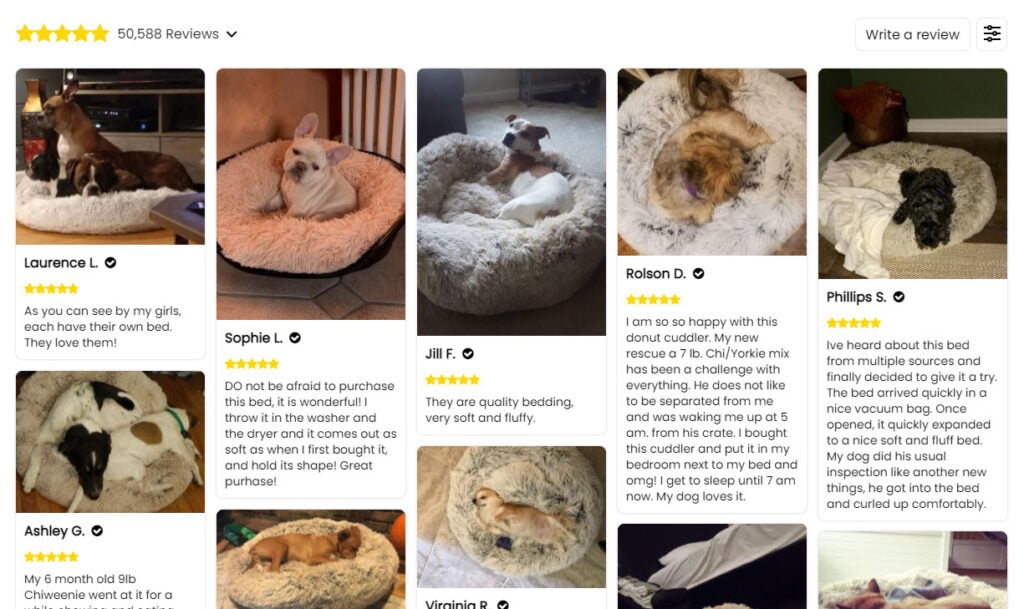 The review section is perfect – You have plenty of 5 star reviews with great photos in them. The texts all look to be written by real customers and it's not some kind of Chinese to English auto translation.
Even though importing reviews isn't an issue nowadays, people still forget that some reviews found on Aliexpress are just auto translation that sometimes make no sense at all.
People read reviews so make sure to import only the best reviews and the ones that make actual sense.
This store is looking great but there's still some things I didn't like – Here's what I would definitely change:
1. Annoying popups & apps: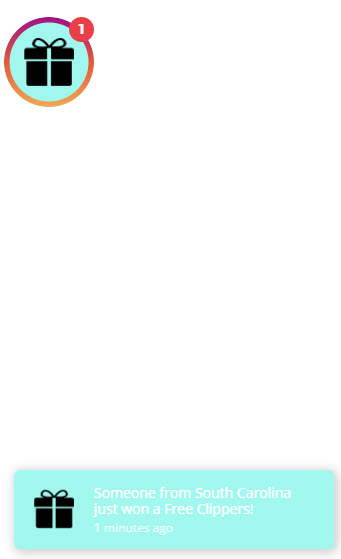 The gift icon is a Spin the Wheel app that gives you a discount and the notification below is a popup that shows what other users are getting/buying on your store.
In my opinion, I think it makes the store look a bit spammy and cheap. I prefer keeping it clean to keep the focus of my customers only on the product I sell.
I'm not saying these apps don't work… It's just that if you bombard them from the start, you'll have a hard time figuring out their actual efficiency.
Start clean and test different scarcity apps when you get sales – This way you can monitor if the new app you just added to your store makes you more sales or not.
2. BOGO discount isn't automatic: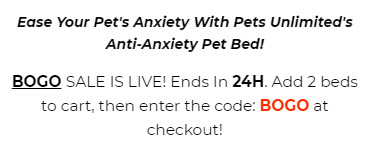 Like I already said, you have to make sure the purchase process on your store is simple. Any addition, like asking your customers to MANUALLY add a discount code, will prolong the purchase process.
For example:
Imagine a customer who knows about the BOGO deal checking out with 2 pet beds in his cart. He has gone through the whole process but he forgot that he has to manually type BOGO to get the discount.
Now he's either confused about the price and leaves the store without buying, or he goes back again to your product description to see how the discount works.
In both cases, the purchase process is now much longer AND there's a chance you might lose a customer. If this were an automatic discount, it could've been avoided.
Always work with automatic discounts(if possible) for a better and faster purchase experience.
3. Too many options: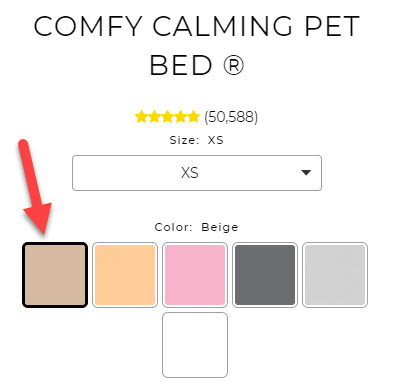 One of the issues people seem to miss is that sometimes they offer too many options to choose from when there's actually no need in that.
Yes, it's nice to have different color options but will it really matter for your customers if you didn't have a brown & light gray color options? The answer is NO.
In this case, having a few less color options probably won't hurt your sales. In fact, it will shorten the purchase process because your customers will pick their color much faster.
This isn't like size, where having different option actually matter a lot, this is just colors for pet beds. If it were me, I would've just offered pink, dark grey, and white colors – That's it.
Other than these 3 issues, and the lack of pictures/GIFs in the description, everything else is fine.
Checkout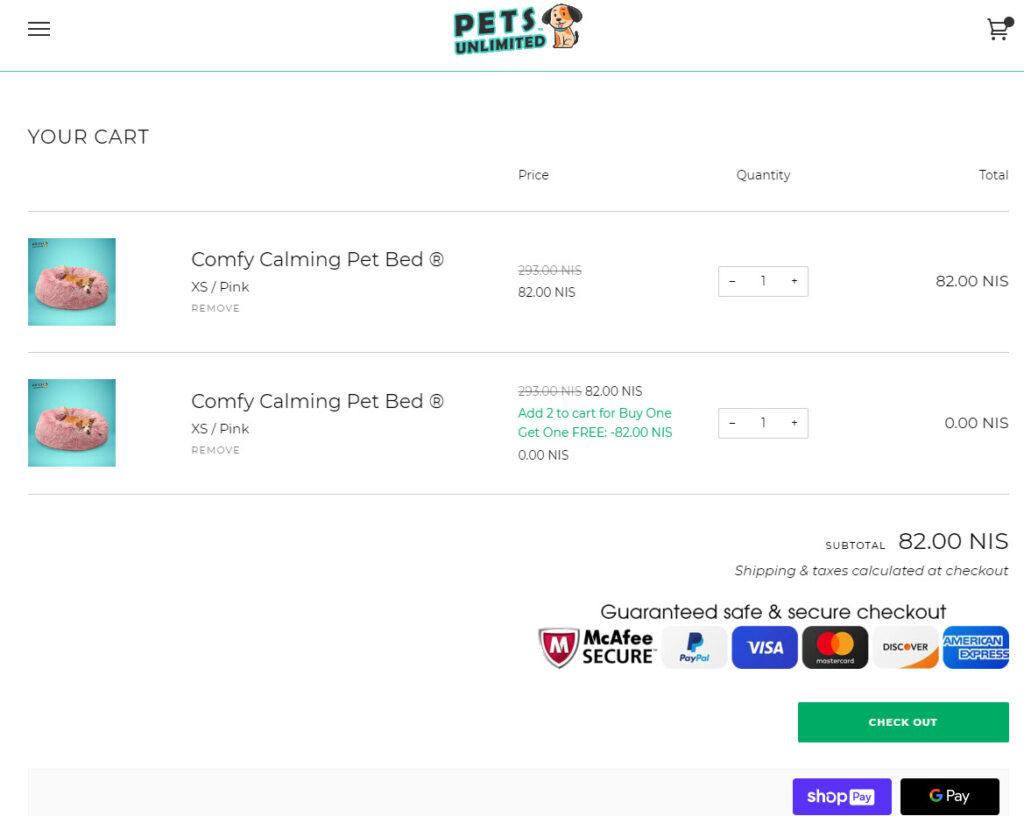 Looks like I was wrong about their manual BOGO discount. I added 2 pet beds to see what will happen and one of the pet beds is automatically free.
Good for them for applying this discount automatically and not asking their customers to do it manually.
Note:
This pet bed goes for a really cheap price on Aliexpress, so there's enough profit to make even if you sell it for $24.99 like they do.
The BOGO discount though changes everything… Two pet beds for the price of one. I wonder what they will do next to increase their profits and if there's some hidden strategy I don't know about.
It could be also that they are running this deal to get a lot of customers fast and later sell them more stuff – A strategy used by a lot of retailers.
Customer Information page: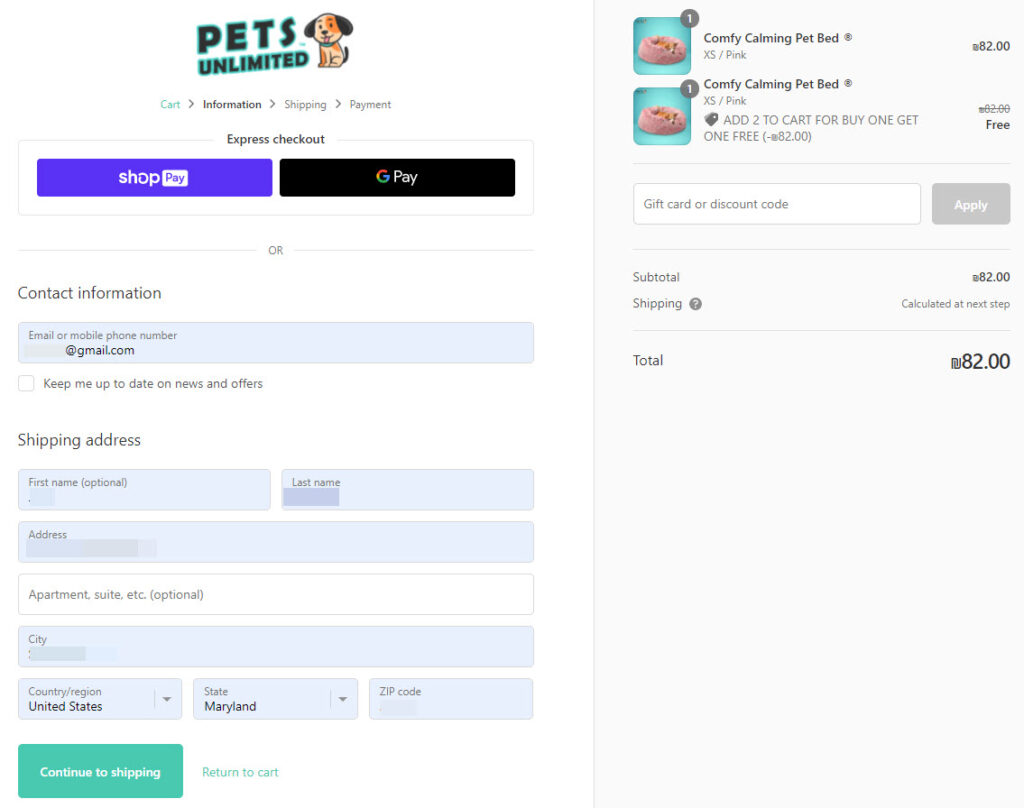 They didn't forget to add a logo to their checkout page and they don't require a phone number. The customer information page looks good to me, and there's nothing really to fix here.
If I were to nitpick, I'd definitely add a phone number field and set it as Optional. You still want to give your customers an option to leave a phone number just in case the shipping company needs to contact them.
Shipping Page: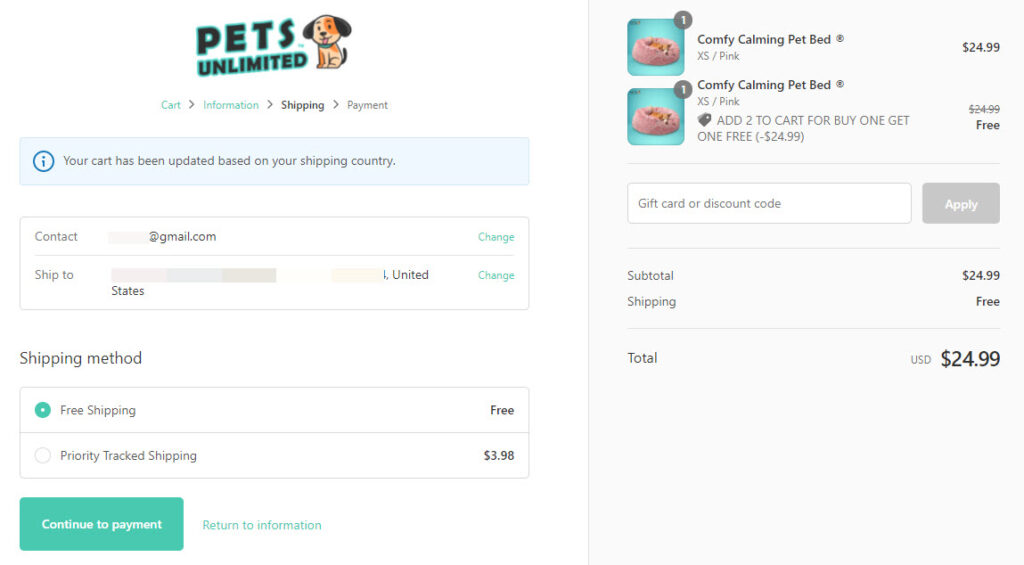 I'm honestly surprised that they offer free shipping. I was expecting shipping upsells like Priority shipping, Warranties, etc. And for a much higher price like $10 and not $3.98.
Now I'm more than sure that this is their plan to get a big amount of customers and fast before Q4. Once you have a ready list of customers, and a HOT working Facebook pixel that knows exactly who's your audience, you have much higher chances to crush it this Q4.
I believe they have a few upsells right after the purchase, but unfortunately I can't test that as I'm not going to purchase the product.
Overall, the shipping page looks good and the only thing missing is the amount of time for the product to arrive if Priority shipping is chosen.
Payment page: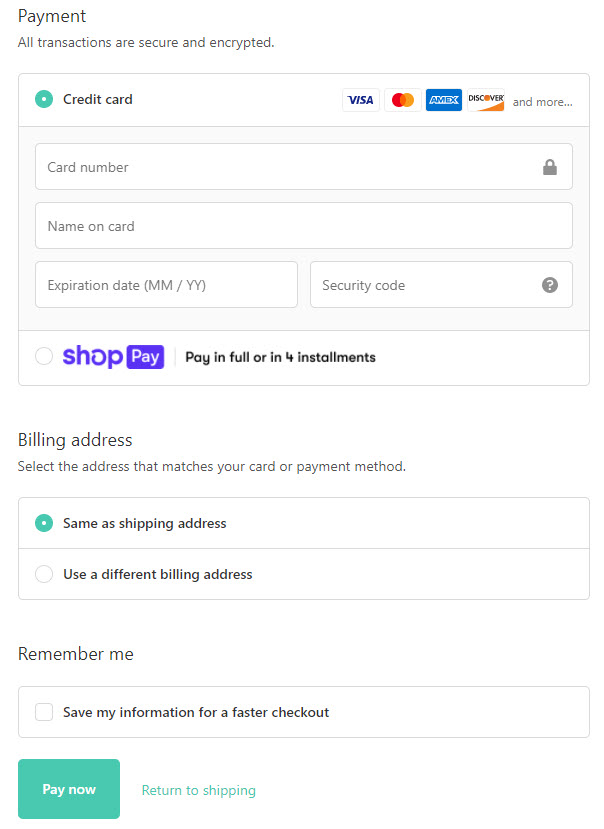 I'm a bit surprised they don't have PayPal on their store, but they do offer Stripe & paying in installments. Not having PayPal will definitely reduce the conversion rate, but it isn't that big of a deal and you can still make crazy amount of sales.
They made sure their store is trustworthy so people will have no problem paying with their credit cards.
To Sum It Up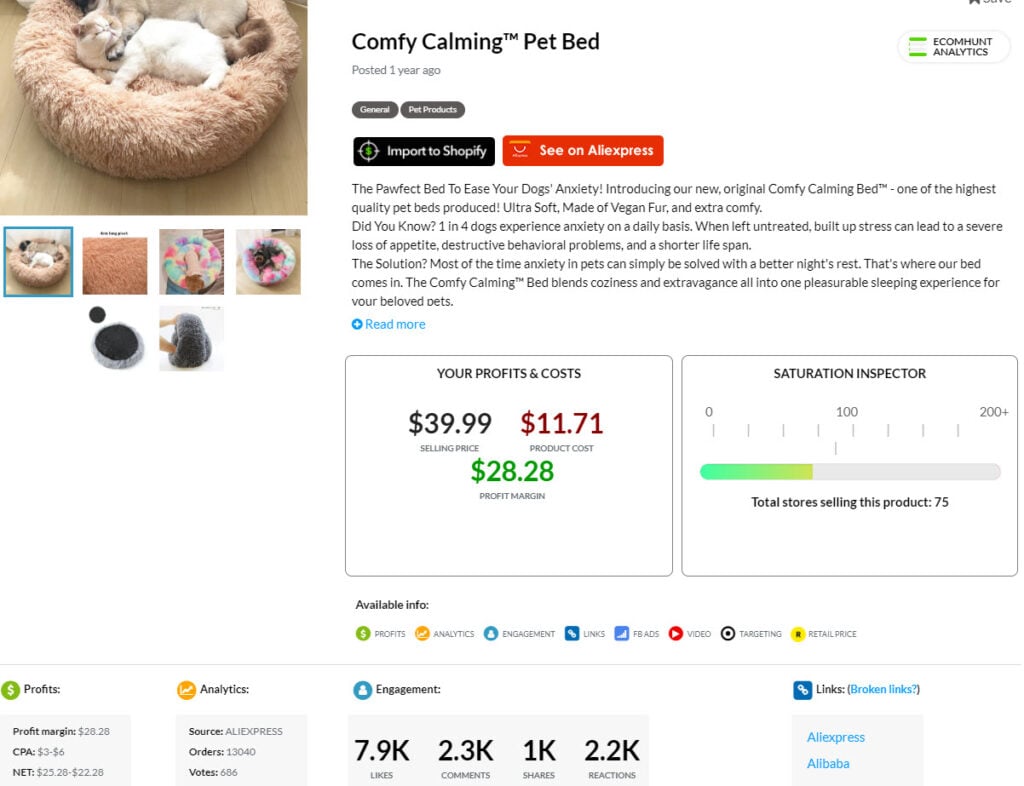 As I said in the beginning of this article, this calming pet bed has been on Ecomhunt for ages and every year some dropshipper out there manages to pick it up and make bank selling it.
Same thing can be said for a lot of other old winners on Ecomhunt, so make sure to go through the old pages of Ecomhunt and maybe you'll get your first 4, 5 or even 6 figure winning product!
Good Luck!
Struggling to find good products to sell? Not sure who's your target audience? Tired of losing money on products you were sure were "winners"?
Then Ecomhunt is what you need! Find hot winning products that are added daily, spy on their ads & stores and import them into your store in 1 click and Start Selling Today!
Must Read Articles: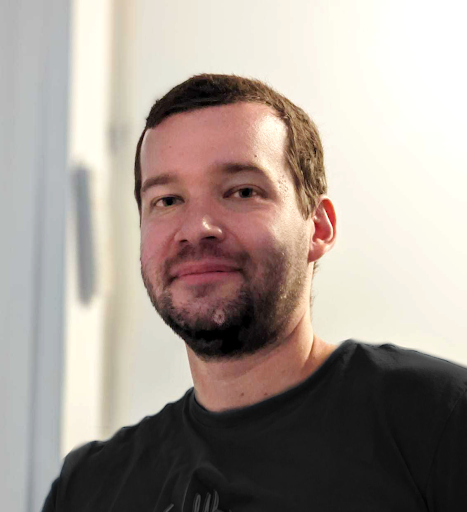 Daniel Aloni is one of the leading mentors in the Ecomhunt family. Daniel is a highly experienced Print On Demand seller with multiple 6 figures successful launches.