Introducing Ecomhunt Tracker – Your personal monitor to help you find your next winning product.
Ecomhunt Tracker is a new feature designed to help you track the performance of any product on Aliexpress and its sales. Use this feature to track products of your interest and be the first one to spot any change in popularity to quickly start selling it before anyone else.
You can track any product on Aliexpress and soon we'll also have Facebook ads tracker and Shopify store tracker.
Start using Ecomhunt Tracker: https://tracker.ecomhunt.com/
(You must have an account on Ecomhunt.com to start using Ecomhunt Tracker)

1. How To Start Using Ecomhunt Tracker?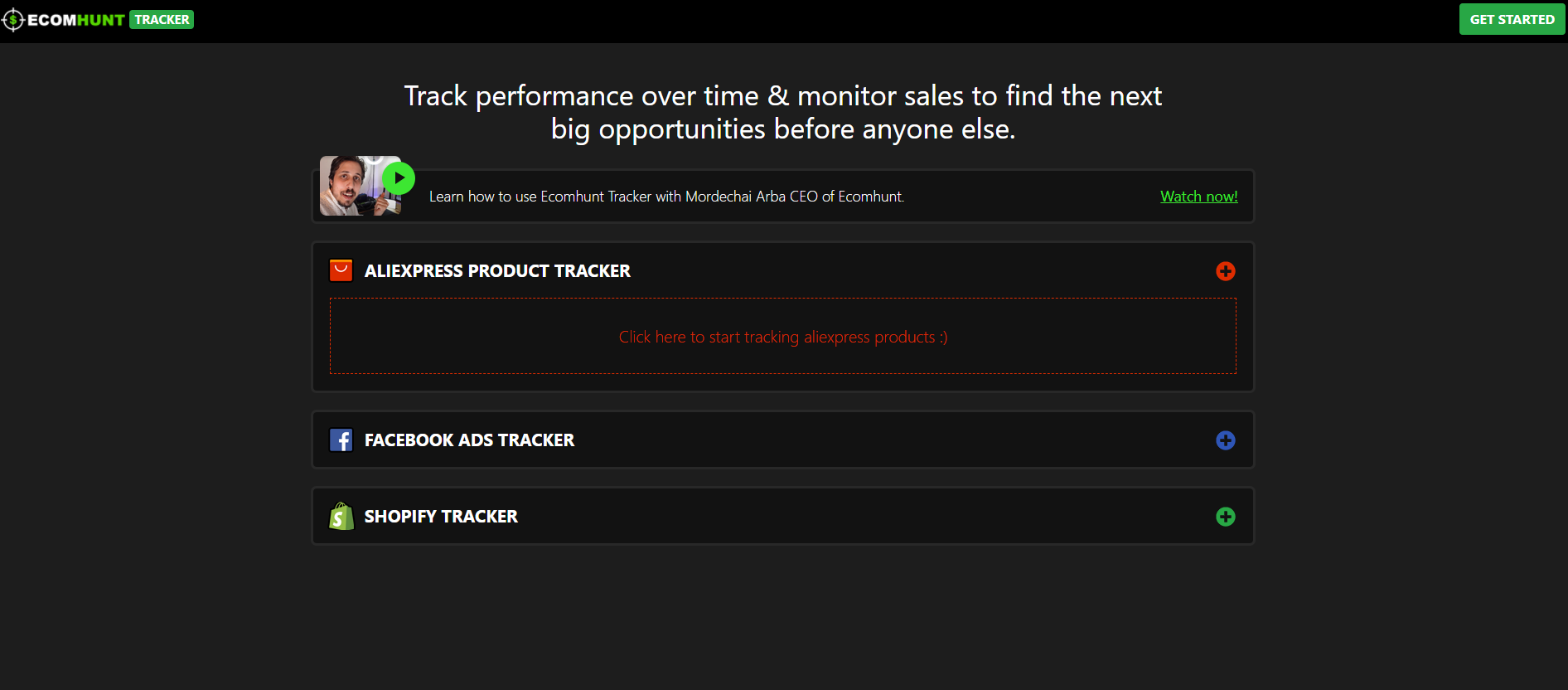 As with all our features, you will need to have an account on Ecomhunt.com to start using the tracker. Sign up to Ecomhunt if you haven't done so yet, activate your email, and click the Get Started now button on the top right corner to login.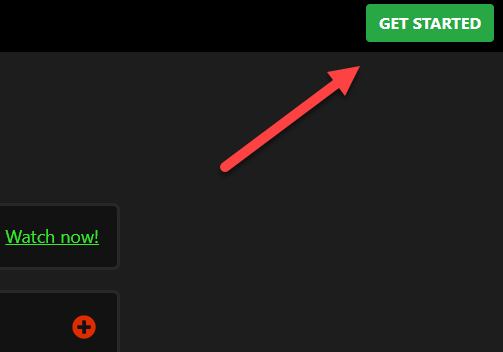 Sign in with the same account email & password to begin using the tracker.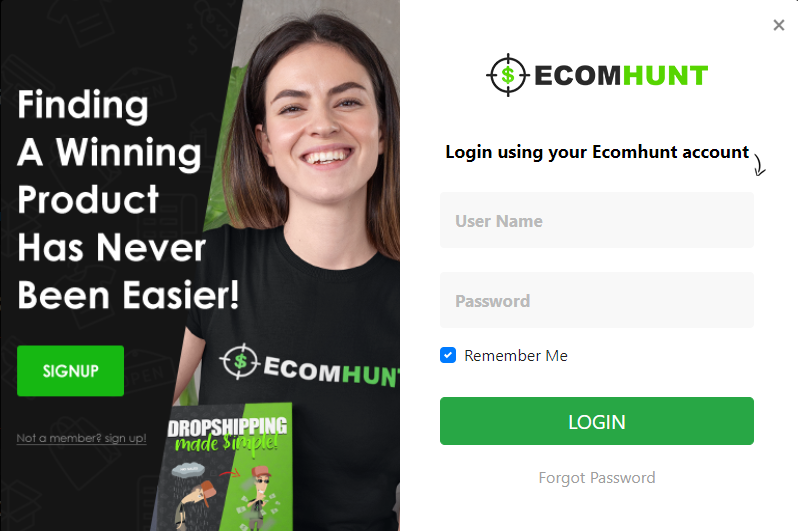 2. How To Track A Product From Aliexpress?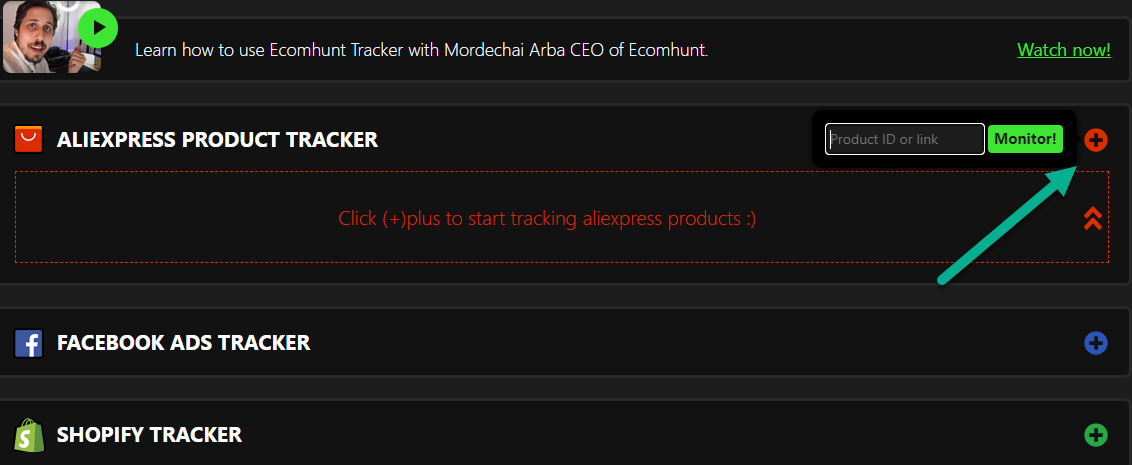 To track a product from Aliexpress, you need to click on the red '+' icon and provide the URL of the product.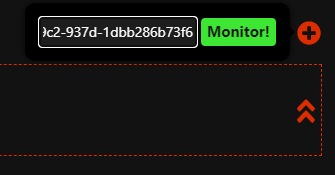 COPY-PASTE the link into the box and click on the green Monitor button to add your product to the tracker. You can COPY-PASTE the full link or the product id – The product id can be found right after the "/item/" in the URL.

Important:
Every new product you add to the tracker won't be available for the first 24 hours and all you'll see is N/A. It takes our system about 24 hours to collect all the sales data so don't be scared as it's not a bug ?

Here's how your dashboard will look like when our system is successfully tracking your products: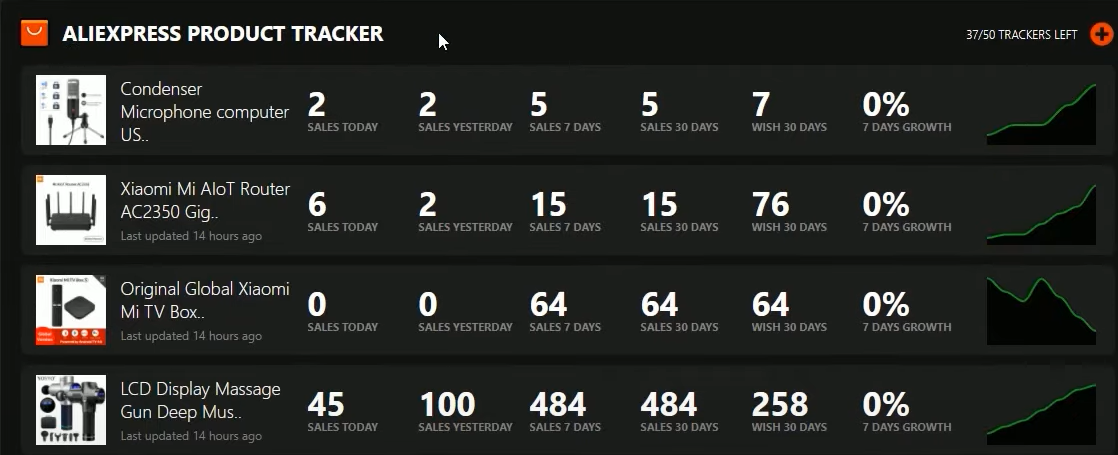 3. What Does Ecomhunt Tracker Offer?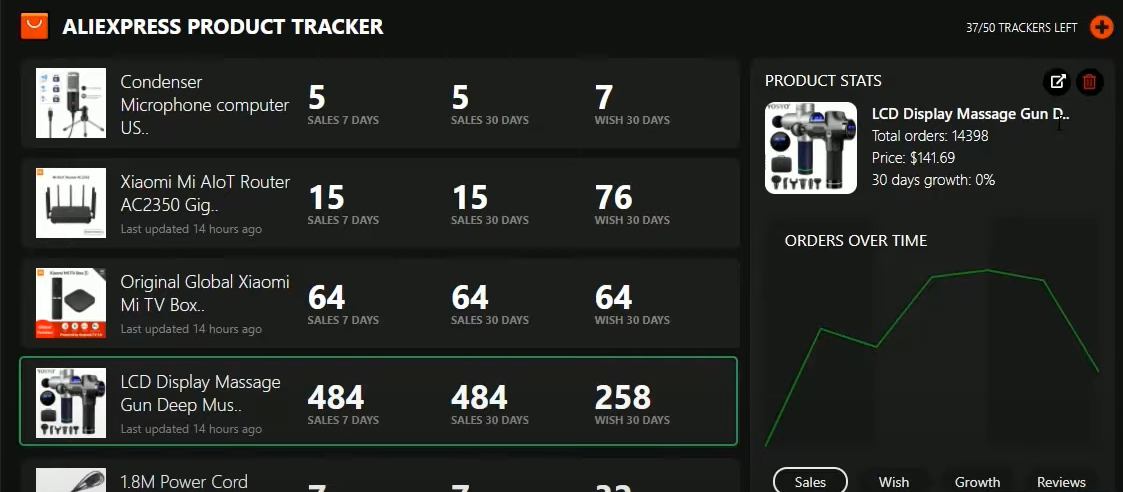 Our newest feature lets you track the performance over time of any product on Aliexpress and monitor its sales. This feature is a HUGE game changer for dropshippers as it allows us to spot any change in the performance on Aliexpress before anyone else.
For example:
A product you added to the tracker a few months ago that didn't make too many sales suddenly shows a tremendous growth in sales during the Winter. It could be because of Winter season or maybe it suddenly went viral somewhere, but the reason doesn't really matter.
What matters is the sudden growth in performance which means more people are looking to buy it, so our job is to quickly import this product to our store, prepare some video ads, and launch them to make some bank!
4. Ecomhunt Tracker Product Data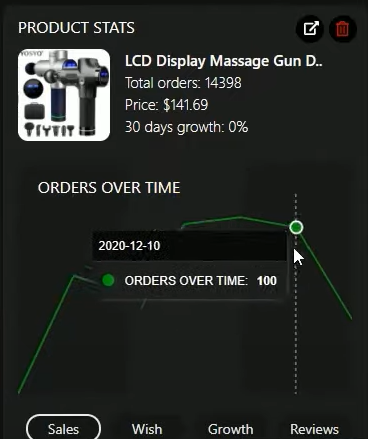 Ecomhunt tracker doesn't just monitor each product's sales – It also tracks the wish amount, growth over time, and even reviews! You'll have plenty of data for each product to decide if you want to sell it or not.
You'll get sales & wish data for the last 7 and 30 days for each product:

And if you want to access the daily stats, you'll have to check the graph: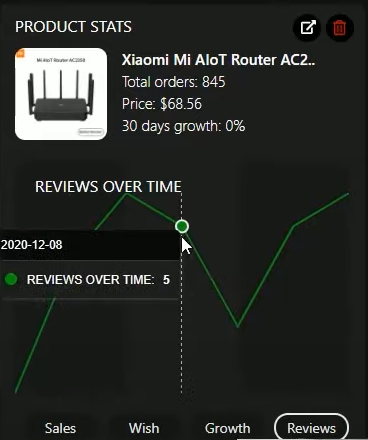 Important:
When you add a product to your tracking list, it will begin tracking from the day it was added if it's not in our database. This means that it will take some time for it to report back the actual growth over time as it's a totally new product.
For example:
If you're tracking a new product for only a week and it has already made 200 sales, then the stats will show the last 7 and 30 days with the same amount of sales. It will only change after you track the product for more than a month.
If the product is already in our database, then we will automatically show you the past data for it so you can see the accurate growth over time and all the other data.
5. Ecomhunt Tracker Pro Tips
Here are a few tips on how you can use the Ecomhunt tracker to find your next winner:
1. Monitor seasonal products – Go to Aliexpress and search for seasonal products to add to your tracking list. If it's Winter, you can search for a bunch of Winter products like shoes, coats, home appliances, and more. Let the tracker do it's magic and check the stats on weekly basis to see which one of the items grows the most. When you see a sudden change in performance, like a big sales growth compared to previous month, then consider testing this product to score some quick sales.
2. Monitor old winning products – There are plenty of winning products on Ecomhunt that sell again and again. There's plenty of examples of products like these such as the posture corrector, calming pet bed, and more. Add these winners to your tracking list and try catching a product when there's a spike in sales on Aliexpress. When you see a big spike in sales, import the product to your store and sell it before anyone else!
3. Compare between products – If you can't decide what product to test next, then let our tracker do it for you. Add the products to your tracking list and test the ones with the best performance over time.
To Sum It Up:
You can now track any product you want on Aliexpress and get LIVE data for it back. The best part about Ecomhunt Tracker is that it's a personal tool and you can potentially find a product that explodes in sales and be the first one to sell it.
Use the Pro tips I suggested in this article to find your next winning product!
Good luck.
Struggling to find good products to sell? Not sure who's your target audience? Tired of losing money on products you were sure were "winners"?
Then Ecomhunt is what you need! Find hot winning products that are added daily, spy on their ads & stores and import them into your store in 1 click and Start Selling Today!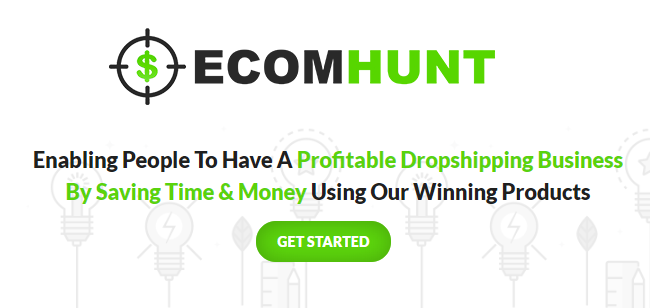 Must Read Articles: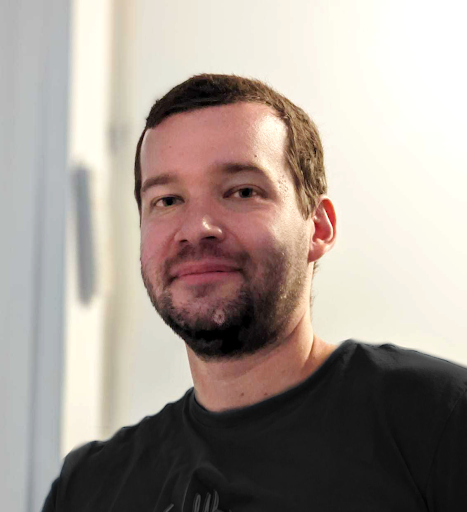 Daniel Aloni is one of the leading mentors in the Ecomhunt family. Daniel is a highly experienced Print On Demand seller with multiple 6 figures successful launches.