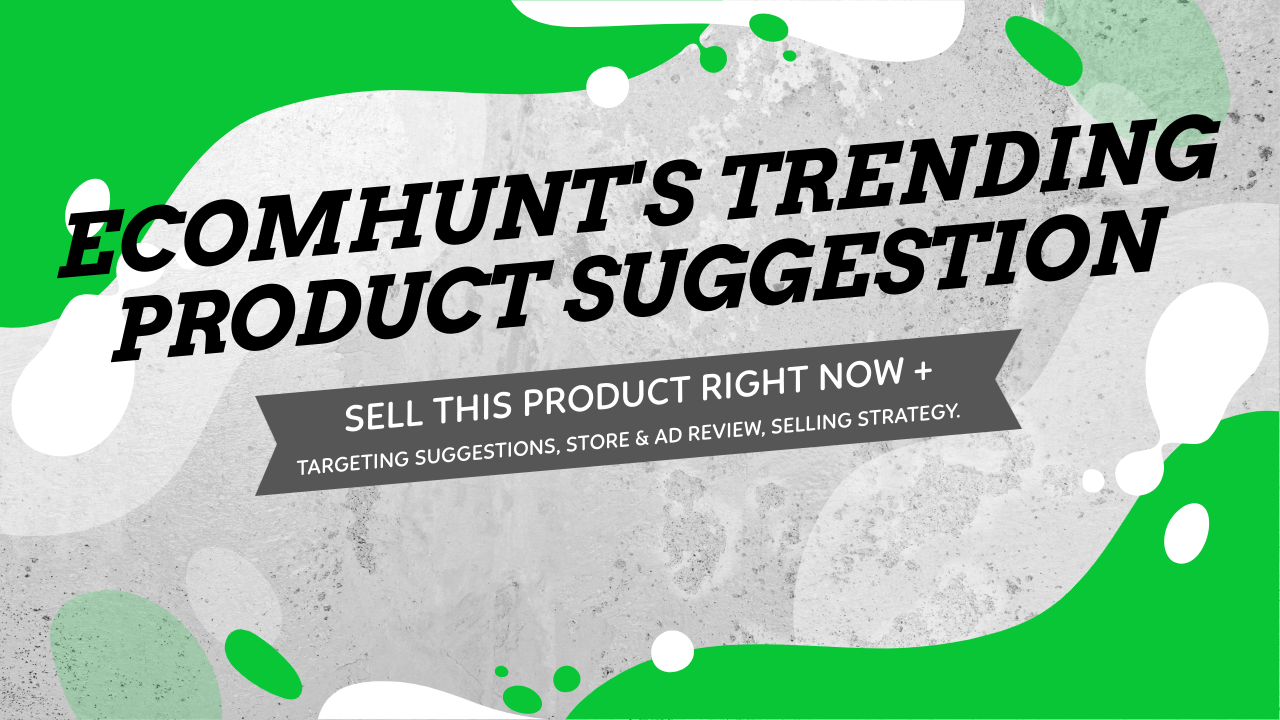 We're back again with a new trending product recommendation!
This time it's a Winter product designed for toddlers which parents everywhere will have to get. When I found this product on Ecomhunt and checked the ad + store, I found out that the original seller didn't market it too well so he probably lost a lot of sales in the process.
It's now your time to take this product and market it correctly to get sales going – If you read this article, you'll see what mistakes you need to avoid and what needs to be changed so this product takes off for you!
On top of that, there's also targeting suggestions for your Facebook ads campaign and selling strategy. Make sure to read the whole article to not miss a thing!

1. The Product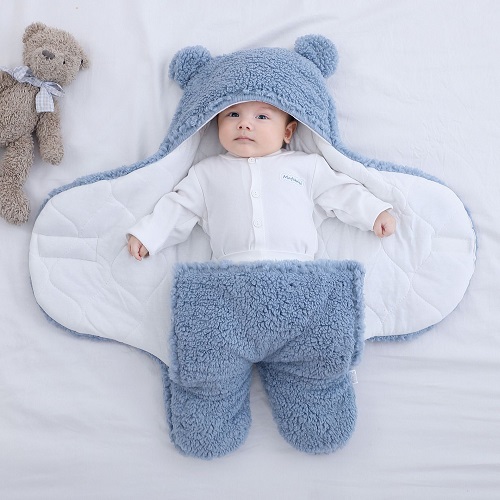 Today's trending product is this Toddler fluffy sleeping bag that caught my attention while searching for winning products on Ecomhunt. I think it's a great product to start selling right now because we're already in the Cold season and parents will be looking for warm clothes for their children. And when it comes to newborns, nothing is going to stop them from buying something as cute as our product!
Here's what I like the most about this product:
1. The quality – Based on the pictures and the reviews on Aliexpress, this product looks like a total winner. It's exactly as advertised, super fluffy, cute, and it's sold in huge numbers on Aliexpress with good reviews. 85% of people rated this product 5 stars and 8% rated it with 4 stars.
2. The reviews – I already said that this product has a lot of good reviews and plenty of people are happy with the order, but the most important part here are the actual content of these reviews. The photos reviews are absolutely amazing and show the product in its full glory.
On top of that, there's also a review with a toddler in it which makes it even better. All you have to do is to import these reviews to your store, pin the one photo with the toddler in it, and you have the perfect social proof which will help you get more sales!
3. The audience – When it comes to children, nothing is too expensive! Parents will be looking to protect their little ones from the cold so this product, if advertised correctly, have the potential to become a MUST HAVE product for them.
4. The targeting – Targeting parents on Facebook is a piece of cake and we'll have no problem finding the ones with toddlers(0-12 months). Unlike other audiences with dozens of huge interests, this one is simple.
This product is perfect for Winter so it gives us plenty of time to sell it. We don't have to worry about a deadline or offer any delivery guarantees ?
2. The Ad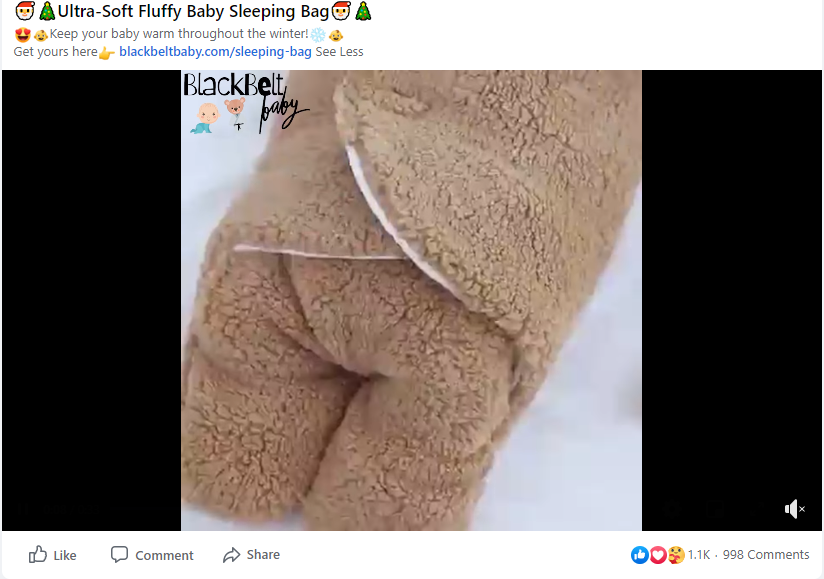 The ad itself is very basic and just shows the product in "action". They show us how they wrap the baby 2 times from different angles and a cute shot of the lady holding him wrapped in her hands. A basic call-to-action ends it all and that's basically it.
There's some room for improvement like adding text explaining a bit about the product like the material its made from and how it protects the little ones from the harsh cold outside. The first shot is too slow and should be replaced by the second shot where the baby is placed and slowly wrapped in our fluffy sleeping bag.
You can add some facts to your video explaining how important it is to keep the feet and hands always warm(this product solves it), etc – A scare tactic to make parents buy it.
The call-to-action in the end should call people to buy our product AND also advertise our discounts. It's usually "50% OFF + Free Shipping" so we should see it too on top of the "Get yours now" text.
I would recommend checking out different sellers on Aliexpress to see if you can find more videos of this product. Maybe you'll find a few more toddler wrap shots or something really cute that will make your video ad really stand out.
The ad copy:
I think there are too many emojis in the ad copy and the product can be introduced a lot better than what they did.
For example:
"Protect your little ones from the cold this Winter with our 100% *insert material type* Fluffy Bear sleeping bag ❤️
Get yours here => *link*
Available in different colors & sizes – Order yours today and get 50% OFF + Free Shipping!"
Now this doesn't look like a sleeping bag and in my opinion, it's a bit stupid to call this product a sleeping bag… So just call it a pramsuit – "Fluffy Bear pramsuit".
3. The Store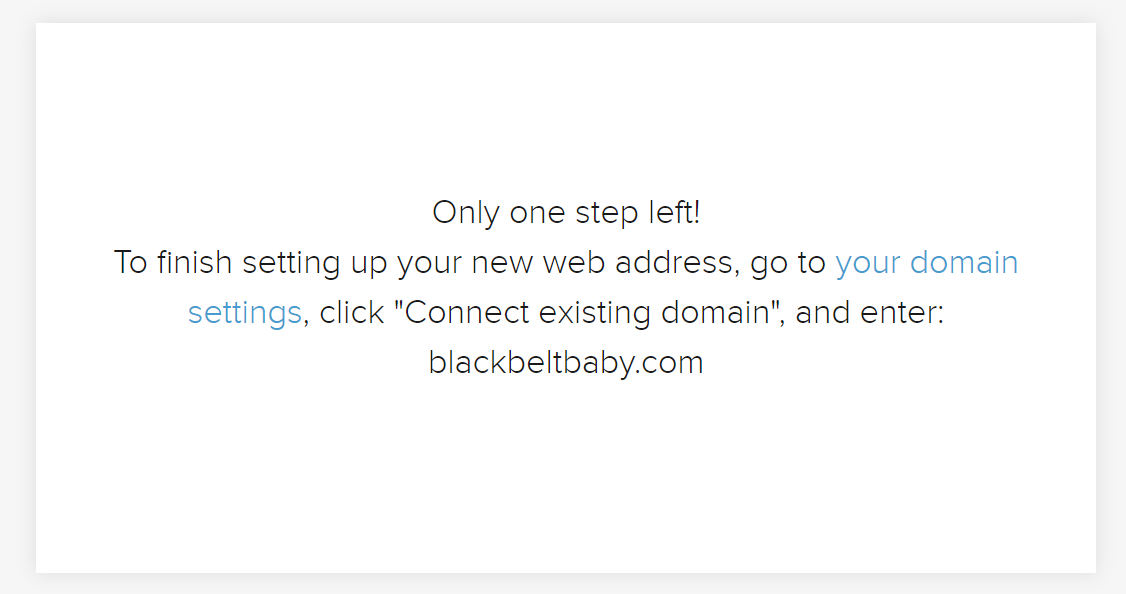 Now here's the strange thing about the guys running ads for this product: Their store isn't online and it's been like that for a few hours already so they're burning their money paying for traffic and sending it to nowhere.
Maybe they have an issue with their domain as the text implies or maybe it's something else, the fact is that they're still running ads to plenty of other products too. Take a look at the ad library which everyone can see in Page Transparency: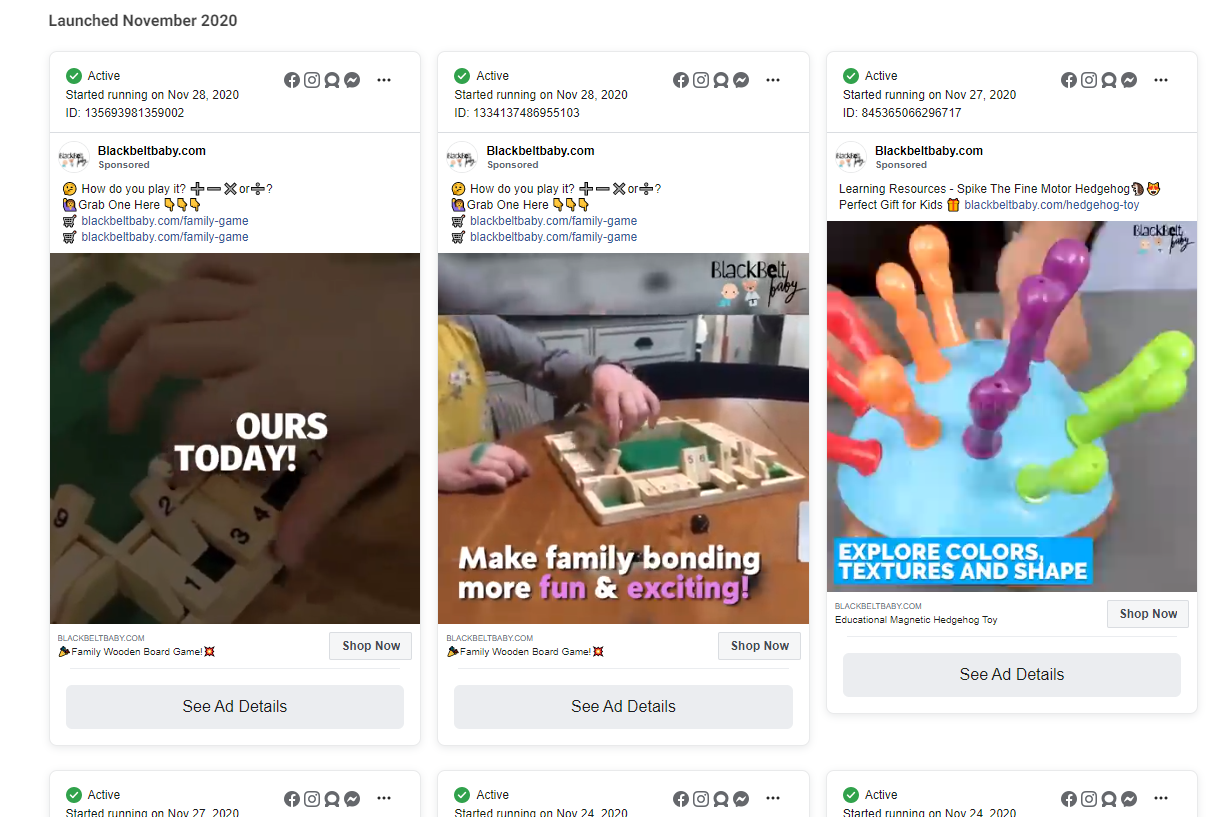 Plenty of high quality ads for great products, but all of them still point to the same inactive domain. I really wanted to check out their product page and their checkout flow but unfortunately it isn't available.
Oh and by the way, make sure to check out all the other products they're advertising. Some of them, like the family board games, have a HUGE potential to sell really well during the holidays ?
So what do we do when we can't access the store? We look for a different store selling the same item. Fortunately for us, we don't have to look far because we have the Store Hunter feature on Ecomhunt.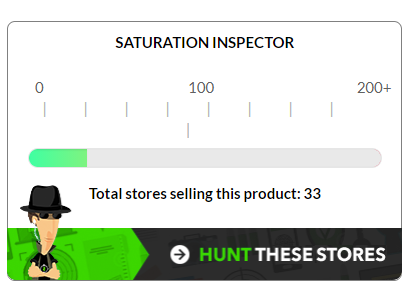 This is a really cool feature that gives us a list of Shopify stores selling the same product + some useful tools like checking the latest products added for each store. This is a great way to spy on other stores AND to potentially catch a winning product before anyone else by checking out the recent products for each store.
This is how the Store Hunter feature looks like: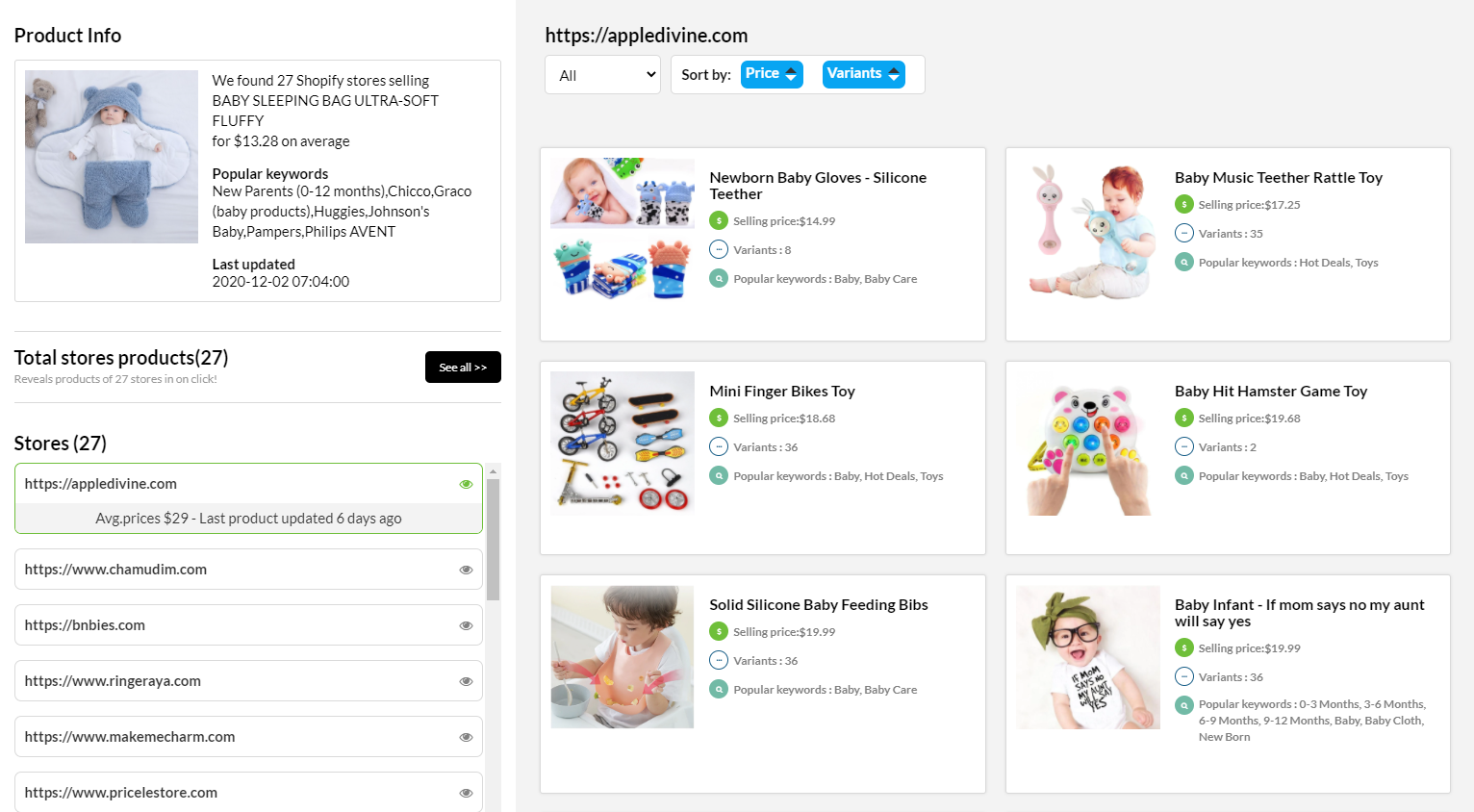 And the store we're going to review is the first one in the list – Appledivine.com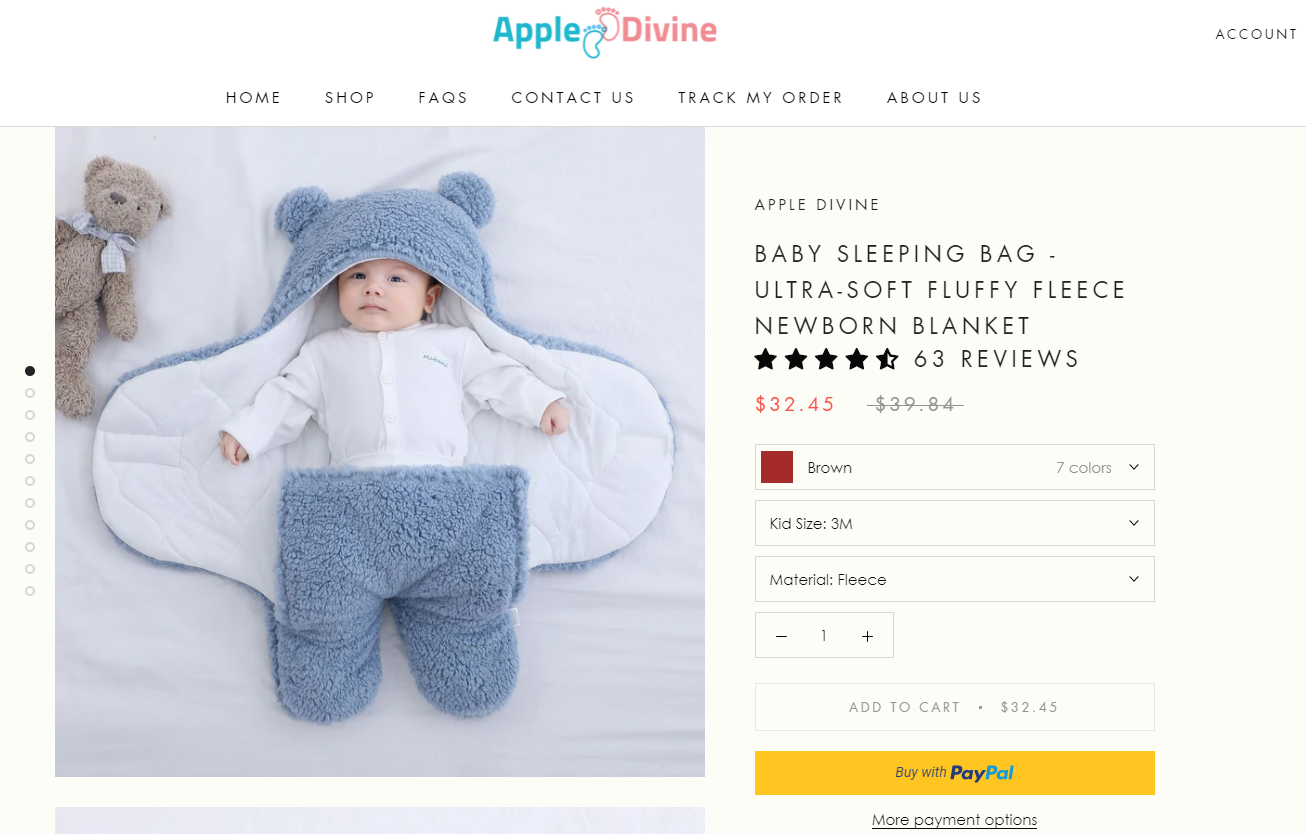 I'll start with the good stuff about this store:
1. The Logo – The logo looks great! It's really simple, minimalistic, and in my opinion the perfect fit for this kind of store.
2. The Theme & design – I think they're using a premium theme(not sure) which gives them the option for sections in their description. Instead of having it all displayed, they can setup some sections like FAQ, Shipping, and more to make it shorter and more organized.
Let's move on to the bad stuff:
1. The description text – A simple auto-translate from Chinese to English. They didn't even try to fix it to display something normal… If you target English speakers, please make sure you have no typos and please don't use the auto-translate description text from Aliexpress.
2. The Title – It's boring, long, same title as on Aliexpress. Make your titles feel a bit more exciting by giving your product a cool name. Something like "Fluffy Bear Comfysuit" is much better for a title.
3. The Add to Cart button – You can barely see because it's transparent. I think they're using the dynamic checkout option which displays another button based on customer's location and other criteria. My advice is to disable the dynamic option so the only button customers see is the Add to Cart one with full color.
4. The reviews – I have no idea from where they imported their reviews because they're just bad… Too many typos, half-completed sentences, and only one photo review when we had at least 12 in the Aliexpress product page.
5. No trust badges – There are so many apps there that can provide trust badges to your store, some are completely free, so I don't understand why in 2020 people still forget to place them in their stores. These will make your customers to feel more secure when browsing and ordering something from your store. If you want a higher conversion rate, make sure you have trust badges on your product pages and checkout pages.
6. Related products – In most cases, when driving traffic to a single product, customers will just buy it and move on. In some cases, they'll buy more than one item or get the upsell you're promoting. The related products section can only hurt your conversion rate because it takes the customers away from your product. Whether they click on a different product, or just stop to look at them, it prolongs the checkout process and this is something we want to avoid.
It's better to close the deal as fast as possible and later you can worry about selling more stuff to your ALREADY existing customers.
7. Too many variants – Have you ever had too much to choose from that couldn't decide what to pick? Like when ordering food when you're super hungry or what to watch on Netflix. Well the same thing can happen when you have too many options to choose from when ordering online.
In our case, I think there's too many color options and we could easily limit it to 4-5 max. On top of that, some sizes for some colors are out of stock on Aliexpress so it makes it much easier for us to decide what colors to remove.
8. The price before discount – When selling a product, make the fake discount at least 40% so it feels like the customer is getting a really nice deal. 10% – 20% discounts just doesn't have the same vibe as 40% – 50% discounts.
The Store Hunter feature will help you see what others are doing and you can always take inspiration from great looking stores. It could be that you're not sure about the price, or your description, so checking out what others are doing can really help!
If you want to learn more about creating the perfect optimized Shopify store, running ads, and everything else, then make sure to check out our newest masterclass course here.
4. Targeting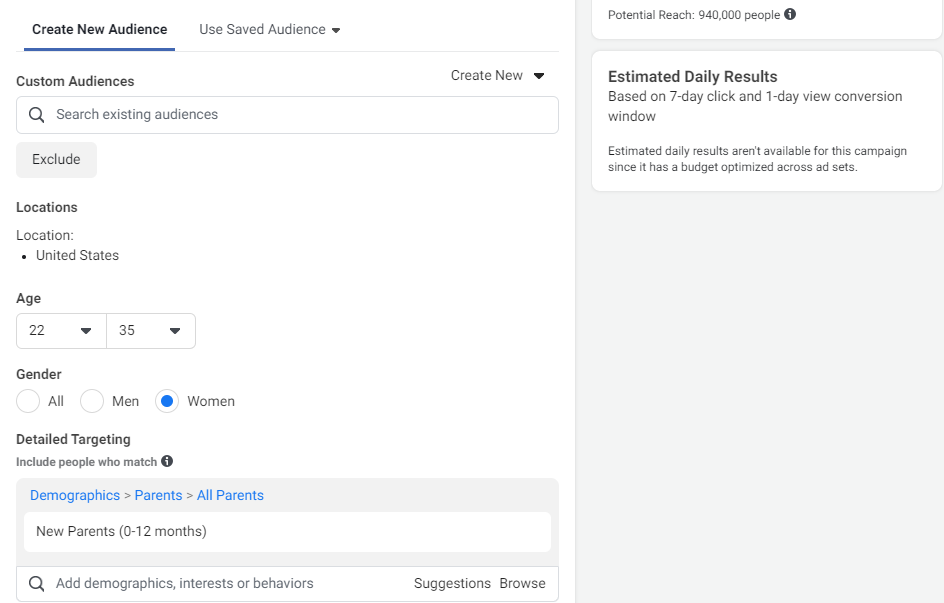 The most obvious targeting option is to target women with toddlers. In order to do that, you'll have to choose New Parents in Demographics + age & gender. In our case, women is the best choice to target so New Parents – Women – age 22~35.
You can combine this targeting option with big fashion retailer interests, winter clothing interests, etc. Or you can also target only Married women which can increase your chances of getting a sale as the second parent is also in the picture ?
Married Women + New Parents(0-12 months):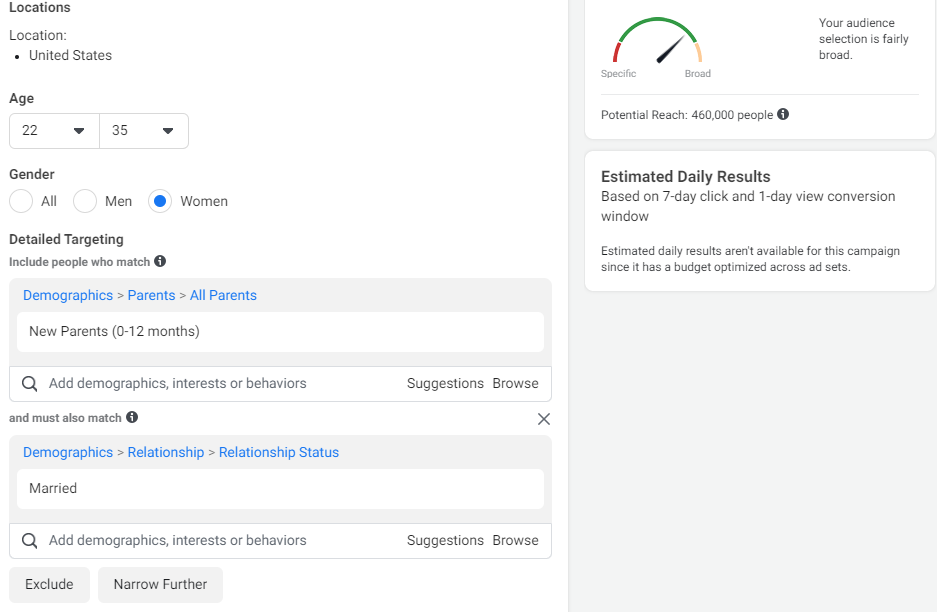 It gives us an audience of 460k which is a pretty good size.
Another option is to target Grandparents who would love to get something as sweet as our product for the newest member of their family <3
Grandparents targeting: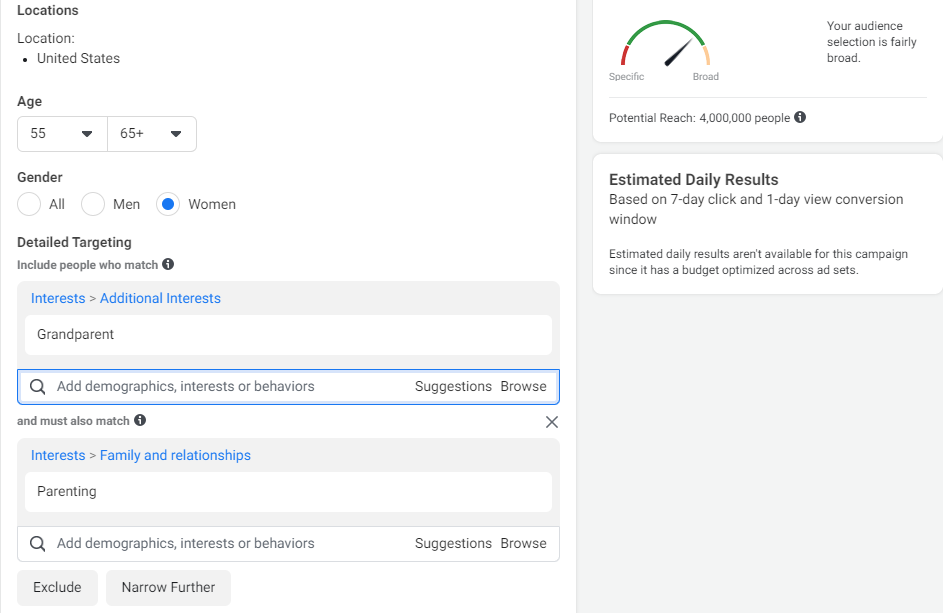 You'll have to target older people and add to it some broad interests like Grandparent, Parenting, Grandchild, etc. Unfortunately for us, there isn't a simple Demographics interest that can find us new grandparents so the only way is to go broad and hope for the best.
5. Selling Strategy
If you market it correctly and "scare" a bit the parents, then you can sell this product for $39.99 and maybe even $49.99. I think the sweet spot is somewhere between $39.99 to $44.99 with Free Shipping of course.
To increase your AOV(Average Order Value), you should offer quantity discounts for those who will get more than one item. This is a great product for toddlers and I feel parents will be more than happy to buy 2 of these if the discount is good.
This means you should offer at least 15% discount for the second item ordered + 5% discount for each additional item. Offering something lower than that is just a waste of space on your product page because it's not tempting enough.
One-Product Store Option:
You can try your luck and create a one-product store around this product and "brand" it to make it look more valuable. This should increase your chances of getting sales BUT it will require a bit more investment like getting a custom domain, opening a new store, and getting new apps.
If you have the time for it and you know what you're doing, then go for the one-product store strategy!
To Sum It Up:
This is a great Winter product, but most importantly, it's a product parents must buy to keep their little ones warm! If you market it correctly, and maybe use some scare tactics, then I think this product can easily become a hit and sell in HUGE numbers.
If you have any questions, feel free to ask me in the comments.
Good luck.
Struggling to find good products to sell? Not sure who's your target audience? Tired of losing money on products you were sure were "winners"?
Then Ecomhunt is what you need! Find hot winning products that are added daily, spy on their ads & stores and import them into your store in 1 click and Start Selling Today!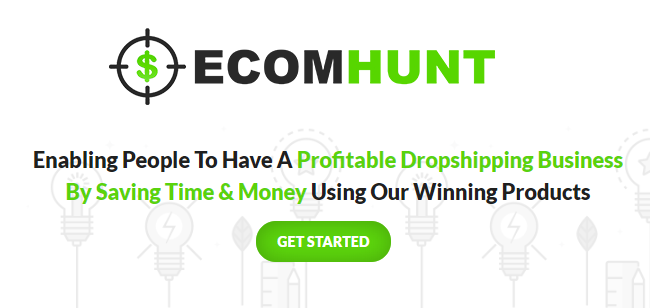 Must Read Articles: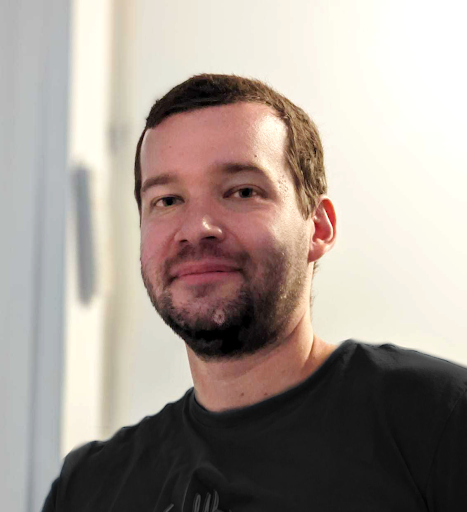 Daniel Aloni is one of the leading mentors in the Ecomhunt family. Daniel is a highly experienced Print On Demand seller with multiple 6 figures successful launches.