If you're looking for a great product that basically anyone in the world needs, then make sure to check out this week's trending product that comes straight from Ecomhunt.
It's completely wireless, long lasting, and in some situations can also act as a really nice Home Décor piece.
In this week's article, you'll get a full product review including the store selling this product and the original Facebook ad which is going VIRAL right now.
So don't sit out on this product and start selling it right now!
Enjoy.
1. The Product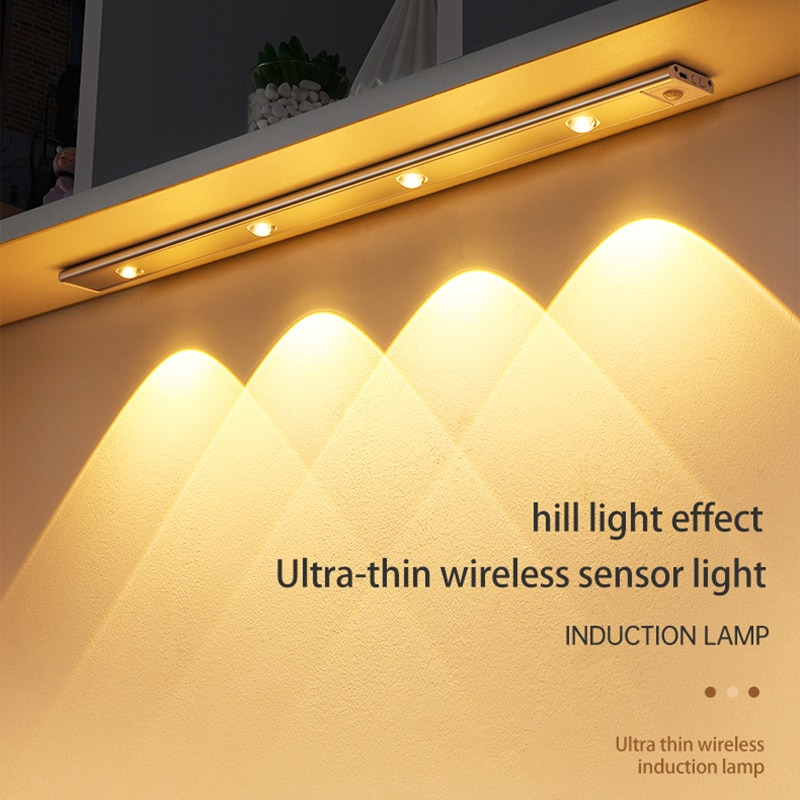 This week's trending product is this really cool looking wireless led lamp with a motion sensor which you can install basically anywhere in your home.
A great way to shed some light in cabinets without the need for cables or it can be also utilized as a Home Décor piece to highlight paintings and posters.
The best thing about this LED lamp is the fact that it's completely wireless and the amount of time it can be used after charging which is almost 60 days.
This product is definitely a winner and you should start selling it right now to make some bank!
2. The Ad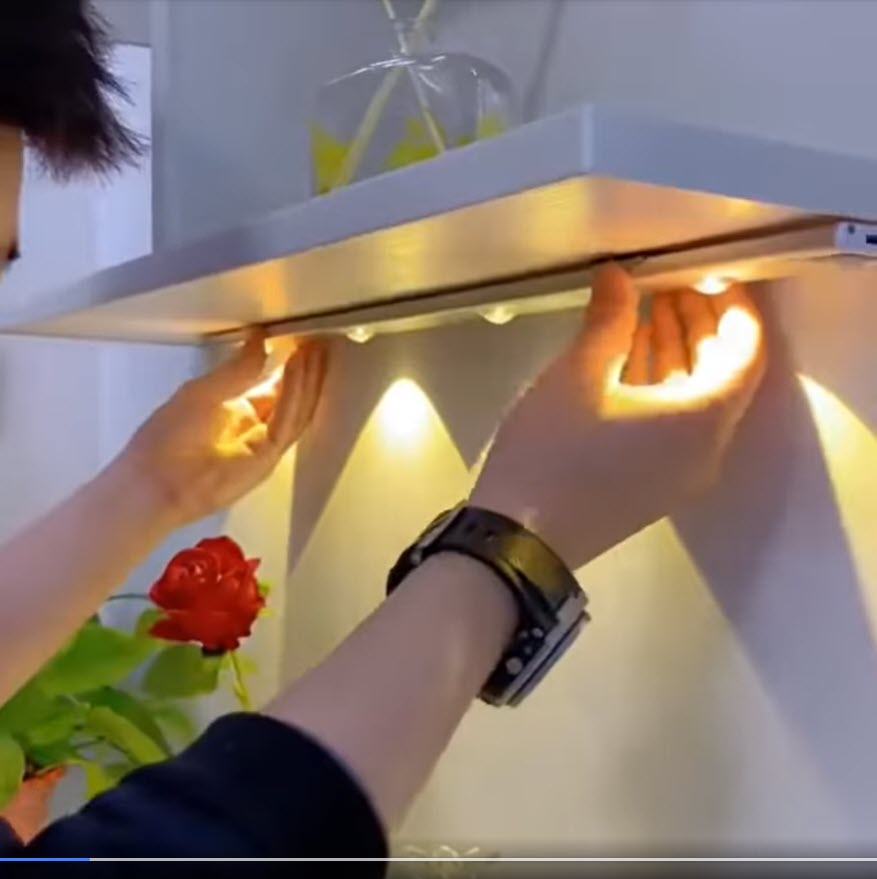 The Facebook ad selling this product has great engagement with over 13k likes and a ton of comments, but it's super basic…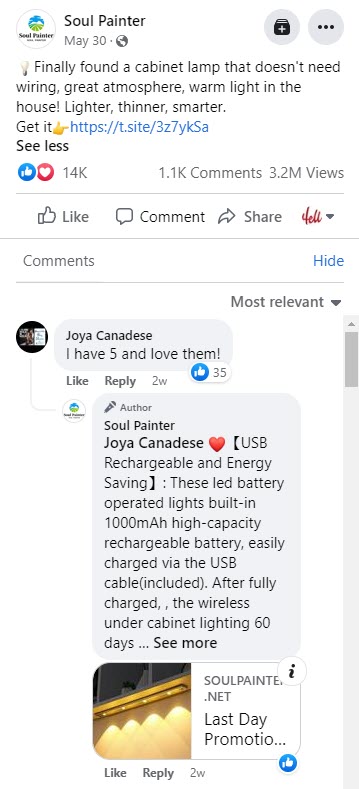 There's no text in the video ad, no mention about the charging time or how this lamp is attached to different surfaces, and not even a simple call-to-action with a short promotion about the current deal they're running.
The only reason this ad is still running and people are buying it is because the product is really cool looking. But trust me here, the audience needs to know everything there is to know about the product you advertise.
If you don't provide the needed information, you'll be losing sales and the checkout process will be LONGER than it should be.
And by longer I mean that people will be spending more time on your store reading about the product and trying to figure stuff out instead of just proceeding to checkout after a quick read of your description.
And it's really not that hard…
An extra 10-15 minute of work on this video is all you need to make it much more attractive for your audience and to basically cover everything there is about this product.
So don't be lazy and put more effort into your video ad to make it really stand out 😉
Ad copy: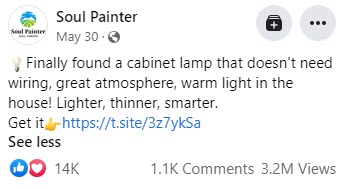 The ad copy isn't bad, but it can be easily re-arranged to make it it more readable.
For example:
"Finally, A cabinet lamp that doesn't need wiring and with a motion sensor!
Set your preferred atmosphere with this LED cabinet lamp
Get yours here => *link*
50% OFF + Free Shipping for the first 100 orders!"
I think my ad copy is a bit more organized, clear, and you have a better call-to-action text with an actual mention of the current deal.
3. The Store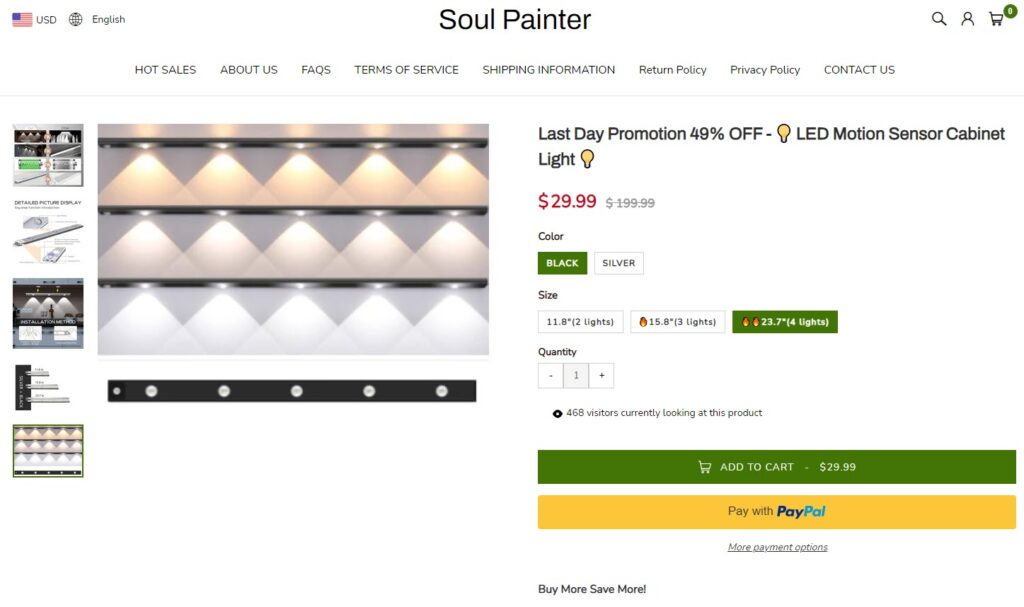 The first thing I saw on the store is the different options available for purchase. They not only offer a lamp with 4 lights, but there are lamps with 2 and 3 lights as well.
And this is another reason why you should pay attention to your video ads and make sure you cover it all there.
Because the Facebook video ad doesn't mention the other 2 options and I think you see a lamp with 3 lights only once. So if you offer other options, make sure to show them also in the video ad.
People don't need to guess how it looks and they want to see the product "live", and the only way for them to see that is in the video ad.
Make sure you show your target audience ALL the available options and not just one. Even if the product isn't that complicated, it's still important!
Ok back to the store review…
They offer 3 different options with 2 different colors which is fine. The pricing of the product is pretty standard so nothing out of the ordinary for now.
The product pictures aren't the best – You can easily find MUCH better looking pictures on Aliexpress than the ones the original seller is using.
Some of them are even a bit pixelated which is never good so definitely get something better displayed if you decide to sell this LED lamp.
Quantity discounts: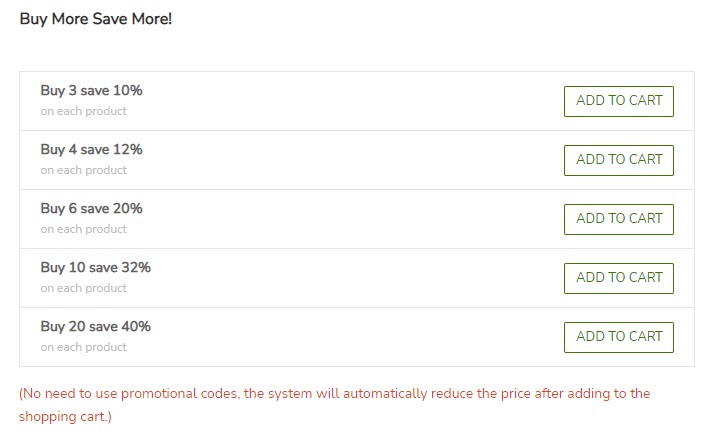 Right below the Add to Cart button, you can see the quantity discount bundles. It's definitely the right call for this product to have quantity discount as there's a high chance people will be buying more than one piece.
I see nothing wrong about the discount except the amount offered – In my opinion, you can offer a bit more than the numbers we see right here and still make a nice profit back.
Quantity discounts should be tempting enough for customers to actually take them.
The product description is pretty good: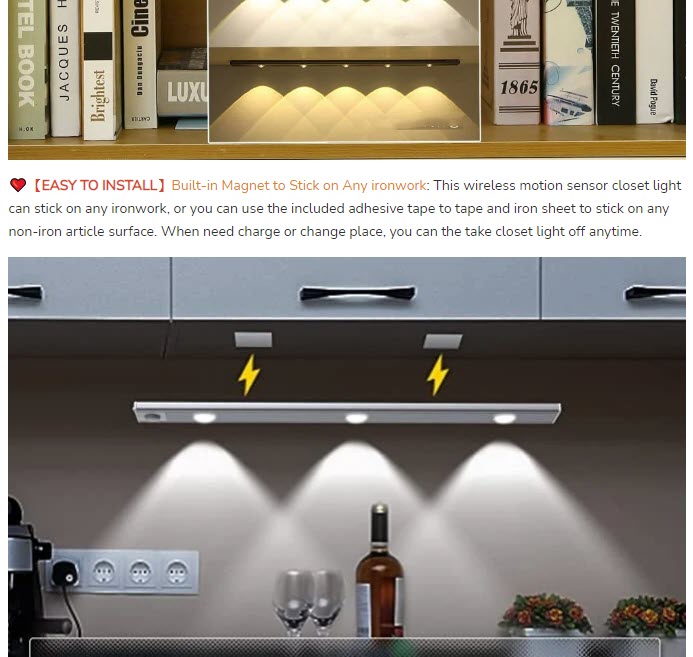 You have pictures and GIFs which explain about the product and how to use it, and you have details about the shipping and guarantees.
Basically everything you need in a product description is there so there's nothing bad for me to say about it.
But right after the product description, one of the most important sections is missing…
The product reviews section:
Product reviews are a MUST HAVE for any product you want to sell and it's something that you shouldn't consider but instantly add to any product you sell.
Why? Because this greatly affects your overall conversion rate and it can be the deal breaker for so many people. You can lose sales because of a missing review section, so make sure you have one ready for any product you dropship.
And it's not really that hard – Just install any review app from the Shopify app store and import the reviews from Aliexpress. It shouldn't take you more than 10 minutes to have a stunning review section.
Other than that, everything else connected to the product looks fine to me.
Although, the footer could use some editing because it's almost empty:

Their header has all the necessary links so I think they just forgot to add them as well to the store's footer. It makes the store look less professional so here's another thing that can affect the conversion rate 🙁
4. Checkout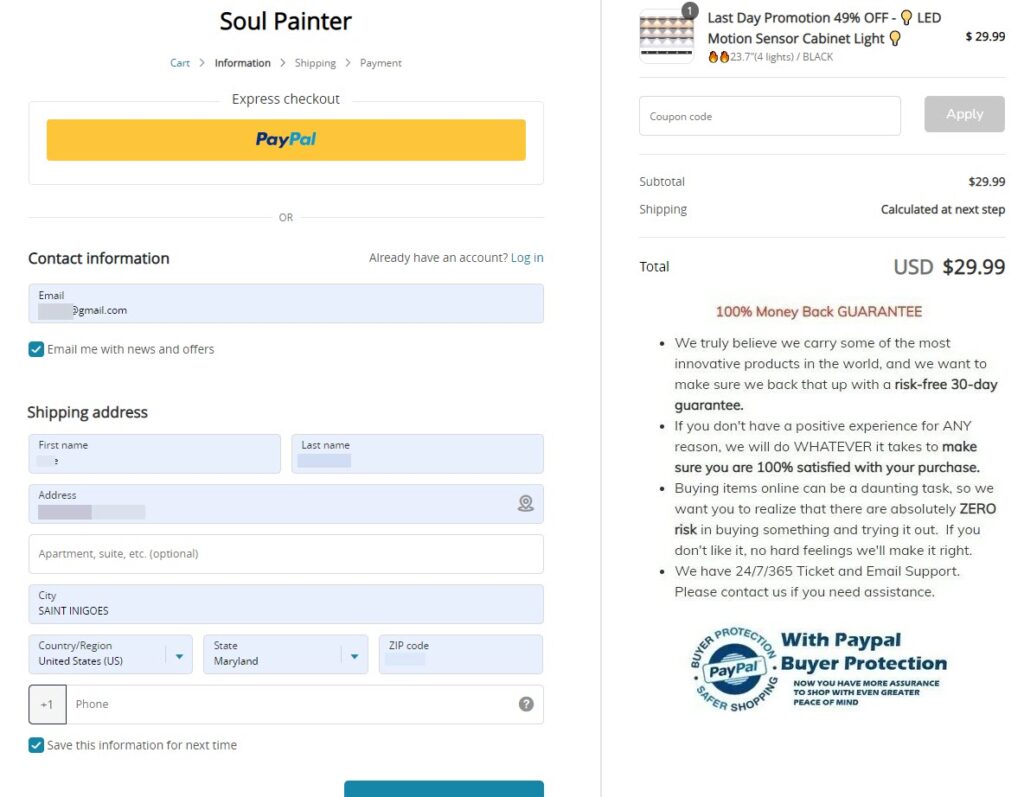 Ok so here we see the standard checkout page Shopify offers so this isn't a one-page checkout. I really like the 100% money-back guarantee text on the right side.
I think it helps to calm your customers and make them feel more safe when purchasing from your store. You could try adding a similar text to your checkout page as well to test if it increases your conversion rate.
Unfortunately, the phone number on this store isn't optional and that's something you should avoid(unless you have a good use for the numbers you collect).
Some people HATE giving away their phone numbers because of spam, so if you have the phone number set as mandatory you're in risk of losing some customers.
Shipping page: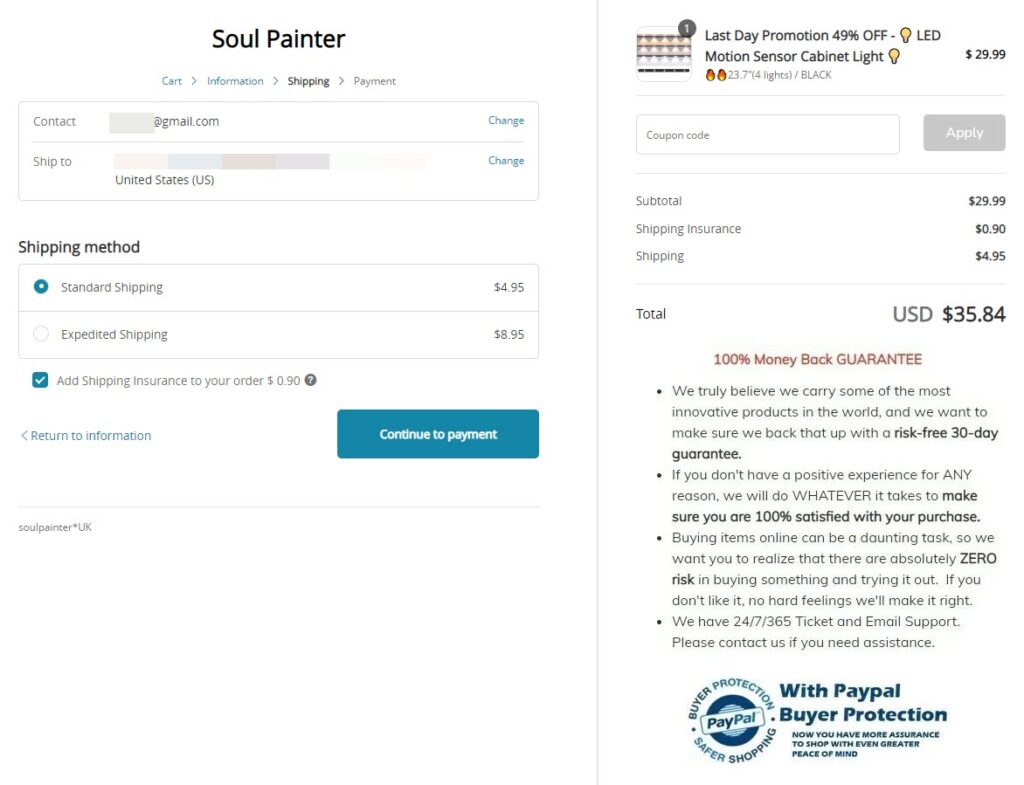 I have 2 problems with their shipping page:
The standard and expedited shipping times aren't mentioned anywhere. I bet the exact time it takes to ship with both of these methods are somewhere in the store, but you don't want your customers to go back looking for that when they're about to buy your product. Always add the time it takes to ship, especially if you offer more than one option.
The shipping insurance feels a bit scammy and there's absolutely no more information about what this insurance actually convers. Customers aren't stupid and can feel when they're being "scammed", so you really need to test it out to see if the extra $0.90 is really worth it here.
Other than these 2 issues, everything else looks fine to me.
Payment page: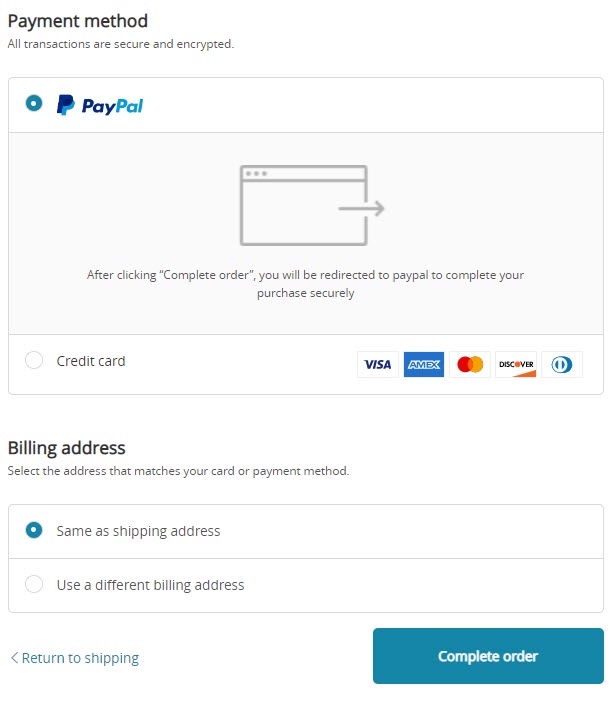 They offer both payment with a Credit Card and PayPal which is the standard, and there's no "tip" requests anywhere so the payment page looks good to me.
5. Selling Strategy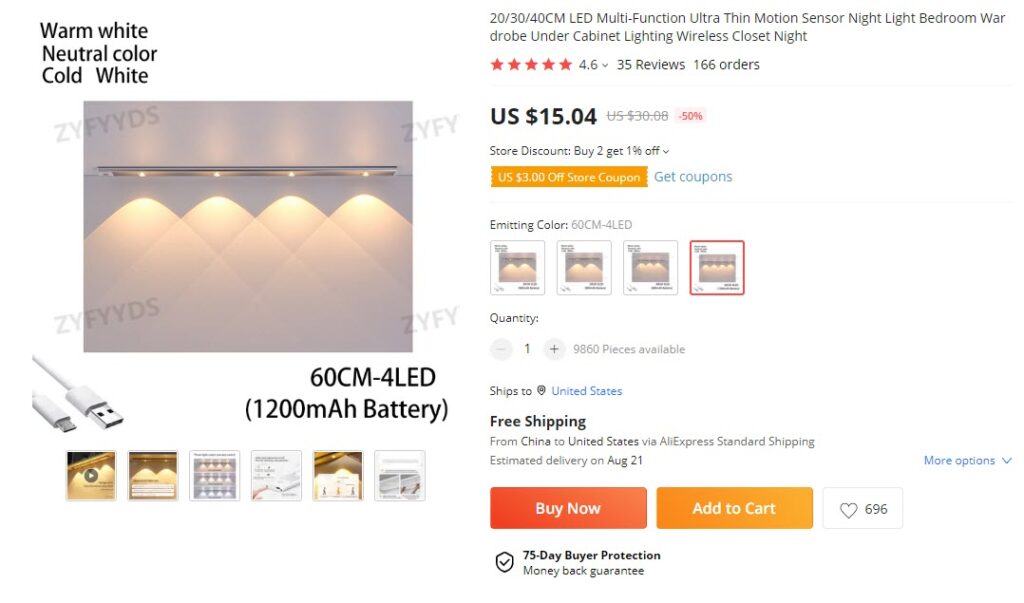 The product cost on Aliexpress starts from $10 for 2 lights and goes up to $15 for 4 lights. You have different lengths, colors, and light amounts for this lamp so you need to be extra careful with the options you offer.
You don't want to offer too many options because it can confuse your customers and you may lose some sales. But you also want to give a few options to your customers in order to not lose any sales.
For the 2 led lights options, offer only 1 length which is the 30cm one. For the rest, there aren't more lengths so you're good to go.
And as for the color of the device, the original sellers gives 2 options which is black or silver, so you can do the same.
Pricing:
Don't go too high on this product because it's pretty cheap – Sell it at about the same price as the original seller, and try making more profit by offering tempting quantity discounts.
This LED lamp is compact and there will be enough customers who will buy multiple pieces, so a good quantity discount is important here.
To Sum It Up
As you can see, this product has a HUGE demand and you can basically sell it to anyone. The original seller is doing well with this product but he has made some mistakes that are costing him sales.
Upgrade the customer experience with a much better video ad and a more optimized product page, and you should be making sales in no time!
If you have questions, feel free to ask me in the comments.
Good Luck!
Struggling to find good products to sell? Not sure who's your target audience? Tired of losing money on products you were sure were "winners"?
Then Ecomhunt is what you need! Find hot winning products that are added daily, spy on their ads & stores and import them into your store in 1 click and Start Selling Today!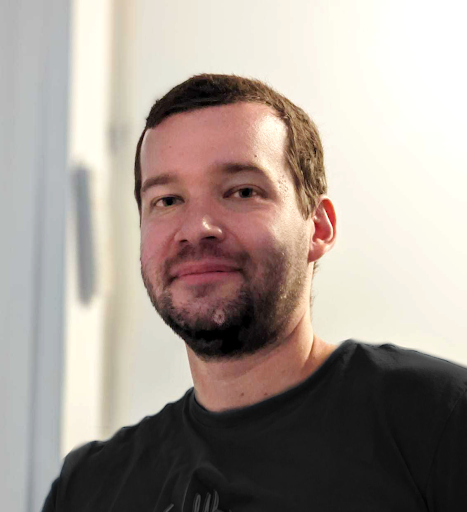 Daniel Aloni is one of the leading mentors in the Ecomhunt family. Daniel is a highly experienced Print On Demand seller with multiple 6 figures successful launches.