This week's product is this cool travel pillow.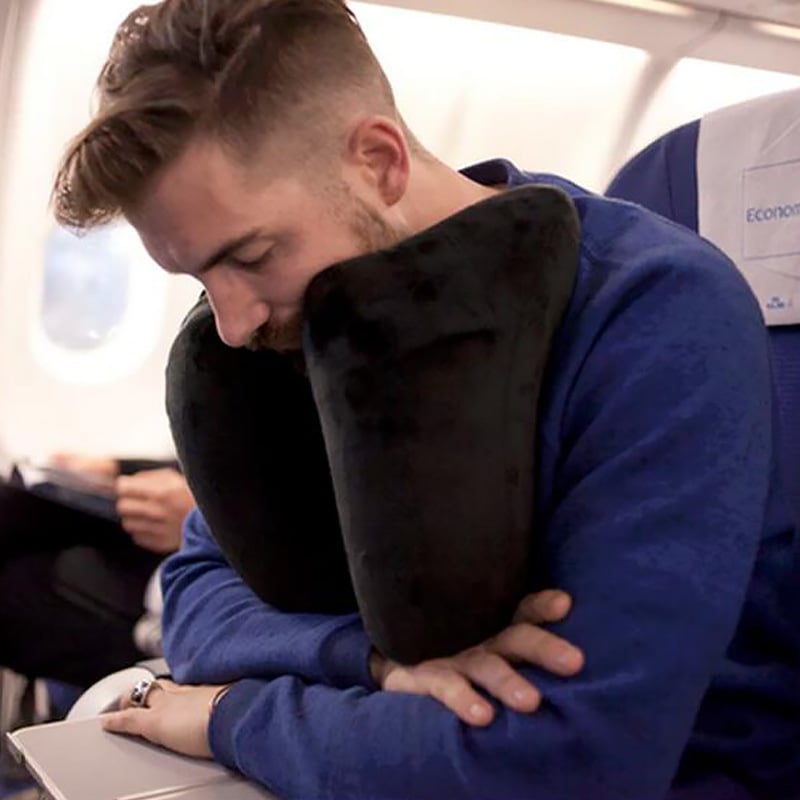 I saw this pillow on aliexpress and absolutely loved how's smart it is! It has plenty of 5 star reviews and seems like a really good product to test. It's a bit expensive but when it comes to comfort, people will open their wallets 😉
What I like most about this product is that it opens a HUGE niche to us which is the "Travel" niche. Tons of products we can sell to this audience and each day something new pops up we can dropship. Make sure to look around and maybe you'll find something much better to sell!
So let's jump in and see how can we sell this travel pillow with ad examples, selling strategies and more.

1. Campaign Type & Optimization:
We start by creating a new campaign and choosing CBO. If you're still not sure about CBO and don't want to test it out now, then go for the regular adset level campaigns. My advice is to start testing CBO now so when it's finally here, you will at least have some experience running CBO campaigns.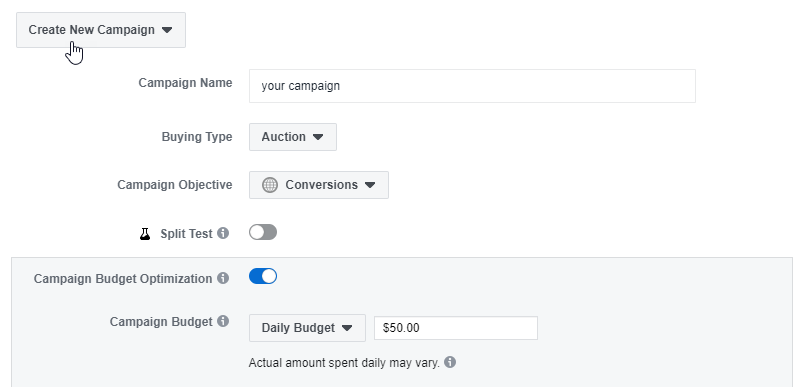 The next step is to choose your daily budget and I usually go with $50.
*This is just a suggestion and you can always use a lower/higher daily budget.*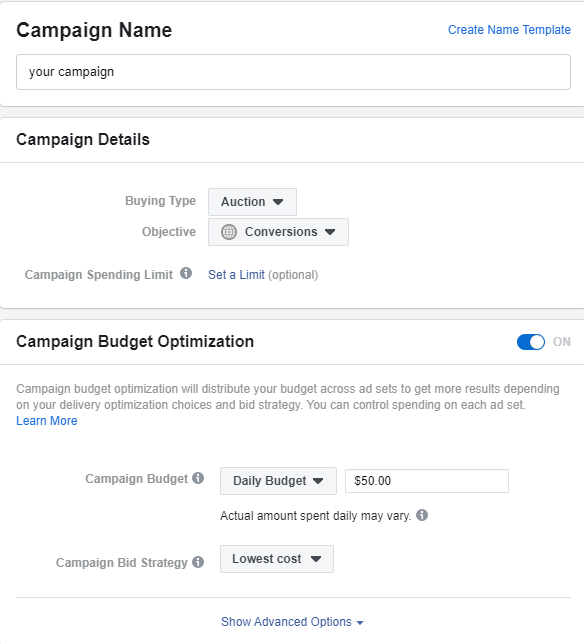 Go with purchase optimization.
You can always try optimizing for other events but I strongly recommend to go with Purchase.
And Don't let Facebook scare you with red colors or warnings about your pixel having 0 data and stuff like that. We go with purchase optimization and we shouldn't care about our pixel having 0 data.

Purchase Optimization – That's it.
2. Number of Adsets & Daily Budget:
I usually test 3 to 5 adsets per CBO campaign with my $50 daily budget. I target Worldwide(all epacket countries only) or just go with USA/CA/UK – It really depends on the product and the research results. If your product suits only the US audience, targeting Europe will be just a waste.
Test different targeting options and don't be afraid to test big audiences like 20m+. CBO is pretty good with big audiences so feel free to test all audiences no matter their size.
Each adset has at least 2 creatives(photo/video) and then I kill the bad ads and keep the one which brought me sales.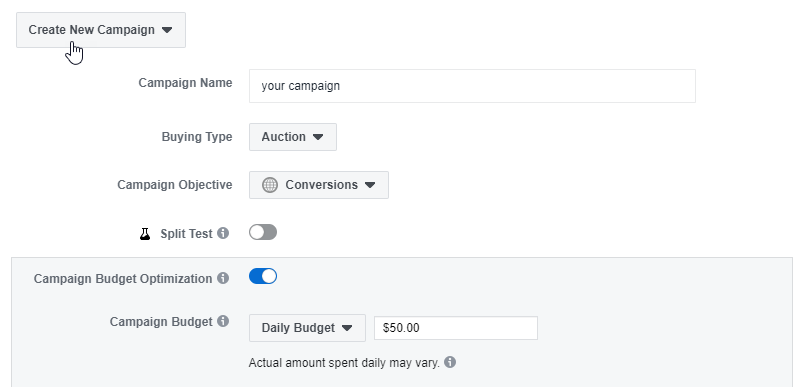 I set no minimum or maximum spend per adset and let Facebook do it's job. CBO is more stable now so I just let it run.
Important: If you're not ok with Facebook taking the lead and want to have more control, then make sure to read my article about how to test products with CBO. I talk about 4 ways you can test your products with CBO ads, and the many options you have like controlling the ad spend of each adset. And if you really hate CBO and don't want to use it, then I also talk about a method there which "replicates" the old ways of testing and can fit your needs.
And if you have no clue what CBO is, then here's 5 things you should know about Facebook CBO campaigns. Read this article and then move to the second article about the testing methods.
3. Targeting & Strategy:
Targeting isn't hard and I remember Facebook having some interests like "frequent traveler" we can use. We'll target both genders and in my opinion, targeting Worldwide(epacket countries) will be the best option and not just the US.
For this example, I will show you only USA targeting – You can copy exactly my targeting but I suggest targeting Worldwide + Language(english all). Exclude "bad" countries or just manually add all the good ones like USA, Canada, Germany, France, UK, etc.
There are a few more interests I will use and you'll see them in the targeting examples below 😉
3 to 5 adsets per CBO campaign – In this case, I'll go with only 3 just to show you the examples. Feel free to add some more.
Here's the targeting I chose:
Men&Women(age 22-65+) & frequent international travelers – A superb interest to use which gives us the option to target people who traveled at least twice in the last 6 months.
Men&Women(age 22-65+) & travel/vacation interests + flight/hotel booking websites – I went for the biggest booking websites and narrowed it down with some generic travel interests
Men&Women(age 22-65+) & frequent flyer program – A good interest to try to catch those who are interested in joining this program or are already there.
If you missed the previous winning product article, I explained there that I'm no longer afraid testing big audiences. I used to test audiences lower than 1.5m but now with CBO, it's not a problem anymore.
Important: It doesn't mean small audiences don't work… If you want to layer it down and test an audience of 100k then just go for it. If you feel there's a really good but small interest with exactly the people you need, then test it in one of your adsets.
Men&Women(age 22-65+) & frequent international travelers: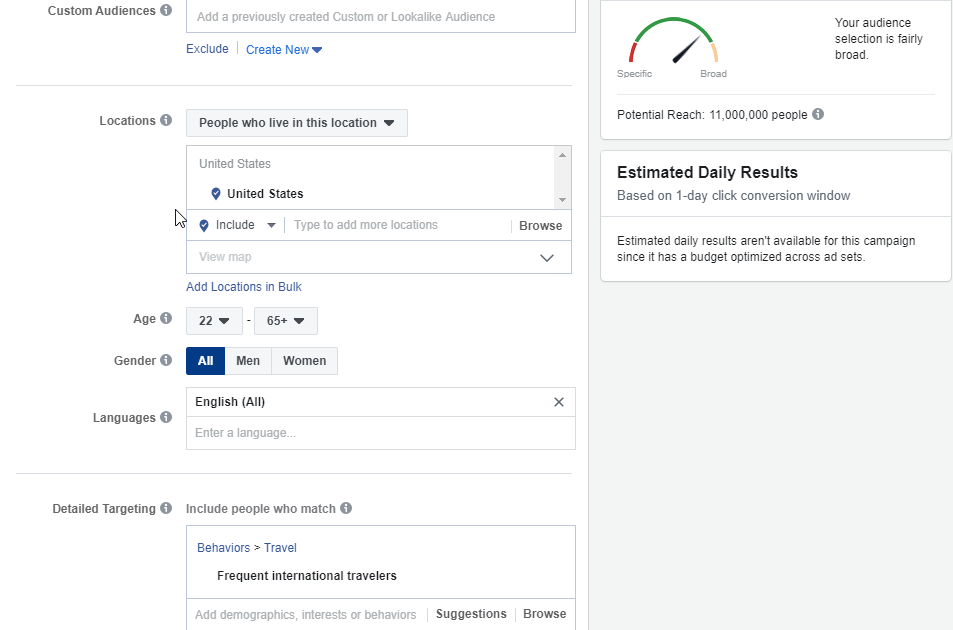 Men&Women(age 22-65+) & travel/vacation interests + flight/hotel booking websites: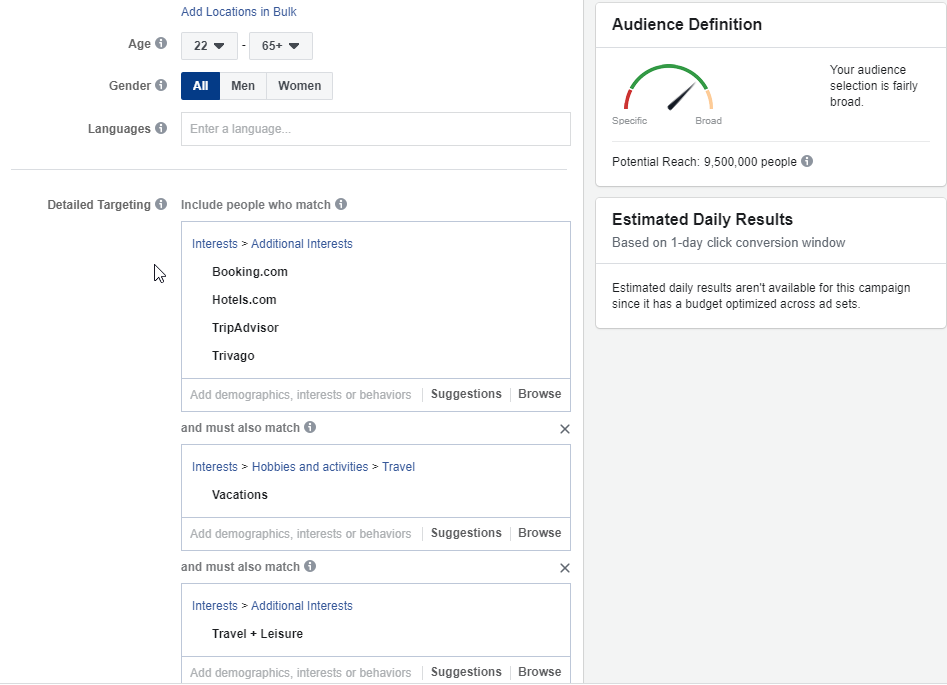 Men&Women(age 22-65+) & frequent flyer program: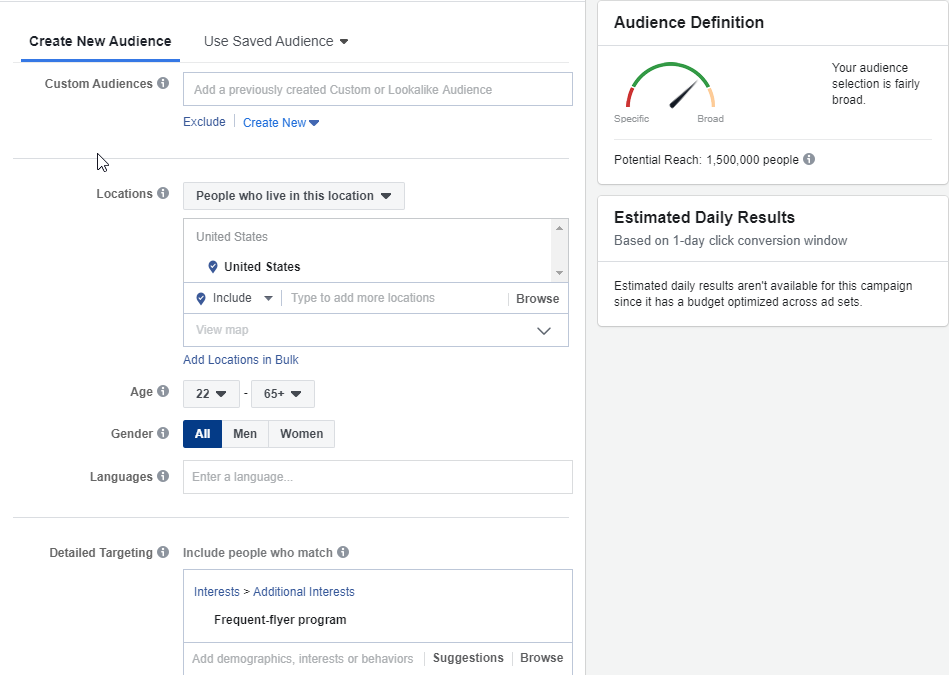 4. Ad placements:
One more thing I do differently now is in the ad placements – With CBO, I just go for all placements and let it run. Later I just keep the placements that worked best and close all the rest.
Spoiler: It's usually Facebook/Instagram feeds so you can always just go for these from the beginning if you feel all placements is a waste.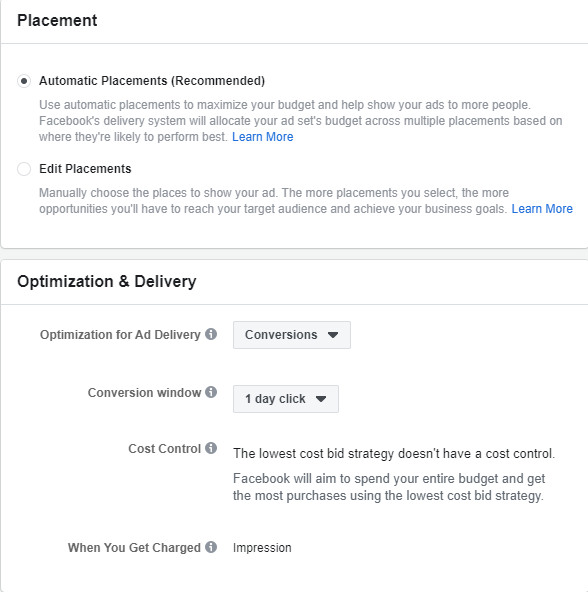 Optimization is of course for conversions and I go for 1 day click conversion window.
5. Ad Type & Copy:
In my opinion, this product isn't going to work with just photo ads. We need a quality video ad to show all the features and the different sleeping positions. We have a nice video there we can work with but the quality is not that good. It's possible to create a video ad with 2 black bars and text on it like "THIS TRAVEL PILLOW IS AMAZING!" and just run with it. But I would ask the seller if he can provide a better quality video and if not, search for other sellers on aliexpress with the same or similar product. Maybe they have a better video for us to use.
I strongly recommend you try creating a video ad for this product and not just go with photo ads. But again who knows, maybe photo ads will work too.
I can only show you photo ads so here are the photo ads and ad text examples I created.
Examples:
1200×1200 photo ad: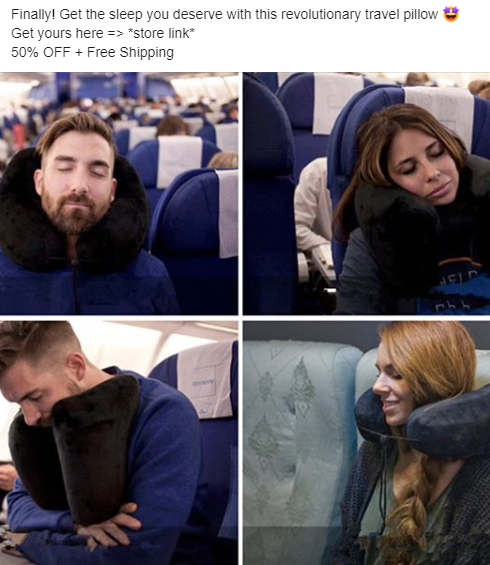 1200×1200 photo ad(version 2):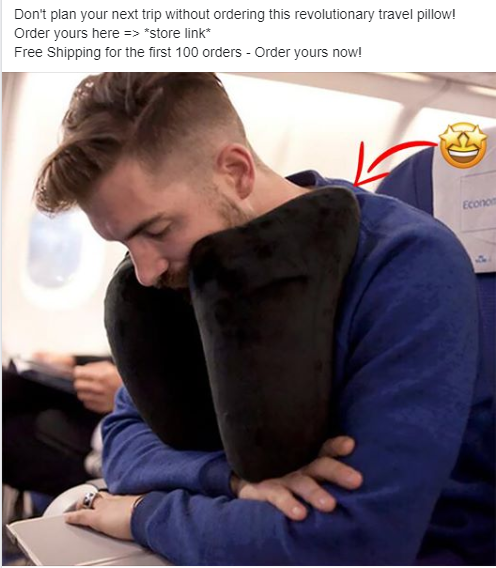 Test at least 2 creatives in each adset
6. Product Pricing & Selling Strategy:
Setting a price is an important step that if done right will help you keep getting sales with a healthy conversion rate. And if done wrong, your conversion rate is going to suck or you won't even get any sales.
Product price on aliexpress is $12 and the shipping is free(epacket usa).
We can try selling this pillow for $24.99 + free shipping or maximum $29.99 + free shipping. I would test it out first for $24.99 and if it goes well, we can increase the price. When it comes to comfort, especially for flights, this pillow if marketed correctly can sell for $30.
Selling Strategy:
Quantity discounts is a must for this product! They can get an extra pillow for a family member or just as a backup in case this one gets lost. Offer a 10% discount when ordering 2 items and add an additional 5% discount each time the customer ads another one.
Chinese New Year:
You can start marketing this product once everything is back to normal in china. Please read the previous winning product article – I wrote there what you can do for now and how you can still sell products.

Summary:
You can test this product or look for something else but the most important part is the niche. This niche is HUGE and we have tons of utilities we can sell and it's possible to create a full store around this niche. If you can make sales and start getting data, then you will have no problem pushing more products to this audience.
I hope you liked this week's winning product article – Feel free to ask questions in the comments.
Good luck!
Looking For More Winning Products?
Ecomhunt got you covered – Discover winning products that are selling right now and get access to our analytics, ads, targeting suggestions and much more. We made it easy for dropshippers to find the best products to sell online.
Must Read Articles: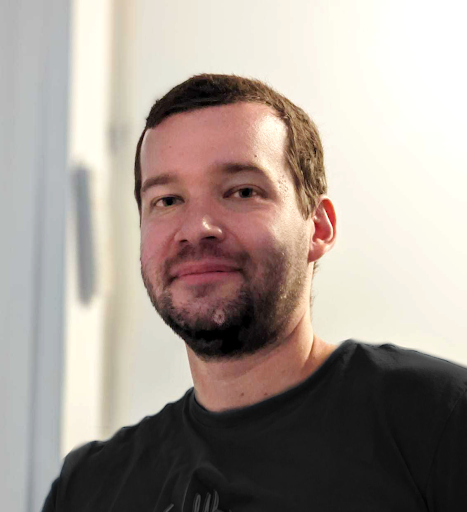 Daniel Aloni is one of the leading mentors in the Ecomhunt family. Daniel is a highly experienced Print On Demand seller with multiple 6 figures successful launches.