This week's product is this awesome ski mask.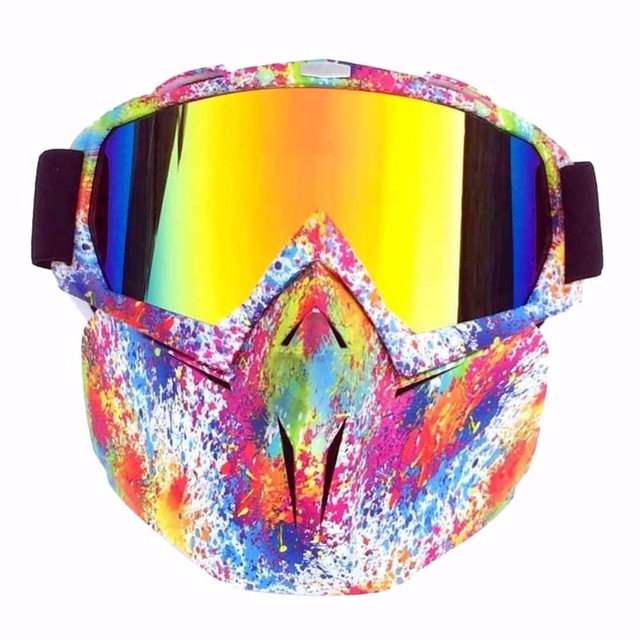 This ski mask is stunning! It has excellent reviews, the price is pretty low and we have good material(photos&videos) to work with and create some amazing ads. This is a great product to try and sell this ski season. The ski season is pretty long so we can prepare our ads and everything else before Chinese New Year and launch our ads when it ends.
So let's jump in and see how can we sell this ski mask with ad examples, selling strategies and more.
Note: In this winning product article, I'm going to cover the Chinese New Year topic and what it means for us dropshippers. So just keep on reading 😉

1. Campaign Type & Optimization:
Campaign Budget Optimization, or in short CBO, is soon(February 2020) to be a must on all ad accounts and we won't have an option to set our budget on the adset level. So starting from this article, I will show you how to setup your ads with a CBO campaign the same way as I do now.
We start by creating a new campaign and choosing CBO. If you're still not sure about CBO and don't want to test it out now, then go for the regular adset level campaigns. My advice is to start testing CBO now so when it's finally here, you will at least have some experience running CBO campaigns.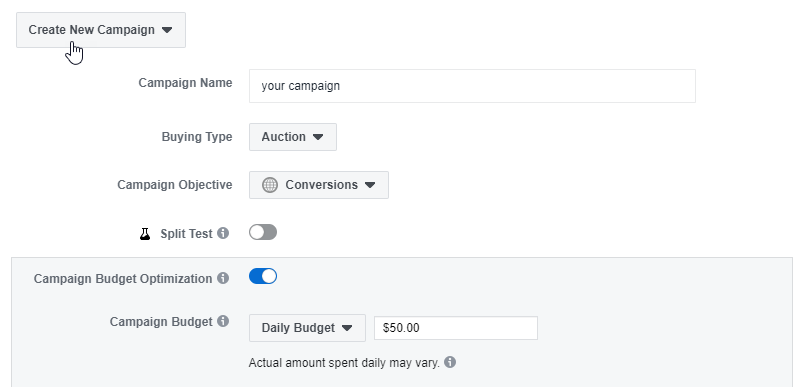 The next step is to choose your daily budget and I usually go with $50.
*Like I told you many times, this is just a suggestion and you can always use a lower/higher daily budget.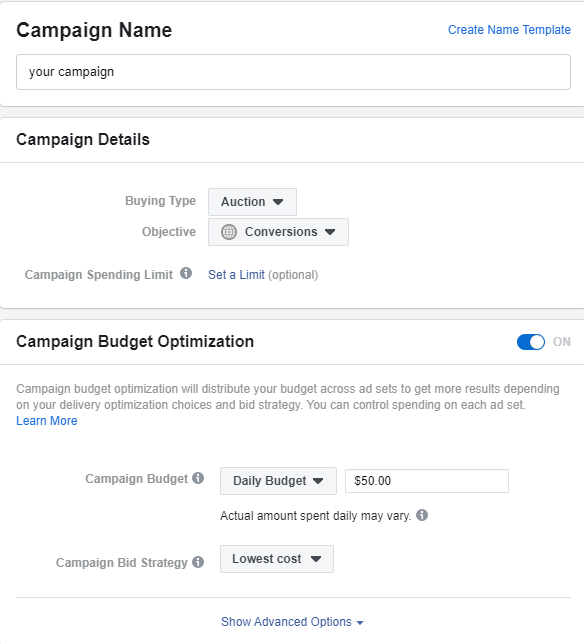 With CBO, I suggest you only go with purchase optimization and skip all other events. One of my ad accounts where I used only Add To Cart optimization because the Purchase optimization didn't work is now working great with CBO. I use Purchase optimization and the results are amazing.
You can always try optimizing for other events but I strongly recommend you go with Purchase.
And as always, don't let Facebook scare you with red colors or warnings about your pixel having 0 data and stuff like that. We go with purchase optimization and it doesn't matter if our pixel has 0 data.

Purchase Optimization – That's it.
2. Number of Adsets & Daily Budget:
I usually test 3 to 5 adsets per CBO campaign with my $50 daily budget. I target Worldwide(all epacket countries only) or just go with USA/CA/UK, it really depends on the product and the research results so if your product only can be sold in the US, targeting Europe will be just a waste.
I test different targeting options and with CBO, I'm not afraid to test big audiences like 20m+. I found out that CBO is pretty good with big audiences so I don't limit myself to a max of 1.5m when testing.
Each adset has at least 2 creatives(photo/video) and then I kill the bad ads and keep the one which brought me sales.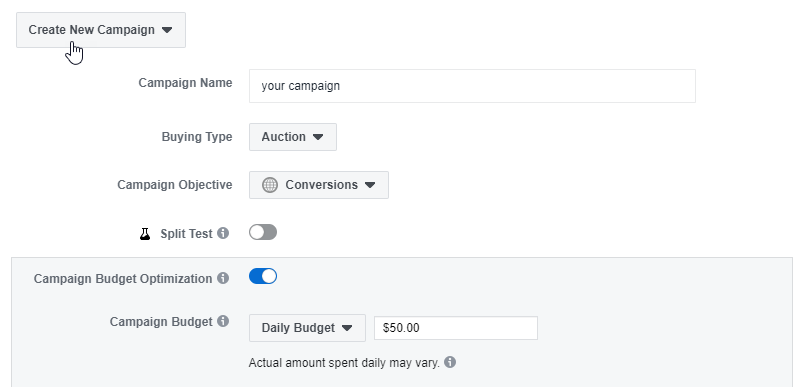 I set no minimum or maximum spend per adset and let Facebook do it's job. CBO is more stable now so I just let it run.
Important: If you're not ok with Facebook taking the lead and want to have more control, then make sure to read my article about how to test products with CBO. I talk about 4 ways you can test your products with CBO ads, and the many options you have like controlling the ad spend of each adset. And if you really hate CBO and don't want to use it, then I also talk about a method there which "replicates" the old ways of testing and can fit your needs.
And if you have no clue what CBO is, then here's 5 things you should know about Facebook CBO campaigns. Read this article if you have no clue about CBO and only then move to the second article about the testing methods.
3. Targeting & Strategy:
So how I see it, these masks are more suited for men. On aliexpress, most of the photo reviews are from men and the shape of these masks are more for men so I won't be targeting women at all. It could be a mistake so feel free to target women(The only way I see women buying these is as a gift to their boyfriends/husbands).
It also suits a more younger audience so my target audience will be men from 18 to 50 max. I may be wrong but I just don't see men over 50 wearing one of these colorful masks… I think it will be fine for testing but if you feel I'm wrong, then just test all men(18-65+).
3 to 5 adsets per CBO campaign – In this case, I'll go with only 3 just to show you the examples. I suggest adding 2 more adsets with different targeting 😉
Here's the targeting I chose:
Men(age 18-50) & skiing – I just went for the first targeting option which is "Skiing".
Men(age 18-50) & skiing & ski resort – I added another interest, Ski resort, in a new layer.
Men(age 18-50) & Snowboarding interests & Winter Sport interest – Went for a snowboarding interests for this adset.
If you've been checking my past winning product articles, you probably noticed that I like to go with narrowed audiences and I almost never test audiences larger than 1.5m. Here I went for pretty big audiences and didn't really narrow it as I always did.
This is exactly what changed for me when testing CBO – CBO campaigns work amazing with big audiences so when I test, I'm not afraid of big audiences even as big as 50m+.
Important: It doesn't mean small audiences don't work… If you want to layer it down and test an audience of 100k then just go for it. If you feel that there's a really good but small interest with exactly the people you need, then test it in one of your adsets. It's up to you 😉
Men(age 18-50) & skiing: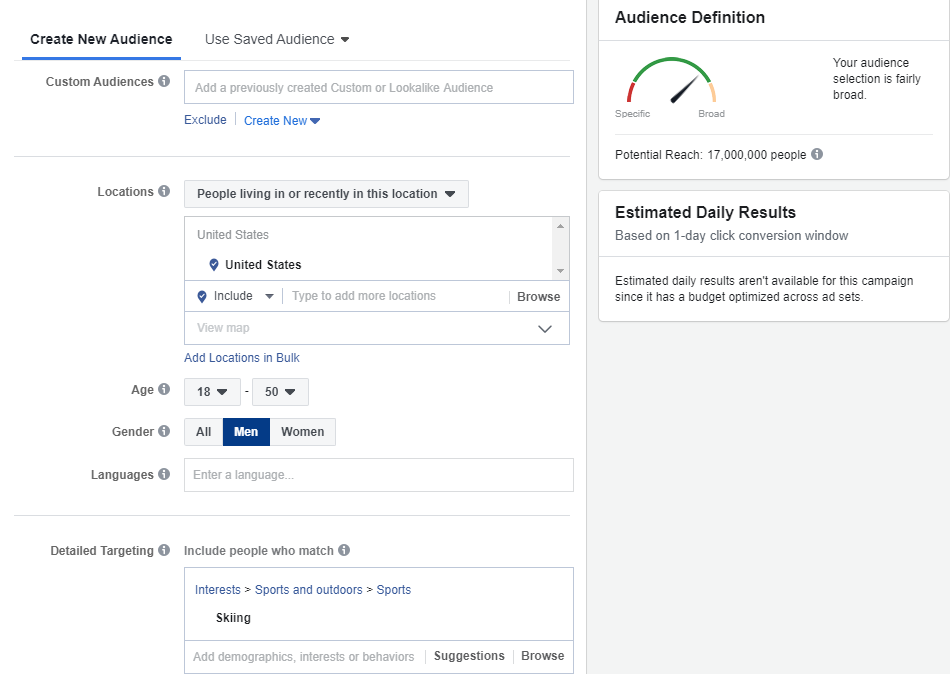 Men(age 18-50) & skiing & ski resort: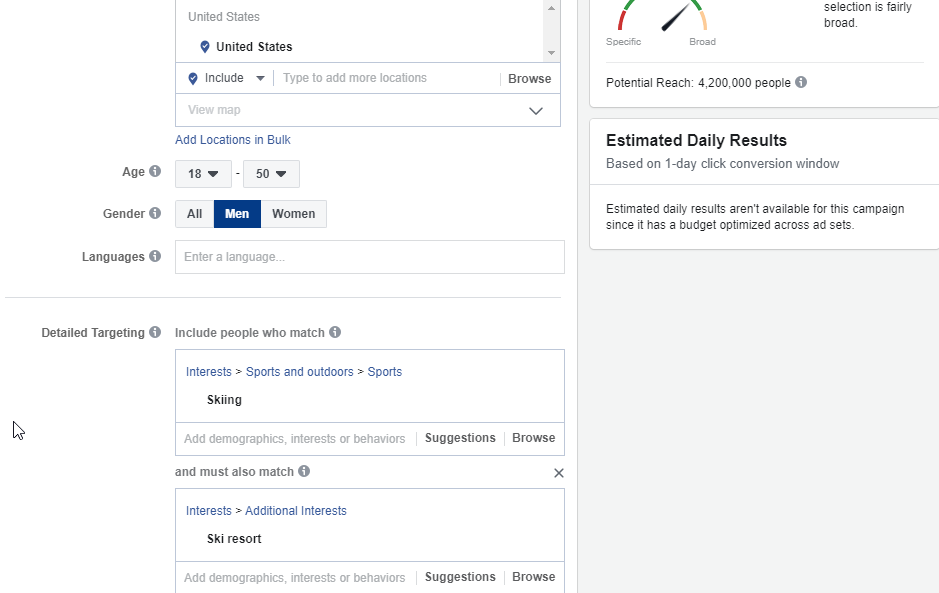 Men(age 18-50) & Snowboarding interests & Winter Sport interest: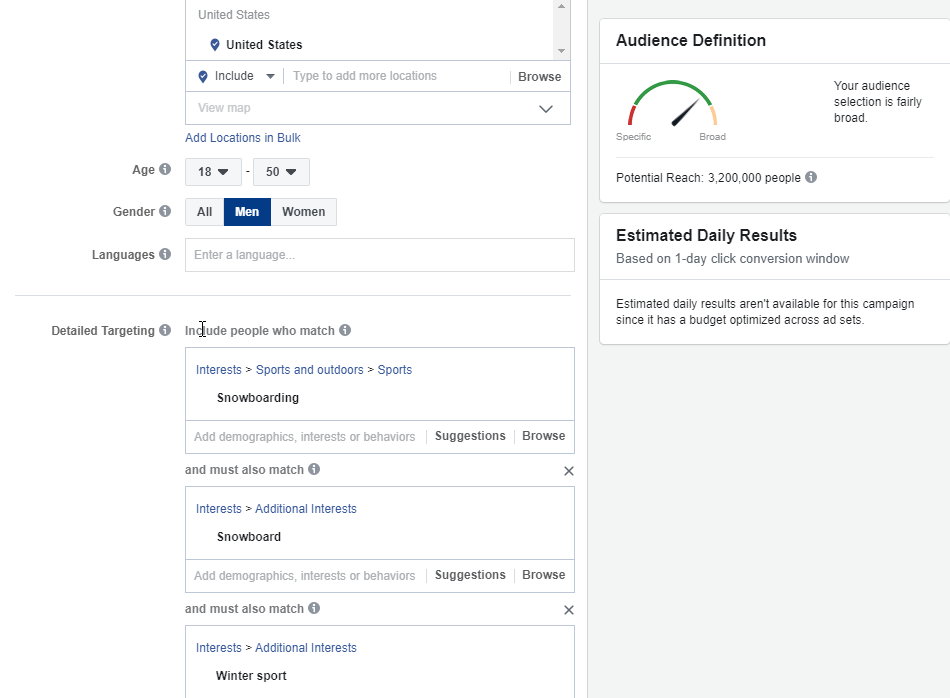 4. Ad placements:
One more thing I do differently now is in the ad placements – With CBO, I just go for all placements and let it run. Later I just keep the placements that worked best and close all the rest.
Spoiler: It's usually Facebook/Instagram feeds so you can always just go for these from the beginning if you feel all placements is a waste.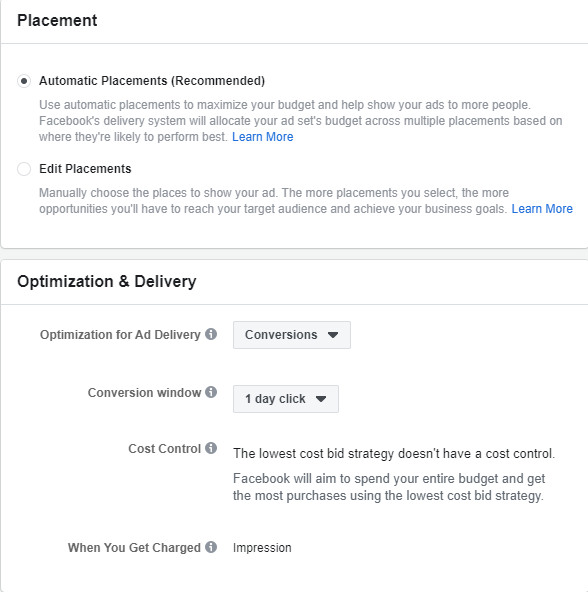 Optimization is of course for conversions and I go for 1 day click conversion window.
5. Ad Type & Copy:
Plenty of high quality photos we can use and a nice video. I believe if you contact the seller, he can provide more pictures and videos. We can try this product and go only for photo ads but a video ad can be really cool and it should work better.
If you can't get more footage, you can use the video on the seller's page and include the photo reviews of different customers. Add some cool music, show people skiing and it can work.
Here are the photo ads and ad text examples I created.
Examples:
1200×1500 photo ad: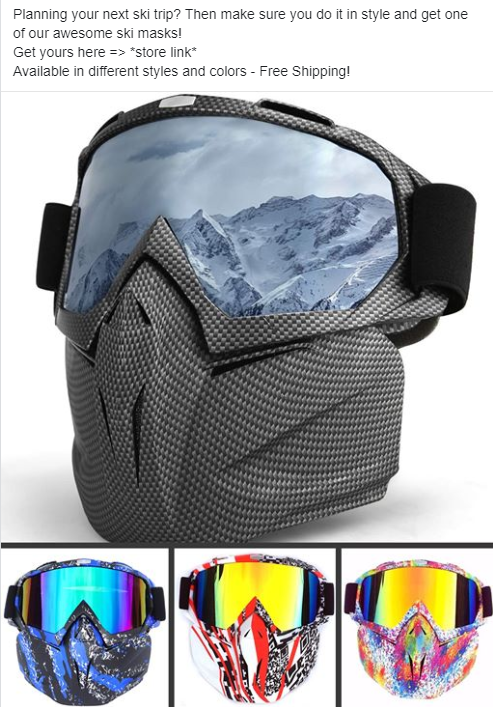 1200×1200 photo ad: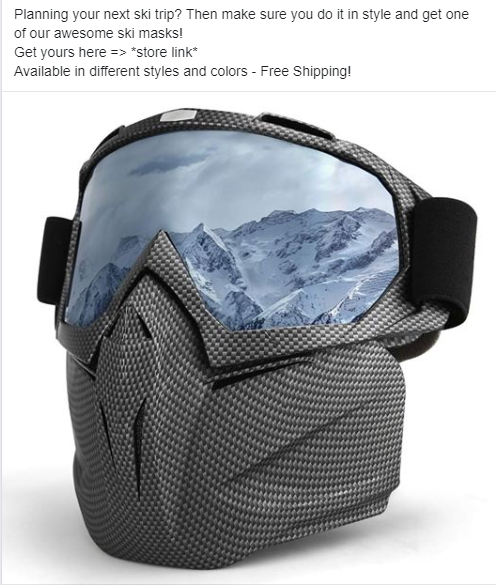 Test at least 2 ad creatives in each adset.
6. Product Pricing & Selling Strategy:
Setting a price is an important step that if done right will help you keep getting sales with a healthy conversion rate. And if done wrong, your conversion rate is going to suck or you won't even get any sales.
Product price on aliexpress is $11.5 and the shipping is free(epacket usa).
I think we can easily sell this mask for $29.99 with free shipping. Or $24.99 + $4.95 shipping.
Good profit margin and a great looking product for such price.
Selling Strategy:
I think quantity discounts can work well on this product and we should offer this option to our customers. Go for 10% discount when ordering 2 items and add an additional 5% discount each time the customer ads another item.
A cool option is to offer this mask for $24.99 + $4.95 shipping and offer free shipping(on top of the quantity discount) if they buy 2 or more masks. A pretty good deal and it can work really well!
Chinese New Year:
As you already know, the Chinese New Year is almost here(Jan 25th to Feb 8th) and everything basically stops there… If you're looking to keep business as usual during this time then you're going to have trouble unless you're prepared for it.
But don't worry! This is not the end of the world and here are the things you can do:
Look for sellers in Aliexpress with a USA warehouse – There are enough sellers on aliexpress that have stock in USA, Europe, Spain and other countries from which they can still send your items during the Chinese New Year. There's even some products here I recommended in the past with stock in the USA. Just to be sure, make sure to ask the seller if everything will be working as planned.
Find your own supplier – If you're a member in at least one big dropshipping group on Facebook, you can find there chinese suppliers/agents to source the products you need and ship it for you. The whole country will be off during the holidays but it doesn't mean the postal services are closed for 1.5 weeks. There will be some off time till your package can be shipped but at least it will be ready to go once they're back in business.
Order in bulk and ship it to a US/other country warehouse – If you're making some great sales and want to keep going, then just find a warehouse in the states(or your preferred country) and send your stock there.
Keep taking orders as usual – Just make sure to inform your customers about the 2 weeks delay. Set up to manually capture payments on Shopify and once you get an order, quickly send him an email that there's a delay and ask him if he's willing to wait more than usual. If not just cancel the order and at least you won't be charged for any refund fees on PayPal or Stripe.
Take some time off and prepare everything to hit it hard once the holidays are over – You can always do some good research and find the next products you're going to work on and make all the necessary preparations to start strong. Take for example this ski mask right here: You can sell it for months after Chinese New Year is over so preparing good photo ads and taking your time to make a superb video ad will be a smart move.
Look for other dropshipping sources – Check Etsy or search on google for dropshipping services and maybe you'll find something interesting.
Print on Demand – I've been selling print on demand products since 2014 and still doing great in 2020. If you have some experience with photoshop or can afford to pay a designer($15~$30) for a design then you should give it a try.
Learn – If you think you don't have enough experience and feel like something is missing, then make sure to check out every blog post I made here and our official Youtube channel. Feeling like trying Google/Youtube ads? Superb! Take some time off and learn how to use it 🙂
If you have some questions about the Chinese New Year, feel free to ask me in the comments.

Summary:
A great product for the ski season you can sell for months from now(or when CNY holiday ends). You can prepare everything for when CNY ends or look for the same or similar product with a US warehouse. I believe there should be a supplier there with ski equipment in the USA.
If it doesn't work, you can focus on other products now and get back to this one after CNY.
I hope you liked this week's winning product article – Feel free to ask questions in the comments.
Good luck!
Looking For More Winning Products?
Ecomhunt got you covered – Discover winning products that are selling right now and get access to our analytics, ads, targeting suggestions and much more. We made it easy for dropshippers to find the best products to sell online.
Must Read Articles: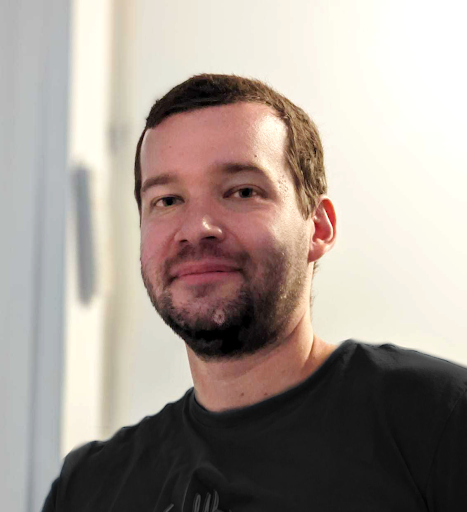 Daniel Aloni is one of the leading mentors in the Ecomhunt family. Daniel is a highly experienced Print On Demand seller with multiple 6 figures successful launches.