This week's product is the Kids Shoe Dryer.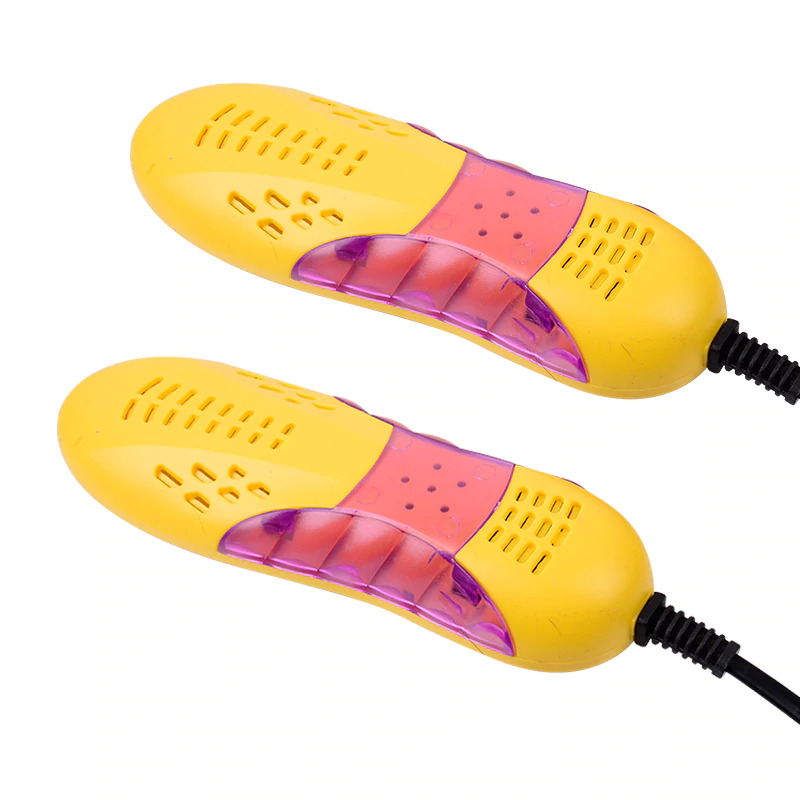 This product sells really well on aliexpress with excellent reviews. And we can say that it's also a seasonal product because kids around the world are about to start jumping into puddles and their Moms will have a lot of work cleaning and drying their wet shoes. This product is a big problem solver for Moms and it's the right time to start selling these!
And as always, I have prepared ad examples, selling strategy and more just for you 😉

1. Campaign Type & Optimization:
I begin with Website Conversion campaign optimised for Purchase. I don't care about having 0 data and the red color "warnings". I ALWAYS go with a Website conversion campaign optimised for purchases.
If your ad, targeting and product are good then you will see link clicks followed by actions on your site.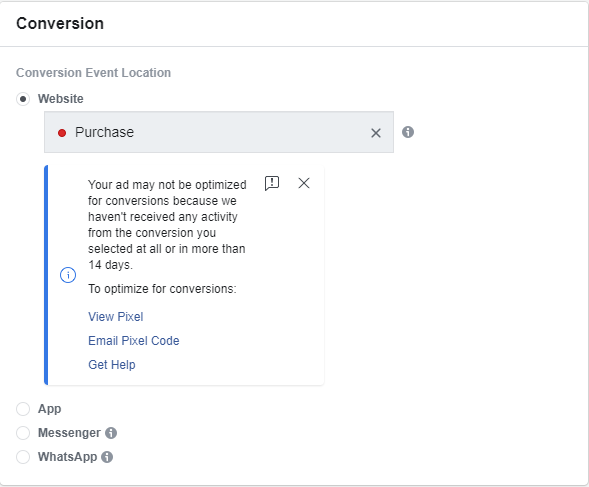 Sometimes, I may choose the "Add to Cart" optimisation and that works too(Sometimes it can even work better than purchase optimisation). Each ad account acts differently and this is something you will have to test by yourself.
Facebook tries to scare us because we're using a pixel with no data and warns us that we won't get any sales. This is their way to drive us into choosing a different optimization event to milk even more money from us. They want us to start from View Content optimization and slowly progress to Purchase optimization. And by doing that we will burn a lot of money…
And I usually go with 1 day click conversion window.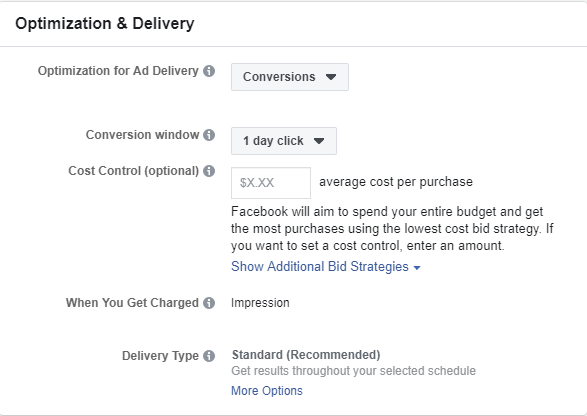 2. Number of Adsets & Daily Budget:
I recommend launching 3 to 5 testing adsets per campaign. You should test out different targeting options, different audiences, different ad types and not just launch 5 identical adsets.
Recommended daily budget that I successfully use: $7~$10

I usually go with $8+ budgets.
3. Targeting & Strategy:
It's a product that saves time for Moms and Dads too so I won't target only women here. With these kind of products where the Mom(in most cases) is the one who will do all the hard lifting(cleaning and drying), targeting Dads can be a wise decision. Saving time for their wives and earning bonus points – We may see Dads buying this product like crazy!
I decided to target:
Married Moms With Kids (age 3-12) – Pretty much self-explanatory. I decided to add the "married" part so they can tag their husbands to buy this product for the children.
Married Dads With Kids (age 3-12) – Same as targeting married Moms. I chose married Dads because they might find this product interesting and tag the wives to get "permission" to buy it 😉
Single Moms or Single Dads – Why "single" you may ask? Well I don't want to dive too deep into the whole "psychology" stuff here but there are cases where emotion plays a really big part and we as marketers should use it to our favor.
I was thinking that if I target a single mom, she might be tired all day because she probably works a lot and the kids need to be taken care off. So if she sees our product, she may buy it without any hesitations because saving time for her is really important. But if she wasn't single, maybe she would just tag her husband and move on because the Father helps too with the daily chores.
And for single dads, it might be a divorced dad who lives alone and gets to see his son once every 2nd weekend. And if they like to play football or soccer together, our product can be really helpful if it's raining outside and they still want to play. Or if the kid is in some sort of sport club, the dad can earn some bonus points by keeping his son's shoes clean and dry.
My point here is that sometimes emotion can beat buying power and I have a really good example from my personal experience:
You probably saw at some point on your feed the "to my daughter/son" necklaces/dogtags right? Well I of course sold these too because I'm also doing print-on-demand. And I remember targeting married men or woman to sell these. And I was selling – Not much but selling…
Until I tried targeting "widows" or single dads and this is where the sales were coming in like crazy! You see emotion is a powerful thing. Some may think it's a bit dark to target widows or stuff like that but this is how marketing works.
And in the end, I provided a great quality product to women who lost their husbands to gift to their sons/daughters.
Married Moms With Kids (age 3-12):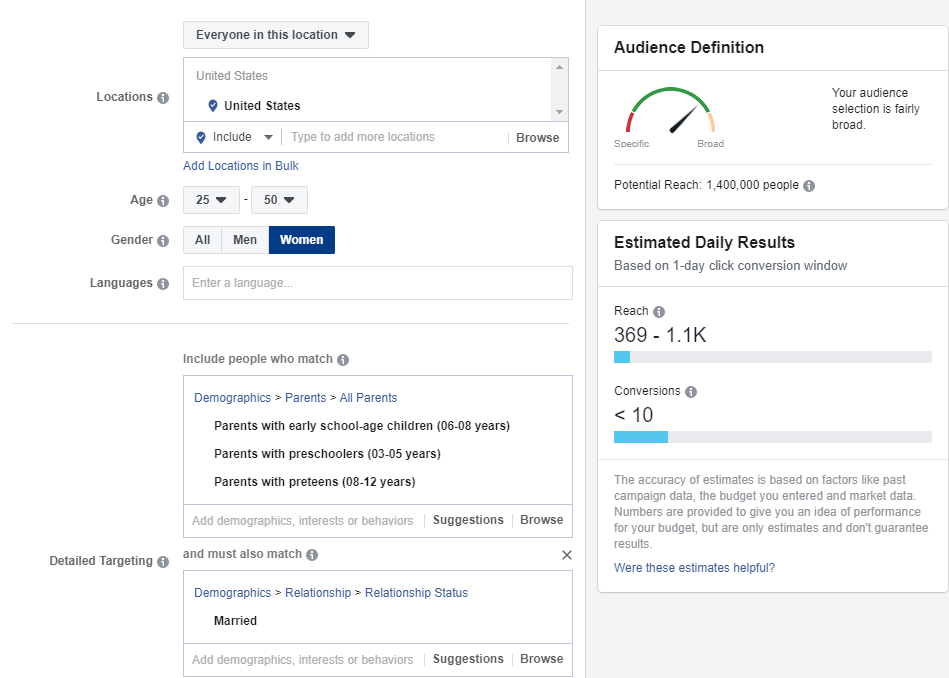 Married Dads With Kids (age 3-12):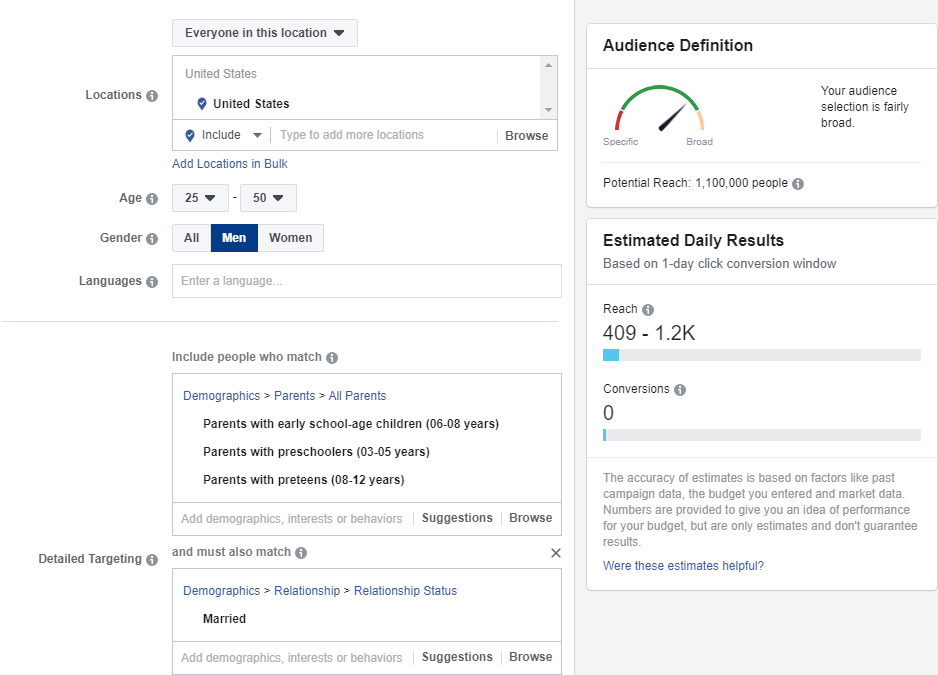 Single Moms: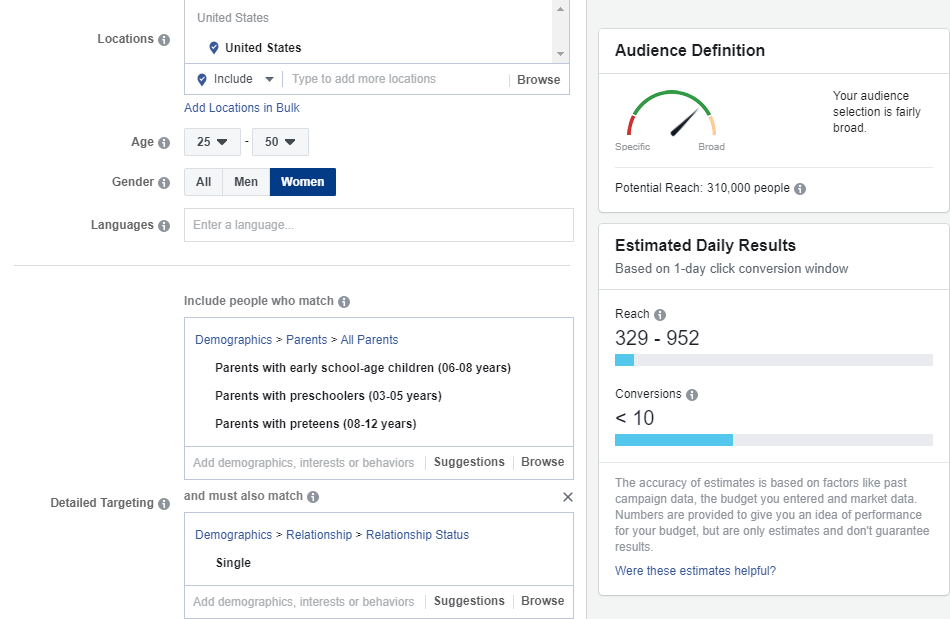 Single Dads: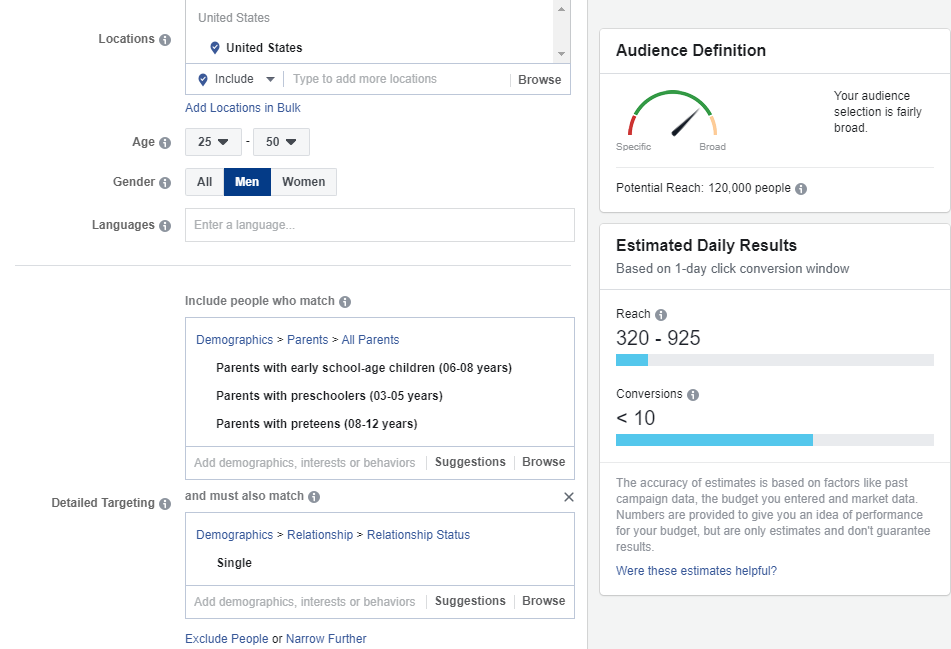 4. Ad placements:
I usually start only with Facebook feed but sometimes I mix it up and run it also on Instagram feed. Although if I decide advertising on Instagram then I usually separate and run a new adset only for Instagram users.
It's just something I prefer doing but in both cases it should still work.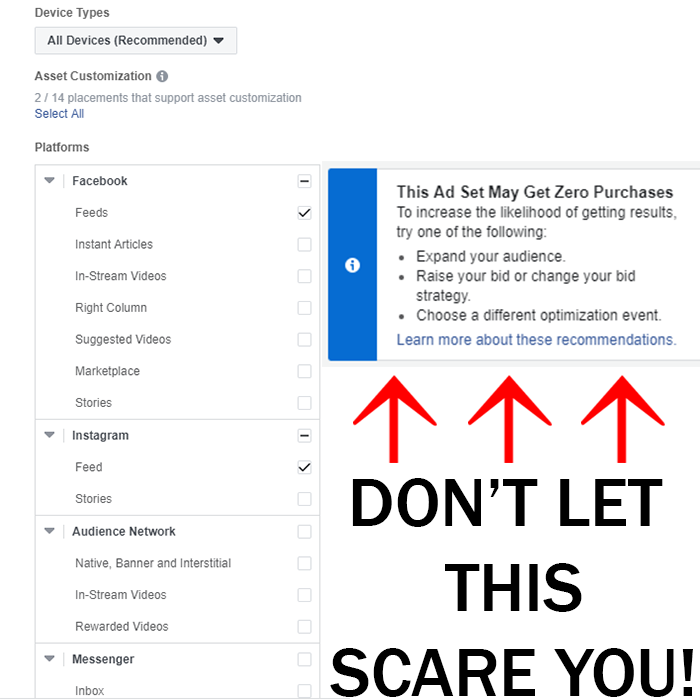 I run ads both on desktop and mobile. For Instagram ads, I target mobile users only.
Note: As you can see in this picture, I attached another "scare tactic" from Facebook that pushes you to basically spend more money by either raising your budget or going for a different optimization event. Do not be scared and run website conversion campaign optimised for purchase even if you have 0 pixel data.
5. Ad Type & Copy:
In this case, the photos we find on aliexpress are ok but not great. You can create photo ads and people will understand what this product does but a video ad is necessary. If you're serious about testing this product, you can always send a message to the aliexpress sellers and ask for a video or maybe new photos. If you can't get any raw video footage to use, then make a slideshow or even go with just photo ads. This product is amazing and worth a shot!
Anyways, I created photo ads and ad text example for you to see and replicate if you want.
Examples:
A 1200×1500 photo ad for Moms and Dads, married or single.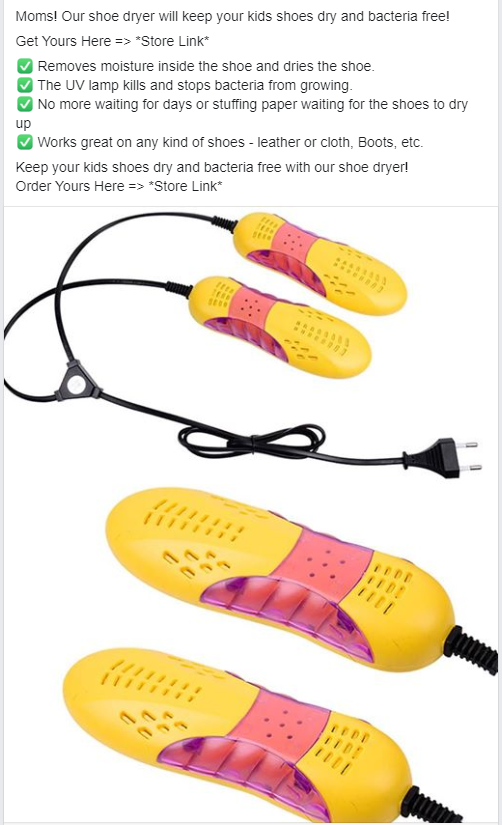 Dads version: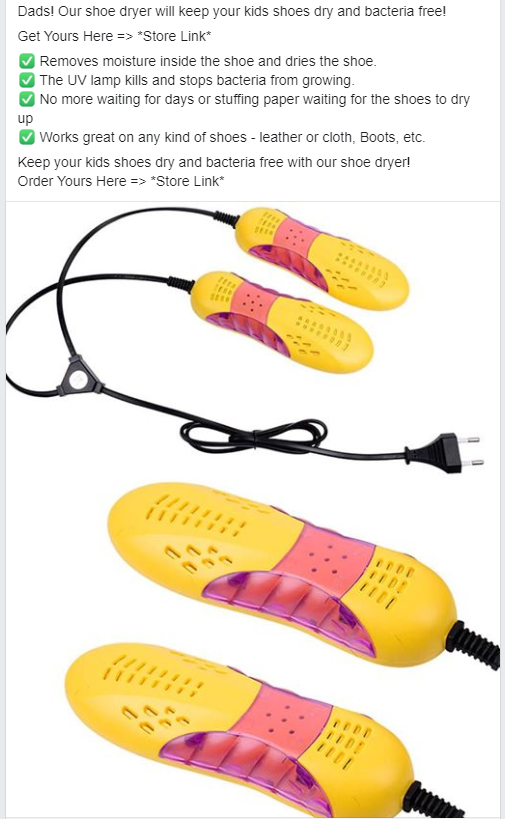 People will get from the ad text and the photo that this is a shoe dryer so if that's a concern, don't let that worry you. It's just that with a video ad, we can build a cool story of kids coming back from a football game with wet shoes and later show how Mom or Dad use this product to dry the shoes and stop the bacteria from spreading.
If you're planning on using only photo ads, then make sure your product page explains really well how this product works. You can copy and edit some of the description photos you can find on aliexpress seller page and insert them into your description. If we don't have a video, at least we can show some photos of how this product works.
6. Product Pricing & Selling Strategy:
Setting a price is an important step that if done right will help you keep getting sales with a healthy conversion rate. And if done wrong, your conversion rate is going to suck or you won't even get any sales at all.
The product price on aliexpress is $4.75. Epacket shipping is $2 so our total price is almost $7.
I think we can easily sell this product for $19.99 or max $24.99. If we sell it for $19.99, we can add a $1.95 or $2.95 shipping price. And if we sell it for $24.99, then we should offer free shipping.
Selling Strategy:
There's enough profit to make with this product with selling price being pretty low. Product also doesn't look cheap which works in our favor.
I think offering quantity discount in this case will be a wise thing to do. Moms and Dads will buy more than 1 product if they have multiple kids. There are some apps on the app store you can install to offer quantity discounts and there's even one that offers a free package(limited to 1 product) so use it and test the quantity discount on this product for free.

Summary:
This product has tons of sales on aliexpress and we will definitely see a rise in sales because the rains are already here. I also went a bit into emotinal marketing here and gave you examples of how we can sometimes use our targeting options to possible increase our chances to get sales. And with the example I gave you when I was selling daughter/son necklaces/dogtags, you should definitely try this angle. Even change the original text I gave you to fit more the single dads & moms.
Even with no video ads, I strongly suggest you try selling this product only with photo ads.
Keep testing and success will come – Good Luck!
Looking For More Winning Products?
Ecomhunt got you covered – Discover winning products that are selling right now and get access to our analytics, ads, targeting suggestions and much more. We made it easy for dropshippers to find the best products to sell online.
Must Read Articles: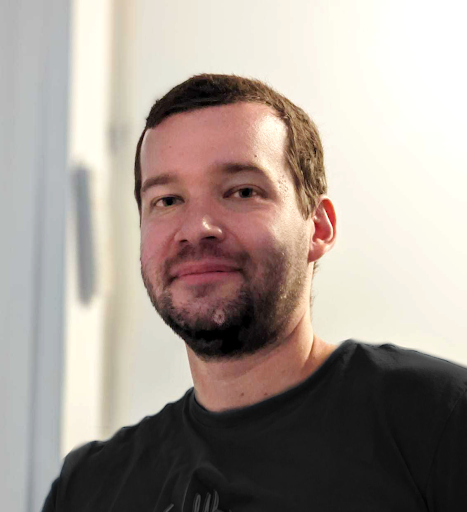 Daniel Aloni is one of the leading mentors in the Ecomhunt family. Daniel is a highly experienced Print On Demand seller with multiple 6 figures successful launches.