Christmas is coming really fast and just before you launch your ads, you should at least know how to test products the right way with Facebook. Our way of testing new products is what I like to call Fluid Testing. We don't follow a specific method like robots and if we believe the ad is bad, we kill it even after spending only $5. This way we can test multiple products correctly for minimum costs.
If you don't know how to test products or have some doubts about your way of doing things, then this article is for you!

1. Don't Rush It – Test Products At Your Own Pace
"The more products you test, the higher the chance you'll land on a winner." – You probably heard this statement somewhere before. Be it in an online course you purchased or from a random guy in a random e-commerce Facebook group. The thing is, this statement is true and your success chances to find a winning product will rise the more products you test.
But you can't expect to test the same amount of products an experienced and established dropshipper does. If you do so, you'll go bankrupt in a week and can kiss goodbye to your e-commerce career. Instead, you should test products at the pace you feel comfortable with.
There's no magic number of products you should test. Not even a minimum… If your budget and time allows you to test 20 products a week, then be my guest and go for it. But, if you can test only one or two products a week due to your low budget or lack of time, that's fine too. You'll just have to work harder and research better than others for a chance to find a good winning product.
The one thing I learned all these years selling stuff online is to never rush it and to never copy exactly what others do.
2. What Campaign Objective Should You Choose?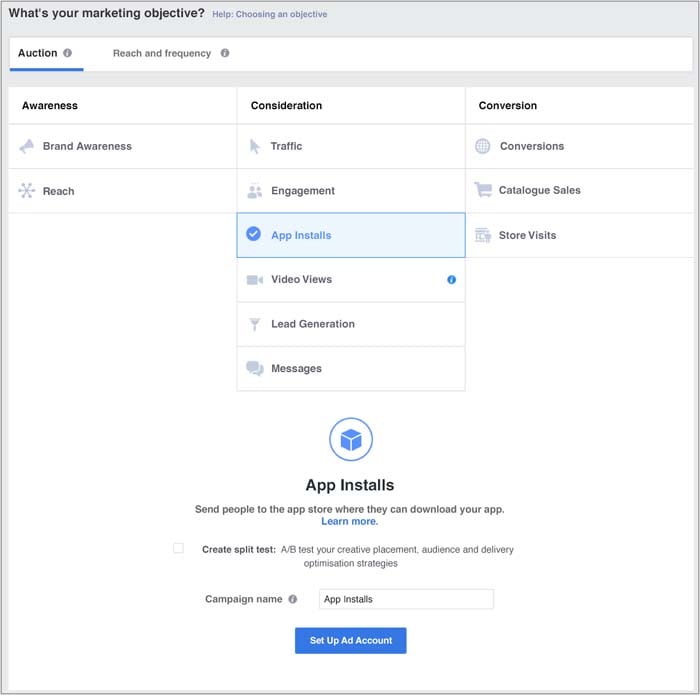 This one is simple – Choose the one that fits your goal best.
If you want engagement on your ad like shares, comments, likes, etc, then choose the Engagement campaign. If you want people to visit your site, then choose the Traffic campaign. And if you're running an online store and want sales, then Conversions is what you're looking for.
Facebook changed a lot and today you will get exactly what you asked for. If in 2015, I could run an Engagement campaign and get tons of sales, today this method won't work. If I do that, all I'll see are engagements. Your chance to get a sale from other campaign objectives are super low.
3. What Optimisation Should You Choose?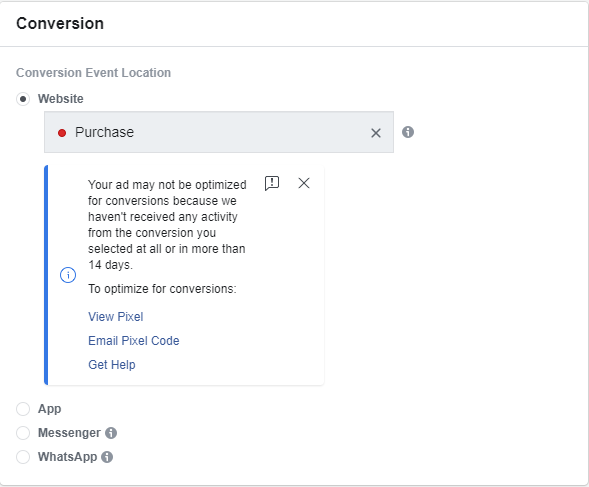 Although Facebook and other sources recommend you start from the View Content optimisation and move slowly up towards the purchase optimisation, usually after each event is fired 50 times(or more?). But we recommend starting straight from the Purchase or Add to Cart optimisations.
Even if you see the red dot and the "warning" message, ignore it and move on with your campaign. We have tested it thousands of times with new 0 data pixels and it works. What Facebook wants is for you to go the long way and get more data about your target audience first. This isn't a bad way to do things but with a good ad and the correct audience, you'll get sales without going all the way from View Content to Purchase.
And let's be honest here, the long method that Facebook recommends is an excellent way to take more money from us.
4. What Daily Budgets Should You Use?

At Ecomhunt, we recommed using low daily budgets to test your products. Starting from $5 up to $20 max. We usually start somewhere from $5 to $10 and the results we get are excellent. This also allows us to test more audiences by launching more low daily budget adsets.
For example:
If you're total budget is $60 and you decide to test a product with a $30 daily budget, then you can launch only 2 adsets(DUH!). So you'll have to do your research really well and be pretty sure that your target audience is the best choice. But if we go with low daily budgets, let's say $10 daily, then we can launch 6 adsets and test more targeting options. If we have prepared a quality ad and our product is good, we'll see results no matter the budget. And if you're using big daily budgets, you'll have to keep an eye on the ads so you don't lose too much money if the ad doesn't convert well.
And we know about Facebook's split test option and the rules you can set up to edit a working adset if a certain condition is met, but we still prefer doing it manually – The old school way. Some people may find it inefficient but we're not running an agency here… Checking on our products and editing them manually doesn't require too much effort from us.
5. How Many Ad Sets Should You Run?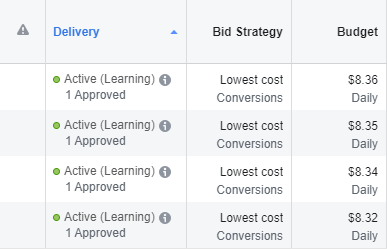 Our magic number here is somewhere between 3 to 5 adsets and that's usually enough to understand if there's any potential. Now that you know the daily budgets we use, it's about $50(max) per product on the first day of testing.
Unfortunately, we encountered a lot of users who learned from different sources to launch no less than 10 adsets with $10 daily budget each. And on top of that, they were told NOT to touch the ads for 3 whole days. Please, if you have been following this exact method or a similar one, stop doing it because you're just giving money away to Facebook.
We're giving you here a system that works for us and for other sellers but it's only a recommendation. If you feel 3-5 adsets is too much, then there's no problem at all to test only 2 adsets. If you want to test more, then that's fine too. The users that were following the minimum 10 adsets testing system were told it's the only way… You should test different methods and later decide what works best for you.
6. What To Expect And When You Should Kill Your Ad?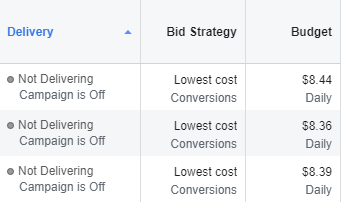 Link clicks are the first thing we're looking for in a campaign we just started. On each ad we launch, we want to see cheap link clicks and the maximum cost we can take for a link click is $1. Sometimes we're fine with $2 per link click but we must see at least some actions like Add to Carts or Initiate Checkouts.
A campaign with cheap link clicks means the ad is good and the product is interesting enough for people to click on it. If when we check our ads we see that the cost per link click was too high and there were no other actions on our store, then the problem is in the ad or targeting. Our choices here are to either kill the ads or try again.
If we decide to try again then we have to figure out the problem and if it's the ad, then we need to make it much better. Maybe try a new marketing angle others didn't think about trying? Or build a fresh new story around the product?
If it's the targeting, then we can try different audiences or even different countries. Who knows? Maybe the folk in Ireland & New Zealand will buy it like crazy!
Most importantly is to not let a bad ad sit and waste money.
If I wake up in the morning and see that my ad has spent $5 with like 2 link clicks, almost no engagements and no actions taken on my store then I'm shutting it down. There's no chance I'm going to let this ad sit for a few more days because I remembered someone saying that you MUST keep your adsets running for 3 days minimum.
Remember that a good ad, targeted to the right audience, should bring link clicks almost instantly.
Pro Tip: Instead of killing the adset, you can lower the daily budget and let it run a bit more. This is if you truly believe there's still potential and you don't want the adset to spend the whole budget on nothing.
To Sum It Up:
With ad costs rising, you have to be efficient when testing products with Facebook ads. Kill bad ads and keep the good ones running, but don't just sit there and let zero potential ads spend money for days. Test different methods but don't follow them like a robot – The best method is the one you create for yourself!
Good Luck 😉
Struggling to find good products to sell? Not sure who's your target audience? Tired of losing money on products you were sure were "winners"?
Then Ecomhunt is what you need! Find hot winning products that are added daily, spy on their ads & stores and import them into your store in 1 click and Start Selling Today!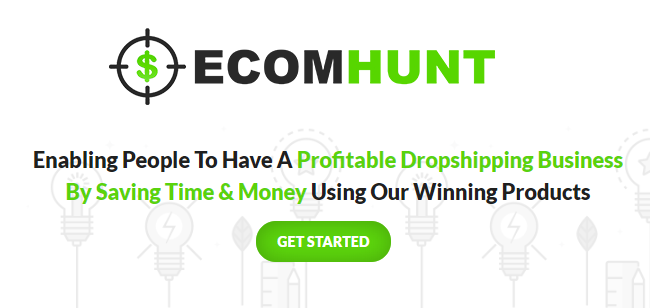 Must Read Articles: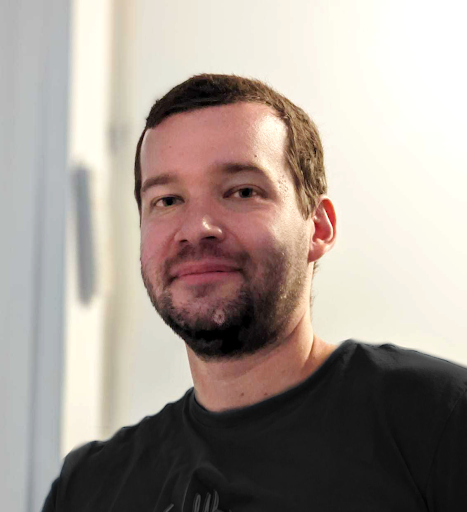 Daniel Aloni is one of the leading mentors in the Ecomhunt family. Daniel is a highly experienced Print On Demand seller with multiple 6 figures successful launches.