These e-commerce hacks will show you how to price your products correctly for maximum conversions, and the sale tactics you can use to get more from your customers.
Is a "Free Shipping" online store the best choice for dropshippers? Is "50% OFF" discount really works or customers are already accustomed to it? These questions and more will be answered in this week's article so you can get the maximum from your customers!
This is the third and final part of the ultimate e-commerce hacks for dropshippers blog series which will show you how to do it like the pros. If you missed the first two parts, make sure to read them before going through this one.
Enjoy!

1. Know Your Margins Before Pricing Your Product!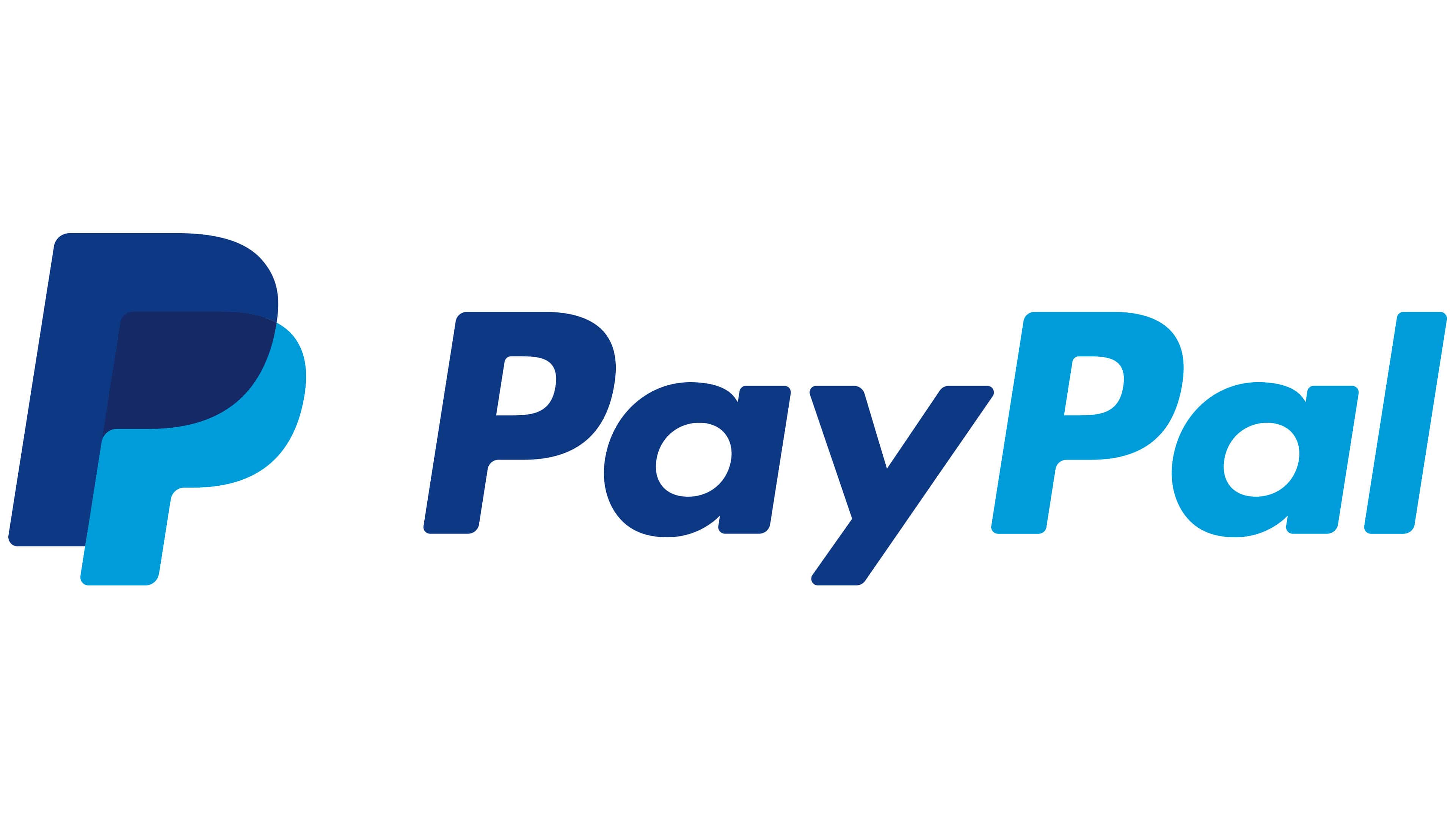 1. Every payment processor out there and almost every platform takes a small bite from your sales. If you use PayPal to accept payments from your customers, it will take a small percentage(depends on your account) + a few cents from every order you get. Shopify too is doing the same by charging a monthly fee AND a small percentage + a few cents from every order you get.
So if a product on Aliexpress costs $7 including shipping and you plan selling it for $15 including shipping, your final profit will not be $7. Forgetting about these "hidden" fees can lead to a loss instead of a profit.
Just doubling up Aliexpress selling price is not the way and you should always take into account your monthly and commission fees.
2. Don't expect cheap conversions… Facebook is not like it was a few years ago where you could get sales after spending fifty cents or a few dollars. The platform has changed a lot so if you're expecting to get $2 conversions for your $20 product, it probably won't happen(Unless of course there's some kind of trend going on and you're one of the first ones to sell the trending product).
In most cases, conversions will be higher so you need to price your products accordingly. If a product costs $15 + shipping, a good selling price will be $40, $50, or even $60 which will leave you with enough profit. Even if your average conversion is $15, it will leave you a few dollars profit if your product is priced for $40. And if it's $50 or $60, then you'll be killing it!
Pro tip: Not sure if the product will sell for a higher price?
Duplicate the sale page, keep everything as it is, and just change the price. You can create a new ad which will point to the product page with the new price, and later keep the one which performed the best.
3. Sometimes the product you're selling is simple which doesn't leave you too much room for profit. In this case, do everything you can to increase your AOV! Upsells, downsells, quantity discounts, scarcity, and more tricks to make your customers spend more(These will be discussed later in the article).
2. Is A Free Shipping Store Really The Best Choice For New Dropshippers?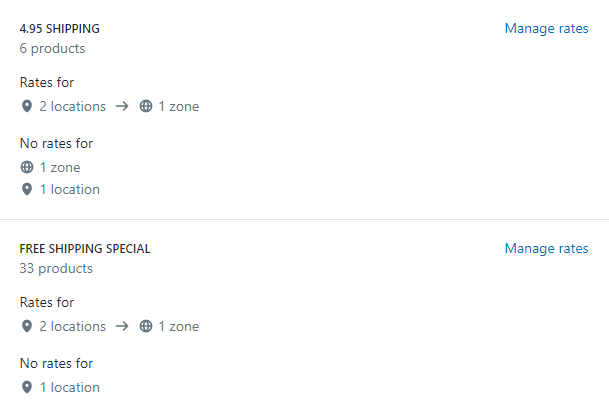 In short: Yes. It's no secret that customers hate paying for shipping, especially when the product is not that cheap. A customer can add $150 worth of products to his cart, but when he sees that he has to pay for shipping he'll just leave. Even if the shipping is like $10…
Shipping often ruin the checkout flow – It's important for us dropshippers to get a sale as fast as possible! One of the ways to achieve that is to make it clear that there are no extra fees like shipping or taxes. The customer visits our product page, sees the product price, and proceeds to checkout when he knows this is what he's going to pay. No extra fees to make him stop and think again…
If we also charge shipping, which is usually not displayed anywhere on our product page(aside from the shipping page in the footer), the customer gets surprised by it and it ruins the "smooth" checkout flow. At this point the customer starts to think about the price and other stuff which we don't want to happen.
So like I said, as of now, free shipping is definitely the best choice if you want to start dropshipping.
Here's how to set up your store and offer free shipping for products you want:
1. Go to Shipping settings in your store(General -> Shipping & delivery):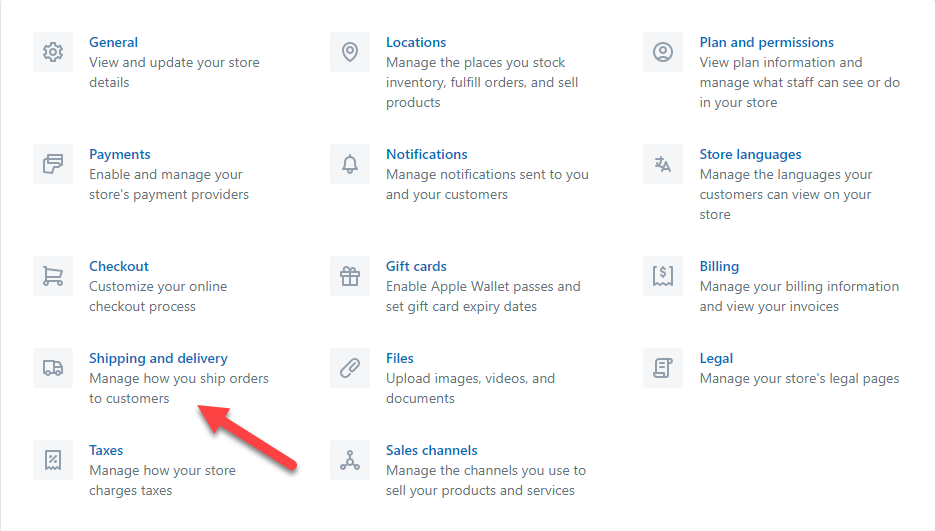 2. From there, edit the existing general Shipping rates or create a new profile.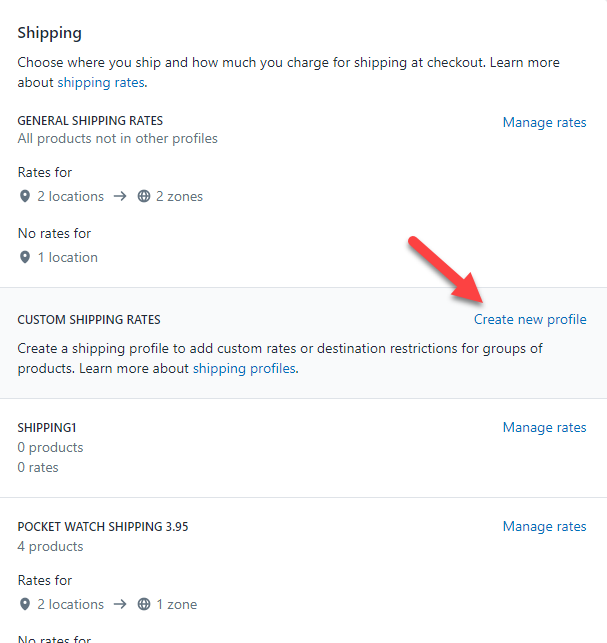 I prefer creating a new profile and just dropping there each product I'm testing.
3. When creating a new profile, set the name to Free Shipping or to Free Insured Shipping which sounds better.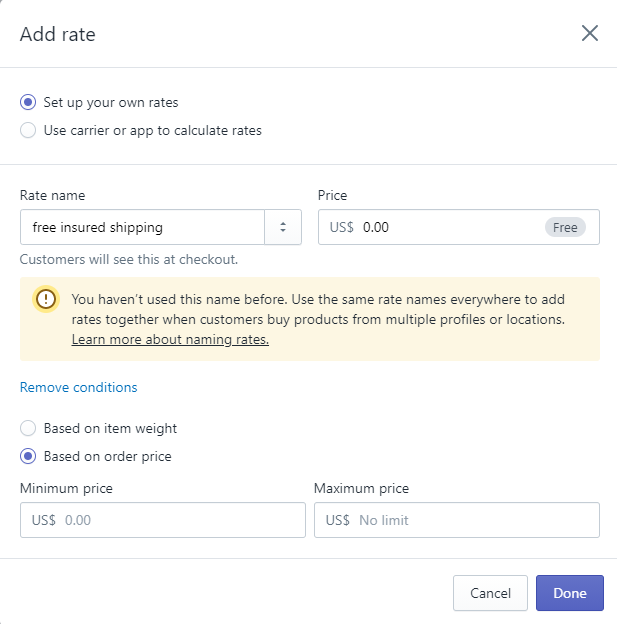 You will have to choose the country/countries you're shipping to when creating your profile. Base it on order price, write "0" in minimum price and keep the maximum price blank. When finished, click on Done and it should look like this:

All's left to do is drop the current product you're testing right now and the next ones if you want to offer your customers "free insured shipping".
Important:
Sometimes lowering the price and adding a small shipping fee can work much better. It usually works better when selling cheap products so instead of selling a product for $19.99 + free shipping, you can try and sell it for $16.99 and $2.99 shipping.
This happened some time ago when I was selling a pretty cheap product which didn't do so well for $20 + free shipping. When I tested the same product for $16.99 + $2.95 shipping, the conversion were much higher by far!
Note: I did not edit the original product price but duplicated the same product page again with a different price. This way I could compare both prices and see which one worked best ?
3. For How Much Should You Sell Your Product?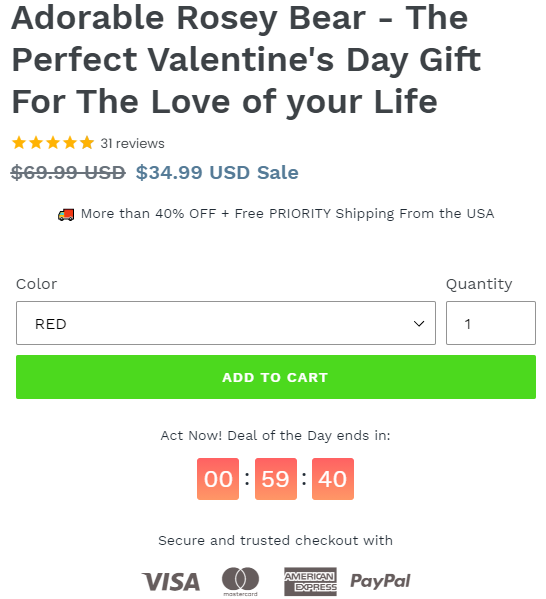 If your product is too expensive, you will get no sale no matter how good your ad or your product. If your product is too cheap, people will be afraid it's of low quality and they'll leave without buying. So if you have no experience, my tip is to spy on other successful stores and copy their prices.
If you're on Ecomhunt, you can get a safe price suggestion for each winning product we recommend.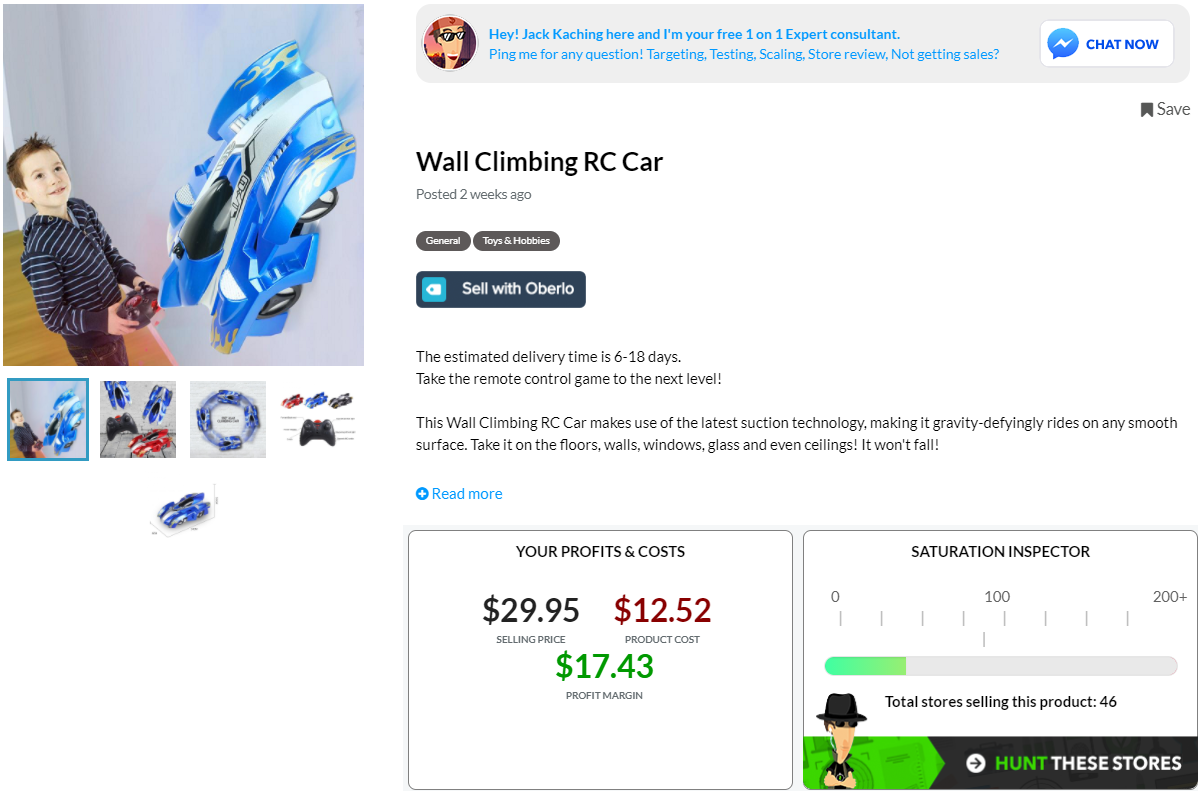 If you want to price it for more but not sure if you should, you can always check what other sellers are doing by checking their stores. Click on the "Hunt these stores" button and you'll get a list of stores that sell the same product. You can compare the selling prices and adjust your price accordingly.
You can also price your product based on its reviews – If you find the product to explode on Aliexpress with a lot of good photo reviews, that just shows the product is of high quality. This means you can easily double, triple, and even quadruple the price and easily sell it.
Remember to check what others are doing or ask someone with more experience just to be sure the price is right.
Discounts:
One of the most popular discounts to display on your product page is 50% OFF. To some of you, it may sound a bit too much but the fact is that it's working great! If you want to sell the product for $49.99, the "original" price should be $100.
The discount should be attractive enough so don't go offering 10% OFF because this will just make you look cheap… Some dropshippers thought 50% OFF may feel like a trick but this isn't the case at all.
4. Countdown Timers, Limited Stock Bar, Do These Scarcity Tactics Really Work?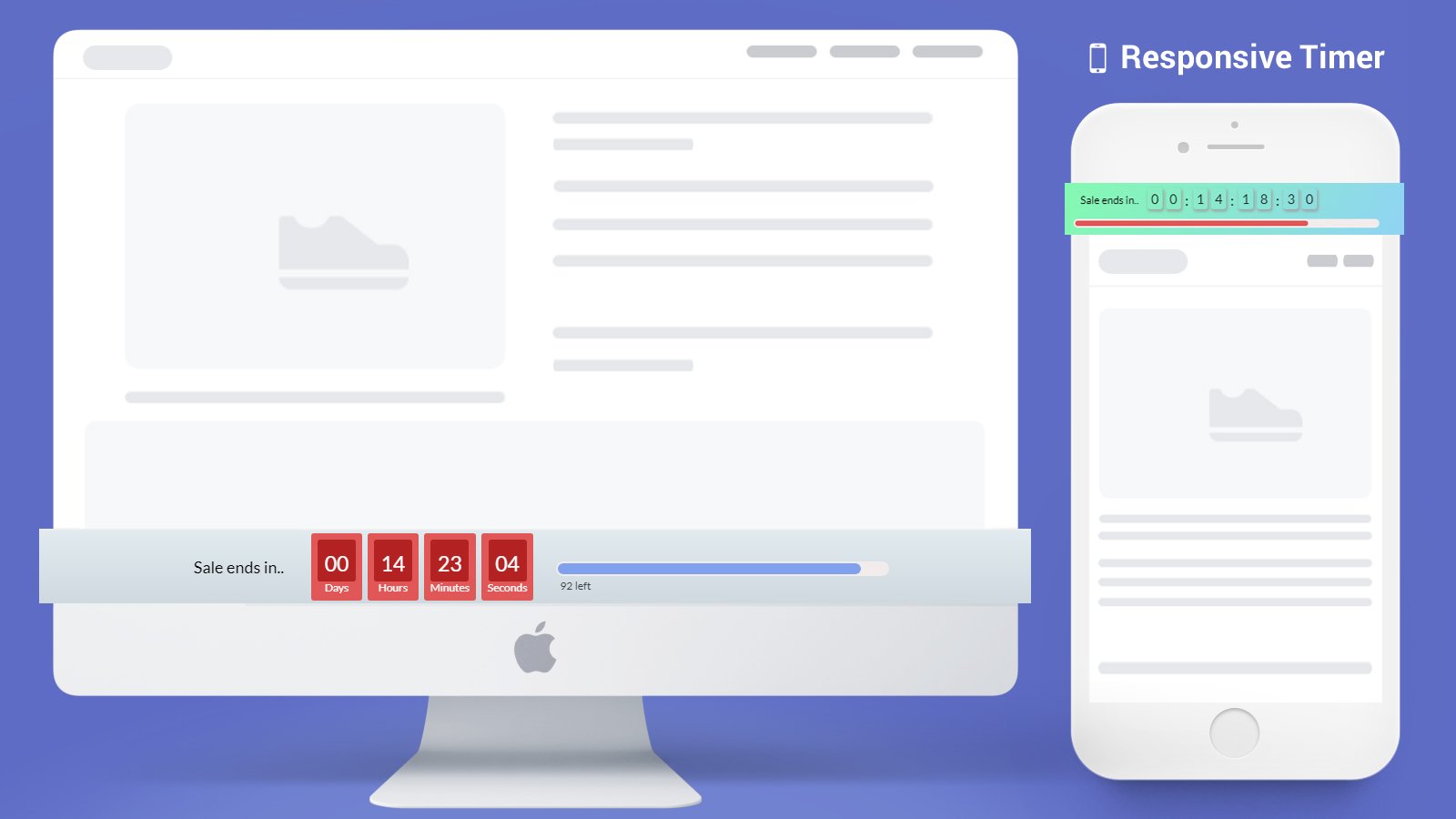 These scarcity tactics are designed to make our customers more willing to buy our product by creating a sense of urgency. It can be a "limited time deal" that ends in 30 minutes, a "reserved order" that lasts only 10 minutes, or a limited stock counter.
These and more scarcity tactics do work really well BUT you shouldn't activate them all at the same time – You have to use just the right amount for your customers to believe it and for your sale page to look legit.
If you're selling a product with 50% OFF + Free Shipping deal, then a simple countdown timer on your product page(on cart page too) is enough. Adding Stock counters, and some other social proof popups will make your page look spammy and cheap.
If you're selling a premium product, it's better to keep your product page clean. Adding timers and other scarcity features will make your high quality product look cheap and it will lose all it's magic in your customer's eyes. People expect to see some sort of deal(like 20% off), but if they see a circus of timers and number they'll just leave without buying.
Pro tip:
To save some money, search for apps that have free plans like the app above or Ultimate Sales Boost app(I personally use this one). These apps offer A LOT in their free plans so save your money and purchase the premium features after you make some sales.
5. How To Get More From Your Customers?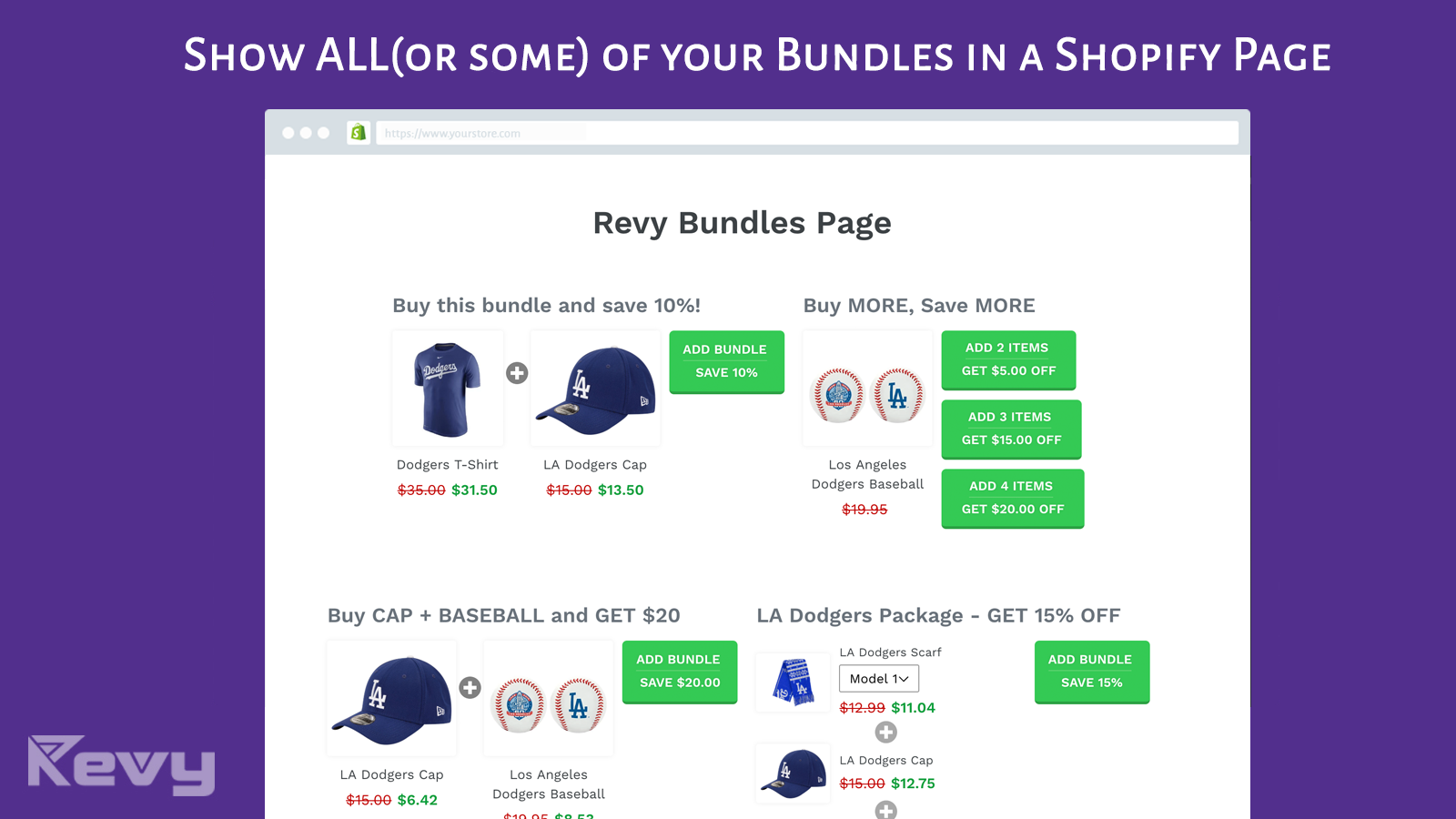 It doesn't matter if it's a one-product store or a general store, you ALWAYS have to look for a way to increase your average order value(AOV). This so we can profit more especially when the ad costs are rising every year.
Being a successful dropshipper isn't an easy task and it requires a lot of things to go just perfect… You can have a professional video ad that goes viral, but your Shopify store isn't that well optimized which makes your conversion rate pretty low. So if you can increase your AOV, this might keep you profitable and you won't have to stop selling.
How to increase your Average Order Value?
Bundles – Offer another product that goes really well with the one you already sell for an additional discount. A big mistake new dropshippers do is to offer random "HOT" products as a bundle which just slows down the customer and makes him think. The chances of a customer taking this bundle are EXTREMELY low so if you don't have a related product to offer, it's better to just keep it clean.
Quantity discounts – Offer an additional discount if a customer decides to buy more than one piece of the same product. If you think your customers might need more than one item of the product you're selling, then always offer quantity discounts.
Upsells – Offer an extra product for a discounted price. It can be on your product page(kinda the same as a bundle), or on your cart page. The most important thing is to offer a related product which goes well with the one your customer is already buying. Important: The best kind of upsell is a one-click post-purchase upsell. When a customer already paid for his order, just before he's transferred to the thank you page, a new product pops up and he can purchase it with just 1 click. There are apps that can do that but it requires some work to get it working on your store.
There are a few more methods like offering "expedited" or "insured" shipping on the checkout page which can add a few more bucks, but I personally prefer keeping the checkout flow clean. If my customer is already checking out, I don't want anything to stop him from buying!
Pro tip:
Avoid using apps that require the customer to manually add the product to his cart for the discount to work. For example: Apps that offer quantity discounts only if a customer manually adds more than one item to his cart. Instead, it should be a button(like in the picture above).
To Sum It Up:
This article should help you deal with the small issues that pop out when finishing your dropshipping store. Stuff like pricing which is something so small but can have HUGE impact on your sales if you do it wrong. Or scarcity tactics, which if done wrong, can have a big impact on how your store looks in your customers eyes.
I hope you liked the third part of this blog series!
Good luck.
Struggling to find good products to sell? Not sure who's your target audience? Tired of losing money on products you were sure were "winners"?
Then Ecomhunt is what you need! Find hot winning products that are added daily, spy on their ads & stores and import them into your store in 1 click and Start Selling Today!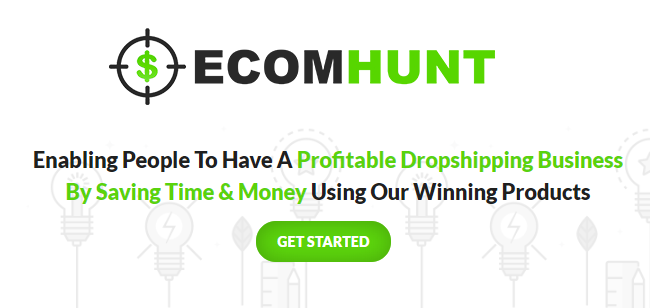 Must Read Articles: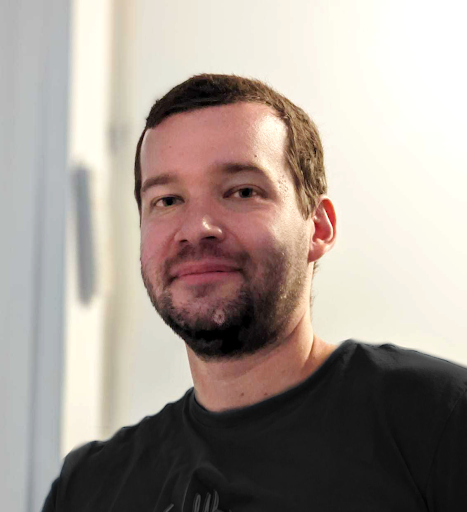 Daniel Aloni is one of the leading mentors in the Ecomhunt family. Daniel is a highly experienced Print On Demand seller with multiple 6 figures successful launches.