From what I've seen in the news about 2 weeks ago, the first businesses to be fully booked are the hair and beauty salons. There are those who urgently need a haircut and those who need a full makeover after sitting for almost 2 months at home.
It's logical because in most countries, people were not allowed to go outside and non-essential businesses had to be closed for some time. So this product that popped on my feed didn't really surprise me because I know how much it is needed especially now!
This product is the laser hair removal handset and it's currently EXPLODING in sales – If you're quick enough, you can definitely launch ads for the same product and make bank!
In this week's article, I will review everything around this product so you can do the same and sell it too.
So let's jump in and analyze this winning product 🙂

1. The Ad & Ad Copy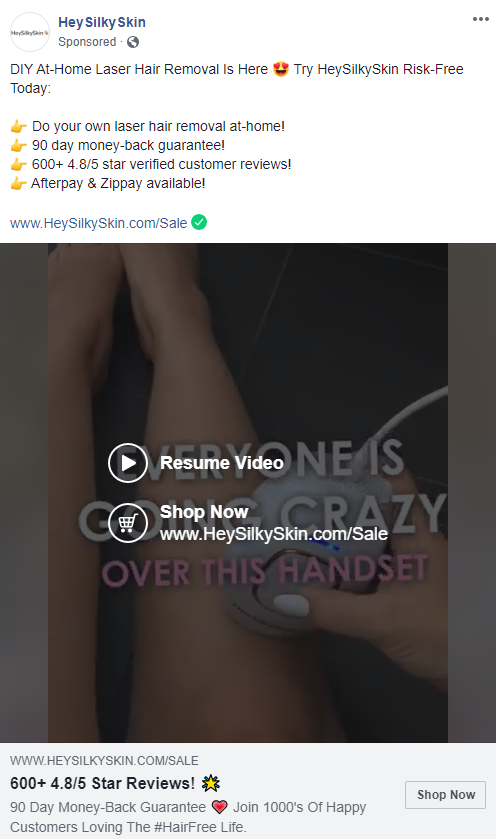 First of all and to make things clear, this is a chinese branded product where they ordered a bunch of it and just slapped their logo on it. The same exact product with the same colors can be found on Aliexpress for $50 here.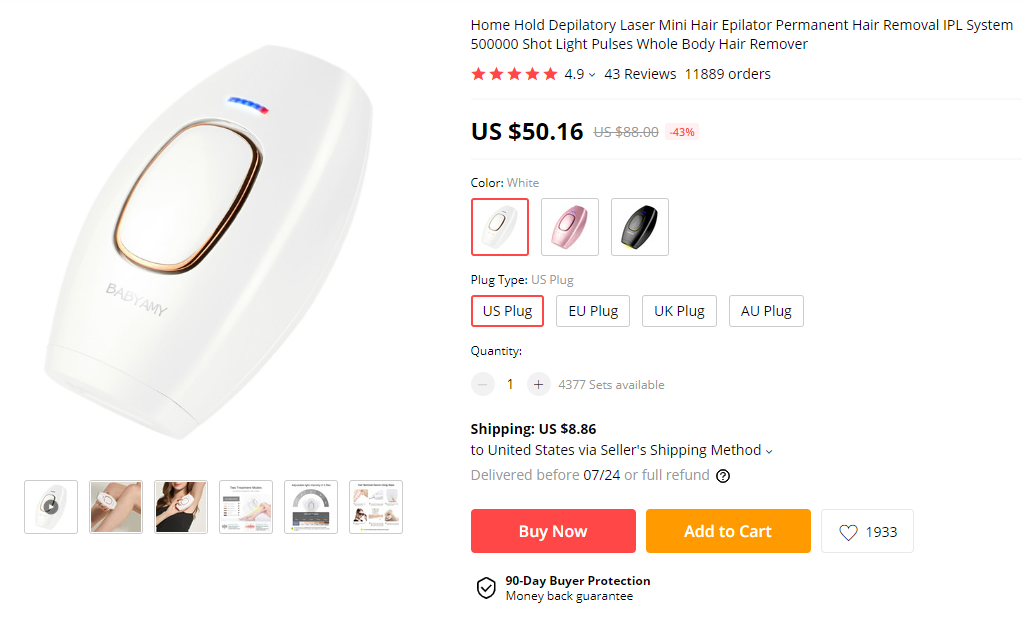 Product cost is almost $60 with shipping to the USA and you can easily sell it for $100 which leaves you a huge profit margin. The original seller is selling it for $100 and looks like they're doing great. So let's get going and start with our video review.
The video ad: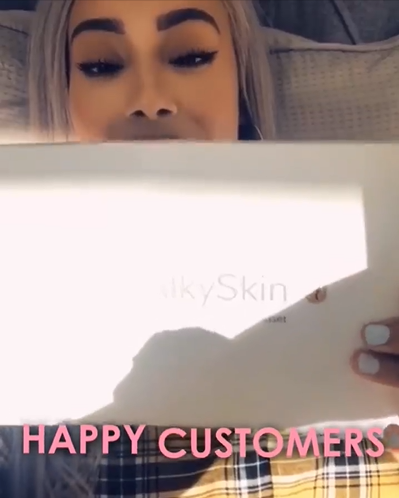 The video ad is absolutely gorgeous! They took a bunch of legit video reviews from regular customers with probably some influencers too and make a really cool, fast paced review compilation. The first seconds of this video are catchy and it definitely stops people from scrolling. They slapped some text on it like 90 day money back guarantee and even showed some 5-star text reviews on top of the already existing video reviews from customers.
Video ends with a call-to-action to try this product risk free and I loved it that they finished it with a video review from a woman who says "I'm obsessed". A really cool touch which makes this video truly perfect!
The ad copy:

This product is self explanatory and there aren't really too many features you can write about in the ad copy. One quick sentence about this product + some important points like the money back guarantee and the 600+ reviews is indeed enough.
I would recommend showing the product link in the first 3 lines so it appears before the "See More" button, especially if you don't have too much to write about the product… It's an old habit of mine from my POD days back in 2015 just so people don't miss my link.

More and more ads on Facebook mention good reviews on their call-to-action video button and looks like it's working great.
They did an amazing job and my rating for this video ad + ad copy is 5/5!
2. The Product Page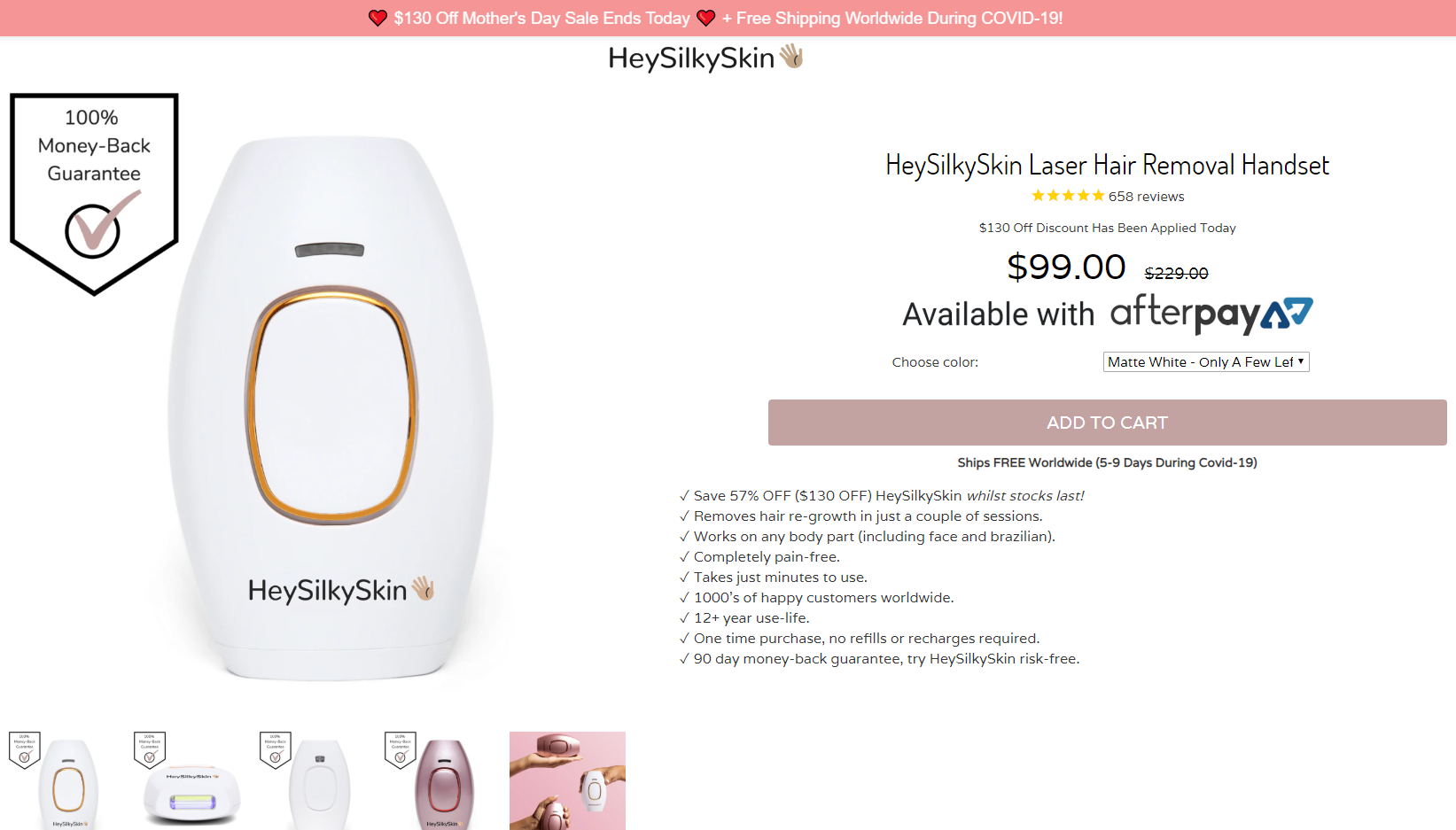 There's always room for learning and I LOVED the 100% money back guarantee badge they added on all their product photos. It takes about 2 minutes to add this badge to every product photo and it adds so much to their credibility. I recommend doing the same for the next product you test!
As expected they are selling the product for $100 after a mega Mother's Day discount – It's a great strategy especially with the COVID-19 free shipping deal which creates even more urgency. They don't have any scarcity timers which I think is a good decision because sometimes it can make the product and everything around it look cheap.
Another addition to the product page, which I am already using and you should too, is the "great reasons to…":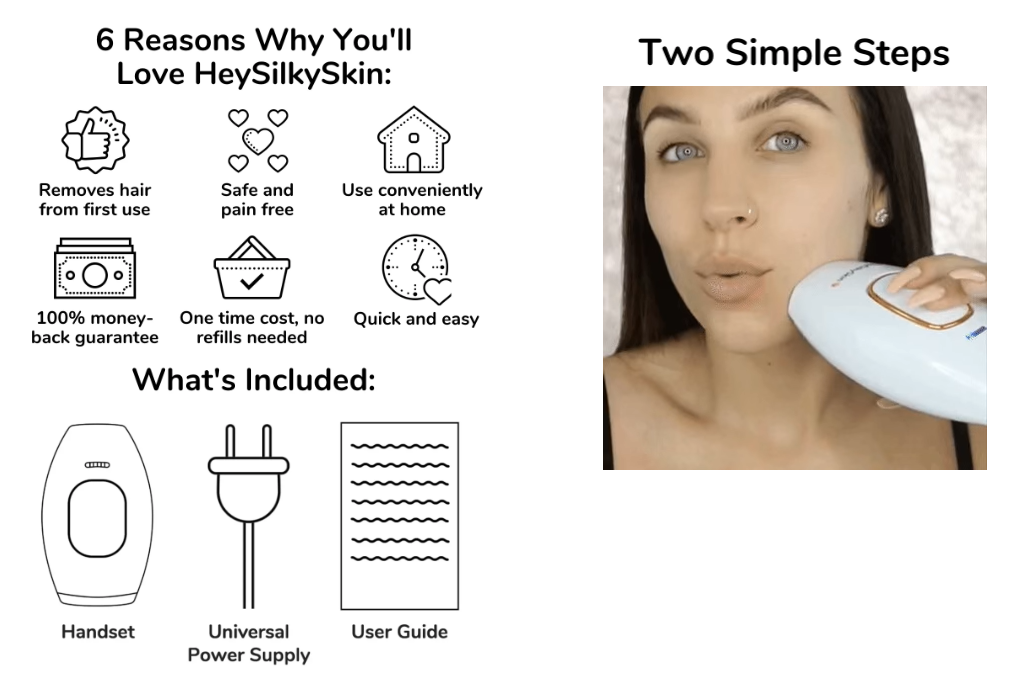 For our store, I have made something similar to what they are using and called it "5 great reasons to buy from us". It's a simple picture with text + badges on it like money back guarantee and fast shipping. I include this picture on every new product we launch to boost our conversion rate.
Important:
They used a GIF in their product page which is fine – Just make sure to check your product page loading speed because sometimes GIFs can really slow down your store.
Reviews:

They have an Instagram display feature which is available only on Premium themes which is cool but it's ok if you don't have it. Regular reviews just below their Instagram widget are fine. Plenty of reviews you can import from Aliexpress with our without pictures.
3. Cart Page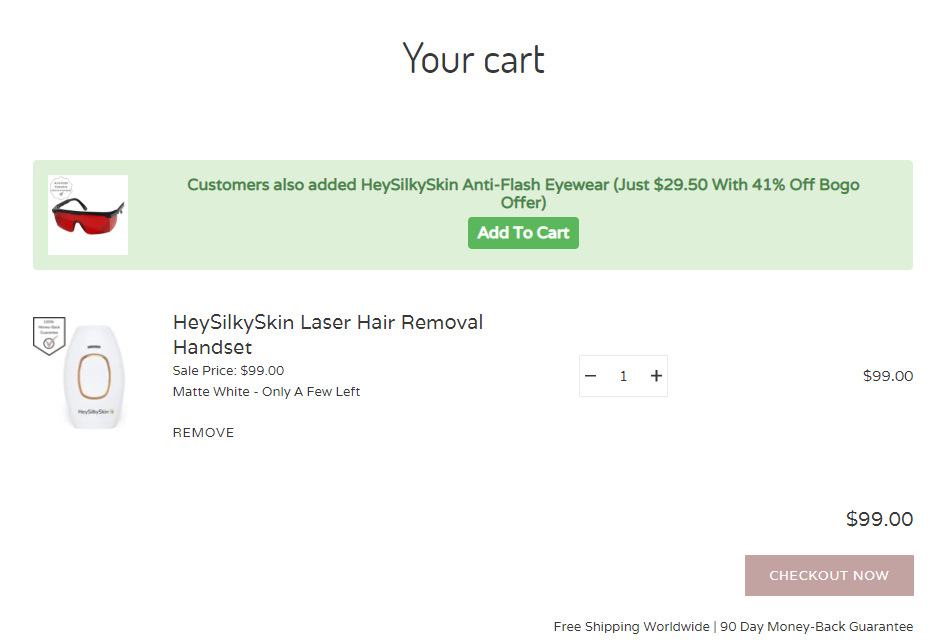 When clicking on the "Add to Cart" button, there's a quick upsell suggestion of anti-flash lens eyewear:

It isn't a bad upsell because everyone knows these laser devices have a pretty strong flash so you don't really want to look on it when working. I personally wouldn't offer this item as an upsell because it causes a negative impact which can reduce sales.
Think about it… A customer sees this awesome ad of people using this device with no protective glasses and he's ready to make his purchase. He click on the Add to Cart button and suddenly he sees that you should wear protective gear to use it. I think it may scare our customer away.
I would just offer this product as it is with a different upsell(or no upsell at all) and leave the protective eyewear decision to my customers. You can always write somewhere in your store that anti-flash eyewear is recommended when using this product just to cover your a$$.
Other than that upsell issue, everything looks great on the cart page. They display a free shipping and money back guarantee message instead the usual "taxes and shipping are calculated on checkout" which is good to prevent confusion.
My score for the product page + cart page is 4/5 – I reduced one point only because of that upsell.
4. Checkout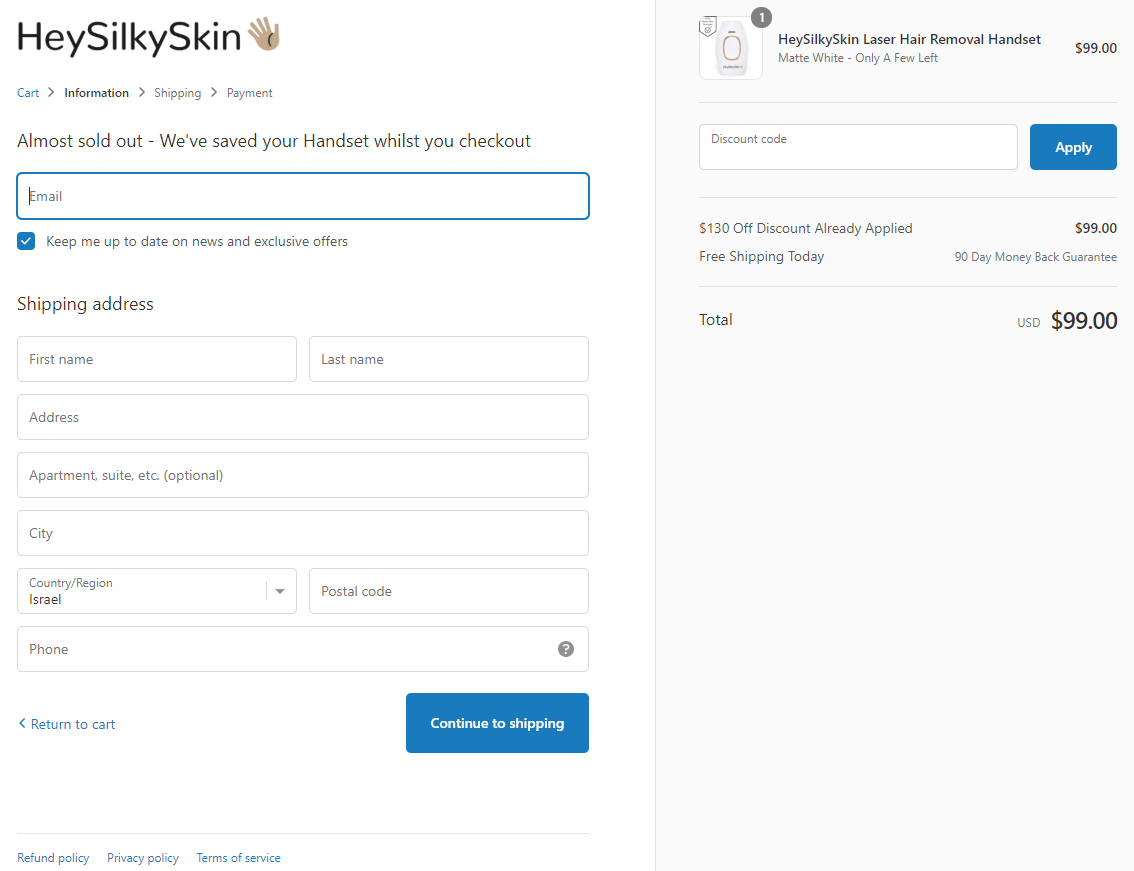 Their checkout page is standard – On top they just have their logo and in the bottom the must have policy links. Usually I prefer giving my checkout page a bit more attention so I make sure to have a logo + trust badges on top.

Something like this screenshot above looks a lot better than just a logo – It's a 5 minute work to create something similar on photoshop and it really upgrades your checkout page!
When filling out the shipping details, I noticed the phone number is a mandatory field:

Usually the phone number on my store is always optional because some customers really hate giving out their phone number. Even if it's only used for shipping purposes, some customers just don't want to give their phone number and they will leave if this is mandatory. So if you're testing products, keep the phone field optional.
In this case tho, I think they didn't have an option because some payment providers ask for phone numbers to process payments. On top of PayPal and CC processors, they also offer paying with afterpay which I think requires a real phone number.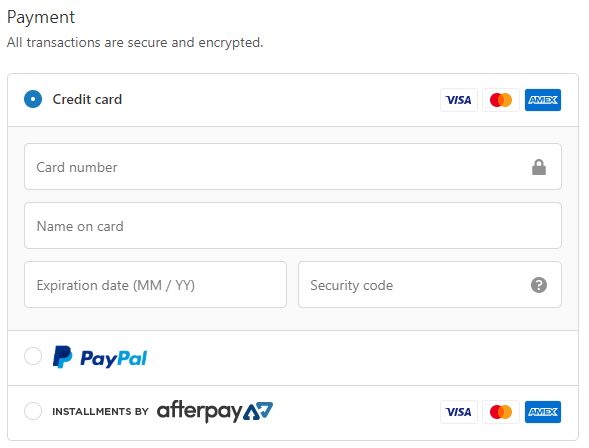 In any case, keep the phone number field optional if you can.
Their shipping page offers standard shipping for free and express shipping for extra $7.5: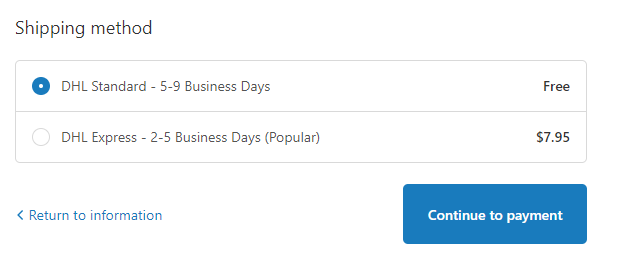 A good strategy to make a bit more money on the shipping. If you can offer express shipping for extra costs, I suggest testing it out 😉
My score is 4/5 – I reduced one point because they had no trust badges with their logo.
To Sum It Up:
This product is super trending right now and you have enough time to jump and sell it too. This is a 1-product branded store but you don't have to do the same to make sales. If you have a general store, all you need is a great looking product page + video ad.
Take inspiration from their product page and create something similar. Order this product or send it to some girl on fiverr to get fresh video material to make some amazing ads.
Are you fluent in German? or maybe Spanish? Good! Create a product page in the language you speak and advertise it – So many ways to make money of this product!
Hope you liked this week's article and feel free to leave a comment if you have any questions. Good luck!
Struggling to find good products to sell? Not sure who's your target audience? Tired of losing money on products you were sure were "winners"?
Then Ecomhunt is what you need! Find hot winning products that are added daily, spy on their ads & stores and import them into your store in 1 click and Start Selling Today!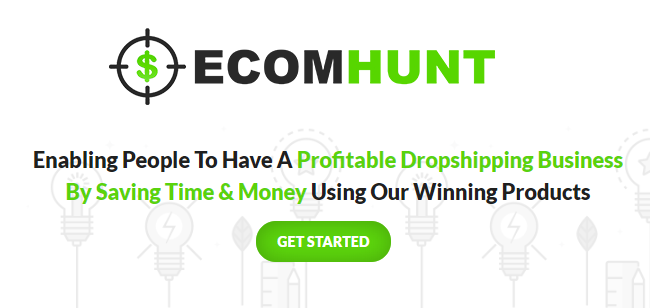 Must Read Articles: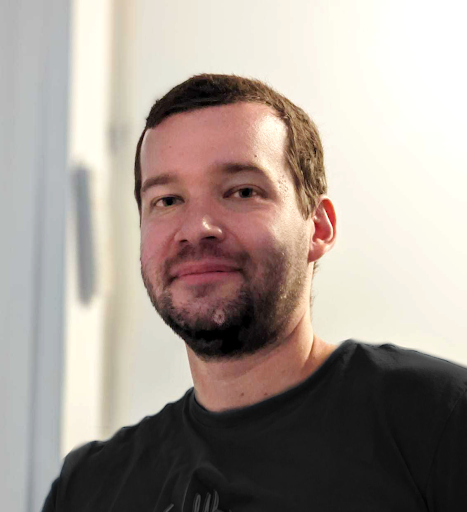 Daniel Aloni is one of the leading mentors in the Ecomhunt family. Daniel is a highly experienced Print On Demand seller with multiple 6 figures successful launches.