In the last article, I showed you how you can review your online store like a pro. This so you don't launch ads and send traffic to a half-baked store… Our job is to help our Ecomhunt users to make sales so we want to be sure your store is 100% ready before you spend your first cent.
And in this article, I will show you how to review your own ads like a pro just before you launch them. Ad copy text, Ad copy structure, Video Ad structure, Thumbnails, targeting, etc, It's important to have everything in check before you click on the "publish now" button.
Important Note: Ecomhunt users can always ask Jack Kaching, our online consultant, to review their ads. Jack has reviewed thousands of ads and after his review, you can be sure your ads are ready to be published.

1. Video Ad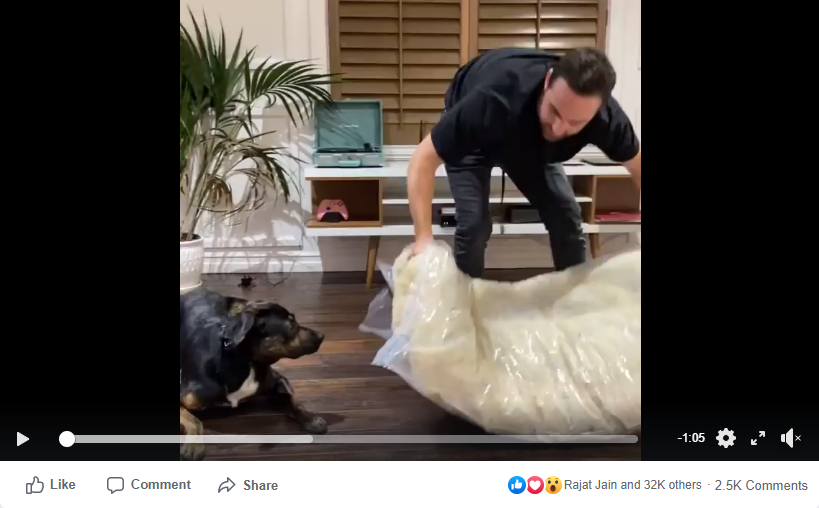 Your video ad needs to be interesting enough to stop your target audience from scrolling, and to do that you need to have a good scroll stopper. A scroll stopper is the first 2-3 seconds shot in the beginning of your video to catch your target audience attention.
The screenshot above is taken from a video ad of a VERY successful product – The Calming Pet Bed. This video ad has an insane amount on engagement and the original seller is doing some crazy numbers right now.
The video ad starts with a shot of the owner taking out the bed for his dog and right away you can see the dog's excitement: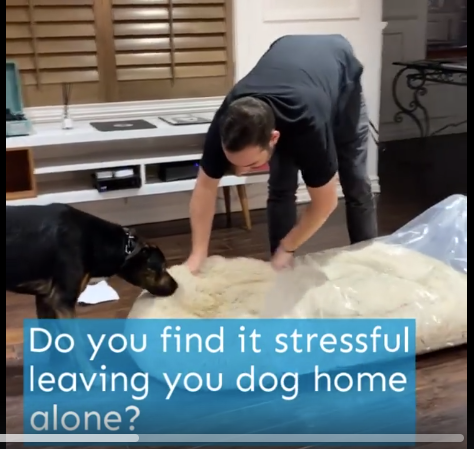 It's interesting, it shows the product + the dog, and it connects to the pet owners too. As a cat owner myself, I love to see how my cats react to new toys I bring them so this shot wasn't chosen by accident here. It was well thought!
I believe if the 3 seconds were of the dog just lying on the calming pet bed, it would've caught much less attention thus bringing less clicks and sales. When creating a video ad for a product, the first 2-3 seconds are there to stop your target audience from scrolling!
2. Ad Copy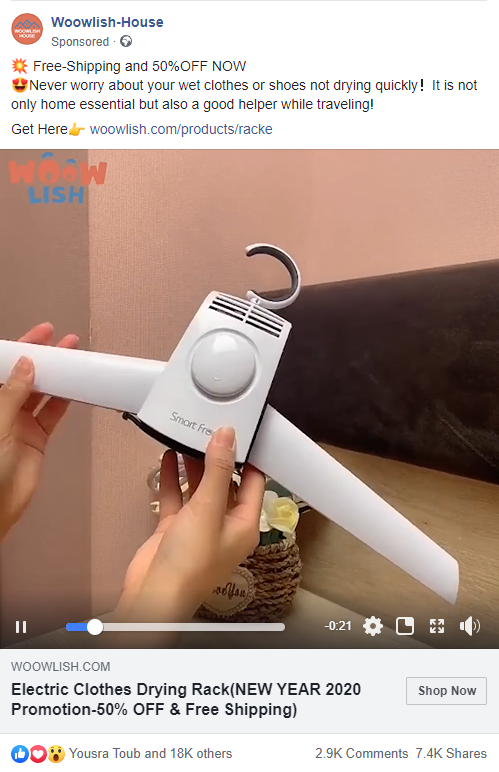 Some prefer a short ad copy with 1-2 lines about the product and the discounts. And some prefer long ad copies where on top of explaining what their product does, they also list all it's features and even shipping times.
I usually go with a short ad copy as you see in the example above but that's only if I was able to show everything in the video. Sometimes I will use long ad copies and really go into details if I didn't show all the product features in my video.
Long copy example: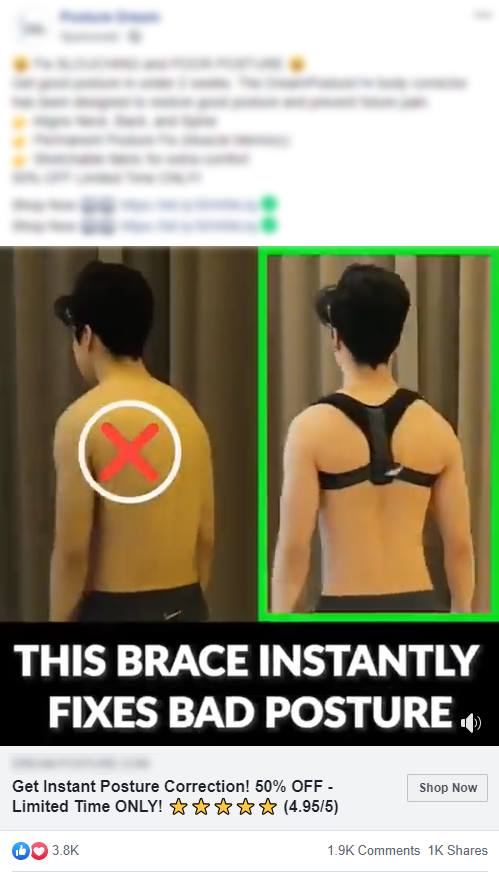 Your ad copy needs to start with what your product is about and what problem it solves. Remember that Facebook displays about 3 lines of text before you have to click on the "See More" button so it's important to start strong.
If you wish to start by showing there's a 50% deal + free shipping that's fine too… Just make sure you have enough space to let people, in a short sentence, what your product does and what problem it solves.

Where should you put your link in the ad copy and is it even necessary?
Facebook gives us an option for a call-to-action button on our video and photo ads, so some advertisers don't really care if their ad copy link is shown only after clicking the "see more" button. This is the case in both ad copies I shared here and it's understandable.
Instead of taking more text space by displaying your call to action text + link, they have more space to talk about their product and current deals. So there's nothing wrong in what they did and if you decide to do the same that's fine.
Personally, I prefer making the ad copy link visible before the "see more" button. It's an old habit of mine from my POD days and it will guarantee they don't miss my link – Yes, sometimes it can happen for your target audience to miss th "shop now" button. So as a backup, I make sure to display it in the description in the first 3 lines.
And for the Call-to-Action text below the video, don't just write "Get yours now" and finish with it… Be a bit creative or go with something solid like your product name + the current deal you're running.
3. Campaign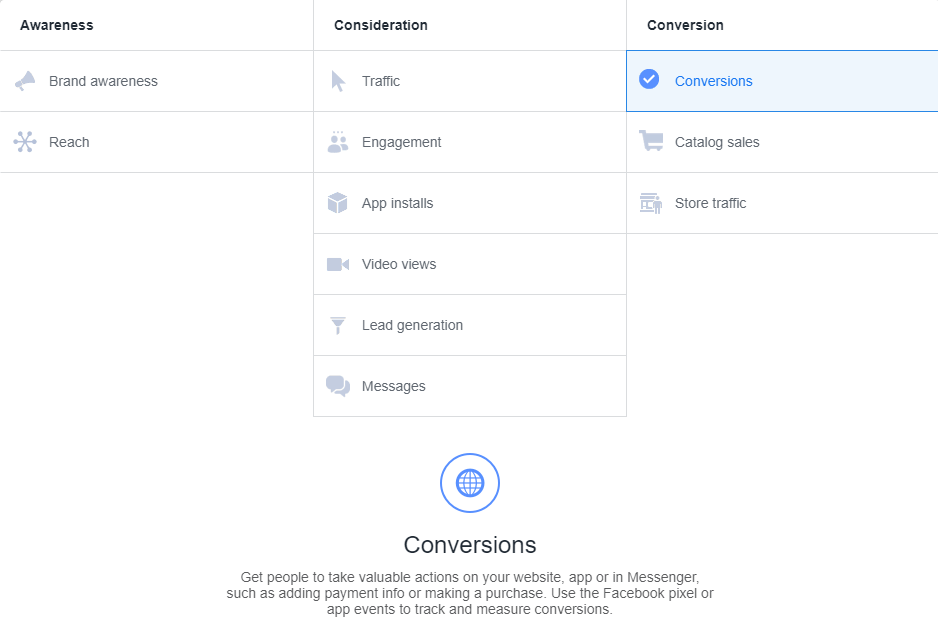 Our only goal is to make sales and nothing else so the only objective we choose is Conversions! Not traffic, not engagement, we choose a conversion campaign and Facebook will find us people who are most likely to make a purchase.
Back in 2015, you could run an engagement campaign and get sales but in 2020 Facebook will deliver exactly what it promised. If you choose engagement, you will get likes, shares and comments but the chance of getting a sale will be extremely low.
When you choose a conversion campaign, Facebook will look for people who are most likely to click on your ad and make a purchase based on their past activity. You will probably get less Likes on your ad but the sales will come in if your product and ad are good 🙂
Pixel and Optimization: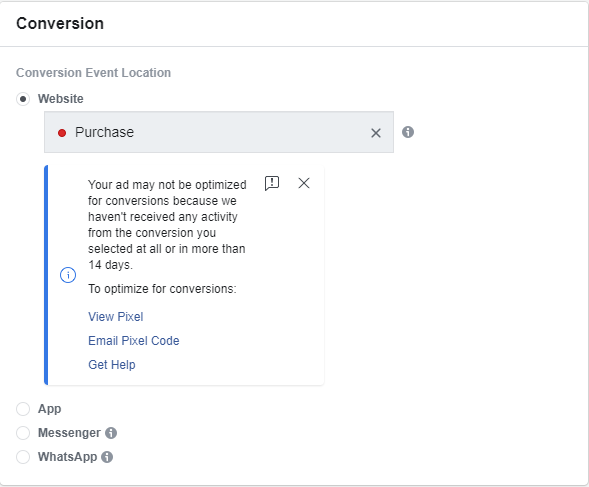 We choose purchase optimization even if your pixel is new and has zero data. If you choose a different optimization, Facebook will again deliver exactly what was promised. Some think you need to "season" your pixel first before you can optimize it for purchase, but this isn't true.
For years we've been only using purchase optimization no matter if our pixel is new and has no data at all. If we're selling a good product, we will get sales – Don't let the red color dot and the warning texts scare you and just optimize for purchase!
Here's an example of a campaign we've been running since April 29th where the pixel had no data at all:

A great product, an optimized store and a great ad are the only things you need in order to get sales.
Targeting: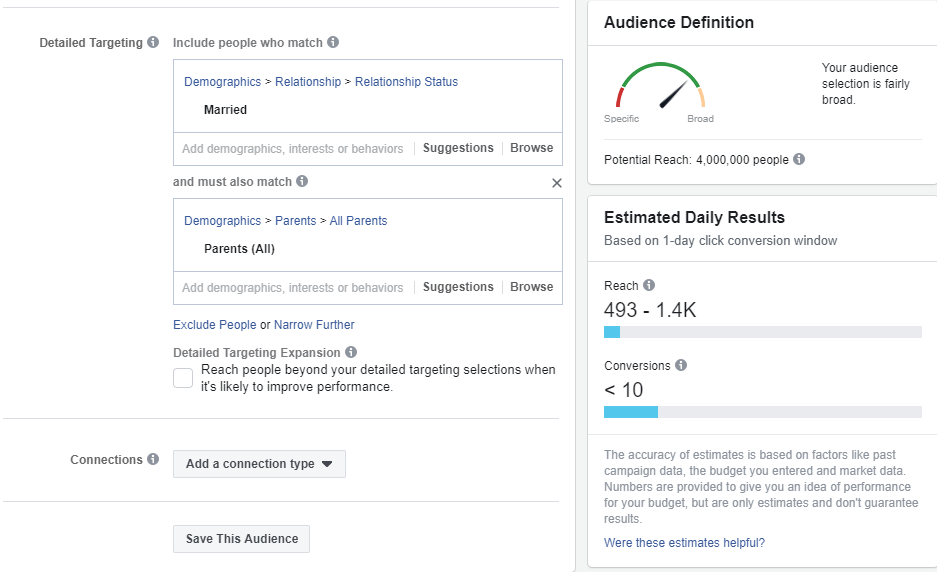 Probably one of the easiest parts when creating your first campaign and most people are doing just fine when it comes to choosing their target audience. Most of the questions I get about targeting is almost always about the "perfect" size.
And my answer is always the same: There's no perfect audience size. You can run ads to an audience size as big as 50 million or as small as 10,000. If you feel this is your targeting audience, then simply test it out.
Some will say that a small audience will bring no sales and the only thing we'll see are huge CPMs – That ain't true because I ran and still run ads to really small audiences.

Don't skip an audience only because of its size.
Placements & Conversion window: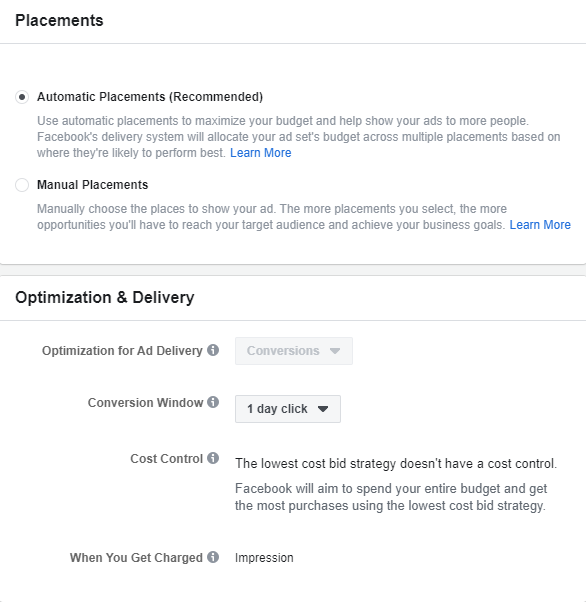 I never liked the automatic placements and almost always used only manual placements, but for my current campaigns I just go with automatic placements when testing. I find it to work much better than it did in the past and I even find placements I would never consider to work. When I get to the scaling stage, this is when I remove the placements that do not work and keep only the good ones.
If you feel manual placements will work better for you then it's fine too. Just remember there's a chance you will miss a profitable placement.
For the conversion window I always go for the 1-day click – The reason to that is that I expect Facebook to bring me people who are most likely to convert after their first click on the same day and not 28 days later.
Ads Thumbnail: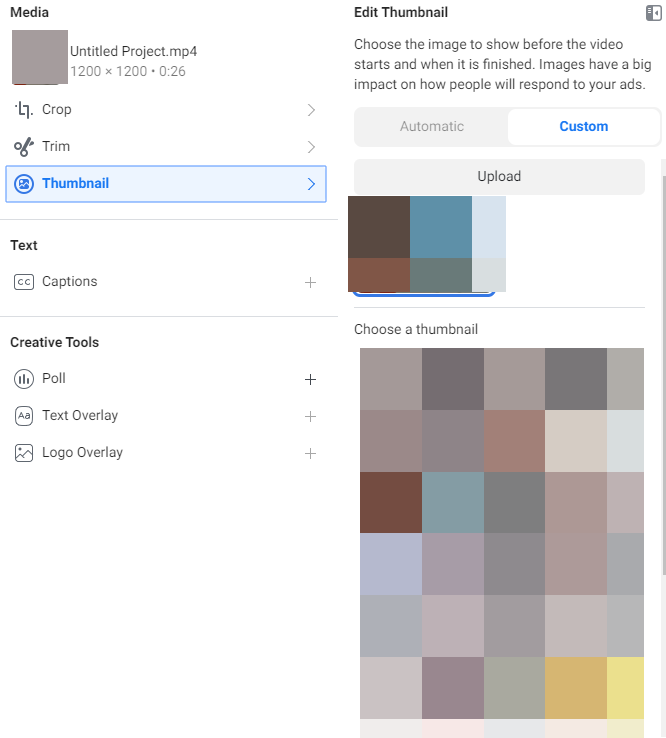 When uploading our video ads we usually test multiple thumbnails and let Facebook decide which one converts better. To do that, simply copy the original ad 2-3 times and for each ad just change the thumbnail.

In the end, one adset will have multiple ads with the same video running but each video will have its own thumbnail. We let it run and only keep the one which performs the best and the rest we just kill. We do it when we're 100% sure our video ad is perfect so we focus only on displaying different thumbnails.
In some cases we create different video ads for the same product and test them all together. We can have 3 different video ads and 3 different thumbnails tested at the same time which means one adset can have 9 ads running. It's a bit much but its just an example of some of our tests.
My recommendation is to create at least 2 different video ads and 2 different thumbnails for one product.
To Sum It Up:
This article is like a checklist for your own ads to make sure you don't do any mistake or forget something that will cost you money. Everything MUST be perfect if you want to have a successful dropshipping business so if you have a doubt, you can always come back to this article 🙂
Let me know if you have any questions in the comments.
Good Luck 🙂
Struggling to find good products to sell? Not sure who's your target audience? Tired of losing money on products you were sure were "winners"?
Then Ecomhunt is what you need! Find hot winning products that are added daily, spy on their ads & stores and import them into your store in 1 click and Start Selling Today!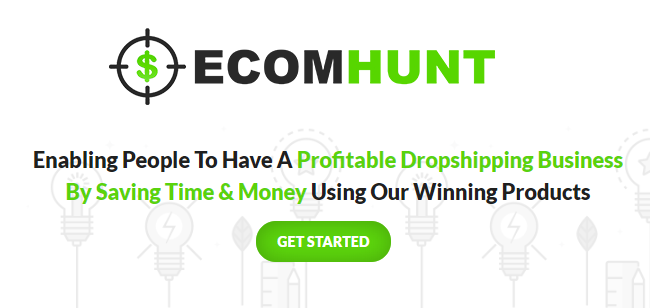 Must Read Articles: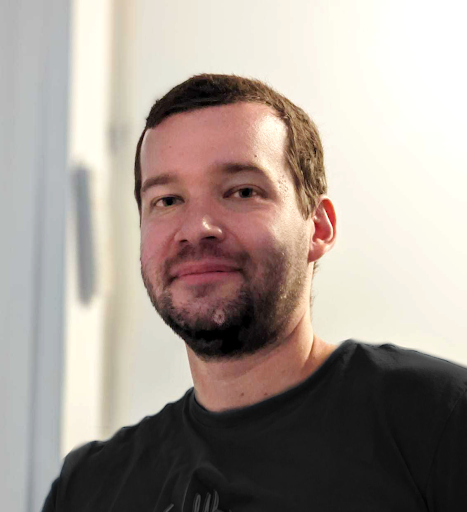 Daniel Aloni is one of the leading mentors in the Ecomhunt family. Daniel is a highly experienced Print On Demand seller with multiple 6 figures successful launches.