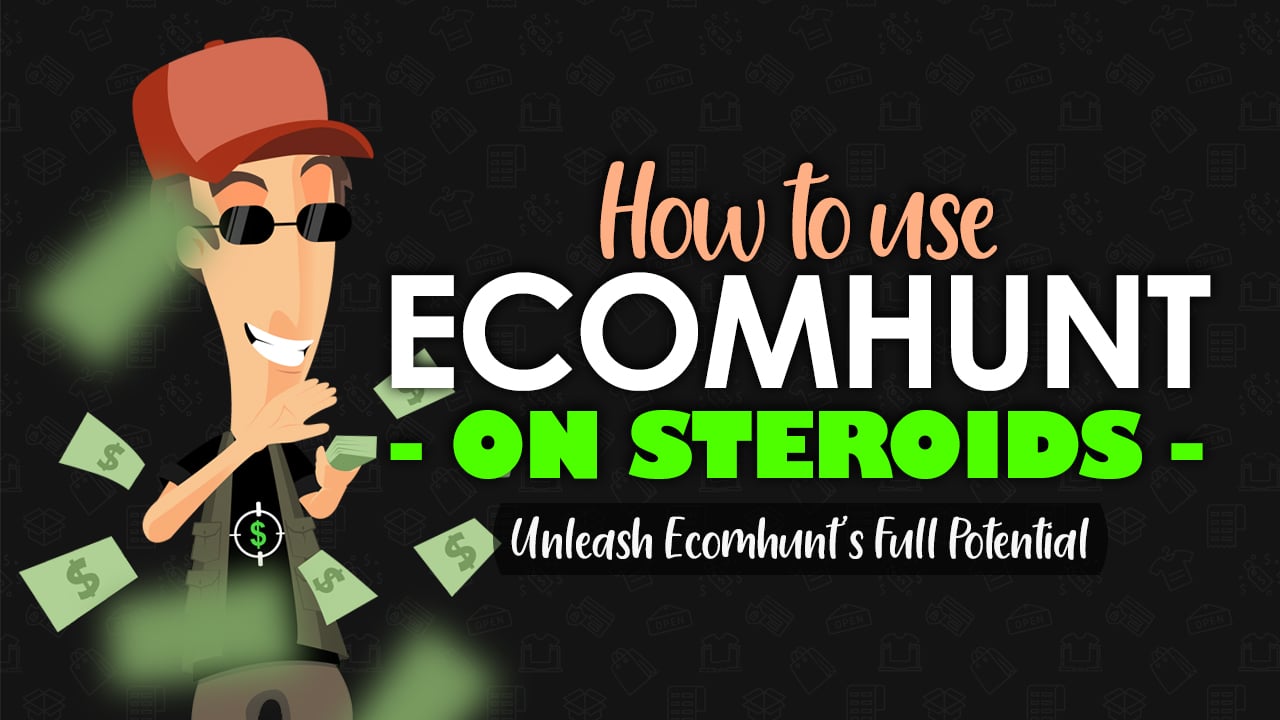 Welcome to the most detailed guide there is to Ecomhunt which will help you on your dropshipping journey – In this article, you'll learn how to use Ecomhunt's full potential to truly maximize your results and always stay ahead of the competition.
I'll go through Ecomhunt's many useful features and how to use them. How to pick your winning products the right way so you will never again miss potential winners just because you didn't find a product appealing(or any other reason).
And if you're new to dropshipping, I have everything organized so you can start dropshipping the right way and get sales.
Enjoy.

What is Ecomhunt?

Ecomhunt is an all-in-one platform for anything you will ever need for your dropshipping business, where the main focus is to bring you daily winning products for you to sell on your dropshipping store. Every product on Ecomhunt is handpicked by a professional research team and only the best products make it to Ecomhunt and get listed there.
Like said, the main focus of Ecomhunt is to bring you winning products you can sell on your store. The winning products are already proven to sell which makes it much easier for other users to sell them too.
Why list already selling products instead of "untapped" products?
Even with years of experience dropshipping products from Aliexpress and having multiple 6-7 figure online stores, landing on products that will actually sell is still a huge gamble. You will have to spend hours upon hours manually researching, and then spending a lot of money to test each product you picked. In this case, you have absolutely no guarantee a product you picked will sell.
Nowadays, finding that one "untapped" product no one has touched and making bank is almost impossible. Some think a quick search on Facebook is the way to see if the chosen product has been already tested, but unfortunately, this isn't the case and in most cases the product has been tested by other dropshippers.
Winning products, which are already proven to sell, is the best chance you have to get actual sales and most importantly, an actual profit. If someone is successfully dropshipping a product and making sales, this means the product is good and people are willing to stop and purchase it. Your next step is to jump on the same product, market it and make sales like the original dropshipper.
Facebook is getting bigger everyday with billions of users and it's constantly refreshing its audience so there's no such thing as product or audience saturation. If someone is selling a product with already lots of engagement, this doesn't mean there's no room for you to join in. It's been constantly proven by now that products keep coming back and if you market it correctly, you can sell again and again the same product.
By using Ecomhunt, you automatically put yourself above the competition and save time & money.
Are You New To Dropshipping?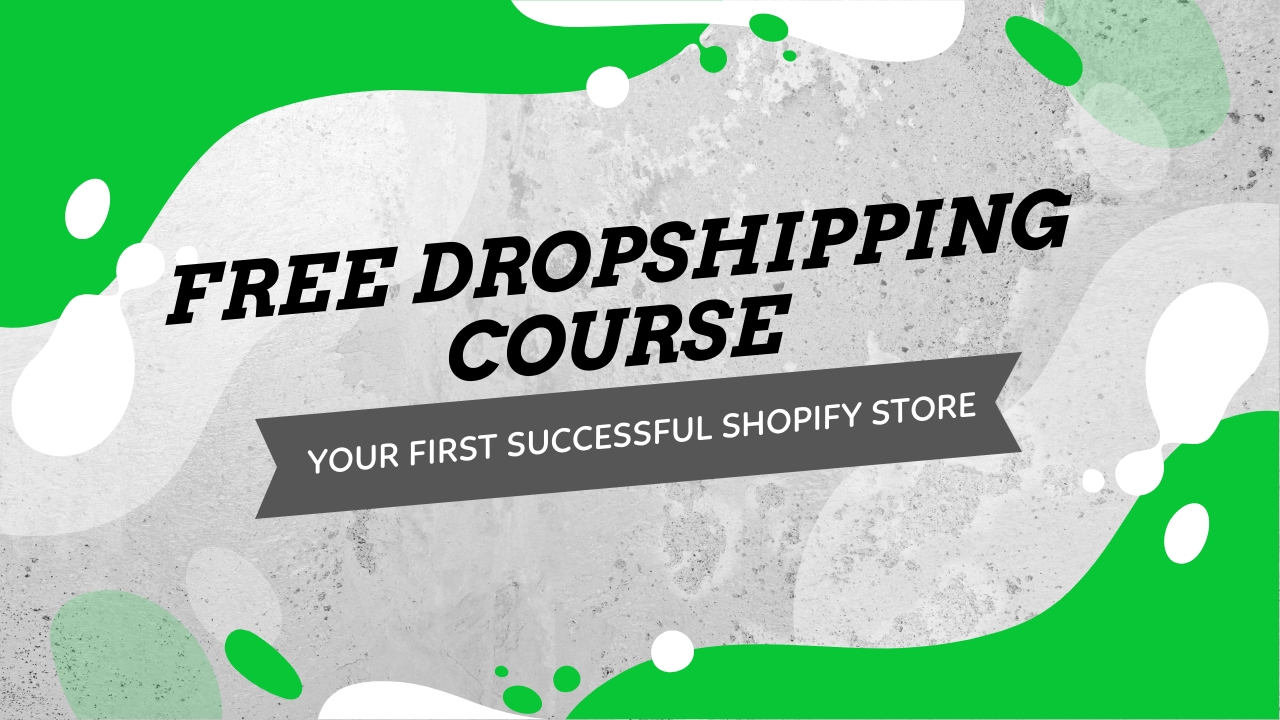 The next thing you need to ask yourself is how familiar you are with dropshipping? As already said, Ecomhunt has everything you need to start a successful dropshipping business. This includes super detailed articles, videos, and e-books about dropshipping/e-commerce in general.
If you're new to dropshipping, please follow the steps below. If you're not a beginner, then you can skip these and move to the next paragraph. I still recommend checking out all the e-books and articles that will be listed below – There's always new stuff to learn ?
Start with our free "Dropshipping Made Simple" e-book: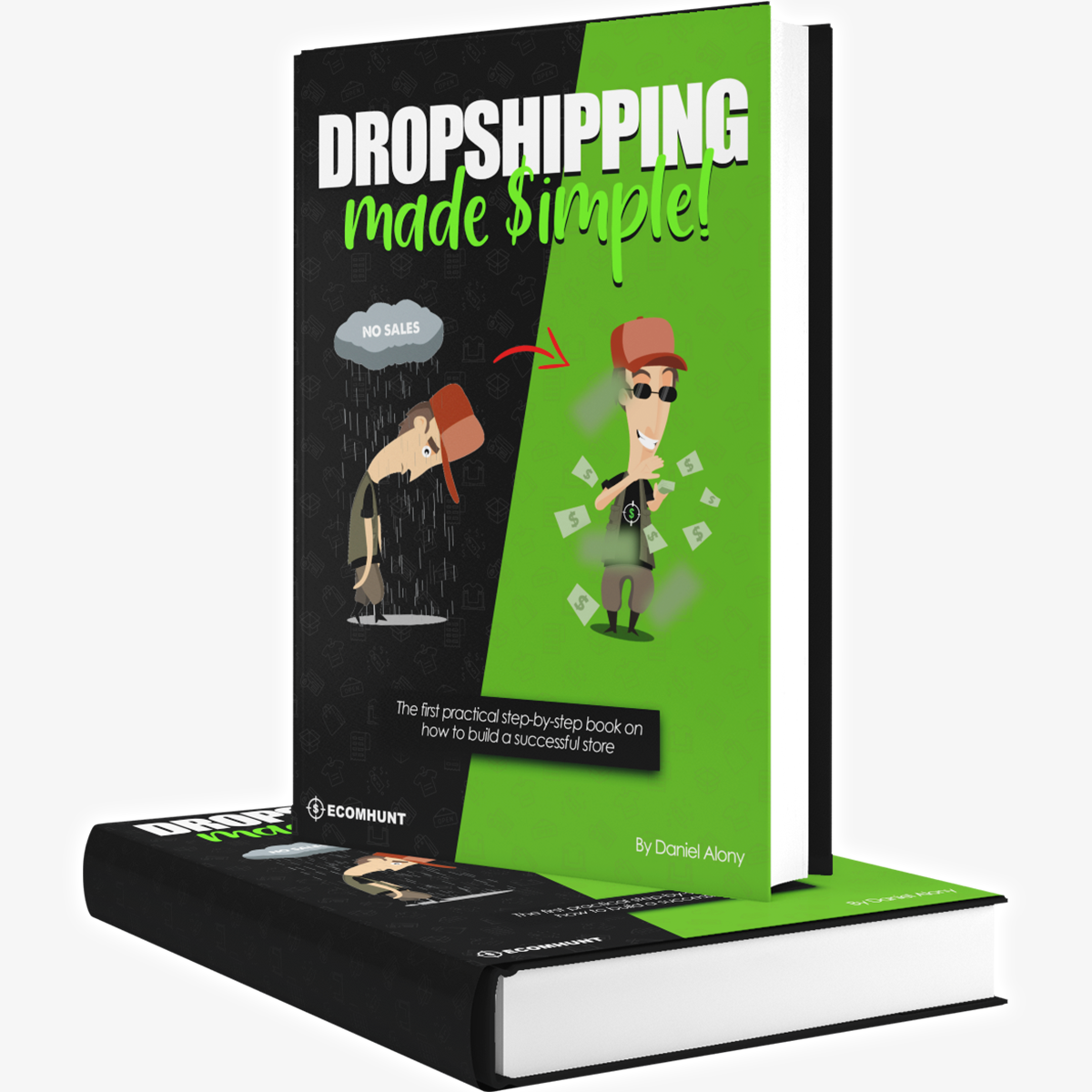 If you're new to dropshipping and don't know how to create your first dropshipping store, then this e-book is going to cover it all. It starts by showing you a step-by-step on how to create your first optimized dropshipping store on Shopify. With detailed screenshots and pro tips so you can understand every step.
Next thing you will find on this e-book is how to find your first winning product – There we cover all the methods on how to find winning products you can list and sell on your dropshipping store. From entirely manual research methods to using our preferred method, which is of course Ecomhunt. Did you know Reddit is a great product research platform? I bet some of you didn't even think Reddit can be used for that.
The good news: Reddit research method is also covered in this e-book so make sure to download it here.
One thing which you won't find in this e-book is how to create a high-converting product page. To have a successful dropshipping store, everything needs to be perfect. From your ads to your store, you can't miss a single detail if you want to convert your visitors to actual paying customers.
This is why your product page, the page where the product you sell is displayed, needs to be conversion optimized and built in the right way to make you sales. So in order to complete the e-book above, we also have a full, detailed guide on creating a high-converting product page.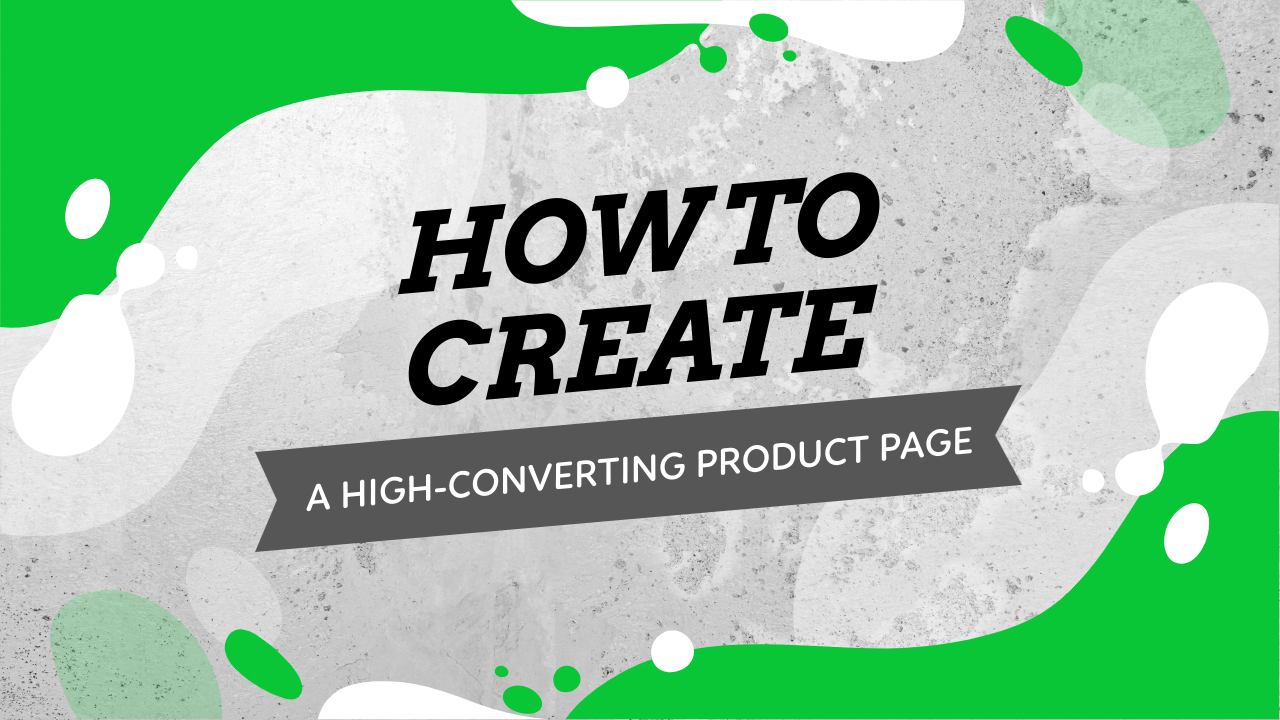 Don't forget to read it when building your first successful dropshipping store – Read this article here.
Next is our free "Ultimate Guide To CBO Facebook Ads" e-book: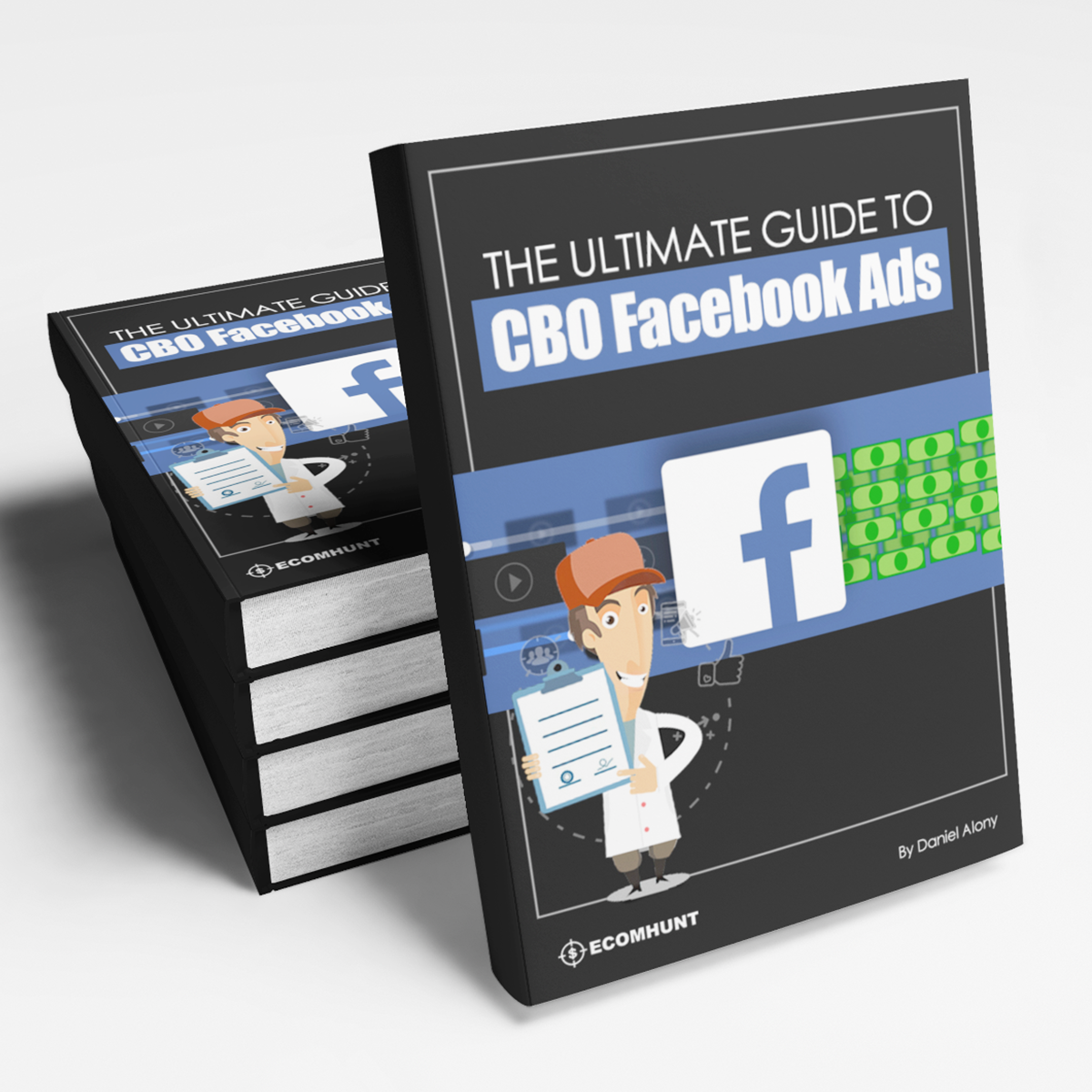 In order to get sales you need to drive traffic to your store, and in order to drive traffic you need to have a traffic source. The most popular way to drive traffic to your dropshipping store is by using paid ads.
The most popular paid option to drive traffic is using Facebook ads and the reason to that is pretty simple: Facebook still remains the King of paid traffic and in our opinion, it has the most friendly ad system out there.
Facebook collects insane amount of data on its users and the learning machine is categorizing every user based on the actions it performs on the site. This gives the advertisers using the platform, that's us, infinite options to target almost any audience we need.
If a user is browsing through home improvement pages on Facebook, he will be automatically categorized as a person who's looking to make some changes in his house. Then this data can be used by us to target this person in the future and offer him some home improvement products.
If a user is browsing though pet food pages on Facebook, he will be automatically categorized as a possible pet owner who's looking for pet supplies. This data can be used by us to target him and offer him pet products.
These are just some really simple examples on how Facebook collects data on its users and be sure their system knows much more than that.
So now that you understand why Facebook ads is our and almost every other dropshipper's first choice, this is what the CBO Facebook ads e-book is going to cover:
How to build your first Facebook CBO campaign from scratch – A complete detailed guide with screenshots and explanations on how to build your first Facebook CBO campaign. Every step of the process has screenshots and explanations on why we do things the way we do.
Deep dive into each part of the process – What is a Facebook pixel and why do we need it? How to setup our targeting in the right way? What type of ads to use and how to build them? And much, much more!
Four different testing methods with CBO ads – We will go through 4 of the most popular testing methods you can use when running Facebook CBO ads. We'll go through the pros and cons of each method, why you should use them and which one will bring you the best results. Low budget and high budget testing, everything will be covered to fit anyone's budget!
This e-book is all you need to run a perfect Facebook campaign and it's available to download for free here.
If you want to learn more, we always recommend to check our blog for more articles about dropshipping and e-commerce in general.
What Features Does Ecomhunt Have?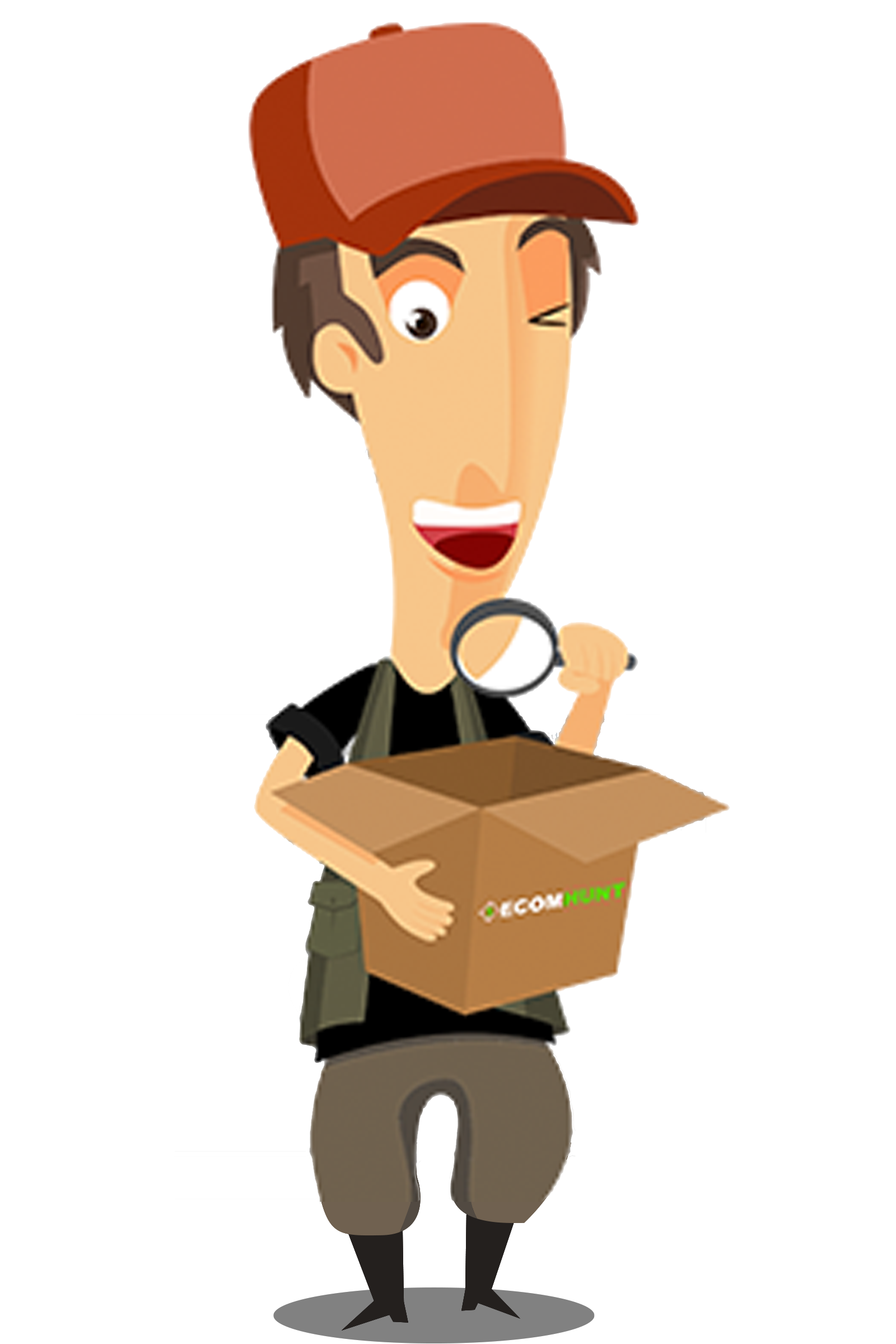 Ecomhunt purpose is to bring winning products for its users to make money from and to make their life much easier. It's done by saving A LOT of time and money by providing everything needed to have a successful dropshipping business.
So if you're a member of Ecomhunt, there are some powerful tools you can use to boost your dropshipping game. Some of these features are limited or not available at all for free members and if you want to have the full experience, you must be a Pro member.
Feature #1 – Jack Kaching, Our Live Consultant, Is Here To Help You!

This is one of Ecomhunt's most popular features and it's exclusive only to Pro members – You get a 1-on-1 chat with our Pro consultant at anytime you want, and you can ask him about anything you want.
Not sure about the video ad you created and looking for a professional second opinion? Looking for targeting suggestions? Want to somehow increase your store's conversion rate? Then just click the "chat now" button and ask Jack!
Jack can check your ads, give you tips, review your store, and basically help you with anything dropshipping related. It's that simple!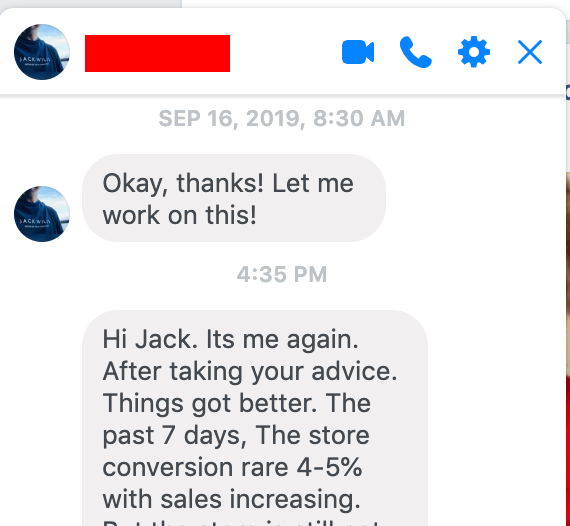 The next time you're on Ecomhunt, don't forget to send a message to Jack if you have any questions ?
Feature #2 – Relevant Instagram Influencers By Product Category

Facebook ads isn't the only way to drive traffic to your dropshipping store and their are alternatives like Google ads, Youtube ads, and even Bing ads. One more options to drive traffic is by using Influencers. The most popular platform for Influencers right now is Instagram and this is where most dropshippers go to if they look to hire one.
The way it works is pretty simple – You search for people with a big enough following which have some sort of connection to your niche or to your product. If you're in the pet niche, you should look for pet Influencers.
These can be people with a large following who own pets and pretty actively share their pet photos or just by approaching pet celebrity accounts. In this case, you can see that for the Calming Pet Bed product, Ecomhunt gave us relevant influencers which consist of people with pet owners and pet celebrity accounts.
Your next step is to check out these pages and make a deal with them – With Ecomhunt, you don't have to worry to stumble on fake accounts or irrelevant influencers that will just take your money and provide zero value.
The use of Instagram Influencers to drive traffic to your store and get actual sales is pretty popular. There are users that don't even use Facebook ads because they found out some Influencers who constantly provide them with much more value and sales.
If you're struggling with Facebook ads, consider checking out and using the Influencers Ecomhunt suggests per product.
Feature #3 – Real Buyers Reviews From Aliexpress

Ecomhunt is all about saving time for its users and this quick review feature is your way to check how good the product quality actually is. You don't have to manually look and load the reviews on Aliexpress to see if the product is good enough to sell, just scroll a bit down and there you will find the actual reviews.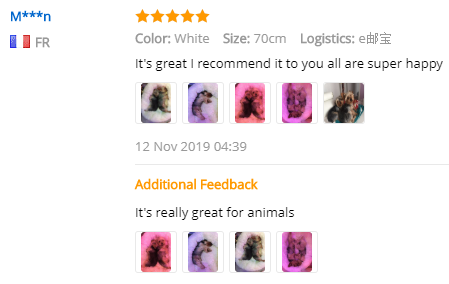 Both text and photo reviews will be shown on Ecomhunt – Click on the photo to see it in full size and even use it as marketing material for your promotions.
Feature #4 – Quickly Import Ecomhunt Winning Products With Oberlo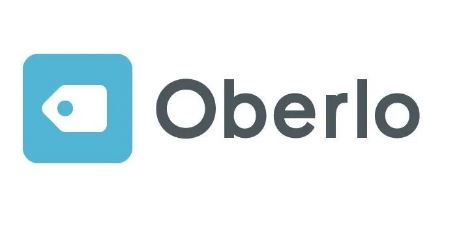 Manually importing products takes a lot of time and it would be wrong to spend this time on tasks that can be done automatically. This is why Ecomhunt has an official partnership with Oberlo to allow quick import of winning products to your Shopify store.
For each product on Ecomhunt, there will be a blue "Sell with Oberlo" button which will take the product and place it into Oberlo's import list:

From there, you'll only need to adjust a few settings like price, photos, etc, before you can click import for the winning product to appear in your store. And Oberlo isn't only to import products, it also helps you to automatically fulfill your orders in a quick and safe way.
With Oberlo in your store, you won't have to spend hours manually importing products and then manually fulfilling your order on Aliexpress. A few clicks and you can fulfill one or even a hundred orders at once!
Oberlo also invited Mordechai Arba, CEO of Ecomhunt, to their Berlin HQ for an exclusive interview about dropshipping. Mordechai talked to Jessica about dropshipping, winning products, and gave some valuable tips you wouldn't want to miss.
So make sure to check it out by clicking the photo below: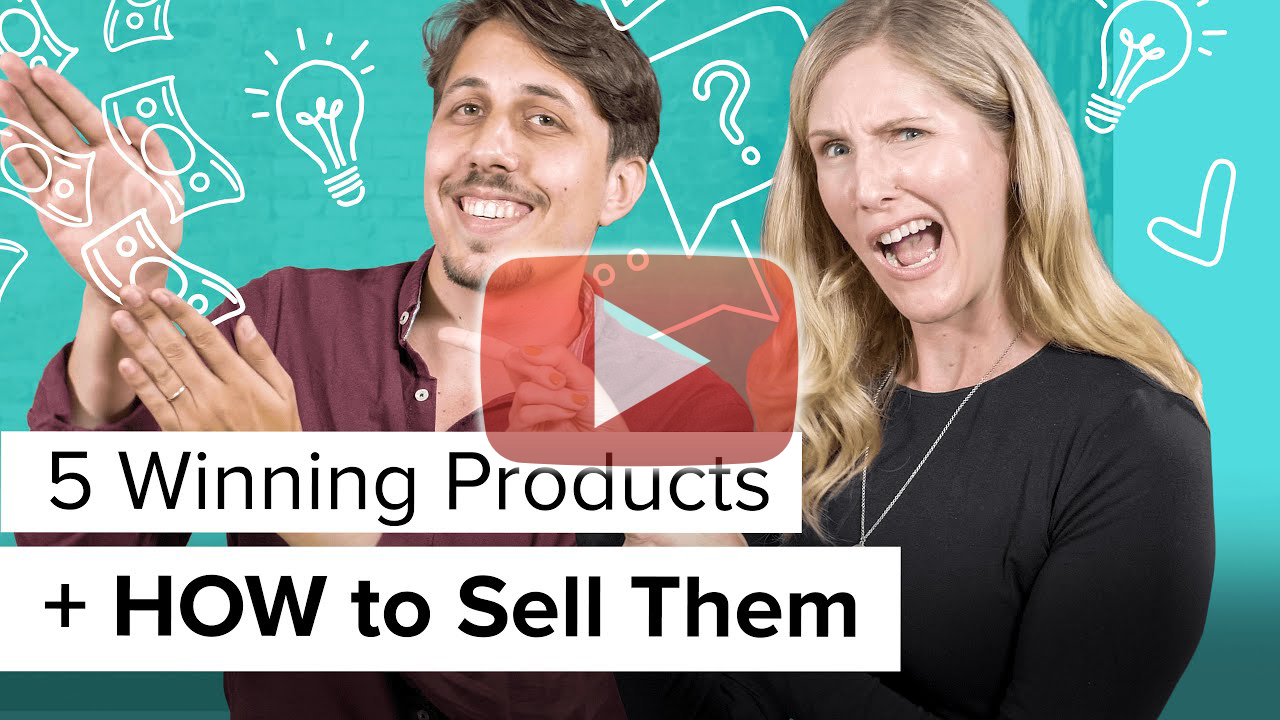 Or just by clicking on this link => https://www.youtube.com/watch?v=3oxjaJR9-pE
Feature #5 – Product Price Suggestion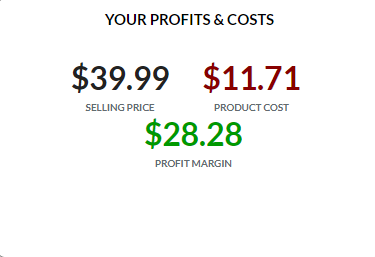 We found out some of our users are having problems setting up prices for the products they want to dropship. To solve this issue, we've decided to add recommended selling price and expected profit margin so you won't have to break your head over it.
Setting the right price for a product is really important and if you set it up too high, or even too low, your may damage your conversion rate thus making much less sales. No matter how great your ad or how optimized your store, if the price isn't right you won't get any sales.
And it also saves you time so you don't need to manually check the price on Aliexpress, and calculate your profit margins for every product you choose.
Feature #6 – Product Analytics, Engagement, And Links

It's impossible to sell a product without a good ad and this is why it's really important to check what ads your competitors are running. This so you can learn from them, spy on their ad, gain useful information, and get inspired to create even a better ad so you can make bank with your product.
So one of the most important things Ecomhunt shows you is the original ad – This is the ad that's selling the product you're currently checking out on Ecomhunt. We show you the current engagement it has on Facebook and of course give you a link so you can see it for yourselves.
This product is the calming pet bed and when it was first posted on Ecomhunt, it had almost 8k likes and 2.3k shares. If you click on the Facebook ad link now, you'll see that it reached an outstanding number of almost 20k likes and 4.1k comments!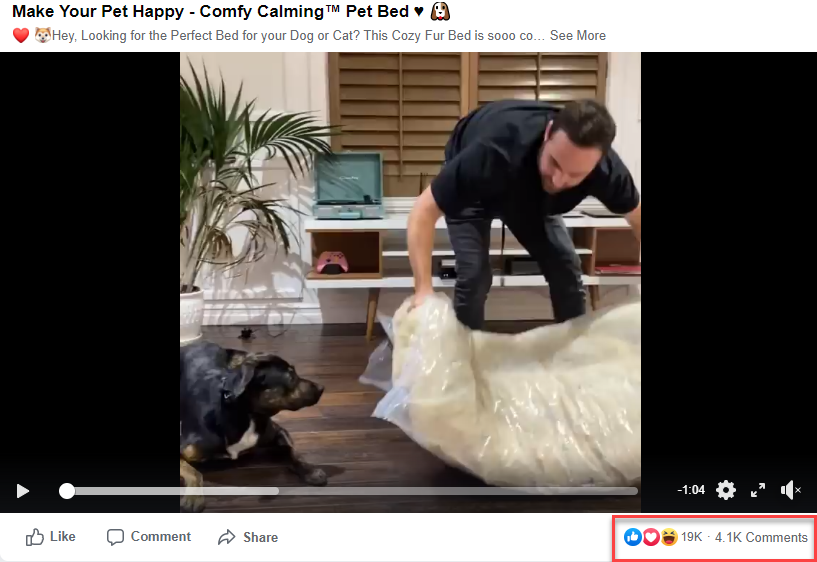 The dropshipper selling this product has made A LOT of money and if you were quick, you had the chance to sell it too. You can still sell this product if you come up with a new ad or come up with a new marketing plan.
It's like we already said, with such HUGE audiences there's no real product saturation… The proof to that is the video Serban Sida, our Youtube guy, made about this product some time ago and he reviewed the ad and the product store.
You can watch it by clicking here or the photo below: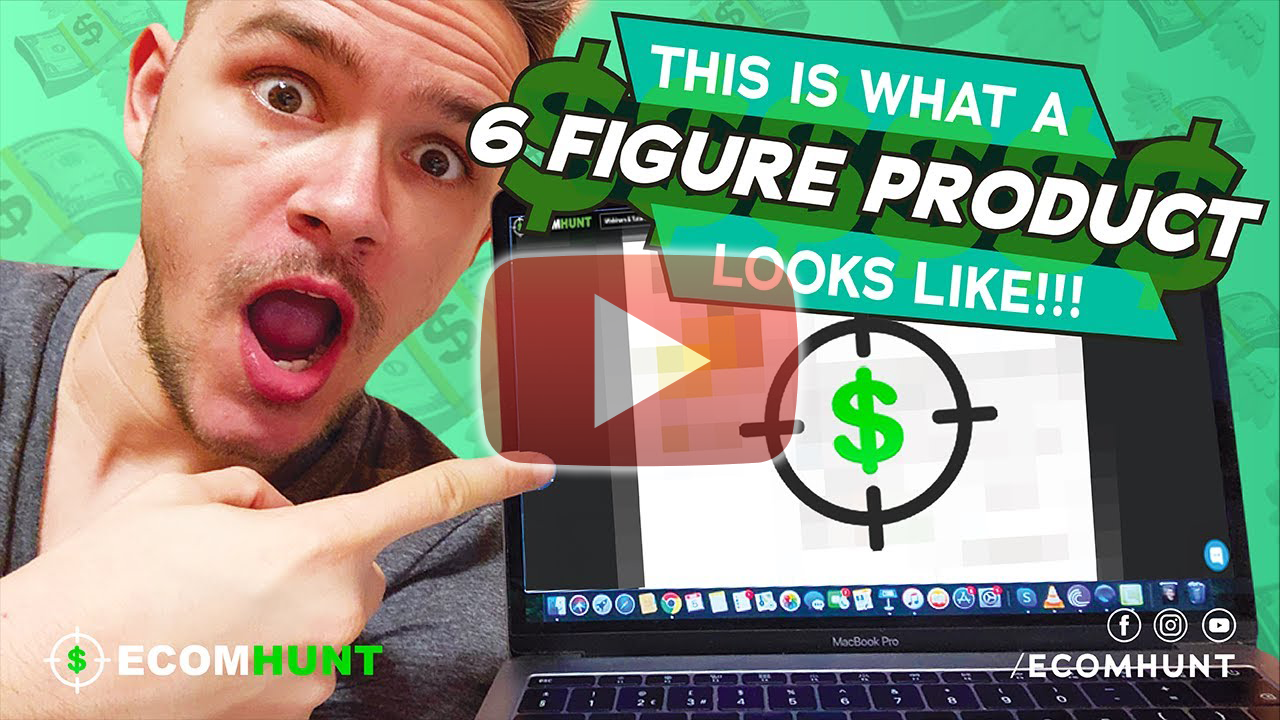 In the video he said, time after time, to try and sell this product because there's still so much more potential for it. One month after this video, the same product is exploding again on a different store by a different seller.
So Serban made a new video showing the same calming pet bed ad which someone else is running and making some good sales. On top of that, he also revealed another product which made in the past 7-figures(!!) and currently selling again big time!
You can watch the video by clicking here or the photo below: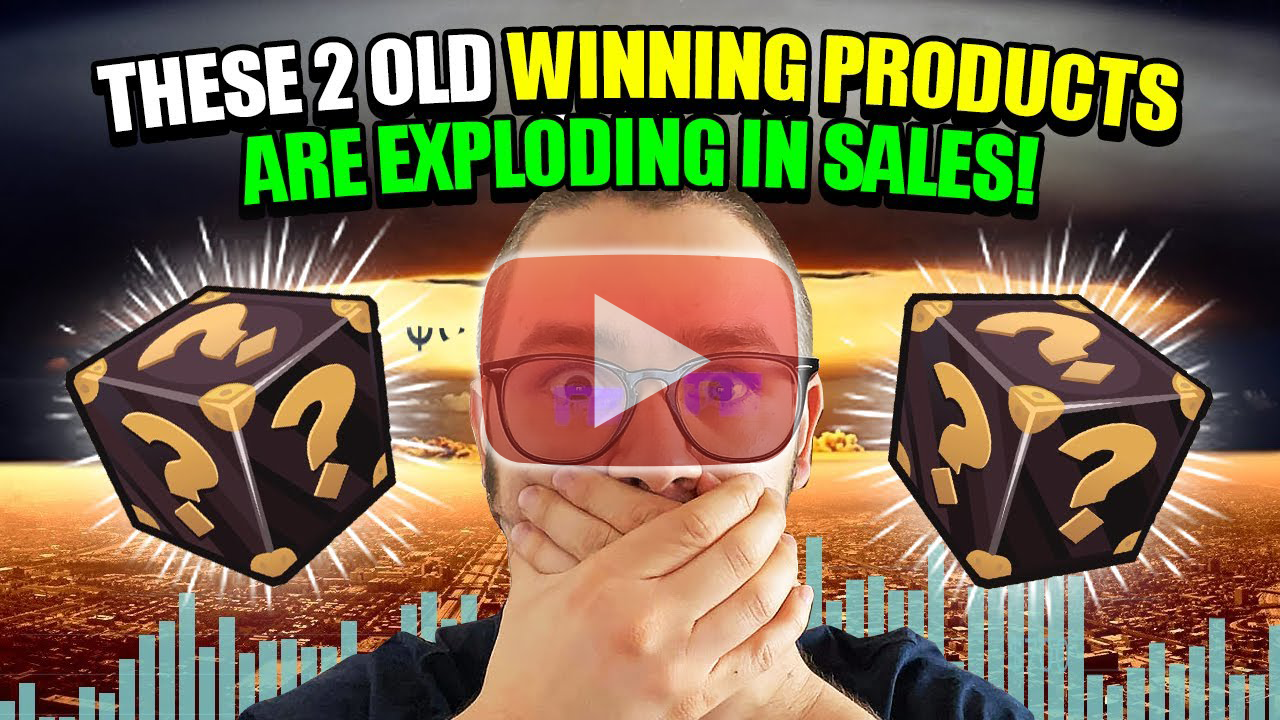 So on top of the winning ad, Ecomhunt also links you to trusted Aliexpress sellers so you don't have to look for this product manually. The Aliexpress sellers linked on Ecomhunt are trusted and working with them is completely safe.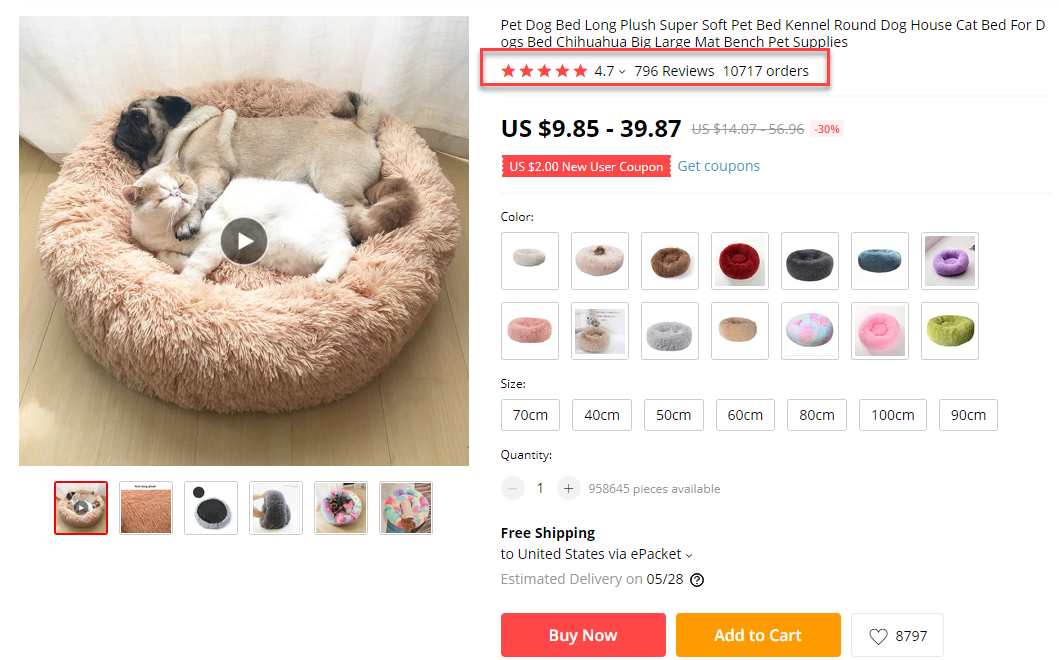 You also receive links to Amazon, Ebay, and even Alibaba listings in case you want to order in bulk.
One more important data Ecomhunt shares with its users is a direct link to a Shopify store currently selling the product you're checking out: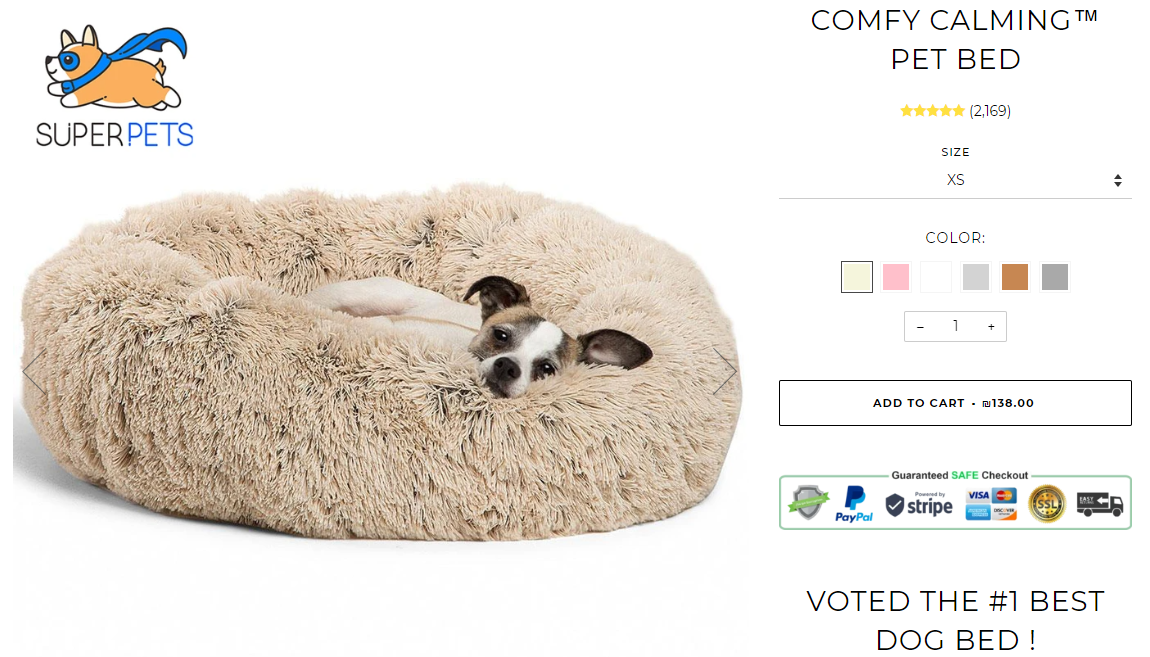 This is so you can firsthand see how a successful Shopify store looks like and learn from it. There's so much you can learn by just spying on a successful dropshipping stores and this is why we always leave a link so you can see for yourselves.
Spy on it, learn from it, or even copy it's structure to create a similar product page or an entire store – This is much better than checking out bad looking Shopify stores(and there's a lot of them!).
Feature #7 – Targeting Suggestions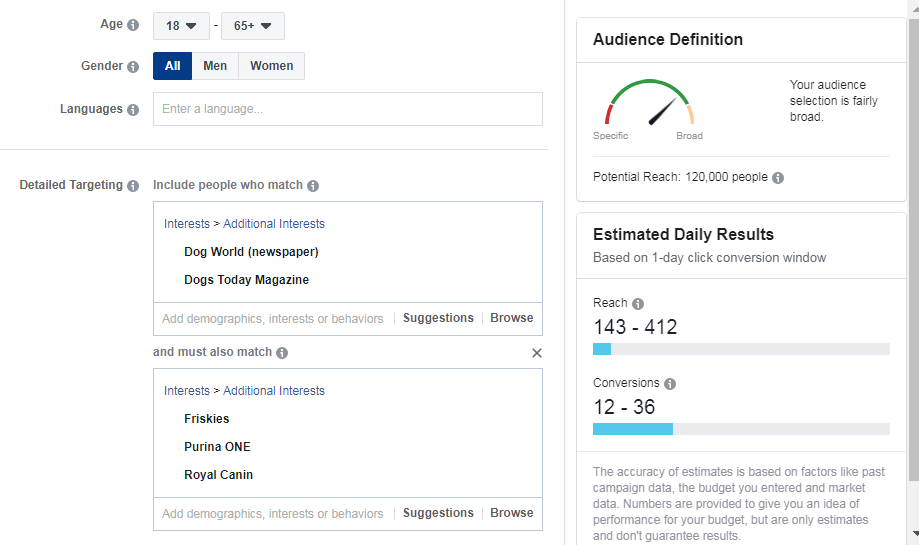 Some users may find it hard to choose the right targeting so Ecomhunt got you covered – If you're not sure what interests to target, what audience size to choose, then just follow the targeting choices which appear for each winning product.
As you see for the calming pet bed, the interests chosen are some big pet magazines and pet food brands. This gives us a total audience size of 120k which is a good size so you don't have to always choose big audiences.
If you read the CBO Facebook Ads e-book, I talked about targeting there and preferred audience sizes. As long as the audience is not too small, if the product is right and the ad is good, you will get sales without any issues.
Targeting isn't the hardest part when creating Facebook campaigns but its important to land on some good interests. So even if you don't need any help with targeting suggestions, you can always take a peek and maybe you'll find an interest you haven't considered.
Feature #8 – Weekly And Daily Youtube Videos And Blog Posts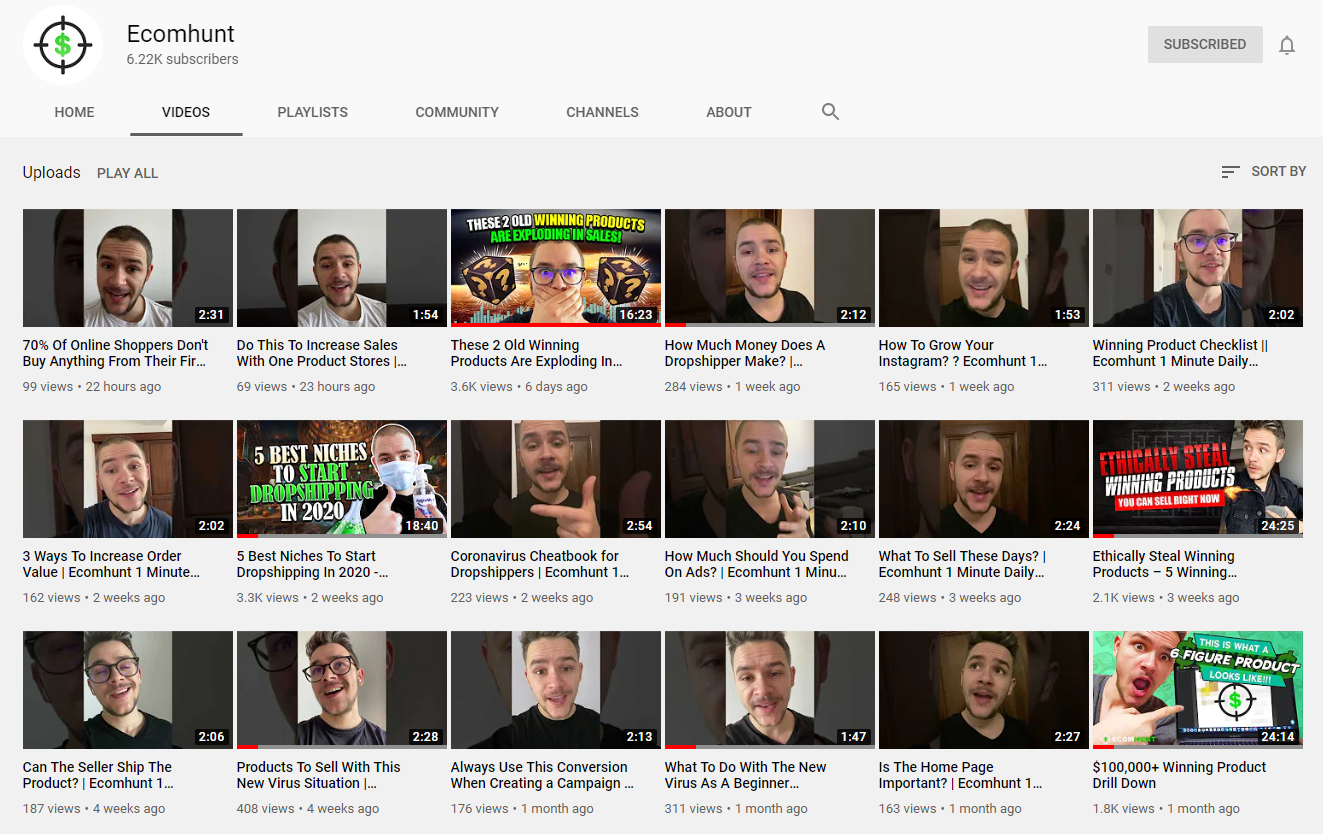 Well this isn't really a feature but it's something you will definitely like – Ecomhunt makes sure its users always stay ahead of the competition and to guarantee that, there are daily and weekly videos and blog posts to help you with dropshipping.
On the Youtube channel, you will find one of Ecomhunt's leading mentors, Serban Sida, and there he posts daily dropshipping tips and super valuable weekly videos. From products you can dropship to helpful videos to get more sales.
On the blog posts you will find another Ecomhunt mentor, Daniel Alony(that's me ?), and I deliver two blog posts per week about anything related to dropshipping and e-commerce in general. Winning product drill-downs, live ad examples, A to Z guides, and much more is on the blog for you to hone your dropshipping skills.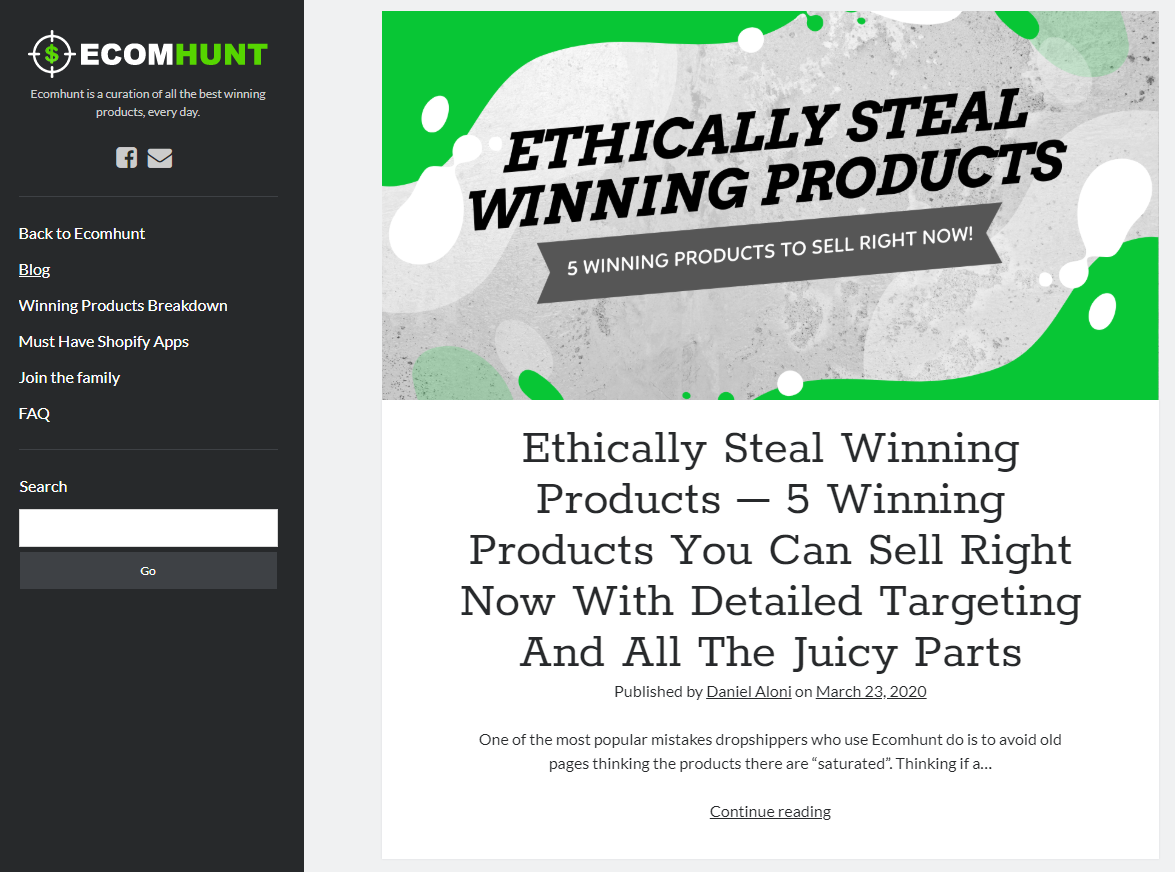 And of course on both the blog and the Youtube channel, you're always welcome to ask questions and we'll be there to answer. Make sure to subscribe to our Youtube channel and mark the emails from Ecomhunt as important so you can stay ahead of the game.
We have 2 more exciting features to be released really soon which you will absolutely LOVE!
How To Choose The Right Winning Product For You To Dropship?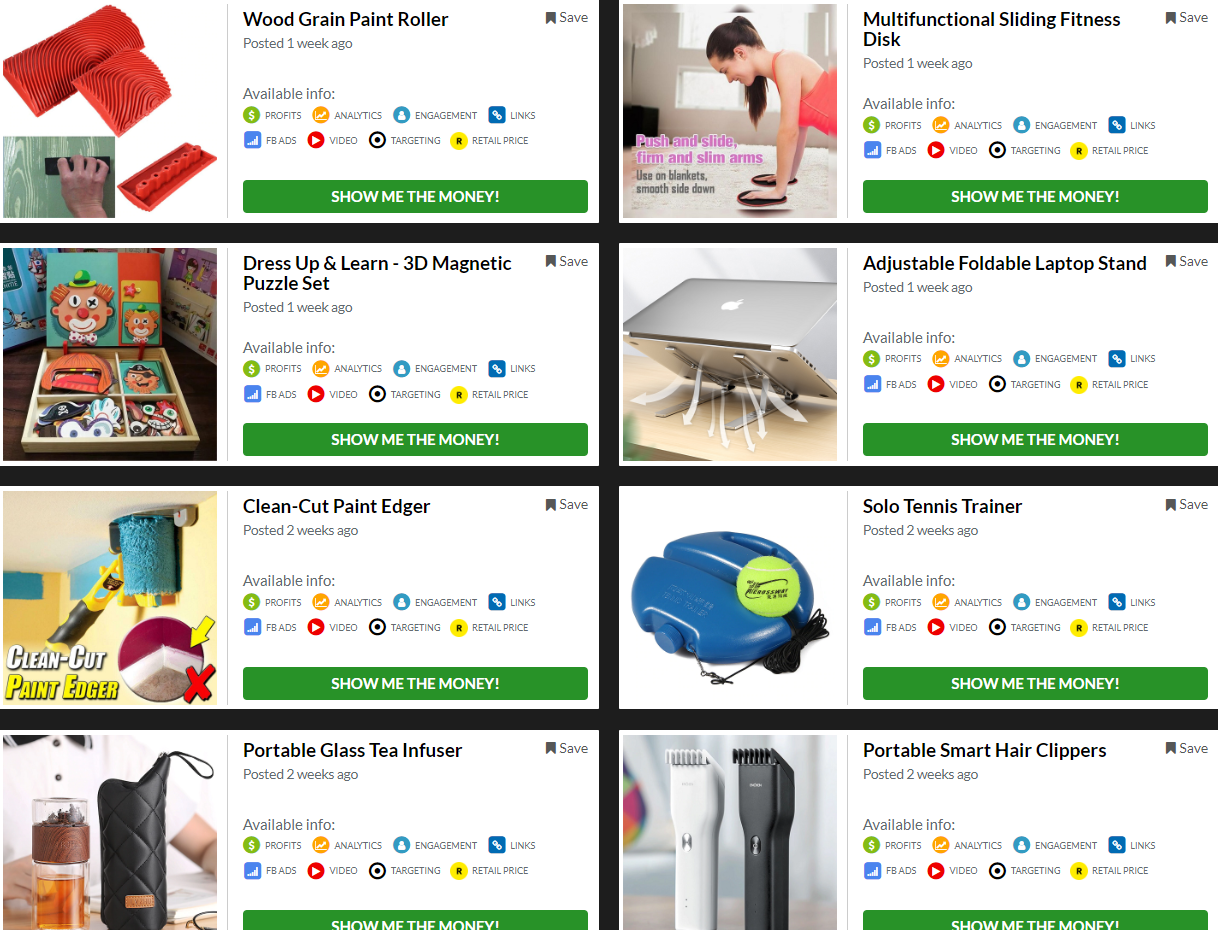 Ecomhunt has winning products that are proven to sell with no focus on a specific niche(s). If the research team have found a product that currently sells well and fits Ecomhunt's standards, it will appear on the platform. Fitness products, health products, pet products, travel products, etc, you will eventually find a product for any niche there is on Ecomhunt.
Now the question is which one should you pick?
Some people pick products based on their looks or something that's close to their heart; Some prefer picking products in niches they never tried before; And some look for old winning products to sell them again when the time is right.
In this part, I'll show you a few ways to pick products and use Ecomhunt's full potential to get maximum results.
1. Picking products based on their looks or something that's close to your heart:
I think this might be the most popular way for Ecomhunt users to pick the products they want to test – Just scrolling and going through the products till you find something you like and checking out it stats.
This option right here isn't wrong but it's really limited… Imagine you're locked only on pet products because that's the theme of your new store you have just created. But due to that mental block for other products, you actually miss a great winner which can make you thousands, if not hundreds of thousands in sales.
Unfortunately, this happens pretty often and this limit on the products you pick puts you at disadvantage to other, more open-minded dropshippers. Dropshippers that look at every product Ecomhunt has to offer, have a much higher chance to land on that big fish winner you will later see on a Youtube or on a private course case-study.
Take for example the posture corrector which was sold by a very famous Youtuber you all know – Gabriel St-Germain. Not only did he keep an open mind, he also checked really old products on the oldest pages of Ecomhunt. He did that till he landed on that posture corrector product that made him over $1,000,000 in sales!!
About a week+ ago, this posture corrector product, the same exact one Gabriel sold 1.5 years ago popped on my feed as an ad: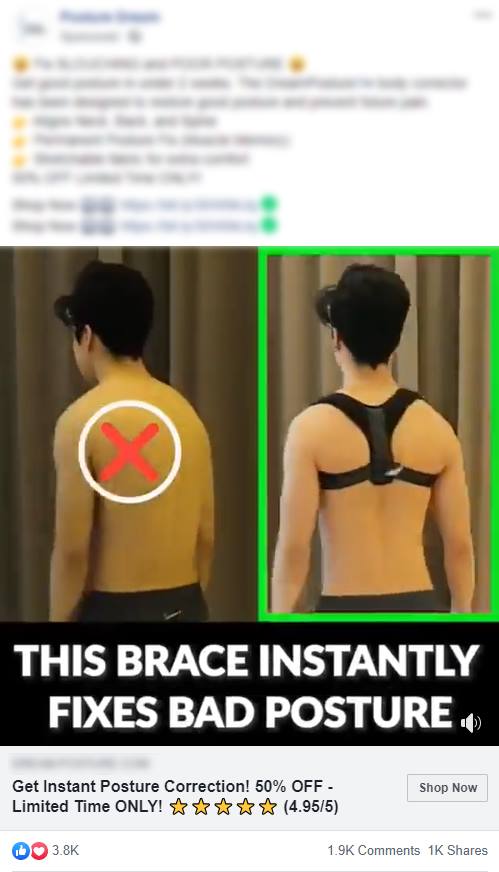 Someone who keeps an open mind decided it's the right time to try and sell this product again, and behold what great results this dropshipper is getting. Same as we say, again and again, old winning products can come back and sell like crazy again if you can market it correctly.
This ad is still active and at this moment, April 22nd, 2020, it already has more than 10k likes and almost 8k comments!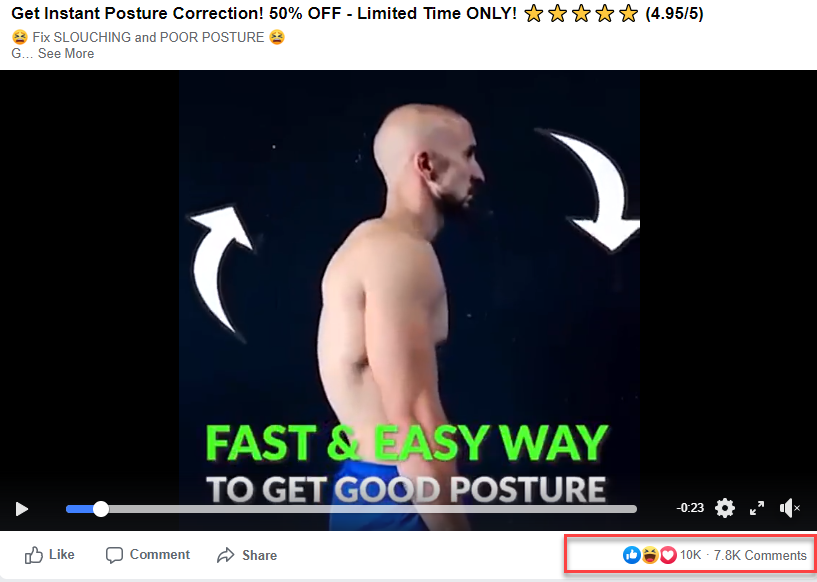 Can you jump on this product right now and sell it too? Of course!
Try a new marketing strategy or find a new audience that wasn't targeted. Are you fluent in German, Spanish, French? Then translate this product and create an ad only for your native language speakers.
Or just order this product and send it to your address and when it arrives, create some amazing video ads. A simple video ad with your phone, something like a genuine review video, can work much better than something produced by ad agencies!
Picking products based on their looks or only those you connect with is fine but please keep an open mind and test other products. It would be a shame to miss a potential 6-7 figure winning product only because you don't "understand" anything about cosmetics.
2. Picking products in niches you have no idea about:
This is like the opposite of the first method – Users that decide to pick products in niches they have never tried, and with absolutely no experience in it. It's as if I will go to Ecomhunt and pick a product in the hair extension niche.
The only problem in this case is the lack of experience and basically zero understanding on how things work. In most cases, people don't bother to do some basic research just to understand the audience a bit better. They see a product in a niche they never tried before and just launch ads for it.
This is just a pure waste of money and I don't know about you, but I personally hate throwing money away. Trying new products in new niches is a good thing which can lead to success but without a proper research, there's no way you will make sales!
Remember that dropshipping is a real business and not some side hustle – Treat it like a real business and spend your money carefully only when you have all the necessary data collected.
3. Looking for old winning products on the old pages of Ecomhunt:
This is probably my favorite method to use Ecomhunt and this is what Gabriel and other successful dropshippers did to achieve success. Unfortunately, not many use this product because they think the old products are "saturated" and won't sell again.
Well as shown in point 1, the posture corrector that did over $1,000,000 in sales is selling right now as I write this guide. Did you know that about a few months after Gabriel revealed he made 7-figures in sales, another famous Youtube dropshipper have picked it up and made couple of $100k in sales?
What about the calming pet bed I talked about here – This product is making sales right now as well and the audience size for this product is basically never ending. More and more people welcome dogs and cats to their household, and in a few months there will be many new people who haven't seen this ad before.
This is just to show you the old pages on Ecomhunt hide insane value and those who ignore these "saturated" products are missing A LOT of sales. If you're serious about dropshipping and want to make some money, listen to this tip and don't forget to check the old winning products Ecomhunt has to offer.
4. Randomly testing every product on Ecomhunt:
This is one of the methods I really don't recommend so if you're doing that, please stop. Testing different products and not just those you connect with is good and this can help you find winners to make some good money with.
But just going and testing every product is not the way… Usually what happens is due to the limited testing budget, those who do that barely spend any money and just move on after a few bucks spent. This isn't the way to test products and the data you'll get isn't worth anything.
You need to remember that it takes time to test product and there's a time frame you have to give Facebook to work. Also, you can't test product in a hurry because this means the ads and everything else won't be as good.
My tip here is to never rush it and test product when everything else is perfect – A good video ad, a well structured product page + a normal checkout flow, a good looking store so the customer that clicks your link will proceed with his purchase.
It's Time To Pick Your First Winning Products And Start Making Sales!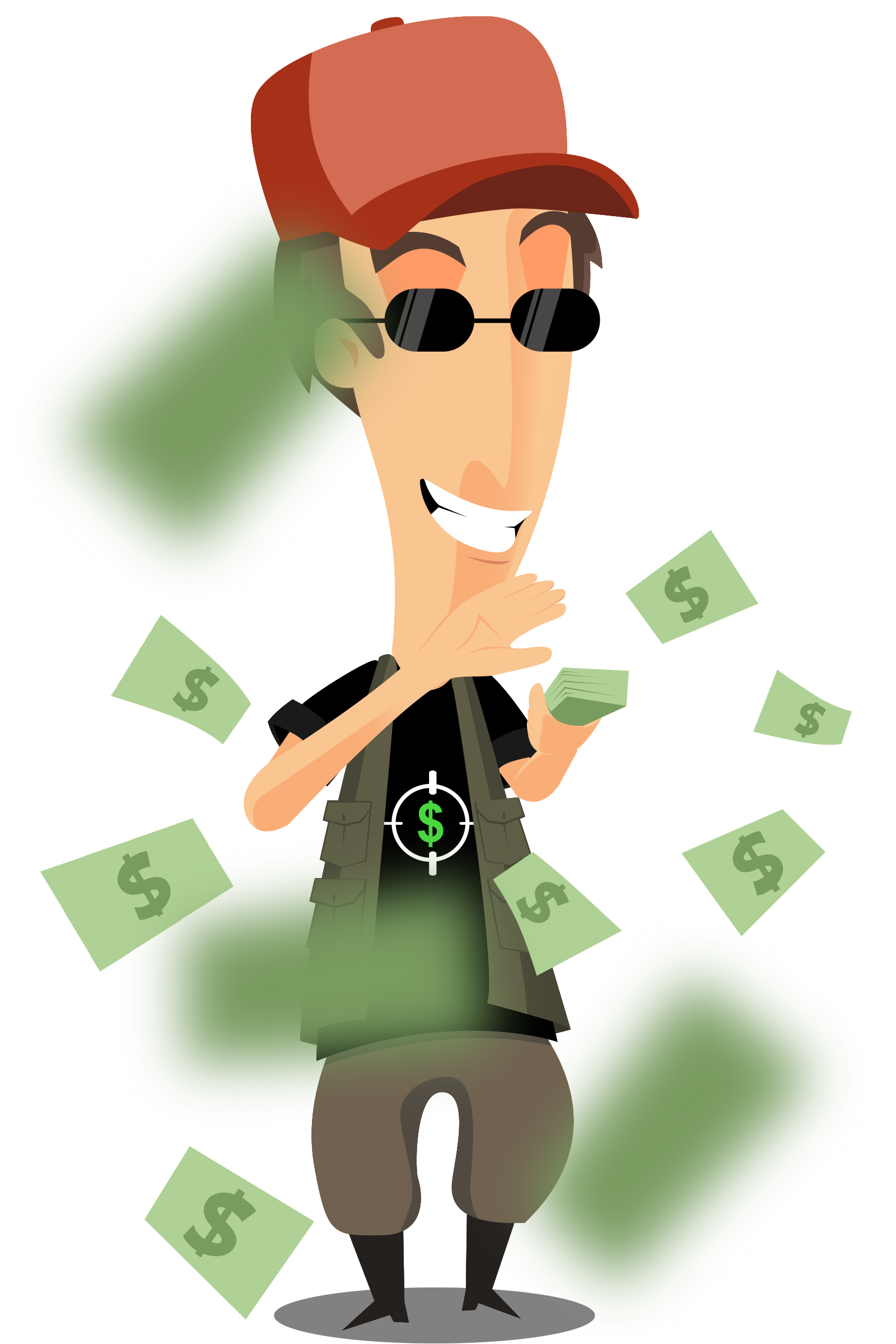 By now you should have a clear understanding on how a good Shopify store should look like, how to build the perfect Facebook CBO campaigns, and how to use Ecomhunt's full potential to maximize your results!
Ecomhunt has everything you need to start a successful dropshipping business if you decide to take action right now, and understand that this is a real business. Like other businesses, this one requires time, money, and the will to take it to the end in order to succeed.
There are no shortcuts – Take your time to learn everything about this business, use what you learned here to your advantage, and use Ecomhunt to always stay ahead of the competition!
Ready to start your dropshipping journey and get access to thousands of winning products?
Join Ecomhunt now => https://ecomhunt.com/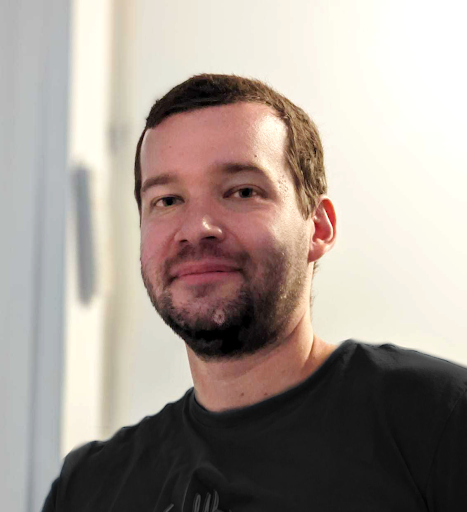 Daniel Aloni is one of the leading mentors in the Ecomhunt family. Daniel is a highly experienced Print On Demand seller with multiple 6 figures successful launches.