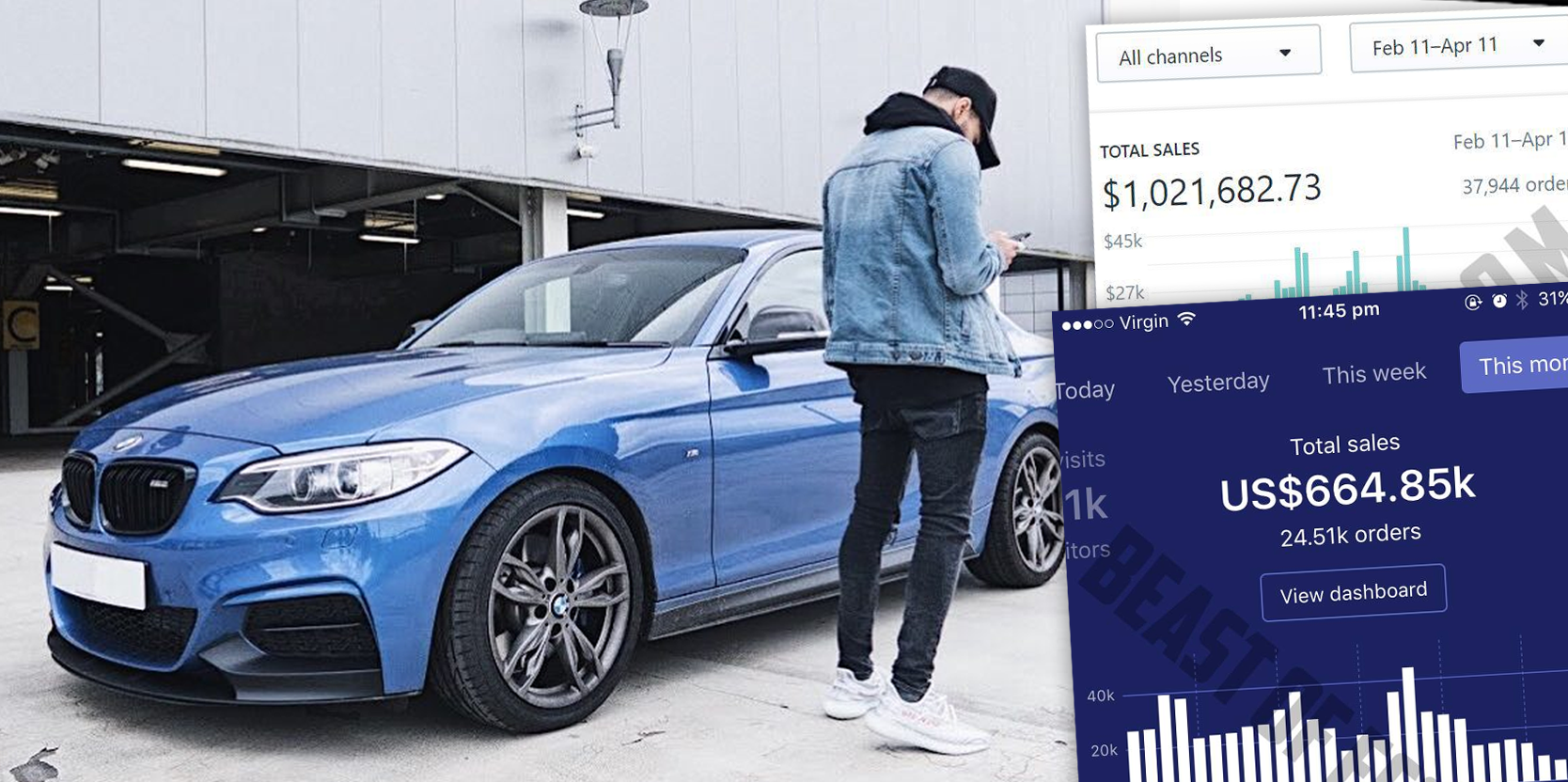 Meet Harry Coleman, with the help of Ecomhunt winning products he was able to generate over $1,000,000 in 2 months using Shopify and Manual Bidding !
We spoke to Harry and got for you an exclusive interview with all the juicy details about his big success!
How did I get started?

My story started when I was searching through Black Hat Forum website and I seen a thread called "How I Made $5000 Selling FREE Products" or something titled similar.

At the time I was working full time in a 9 to 5 and running a small gym clothing brand. I have always been into having a side hustle online and always wanted to live a laptop lifestyle.

I read the thread on the forum from start to finish on how this guy was using Shopify and Facebook ads to do Free + Shipping and crushing it. He made it sound so simple that I just had to get in on it and give it a go. I knew that If I could make 1 sale then I could do thousands.

I then started to do research on who will killing it, joining loads of FB groups and following guys who were doing big numbers. I never purchased any courses and learnt from handwork and testing a lot of stuff, refining my strategy over time


Before Dropshipping?

Before drop shipping I was working a normal 9 to 5 job I didn't like. I always wanted to be my own boss, have time freedom and live a laptop lifestyle allowing me to travel and wake up when I wanted.

I have always been entrepreneurial, especially with Ecom. I have sold on eBay, imported snapback hats, sold gym clothing, shisha pens everything but nothing was a breakthrough. I knew I would find my way at some point I just had to keep trying.

At my 9 to 5 I remember getting called into the office and being made to sit down with the CEO, director and my line manager. I had my first store up and running but it only had made like 2-3 sales… I knew what was coming, I just had a gut feeling and they dropped it…

"Sorry we have to let you go"

I had to call my parents to tell them I had just lost my job and had to basically go on welfare baring in mind I had a 1st class degree from university.

It was at that point I decided to give it all to Ecom/Shopify and dropshipping to make sure that NO ONE could ever dictate my life like that again.


First Sale where did it come from? what was your experience with FB ads?

I remember it like it was yesterday. You will NEVER experience a moment like receiving that first order, no matter how much money you go on to generate. Even to this day if I set up a new store, the first sale is a crazy feeling for me.

I was sitting down and getting the green Shopify notification buzz and ping to say I had sold an item. I couldn't believe it, I was over the moon. It validated everything I had been doing and proved that I can to achieve the big numbers I was seeing in the groups.

My experience with FB was VERY basic. I'm talking I would do what most clueless people would do and hit 'Boost Post'. It was once I dived deeper into things that I learnt what I needed to do. But most importantly put things into action and actually spend money testing.
My first sale came from by 3rd product I tested, the first 2 didn't work at all. I started doing Website Conversion ads and learning how the pixel works. I broke each adset into a catagory for example:
Brands

Websites

Celebs/Public figures

TV Shows/Events

Broad (EG large audiences)

Precise (E.G I love…)

This is how I learnt to see which types of people were reacting and bringing me the sales. Before I used to just stack a load together and run it

How did you learn, what keeps your motivated?

I learn my following a lot of guys in the scene that were doing great. I would go into FB groups ask questions and also watch YouTube videos.

There weren't many YouTube videos or that much content out there as there is now so most of the value was inside of the FB groups.

I learnt the most from testing and actually spending money. You can learn as much as you possibly can but if you do not actually spend money to test you won't get nowhere. Ecomhunt is great for shortcutting products that are actually worth a test.
It's a great product research tool and a real game-changer. My VA can literally login and add the products right away so I can then run the tests.
I've spent over a million dollars on FB ads and now I really only do Website Conversion ads and go straight for purchase unless the pixel is fresh, then sometimes I'll go for ATC instead. I never optimise for VC or rarely do PPE (Unless scaling a campaign even further).
What I have found is FB are extremely good at sending what you want. So PPE just give me engagement and not sales and VC just give me the time wasters. I want BUYERS so always go for the buying intent objectives

My saying is:

IF YOU WANT TO LEARN TO SWIM…. GET IN THE WATER!

Staying motivated is easy for me because I have always set myself a goal. Once you have a goal to work towards you shouldn't stop until it's achieved AND once you have achieved it you set another and keep moving forwards.

I wanted to do $100k a year and smashed that. I wanted to hit $100k a month and smashed that. I wanted to hit $10K a day and smashed that and so on.

One of my goals now is to get 10K subscribers to my YouTube channel by the end of this year so that is what I am working on along with everything else.

Plus, most people fear losing their job. I fear having to go and get one.


Why did I want to succeed so bad?

I wanted it because I didn't want to have a boss, or have to ask for time off to have a vacation or spend time with family or just chill when I felt like it.

I didn't grow up rich, nor did anyone in my family. I inspire to be that one that pushes the boundaries and inspires a group of hustlers because I know how Ecom has changed my life.

I'm not driven by the money, that is a by product. I am driven by the lifestyle that this brings, the money is a bonus.


What is your sales record?

I have done the figure days and 6 figure months and 7 figure years. I have done $50K per day and this year I done over in just $1,000,000 in 2 months already.

I would of course like to hit $100k per day. VERY few Ecom guys out there have actually hit that.
I hit most of these large days doing manual bidding and LLA's. Auto bids are great but once one adset is doing great I like to duplicate it into a new campaign and run it as a manul bid with a budget of at least $1000.
You have to be careful with manual bidding and watch it like a hawk each day to lower or increase your bid. It is a lot harder to master.
Retargeting and email marketing is another thing people don't get right, yet when done correctly, they will single handedly be your most highest ROI campaigns.
Some of my big campaigns have come from Ecomhunt products. Some people say that if a product is already doing well on Facebook then it is saturated but I don't think that is the case (depending on how long it's been live for). I have sold some of the older products on Facebook from Ecomhunt that most would deem saturated but you have to remember that audiences are always changing, people get new hobbies and have new life experiences everyday so the same audience will not be the same year on year.
Start again what would you do different?

I would of tested a lot more and not been scared to spend money. When you start out you are constantly looking at your ads and cut stuff too soon. You get scared to spent money and keep low budgets.

I would of outsourced things a lot quicker too. You can only get to a certain point by yourself, once you hit this you HAVE to outsource unless you cannot grow. We all get scared to let go when we are not in total control but in order to grow you must have trust in your team to build a scale your business.
I wish I would of found Ecomhunt a lot quicker too as finding products can be a long process.


Top tips

Learn as much as you can from those who are doing well.

It is NOT a get rich quick scheme and you have to treat it like a real business

Stay in your lane and don't worry about what anyone else is doing. Take inspiration and move towards your goal

Most importantly TAKE ACTION spend the money on testing product. Remember never see it as LOSING money…. See it as BUYING data.
Look for products that are either cool, quirky and unique OR products that solve a problem.
The manual bidding breakdown:
Want to learn more about Harry? Click here

Ready to start making some $$$ ?
How to Find Winning Products and Start Selling Online
Pros and Cons of Dropshipping and Wholesaling
How to Make Sales in Every Way Possible !
Have a question? Got some killer tips? Comment below!
Mordechai Arba is running multiple successful online stores, and is now the Founder & CEO of Ecomhunt. Ecomhunt was founded to help store owners easily find winning products, and build stable online store businesses.