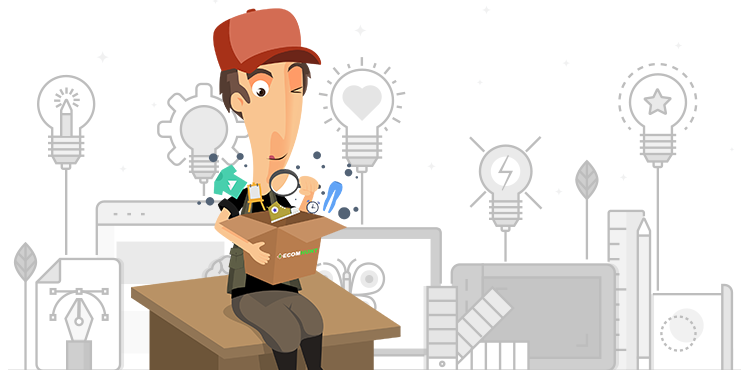 For new entrepreneurs, deciding to start an online business is an exciting journey, but it's also new terrain that can be intimidating and difficult to navigate.
Maybe you've tried starting your own business before, or maybe you're planning your very first one. Regardless, every new business will present its own unique opportunities and challenges. From choosing a product, evaluating it, validating the market, sourcing inventory, building your online storefront, marketing and fulfillment, there's a lot to learn.
One of the biggest hurdles for eCommerce entrepreneurs starting their online business is the very first step of figuring out what products to actually sell online. This seemingly mountainous choice typically ends up being the reason most people never actually start their online business in the first place.
Coming up with a great idea for a product to sell online will occasionally strike when you least expect it, most of the time though, it's something you need to be proactively on the lookout for. The Internet contains a wealth of ideas and inspiration, but where exactly should you begin?
1 – Start with What You Have or Solve Your Own Problems
Before you begin searching the depths of the Internet and the ends of the earth for product and niche ideas, it's always best to start with the ideas that you already have. If you're like most entrepreneurs, you likely already have a few ideas for products you want to sell or have thought about selling in the past. Maybe it's an idea you've had for years or maybe you have a problem in your own life that there is no good solution for currently.
Here are a few questions to consider when searching for your product :
What products, niches or industries are you particularly passionate about or interested in?

What products, niches or industries are your friends passionate about?

What pain points or frustrating experience do you have in your own life?
2 – Local Communities
The idea for the perfect product might be closer than you think.
Traditional brick-and-mortar businesses have been around much longer than their ecommerce counterparts. Paying attention to trends locally in brick-and-mortar retail just might help spark product ideas you can take online.
Try spending an afternoon taking a look around your community and note what new or interesting retail concepts and products are on display.
Another great source of product inspiration within your community can come from your local newspapers which tend to feature new, innovative and local concepts and products. As you look at these resources, ask yourself if they can be turned into an online opportunity.
3 – Online Consumer Trend Publications
What better place to find an interesting products to sell online than from publications whose job it is to curate new, interesting and trending product ideas. Following trend publications is great way to begin getting a sense of the direction consumer products are going and the ideas other entrepreneurs are introducing to the market.
Following these publications can also expose you to new product categories and industries that you previously didn't know about.
As a starting point, take a look at the following popular online trend publications:
Trend Watching

– Trend Watching is an independent trend firm that scans the globe for the most promising consumer trends and insights.
Trend Watching has a team of thirty professionals in locations like London, New York, ingapore, Sydney and Lagos all looking for and reporting on worldwide trends.
Trend Hunter

– Trend Hunter is the world's largest, most popular trend community. Fuelled by a global network of 137,000 members and 3,000,000 fans, Trend Hunter is a source of inspiration for aspiring entrepreneurs on the hunt for new product ideas.

Springwise

– There are millions of business ideas spanning the globe that operate in a specific way, have their own style, and market in a unique fashion.
It's not always possible to travel the world searching for these ideas to bring home though. That's where Springwise comes in.
Springwise travels the world for you, on the search for new entrepreneurial ideas,
trends, and stories.
4 – Social Curation Sites
Social curation sites like Pinterest can be a goldmine for product and niche ideas. Many of the images contain interesting, new and trending consumer products.
Using the built-in social signals you can sometimes get a sense almost immediately of their popularity. This could be your first clue if there is a market for the product.
Several of the larger social curations sites to check out include:
PINTEREST – Pinterest is one of the fastest growing social network with over 50 million monthly users. Make sure to check out the popular section for what's currently trending.
POLYVORE – Polyvore is another great service, similar to Pinterest. Polyvore's global community has created over 80 million collage-like "sets" that are shared across the web.
FANCY – Fancy describes themselves as part store, magazine, and wish list. Regardless of what it is, it's filled with product ideas for you to explore.
WANELO – Wanelo (Want – Need – Love) describes itself as a community for all of the worlds shopping, bringing together products and stores in a Pinterest-like product posting format.
5 – Business-To-Business (B2B) Wholesale Marketplaces
What better way to get product ideas than right from the source. This has been a popular option amongst ecommerce entrepreneurs for a while and this list wouldn't be complete without it.
Wholesale and manufacturer sourcing sites like Alibaba exposes you to thousands of
potential product ideas. It can be easy to get overwhelmed with the sheer amount of product available so take your time.
Some of the more popular B2B wholesale product sites are:
ALIBABA – You've likely heard of Alibaba. They are the biggest eCommerce company in the world, even larger than Amazon and eBay combined. Alibaba connects consumers all over the world with wholesalers and manufacturers (typically) from Asia. With hundreds of thousands of products, there's not much you can't find on Alibaba.
Although it's generally accepted that Alibaba is the largest online wholesale and manufacturer database, there are many other sites similar to Alibaba you can use for inspiration and to find product ideas.
Some of the largest competitors of Alibaba you should also spend
some time exploring include:
6 – Online Consumer Marketplaces
Another rich source for product ideas are online consumer marketplaces. Millions of products is probably an understatement so you may want to begin your search with some of the popular and trending items and branch out into other interesting categories that catch your eye from there:
e

bay

: eBay is the largest online consumer auction site.
eBay Popular – A list of some of the most popular product categories on eBay
eBay Watch Count – An online tool that will list the most popular items on eBay based on how many people are "watching" them.
Amazon

: Amazon is the largest internet retailer.
Amazon Bestsellers – Amazon's most popular products based on sales.Updated hourly.
Amazon Movers and Shakers – Amazon's biggest gainers in sales rank over the past 24 hours. Updated hourly.
Kickstarter

: Kickstarter is the largest crowd-funding website.
Kickstarter Discover – Browse all projects by popularity, funding, staff picks, as well as many other options.
Etsy

: Etsy is a marketplace for handmade items.
Etsy Trending Items – Check out the current trending items and listings on Etsy.
Aliexpress

: AliExpress is a new consumer wholesale marketplace from Alibaba that allows you to order in small quantities.
Aliexpress Popular – The most popular products being bought on AliExpress..
7 – Social Forum Communities
Reddit is the largest social media news aggregator. It describes itself as the front page of the internet and is enormously influential. Reddit has thousands of "subreddits" that are sub-sections or niches that cater to different topics and areas of interest. It's within these subreddits that you can find lots of inspiration for product ideas.
If you have an idea for a particular industry, niche or product category, it's worth doing a search and finding a suitable subreddit community to join and actively become a part of.
There are also many product focused subreddits that are packed with
Ideas.
Here are a few examples:
BUY IT FOR LIFE – For practical, durable and quality made products that are built to last.
Reddit SHUT UP AND TAKE MY MONEY – Interesting, clever, useful products that that people want… badly.
There are also several subreddits for curated Amazon products, make sure to check out the following:
If you're active on Reddit and pay close attention, occasionally you have come across interesting posts like these:
No matter which approach you take, Reddit is has been and continues to be a rich and valuable source of entrepreneurial ideas and inspiration, coupled with a supportive community.
8 – Instagram
Instagram isn't just pictures of food and puppies, it's also a great option for discovering new product ideas. Because it's photo-based, it makes it easy to scan through many ideas and photos quickly.
There are a few ways you can use Instagram to search for product and niche ideas:
HASHTAGS – Once again, if you have a particular interest in a product category or industry, you can try searching for applicable hashtags and following relevant people in the market/niche or industry. Another great option is to do a search on Instagram for applicable hashtags that insinuate buyer interest and intent like #want and #buy.
PRODUCT CURATION ACCOUNTS – There are many accounts on Instagram that post curated product content. You'll likely want to search for and find accounts within the niches you are particularly interested in. As an example, Shopify curates interesting and unique products from their merchant's stores.
9 – Ecomhunt
If you want to make more money you either have to invest TIME or MONEY, this is where Ecomhunt come in handy, you could just spend a tiny bit of money and you would have all the top-selling products on your screen instantly.
Our main purpose is to help people find good products to sell on their stores, We have a team specialized in product research, before we add any product we make sure it's new and got high engagement on social media and all the products we add are tested and getting hot sales in the best pro ecom stores.
The products data listed on Ecomhunt includes :
Profit, Analytics, Engagement, Links, Facebook Ads, Product Video, Facebook Targeting, and Offer type.
We put together all this Valuable content for our users so they can find their winning products.
More Reasons to join Ecomhunt :
* You'll find the top products instantly.
* You will get real reviews on AliExpress prodcuts.
* You will never have to waste time finding products again.
* Save products for future use
* No delay time on new products
* BE PART OF OUR PRO COMMUNITY!
"The good news is that right now there are a 31% discount on the pro plan. That means that you only pay $20 if you join our PRO membership now, Join Ecomhunt."
Internet Marketer, Sales Manager, eCommerce Expert, and Community Manager at – Ecomhunt