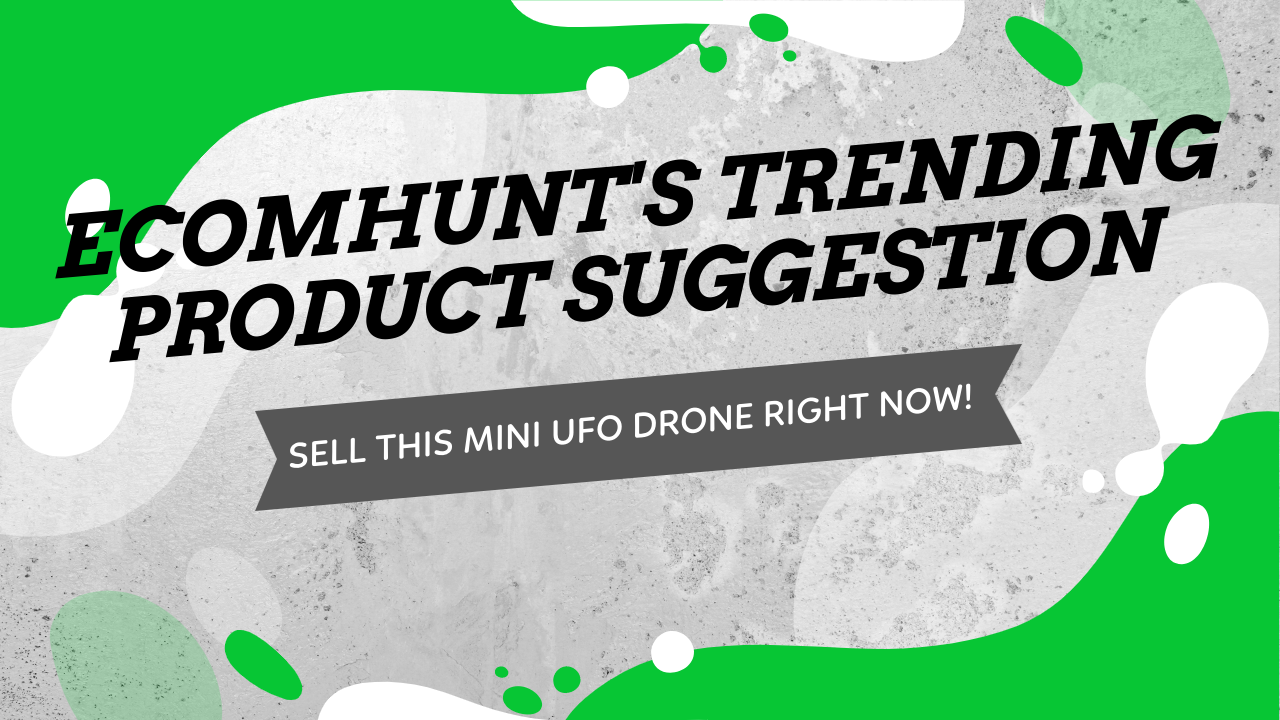 Another week and another amazing winning product recommendation!
This time it's a really cool kids toy and the timing on this product couldn't be better. Many countries are going into another lockdown as we speak and parents will be looking for something to keep their children occupied.
This toy is exactly what they need right now and if you market it correctly you can make some really good sales.
I'm going to review this product and show you how I found it(hint: it was on one of Ecomhunt's new features), and I'm going to see how the original seller marketed it. In this week's article, you'll find a complete ad + store review, multiple targeting suggestions, and a sales strategy to help you take this product to new heights.
Enjoy.

1. The Product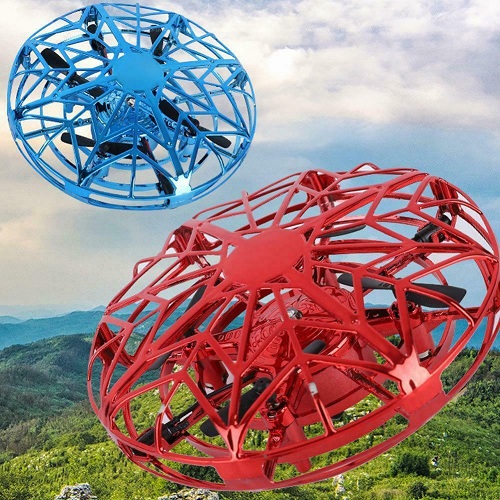 Today's winning product is this awesome mini UFO drone which I think many parents would want to buy for their children. It's a really nice toy for kids of all ages and now that some countries enter into the third lockdown, this could be a life saver for parents who are looking for a way to keep their kids busy.
Here's what I like the most about this product:
1. It's pretty cheap – This product costs about $11 on Aliexpress and we can easily sell it for $29.99 or even $34.99 + Free Shipping. A perfect toy for parents on a budget!
2. It has really amazing reviews – Plenty of photo reviews from people operating this toy and most of them are really happy with their purchase. From the photos, you can also see the packaging and it looks like the seller knows what he's doing.
Don't forget to import these reviews to your own store and display them on your product page.
3. This product is exploding in sales on Aliexpress!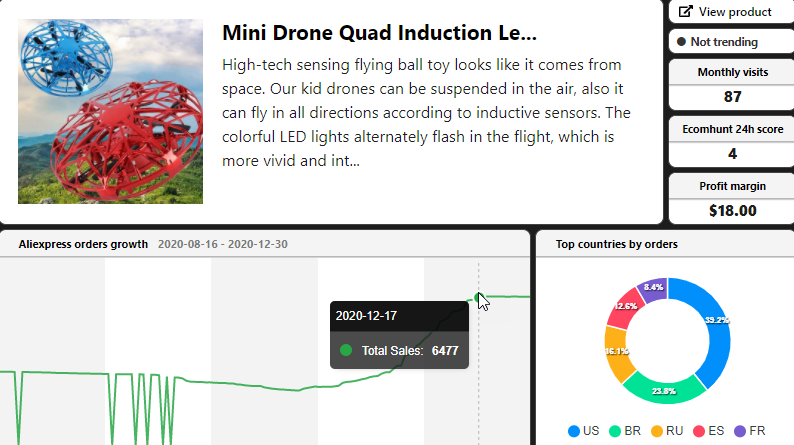 This product went from making about 2500 sales a day to almost 6500 a day in just one month! I got this info when I was searching for potential products on Ecomhunt Lucky. Ecomhunt Lucky is one of our newest features where we suggest you what products to sell.
We have 4 smart filters you can use to find products that suit you best. In my case, I was looking for products with a high profit margin and low visits count. I stopped on this product because it caught my attention and because of that huge sales spike.
Here are the Filters I usually use when I'm searching for products on Ecomhunt Lucky: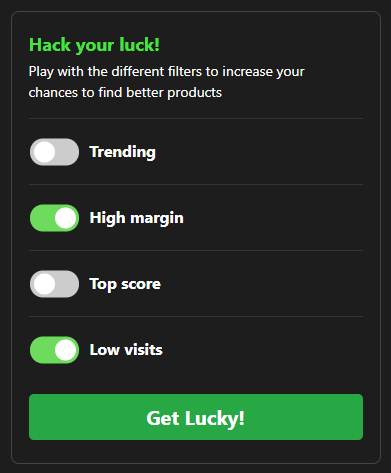 You can use whatever combination you want and maybe, with a bit of luck, you'll find you next 4, 5, or even 6-figure winning product. So this time, this great product suggestion is thanks to Ecomhunt Lucky ?
4. It's really easy to target – All we'll have to do is to target parents with small children and maybe grandparents. Targeting parents is really simple and I'll show you how to do that when we get to the targeting suggestions.
5. We're still in Lockdown – The vaccine is already here but it will take time till it's delivered to enough people worldwide. Currently, a lot of countries out there are in a lockdown so this means more children will be staying at home with nothing to do. If you market this product correctly, then nothing can stop you from making some bank!
2. The Ad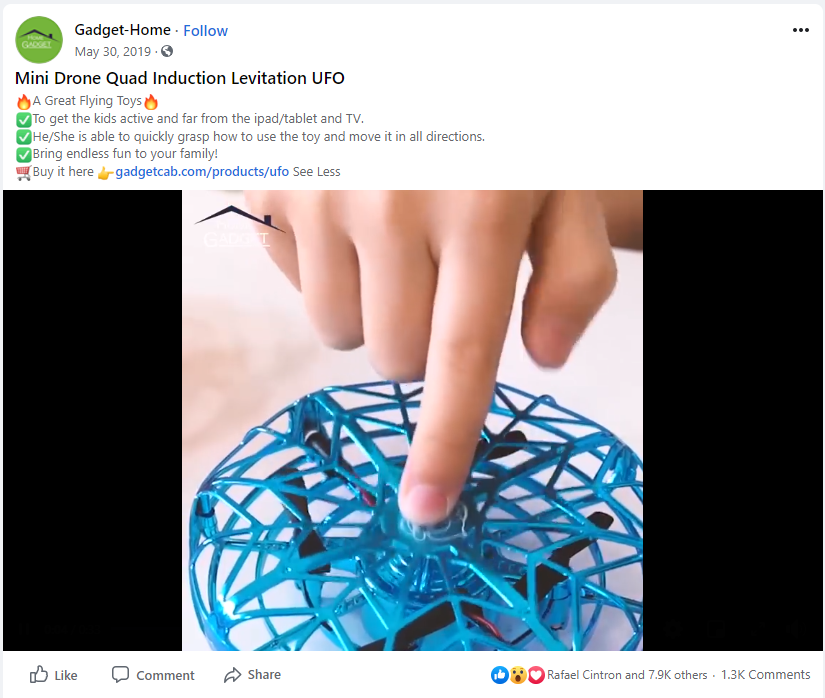 The video ad is pretty good and there's almost nothing wrong with it except for these three things:
It's a kids toy so it would be better to start from the boy and not the grown woman. You can include the woman later in the video or better replace her with other kids who play with this mini UFO drone.
They could've used a bit more text to explain a bit better on how the toy actually works. It's obvious the drone has censors but you still should mention it in the video for those who don't get it right away.
There's no call-to-action at the end of the video. A simple "Get yours now – 50% + Free Shipping" text is enough. You should ALWAYS end your video ad with a call-to-action text and mention the current discounts you're running.
The ad copy:
Really horrible ad copy… Probably a copy from the Aliexpress product page. If you're having problems with English, just ask someone to do it for you on Fiverr for $5 to avoid stuff like that.
Here's a good ad copy example if you're going to run this product right now:
"Your kids are going to LOVE this smart UFO drone – Order yours now and get 50% OFF + Free Shipping!
Get yours here => *store link*
Available in different colors"
This is a simple toy for kids so a short ad copy like the one I suggested is enough. Add a flying saucer emoji somewhere in the ad copy and you're good.
Important:
Don't forget the call-t0-action text right next to the Buy Now button. Use something like "Order Yours Now – 50% OFF + Free Shipping!".
3. The Product Page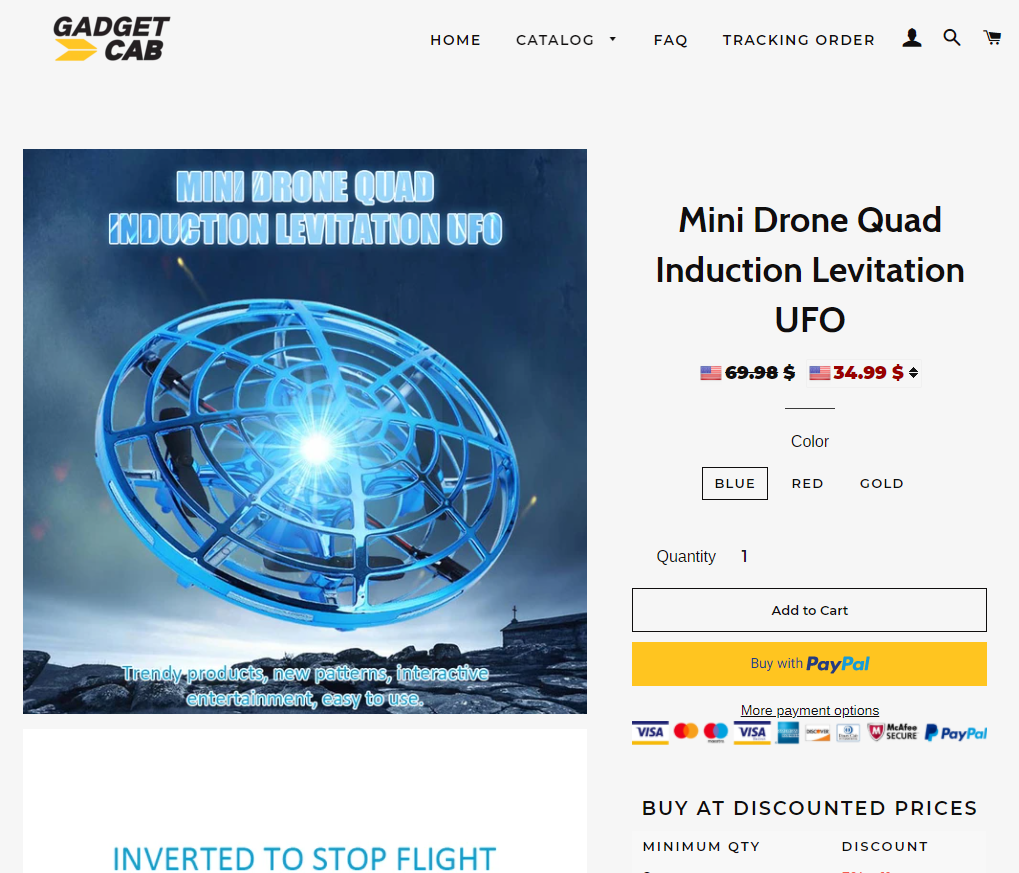 As expected, plenty of typos and their description text is making absolutely no sense… They're clearly selling to the US market so I really don't understand the reason of not hiring someone to do it for them.
It's a one-time investment, a necessary one, which could've helped them make more sales. Pages like these drive a lot of customers away even if the product is really good so it's a shame they kept it as it this way.
Other than that, they have trust badges, product guarantees, and they at least try to explain more about the product in their own broken way.
And again, like with many stores I review, there are no reviews!!! Reviews are a MUST on every store, on every product page, so please make sure to import reviews with every product you test. I see no reason not to do that when you have hundreds of photo reviews ready to be imported in 1 click.
Their quantity discounts are a joke.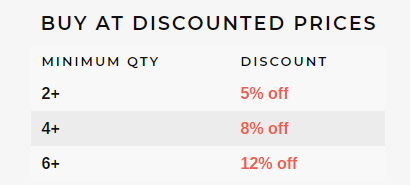 Come on… For $34.99, you're making a nice profit of $20+ so give the people a better discount. 5%, 8% are a joke and it's not tempting at all.
In this case, it just takes extra space on your product page because almost no one is going to buy more than one piece. With this profit margin, you could start from 10% or even 15% and add an additional 5% discount per each extra product.
It also looks like they're charging a shipping fee because their banner says free shipping for orders over $40, so this move is SUPER cheap.
If the average conversion rate for e-commerce stores is around 2%, then this store is lucky if they got around 0.6%. This is how bad their product page and everything around it really are!
At least, on their checkout page, they didn't forget to add the logo and even added trust badges to it to make it look more professional. This is something I always mention when reviewing online stores and I'm really amazed that these guys did it by the book.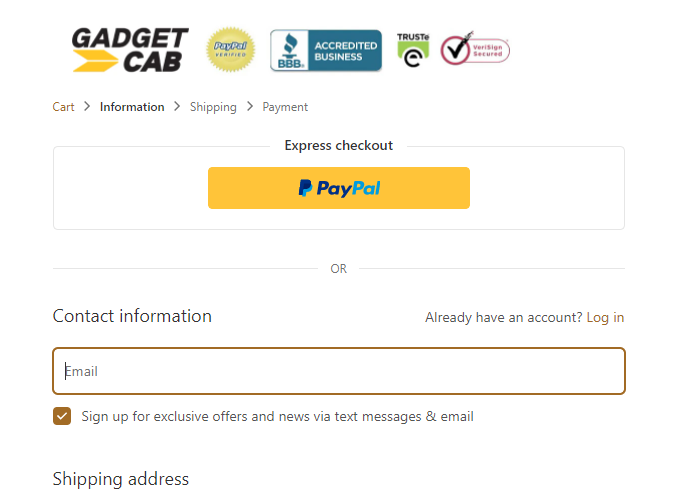 If you want to take it to the next level and understand exactly how we build our stores, create our campaigns, and run our ads, then check out our Ecomhunt masterclass course. You'll get access to 70 video lessons which will take you from a beginner to a complete pro! (with some cool bonuses too)
4. Targeting Suggestions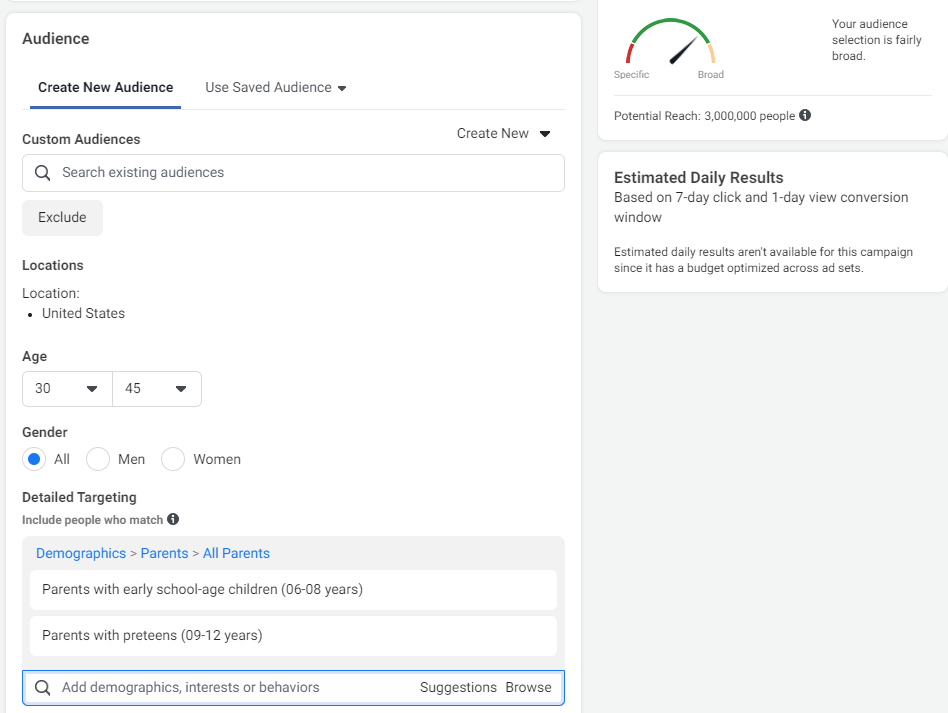 The first option and the most obvious one is to target parents like you see in the photo above. You have ready interests in the Demographics section where you can choose parents with children at a certain age range.
This gives you a pretty decent audience size of 3 million and we can always play with it and maybe target only women, married people, and maybe combine it with gadget interests to find parents who are more into gadgets.
Married parents example: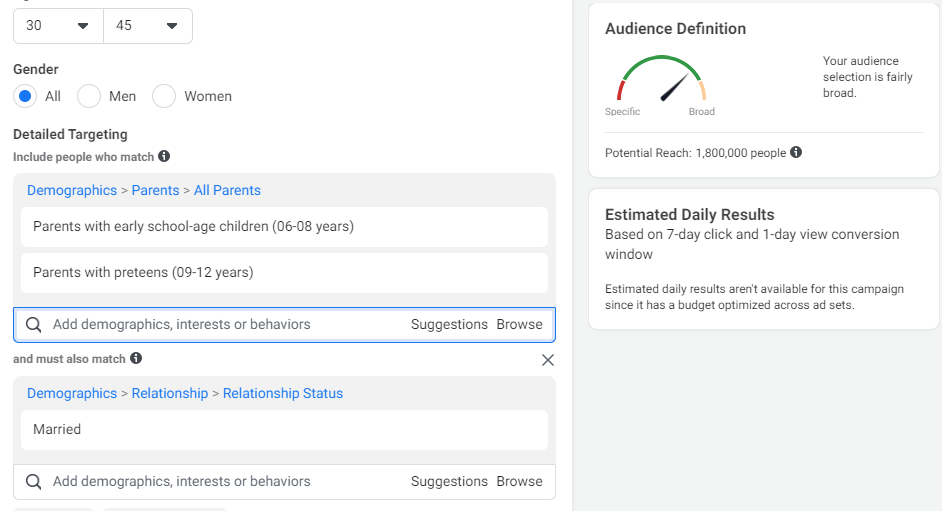 Parents who like gadgets, drones, smart devices, etc, example: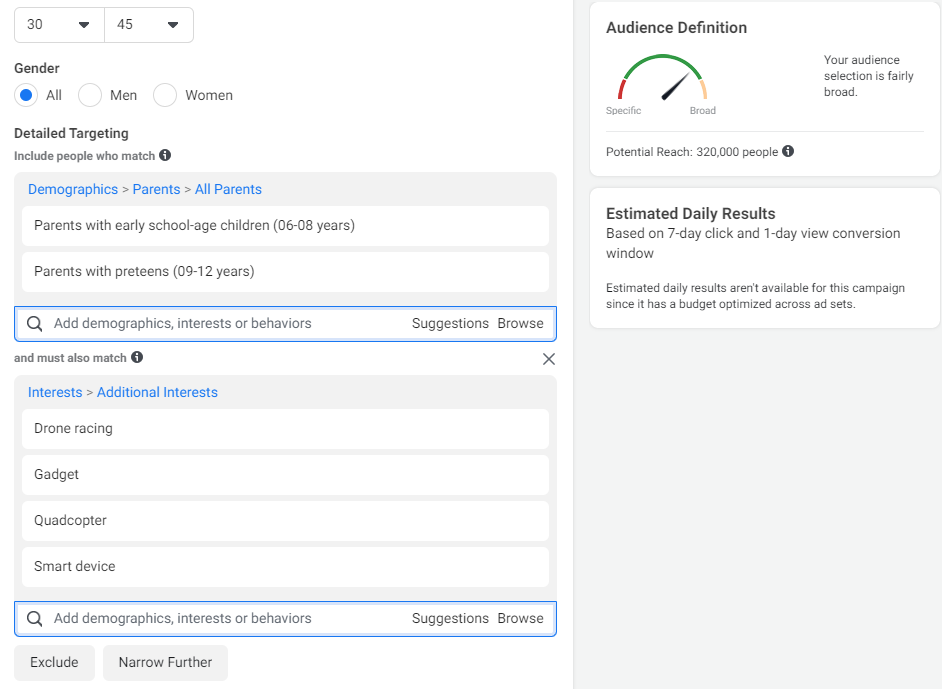 You can also try grandparents but I suggest you go with parents like in the examples above and add another 2-3 adsets with different combinations. Unlike parents, grandparents is a broad audience and it can take you more time & money to hit the sweet spot.
Another option is to target different countries like Spain and France who together make more than 20% of the sales on Aliexpress. This information can be found in the Ecomhunt Lucky analytics section for each product.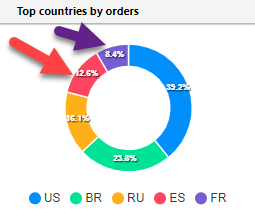 When every dropshipper out there is targeting USA by default, it may be a good decision to start with a different country ?
5. Sales Strategy
The selling price you should go with is at least $29.99 and up to $39.99 with free shipping in both cases. This is a cheap toy with a good profit margin so don't include any shipping for the checkout process to be smooth. We don't want customers to stop and think if they should pay $2.99 shipping for this product.
Quantity discounts are a MUST – Give at least 15% OFF for 2 items and an additional 5% OFF for each extra item. Also use a quantity discount app that creates buttons so when you click it the items are already added to the cart.
Unlimited Bundles & Discounts by Revy Apps is my go to app for quantity discounts. It's entirely free for one single product with no limits so you don't even have to pay for it if you're just using it to test this product or if you have a one-product store.
Consider creating a one-product store around this product – If you can manage to wrap this product in a good way and have the time & money for it, then it could bring you even more sales with a much higher profit margin. Branding will make this product look much more high quality than it already is and the conversion rate is usually higher than the market's average.
Here's a video from Mordechai Arba, the CEO of Ecomhunt, where he creates a one-product store around a Winter product from scratch. He shows the whole process, including the ad and the sales this store made(and still makes).
For the ads, I would go with a simple CBO campaign with at least 5 adsets. Each adset will have a parents interest combination and a minimum ad spend too. If you're not sure how to run Facebook CBO ads, make sure to check out our CBO Facebook ads free e-book.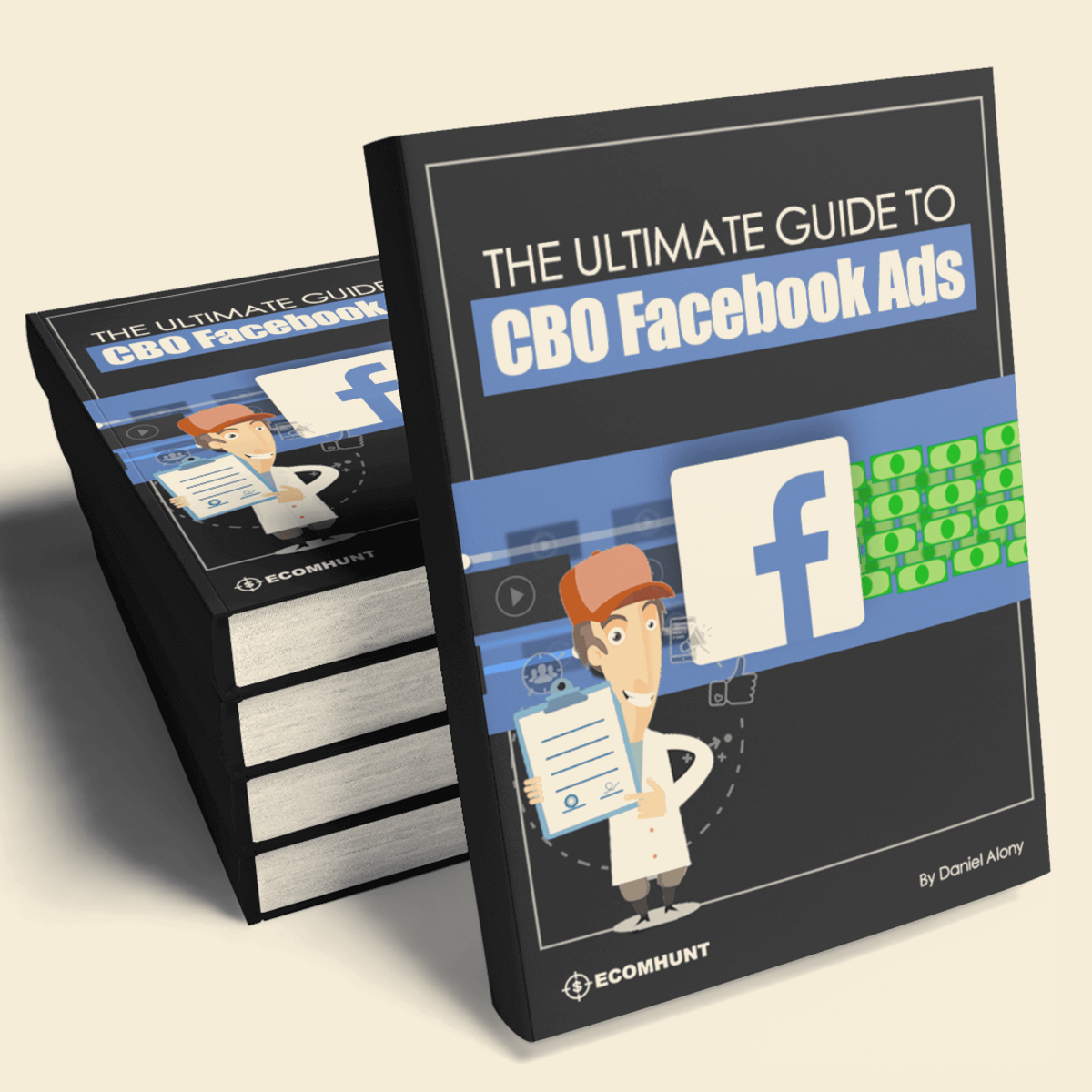 Click the photo above to download our Facebook CBO ads e-book for free or this link right here: https://www.ecomhuntfreebies.com/ultimatecbo
To Sum It Up:
This is a great product to market right now to parents worldwide to help them keep their kids occupied during the new lockdown. As you can see, this product wasn't advertised at the best time(May), had a really bad ad copy and even worse store, but it still made sales.
Learn from their mistakes and implement everything I told you in this article to take this product and reach it's true potential!
Good luck.
Struggling to find good products to sell? Not sure who's your target audience? Tired of losing money on products you were sure were "winners"?
Then Ecomhunt is what you need! Find hot winning products that are added daily, spy on their ads & stores and import them into your store in 1 click and Start Selling Today!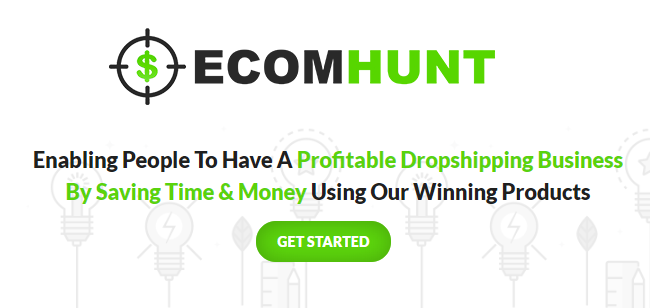 Must Read Articles: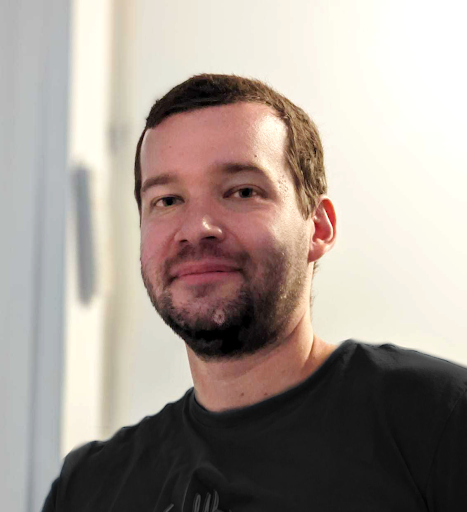 Daniel Aloni is one of the leading mentors in the Ecomhunt family. Daniel is a highly experienced Print On Demand seller with multiple 6 figures successful launches.