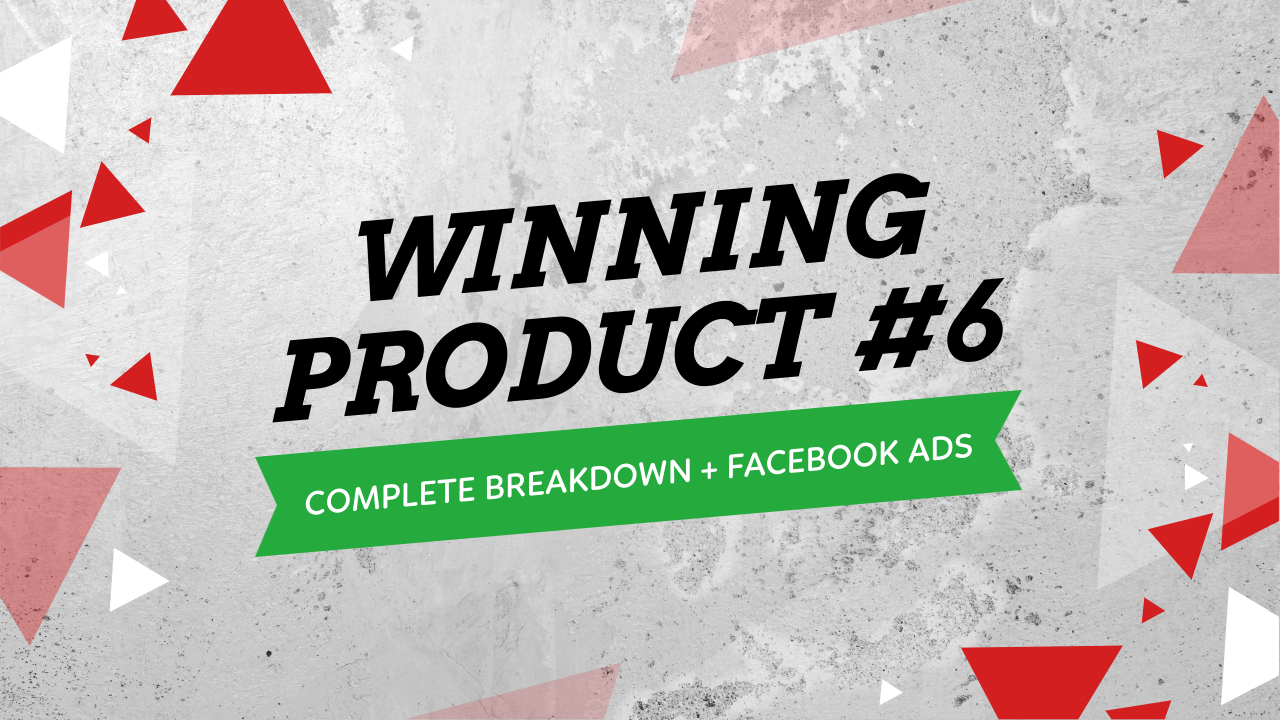 This week's product is the Christmas Reindeer Costume For Pets.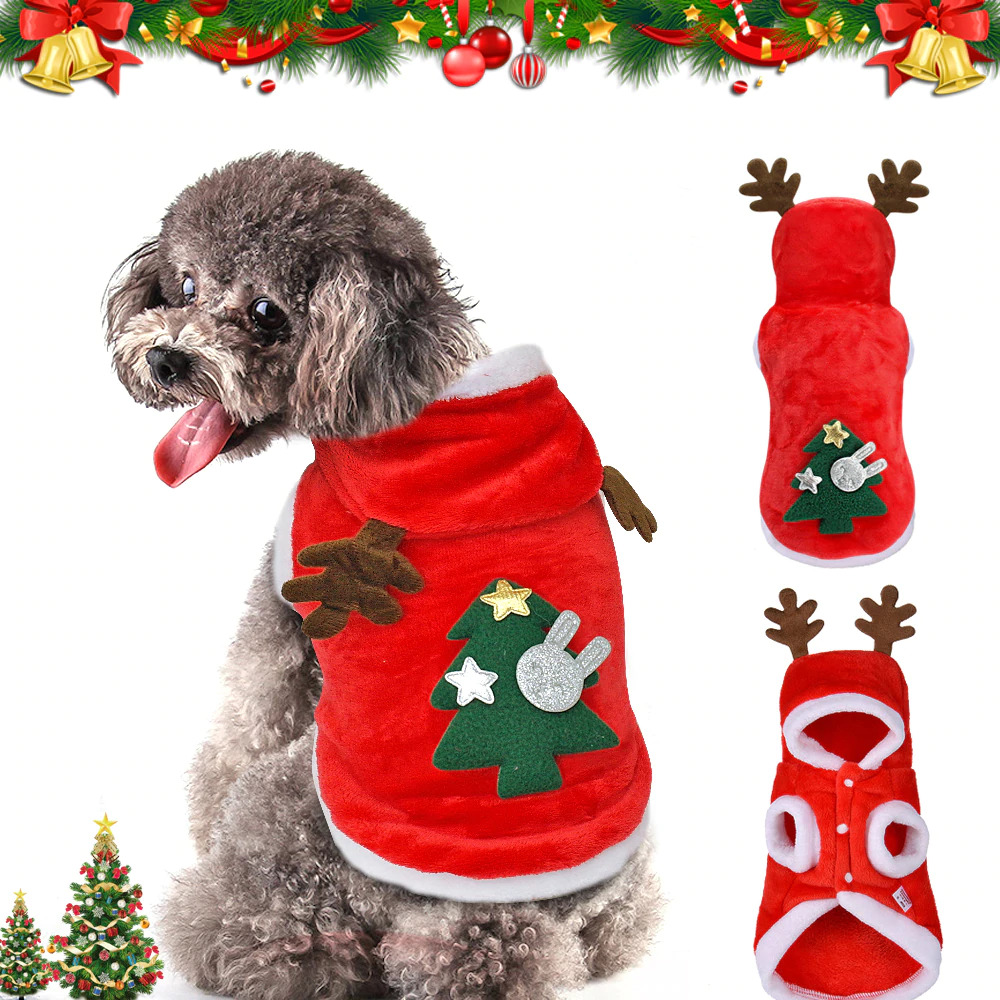 The most wonderful time of the year is coming and it's time to think about some Christmas themed products we can start selling right now. This reindeer Christmas costume is selling really well on aliexpress with excellent reviews! It fits both for dogs & cats which gives us endless ways to sell this product.
So let's jump in and see how can we sell this product with ad examples, selling strategies and more just for you 😉

1. Campaign Type & Optimization:
I begin with Website Conversion campaign optimised for Purchase. I don't care about having zero data and the red color "warnings". I ALWAYS go with a Website conversion campaign optimised for purchases.
If your ad, targeting and product are good then you will see link clicks followed by actions on your site.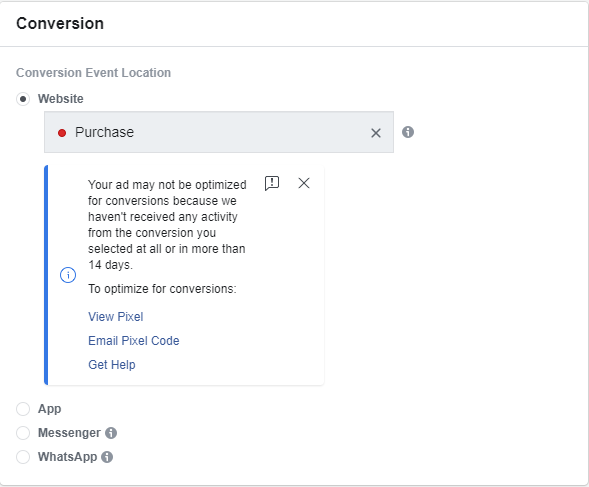 Sometimes, I may choose the "Add to Cart" optimisation and that works too(Sometimes it can even work better than purchase optimisation). Each ad account acts differently and this is something you will have to test for yourself.
Facebook tries to scare us because we're using a pixel with no data and warns us that we won't get any sales. This is their way to drive us into choosing a different optimization event to milk even more money from us. They want us to start from View Content optimization and slowly progress to Purchase optimization. And by doing that we will burn a lot of money…
And I usually go with 1 day click conversion window.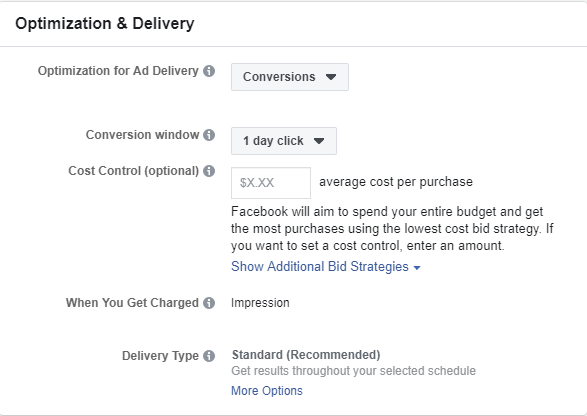 2. Number of Adsets & Daily Budget:
I recommend launching 3 to 5 testing adsets per campaign. You should test out different targeting options, different audiences, different ad types and not just launch 5 identical adsets.
Recommended daily budget that I successfully use: $7~$10

I usually go with $8+ budgets.
3. Targeting & Strategy:
The available audience is huge and we have a lot of ways to target cat and small dog owners. As for the dogs, our targeting options are easier because we should only focus on small breeds first. And later if everything goes well and we get sales, we can let go a bit and let Facebook find the relevant audience for us.
As for cats, we'll just use the best possible interests to find cat owners. In my opinion, 60% or more of the budget should go for targeting dog owners because small dogs will have no problem wearing such costumes. As for cats, some will hate it and cat owners(like me) won't even bother to click on the link because their cat will never wear it peacefully.
So if we're testing three adsets, two of them should target small dog owners and only one for cat owners.
I decided to target:
Women dog owners (small breeds only age: 22-65+) – First targeting option are women who own small dogs. We'll use a few general dog interests and then add small breed interests in the last layer. This to guarantee we actually target dog owners and the last layer will be to catch only the small breed owners.
Women dog owners (small breeds only age: 22-65+) – Same as above but we'll be targeting dog celebrities on Facebook. If you ever visited cat or dog celebrity pages on Facebook or Instagram, you probably noticed people post their pet photos(sometimes the same breed as the pet celebrity) in the comments and stuff like that. I didn't have too many options for small dog celebrities but I've found 2 and that'll be enough for testing.
Women cat owners (age: 35-65+) – Nothing too special. We'll target a few general cat interests combined with a bit more precise interests like popular cat food companies.
Women dog owners (small breeds only age: 22-65+):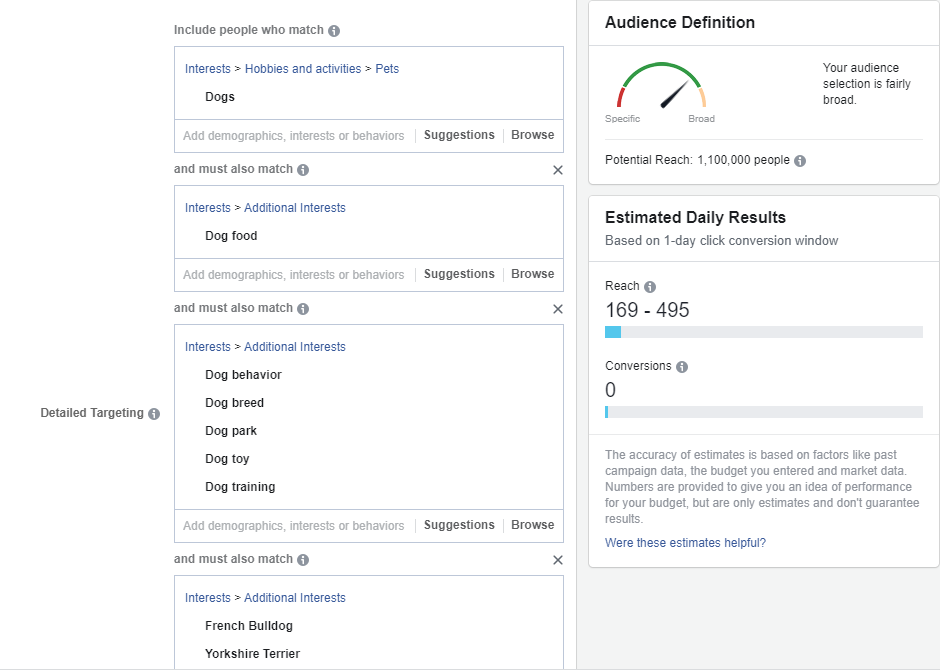 Women dog owners (small breeds only age: 22-65+) *celebrity version*: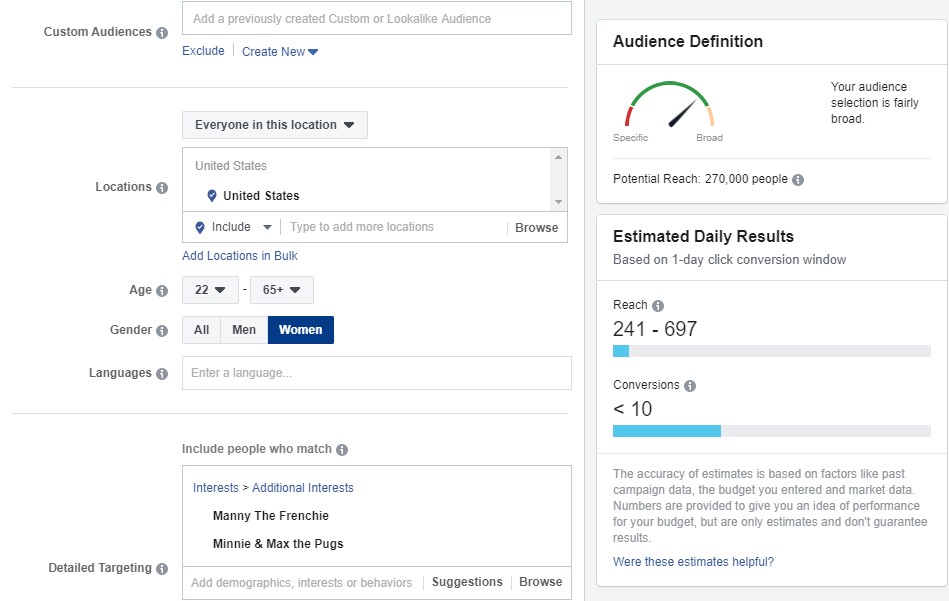 Women cat owners (age: 35-65+):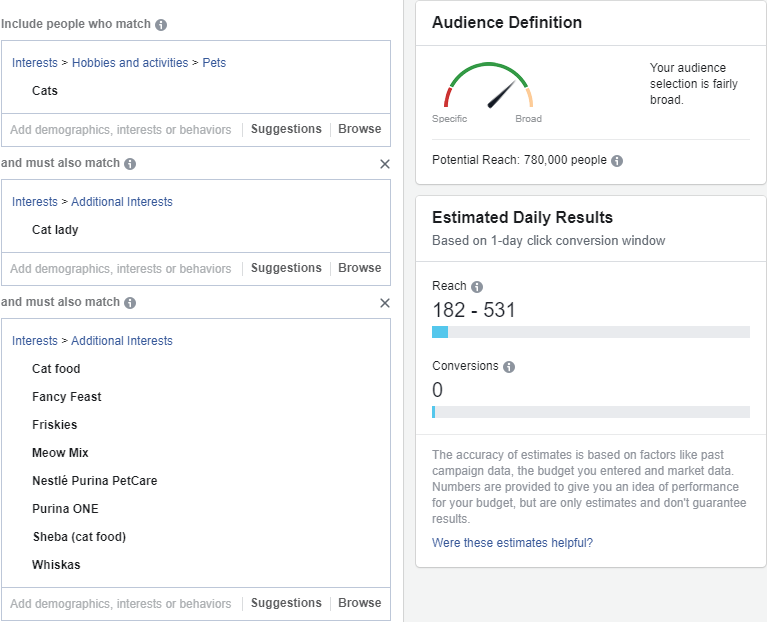 In the first targeting option, you can see that I didn't stack all the available small breeds in the last layer. If I do that, the audience will be pretty big and you know that I don't like to target more than 1.5 million. I usually prefer audiences from 100k to 1.2m.
And the second reason is because I believe it's enough. A few alternative targeting options you can test out is to use popular dog food companies in the first layers, and small dog breeds in the second one.
Another option is to use one small dog breed per adset. Example:
If we decide to test out 5 adsets targeting only dog owners then each adset will target only 1 specific small dog breed. French bulldogs, Chihuahua, Yorkshire Terrier, etc. And for best possible results, each adset will have it's own ad with that dog breed we're targeting. If we target French Bulldogs, then our ad will be a French Bulldog wearing this costume. And so on…
4. Ad placements:
I usually start only with Facebook feed but sometimes I mix it up and run it also on Instagram feed. Although if I decide advertising on Instagram then I usually separate and run a new adset only for Instagram users.
It's just something I prefer doing but in both cases it should still work.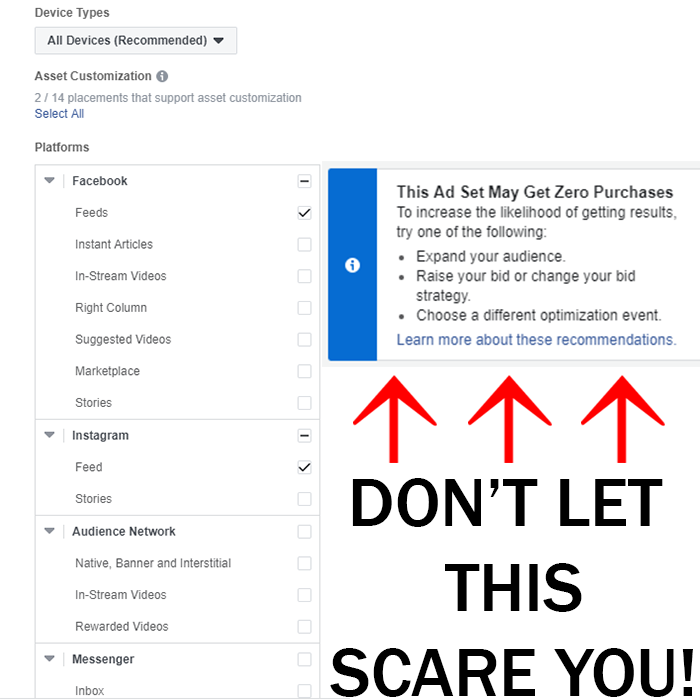 I run ads both on desktop and mobile. For Instagram ads, I target mobile users only.
Note: As you can see in this picture, I attached another "scare tactic" from Facebook that pushes you to basically spend more money by either raising your budget or going for a different optimization event. Do not be scared and run website conversion campaign optimised for purchase even if you have zero pixel data.
5. Ad Type & Copy:
The photos we have on the aliexpress page are enough to make some amazing photo ads. They look professional and some of them already have cool Christmas decorations we can use for our ads. A perfect example of a product that can sell well only with photo ads.
Here are the photo ads and ad text examples I created.
Examples:
The first 1200×1200 photo ad: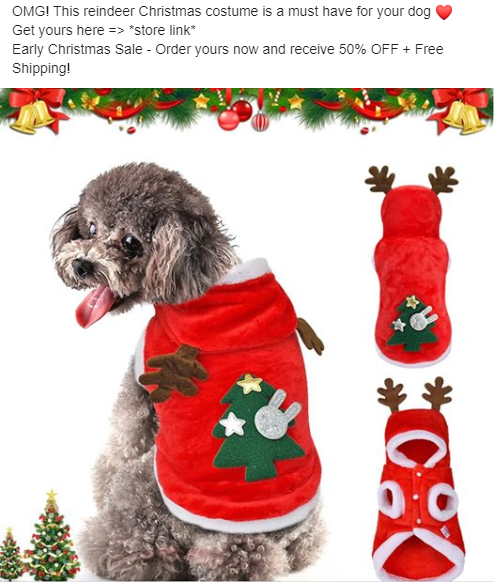 First 1200×1200 photo ad but with different ad copy: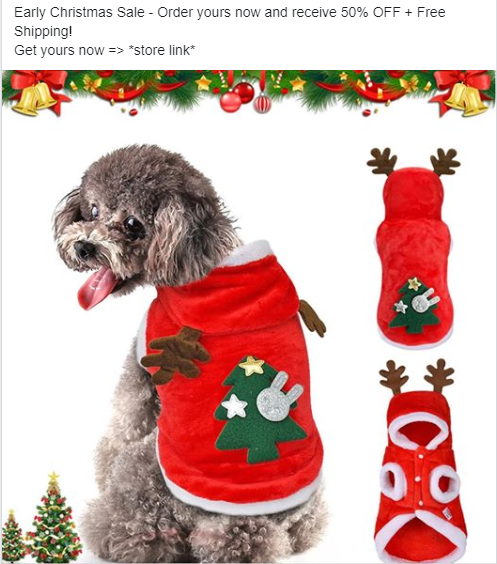 Second 1200×1200 photo ad: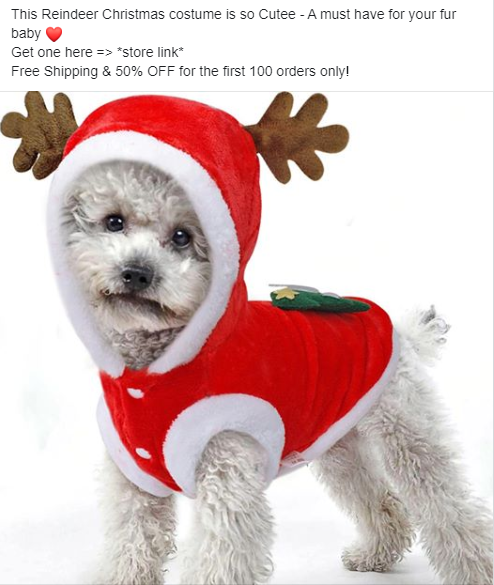 Third 1200×1200 photo ad: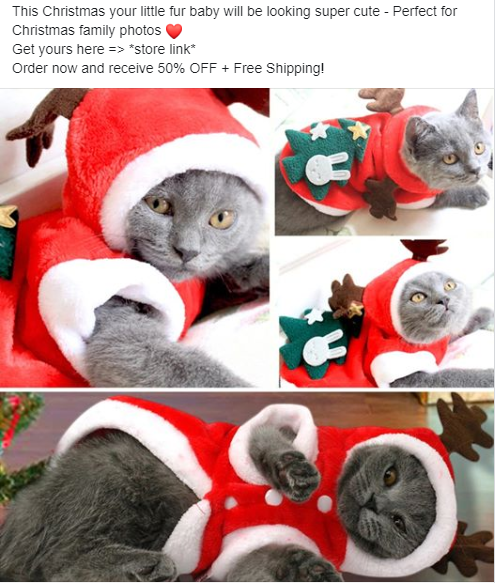 My main goal is to make this product exciting and to talk a bit in the dog/cat owners language. A lot of women call their little pets "fur babies" so I made sure to use that in one of my ad texts. To give this product a bit of a WOW effect, we can't rely only on our video or photo ads… We need to have a good ad copy as well so I used "OMG!" in the beginning on one of my ads.
On the cat ad, I made sure to include that this costume is great for Christmas family photos. A lot of families like to take professional family photos and later make them into postcards or just for themselves. The cat photos provided by the aliexpress seller look professional and I instantly thought about how good it will look on family photos. It could be that the person who sees this ad might get it only because I mentioned family photos. And if I didn't, he wouldn't even bother clicking on my ad.
6. Product Pricing & Selling Strategy:
Setting a price is an important step that if done right will help you keep getting sales with a healthy conversion rate. And if done wrong, your conversion rate is going to suck or you won't even get any sales.
Product price on aliexpress is $3.39~$4.24 depending on the size and $2.35 for epacket shipping(USA). That makes our total price somewhere from $5.70 to $6.60.
I think we can easily sell this product for $19.99 + $2.95 shipping fee. If customer buys 2 or more, then shipping should be free.
Or we can sell it for $21.99 + Free Shipping.
Sometimes a lower sale price with a small shipping fee can work much better than just selling it with free shipping. This is something you'll have to test for yourselves.
Selling Strategy:
Profit margin is ok and quantity discounts is something we absolutely MUST offer to our customers. People with multiple pets will need more than 1 costume.
Offer your customers a good quantity discount. Don't just go with 5% or 10% for 2 items but start from 15% for 2, 20% for 3 and 25% for 4.

Summary:
This product is exploding on aliexpress and has excellent reviews. The quality seems to be really good and we have plenty of photos we can use for both our ads and product page description. And you can always target different countries as well and try your luck not only in the USA.
Photo ads are perfect and there's no reason they won't work. If you still want a video, I'm sure the aliexpress seller can hook you up with some footage you can use.
Keep testing and success will come – Good Luck!
Looking For More Winning Products?
Ecomhunt got you covered – Discover winning products that are selling right now and get access to our analytics, ads, targeting suggestions and much more. We made it easy for dropshippers to find the best products to sell online.
Must Read Articles: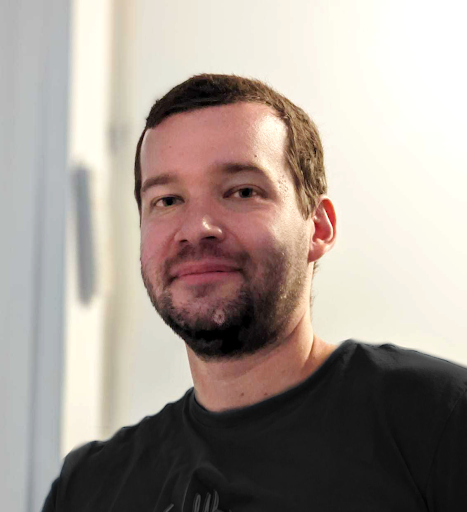 Daniel Aloni is one of the leading mentors in the Ecomhunt family. Daniel is a highly experienced Print On Demand seller with multiple 6 figures successful launches.