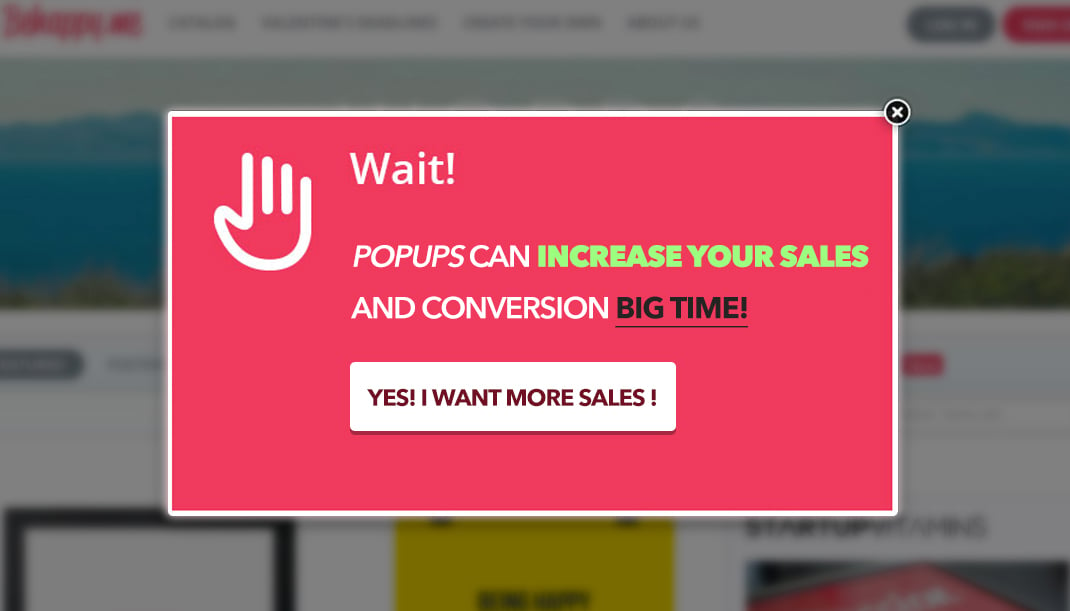 In this blog, we'd like to show you how to use popups, how you can create them on your website and how to use the popup to create better relationships with your potential customers to increase conversions.
When we think of pop-ups we think of annoying banners that come across our entire page and block us from seeing the content we're looking for. Unfortunately, marketers have ruined the results that popups could have. But if you create your popup with a relationship first approach you'll see much better results.
Pop-ups aren't just big forms that come across your website, you can set them up to be smaller so it looks better on mobile, you can create a bottom horizontal pop-up (like the image below) so it's not so invasive and you can even have the popup only show on certain pages.
Pop-up To Encourage Relationship
Everything regarding your website should be considered a relationship builder, how can you create a better connection with your website visitors, build trust and encourage them to sign-up for your service. You must consider this first when creating your pop-up.
You can use a popup on your website too;
Introduce yourself and your business

Claim an amazing offer

Give something for free

Encourage a consultation
A business like Own Your Eating uses their pop-up to introduce the owners and tell their website visitors what to expect.
This is a great way to build instant trust and show your website visitors exactly what you're offering them in your pop-up. Use this to create better relationships and you'll see better conversions on your website.
Exit-Intent Popup
Another type of popup you can use on your website is an exit intent popup which isn't so invasive to your customer. You'll allow the visitor to browse your content before getting interrupted. When they're finished and they go to exit out of your website you can offer an irresistible offer before they leave.
Their results after using a pop-up;
Crossrope.com converted 13.71% of abandoning visitors to active participants.

Crossrope.com recovered 7.65% of abandoning shoppers.

Crossrope.com increased subscribers by about 1800/month using OptinMonster.
This goes to show that you can think of creative ways to encourage website visitors to sign-up with you and your business.
Be Empathetic
A question you need to ask yourself is if your website is focused around you and your business or around the results your website visitors could accomplish working with you. By showing empathy on your website and even your popup forms your customers will feel like you care, understand and want to help them solve their problem.
Once you know who your ideal customer is you can now start showing empathy around your website which will build instant credibility and trust with your visitors.
They mentioned to use the key factors;
Job titles of key contacts – These are the people who you will begin any sales conversations with.

Key decision makers – The individuals responsible for making the final purchase decision.

KPIs – Which KPIs are shared by companies in a particular industry or sector?

Common complaints – What are the common complaints cited by key contacts and decision makers? Both in terms of their current solution (or lack thereof) and the relationship they have with its providers.
Grow Your List
They say the power is in your list. Have you been collecting hundreds or thousands of email subscribers for your business? Now how are you using email to continue the follow-up process and increasing revenue?
After using popup forms throughout your website to get subscribers for your offer you must also be prepared to send some marketing emails. What good is a list of customers if they never hear from you?
This is another great way to continue building relationships with your website visitors, asking them to take planned actions (like giving you reviews and feedback) and then asking for the sale when the time is right.
Some helpful tips;
Send an automated welcome email right away

Follow-up the next day as a reminder

Set up a cart abandonment email

Continue sending valuable emails

Ask for a sale after 6-7 follow-up emails

Send coupons and discounts
Take a look at our blog about 6 quick tips to grow your email opt-ins which will help you with email marketing following your popups.
How To Set-up A Popup
Now we want to show you how to set up a popup on your website and use it to grow your email subscriber list. Remember to do the above steps before considering your popup so you know exactly who will be seeing it and exactly what you should say to them to receive the highest number of conversions.
Consider using this article in WPForms to get even more details on how to set up your form with whichever mailer system you use. In this example, we will be using WPForms and Optinmonster to create a popup form on WordPress.
First, we will need a WPForm account and Optinmonster account. Once you have an account you can go into your WordPress account and install both plugins.
Setting Up Your Form
Log-in to your WordPress account and go to download a new plugin. You'll want to search for the WPForm plugin.
Image Source: https://wpforms.com/
Once the plugin is installed on your website you can now start creating your form.
Image Source: https://wpforms.com/
Now the fun starts, you'll start seeing your form come together and you can start testing it out on your website. Use the preview button to make sure your form is exactly how you want it before hitting publish.
Make sure to go into the form plugin and adjust the settings for your WPForm to make sure it works just like how you want it.
Testing Your Popup
Now it's time to see if your popup works and connects properly so the customer receives what they were promised. This could be frustrating because the popup settings could prohibit you from seeing the form more than once.
When creating pop-ups you can set it to open after 5 seconds, right away or on exit. The only issue you may face as the business owner is that once you see the form once and want to continue testing you won't be able to see the form again to continue your tests.
Use an incognito window to see your forms more than once. This is a brand new page that isn't tracked by cookies and the browser won't know that you've already seen the popup.
Popup Form VS. Inline Form
The last thing we want to share is the fact that you can also choose inline forms so you don't have anything popping up on your page. An inline form may look and function better on mobile but your visitors might pass it by.
There are so many variables that the conversion depends on, for example:
Who are your customers?

How does your website look like?

What information are you asking for in the form?

What is the goal of the form?
So how do you know which one works best?
You perform a test.
50% of your users will see an inline form, the other 50% will see a popup form.
The one that gets the most submissions is what works best for you but don't stop there.
Now you can optimize the form itself, you can start by the fields, to the call to action button and the design.
Inline forms have a lot more distractions which often deviates your visitors from the core task: to subscribe. Hence, if you are focussed on capturing anonymous visitors, using a popup is a great idea.
The Popup Form Insights:
When deciding on a popup form on your website please consider these factors;
What will your customers enjoy using?

Does it look good on mobile?

Are you giving an irresistible offer?

Is it building a possible relationship with your visitors?

Will they get followed up with via email?
Not every popup, form or plugin is a one size fits all. It's about what will work for your business, your customers and what will prove the best ROI.
Popup forms work, some websites increase email signup conversions by up to 600%! However, it's best not to offer a generic 'newsletter', as conversions for that are typically relatively low.
Instead, offering something of high relevance to the page the person is on tends to work well, such as a content upgrade.
Conversions on this type of popup can go between 4% and 20% increase in conversions, some marketing companies even get higher numbers than this.
Please leave a comment below, or share some insights on what has worked for you regarding popups and forms on your website. We would like to hear your feedback and we hope it helps someone with their website forms.
Mordechai Arba is running multiple successful online stores, and is now the Founder & CEO of Ecomhunt. Ecomhunt was founded to help store owners easily find winning products, and build stable online store businesses.