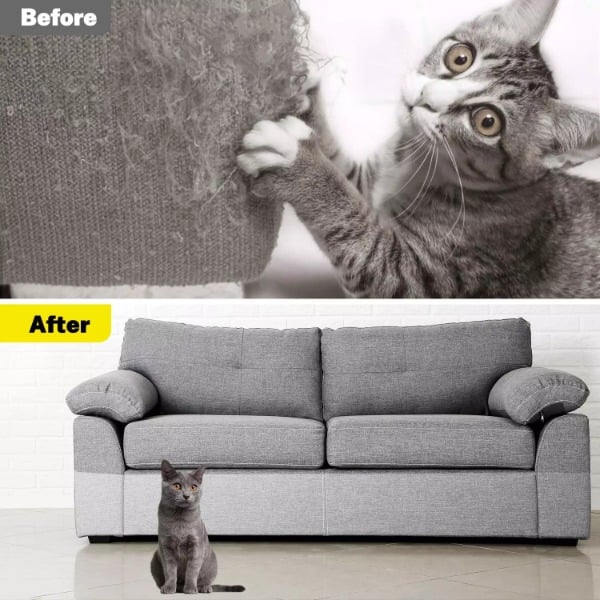 Another week and another amazing winning product recommendation!
This time it's a product every cat owner in the world must have, and the best thing is that you can sell it in packs which will increase your AOV(Average Order Value).
As always, I reviewed everything about this product including the Facebook ad and the store selling this product.
In all my time reviewing dropshipping stores, I always found stuff needed to be fixed. But with this store, I barely had anything bad to say about it… On top of that, they had one of the best product pages I have ever seen.
So make sure to check it out to see how a great looking store should look like!
Enjoy.
1. The Product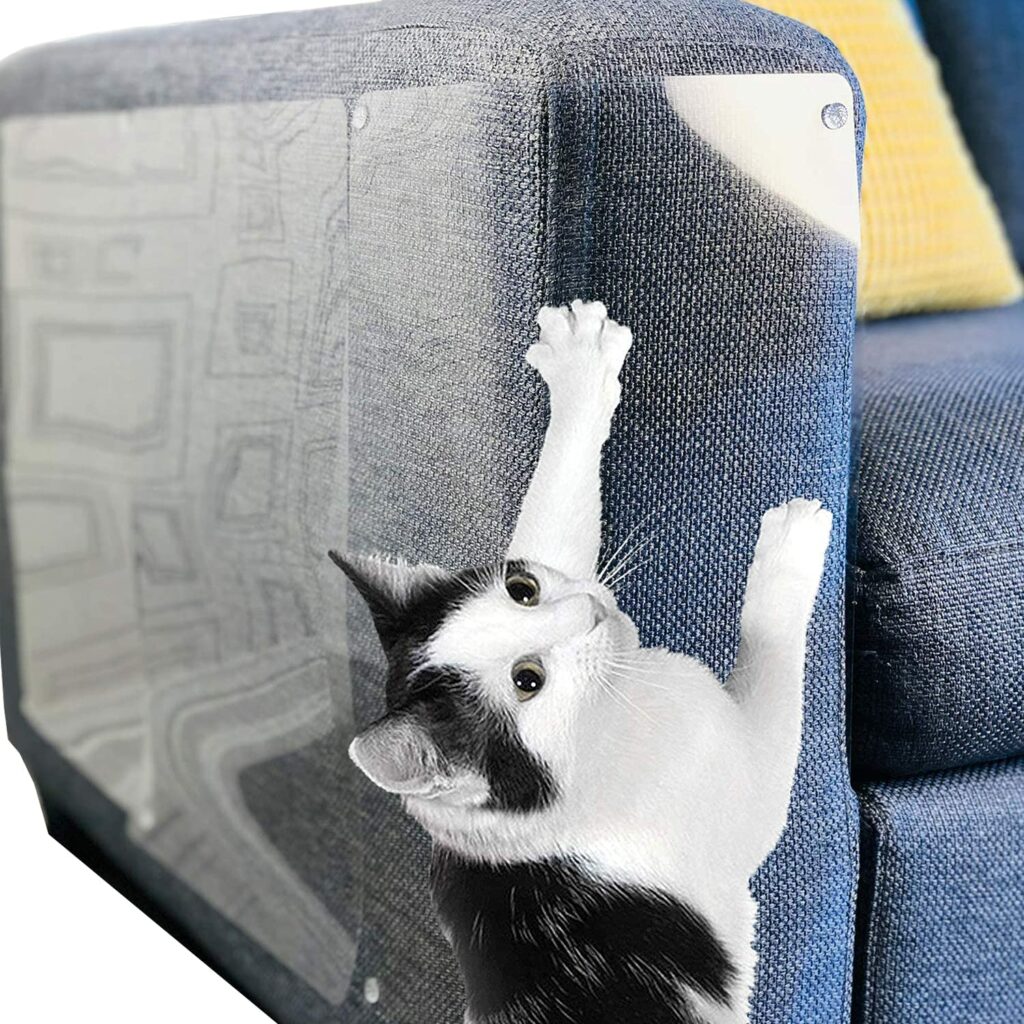 Today's winning product is this cat couch guard every cat owner must have! As a cat owner myself, I know how frustrating it can be to have cats scratch your furniture.
You can't really teach them to not do that(unless you can watch them 24/7), so you need to find a way to stop them from ruining your furniture.
Scratch posts can help prevent this problem but not everyone is lucky enough to have cats that only use the scratch posts. So the only possible way to prevent that is with these furniture scratch protectors.
Another good thing about this product is the amounts you can sell as people will need multiple pieces to protect all their furniture.
If you market it correctly and offer a good discount on multiple pieces, then you can probably make a small fortune here 😉
Oh, and by the way, if you have been reading some of my very old Aliexpress product recommendations, you may recognize this product as I recommended something almost identical to sell a long time ago.
In this article where I review the product, you will find more useful stuff like detailed targeting suggestions and ad examples. Make sure to check it out to learn more stuff that will help you sell this product better.
2. The Ad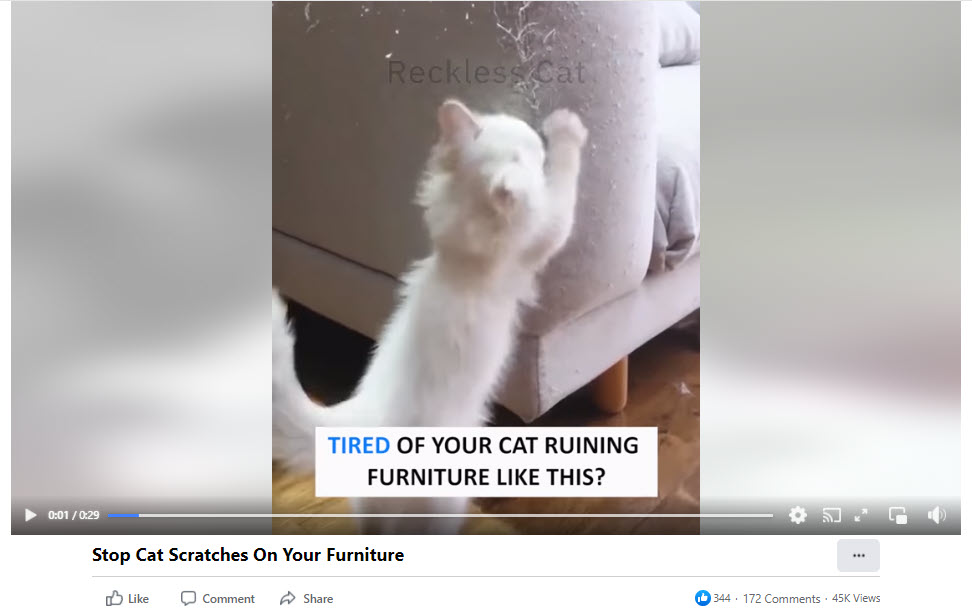 The video ad, in my opinion, is perfect – It starts the right way(just as I told to do in my old article which I linked above) by showing cats ruining good furniture.
The first 3 seconds of your video must have something that will make people on Facebook stop from scrolling. The cats scratching sofas are just perfect and this is how you should do it if you decide to advertise this product too.
Next are the bits which are showing the solution to the problem and this is where the product comes into the video. We can see how the product works, with some extra texts giving us more details about it.
The video ends with a simple call-to-action text and the seller makes sure to also mention the discount he's running which is great.
I wish there was at least one shot of a cat failing to scratch a sofa but other than that everything's just perfect!
Ad copy:

The ad copy is pretty good and have everything you need in it. A short line explaining about the product and the problem it solves, a call-to-action text, and a word about the current discount.
The only thing I would change is the link location which should be above the discount text for people to see the link without clicking on the See More button.
And maybe a cute cat emoji somewhere in the first line too 😉
Note:
If you look at the link, you can see that they customized it and made it shorter. Instead of the url looking something like this "yoursite.com/long-product-url", they shortened it and made it look like this "yoursite.com/product".
Looks like they know what they're doing!
3. The Store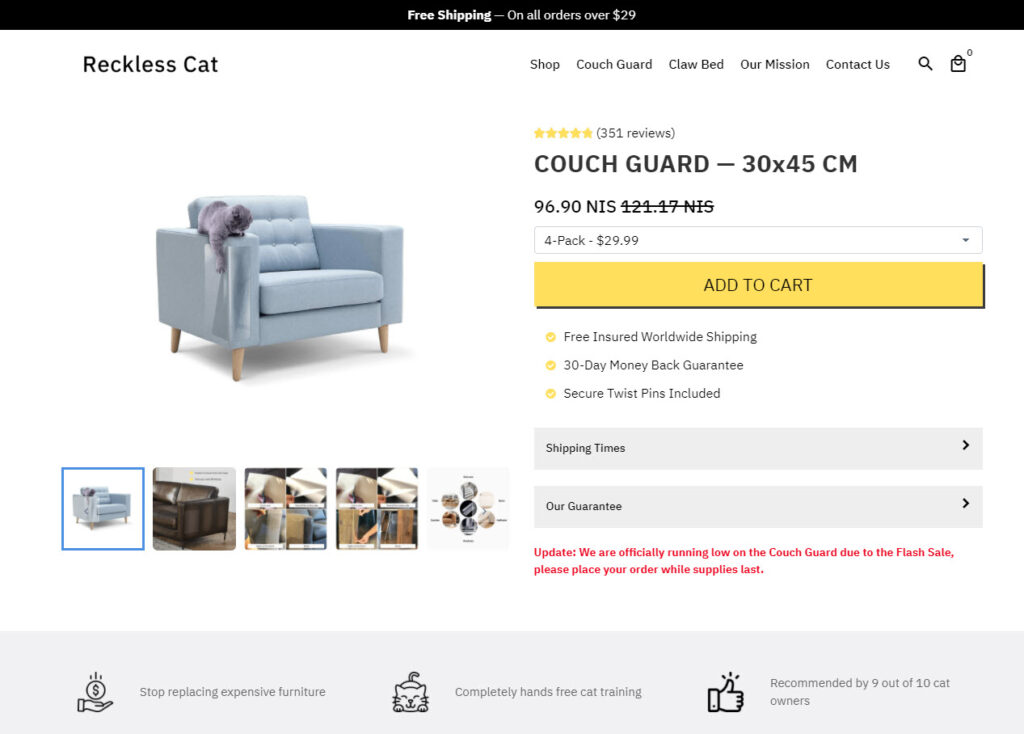 This is probably one of the best product pages I have seen so far… I think they're using a special premium theme that allows you to customize a product page to look like a one-product store.
This look right here is exactly how a one-product store looks like when you visit it: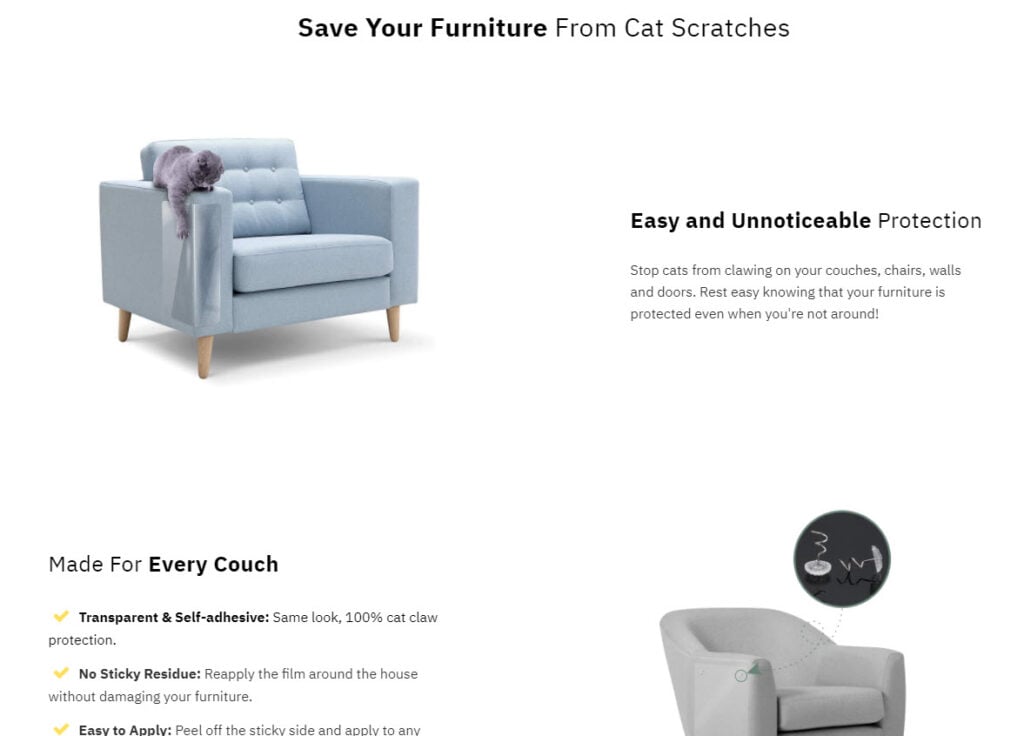 You have pictures from left & right side with a description on them, and more than 1 button that will lead you to the checkout. You also have really nice GIFs that show you how the product works, and even a well designed bundle deal.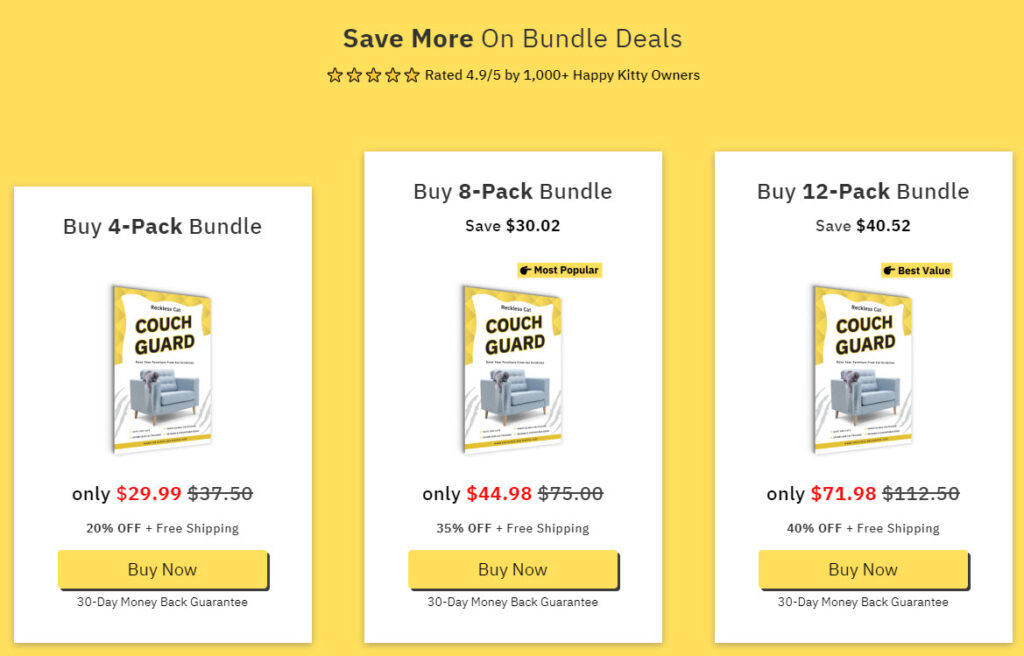 Now that I think about it, it's probably a Shopify app that's responsible for this beautiful product page. There are apps on the Shopify App Store that allow you to fully customize and build amazing looking pages to get a better conversion rate.
It's the same as building a landing page on ClickFunnels just on a Shopify store. I wish I could recommend an app to do exactly the same, but I haven't used one so far so I can't recommend any…
You can search for yourselves on the app store by typing "landing page" and trying out one of the apps with the best reviews if you really want too.
But this isn't really necessary in the early stages because you can still get a really good conversion rate with a regular product page if you do it correctly.
And just before the reviews, they add these awesome pictures: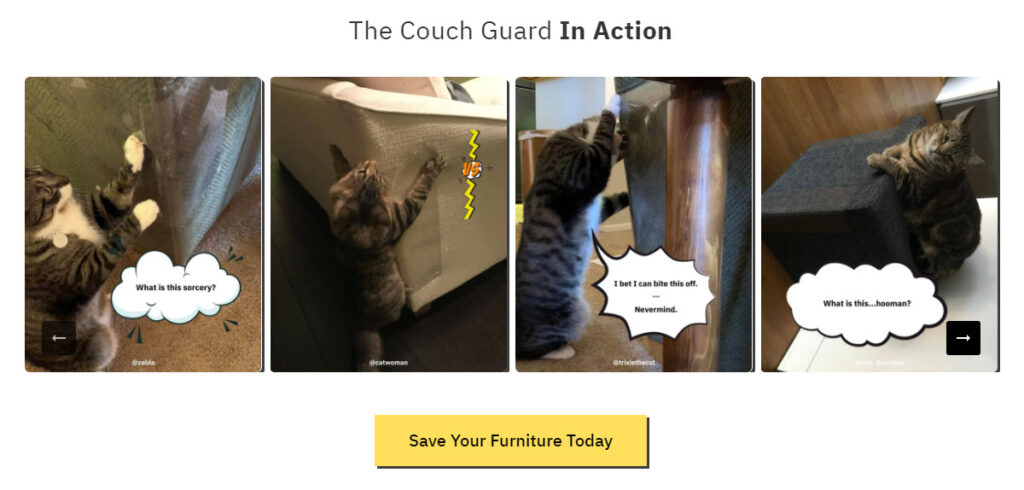 I absolutely LOVE what they've done with this store!
The reviews: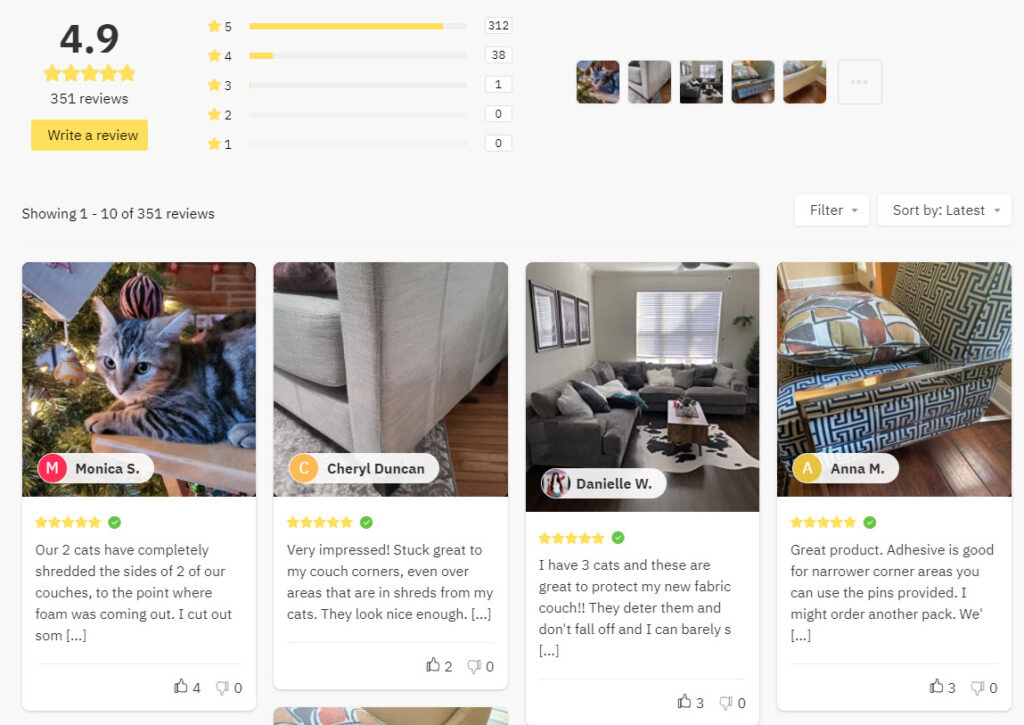 Plenty of 5 & 4 star reviews with great pictures, and great texts in them. No typos and no auto-translated English from Chinese, this is exactly how a review section should look like!
Final score: 10/10:
Their product page is the best one I have seen so far. They have everything you need from your regular guarantees & shipping times, to excellent reviews and bundle deals.
And they also focus solely on this one product and don't recommend any other random products which can cause some of the customers to lose focus and get out without buying a thing.
This one mistake is done by almost every store I review but not on this one – Perfect!
4. Checkout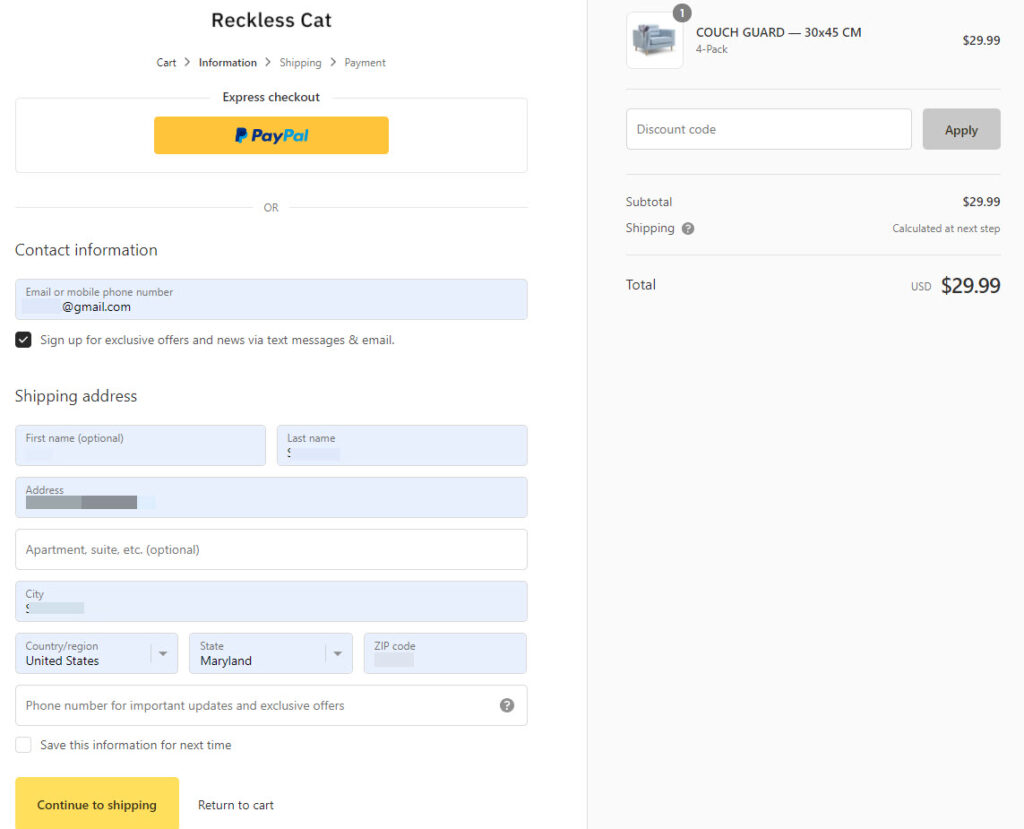 The one thing I don't understand here is why such a good looking store doesn't have a normal looking logo… Reckless cat is a really cool domain name and I'm sure you can create a really cute looking logo around it.
I bet not having a cute logo doesn't hurt their sales too much, but it's always recommended to have one. At least on the checkout page where you can attach to it some extra trust badges to make the checkout page look more professional.
It looks like they use SMS marketing(or at least plan to use it in the future) as well because of this message right below the "Continue to Shipping" button: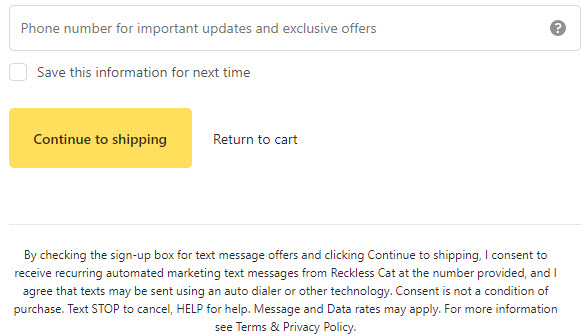 And even with that, they still allow to checkout without entering a phone number. It's critical because some people don't like giving their phone numbers and can leave without buying anything if they are forced to do that.
Their only mistake is that they forgot to mention this is optional… Other than that, everything else looks good!
Shipping: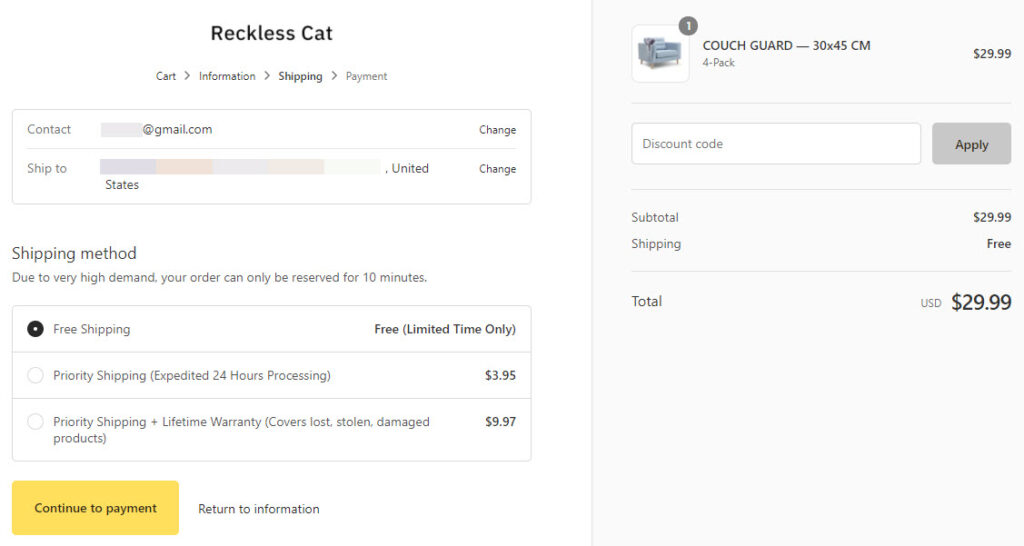 Almost perfect!
First of all, I really liked the fact their Free Shipping is advertised as "Limited Time Only". A great scarcity and honestly I'll be using that in my stores as well. I usually go with something like "Free Insured Shipping", but I like this one better 🙂
They offer 2 more extra options for an additional price and they actually explain what each option gives you. I reviewed so many stores by now and on almost all of them there was no explanation at all for the other options.
These guys did their homework!
Still, there's one thing I don't really like and it's the third option… You, as a store owner, are expected to cover the cost of your goods if something goes wrong.
If the product is damaged or lost, your customers should get a full refund or a new product shipped to them. This lifetime warranty can scare some of the customers away because they now know that you are not going to be held responsible at all.
So some of the customers might think this $9.97 warranty & shipping option isn't really optional and they can leave the store without buying anything.
If it was just Priority Shipping, then that's ok. But the warranty ruins the experience a bit… (especially when the product is pretty cheap)
Payment page: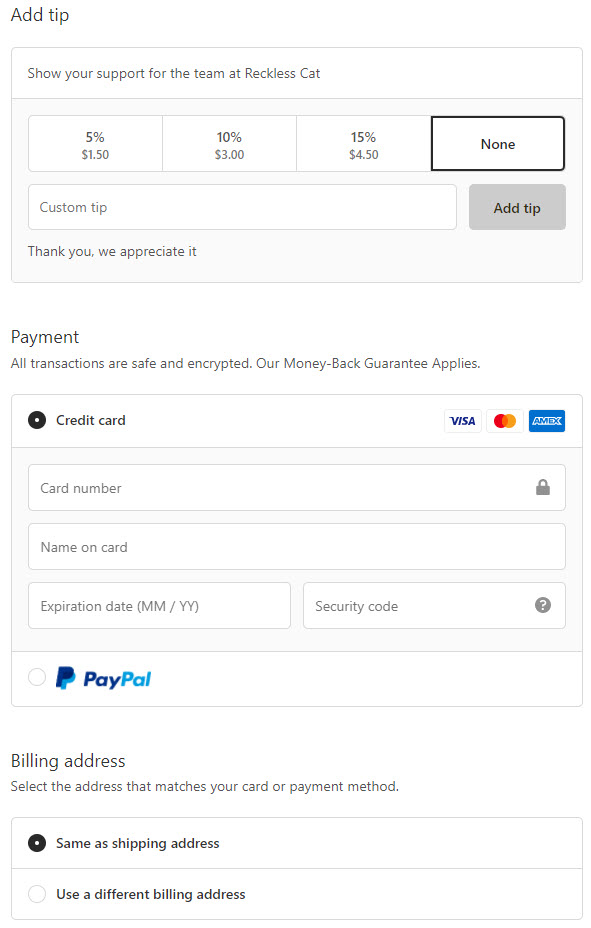 Nothing wrong with the payment page except for the custom tip table… Is this a new trend I didn't heard about, because it's on every 2nd store I review and I don't like it at all.
Like I said before, I don't think there's a room to ask for tips when you're a just regular dropshipping store that sells random products.
If this was a special handmade product then I understand, but this is just a regular scratch couch guard so all it can do is irritate some of your customers.
Think about it:
A minute ago, your customers were thinking about getting a $10 warranty because they understood that you're not responsible if anything happens. And now, on top of it all, you are asking for a tip?
You may lose a customer or two because of that.
5. Sale Strategy
The product cost on Aliexpress is about $12 including shipping for x4 30×45(cm) couch guard pieces. The store is selling the 4-pack for $29.99 including shipping which is a great price and it's probably the price I would charge as well.
I like that they don't offer a smaller size(15x30cm) and just go with the bigger size instead. It's a good idea because it's one less thing to think about and you can always cut it down to the size you need.
So offering only the bigger size is a really good idea and you should also stick to that.
Bundles:
Quantity discounts are a must!
Follow the same strategy as this store, though you can charge a bit more for the 8 & 12 pack. You can try selling the 8 pack for $49.99 and the 12 pack for $79.99.
Don't offer anything else other than this product. No random upsells/bundles, just focus on this product and later you can sell them more cat stuff if this goes well for you.
To Sum It Up:
This product is a must have for cat owners! You have a HUGE audience you can target on Facebook, so just create a good ad around this product, make your product page look good, and you should have no problem selling this product!
And if you're looking for targeting tips, make sure to check out my old article where I suggested some targeting options you can use for your own campaigns.
Good luck!
Struggling to find good products to sell? Not sure who's your target audience? Tired of losing money on products you were sure were "winners"?
Then Ecomhunt is what you need! Find hot winning products that are added daily, spy on their ads & stores and import them into your store in 1 click and Start Selling Today!
Must Read Articles: