One of things you need to have for a successful dropshipping business is a great looking store. A great logo with some nice banners and pictures will make your store standout and look professional, but this doesn't mean you have to go "All in" and spend top dollar for a few designs.
Having a great looking store is only a small part of what you actually need to achieve success in this field. You'll need to pay for your apps, Shopify's subscription, traffic, ads, and for more stuff along the way.
This is why you need to play it smart and not spend hundreds or even thousands of dollars on design for a new store that didn't even bring a single sale…
In this week's article, I'll help you with getting the needed designs for free or for almost no money at all so you have enough money left to continue with your dropshipping journey.

1. The Banners

When it comes to banners, I see ABSOLUTELY no reason to pay for it when you have so many free pictures available to use. You have free images for almost any category out there so there's really no need to go out of your way and order banner designs for hundreds of dollars.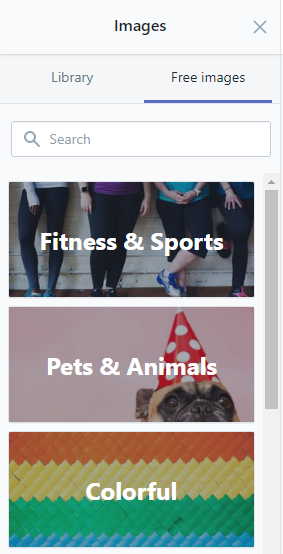 You can access these when you try to upload a new picture for your banner. Simply click on "Free images" tab and find the one that suits you best. As you can see in the first picture above, this "for her" banner looks absolutely good and on mobile it looks absolutely stunning.
Another reason to why you should not pay for any banner designs is that in most cases we send traffic straight to the product page. The product page doesn't have any banners displayed and all the customer sees are the logo, product pictures, and the description + reviews. The next step is for the customer to click on the add to cart button and he will go to the cart page and hopefully complete the checkout process.
When I send a customer to a product page I expect him to add the product to his cart and buy my product. And in most cases, this is exactly what happens… So when creating a store I don't give too much attention to my front page and just keep it decent.
When should I give more attention to my front page?
If you drive traffic straight to your front page – Some people are using Influencers and some promote their store on Instagram so in this case, the customer is always going to land on the front page. This is a situation that requires more work on the front page and investing a bit more than usual on the design will be a smart move.
If your store is doing great – A simple general dropshipping store can turn into a money machine if you know what you're doing. So, in this case, upgrading your store and making it look more professional will only help your business.
2. The Logo

Unlike the banners, the logo is going to appear everywhere on your Shopify store. Customers will see from the moment they visit your store to the last step of the checkout process. This means we need to give more attention to the logo and make sure it looks good. But again, it doesn't mean we have to spend hundreds and even thousands on a single logo…
I have no idea where it comes from, but a lot of store owners, especially the new ones, think that the logo is what is going to bring them sales. They spend way too much time on the logo, sometimes ordering dozens of samples from different designers till they get the one they like.
I find it VERY WRONG because how can you spend so much time & money when you didn't bring a single visitor to your store? Driving traffic and testing products is much more important, but for some reason many dropshippers spend less time on that than on the logo.
So to make it clear and to save you money, I'll give you some personal tips about Logo design:
Have a clear picture of a logo before you order one – Don't just blindly order a logo design! A designer isn't a mind reader and there's a big chance he will deliver something totally different from what you pictured in your head. Do some research and check for logos in your niche. This will give you some ideas about how you want your logo to look, and only then get a designer to make it for you.
Don't overpay(especially if you're a beginner) – I never paid more than $50 for a logo and in most cases, it was about $30 in average which is a good and fair price. You're not in a position to afford paying hundreds of dollars for a single logo.
Know your colors – Imagine how your store will look like and even test in the theme editor. If you picture your store color theme with a lot of black, a white&black logo won't fit. Decide on the colors before you place your order.
Note:
The tips and the suggestions here are mostly for beginners to not spend more than they're capable of. If you have a successful store or you're building a store for a big brand, then a big investment is, of course, needed.
3. The Theme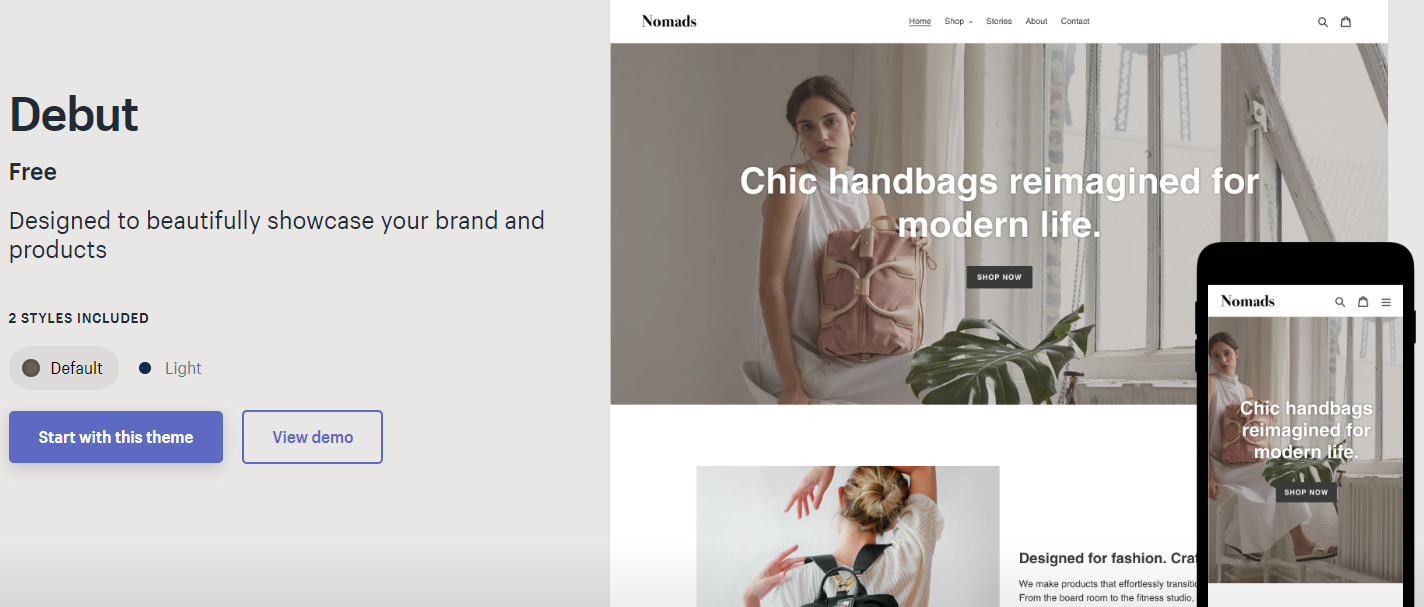 A free Shopify theme is more than enough – Almost every store we own had used and still uses a free theme. You will get the same clean look and have almost all the features a paid theme has so there's no real reason to pick the premium one.
But some of you are going to say "But Daniel, the premium themes on Shopify look way better than the free ones… How come you say they have almost he same look?".
The answer to that is pretty simple:
Yes, the premium theme does look better and more professional but that's true for the desktop version. On mobile, both free and premium themes have almost the same look because you don't have that much space to play with. And when most traffic today comes from mobile, I don't see a reason to get a premium theme only for the desktop users.
So this is why I always recommend using free themes instead of paid ones.
Take a look at Kylie cosmetics Shopify Store: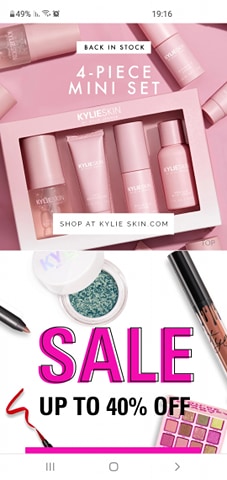 On first look, it may seem like she's using some super premium theme with tons of custom coding but this isn't the case. It's a premium theme alright but all she has are beautifully designed banners with buttons on them. You can do exactly the same on a free theme like Debut.
The only thing you can't have is the product slider which is a feature available only to premium themes. Same goes with the Instagram display feature but she doesn't use that on her store at all.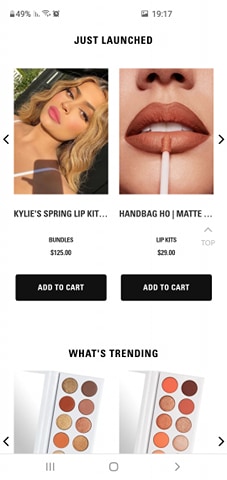 This product slider or the Instagram display isn't what will bring me to buy a premium theme and I hope it's the same for you now. I just wanted to show that if given enough time, I can almost replicate her entire store while using a totally free theme.
Where Do I Create A Logo Or Find A Designer?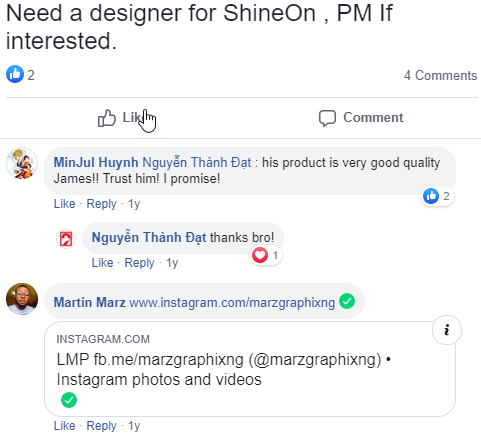 You don't have to look much to find a good designer to make you a logo. You can find many of them on various POD(Print on Demand) groups like Teespring, Gearbubble, Shineon, etc, and they won't charge you too much for a logo. I believe it will be a minimum of $15 to a maximum of $40 for a single logo with unlimited revisions.
And trust me, these designers are no less talented than the ones found on those "hire a professional" websites. The only difference will be the amount of money you will pay… Instead of paying $40, you'll end up paying $250.
Here's a quick example of one of the messages I received when I asked for a logo design on Reddit:

I bet he's a good guy and a professional designer but I would only approach this guy if I was designing a store for a real, big, money making machine store. For a new dropshipping store that just popped up, I see no reason to spend so much money.
And how much of a difference there would be between this designer and the one I hired for $35? It's not like the $450 logo is going to make my customers all itchy to spend their money buying all my stock. Most of them can't tell a difference between a professional $5,000 logo and one that was create for $35.
Another way is to use websites like Placeit which have logo generators:
You can edit them live till you stumble upon a variation you like then just buy it from that website. On Placeit it should be about $20 if you have a membership and on other websites it probably costs a bit more, but nowhere near the price you will pay by hiring a professional designer.
And in the end, the logo created on Placeit work just fine. We have a general store using one of Placeit's logo and we have absolutely no problem getting sales.
To Sum It Up:
I hope this article will put an end to the endless questions about store design and how much one should spend. If you follow the tips in this article, you'll be able to save a lot of money and use what you save on the important stuff like ads and getting traffic.
Good Luck!
Struggling to find good products to sell? Not sure who's your target audience? Tired of losing money on products you were sure were "winners"?
Then Ecomhunt is what you need! Find hot winning products that are added daily, spy on their ads & stores and import them into your store in 1 click and Start Selling Today!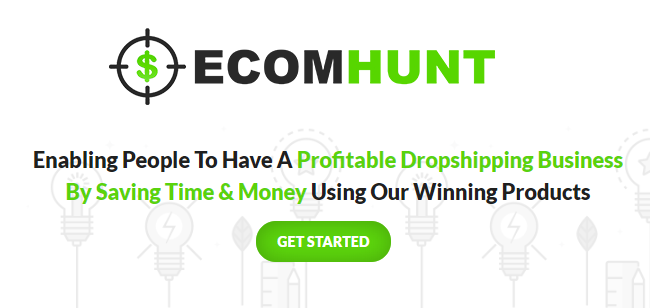 Must Read Articles: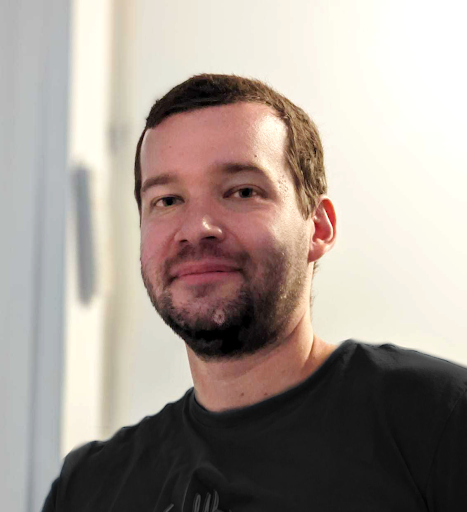 Daniel Aloni is one of the leading mentors in the Ecomhunt family. Daniel is a highly experienced Print On Demand seller with multiple 6 figures successful launches.