It's probably one of the first issues new dropshippers face and that's if they should just open a general store or a niche store. Some may feel like a niche store would allow them to better express themselves and they connect to it more, but even with that it's always better to start with a general store.
In this week's article, I'm going to show you why it's much better to start with a general store and how this decision will save you a lot of time & money.


1. Building A General Store Requires Much Less Time
I can build a general store that's ready to receive traffic in less than 3 hours. This store will have about 3-5 products, a good looking logo, and it will be optimized so I don't have to worry about not getting sales due to technical issues. But if you ask me to build a niche store, then it's a whole different story and it will take me about a day or two to complete.
If you're building a niche store, you have to focus more on choosing the right domain name – It took about 10 minutes for me to find a good .com domain name for my general store. When for a niche store, finding the right domain name can take some time…
It's a lot easier to create a logo for a general store than a niche store – I used Placeit to create the logo for my general store but I won't use it if I need a logo for a niche store. If I need a logo for a niche store, I use a designer for it and give him some pointers(The pointers are usually logos from competitors I liked).
It's much easier to find products to sell on a general store – There's no need to look only for niche specific products. If there's a product on Ecomhunt or somewhere else that's doing well, I can quickly list it on my store and sell it. Sometimes dropshippers that start from a niche store are missing a lot of money just because the product isn't connected to their niche.
I better build a general store in 3 hours and focus the rest of my time on the ads for the products I'm going to sell. This will give me a much better chance of actually making sales than focusing all that time on choosing the right banner for my niche store.
2. Building A General Store Is Cheaper
When creating a general store, All I basically need is a logo and sometimes some banners. For both the logo and the banners, there's no need for me to hire a designer. The logo is usually created on Placeit which is free with my subscription and for the banners I just use the free ones. If it's for a niche store, I usually hire a designer and I invest at least $100 or even more for my store design.
$100 isn't much but when you're a beginner and have no experience in dropshipping, every cent matters! Customers are not going to buy from your store because of your beautiful logo and banners. You better spend this money to make a better ad or to test a different audience.
And what about Shopify's monthly subscription and all the app costs?
Shopify's monthly cost + apps can easily get to $70 or even $100 a month but if you can quickly create your store, then the first weeks are almost free. So for the first few weeks, they only money you're going to spend will be to drive traffic. Again, $70 isn't much but it adds up… As a beginner, you should look for anyway to save your money 😉
3. A General Store Is Much More Flexible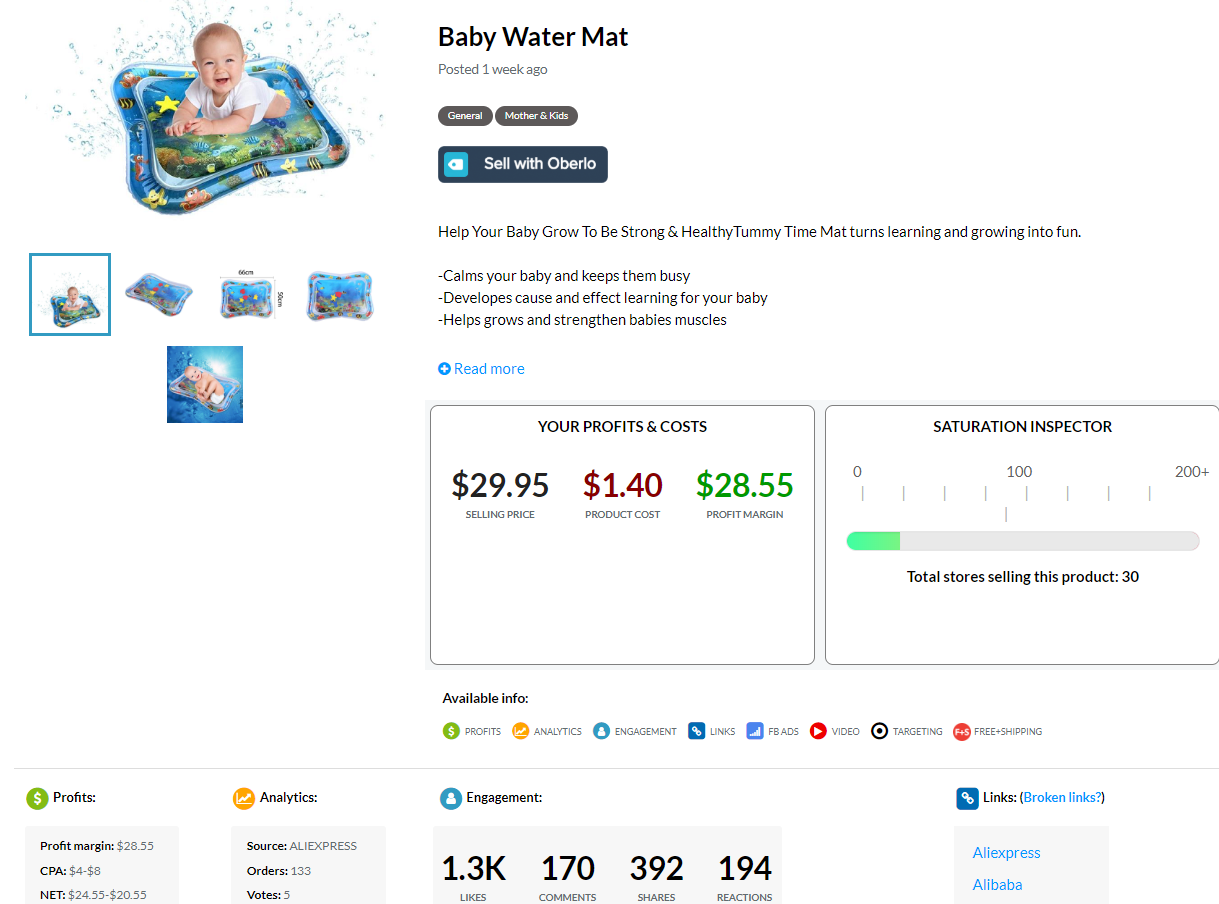 Take a look at this Baby water mat product on Ecomhunt – This product was posted on Ecomhunt about a week ago and it's a product I would definitely try! It had 1.3k likes and 170 comments when it was first posted and since then it gained a lot more engagement: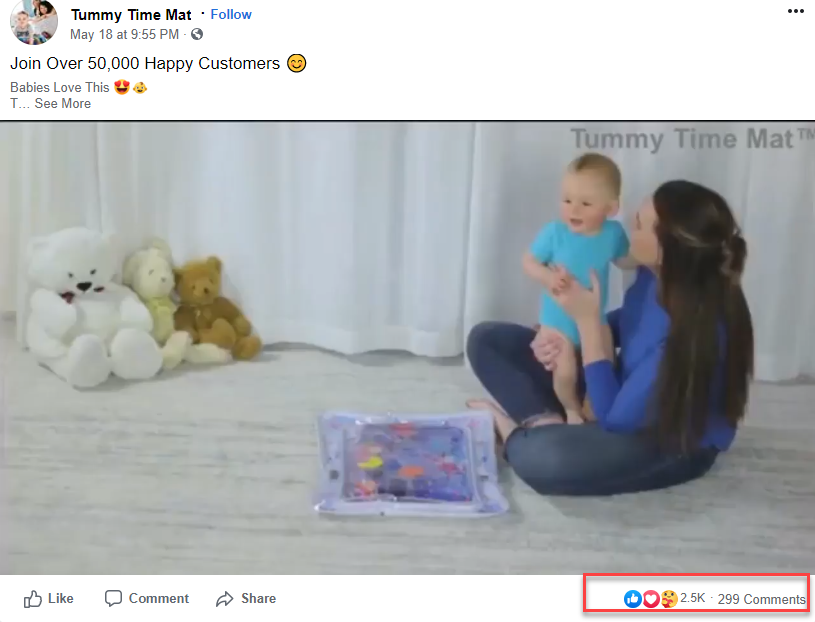 This product is definitely making sales!
I, as a general store owner, would have absolutely no problem to quickly import this product to my store and start focusing on the ads I'm going to run. But if I had a niche store, let's say a cat niche store, then there's no chance I could sell this product.
It will be strange to sell this baby product from a pet niche store… So in most cases, the dropshippers with a niche store just ignore this wonderful product and continue with their niche store. This product can be a real winner which will make 6-figures and you will miss it only because you're too focused on your niche store.
And if one of the products on your general store sells well, you don't have to run and create a new niche store around it – You can simply convert your already existing general store into a niche store.
You can even keep the same domain and slowly add more related products to the one that actually sells. This will save you a lot of time and money instead of creating a new store from scratch and paying the regular monthly Shopify fees + Apps.
Trust me, when you're a new dropshipper, every cent counts! You may look at my suggestions and say "what's the problem of creating another store, it's only $70/month with apps", but in the end everything adds up and you may find yourself unable to continue because you're short on cash.
4. There Are More Opportunities To Make Money With A General Store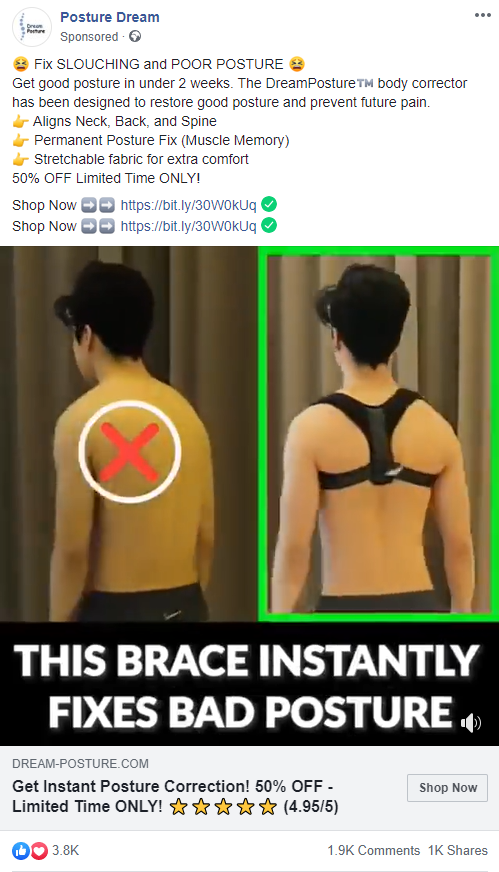 Political statements, worldwide events, Presidential tweets, etc, are all opportunities to make money from. During COVID-19 outbreak when everyone was sitting at home, this posture corrector product that sold really well in the past made a HUGE comeback. The original seller realized that people are spending a lot more time now in front of the screens so this posture corrector can be sold again.
Now if you were quick enough to spot this product when it only started to explode, you could easily import it to your general store to sell it too. You don't need to think about any special logo or design… You just need to import this product, make some video ads, and launch it to make sales while it's still HOT!
Remember the COVFEFE tweet by Donald Trump? This was a really strange tweet by the US President that went super viral almost instantly. Most people just laughed and talked about it, but some sellers who were fast enough designed Covfefe mugs, t-shirts, and made bank! Those with general stores simply installed one of the available POD(Print-on-Demand) Shopify apps and quickly turned this tweet into hot selling merchandise.
These are just some quick examples of past opportunities that made people huge amounts of money.
To Sum It Up:
Even if you have a deep connection to a certain niche, it's still risky to start from a niche store and not a general store. Especially if you're a beginner… There are so many opportunities to make good money but those who usually succeed are people with more flexibility than others.
Don't just sit on that "Pet niche" store of yours and ignore the hot selling products all around you – If you want to make money by dropshipping, you have to be creative and look for money making opportunities!
Good luck 🙂
Struggling to find good products to sell? Not sure who's your target audience? Tired of losing money on products you were sure were "winners"?
Then Ecomhunt is what you need! Find hot winning products that are added daily, spy on their ads & stores and import them into your store in 1 click and Start Selling Today!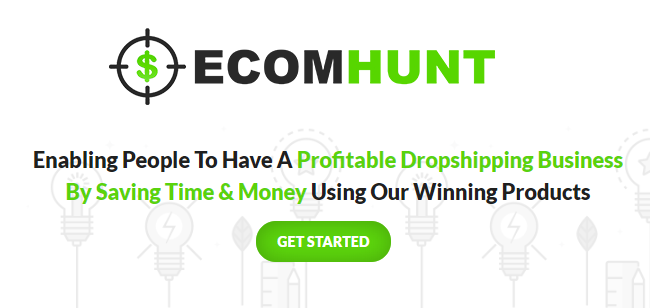 Must Read Articles: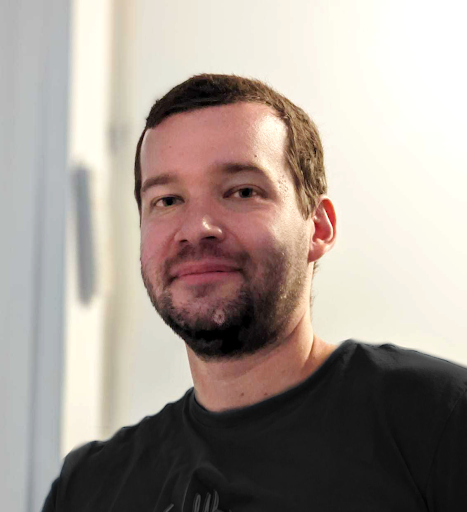 Daniel Aloni is one of the leading mentors in the Ecomhunt family. Daniel is a highly experienced Print On Demand seller with multiple 6 figures successful launches.