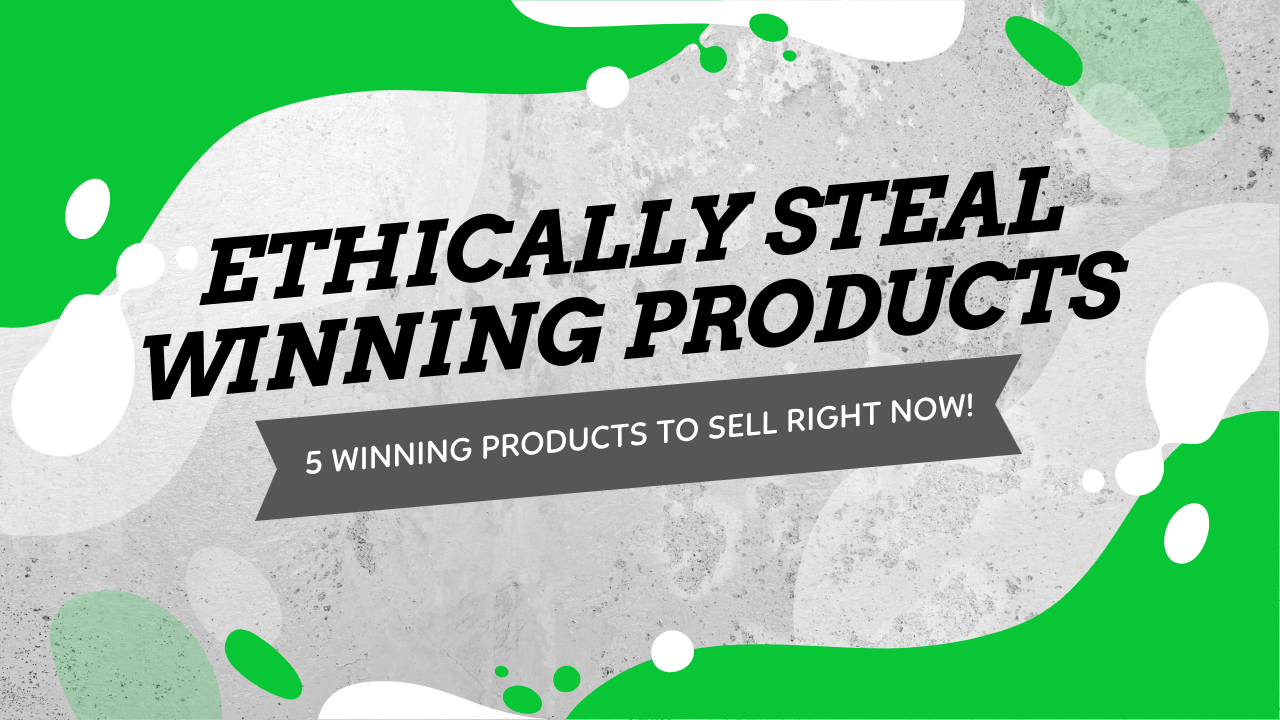 One of the most popular mistakes dropshippers who use Ecomhunt do is to avoid old pages thinking the products there are "saturated". Thinking if a product did 6 or even 7 figures in the past, it can't sell again…
This is where you're wrong because for other successful dropshippers, the old pages at Ecomhunt are a GOLD MINE!
How come a product that made 6 figures in the past is picked again by a famous Youtube dropshipper and he makes almost $1 million in sales? About 4-5 months after that, I personally see the same exact product in Facebook with crazy engagement and it made again at least 6 figures in sales.
Was there any special trick? Are they in anyway smarter than the rest of us? The answer is NO.
They simply know one simple fact which is a product that sold once, can sell again! And your success depends on how creative are you and how much time and effort you're willing to invest. Creating a new ad, testing different countries, testing different ad creatives(not just videos!!), thinking of a new marketing plan, all of these are your way to take an existing product that was selling well in the past and sell it again.
In this article, I personally picked 5 products from Ecomhunt I believe can sell again. These are not randomly picked and behind each product selection there's a good and logical reason 😉
On top of that, for each product there's 2 detailed targeting suggestions with examples and some tips you will find very useful.
Hope you'll like this week's article!

1. USB Powered LED Mosquito Killer Lamp

We're officially after Winter and we'll soon enter into the Mosquito season – This means that people are going to be looking like crazy for mosquito repellent products. It can be anything from oils/creams for the body to physical devices such as this LED mosquito killer lamp.
The mosquito season in the USA starts in around mid-April or early May which gives us plenty of time to prepare a good ad and ad strategy.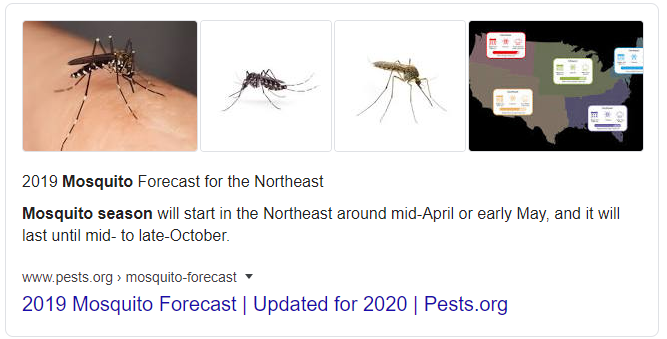 Note: This is a forecast for 2019 but it should be almost identical for 2020.
Targeting & Strategy:
The first thing that comes into my mind is to type some mosquito related interests and just go with it… But I think this is what most people will do so after a bit of thinking, I have the perfect targeting suggestions for you.
Parents with small children – Every parents knows how much their kids struggle from mosquito bites so this will be our first targeting choice. When preparing the ad, address the parents and show them mosquito bites on kids and how dangerous and painful it can be. Make them open their wallet and pay you by addressing this issue!
States affected the most with mosquitoes – If you're targeting USA, search for states with most mosquitoes and if you're targeting other countries, look for cities/regions with most mosquitoes and start with them.
Targeting parents with small children example: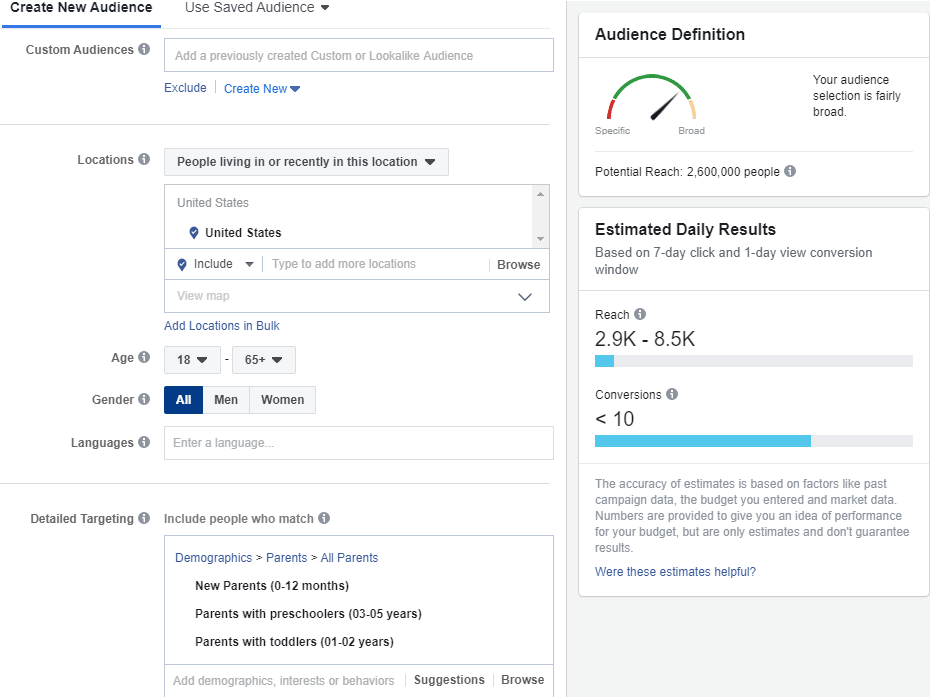 You can leave all the ages as it is or choose men&women up to 40. It won't matter too much 🙂
Targeting states affected the most with mosquitoes: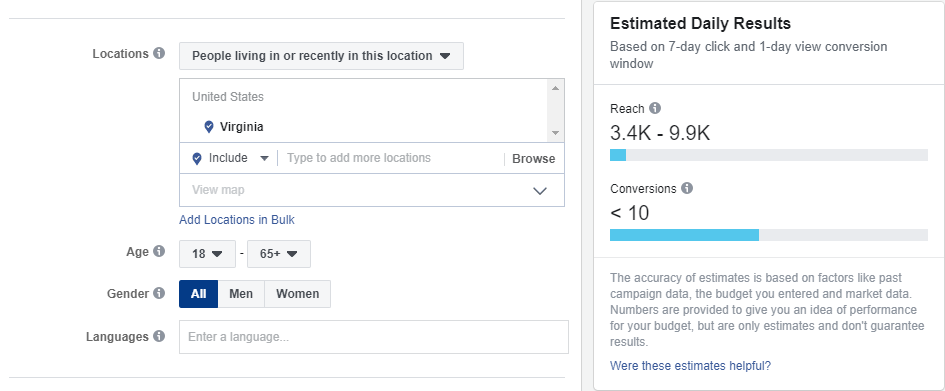 Simple, with no interests. Another option is to target cities like Atlanta where each year there's TONS of mosquitoes and people will really need something to keep them off. You can also combine and target parents who live in Virginia.
Plenty of targeting options – Just be creative and take some time looking for the right audience for the best possible results.
For video ads, aliexpress analytics, influencers, ad engagement, and much more, the mosquito killer LED lamp can be found on Ecomhunt here.
2. Enchanted Rose Flower

A super popular product that can make a comeback again if marketed correctly. This product had some crazy engagement and it was advertised and sold non-stop for a whole year – Just an example of how much money can a single product make!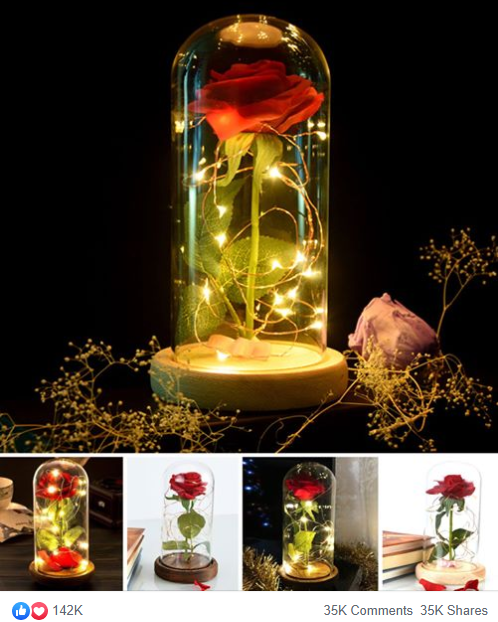 This rose is the perfect gift for a loved one and it can be a wonderful gift for Mother's Day which is a bit more than a month away. To sell this rose, they used a simple 1200×1650 photo ad with some text on top. He took some of the product photos on aliexpress and combined them into this good looking photo ad and just launched his ads.
Note: 1200×1650 ratio isn't supported anymore and it will be cropped – You can use instead a 4:5 ratio photo ad which is 1200×1500.
Targeting & Strategy:
A video ad or even a different photo ad can work really well again and make you sales this Mother's Day! It's important to mention Mother's Day in your ad and use some scarcity tactics to create urgency to get some quick sales.
I would leave my product page as clean as possible and not offer any upsells – This so my customers can complete their checkout as fast as possible without checking any other products. On holidays, your conversion rate can be pretty low and with this product you have enough room to make a good profit. So don't worry too much about your AOV and keep it clean for quick conversions.
So here's my targeting suggestions:
Married men & parents(all) – As simple as that without any special tricks. Just target married men and don't forget to choose parents only.
Married men & Anniversary in 30~60 days – Double up the pressure 😉 Not only it's soon Mother's Day and they need to find a gift, but it's also their anniversary so finding a good gift is a must! Trust me, these men are prepared to spend their money on the first gift that stops them from scrolling on Facebook.
Married men & parents(all) targeting: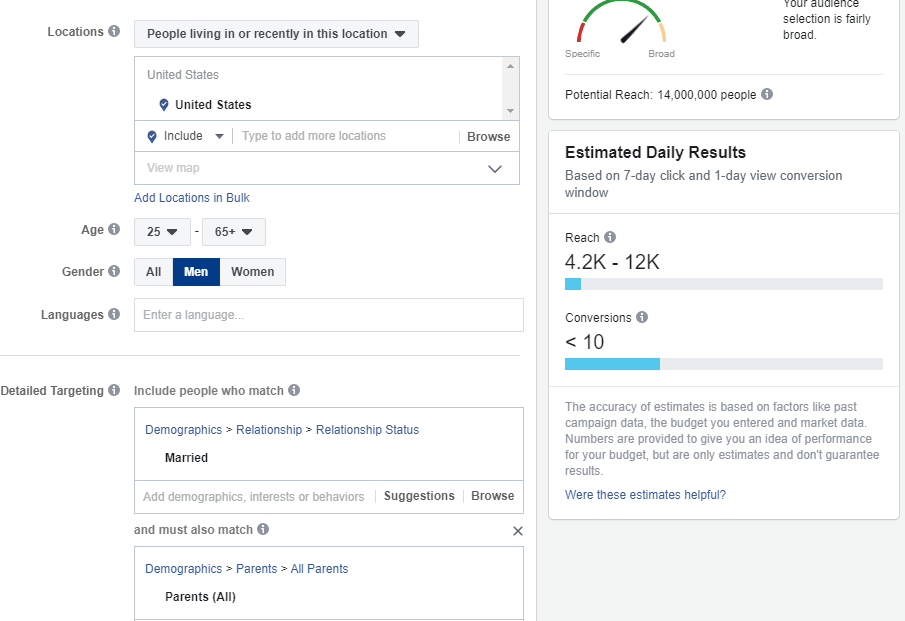 Married men & Anniversary in 30~60 days targeting: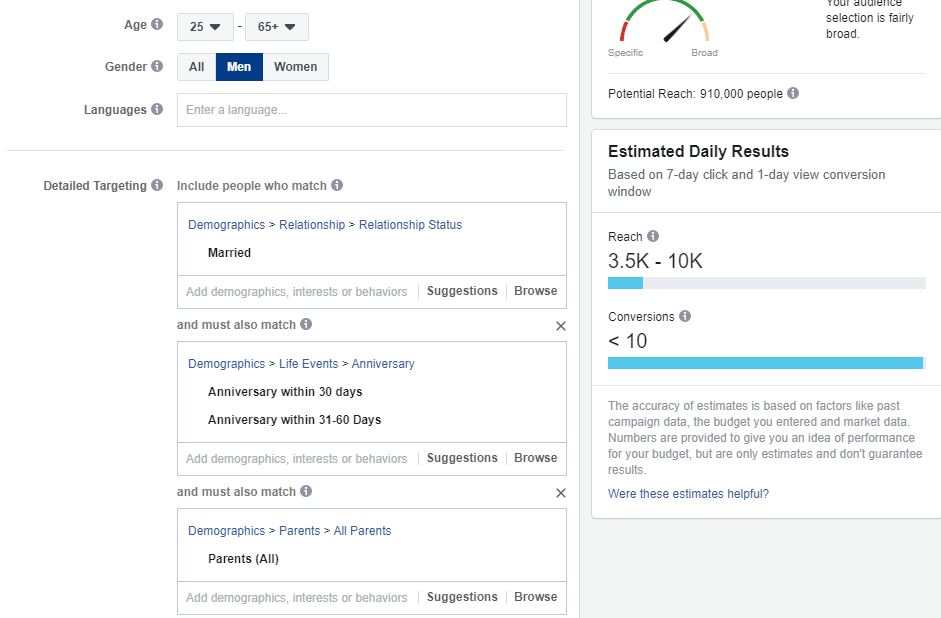 Remember that there's a lot of parents on Facebook that you will miss if you only choose to target parents(all). This is due to not enough information collected by Facebook, privacy settings, and other reasons.
So if you're testing this or a similar product for Mother's Day, make sure to also check and target all the married men without any additional interests.
For video ads, aliexpress analytics, influencers, ad engagement, and much more, the Enchanted Rose Flower can be found on Ecomhunt here.
3. Premium Car Organizer

It's no secret that men LOVE their cars and this premium organizer can be a really cool gift! This product exploded on Facebook 2 years ago and nothing stops you from selling this or similar product again.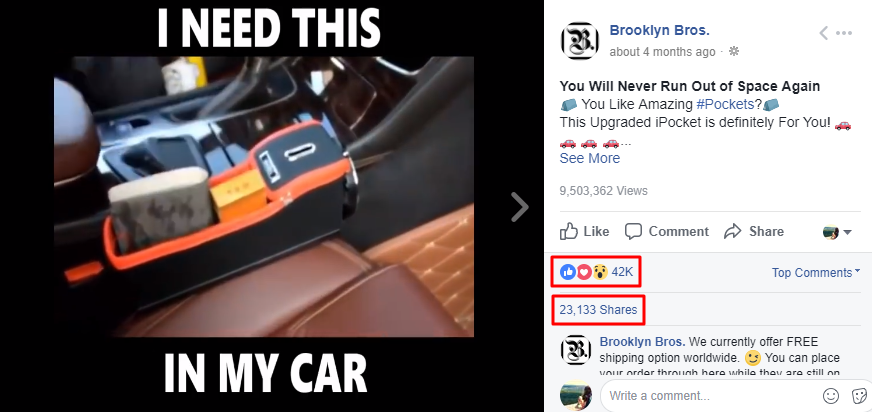 Targeting & Strategy:
They took the video from the aliexpress seller's page and just added some text with no special tricks at all. This won't work again if you just copy their ad strategy(or maybe I'm wrong?) so make sure to take your time to prepare a good looking video ad.
A photo ad is possible too but there are many features to this product and I can't imagine a video ad will work as well as a video ad in this case. It's not the same as with the Enchanted rose flower product above…
You can advertise it for men with new cars OR sell it as a gift for Father's Day – Yes, Father's Day is only in June but time goes really fast so it's exactly the time to prepare everything! Once we're in mid-April, you can launch your Father's Day ads.
My targeting suggestions:
Men with popular family car brands – I think this product can sit well in popular family car brands. I searched a bit in google and found out which brands I should pick.
Married women & Parents(all) – Advertising this product for women to buy it as a gift for their husbands on Father's Day.
Men with popular family car brands targeting: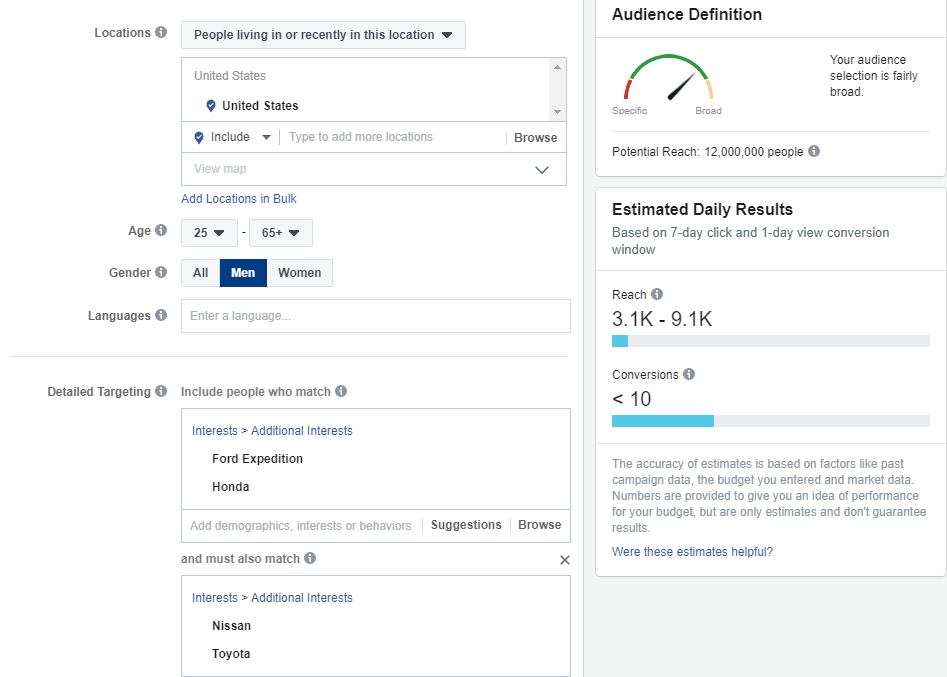 Married women & Parents(all) targeting: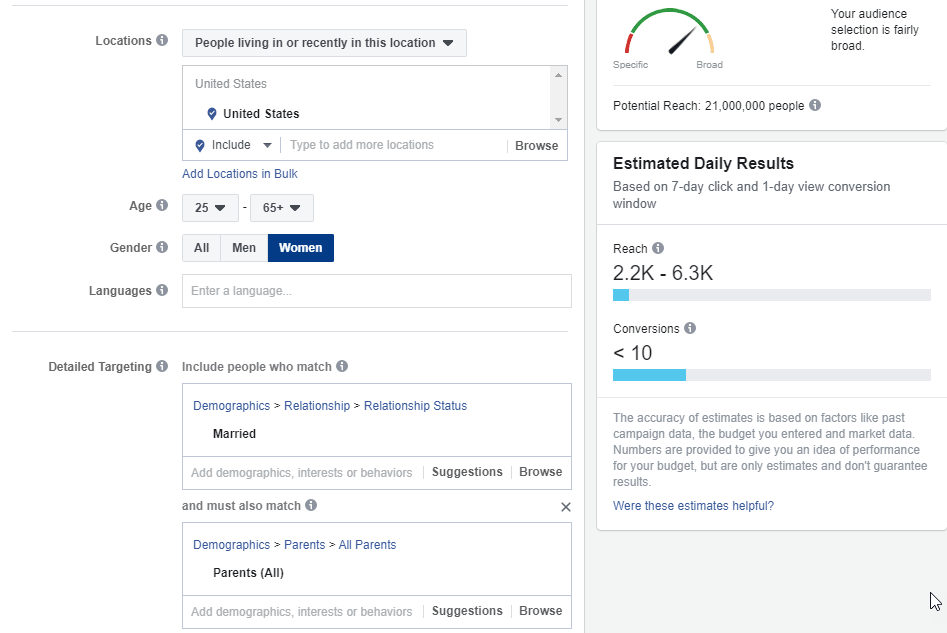 For video ads, aliexpress analytics, influencers, ad engagement, and much more, the Premium Car Organizer can be found on Ecomhunt here.
4. Kids Electric Water Spray Toy

A lot of parents right now are looking for something to keep their kids busy during this virus outbreak and this toy right here is can really help them out – You can start selling it right now and sales should increase during the summer when all water related toys are flying off the shelves!
Targeting & Strategy:
The video ad they used is showing the product in action with no text at all, only music. For this type of product, the ad presented is "okayish" but I suggest you upgrade it and add some texts, effects, and maybe new footage.
Use the whole virus situation and talk to the parents who are looking for something to occupy their children at home! Be creative, let them know this toy is going to make their life easier during these hard times 😉
My targeting suggestions:
Parents with small kids – Just target men&women with kids aged 3-8.
Grownups & Toy interests – Target everyone from the age of 28 or 30 till 65+ and add some toy interests. Maybe there's a grandma who's looking to buy a toy for her grandkid.
Parents with small kids targeting: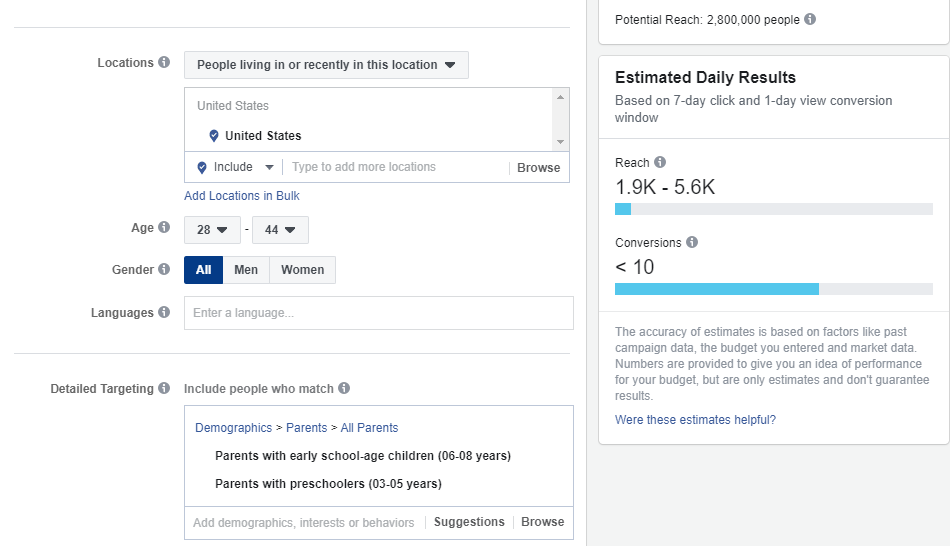 Grownups & Toy interests targeting: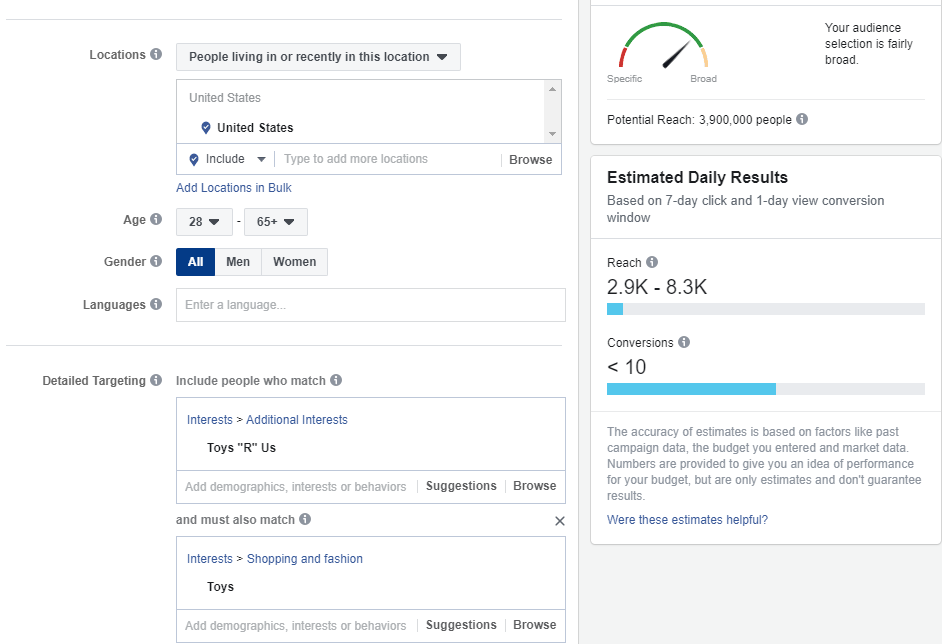 This toy made some pretty good sales on the Christmas ad I found on Ecomhunt but I believe this wasn't the right time for this product. Like I said, water type toys are best sellers when it isn't too cold outside so that wasn't the best product choice for Christmas time.
For video ads, aliexpress analytics, influencers, ad engagement, and much more, the Kids Electric Water Spray Toy can be found on Ecomhunt here.
5. Sushi Perfect Magic Roll Maker

This amazing tool is something sushi lovers will absolutely LOVE! They can prepare the perfect sushi rolls with ease, especially now when everyone is sitting at home so it can be really cool to prepare sushi rolls for the family and include the kids to help prepare them too 🙂
This ad too has some of the craziest engagement I've seen on Facebook and I'm sure more of it can be sold! Maybe there's even a better product right now on the market, just sitting there and waiting for the right dropshipper to pop in 😉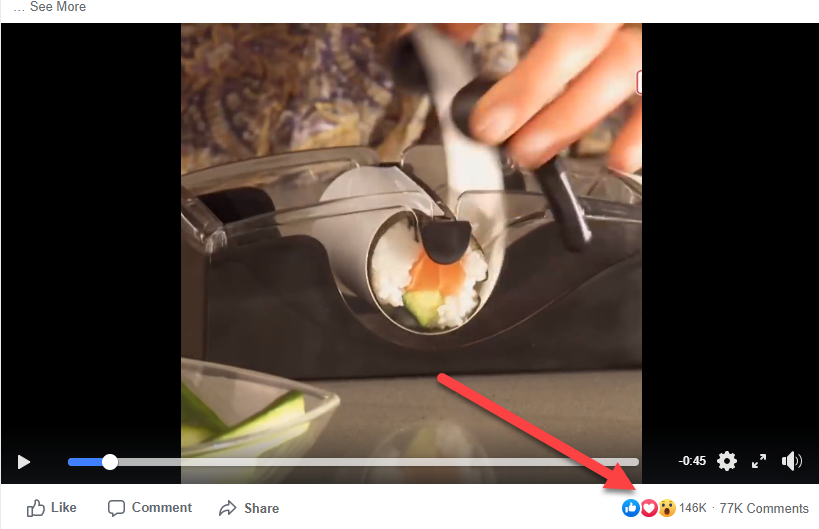 Targeting & Strategy:
Targeting people who love sushi is the most logical choice and it's one of the targeting options we have. To have a better chance of selling this product, I would target parents with small children who love sushi and only women at first. Women tend to love sushi more than men so targeting mothers will probably get me some quick feedback and some good engagement.
So for this to work, it can be cool to show an ad with children making a sushi roll as well and just a happy family eating sushi together. This way, you'll give it a family vibe and it won't be just a sushi machine but also a way to spend some quality time with the family.
The next thing that comes to my mind is to target women in a relationship – I know many couples love preparing food together and this sushi roll maker can be a real hit. Why women? Because the initiative to prepare sushi mostly comes from women 😉
So my targeting suggestions are:
Married women with small children aged 3-12 and who like sushi.
Women in a relationship who like sushi.
Married women with small children aged 3-12 and who like sushi targeting: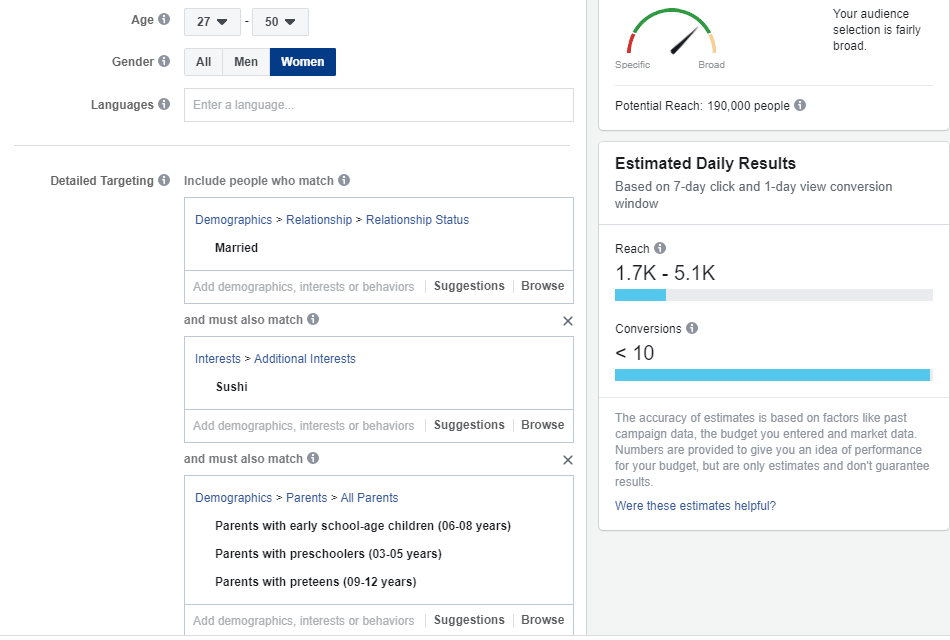 Women in a relationship who like sushi targeting: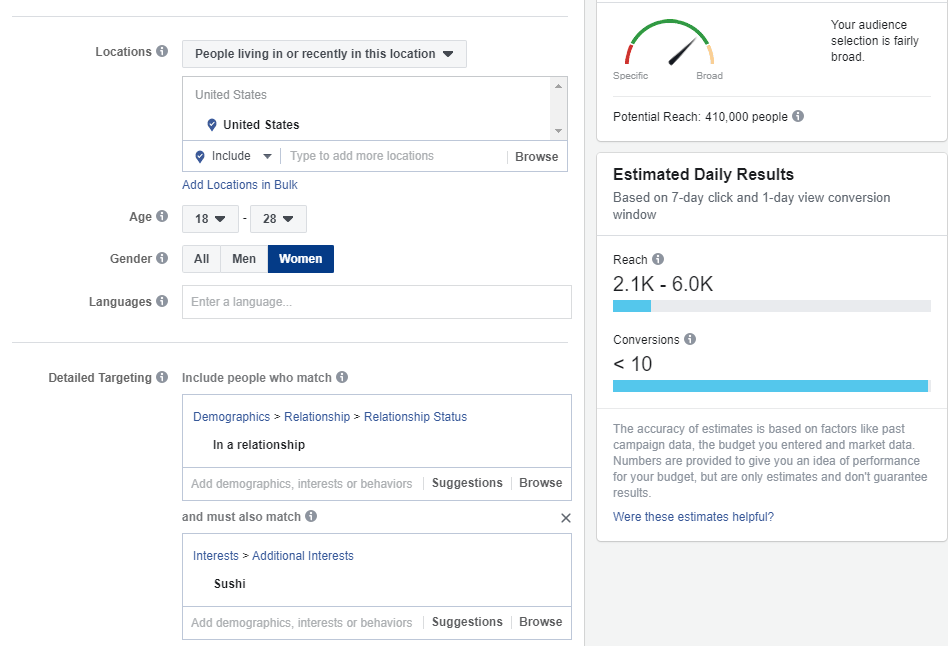 For each audience, use a different ad copy and different video title to catch their attention and stop them from scrolling. This is one of the ways to increase your chances to get sales!
For video ads, aliexpress analytics, influencers, ad engagement, and much more, the Sushi Roll Maker can be found on Ecomhunt here.
To Sum It Up:
In my niche, there's one product I sell each year again and again. It's a seasonal product that made me at least half a million in sales with a good profit margin. How do I still make sales with this one single product? It's simple:
Each time, I spend a lot of time preparing new creatives, new video and photo ads so when the season comes, I have fresh content to display to my audience. If I were to just run the same exact ad I ran for the first time, no chance I could keep making sales the way I get now.
The lesson in this article is to test also the "old" products and to never ignore past winners. A product that sells well in the past, can do the same today!
Hope you liked this week's article and let me know if you have any questions 🙂
Struggling to find good products to sell? Not sure who's your target audience? Tired of losing money on products you were sure were "winners"?
Then Ecomhunt is what you need! Find hot winning products that are added daily, spy on their ads & stores and import them into your store in 1 click and Start Selling Today!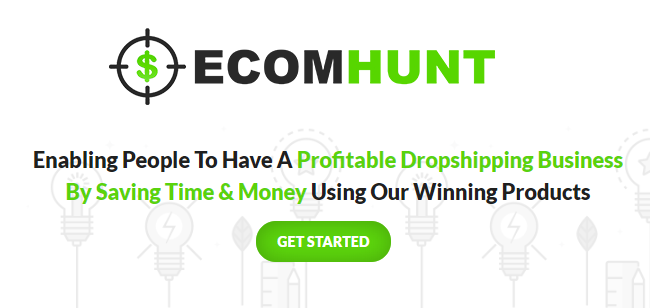 Must Read Articles: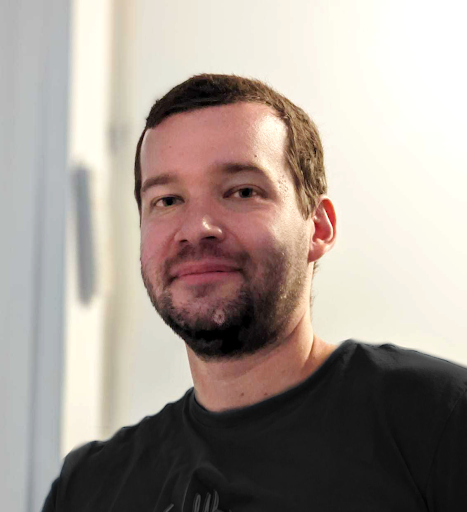 Daniel Aloni is one of the leading mentors in the Ecomhunt family. Daniel is a highly experienced Print On Demand seller with multiple 6 figures successful launches.