This week's products is the zodiac sign gold necklace.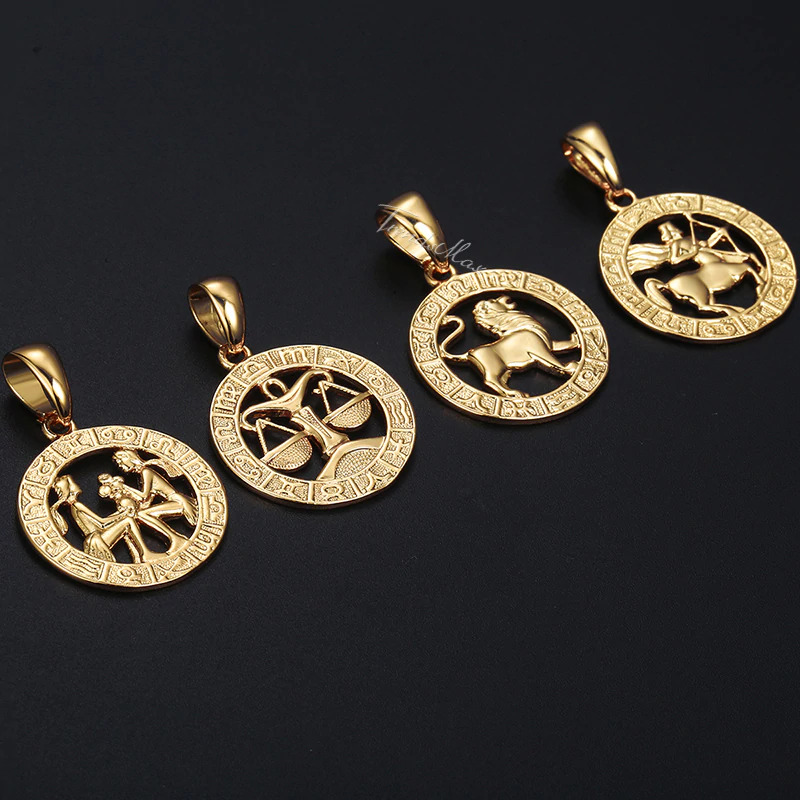 The zodiac sign niche is very lucrative and I'll never forget the crazy POD(print-on-demand) campaigns I saw when I was still a beginner. These zodiac sign necklaces are looking really good and have big potential to sell really well because of Christmas. If it wasn't November right now, I would probably not recommend selling this product. But with Christmas just around the corner, we have a real chance!
We just need to be a bit more creative 😉 So let's jump in and see how can we sell this zodiac necklace with ad examples, selling strategies and more.

1. Campaign Type & Optimization:
I begin with Website Conversion campaign optimised for Purchase. I don't care about having zero data and the red color "warnings". I ALWAYS go with a Website conversion campaign optimised for purchases.
If your ad, targeting and product are good then you will see link clicks followed by actions on your site.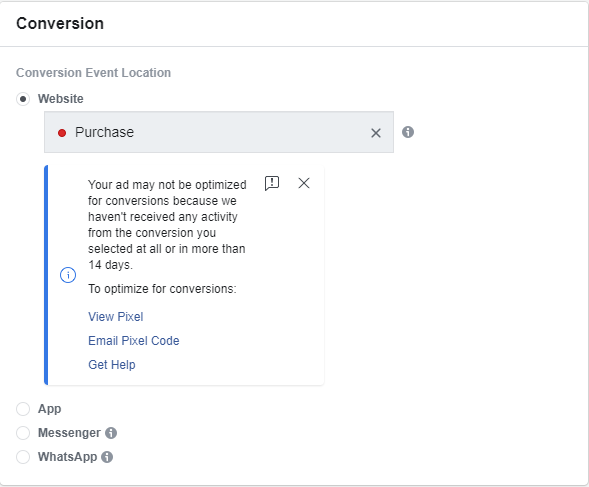 Sometimes, I may choose the "Add to Cart" optimisation and that works too(Sometimes it can even work better than purchase optimisation). Each ad account acts differently and this is something you will have to test for yourself.
Facebook tries to scare us because we're using a pixel with no data and warns us that we won't get any sales. This is their way to drive us into choosing a different optimization event to milk even more money from us. They want us to start from View Content optimization and slowly progress to Purchase optimization. And by doing that we will burn a lot of money…
And I usually go with 1 day click conversion window.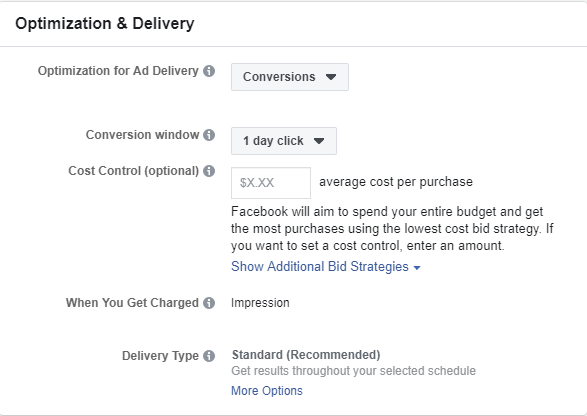 2. Number of Adsets & Daily Budget:
I recommend launching 3 to 5 testing adsets per campaign. You should test out different targeting options, different audiences, different ad types and not just launch 5 identical adsets.
Recommended daily budget that I successfully use: $7~$10

I usually go with $8+ budgets.
3. Targeting & Strategy:
We have plenty of ways to sell this product – We can go the classic way and target people who were born in a certain month to show them their zodiac sign necklace OR we can be creative and create something cool which will increase our chances to get sales.
Here are the 3 strategies you can try:
Strategy #1 – Classic photo ad targeted to the right people – Seems like this product has much more interest among young women but men buy it too. So if I were to target, then the age I'd choose will probably be 18~30. I would also go only for women who are in a relationship in order for them to tag their boyfriend or buy 2 necklaces as a Christmas gift.
You can then create an ad for each zodiac sign and target women by their birthday month OR target in bulk. So if we use this photo: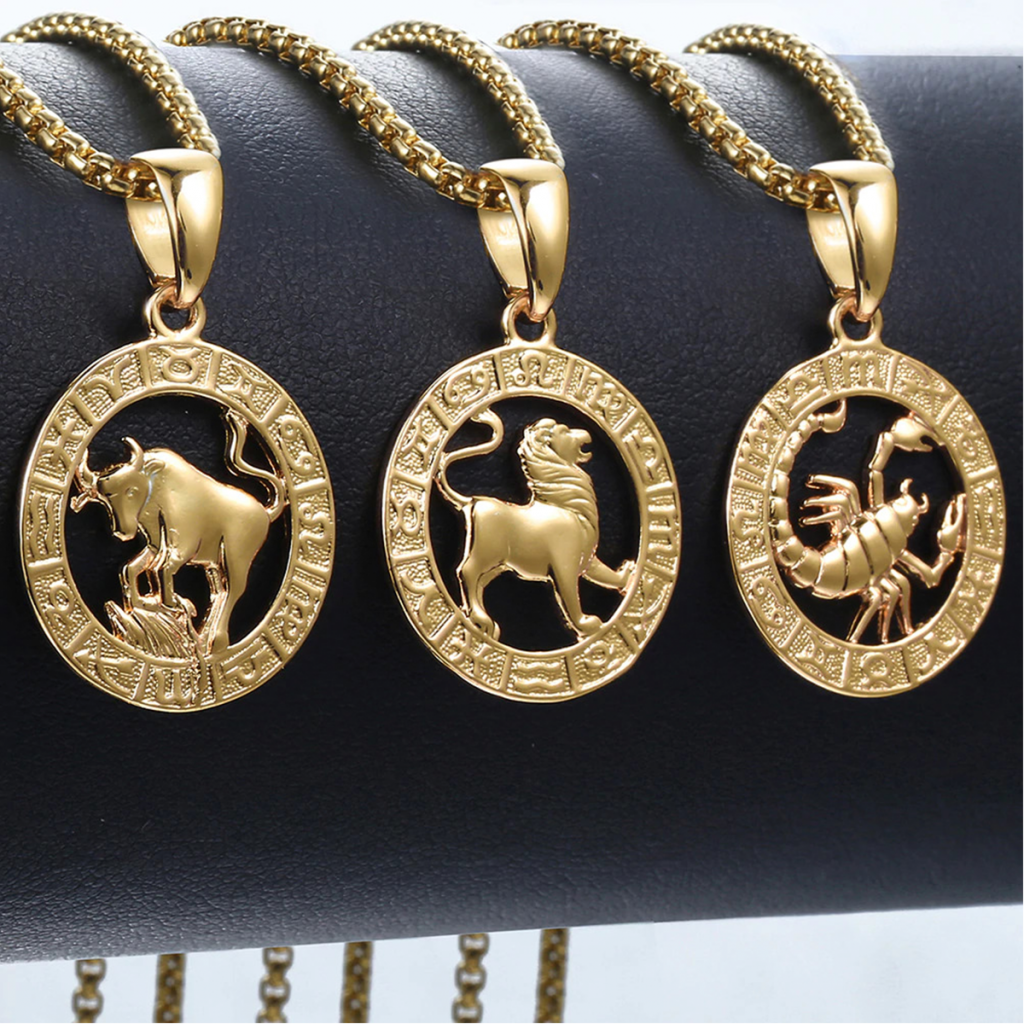 Our targeting will look like this: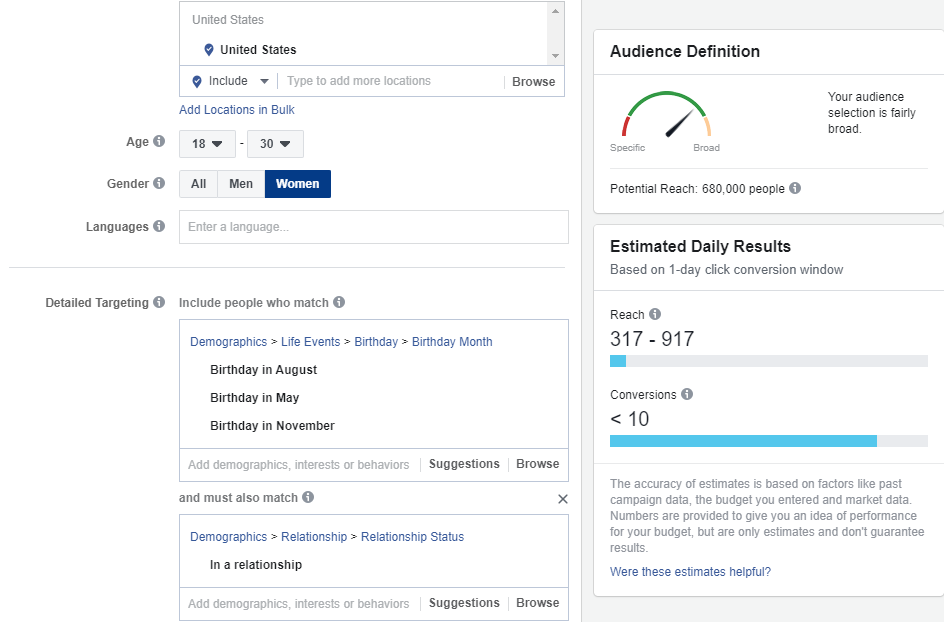 Targeting Taurus, Leo & Scorpio women who are in a relationship. What I'd expect here is for the ladies to buy one for their boyfriends or just tag them as a Christmas gift "hint". A different tactic we can use is to target women who are totally into all this Astrology stuff.
Our targeting will look something like this: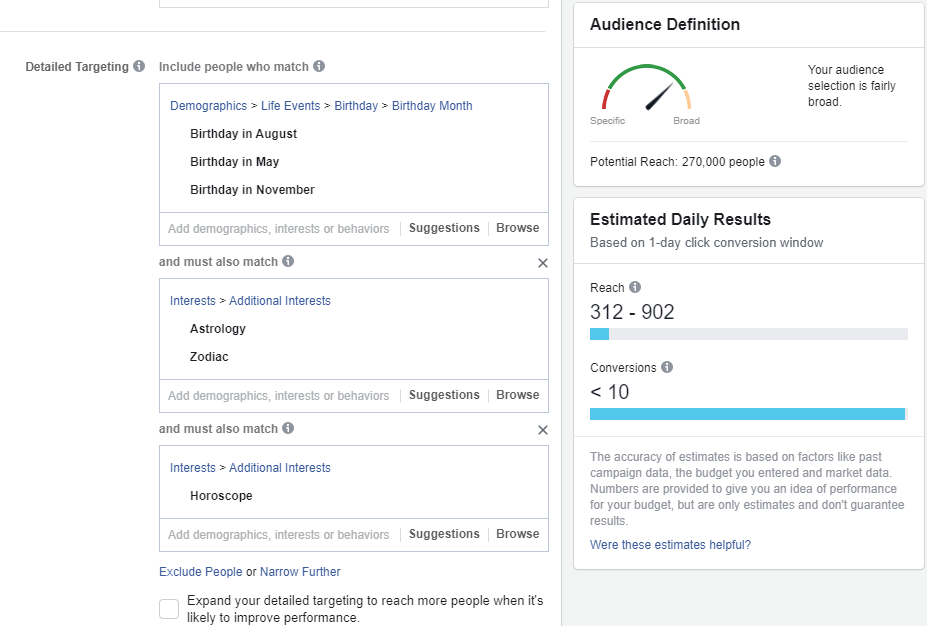 Then we can suggest buying 2 or more necklaces as a gift for their BFF, close family, boyfriend, husband, etc…
Strategy #2 – Video slideshow asking people to comment their zodiac sign and their partners – A cool way to get engagement and clicks will be to target married/engaged/in-a-relationship women and ask them to write their zodiac sign and their partners zodiac sign too. And from here, we can forcast their future in 2020 and comment something nice + link to our product page.
Example: "It looks like both your zodiac signs complete each other! 2020 will be a great year for both of you and it looks like something special will happen in 2020 – Your stars will allign 😉 For more about your future, click here => *link*"
The link will be a product page with both zodiac signs offered together as a bundle. The description will have a short paragraph about both their zodiac signs, their love life and more. Same thing will be for each zodiac combination.
This strategy is me going a bit too far but it might work. You will have to create a bundle page for every zodiac combination and set up a Facebook bot or manually reply on the comments. There's also a limit to how many times you can reply so it can get complicated. Try this method only if you have the time and the experience in creating engaging ads.
Strategy #3 – A blog post for each zodiac sign – This is what I would go for if I was testing this product.
Create 12 blog posts about each zodiac sign and target Astrology fanatics: Leo for people born in August, Scorpio for people born in November, etc. It will be for you to decide on how you will sell this necklace – You can be straight forward and just show them that this cool zodiac necklace exists OR write about the importance of wearing a zodiac sign necklace(or something else).
You may ask why not just create a product page for each zodiac sign and write about the zodiac in the product description? It might work but in my opinion, an article about the zodiac sign will work much better than just sending them to the product page and expecting them to read the description. People who are into Astrology really like to read this stuff and they are more likely to click your ad if it's an article.
And in the end of the article, we'll try to convince our reader on how important it is to wear his zodiac sign so he clicks our link and buys it.
4. Ad placements:
I usually start only with Facebook feed but sometimes I mix it up and run it also on Instagram feed. Although if I decide advertising on Instagram then I usually separate and run a new adset only for Instagram users.
It's just something I prefer doing but in both cases it should still work.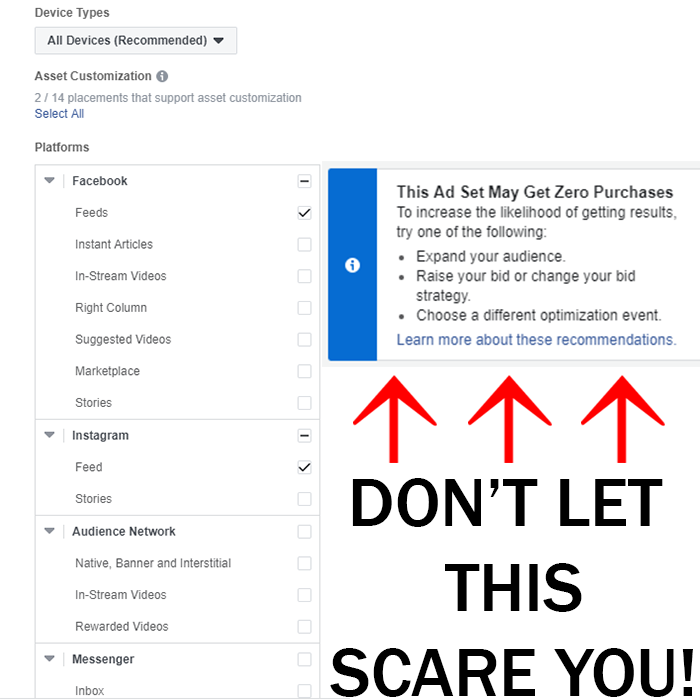 I run ads both on desktop and mobile. For Instagram ads, I target mobile users only.
Note: As you can see in this picture, I attached another "scare tactic" from Facebook that pushes you to basically spend more money by either raising your budget or going for a different optimization event. Do not be scared and run website conversion campaign optimised for purchase even if you have zero pixel data.
5. Ad Type & Copy:
If we go the classic way, here's how the ads shoud look
Examples:
1200×1200 photo ad for women(18-30) in a relationship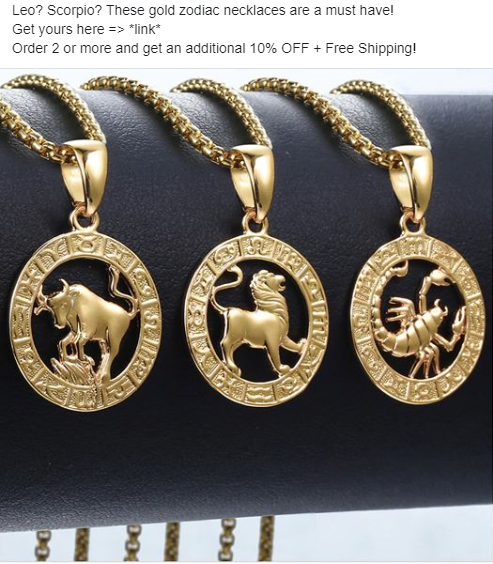 OR we can be a bit more direct.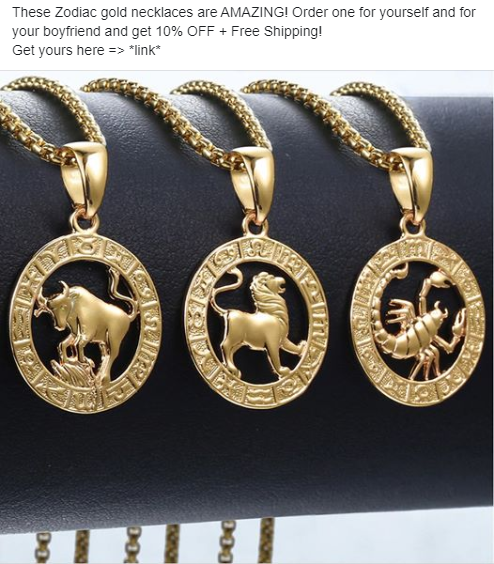 It will be up to you to target one zodiac sign at a time or to go in bulk and display it like I showed you here.
If you're planning to use the article writing strategy, then your ad should be a simple link post ad with a "clickbaity" article like this: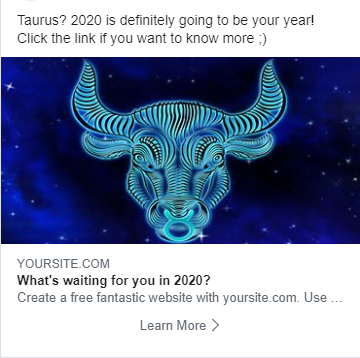 You can download free commercial use stock photos from Pixabay or other websites and use it for your ads – Don't use someone else's work.
6. Product Pricing & Selling Strategy:
Setting a price is an important step that if done right will help you keep getting sales with a healthy conversion rate. And if done wrong, your conversion rate is going to suck or you won't even get any sales.
Product price on aliexpress is $3.15 and another $3.15 for epacket shipping(USA). That makes our total price for the pocket watch stand at $6.30.
This product looks really good and we can possibly sell it at minimum $19.99+ $2.95 shipping or even $24.99 + $2.95 shipping.
Selling Strategy:
Our goal is to sell more than one necklace at a time – It's Christmas and we should use it in our favor.
Offer quantity breaks + Free Shipping if the customer decides to buy 2 or more. Quantity discounts can start from 10% for 2 and jump by 5% each time they add 1 more necklace. Free Shipping + quantity discount in 1 package works really well for me. It should work well for this product too!

Summary:
This winning article was a bit different from what I usually write and I shared a few creative selling strategies you can try. Yes, some of them(like strategy #2) are a bit overcomplicated and require a lot of work… But the one where you first send the customers to an article, should work well if done right.
It's not new for advertisers to send traffic first to an article with product links in it. The logic behind it is the cheap link clicks you can get if your ad creative and title are catchy. If we're ok with getting 3-4 link clicks per $1 spent, our link click cost to an article can be MUCH lower and get us a lot of traffic(and hopefully sales).
Don't forget to import the reviews to your product page!
If you have any questions, feel free to ask in the comments 🙂
Looking For More Winning Products?
Ecomhunt got you covered – Discover winning products that are selling right now and get access to our analytics, ads, targeting suggestions and much more. We made it easy for dropshippers to find the best products to sell online.
Must Read Articles: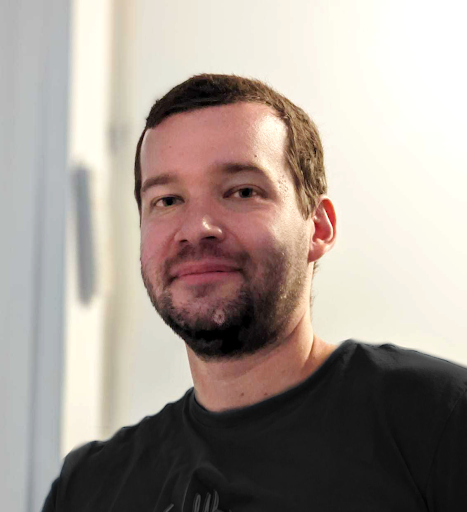 Daniel Aloni is one of the leading mentors in the Ecomhunt family. Daniel is a highly experienced Print On Demand seller with multiple 6 figures successful launches.