This week's product is the Microfiber Glass Cleaning Towel.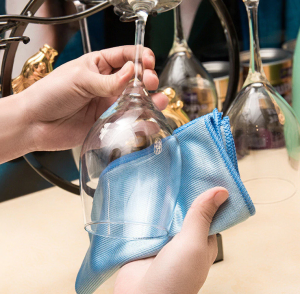 This product is selling really well on aliexpress with amazing reviews and we think that it can do really well as a dropshipping product. In this post, we'll share with you our exact approach if we were to try and sell it on our store.
From ad examples to selling strategy, we've got you covered 😉

1. Campaign Type & Optimization:
We start straight away with Website Conversion campaign optimised for Purchase. We don't care about having 0 data and we don't mind the red color "warnings". We ALWAYS go with a Website conversion campaign optimised for purchases.
If your ad, targeting and product are good then you will see link clicks followed by actions on your site and the sales will come.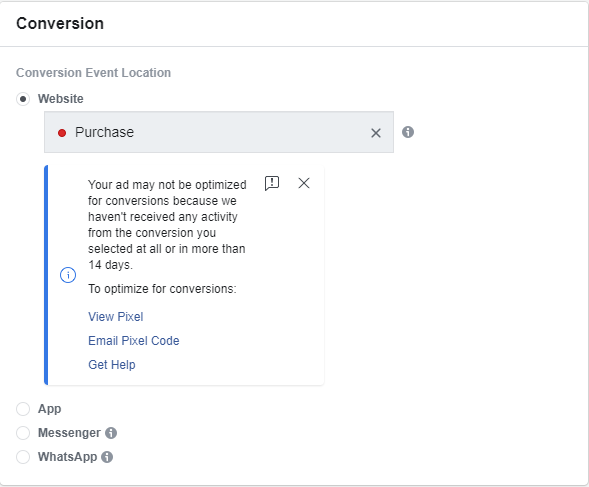 Sometimes, we may choose the "Add to Cart" optimisation and that works too(Sometimes it can even work better than purchase optimisation). Each ad account acts differently and this is something you will have to test by yourself.
Facebook tries to scare us because we're using a pixel with no data and warns us that we won't get any sales. This is their way to drive us into choosing a different optimization event to milk even more money from us. They want us to start from View Content optimization and slowly progress to Purchase optimization. And by doing that we will burn a lot of money…
And we usually choose the 1 day click conversion window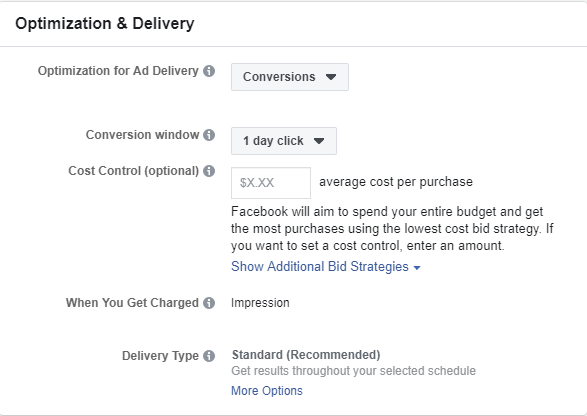 2. Number of Adsets & Daily Budget:
We recommend launching 3 to 5 testing adsets per campaign. You should test out different targeting options, different audiences, different ad types and not just launch 5 identical adsets.
Recommended daily budget that we successfully use: $7~$10

We usually go with $8+ budgets.
3. Targeting & Strategy:
Before testing any product, you need to understand who's your target audience. In this case, we think that targeting women first is our best shot to get a sale.
But simply targeting women won't really work… We have to choose the right interests and target those who really need this product.
We decided to test it out and target:
Women who like wine – They usually have complete sets of wine glasses and this towel is perfect to make them look sparkling brand new.
Stay at home moms – Their work is to take care of the kids and keep the house clean.
General "cleaning" interests – Interests we think someone who likes cleaning will be associated with.
Women Wine Lovers Targeting Example: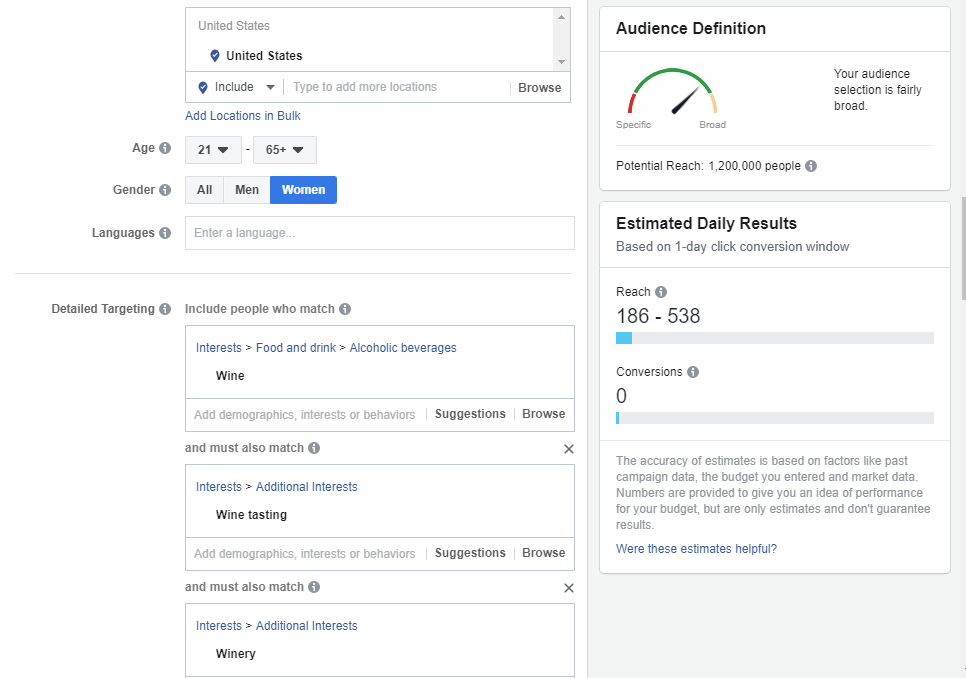 Stay at Home Moms Targeting Example: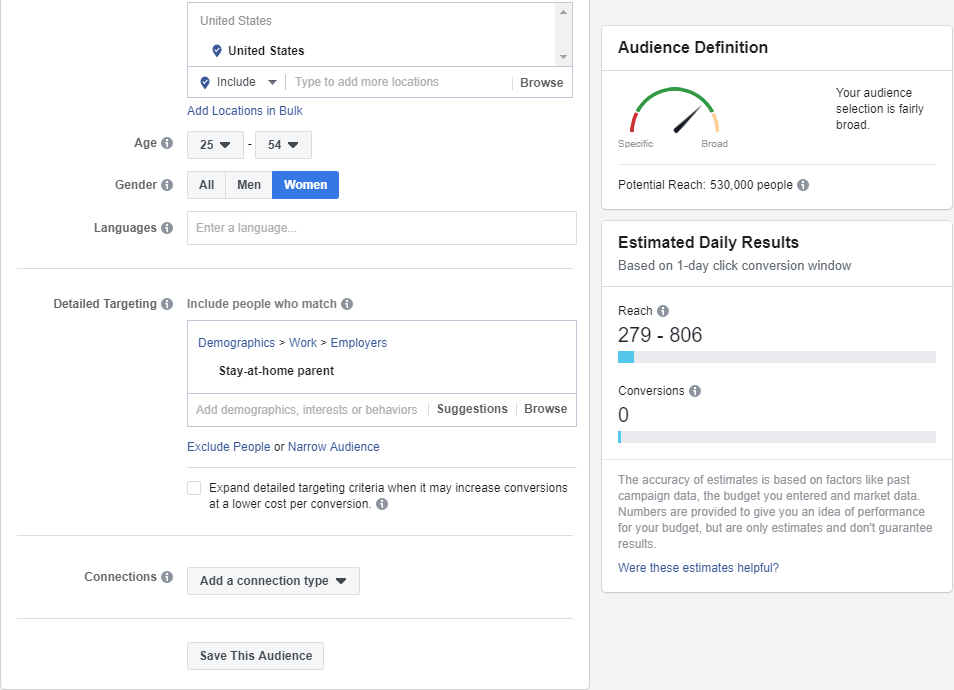 General "Cleaning" Interests Targeting Example: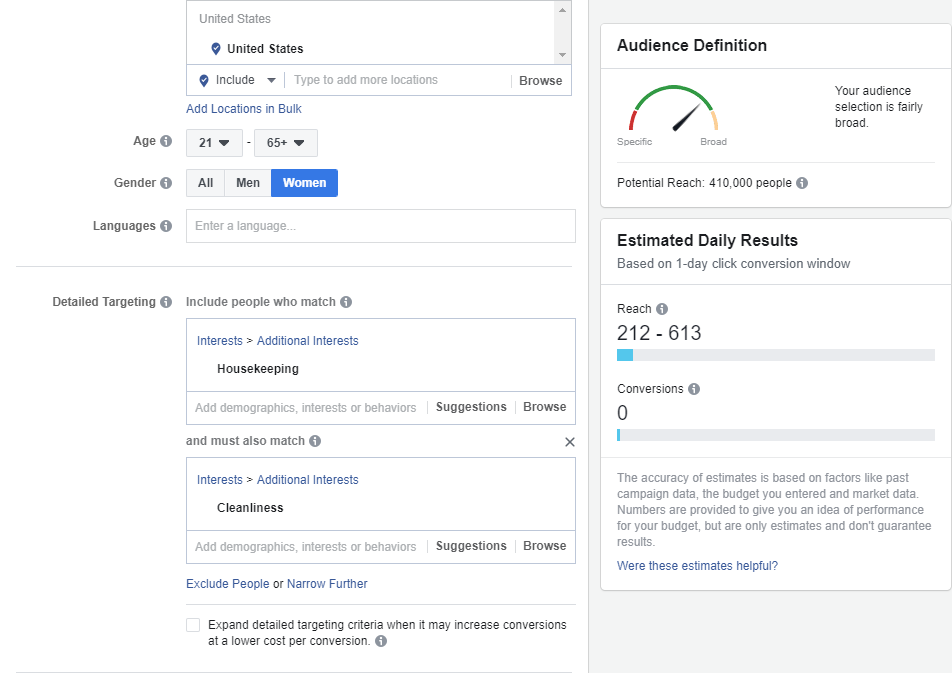 Audience Size:
We usually go with audiences starting from 100k to max 1.5 million. These sizes are ideal!
Note: These sizes are true for Facebook feed ad placements only.
4. Ad placements:
We usually start only with Facebook feed but sometimes we can mix it up and run it also on Instagram feed. Although if we decide advertising on Instagram then we like to separate and run a new adset only for Instagram users.
It's just something that we prefer doing but in both cases it should still work.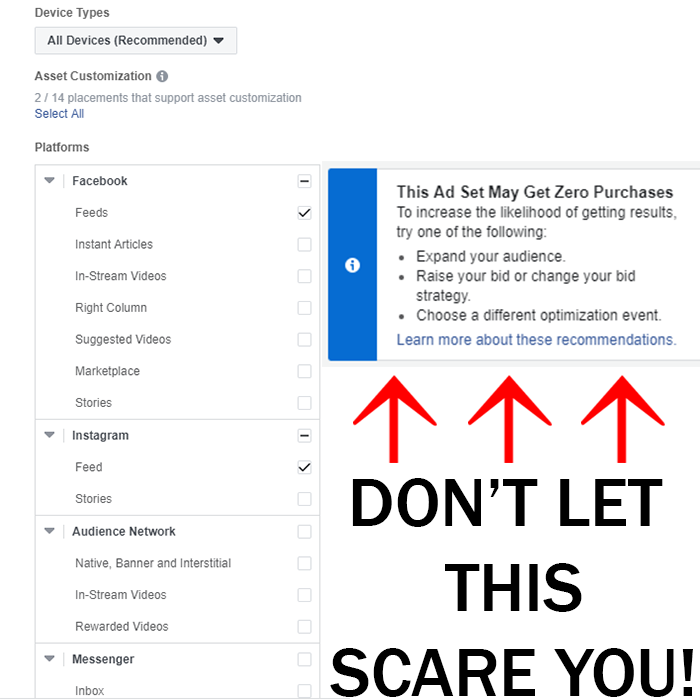 We run our ads both on desktop and mobile. When we run only Instagram ads, we do it for mobile users only.
Note: As you see in this picture, we attached another "scare tactic" from Facebook that pushes you to basically spend more money by either raising your budget or going for a different optimization event. Do not be scared and trust us because we have spent millions on ads and so our friends. We know exactly what we're doing!
5. Ad Type & Copy:
It may surprise you but video ad isn't a default ad type we launch. Sometimes a photo ad can outperform a video ad so this is something we decide based on the product. With this product, we can launch photo ads and it should work well. The customers will have no problem understanding what this product does.
We usually also prepare video ads to test it more but if you're short on time, testing it out with a quick photo ad is ok.
Examples:
For the wine lovers, we have prepared a 1200×1650 ad image and the ad text points out a problem about wine glasses getting "cloudy" and how our product will fix that.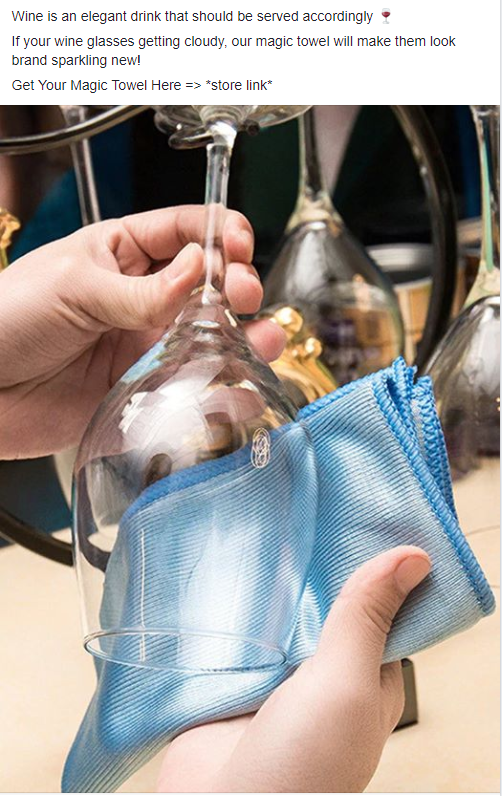 This ad type size looks amazing on mobile and it's bigger than the regular 1200×1200. A great eye catcher 😉
As you can see in the ad text, we brought up an existing problem and provided a solution. Our link is visible and you don't have to click "Read More" to see it. And we used wine emoji to make our post more appealing to the wine lovers.
Note: This ad size won't work on instagram and it will have to be cropped to fit a square shape. If you want to run Facebook and Instagram ads simultaneously then make sure to use a square image size like 1200×1200.
For the next 2 targeting options, stay at home moms & general cleaning interests, we decided to use a different photo ad with a different copy. This is because we don't really know for what they'll use our cleaning towel. Maybe to clean their marble table? Or the tv screen? This is why we decided to use a 1200×1200 photo ad with 4 different surface examples.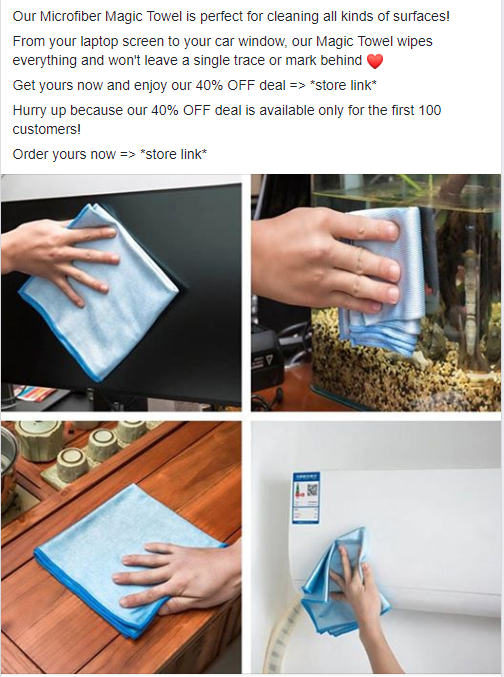 As you can see, our ad text is general and doesn't have a specific aim like the wine ad. We explained that our magic towel is perfect for all kind of surfaces and made our call to action more appealing with a "40% deal". And to spice things up, we made "limited" it for the first 100 customers.
This photo ad size (1200×1200) can be used both on Facebook and Instagram feeds simultaneously.
Video Ad:
If you prefer video ads then finding video material for this product won't be too hard. Plenty of videos online can be found of people using this product and you can always use some of the footage directly from the aliexpress product page.
Keep the video short and make sure the audience understands what it's about after the first few seconds. Make sure to end it with a nice call to action like "40% off – Click the link in the description to get yours now".
Our advice is to always make your own video from "Free to Use" footage to not get any copyright claims.
6. Product Pricing & Selling Strategy:
Setting a price is an important step that if done right will help you keep getting sales with a healthy conversion rate. And if done wrong, your conversion rate is going to suck or you won't even get any sales.
I believe that most of you already understand that this product cannot be sold for $29.99 per piece. It's not a jewelry or an electronic product that might look good enough to be bought for $4 and sold for $30+.
Probably the best price for this product will be somewhere from $9.99 to $14.99. With free shipping promotion or max $1.99/$2.49.
Selling Strategy:
For this product to be profitable, we will need a way to increase our AOV(Average Order Value). One of the ways to do that is offer our customers to buy more than 1 piece for a discount. This can be easily done by installing a shopify app that gives us this option. This way we may offer a considerable discount if a customer chooses to buy more than 1 piece of our magic towel. With that we have successfully increased our AOV.
For example: If we price 1 piece for $9.99 and offer 2 pieces for $16.99, our profit now will be around $10~$11 instead of $6~$7 if we sell only 1 piece. With a FREE SHIPPING promotion and a good product page, people will be willing to buy more than 1 piece thus increasing our AOV and total profit. And with the right audience, we may get really cheap conversions because our product isn't that expensive.
Example of a "discount box" offered by some app in the shopify app store:

Add to this upsells and email marketing and we may find ourselves with a winner.

Summary:
This product is exploding on aliexpress and all you have to do is use the information shared in this article to take it to the next level. Or you can always try a different strategy 😉
Keep testing and success will come!
Looking For More Winning Products?
Ecomhunt got you covered – Discover winning products that are selling right now and get access to our analytics, ads, targeting suggestions and much more. We made it easy for dropshippers to find the best products to sell online.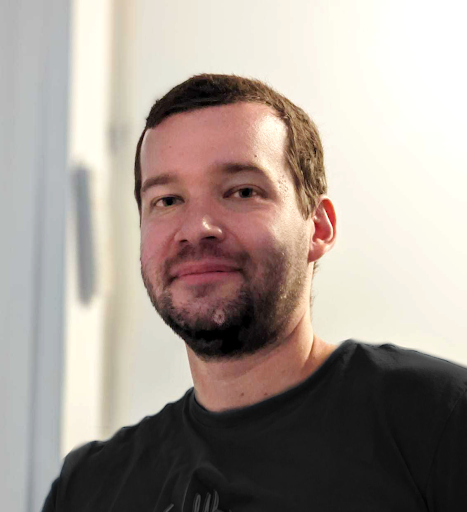 Daniel Aloni is one of the leading mentors in the Ecomhunt family. Daniel is a highly experienced Print On Demand seller with multiple 6 figures successful launches.