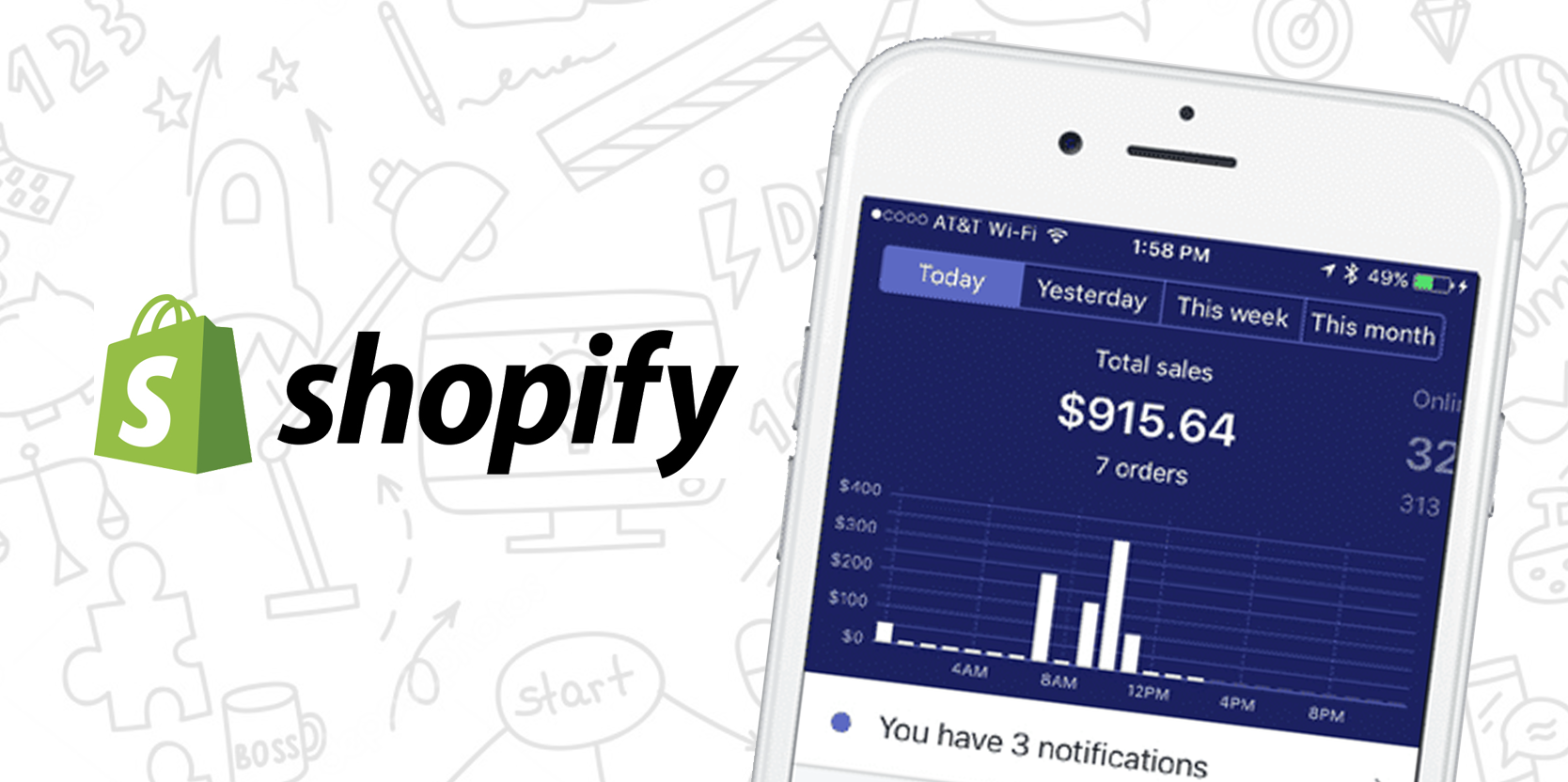 Shopify is used by tens of thousands of entrepreneurs to sell products online. The Shopify app store never falls short of hosting thousands of intuitive apps that are simplifying lives and boosting productivity every day. The sheer number of apps in the store may find you confused and overwhelmed to find the perfect app, as the search results can leave people scratching their heads. Some high quality while others happen to be quite efficacious…and yes, free! The free apps elicit a great deal of interest from store owners at Shopify because it gives them an opportunity to generate revenues and maximize sales without incurring any costs. Here are ten awesomely amazing Shopify apps that allow you to boost your sales for free in 2018.
1 – SMAR7 Bundle Upsell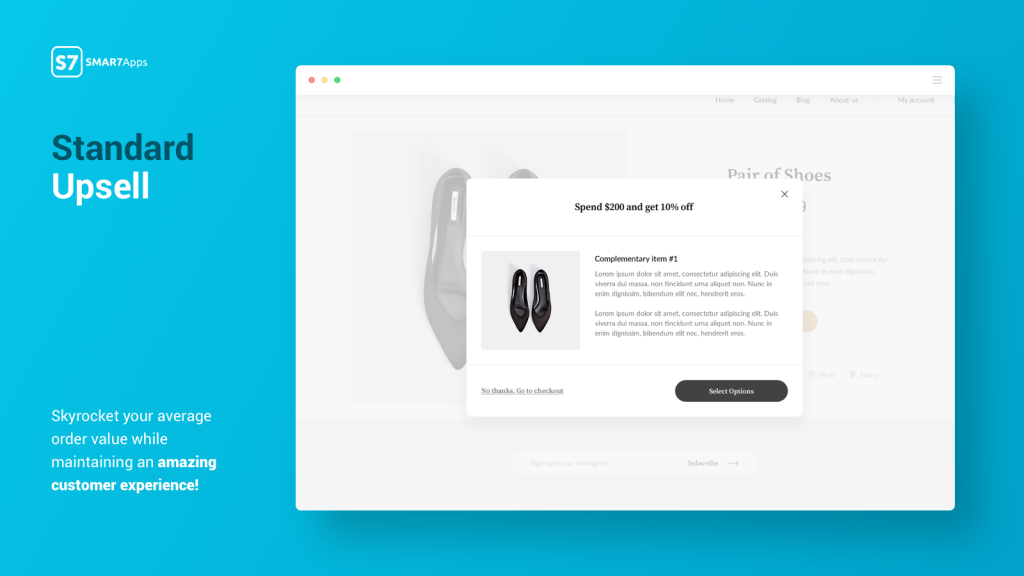 To ensure that your business thrives in a competitive online environment, it's important to maximize the revenue generated from every dollar you spend. Smar7 Bundle ensures your store does just that… By putting the first "Smart" Upsell & Bundle app on your store. No more buggy apps that don't even pop up half the time & no more lost revenue. It's time to maximize the amount you earn for every dollar you spend.
– Show Products Related to the Products in the Customer's Cart
This is where Smar7 Bundles "Smart" technology comes in.. We know the best way to ensure high conversions and to maximize your revenue is to upsell similar or complementary products… Thanks to Smar7 Bundle this is now an absolute breeze.. Pick a category and you're good to go. This feature ensures happy customers being shown the items they want to see, more sales for you & ultimately more revenue
– Bundle Upsell's  gamification encourages users to spend MORE money on each purchase
Bundle Upsell  turned buying your products into a game! The Smar7 Bundle technology rewards your customers and encourages them to spend more… In theory we making shopping from you… FUN! This increases user engagement on your websites, making your customers more likely to buy, come back & refer you to friends.
2 – Dropified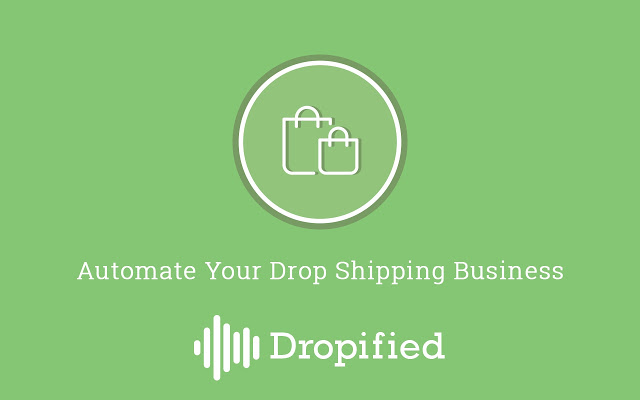 If you don't know what Dropfied does and why it's great then here are the reasons we use it.
You can import products and images directly from AliExpress, you have automated tracking updates meaning you don't have to check manually for tracking codes then upload them to the back end of your store. Dropified also automatically sends a shipping confirmation email to the customer which is handy as it can get overwhelming keeping an eye on hundreds of tracking numbers at once. The best feature though is the one-click orders saving you hours of fulfilment time but simply clicking one button then Dropified does the ordering for you!
– The Dropified App Look and Overall Usability
It consists two parts; the app and the chrome extension. Basically, the app has all the necessary information you would find necessary. You can choose products and keep tabs on every product that you are dealing in. When you combine the typical tools offerer The best thing about the Dropified is that it adds an overlay to Alibaba and AliExpress. All you do is add products to your store by clicking them. Each of the features is designed to assist the business process. Furthermore, the app allows you to view useful info on the item itself. For example, you can see shipping info, and this is critical when determining the most appropriate items to stock. For some individuals, the app is a little cluttered. For others, such information is invaluable. However, Dropified could do with a bit of more functionality.d by Shopify, you will find yourself having every data you require to succeed.
– The Good and the Bad of the App
One disadvantage of the app is the reduced features of the Lite package. Honestly, this package cannot compete appropriately with the competition. The numerous features that the app carries may be overwhelming for the new and inexperienced users. With an app like Orbelo, you do not have to sift through options. Therefore, Dropified may come off as a complicated app. The app also loses in terms of usability and aesthetics.
However, the pricing of the Elite package is appropriate. The app comes off as feature-rich and so good value for money. Dropified has gotten glowing reviews from hundreds of users, and that underscores its usability. The app's customer care is very responsive, and this enhances the user's experience. Given that the app becomes an extension of your store, it is appropriate that you get all the necessary support.
3 – Hurrify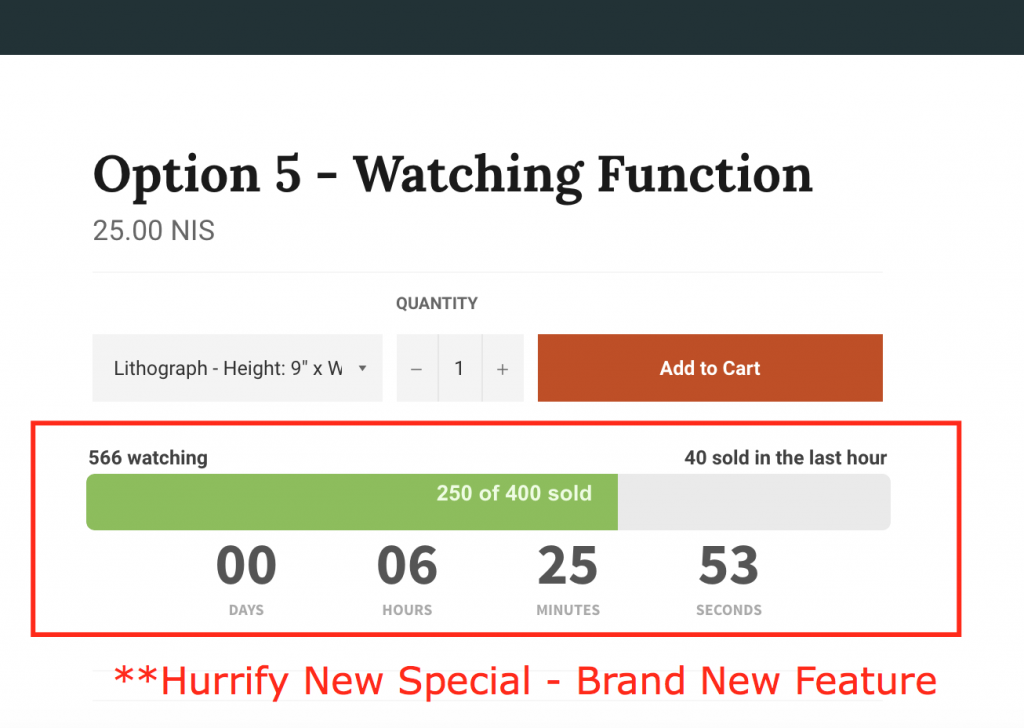 Hurrify helps you encourage shoppers to purchase items by showing them how many units of a particular product you've sold, as well as a countdown timer.  Plus, this Shopify app includes 2 timer styles for you to choose from, easy text, font, and color customization, and more.
Hurrify Gives you the ability to create different kind of timers options.
– Option 1: Raw text with a timer
This is the simplest form. 
– Option 2: Sold number with progress bar
In this option you set the initial sold number, then with every sale Hurrify will increment the sold number automatically.
– Option 3: Left In Stock number
This option will show how much left in stock. Make sure you set the real inventory number before you turn on this option. 
– Option 4: Decreasing Left In Stock
While option 3 tracks the real inventory number, this option here decreases automatically to form some kind of urgency on your customers. 
– Option 5: Increasing Sold number
Similar to option 4, but it increases instead of decreasing.
4 – Wheelio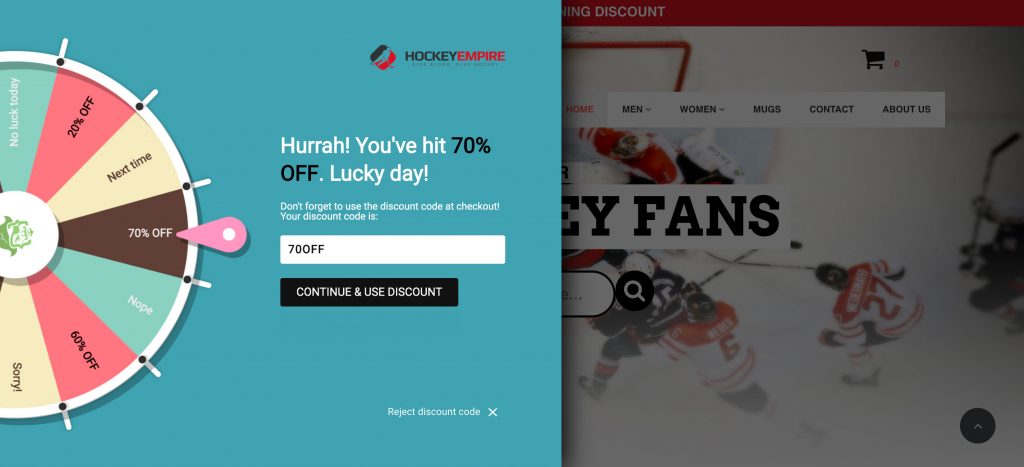 the power of Wheel of fortune tool is well known among old marketers and so is the power of (exit) pop-ups. When you merge something good together, it usually ends up even better. This was also the case for Wheelio. By combining two very powerful marketing tools, we created an even better one.
– Where can you place the Wheelio?
You can place the Wheelio site-wide or on a specific URL. This enables you to do different kind of promotions on your site. You can even exclude certain URLs, where you dont want Wheelio to be shown. (cart, special promotions,…)
– How is Wheelio triggered?
You can chose between exit intent trigger (desktop), scroll intent trigger (mobile), time on site (seconds) trigger and also the NEW TAB trigger. You can even use the combination of different triggers for maximum exposure.Exit intent: When the visitor tries to leave your site. Scroll exit intent (mobile): When a user scrolls down on the mobile device and suddenly scrolls back up.Time on site: Select a timer on each visit.NEW – Tab trigger: A small button like tab on the left part of your site, that wiggles and alerts a user that something special is in line, if only he clicks on the tab. When he does, Wheelio appears.
– How do I know that Wheelio works?
Analytics. You can see the stats in your backend and stats never lie. Stats are connected to your site and they are shown live. We are the only app that offers real time statistics.
5 – Loox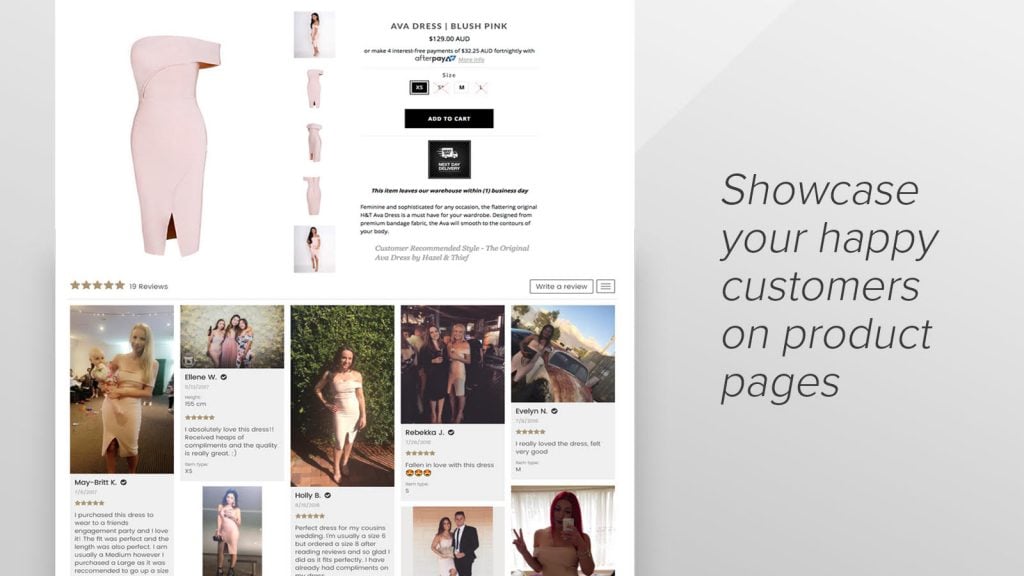 – Let your customers post beautiful product reviews to your store
With Loox, your customers can easily give you five-star ratings and add photos of themselves using your products.
Join thousands of Shopify stores already using Loox to easily collect beautiful product reviews and boost conversion through increased trust.
Loox reviews have proved to increase trust and sales for a variety of segments: apparel, home decor, tech gadgets, jewelry, beauty, toys, accessories and others.
– Products with photo reviews increase conversion by up to 91%
You put so much effort into driving traffic to your store. But when shoppers first visit your online store, they are not familiar with your brand and they can't check out your products physically. You need to win their trust before they make the purchase.
One of the easiest and best ways to do that is to include social proof in the form of product reviews & ratings. However, in a web ruled by visual content, textual reviews don't cut it anymore. Customers want to see your product in action, used by real people like them, in a wide range of uses.
Consumers trust user generated photos 12 times more than professional photos taken on a white background or with a paid model. In fact, research shows that customer reviews that include photos are the number one purchase influencer today.
Our data here at Loox shows that products with customer reviews have a 26% higher conversion to checkout than products with no reviews. Products with customer reviews that include photos, increase conversion by up to 91%.
– Key features
One-click setup – Click "Get" and you're all set
Import reviews (even with photos!) – From any source. NEW – 1-Click import from AliExpress
Made to fit – Works with any theme, mobile-friendly, 100% responsive plus you decide where reviews will appear on the page
Automatic email review requests & reminders – Sit back and relax as reviews flow in
Fully branded emails – Your name, logo, subject, and text
Customization – Define email timing, reviews widget color, size and position
Moderation – You decide which reviews get published
Offer reviewers a discount – Incentivize adding a photo to their review. NEW – Generate a unique, non-reusable, code for each customer!
Review form questions – Get more information about the customer or purchased item
Textual reviews – Customers can submit a review without a photo, with the option to add one later
Inline SEO – Display reviews & ratings on search results with our rich snippets integration
Social reviews sharing – Share reviews on social media, inspire your fans, and gain free traffic and exposure
Ratings widget – Display star ratings on collection pages and higher up on product pages
Happy customers page – Show off all your reviews in one place
Upsell – Smart product recommendations in review request emails
Translation – Available in English, Spanish, French, German, Portuguese, Italian, Turkish, Icelandic and Dutch
World-class customer support – Always happy to help at [email protected]
– Bonus feature
Collect reviews from past customers – When you install Loox, send review requests to customers up to 3 months back. This is the best way to generate lots of reviews right after installation and fuel your store with social proof. The best part is – it's completely free! No matter the plan you choose, we won't count these requests.
6 – Hopify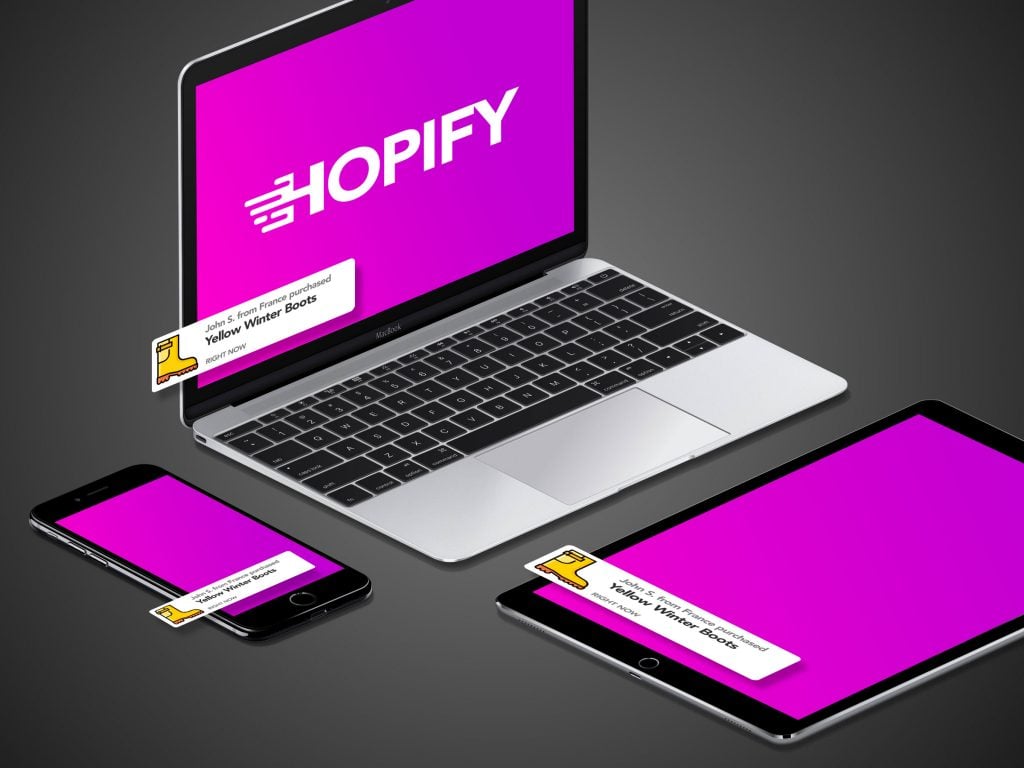 This is the simplest way to increase your buying customers checkout conversion and gain more trust from your visitors and make them buy other products on your store.
– How it works?
2) We will start showing on your store hopify's
3) You collect more $$$
– Why does it work so good?
Imagine you go out with friends to a bar and the bar is empty with poor vibe. This is when you notice that the bar a cross the street is full with people, good music and crazy good vibe! We all know what will happen next 😉
Hopify uses the same concept to increase your store sales and trust by showing in real time your store most recent activities such as visitors and purchases. This will create urgency and scarcity on your new visitors and apply the bar effect to make them want to join the party (aka buy from your store).
– Why should I use your app?
We have a strong team of e-commerce and marketing expert and run 6-7 figures Shopify stores therefore we know exactly what it takes to boost your store sales. Did we mention our price? $6.99 monthly for our awesome app.
– Will you release new features?
Yes! we want our users to always have the best and newest features to make you even more sales !! since we are running multiple stores we will always be a head of the market.
– What about your current features?
Don't even get me started 😉
Full hops (notifications) customisation

7 Amazing animations!

Desktop and mobile responsive

Built-in FREE themes

One-click installation, Zero coding knowledge required

Create your own custom hops to fit your store look & feel

Show real time visitors count on your store
And many more…

Conclusion
Shopify stores of all scales can take advantage of these apps, as long as you use and implement them appropriately, they will get your stores up and grow. Spending $0 and get an immediate boost in sales, what stop you from installing the apps right now? That's our list of the 6 best Shopify apps for 2018. 
Internet Marketer, Sales Manager, eCommerce Expert, and Community Manager at – Ecomhunt