Something exciting is happening right now on Shopify and it's the much awaited arrival of the one-page checkout instead of the regular low conversion 3-page checkout.
Earlier this year, Shopify announced that the one-page checkout is finally coming out but not everyone could see it because it was only available to certain merchants as an early access.
But now, from what we hear from our users and by receiving it ourselves, it looks like it's finally here and it's coming to everyone.
If you've received this email from Shopify: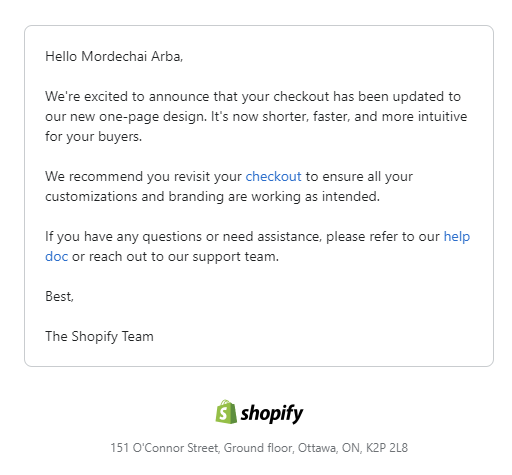 Then praise the Gods because this year's Q4 is going to be the craziest you have ever seen!
So keep on reading because in this week's article, I'm going to cover all the new stuff the one-page checkout is bringing and the must-have optimizations needed to be done for you to maximize this year's sales.
Oh and if you have yet to open a Shopify store, then make sure to use our exclusive Ecomhunt link to get 3 months of Shopify for only $1/month.
What's All the Fuss About?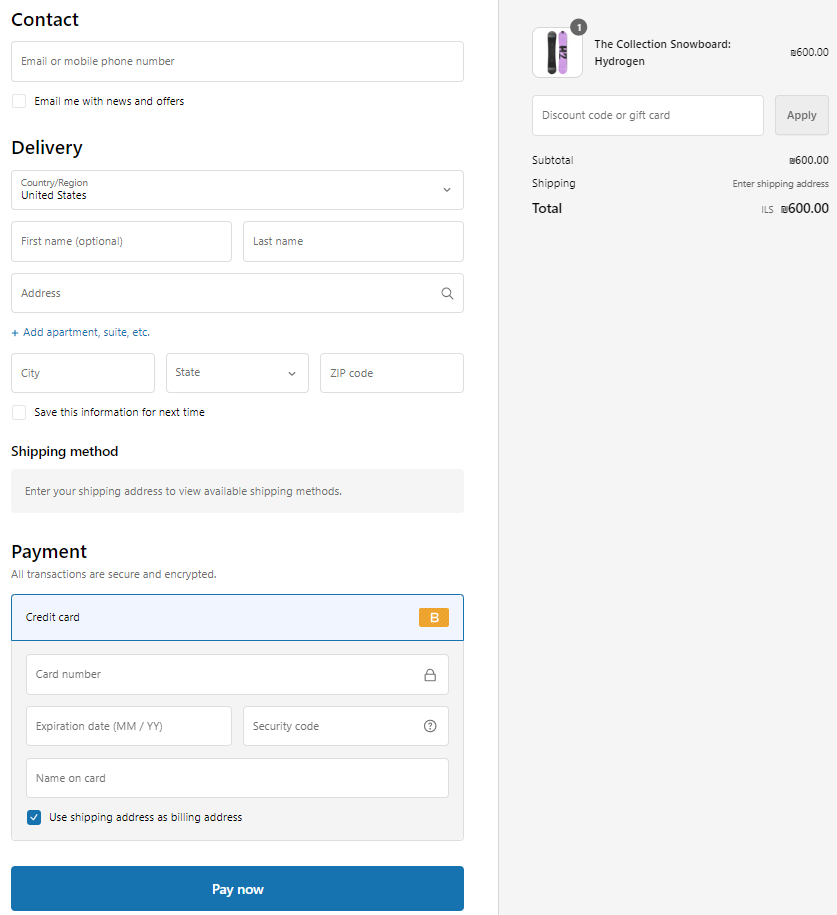 "It's just a checkout, so what?" Well, it's indeed just a checkout but your conversion rate is going to be much higher which means you'll be making much more sales from the same traffic you get.
If you've been following our online courses and explanation videos & articles, you probably noticed one thing that we almost always mention when reviewing online stores or just showing how to build such from scratch.
And it's reducing the amount of steps your customer has to make before reaching to the checkout.
What most beginners and even intermediate sellers fail to understand is that each extra step you have in your general online store flow is reducing your conversion rate.
Stuff like choosing a product color from 10 different options while 3 options were enough, or having to click on the Go To Cart button again when the product was already added into the cart.
Each extra step is prolonging the checkout process and leaves an opening for your customers to simply exit your store without buying a thing.
Though in the cases above you have the option to fix that by reducing the amount of variants and simply transferring your customers straight to the cart page when the Add to Cart button is clicked.
But the whole checkout flow, Shopify's 3-page default checkout, was locked and we as sellers couldn't change it and reduce the amount of steps our customers had to take in order to reach the payment stage.
It was only available to Shopify+ subscription which is insanely expensive and not suitable for most sellers, or you had to use an external Shopify app that required a lot of tweaks to be activated + there were extra charges(both monthly subscription + extra commission on each of your sales).
But now the wait is finally over and and it looks like Shopify has unlocked the one-page checkout for everyone. Now you can enjoy a much higher conversion rate and convert a bigger chunk of your traffic into actual sales.
And by higher, I mean a lot higher! The average ecommerce conversion rate, as of May 2023, is 2.02% – Which means that from 1,000 visitors to your store, about 20 are going to be converted into paying customers.
But now with the one-product page, you can see a big increase in your conversion rate and easily get a conversion rate above 3% or even 4%.
We've personally ran one-product stores using a one-page checkout that reached an average conversion rate that was higher than 5% which is insane.
This should be enough to help you understand that this one-page checkout revolution is a HUGE change and it will skyrocket your sales this Q4.
What Should You Do Now?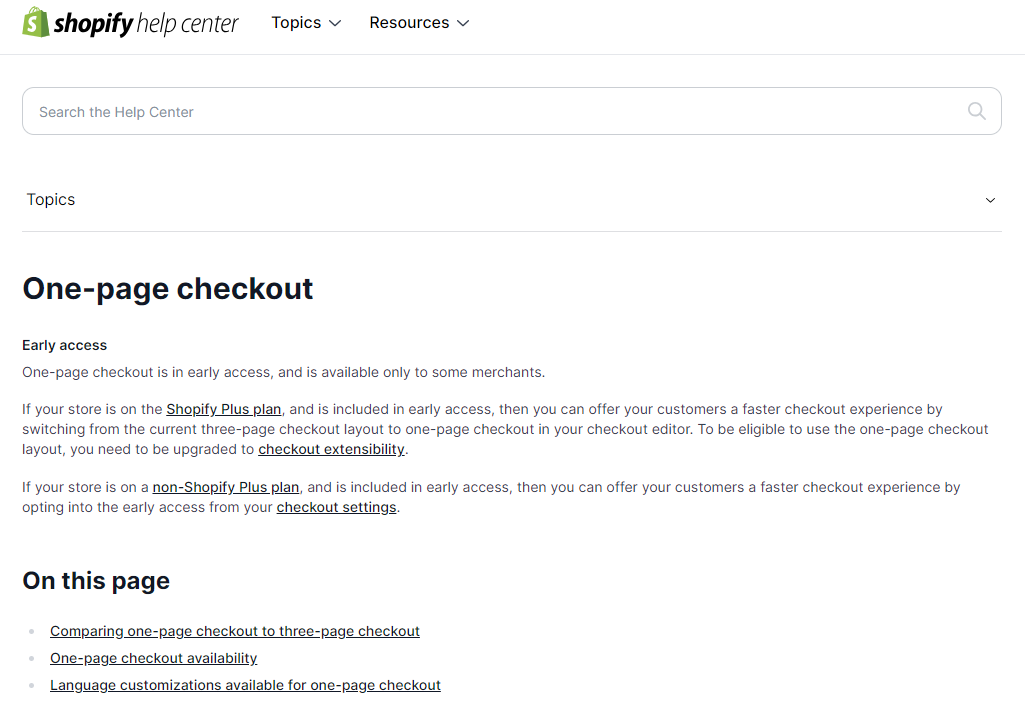 First of all, you should check your Shopify store to see if the one-page checkout is active on it. If you've received an email like the one you see below, then the one-page checkout is now active on your store and all your customers will see it by default.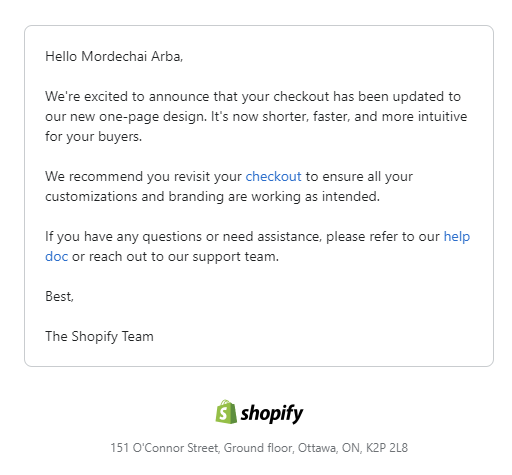 If you have yet to receive such email, then don't worry because this doesn't mean you don't have this new checkout available for you.
Simply go to your Shopify store's Settings tab, click on Checkout and check if there's a small announcement banner that says you now have access to Shopify's one-page checkout.
Once you see this banner, simply follow the instructions and activate it on your online store. For more details about Shopify's one-page checkout, visit the One-Page Checkout Help Center.
And if that doesn't help and you still don't have access to the one-page checkout, then don't worry too much because it's probably on its way to you. It's just a matter of time until everyone gets access to this amazing checkout 😉
One-Page Checkout Optimizations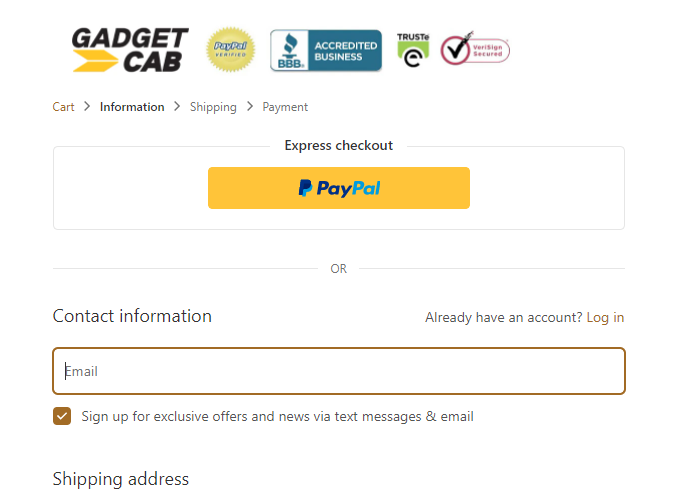 Your job doesn't end with the activation of the new one-page checkout, and there's a few more tweaks to be done to maximize your conversion rate.
Make sure the logo of your store is also displayed on the new checkout page. Even if was displayed before, double check everything to see it it exists on the new checkout and if it sits well in there(both mobile & desktop view). Remember that your store's logo doesn't automatically appear on the checkout page – You have to upload your logo for the second time on the checkout settings section of your theme.
Add a few trust badges next to your store's logo on the checkout page to increase trust. In the screenshot above, you can see an example of such trust badges next to a store's logo. It's quite simple to do and all you have to do is open your logo on Photoshop(or any other image editing software) and add the trust badges next to your logo. This should further increase your online store's trust and your customers will have more confidence when placing an order with you.
If you only accept PayPal then make sure to change the default "All transactions are secured and encrypted" text and add to it that you can pay on PayPal using a credit card as a guest. This is a very important message as some customers think that you need an account in order to pay with PayPal. To change the texts on the Checkout page, simply go to your Theme language settings and looks for the phrase you would like to change.
And that's basically it for optimizing your one-page checkout on Shopify… A 10-minute work which will lead to an even higher conversion rate and more sales!
To Sum It Up
The one-page checkout introduction is a big day for every Shopify merchant out there and the timing of this update couldn't be better!
You can think of it as a free feature that is going to increase your online store's conversion rate no matter what you do, so you can definitely expect a spike in your store's performance.
Let me know what you think about this new update and share your new sales numbers in the comments below.
Happy Selling!
Struggling to find good products to sell? Not sure who's your target audience? Tired of losing money on products you were sure were "winners"?
Then Ecomhunt is what you need! Find hot winning products that are added daily, spy on their ads & stores and import them into your store in 1 click and Start Selling Today!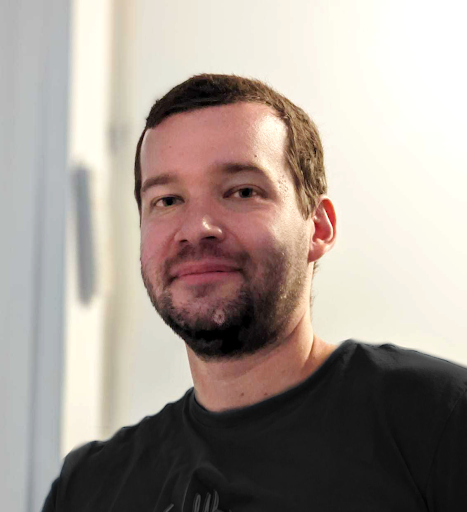 Daniel Aloni is one of the leading mentors in the Ecomhunt family. Daniel is a highly experienced Print On Demand seller with multiple 6 figures successful launches.