If you're looking for an awesome product to sell in your Dropshipping store, and one that also has a big profit margin, then this Steampunk Rocket Lamp is exactly what you're looking for.
This product is gaining a lot of traction on Facebook and people are LOVING it… It makes a great Home Décor product and opens for you the door to an amazing niche that has an infinite amount of products you can sell.
So if you want to enter into the Home Décor niche, then the Steampunk Rocket Lamp is where you should start 😉
In this week's article, I'm going to review everything there is about this product including the store and the ad that is currently running on Facebook.
You'll get some solid tips from me on how you can take this product and make some bank with it as well.
Good luck!
The Product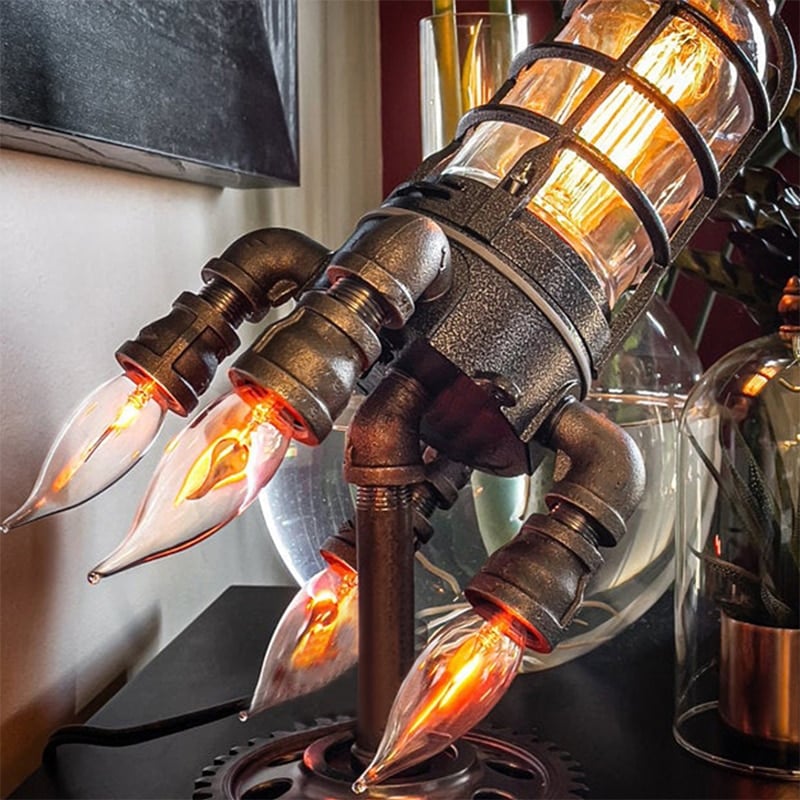 As you can see, this week's product is absolutely stunning! The Steampunk Rocket Lamp was like a shining diamond between all the other products when I was scrolling on Ecomhunt.
And I'm not the only one… A lot of people on Facebook agree with me and finding this lamp a must have Home Décor product!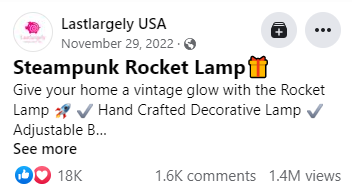 Right after checking out the product on Ecomhunt and its performance on Facebook, I quickly went on Aliexpress to see the price of this lamp and the potential profit margin.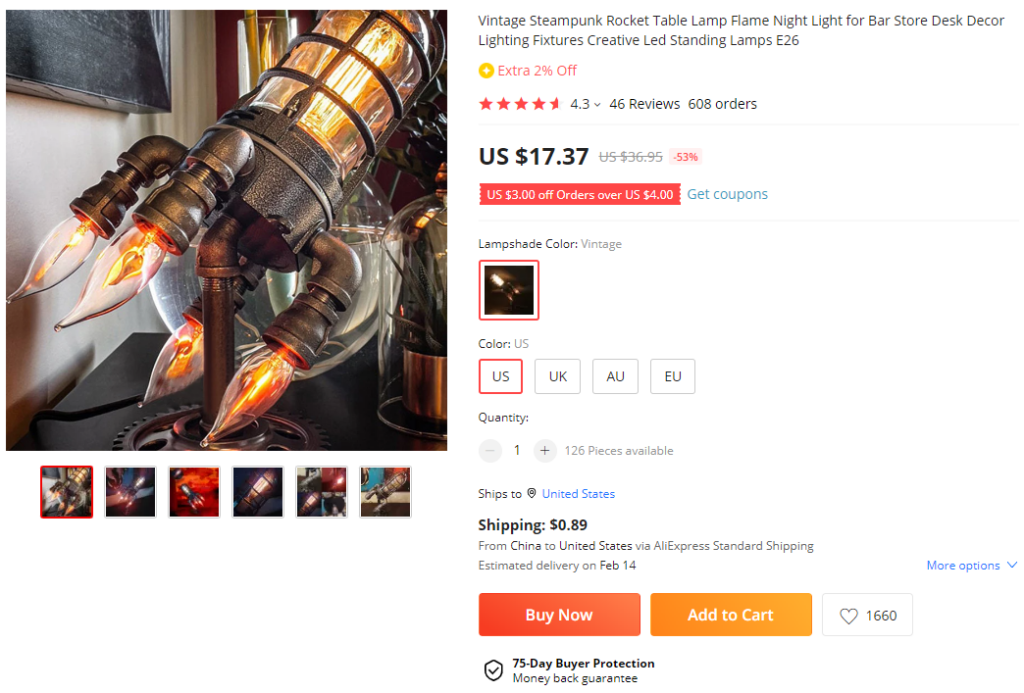 Including shipping, this lamp will cost us a bit more than $18 and we can easily sell it for at least $39.99, I would even go higher and price it for $49.99.
A good profit margin nevertheless and people will gladly pay the price for this amazing lamp.
On top of that, there are some amazing product pictures you can use on your product page.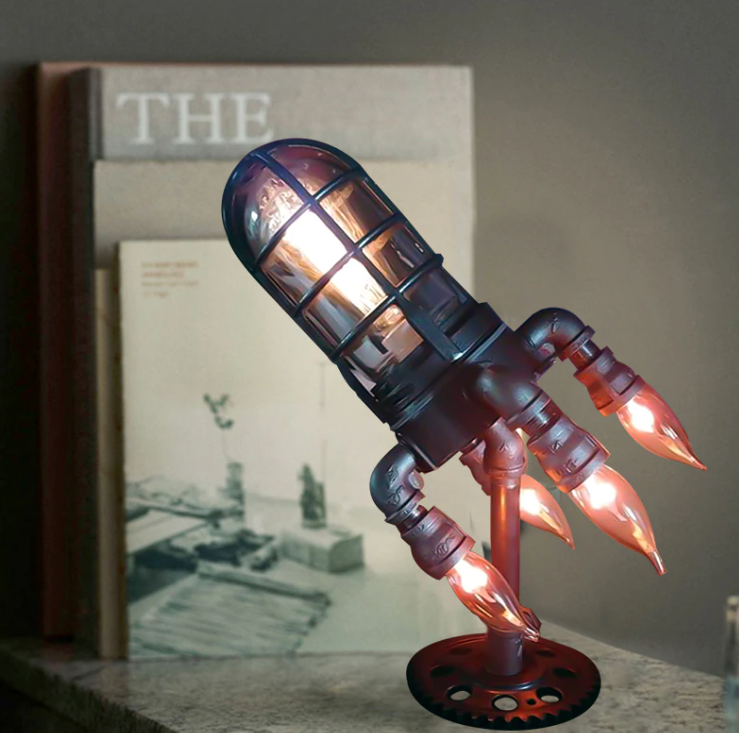 And there are also enough photo & text reviews we can easily import to our store to make it look complete.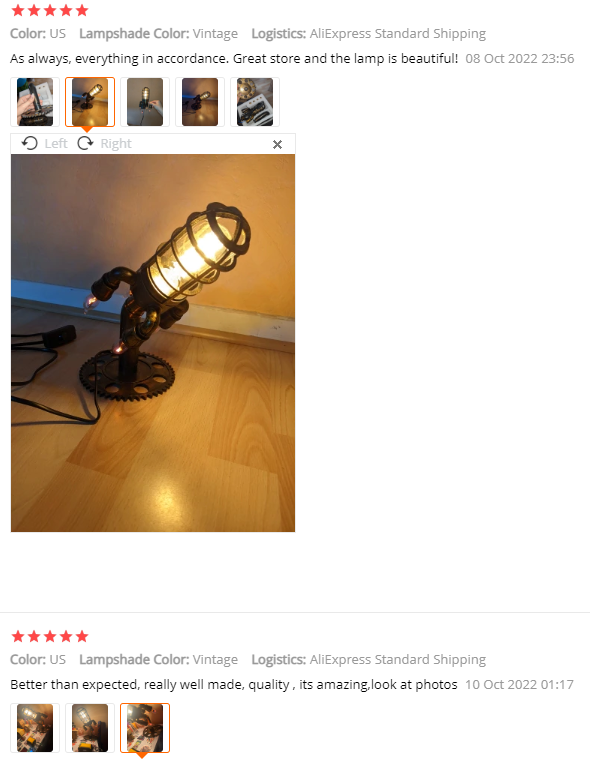 This product is the real deal…
So don't sit out on this one and start selling it right after you finish reading this week's article!
The Ad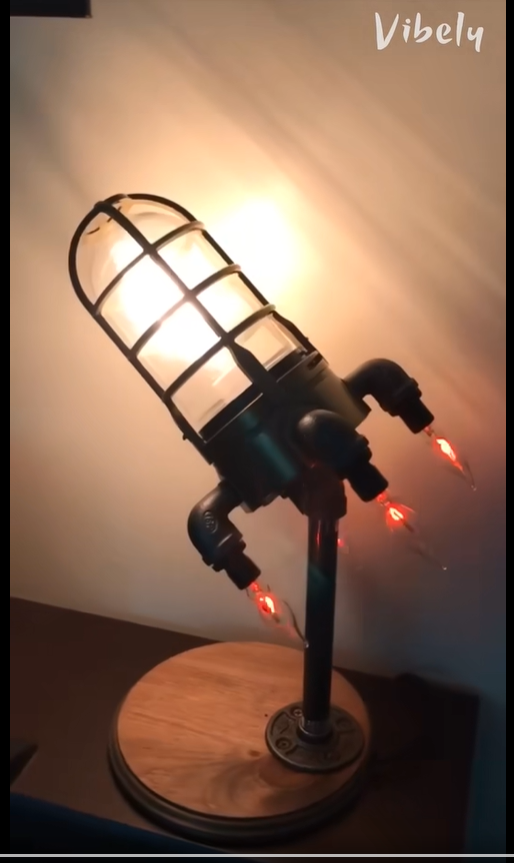 The Facebook video ad is very simply and it's just a simple display of this lamp turned on in the dark. I guess this is enough to get people interested in this product, and it's also enough to make some good sales, but there's still much room for improvement.
If you're going to sell this product, the here are some of the stuff I recommend doing:
Create a longer video ad, about 30 seconds long, and show this lamp in different locations. Make sure it's dark to show the beauty of this lamp.
Add some description text – I understand that there isn't much to explain about this lamp, but try to find something to make your audience more excited about it.
Add a call-to-action text at the end of the video – Something simple like "Order yours now" text with the current deal you're running is enough.
You can also try selling this product using a photo ad – There are some crazy good looking photos on the Aliexpress product page you can use to create stunning photo ads.
Get a product review video – Pay someone on Fiverr to make you a real review of this product and it may work exceptionally well for you!
The Store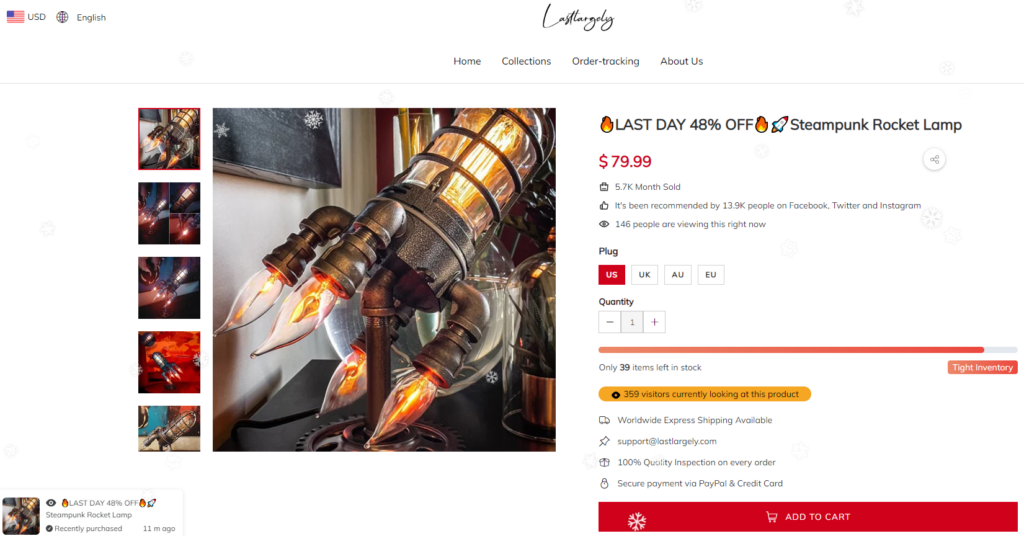 At first glance, this store looks well made and I thought I won't need to talk much about it… But after a minute, I realized that this isn't the case with this store and there are some mistakes to avoid.
Now don't get me wrong… They are definitely making sales here but some stuff could be done better.
Let's start with their deal: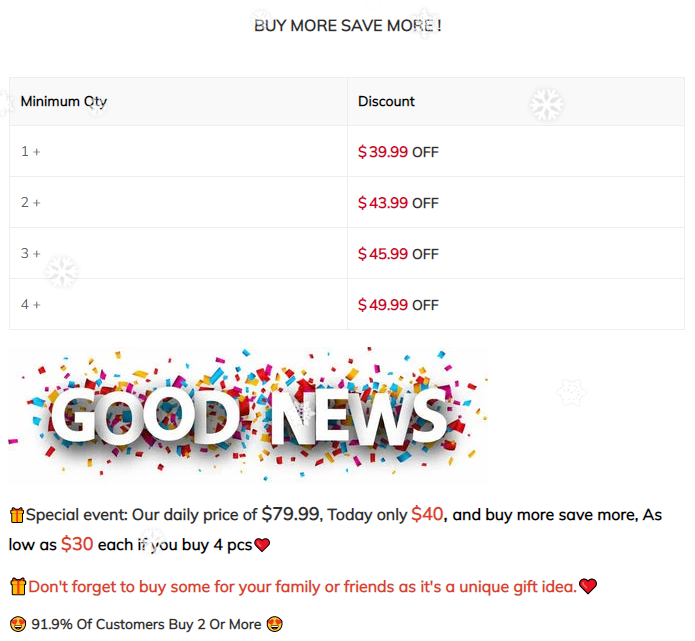 On the product page, the price shown for this lamp is $79.99 and only after you scroll down a bit you can see that there's an automatic $40 discount starting from a single unit.
So their strategy here is to "shock" the customers with a high price and only after they scroll they see the real price is $40 and proceed to checkout with a smile on their faces.
I find this method a bit confusing which can drive customers away… And the deal is only visible when scrolling down so this is another issue that should be fixed.
If you go with this kind of strategy, then it's better to show the discount right away and not play "guess the price" with your customers.
The second issue is the amount of "sale boosters" which is a bit too much for my own taste:


I find this sale boosters to be too spammy and they're already pretty common so customers don't pay much attention to them, and some even recognize this isn't real.
The weird "Tight Inventory" text, the huge amount of live viewers, and the recently purchased popup that doesn't stop is too much and I believe it doesn't help them make more sales.
A more clean look with this kind of product would've been much better!
And if you still want some scarcity in your store, then at least make it believable… You'll only see 359 live viewers on marketplaces like eBay and even there it's not the same crazy numbers for each product.
Up next is the product description: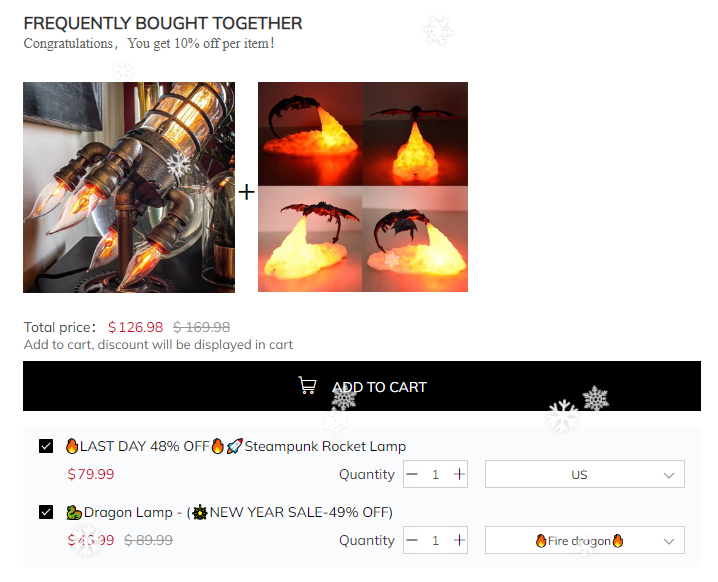 Here I have nothing bad to say except for this pretty random bundle at the end.
I'm a huge fan of increasing the Average Order Value whenever you can but for that to work you need to think a bit and not just add up some random products and call it a day.
This dragon lamp might be cool but it has no relation to the Steampunk world, and you must browse a different page to see all the details about this new lamp.
This interferes with the checkout flow and instead of continuing with the purchase, customers might find themselves somewhere else on your store – Browsing mindlessly and without purchasing anything in the end.
On top of that, the price here is $79.99 for the lamp so customers won't even remember that the real price is actually $40. This makes this bundle a complete waste of space and time.
Next in line are the product reviews: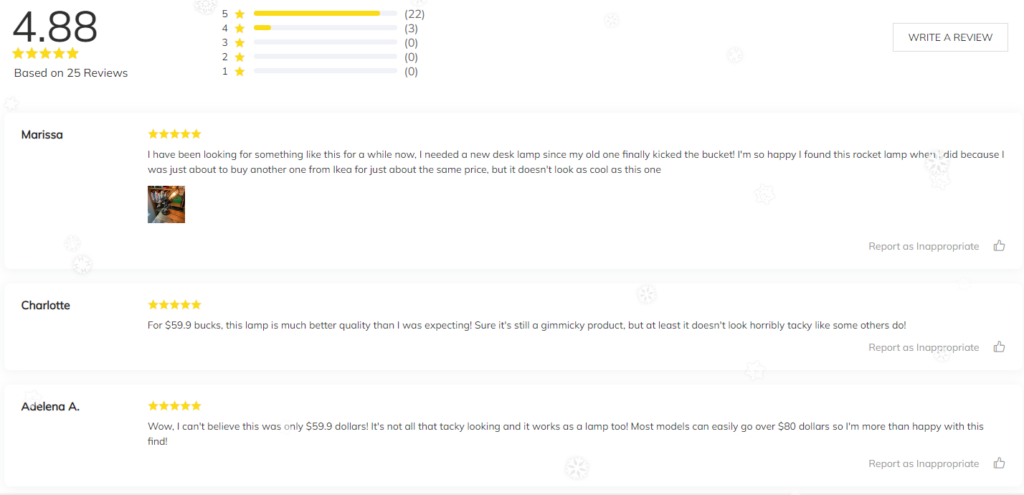 And here I really don't understand why they used such an ugly template and why there's just a single photo review at the top…
As I already showed you, the Aliexpress product page is filled with enough reviews you can import. A lot of them are great looking photo reviews so I find it hard to understand why I don't see any here.
A 10-15 minute work, a few mouse clicks, and you can have a perfect looking review section with beautiful real photos of happy customers on top.
A great conversion booster for your store if done right.
The Checkout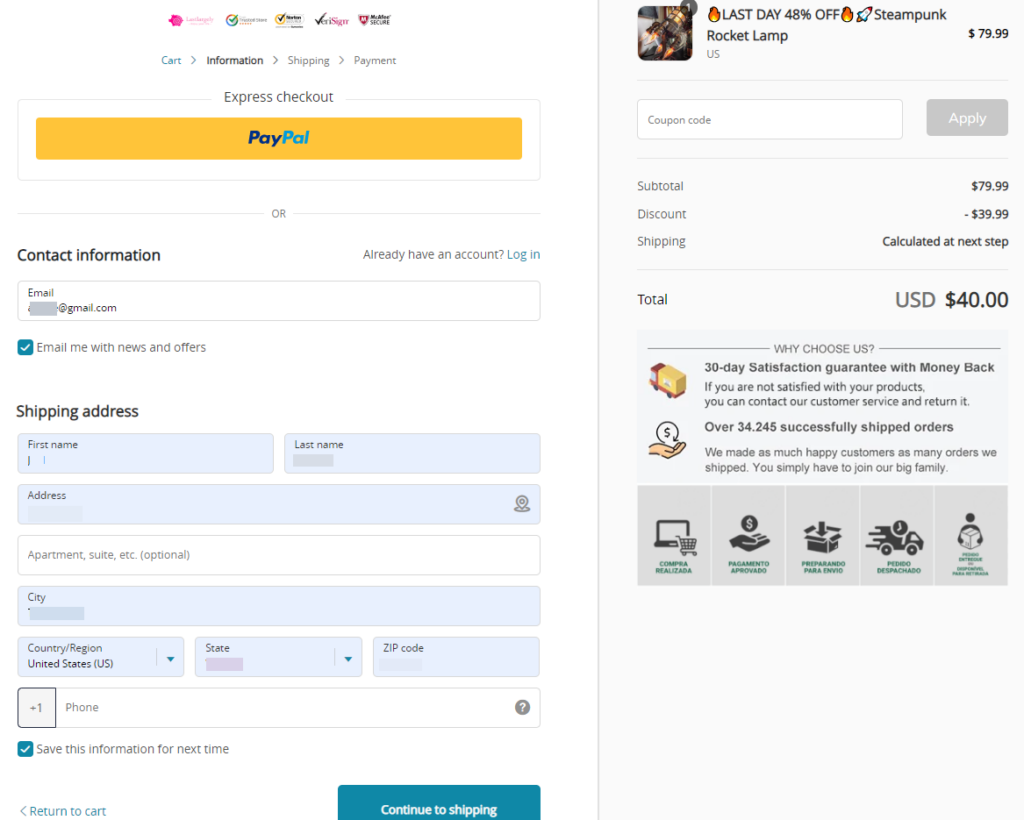 Their checkout is pretty nice – I liked the Why Choose Us section on the right side which clearly increases their store's trust, and I liked it that they added trust badges next to their logo(Although the logo is too small and that should be fixed).
The thing I didn't like is, of course, the trick with the price which is only visible once you're on the cart page or if you go directly to the checkout page.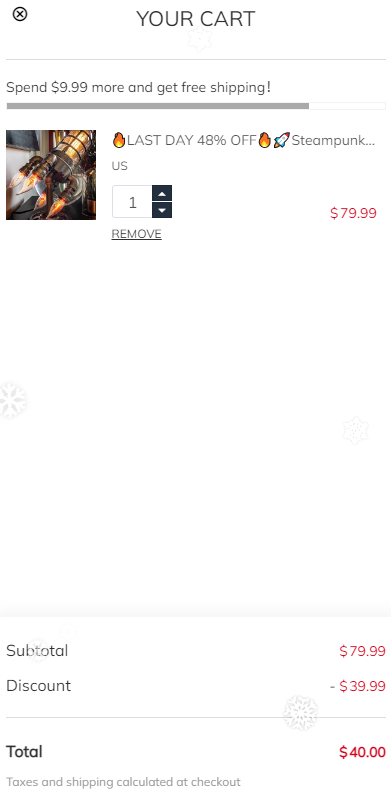 And I also didn't like that the phone number field is mandatory – Now, if they plan using SMS marketing then it's fine. But if they don't, this field should always stay optional because some people hate SMS spams or are afraid from telemarketing.
This could lead to a lost sale and you should avoid doing that – Again, unless you have plans for SMS marketing then it's fine.
Shipping page: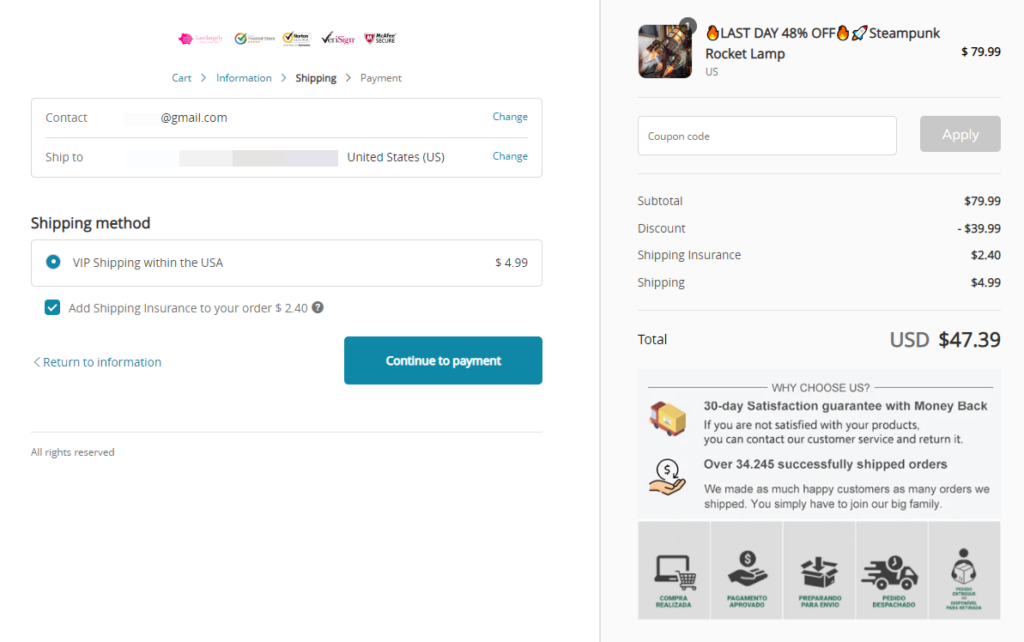 They don't have a Free option if your order amount is less than $50 which is their choice and I can't really say if it's a good move or a bad one.
I do like the name of that paid shipping option which makes it seem better – With that name, it may hurt less for the customers when that additional sum of $4.99 is displayed.
But again, they had to ruin that with the shipping insurance fee… It's fine to try and add that fee to gain that extra few bucks but it sucks to learn the "VIP" shipping option isn't insured.
So think before giving names such as VIP Shipping and later asking for additional money for insurance and other stuff.
Payment page: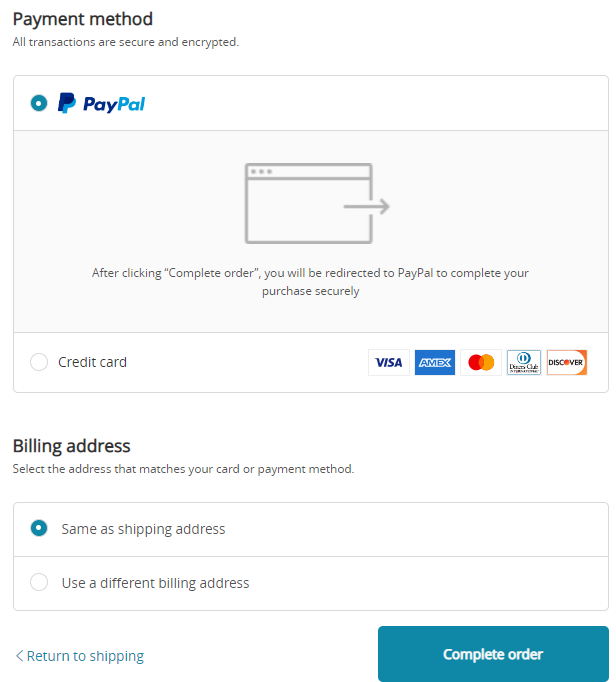 Standard payment page with both PayPal and Credit Card options available. I'm happy to not see a tipping section which many Dropshippers like to add…
To Sum It Up
This Steampunk Rocket Lamp is the GO TO product if you want to enter the Home Décor niche and make some real money this year 2023.
If you take this product right now and avoid all the mistakes I've shown you above, then you have a good chance of making a bank with this product.
The original seller did good with this product but there were unfortunately too many conversion killing mistakes done as well – Fortunately for you, this just shows the HUGE potential this product still has.
So don't sleep out on this one and start selling it right now!
Good luck!
Struggling to find good products to sell? Not sure who's your target audience? Tired of losing money on products you were sure were "winners"?
Then Ecomhunt is what you need! Find hot winning products that are added daily, spy on their ads & stores and import them into your store in 1 click and Start Selling Today!