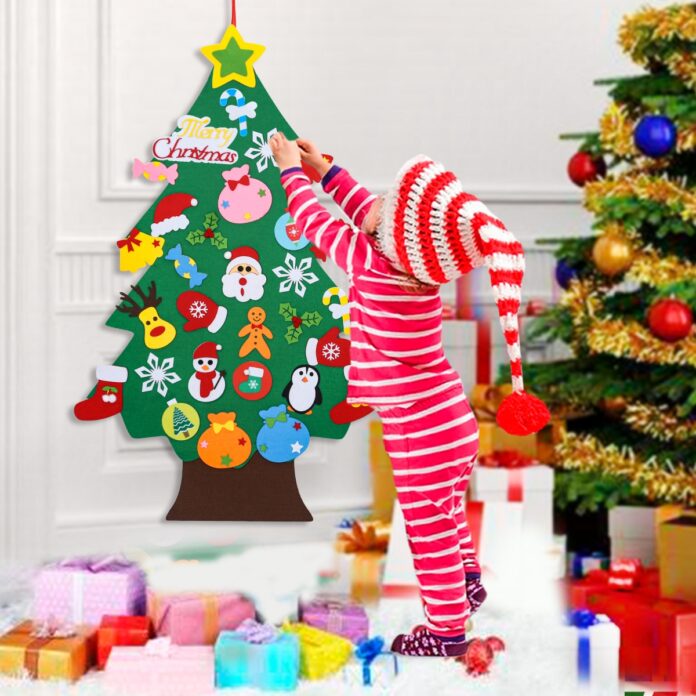 If you're looking for Winning Products to sell this Christmas 2022, then make sure to check out our hottest product recommendations!
But Daniel, Aren't you a bit too early for Christmas product recommendations? No, I'm not!
Christmas is the most wonderful time of the year and it's also the biggest selling event ever, so you have to prepare beforehand if you want to make some crazy sales.
Now's the best time to start preparing your ads and doing some research, so when the time comes you can launch your ads and wait for the sales to roll in!
In this article, you'll find not only product recommendations but also targeting suggestions, selling strategies, and a lot more.
Make sure to read the whole article to not miss something that could've skyrocketed your sales.
Enjoy.
1. DIY Christmas Tree Kit For The Whole Family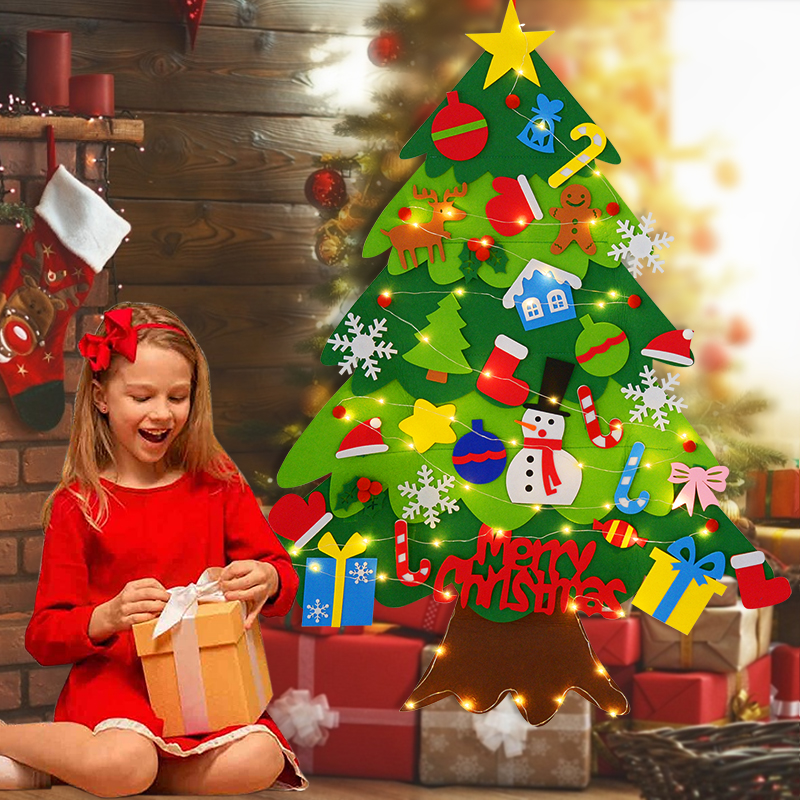 This first product on our list is this awesome DIY Christmas Tree Kit which is perfect for children. Spending time with the kids this Christmas just became more fun 😉
The cost of this DIY Christmas tree kit on Aliexpress is about $8, and it comes with a free shipping.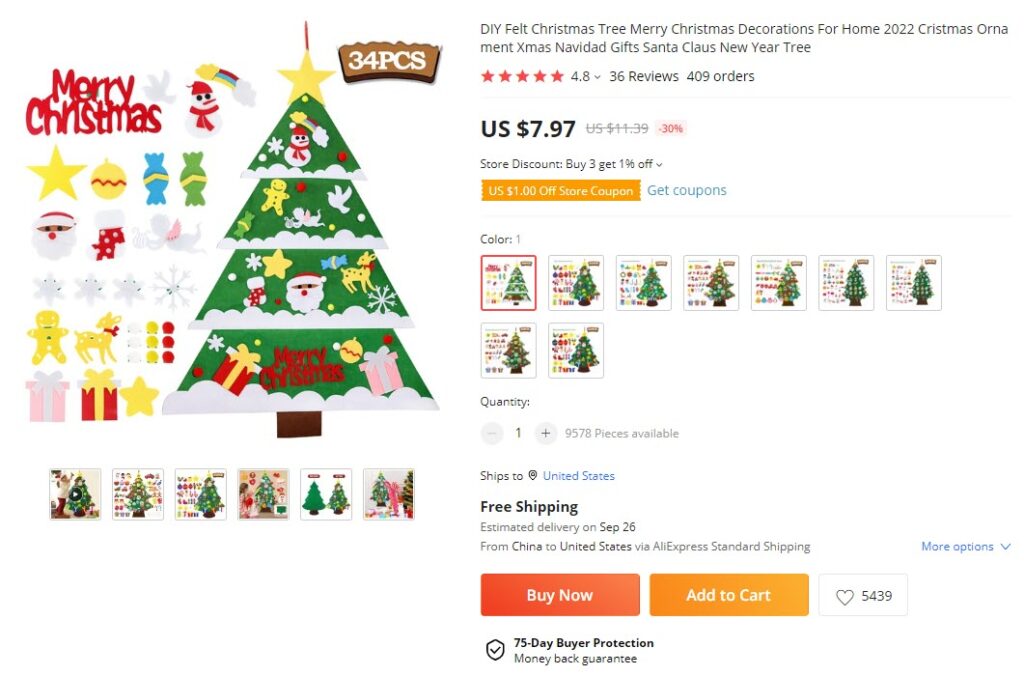 You can easily sell this product for $29.99 or even $34.99 + Free Shipping and get a nice $20+ profit back.
When this product was first posted on Ecomhunt 4 days ago, it had "only" 400+ likes and 30 comments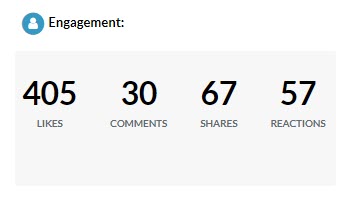 But it looks like it is picking up quite fast because it already crossed 3k likes and received over 363 comments!!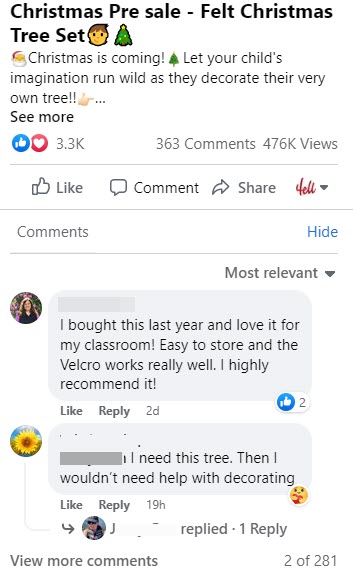 As I already said, you can start selling Christmas products starting early September and get some good sales going before other Dropshippers join the party.
So don't sit out on this product and start selling it right now!
Targeting:
You can target people who like Christmas related interests, but I think the best option will be to start from parents with small kids and focus most of your budget on them.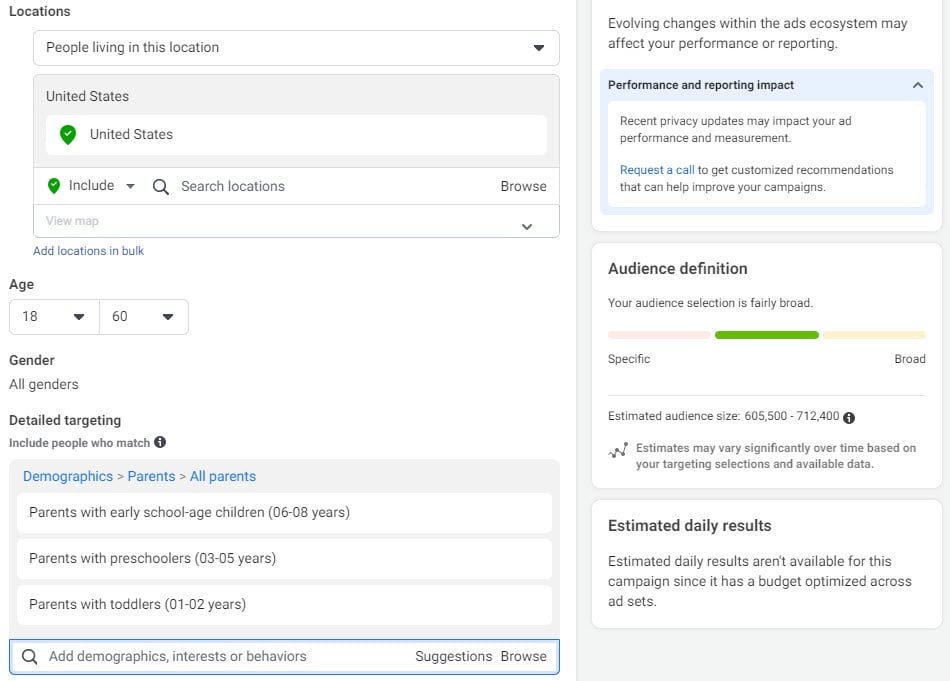 Especially when it's so EASY to target them with the help of Facebook's Demographics. Tell a story in your ad about the importance of spending time with your kids, and you will have sales going for you in no time!
And once you get steady sales, you can start by expanding and using different interests to really scale it up.
Pro tip:
Use quantity discounts when selling this product and offer a nice discount(at least 10%) for the second product, and an extra 5% discount for each additional unit.
I can see parents picking up more than just one DIY kit so there's a lot more profit to be made if you offer a good deal for your customers.
2. Warm Winter Boots For Women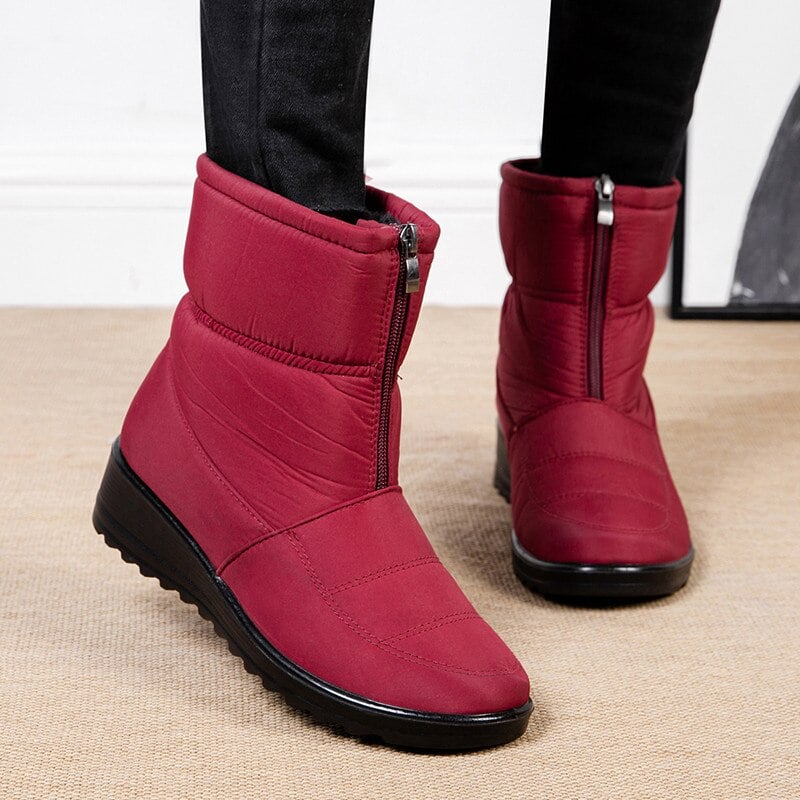 Winter shoes, especially the ones for Women, are trending every Christmas year after year. With the right ad, these shoes can be the game changer that will take your Dropshipping business to the next level!
And it doesn't have to be the same product as shown here… Feel free to look for different styles on Aliexpress and maybe you'll find something much better.
Or you can always use Ecomhunt Adam which recommends the hottest products to sell from Aliexpress: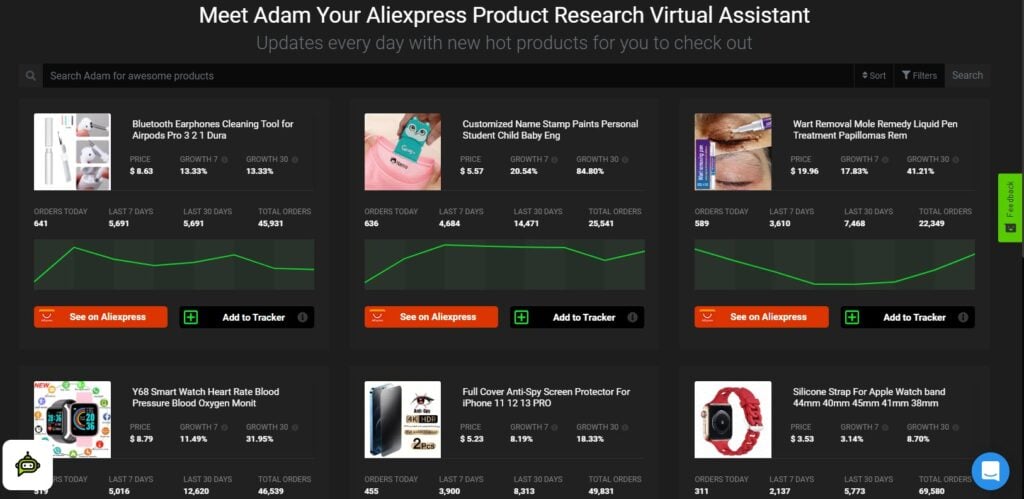 Type Winter Shoes in the search bar, play a bit with our smart filters, and maybe you'll find your next Winning Product this Christmas!
Selling strategy: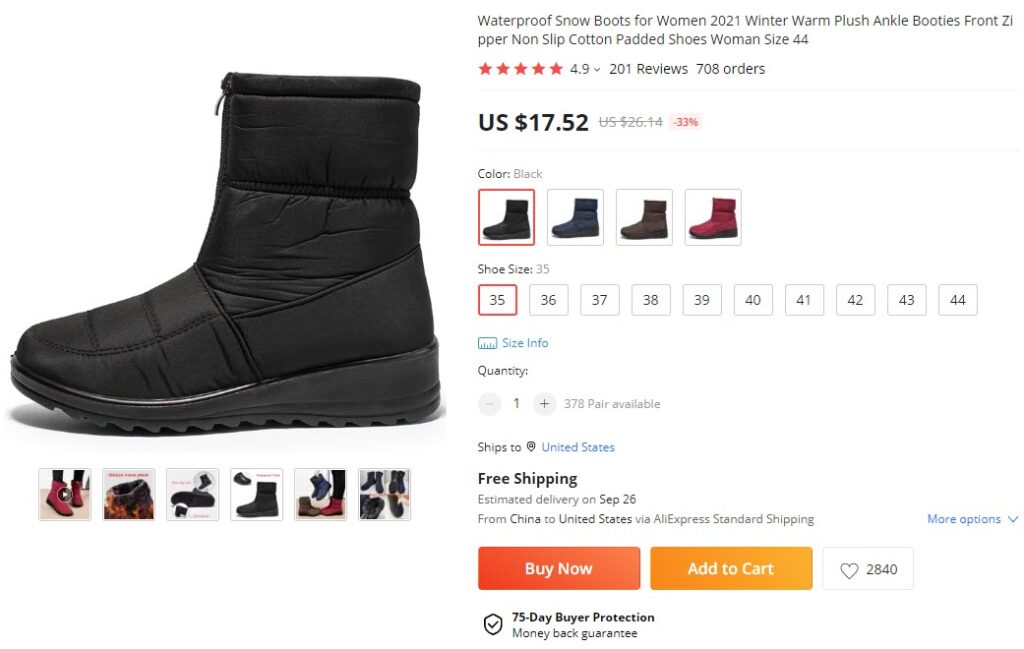 The shoes cost on Aliexpress is about $18 with Free Shipping. You can price these shoes for at least $39.99 or even $49.99 with Free Shipping included and get a really nice profit back.
As for bundles and upsells, I recommend avoiding them unless you have a REALLY good product you can offer with these shoes. It's best to close the sale as fast as possible without letting your customers explore too much on your store.
Women tend to be more picky so if you show them more products you sell on your store, you may just lose a sale because of that…
Always remember that you are NOT Amazon – Get the sale as fast as possible, and without any middle interruptions to keep your checkout flow fast and simple.
And only when the money is already in your pocket, you can try and sell your customers other stuff using email marketing or with retargeting ads.
Targeting: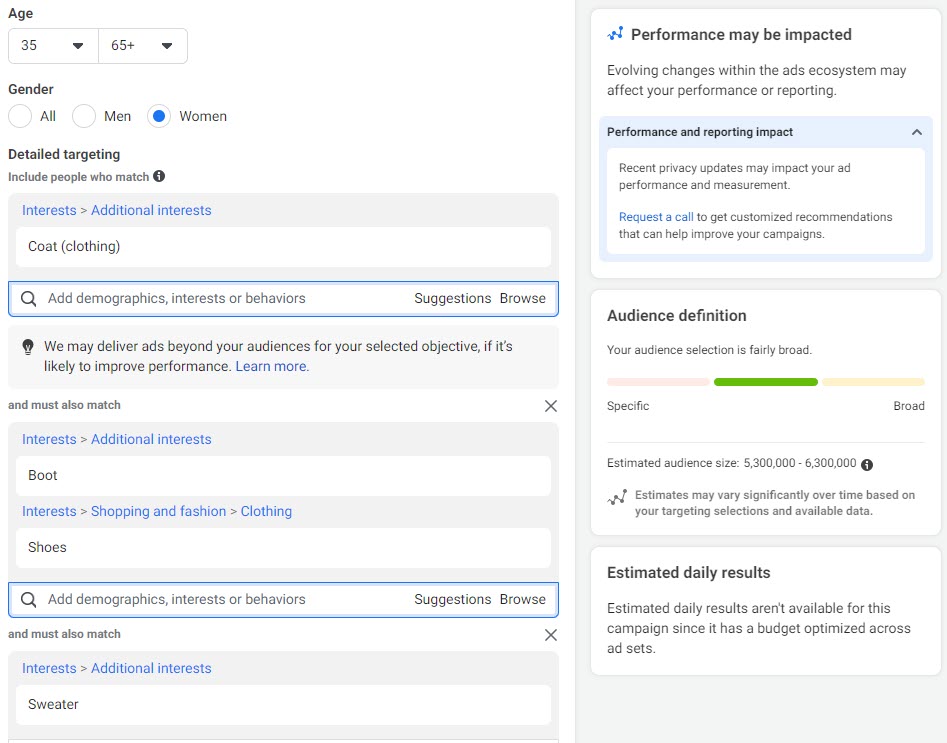 Unfortunately for this product you will have to try at least a few interest combinations till you hit the one that converts the best. You can try fashion interests like popular brands Women love or just by using general interests like "Clothing".
In the example above, I went on a bit different path and chose clothing interests that are more related to Winter and layered it down with Shoes + Boot Interests.
I think this is the fastest way to find Women who are actually preparing on buying warm shoes this Winter so there's a good chance the audience inside these interests will respond well to your ad.
3. Warm Winter Pet Bed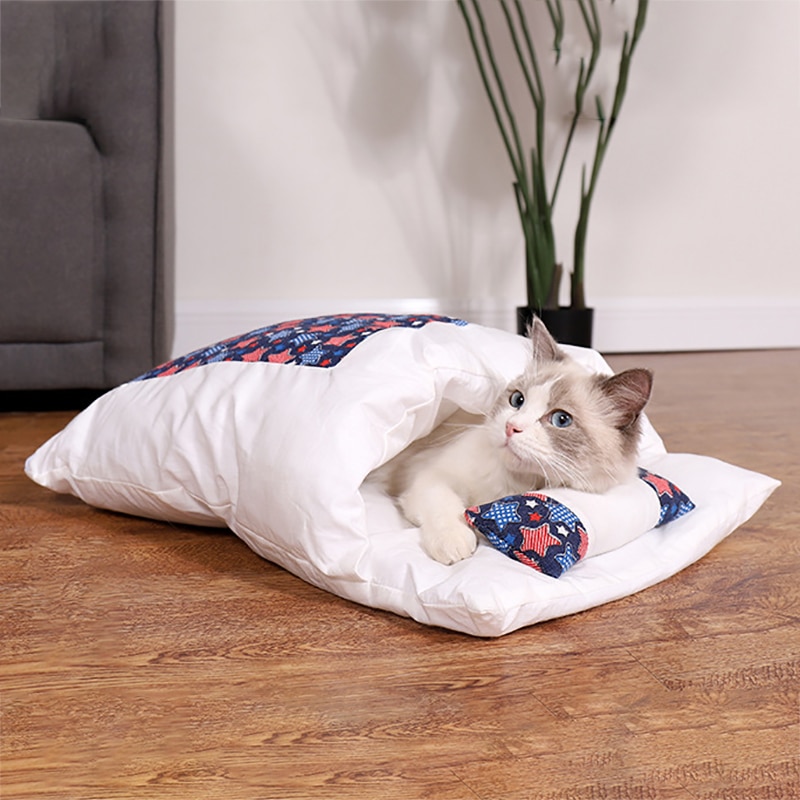 As a cat owner, there's no chance this list won't have at least one pet product recommendation! And with the right ad, this Warm Winter Pet Bed is definitely going to be a best seller this Christmas 😉
Suitable for both cats and average sized dogs, this pet bed will keep our fur friends warm and happy this Winter. This product was a best seller last year, and with a fresh ad it can surely make a good comeback this year as well!
If you want to make this product to make sales this year, you'll have to create a fresh new ad. If you just copy the same ad that was posted in the past, it won't really work.
So if you decide to test this product, now's the time to work on finding fresh footage to create a stunning video ad that will blow up your target audience's mind!
And there are plenty of ways you can do that:
You can contact the sellers on Aliexpress and ask for additional videos/pictures and make a fresh video ad from it.
You can order the product yourself and film a quick ad using your mobile phone(Yes, simple mobile phone ad can work really well!)
Send this product to some random Fiverr guy/girl and ask them to do a product review of this product. This method always works and the engagement on these type of videos are always high.
And more…
So just don't be lazy and make some effort to put out a great looking video ad for your target audience.
Selling strategy: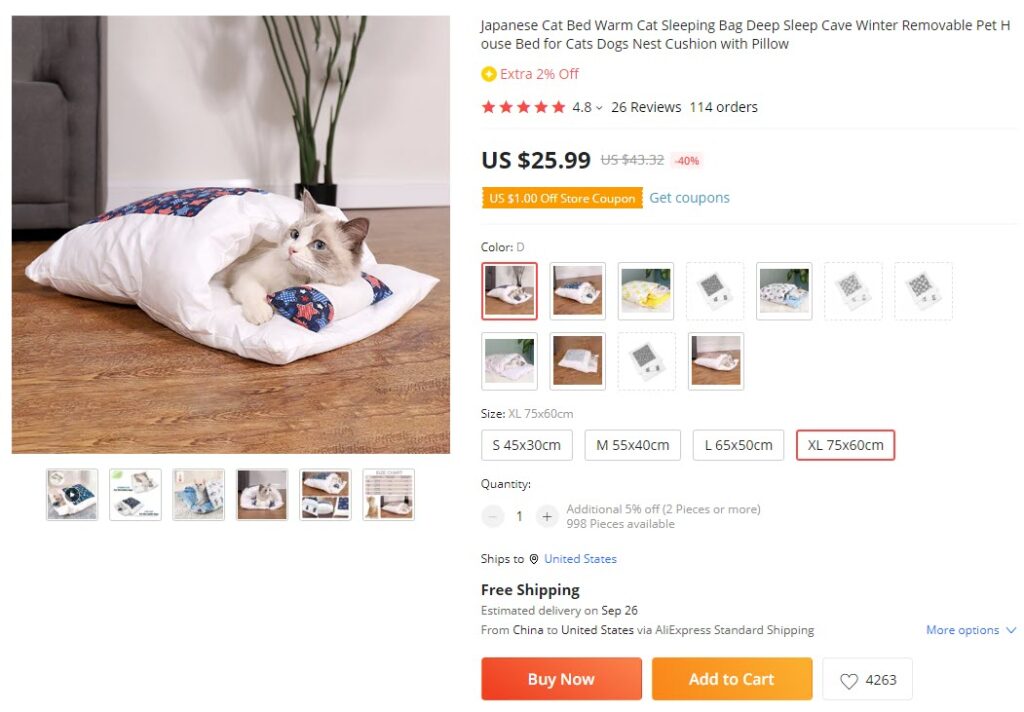 Depending on the size, this product costs between $13 and $26 with Free Worldwide Shipping. Now when selling this product, I recommend sticking to only 2 sizes.
I think that the Small & Medium sizes are way too small even for cats, so offer only the Large & Extra Large options. Even if it's a bit too big, this won't be as bad as ordering a size where the pet just won't fit.
The price for the Large pet bed is $20 and you can sell it for $39.99 or even $44.99 and the Large option can be sold for $49.99. This will give you enough room to make a good profit and to keep the the retail price reasonable for your customers.
Another "issue" is that there are too many color options which we absolutely don't need – Offer up to 4 options and that's it!
We want our customers to choose fast the style they like and move on to the checkout page. Anymore styles will just slow down the checkout process and we don't want that to happen.
You can also offer quantity discounts just in case if a customer needs more than one pet bed(highly likely). Just make sure to give a good discount, one that will actually tempt your customers to get more than one piece, and you'll be making much more money for each sale.
Targeting: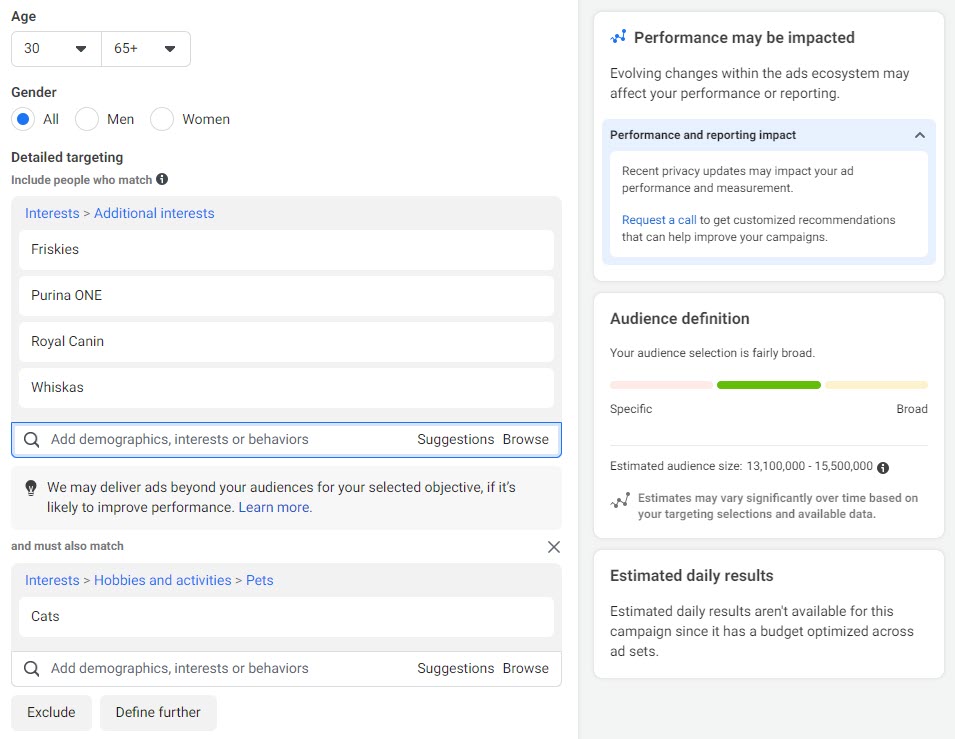 Targeting pet owners is quite simple on Facebook because there are plenty of really good interests we can use such as pet food companies that only pet owners will actually like(see picture above).
If I were to sell this product, I would go first with cat owners and see how it goes. I think this product is more suitable for cats than dogs, but it's totally my own opinion here.
You can try and target small dog breeds to see if this product will interest the dog owners as much as the cat owners.
4. Women's 3 Piece Winter Scarf Set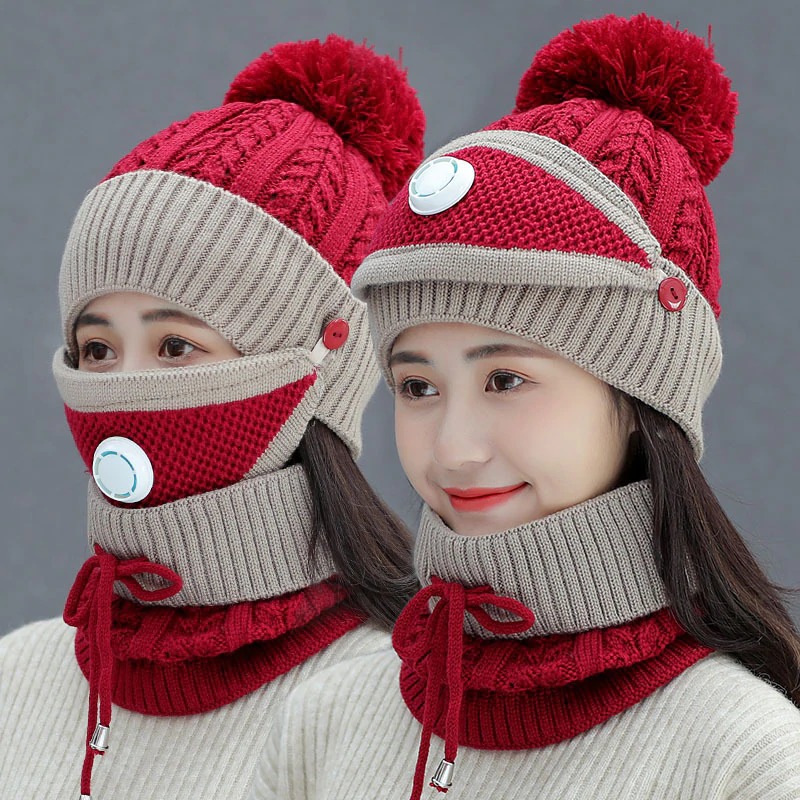 This Women's 3-piece scarf set was a HUGE winner last Winter and it really exploded during Christmas. And one of the most viral ad for this product was a simple photo and nothing more than that.
The product sold like crazy with just a photo ad – This shows you just how loved this product was last year and the potential it has this Christmas 2022!
But before you jump on this product, make sure to search on Aliexpress for some other styles. There's a chance you'll find a much better version than this one, and this will make it much easier for you to sell 😉
You can even try looking for Men's scarfs and see if you find something worth to dropship.
As for the price, try to sell the scarf of your choice for a price that will leave you at least $20 of pure profit. There are some really great looking scarfs like the Bunny one which can easily sell for $40, $50, and maybe even more than that.
Targeting: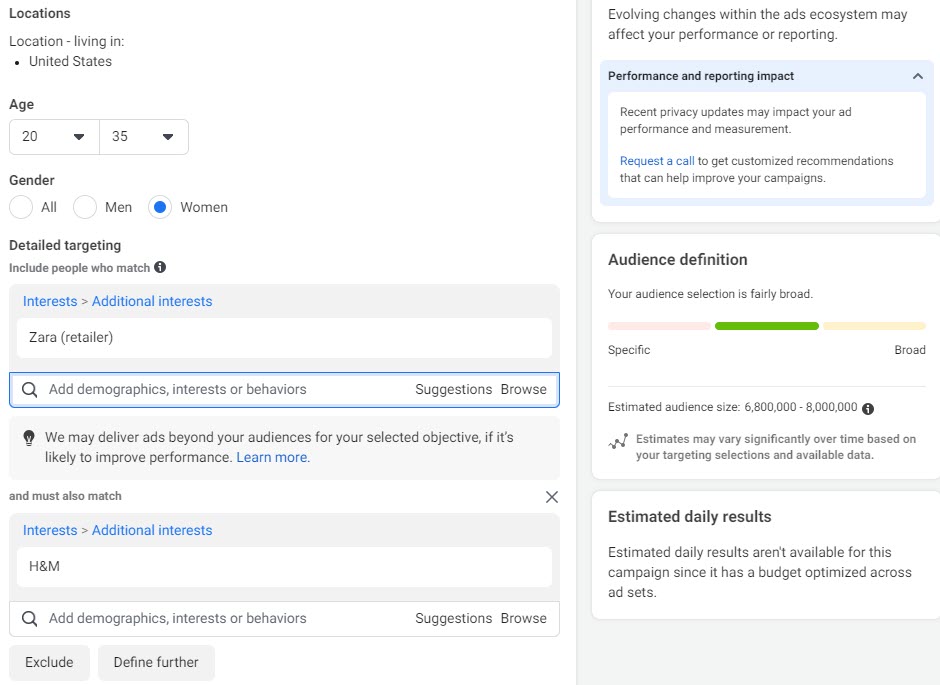 In my opinion, the best targeting option will be young women(20~35) who like big fashion brands such as Zara, H&M, and others.
It's hard for me to see older Women wearing a cute bunny shaped scarf, so it's best to focus a big portion of your budget on a younger audience.
Later, if everything goes well, you can try expanding your target audience by targeting older women just to see how they respond.
5. Women's Thermal Winter Socks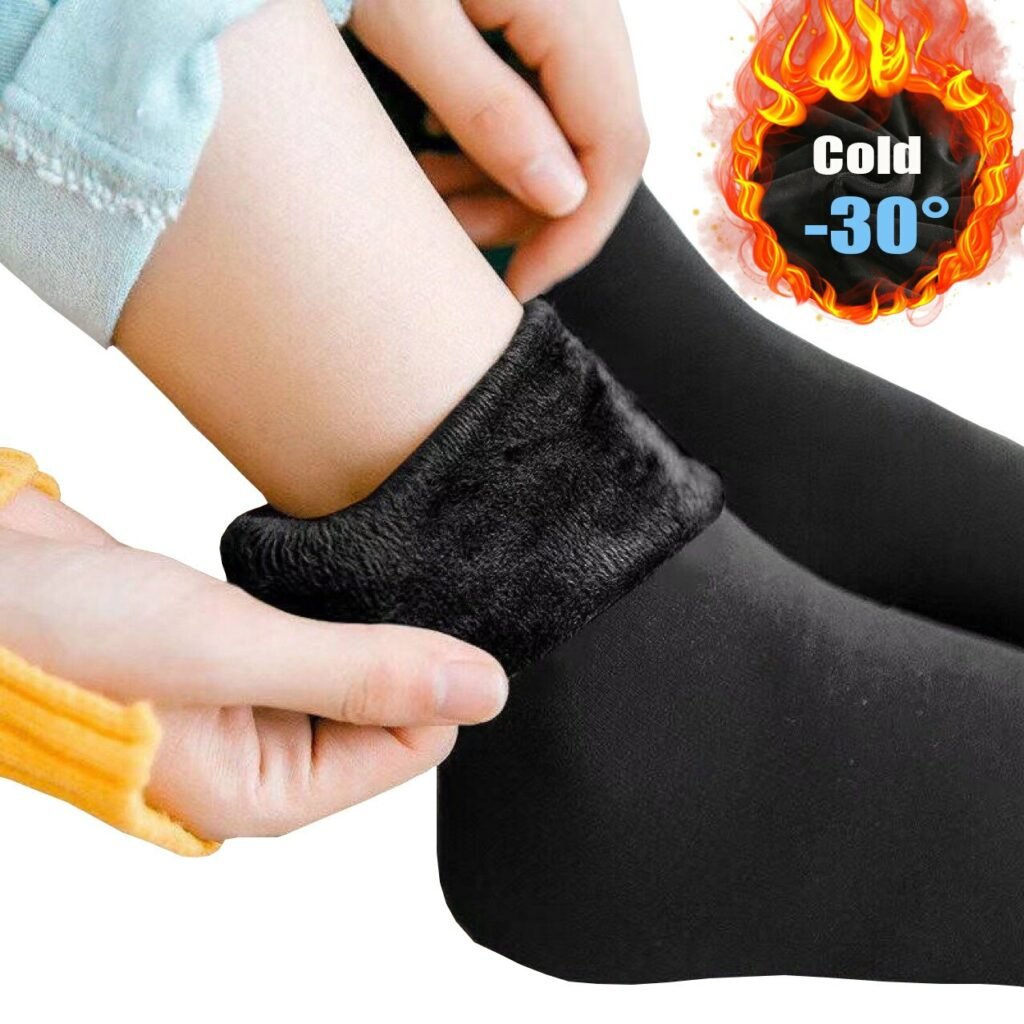 If you've been following last year's trending products, you probably noticed that one product that the whole Dropshipping community jumped on.
That product was Women's warm leggings and some Dropshippers made a killing selling these!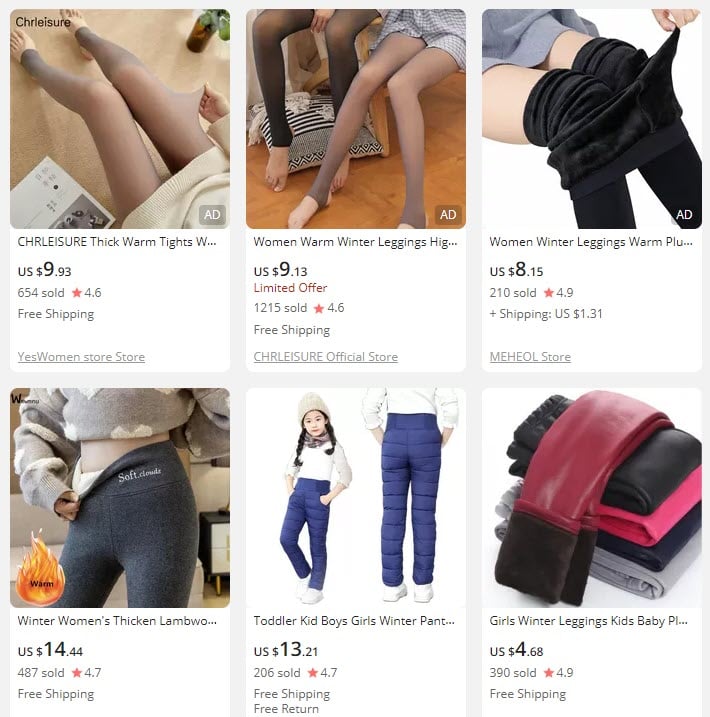 And now this year comes the turn of the warm winter socks which can be a real hit if you market it correctly.
And the best thing about this product is that you don't need a fancy video ad to start getting sales. A photo ad is more than enough, same as with the warm leggings which were able to go viral with just photo ads.
Note:
I'm not saying you should discard video ads and go with just photo ads for this product… It's just that if you don't want to waste time and start away you can do it with a couple of photo ads and see how it works for you.
Once you have the photo ad running, you can work on your video ad to test it later once it's finished.
Selling strategy:
This product is quite cheap but it solves a big problem for many women(especially the older ones). It's an absolute must to show this product as a SUPER PREMIUM one to charge the maximum possible from your customers.
I would even go and advise you to open a one-product store and fake brand these socks to make them much more desirable. With that, you can charge $24.99 + Free Shipping and get sales without any issue.
And with this price you can offer very generous quantity discounts which will help you make even more money.
Targeting: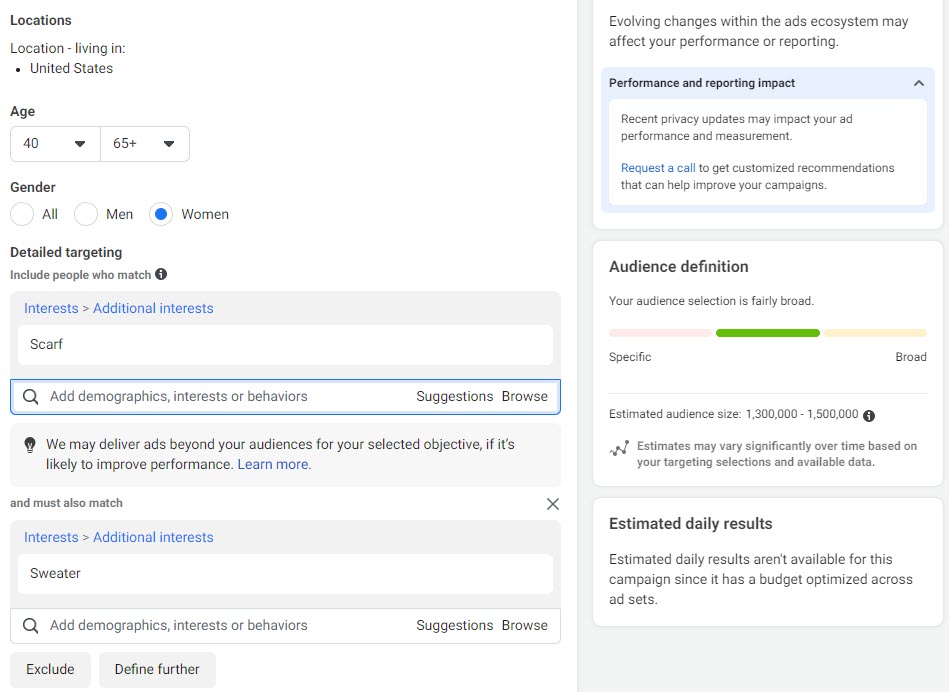 Older women suffer more from the Cold so it's quite logical to try out them first before targeting the younger ones. I would say a 60%-40% budget split, or even a 70%-30% towards older women and the rest towards young women.
As for the interests, I suggest using some winter clothing interests like the ones you see in the picture above. Big fashion brands are also an option so feel free to try them too.
To Sum It Up
You can't go wrong with these products – Some of them are already proven to sell from last year, and others are just exactly what people are looking for to make Christmas more magical 🙂
There's still time for Christmas but it isn't that far away…
Start preparing right now so you can make Christmas 2022 your best one yet!
If you have questions, feel free to ask me in the comments.
Good Luck!
Struggling to find good products to sell? Not sure who's your target audience? Tired of losing money on products you were sure were "winners"?
Then Ecomhunt is what you need! Find hot winning products that are added daily, spy on their ads & stores and import them into your store in 1 click and Start Selling Today!