Here are four tips that will help you become a better dropshipper in 2022. If you're new to dropshipping, then this article is a must read for you!
From important product research tips to customer satisfaction, these tips will help you take your dropshipping business to the next level.
Enjoy.
1. Reduce Your Costs
Dropshipping is a great business model which allows anyone from anywhere to sell almost any product they want online.
This without the huge costs of renting an office/workspace, buying stock, paying local taxes, and other costs that just makes it all too expensive for most people.
With dropshipping you just need a computer with an internet connection, a decent(it varies) marketing budget, and a few more bucks to maintain your store's subscription.
And this is exactly where the problem begins…
People see the dropship business model and realize it's relatively simple and much cheaper than opening an old school offline business, and it leads to them spending WAY more than they should on stuff they don't really need.
Stuff like having a "professional" logo design and premium Shopify themes that can cost hundreds if not thousands of dollars.
Some even hire developers just to change a few stuff in their store, or even worse to build an entire online store from scratch.
And of course there are also the paid Shopify apps that people install and keep paying for them without them giving any value back(although it's not the apps fault).
And why investing more time and money into your store is a bad thing you ask?
It's bad because all these things aren't really needed for dropshippers who just began their journey and this money will be much better spent on the more important stuff.
Stuff like extra marketing budget to bring actual customers to your online store, good ad creatives for the products you're promoting, and money for actual useful apps that will help you bring more sales.
You see, all these fancy stuff aren't really needed to get sales and successful dropshippers know it.
You can build a great looking online store almost for free and sales will roll in as long as you have a good product and a good ad to draw the customers in.
So do yourself a favor and save the money you were about to pay that designer.
If you're a new dropshipper, I recommend checking out our free e-books in the resources section. It's in Ecomhunt main website under the resources section(see screenshot below).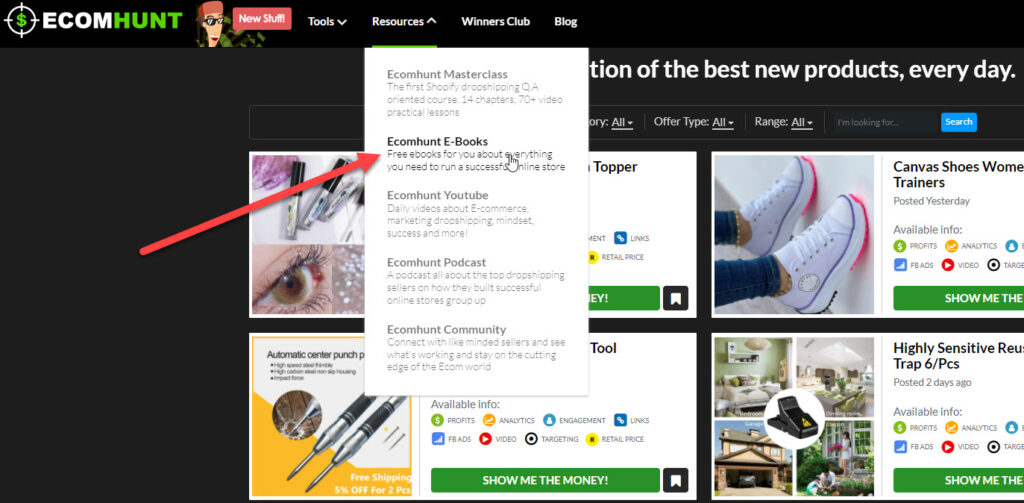 There you will find all the e-books we offer entirely for FREE!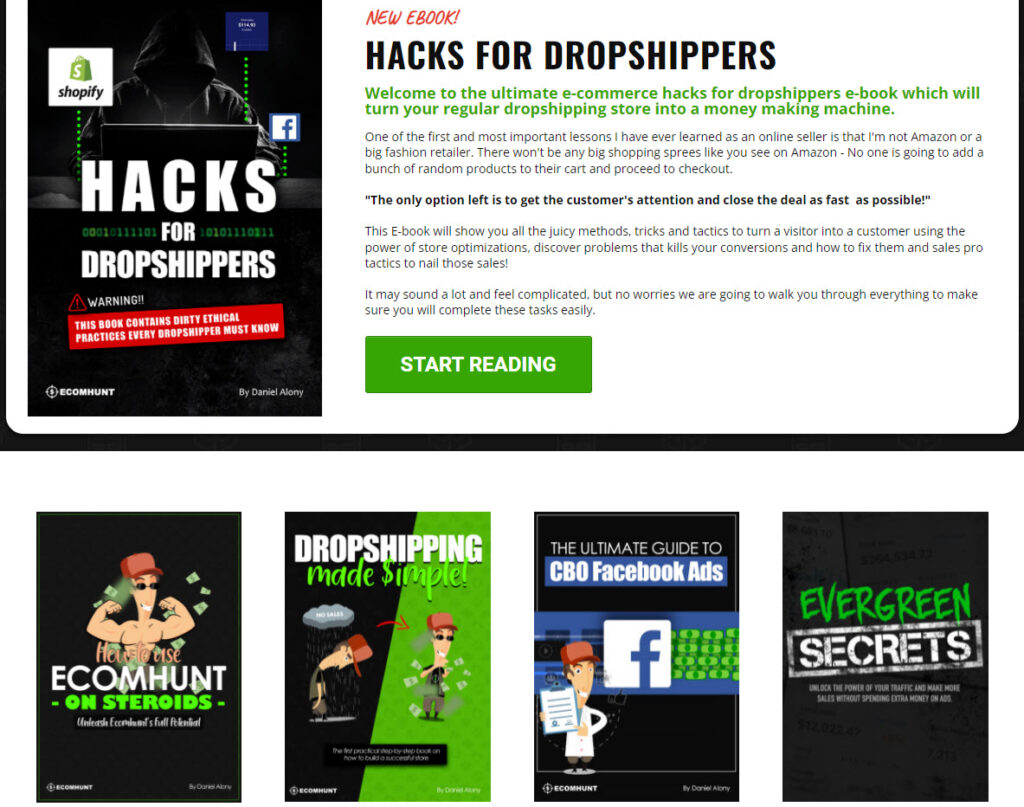 It's recommended to read every book there to understand exactly how the Pros are doing it. They're all built to be super cost efficient and to provide the best methods on how to be a successful dropshipper.
2. Research, Research, Research!
Sometimes you just cannot wait to start a new business venture especially when it's something as exciting as dropshipping. But without conducting a good research, you'll end up losing money and making someone else richer(like the CEO of Facebook who took your ads money).
So before jumping in on the first product you see on Aliexpress, here are a few facts you absolutely need to know about product research:
Someone is already selling the "untapped" product you have just found on Aliexpress – The chances to find a product on Aliexpress no one else have tried dropshipping are pretty low. And it's even harder with products in popular niches like Animals, Outdoor, etc. This means that the product you were 100% sure is going to explode, might end up just hurting your pocket…
It's easier to sell what is already selling, you just need to add it your own twist – Jumping on a product that is already working is your best bet to make some money dropshipping. You already know the product is working and people are buying it, so all you need is to remarket it and you can profit too. Creating new ad creatives, targeting different audiences, and offering a better deal are just few of the methods you can use to sell an already selling product.
Just searching for products on Aliexpress isn't really a research – You have to dig in deeper and find everything you can about the product you want to sell. Stuff like past ads on Facebook to see how well it went for other sellers, Actual stores that were selling your product, potential audience that will be interested in your product, and more stuff that will help you decide if the product is actually worth it.
It isn't always the product's fault – There can be many reasons to why the product you're dropshipping isn't going the way you want it to. From bad performing ads to just a bad timing, it isn't always the fault of your product. And for you to understand what went wrong, you will need to have experience which is hard to ask if you're a newbie dropshipper. So if you're new to the dropshipping world, I would suggest asking for help from someone more experienced OR at least reading an e-book or two on how to review your own ads(we have it in our blog).
Research is an important part of any business, and not just dropshipping. Just think about it, would you do it at the same pace if this was an offline business?
The answer is no because the investment is probably much higher… So take your time and take it slow if you want to have a real chance at dropshipping.
3. Know Your Budget
Dropshipping, as any other business out there, requires money to operate. These aren't big amounts that offline businesses require, but you still need a couple of thousands.
Marketing isn't getting cheaper and with each day there's more competition from other dropshippers and online businesses over the same audience.
So in order to succeed in this area, you need to be smart and calculate exactly how much you can afford to spend.
You have to be ready to "lose" money before you can even think about making profit. Most dropshippers will lose money in their first tries before even hitting a product that actually sells.
This is a harsh reality but please don't let it scare you away. If you play it smart and think before your every move, your losses can and will be cut to the minimum.
And once you're on a roll, dropshipping can become your new income stream.
As I already said in this article, learn from any free source available before making a move that will ask you to invest money.
Now back to the budget…
Marketing is probably the biggest part of this business as you have to drive traffic to your own online store. You can't do that unless you pay money so a big portion of your budget will be paying for ads.
If you plan on starting your dropshipping journey, then be ready to invest a few thousand dollars on ads. This means that you need to have this money debt free and you have to be psychologically ready to potentially lose all of it.
I know it sounds bad but it usually happens to those who jump on it without learning too much about dropshipping. If you're smart, then your losses will be cut to the minimum.
If let's say you have just a few hundreds saved up, and this is your first time dropshipping, then I suggest keeping the money because it just isn't enough.
I once started dropshipping and made good profit when I had about $500 in my PayPal account, but the difference here is that I had a lot more experience in this field and running Facebook ads.
BUT if you still want to try it, then you can always try the free methods to dropship. This can be done on Ebay or Amazon, or you can find some creative ways of advertising your products online organically.
If I remember correctly, there should be an article about free dropshipping methods in this blog so just type "free" in the search bar and you should find it.
4. Keep Your Customers Satisfied
As a dropshipper, you have to understand that for every product you sell there will be a person who is eagerly waiting for his product to arrive.
One of the biggest mistakes of new dropshippers is that they don't care about the package once it was shipped. And not caring about it can lead to bad reviews and to chargebacks that can hurt your cash flow.
In order to minimize customer support issues and to keep your customers happy, you can use different fulfillment services to reduce shipping times and to have some quality control over the products you ship.
On top of that, you need to have an active customer support email to answer on emails daily.
Back in the days, not so long ago actually, dropshipping from Aliexpress was a mess… It sometimes took 30 days for the product to arrive and some customers weren't happy about it.
Nowadays it's much easier – There are dropshipping fulfillment services out there like Drophippo, Spocket, Yakkyofy that can deliver your products promptly and make the whole process almost automatic.
And there's an actual person you can talk to if there's a problem with your order. In the past, you had to contact the actual Aliexpress seller which sometimes was an absolute torture.
Once you have your customer service under control, dropshipping will become much easier and you won't have to worry about PayPal or Stripe limiting your accounts.
To Sum It Up
I wish I knew these tips when I first jumped into this wonderful world of dropshipping. It would've made my life so much easier by saving me a lot of trouble and money.
But we can't jump to the past so these tips will stay here in the present to make it easier for newbie dropshippers like you in your future business ventures 😉
Good Luck!
Struggling to find good products to sell? Not sure who's your target audience? Tired of losing money on products you were sure were "winners"?
Then Ecomhunt is what you need! Find hot winning products that are added daily, spy on their ads & stores and import them into your store in 1 click and Start Selling Today!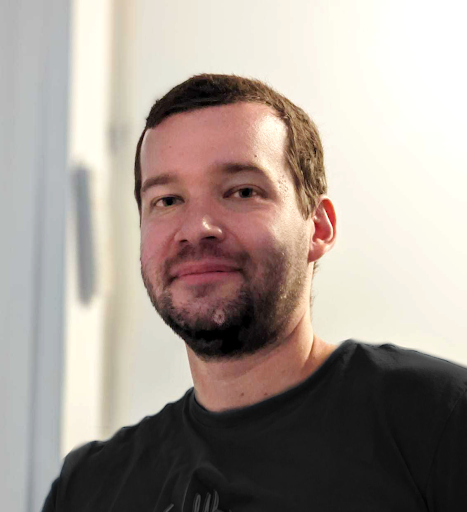 Daniel Aloni is one of the leading mentors in the Ecomhunt family. Daniel is a highly experienced Print On Demand seller with multiple 6 figures successful launches.