Looking for products to dropship this Christmas and explode with them in 2022? Then make sure to check out these 3 hot winning products!
Using various features like Ecomhunt LIVE and Ecomhunt Adam, we were able to find winning Winter products that you can sell right now and make some bank.
In this week's article, you'll find the 3 special products we picked for you followed by some really useful tips. And on top of that, you'll also get professional targeting suggestions you can use for each product.
Don't wait too much on these products and start selling them now!
Enjoy.
1. Winter Coat For Dogs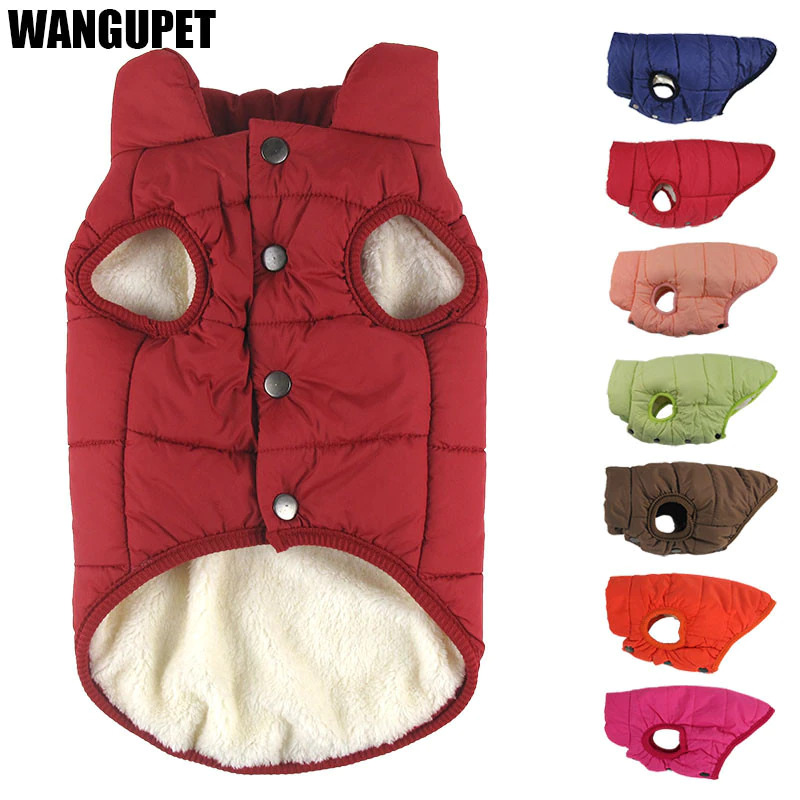 This Warm Winter Coat for dogs is a great product to start selling right now during Christmas and you can keep selling it long after it's over.
There's no deadline, no shipping guarantees and worries about pissed customers – Just create your ad and get the Christmas money into your pockets 😉
The Cold season is upon us and caring dog owners everywhere will be looking for warm coats like this one for their furry friends. So don't wait too much on this product and start selling it right now!
We found this product using our newest feature Ecomhunt Adam and it's entirely FREE for all users: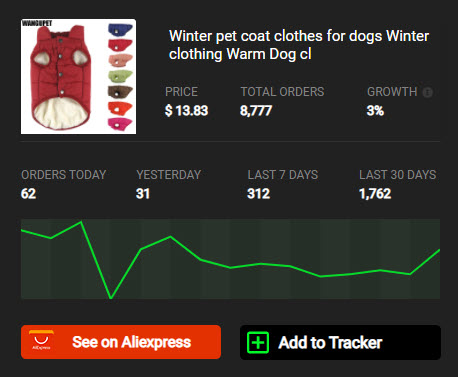 Using the power of AI, we asked Adam to find for us winning products from Aliexpress related to Winter. One of the product Adam chose to show us was this Winter dog coat and it's definitely a winner.
Note:
Ecomhunt Adam isn't an Aliexpress scraper so don't expect it to show any product with the keyword you choose. Adam AI will show only the winners based on its internal calculations.
As you can see, this product is steadily growing in sales and it will probably keep on growing from this point forward up until Winter is officially over(which isn't going to happen soon).
Targeting: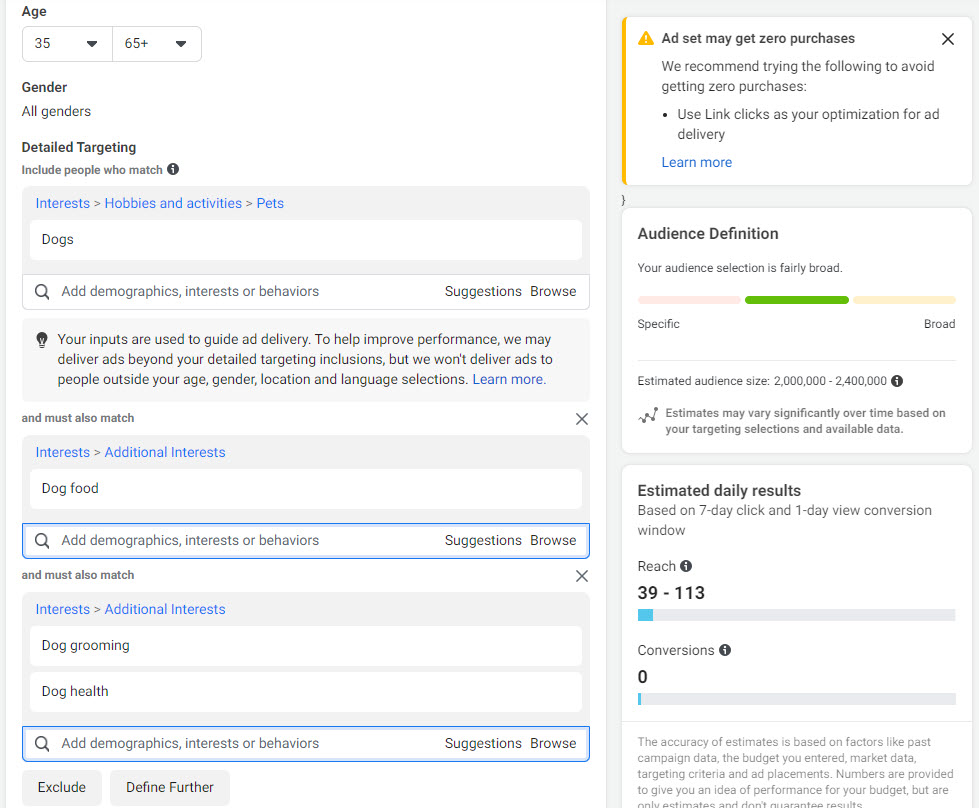 Targeting for this dog coat should be pretty simple… Just target regular dog interests like the ones above and you should be good to go.
You can use one interest per adset or layer them down like you see in the picture above. I also think using interests like Dog grooming or Dog health will get you the most hardcore dog owners so definitely try them out.
Another option, which is way easier, is to target small dog breeds and not just general dog interests. I believe this coat will sell better for people who own small dogs and not big ones.
It's the small dogs who are always cold and not the big ones, so try setting up your main budget to target small dog breeds and the rest you can use to target dogs in general.
2. Warm Winter Home Slippers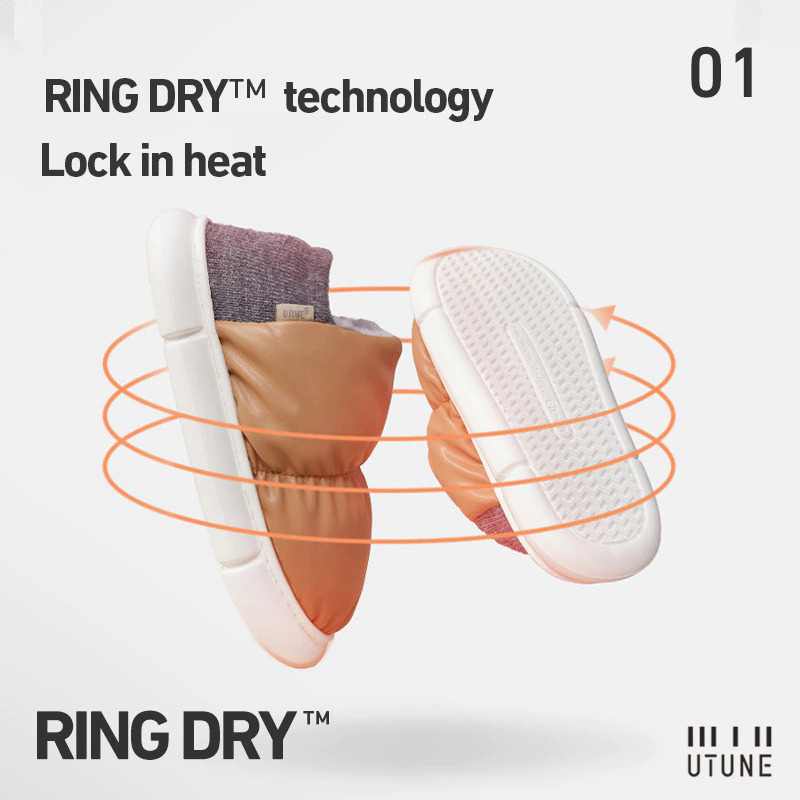 Another product we found using Ecomhunt Adam are these Warm Winter Slippers which are currently trending on Aliexpress. They're really good looking and with the right video ad, it won't be a problem to sell them this Winter.
You can find a good video you can use for your ads on the Aliexpress sale page, and I bet there's a few more videos to be found if you look on different listings.
So making a good video ad isn't a problem and if you're in hurry you can always start with photo ads to see if it can work too.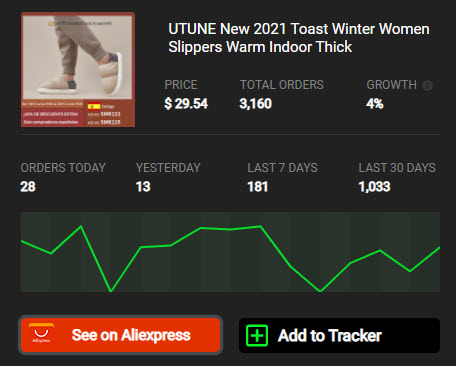 As you can see, the product has great numbers on Aliexpress with more than 1,000 orders in just a month. And with a price tag of $20, you can easily sell these for $40 and maybe even $50 on your stores.
Important:
There are a few more Winter slippers just like these but with different designs, so take a look around and pick the ones you like the most. You don't have to dropship the same exact products as recommended here 🙂
Targeting: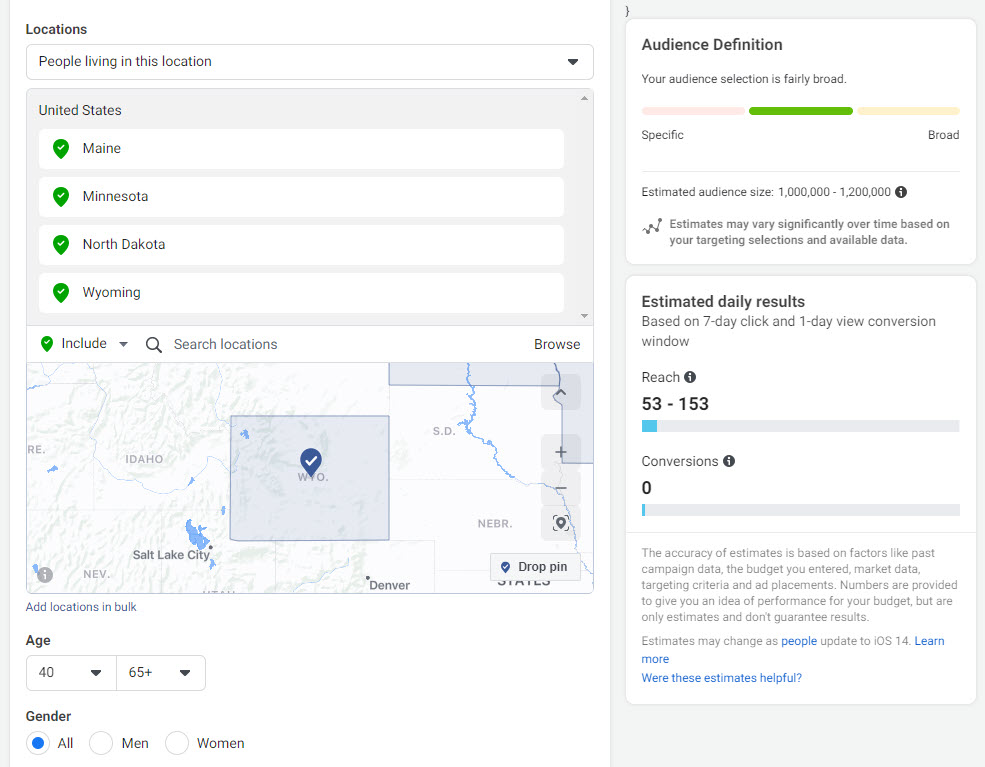 In this case, targeting is a bit more complex…
Anyone basically is a target audience for these slippers so your choices are simply going general or maybe targeting regular fashion interests.
Another option is to pick the coldest states(if you target USA) and target an audience over 40 or even elderly people who might need these slippers more than others.
Endless possibilities really, but with the right ad you should be able to hit the sweet spot and get the most out of this product.
3. Baby Shark Sleeping Bag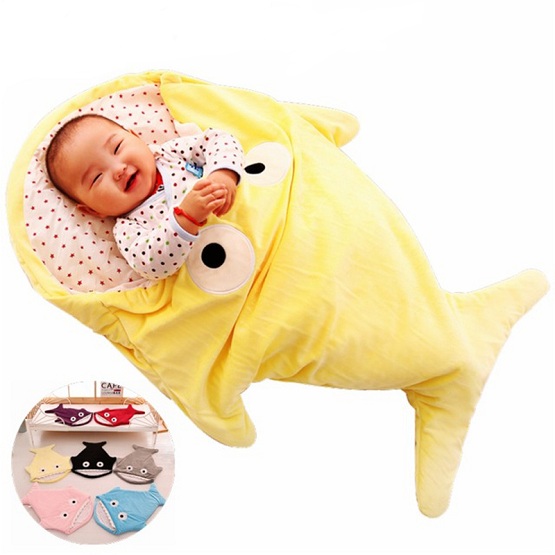 Now this Baby Shark Warm Sleeping Bag is a really cute one and just perfect for the Cold season. On top of that, targeting is super simple so all we have to focus on are the ads we're going to use.
We found this product using the Ecomhunt LIVE feature which gives us a list of 50 most trending products from Ecomhunt database.
Use our LIVE feature to find which Ecomhunt product is currently trending and be the first one to sell it.
Any product, new or old, can be suddenly trending – Your only job is to spot it using the LIVE feature and sell it on your store before other dropshippers join the party.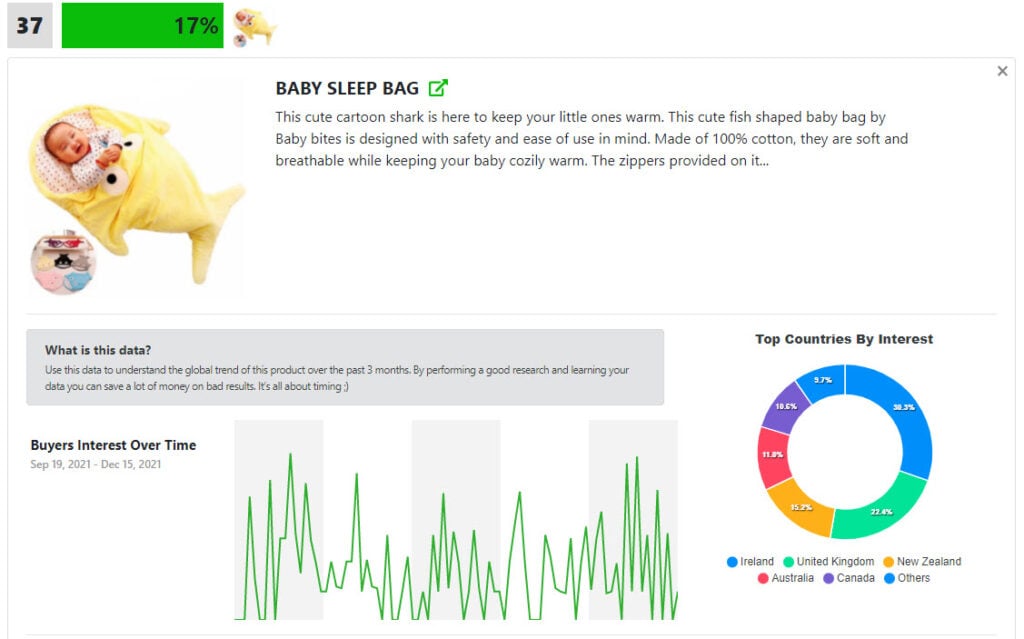 This product isn't in the top 10 but it's steadily rising and will probably break the top 20 spot in a few weeks. And How can I know this?
Well if you click on the baby shark sleeping bag product, you'll see a bunch of charts popup and the one I'm always looking at is the Orders Growth.

As you can see, the orders are growing each day which means this product is gaining popularity. The buyers interest over time is quite solid too so yeah this product is definitely going up.
IMPORTANT:
This product has zero connection to Baby Shark song, BUT if you mention Baby Shark on your ads you can get yourself banned and that's something you don't want to happen.
So refrain from using the Baby Shark brand name and just go with something else.
Targeting: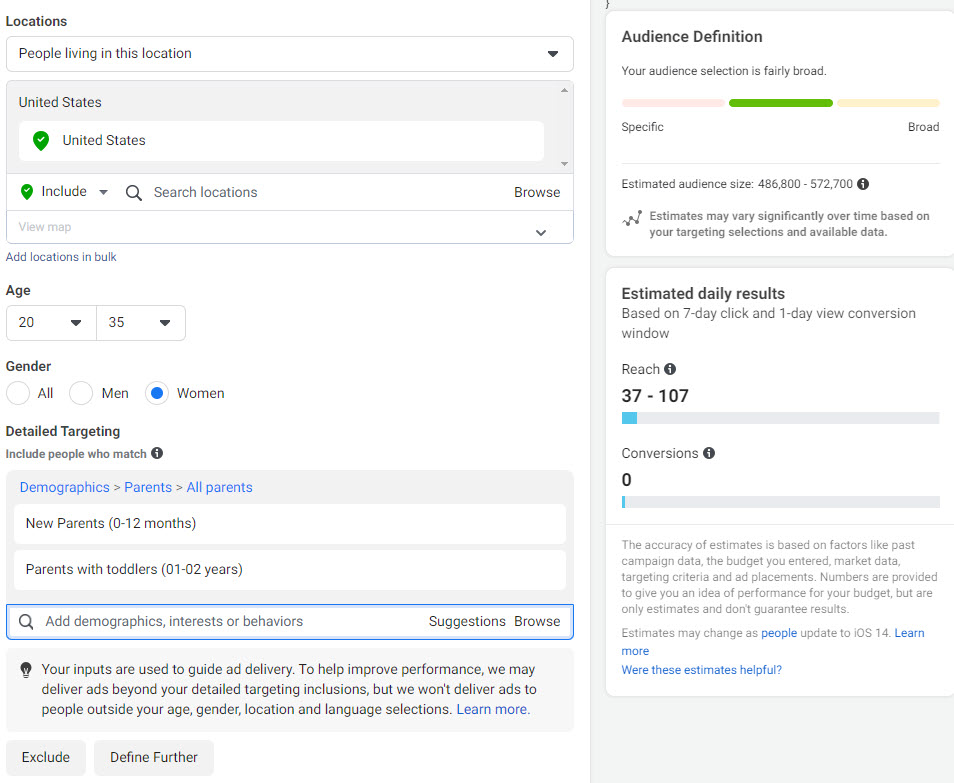 Like I said, targeting is super simple thanks to Facebook – You have precise interests you can use like Parents with toddlers and New Parents to target exactly the audience you need to sell this product.
As simple as that 😉
To Sum It Up
Christmas is the most wonderful time of the year and it doesn't end on Christmas Eve like some dropshippers think. There's still money left to be spent which means our work here is not done.
The products above are a perfect example of products you can keep selling LONG after Christmas and without giving any deadlines that could hurt your business.
Just prepare some good looking ads around these products, launch your ads, and sales should be rolling in!
Good Luck!
Struggling to find good products to sell? Not sure who's your target audience? Tired of losing money on products you were sure were "winners"?
Then Ecomhunt is what you need! Find hot winning products that are added daily, spy on their ads & stores and import them into your store in 1 click and Start Selling Today!