Another week and another amazing winning product recommendation!
This time it's a super cute dog product that will be a hit during this Summer if you market it correctly. There's so much potential to this product and all it needs is a good video ad to really explode!
The ad which I'm going to review in this article was so simple, and it still did really well for them. Basically, whatever you're going to make here is going to be 100 times better than what they did.
So yeah… You should hurry up and test this product ASAP.
As always, you will get a full ad & store review where I point any mistake I find so you can do a better job when you test this product yourselves.
On top of that, you'll also receive a sale strategy to help you with the pricing and everything else.
Enjoy.
1. The Product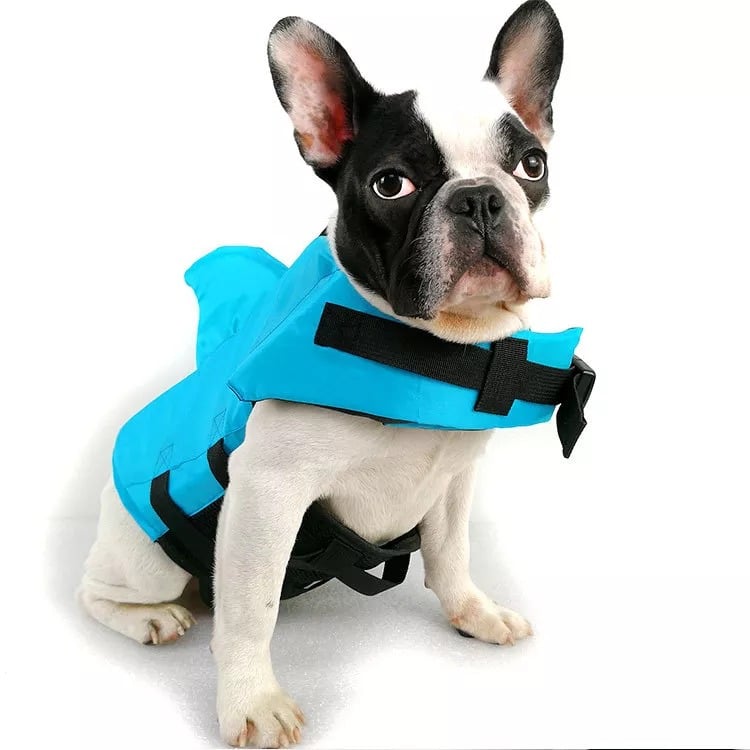 Today's winning product is this awesome shark life vest for dogs. It's mostly for small dogs but there are much bigger sizes available so you can market it to all dog owners at once(I wouldn't recommend that though).
It has become a trend to take your dogs with you to the beach/lake, so I think dog owners would be more than happy to get this product. It's really cute, and most importantly helps protect small dogs from accidental drowning.
This is a great product with lots of targeting options available for us to test, and you can easily get plenty of engagement if you have a good video ad running.
Don't wait too much on this product and start testing it right after you finish reading this article 😉
2. The Ad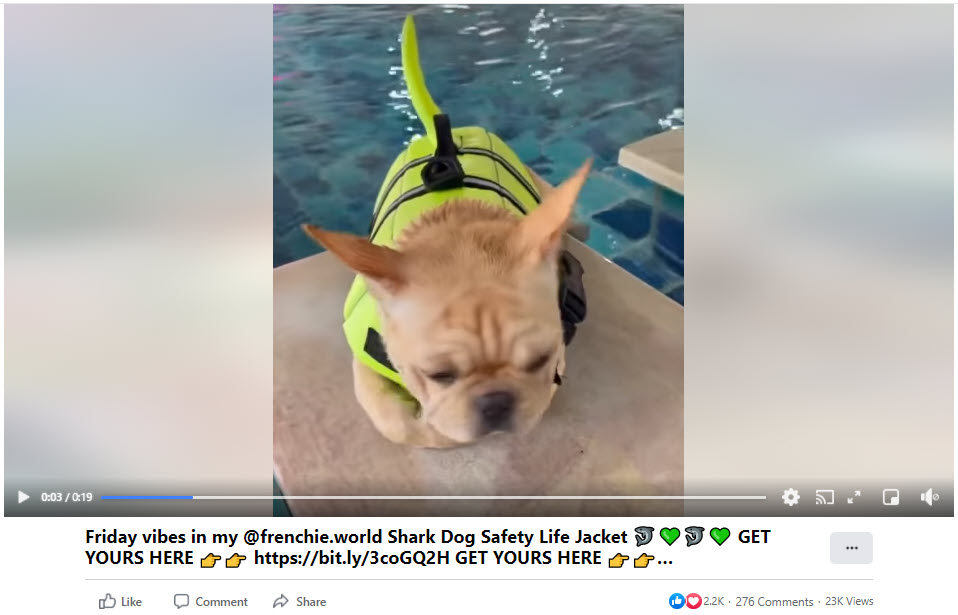 There are two things I want to talk about here regarding the ad they used:
The first one is the video ad, the ad copy, and everything else around it. The second thing is what I think happened behind the scenes like targeting, ad strategy, etc.
First let's review the video ad:
We have a 19 second video of a cute French Bulldog just chilling next to a pool. I bet he's tired from swimming and decided to rest a bit, but I really wish we could see that in a video.
As cute as this dog is, this isn't the right way to sell this dog life vest. If you want a video ad that works, you have to show a dog that swims while wearing this life vest.
The Aliexpress product page in the Ecomhunt product page doesn't have a video we can use, so it's our job to ask the seller for a video or just look for one.
It took me less than a minute to find this Aliexpress product page that sells the same exact shark life vest for dogs which has also a great video we can use.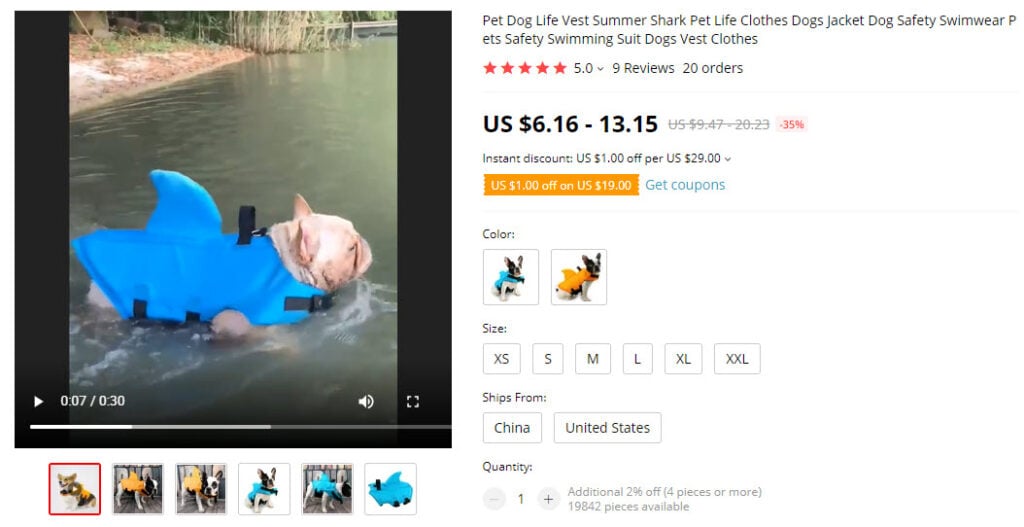 A 30 second long video of a dog using the product we want to dropship, and they even switch to different colored life vest mid video so it's even better to us.
Edit it a bit, add some text explaining about the product, Show the 2 available colors, and you're ready to go!
Don't forget about the call-to-action text at the end of the video with a few words about the current deal you're running for this product.
The Ad copy: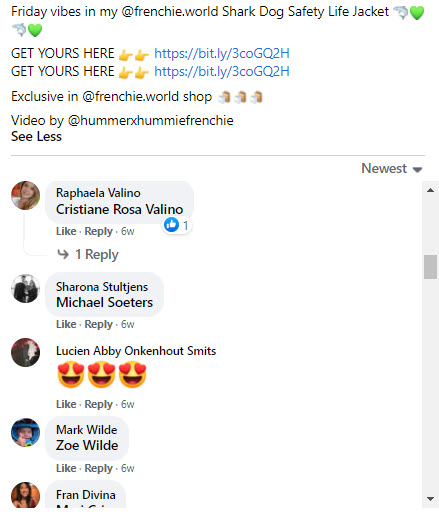 It looks like they have their own thing here when it comes to ad copies so I can't really say anything bad about it. If you're planning to test this product, just remember to introduce product is one short line, add a call-to-action text + link to your store in the second line, and finish it a few extra words about the product or the current deal you have for it.
Example:
"Keep your dog safe and relaxed this Summer with this super cute shark life vest 🐾🦈
Grab yours here => *store link*
Order now and get 50% OFF + Free Shipping – Also available in different colors!"
And don't forget about the title of the video which should be a quick call-to-action text, preferably with the current deal you're running.
Now let's move on to what I think is happening behind the scenes:
So first of all, we're talking about a pretty big fan page here with almost 700k likes all dedicated to French Bulldogs. So their way of advertising products is probably mostly organic(they don't have any ads running at the moment).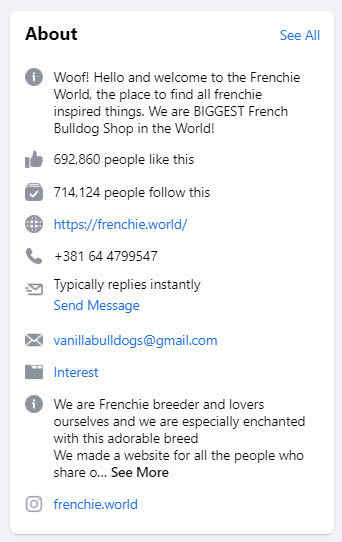 I still think they do run ads sometimes on products that show potential, maybe like this one, but they're quite limited because their page is only about French Bulldogs.
The ad running stage is probably just a simple boost to their own fans which they hope will convert for a normal cost. So they're quite limited here and I bet they didn't test targeting other small dog breeds on Facebook.
Corgis, Poodles, Chihuahuas, and other small dog breeds can be easily targeted on Facebook with millions of people on them just waiting for the right product to pop out.
This is why the product post on Facebook stopped on 2.2k likes when it should have at least much more. This product has a potential to go crazy viral with the correct video ad and marketing strategy!
3. The Store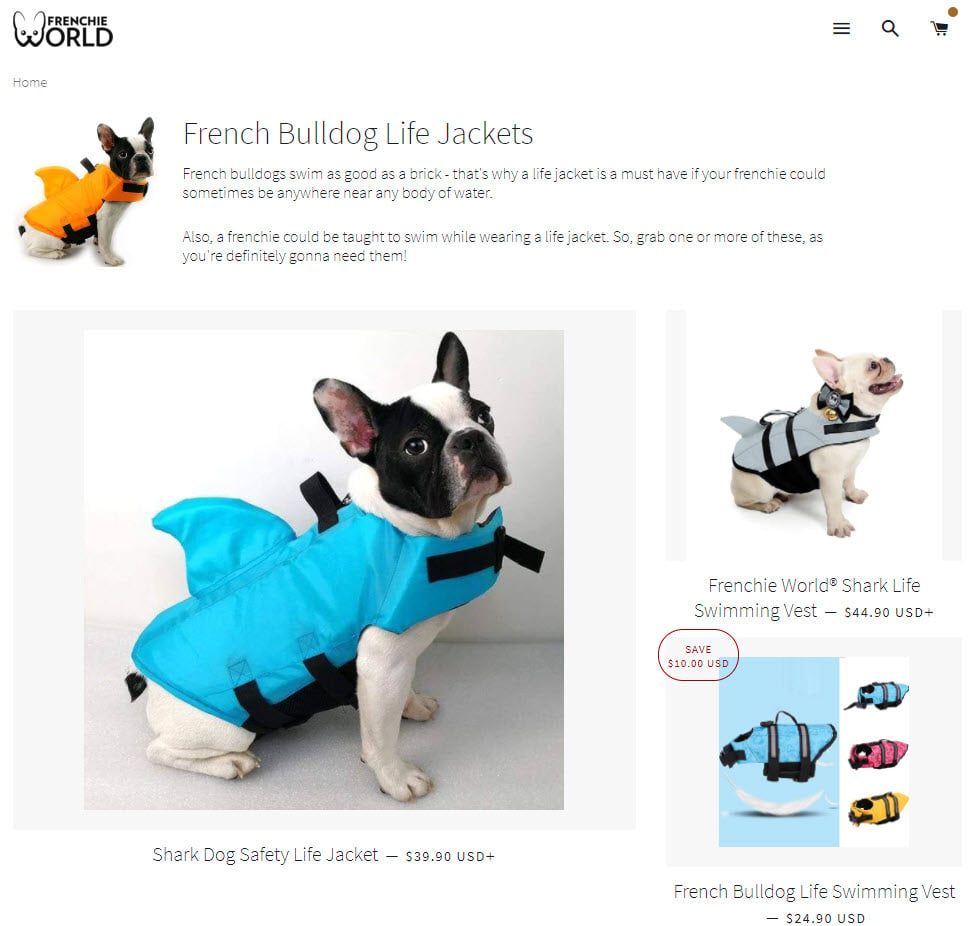 Instead of sending their traffic to a specific product page, they choose to send their traffic to a collection page with plenty of other live vests for dogs.
I find it normal and I believe it's better for them to send their organic free traffic to a collection page to offer more product choices for their audience. They also probably tested this enough times so I'm not going to say anything about that.
Also their collection page looks REALLY nice, it's well designed(at least on desktop), and they stick to their Frenchie brand theme which makes the store look more professional.
Quick note:
Their logo is great! It's simple, yet it looks very professional and you should take an example from this store on how logos should look like.
Things I didn't like: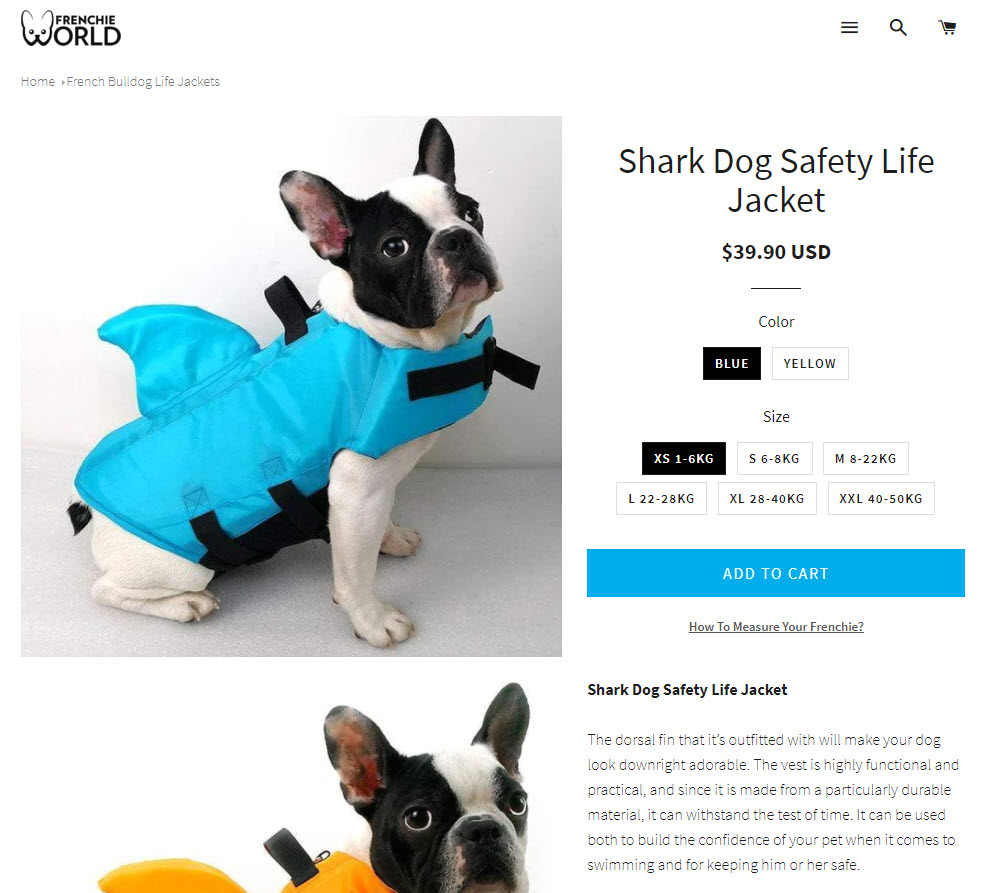 If you go to the product page, you'll notice there are some things missing…
1. No trust badges – There are no trust badges in the product description or anywhere in the product page. These are needed to assure people the transactions on your website are processed securely and there's no chance their payment info will get stolen.
2. No guarantees – Guarantees are used to calm the customers by telling them everything will be alright. If the product doesn't arrive, they'll get a refund or a new product sent to them. If they don't like the product, then they can get a refund no questions asked. etc…
3. Simple product description – No pictures or GIFs, the same basic fonts, and Aliexpress auto-translated English texts…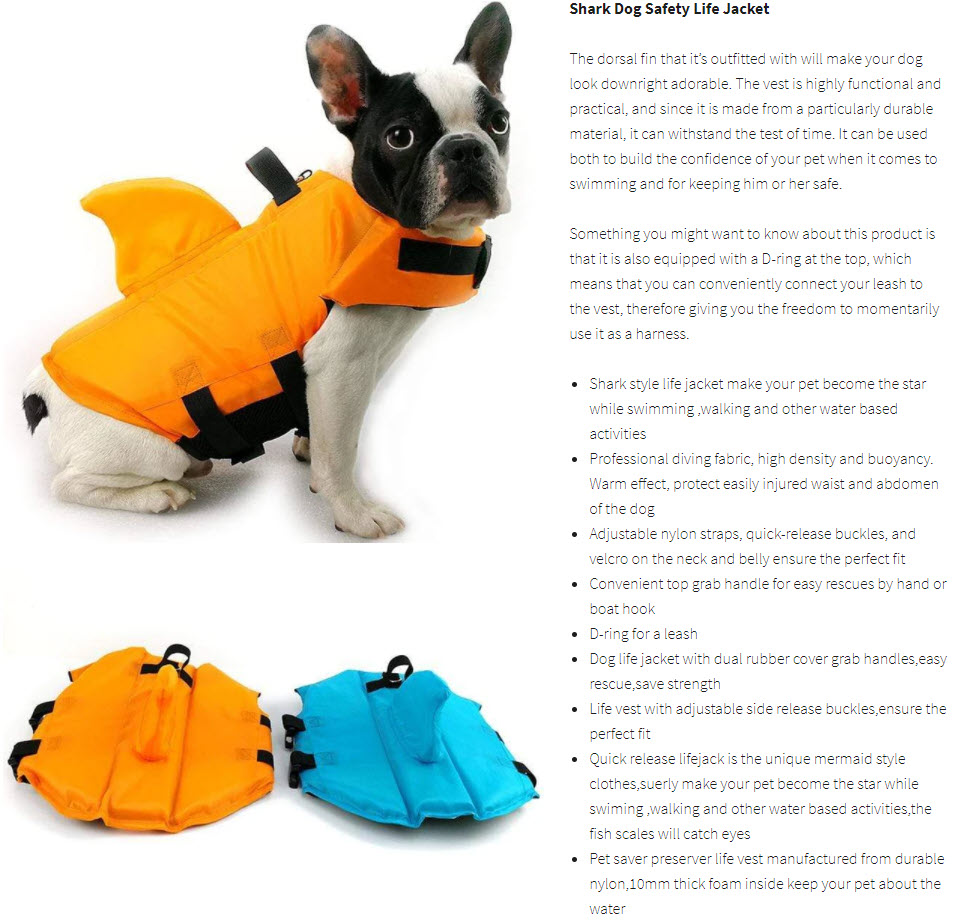 The product description isn't terrible but it can be much better by adding a few pictures or GIFs, and by playing a bit with the fonts to make the text more readable.
And of course, some of the text was translated from Chinese to English so some of the lines are really strange and make no sense at all. A 5 minute work is all it takes to make this product page look really professional!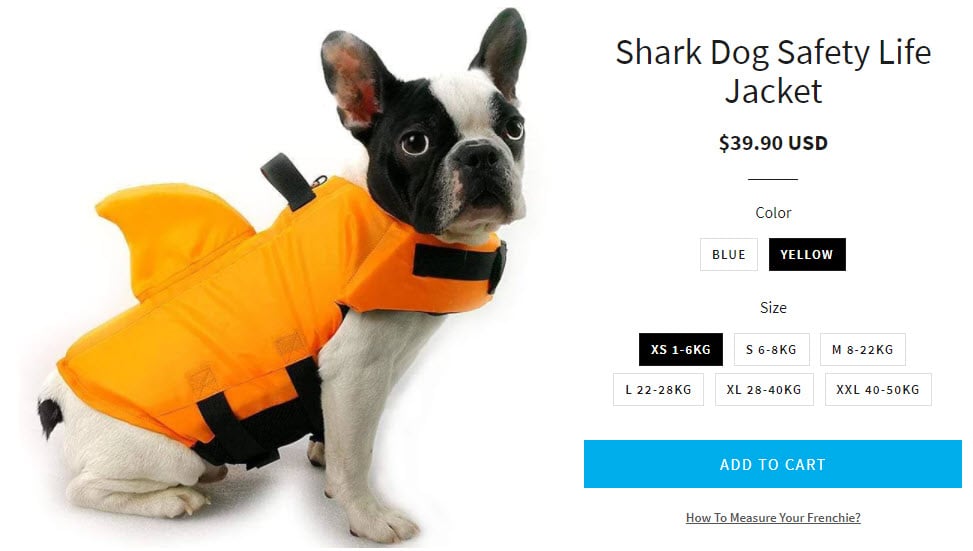 There's also a small mistake they made by showing the wrong color which can hurt their sales a bit. Always double check your stuff before launching your ads.
4. Too many sizes(see picture above) – It's hard for me to imagine owners of large 40kg dogs will be looking to buy a vest like this one. I think you can safely remove the XL and XXL options, I would even remove the L option as well.
If I were to test this product right now, I would have targeted only small/medium dog owners so options like L and above are not needed.
I did like the fact they only offered 2 colors which reduces the time customers take to think. The less unimportant choices you give, the faster your customers will proceed to checkout.
5. The reviews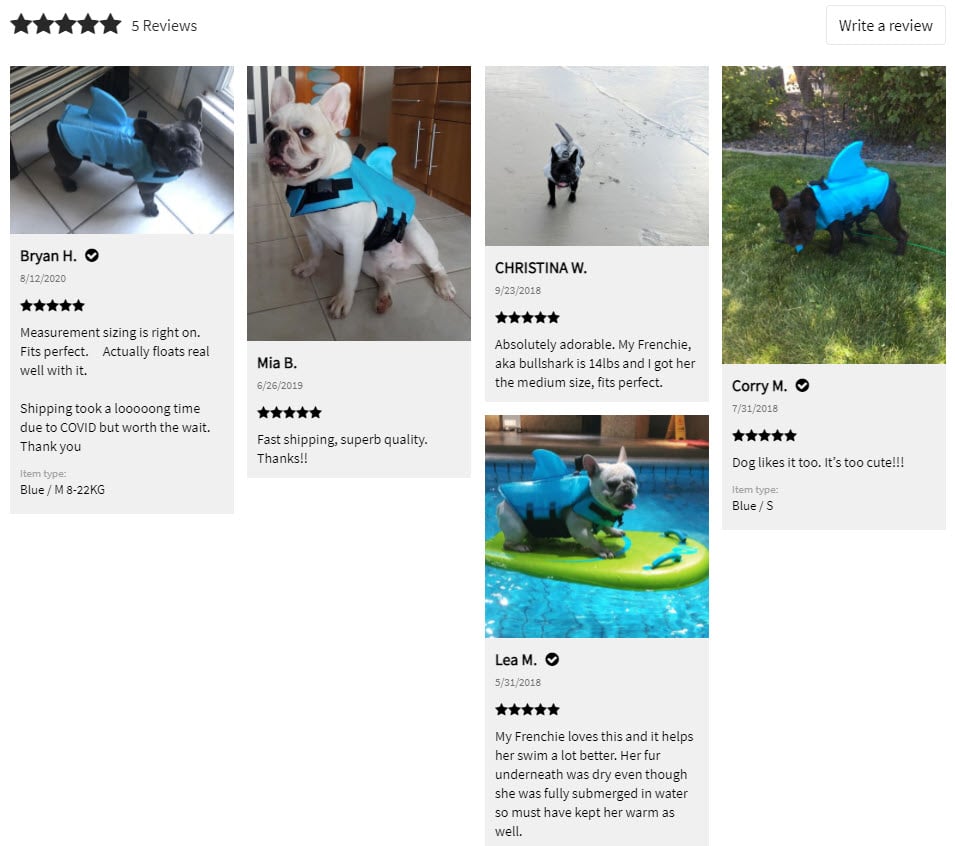 They stick to their brand by showing only French Bulldogs pictures in their reviews, but the problem is the lack of reviews. Having a small amount of reviews, even if they're as good as this ones, isn't that good.
I found at least 3 or 4 extra picture reviews of French Bulldogs on the Aliexpress product page which they could easily add to their product page. And this is only after scrolling the first 3 pages when we have at least 12 more only picture review pages to scroll through.
Make sure to add at least 20 to 30 reviews on your product pages – If you don't have too many picture reviews to import, then text reviews are fine too.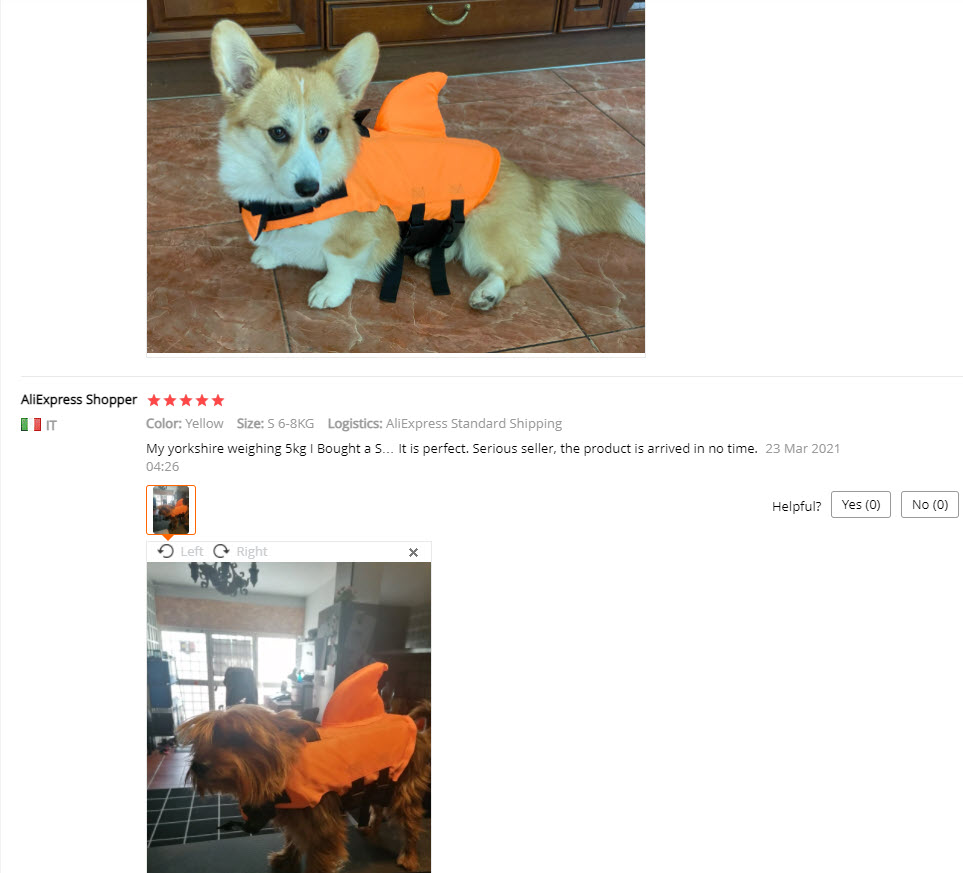 In our case, we're not limited to French Bulldogs only so we have plenty of good looking picture reviews we can import to our store.
6. "Customer who bought this" bundle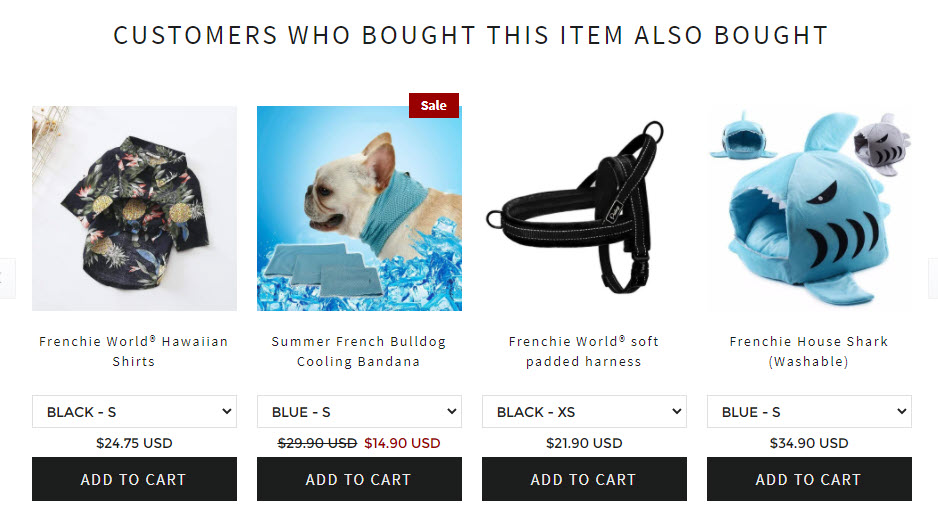 I personally prefer to close the deal as fast as possible – This means that when I advertise a product, I tend to keep my customer's focus ONLY on that product.
I do it by sending them straight to the cart page when click on the Add to Cart button, and by not showing them any other products except the product I'm advertising.
This way my customers are focused only on my product and they proceed to the checkout without any interferences.
4. Checkout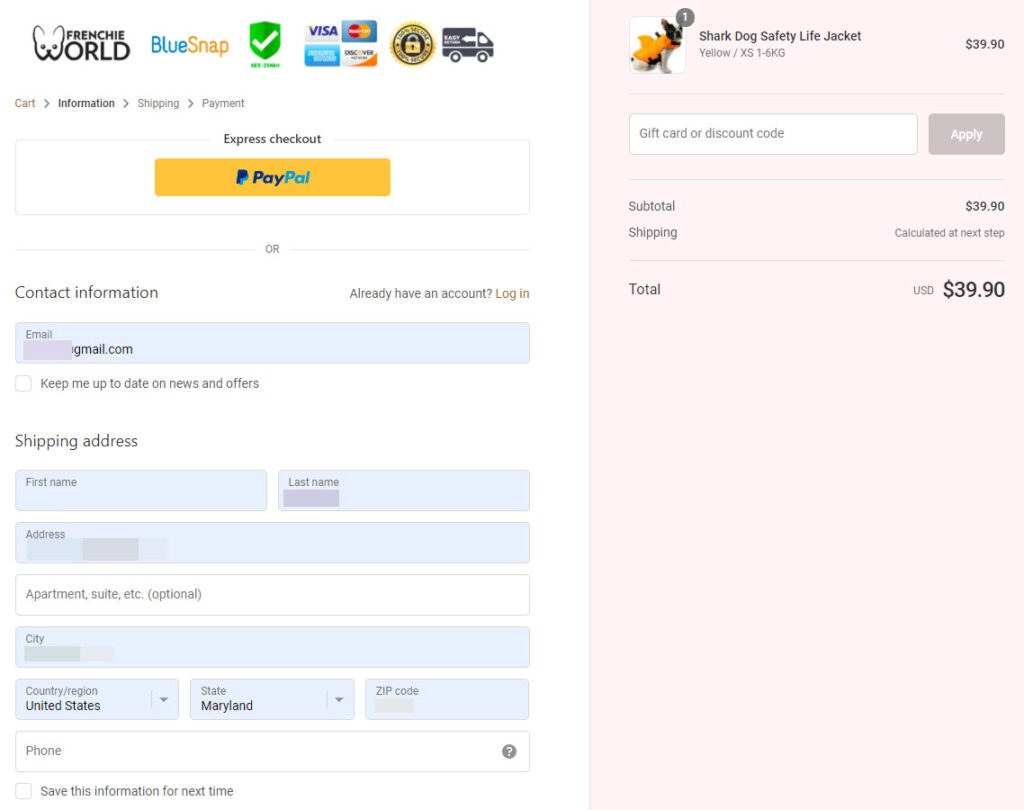 Their checkout page is almost perfect! They didn't forget to put their logo in the checkout page and added trust badges to it which makes their store look even more professional.
The one thing I didn't like is the fact that the phone number field is mandatory 😢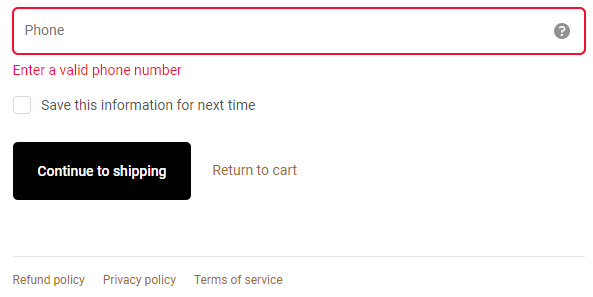 I usually keep this field as optional because some customers don't like at all giving their phone numbers away. They're afraid of spam calls and other stuff, so if you force them you can even lose a sale and that's something we don't want.
The only reason to force people to checkout with their phone numbers is if you have some sort of SMS marketing plan which will bring back more money than what you're going to lose from customers who left because of that exact reason.
Shipping: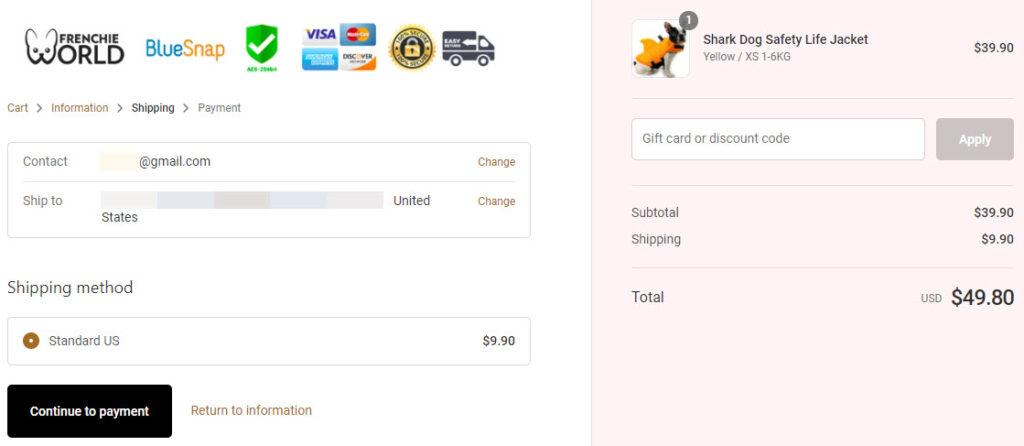 $9.90 is a pretty steep price to pay for shipping to the US… They're making a decent profit by selling this product for $39.90, so this expensive shipping price can be a deal breaker.
I bet the amount of customers they lost because of their shipping price is higher than the industry's average. There's also no indication on how much time it will take for the product to arrive which can also lower the conversion rate.
It's good that they have a Shipping information page that tells you exactly how much time it takes for the product to arrive, but this information should also be on the product page + shipping method page.
You can write it in brackets like this "Standard US (7-15 days)" and customers will be more willing to proceed to the payment page.
Payment page: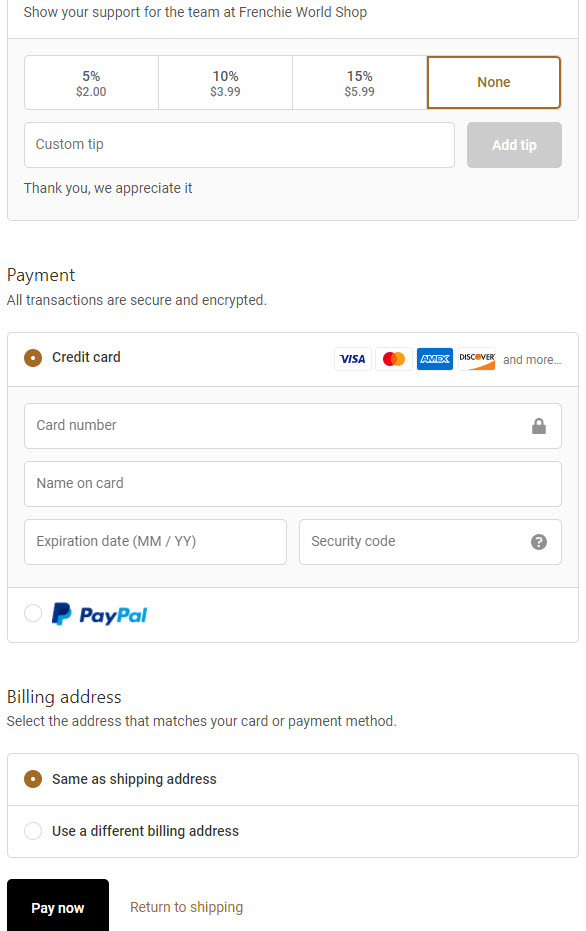 Nothing wrong with the payment page except for the custom tip table… You just charged me $10 for USA shipping and now you're also asking for a tip? What's so special about you to ask me for a tip?
I understand if this was some kind of family store or if tips went for a good cause(I didn't see anything like that on that page), then it's understandable and some people will actually tip to support the business.
But asking for tips as a regular dropshipping store, this is just weird to be honest. I think it can irritate some of the customers and push them away too. Who knows…
I personally wouldn't recommend asking for tips on the checkout page.
5. Sale Strategy
The product cost on Aliexpress is about $10 including shipping and it comes in 4 different colors. I think you can try selling this dog life vest for $34.99 or even $39.99 + Free Shipping.
With free shipping included in the deal, I see no possible issues for this product not to sell for $39.99.
On top of that, you should add a quantity discount bundle as people tend to have more than one dog(especially small dogs). Offer a 10% discount on 2 vests and add an additional 5% discount for each extra item.
Don't offer anything else other than this product. No random upsells/bundles, just focus on this product and later you can sell them more dog stuff if this goes well for you.
To Sum It Up:
This product looks like a total WINNER with a chance to go super viral on Facebook & Instagram. You have a good video you can use to prepare a stunning video ad for this product, and there's plenty of interests you can target to find small dog owners.
Don't sit on this product and launch your ads right now.
Good luck!
Struggling to find good products to sell? Not sure who's your target audience? Tired of losing money on products you were sure were "winners"?
Then Ecomhunt is what you need! Find hot winning products that are added daily, spy on their ads & stores and import them into your store in 1 click and Start Selling Today!
Must Read Articles: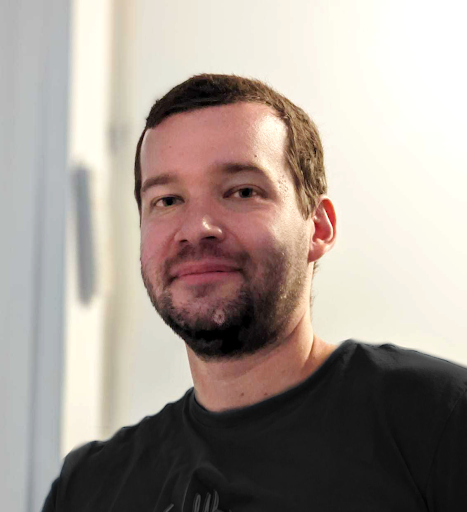 Daniel Aloni is one of the leading mentors in the Ecomhunt family. Daniel is a highly experienced Print On Demand seller with multiple 6 figures successful launches.