Are you struggling with finding good products for your dropshipping business? Looking for new research sources to get unique ideas? Not sure if the chosen product will actually sell? Then this article is for you!
In this article, we'll talk about the methods we personally use to find good products to dropship. And we're absolutely sure that some of the research sources shown here have been never even considered by some of you.
So make sure to read this article so you can find great products to dropship in 2019!
1. Aliexpress:
Aliexpress still remains the number 1 place to manually research for products you can dropship. We have 2 main methods that we use to search for products:
Method number 1: Going in random
This method is great for people with general stores or for those who are not sure what to sell or what niche they should choose. We just go to aliexpress main page and scroll down till a cool product catches our eye. Once we see something we like, we make sure the seller has a good rating and that the product has good reviews.
If the seller is new or has a bad rating, we can search for other higher rated sellers that sell the same exact product. Or if the product has bad reviews, we search for the same product again and look for a supplier who has the same product but offers a better quality. Thus the reviews should be mostly positive.
Method number 2: Searching for a specific niche or product
This method is for people who know exactly what they're looking for. It can be a specific product you just saw in an ad on Facebook and want to try your luck dropshipping it or you're simply looking for new products to add to your niche store.
When manually searching like that you should always look and work only with high rated sellers. Or you can use the filters and look for products with most orders.
Once you found a product you like, make sure to check out the supplier's personal store for more product suggestions. And you can always message that supplier and ask if he has more products to sell in that niche that may be available only in private.
Aliexpress manual product research can be very time-consuming. And when we finally find that product we want to dropship, we can never know if it will actually sell. If you're not into trial and error or tired of throwing money on products that looked like "winners", then you should check out Ecomhunt. Ecomhunt has a professional product research team that searches the web everyday for the best new proven to sell products. And that is just the tip of the iceberg 😉
2. Reddit:
If you thought Reddit is a place only to share memes and to talk about general stuff then you're doing it wrong. Reddit is the front page of the internet and home to thousands of communities. But for us dropshippers, Reddit is home to endless product research ideas!
Our way to search for products to dropship on reddit is simple and works best if you have a niche store or you have a general idea on what you're looking to sell.
For example:
Let's say we have a crocheting niche store and we're looking for new products to sell. So at first, we search in reddit for a crochet community and we can see that such exists. The community has 112k members and is quite active.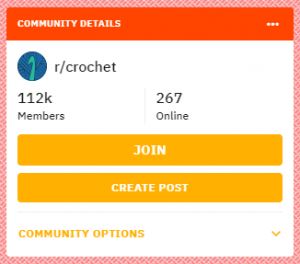 Our next move now will be to simply search for popular terms like "Love my new" or "Just bought" in the community search and hopefully we will find something cool to sell. Going with "Love my new" I already get 2 cool results.
A crochet kit Christmas gift – She received it as a gift from her husband and decided to show it to the community. Her post received plenty of upvotes and people are in love with this specific kit. On top of that, there are more product suggestions in the comments that can give us even more product ideas. Our next step will be to look for something similar in aliexpress so we can add it to our store and sell it.
A post about a new t-shirt – The lady decided to share her newly bought tee with the community and it looks like everyone wants one. So now we can design something similar ourselves and add it to our store. And we can also use this design and add it to other Print on Demand products and not only on a shirt.
As much as we like Reddit, it's not the best place to advertise your store. Simply inviting people to check your store will be almost always considered as spam and running paid ads on Reddit's platform doesn't work too well…
Like most dropshippers, we prefer using Facebook ads to promote our products. If you struggle making sales on your store, You should definitely check out Ecomhunt Facebook ads training videos so you can run ads like the pros.
3. Ecomhunt:

This is where things get much easier. With Ecomhunt, you will get access to HOT products that are already proven to sell. This is one of the main worries every dropshipper out there has when choosing a product and Ecomhunt takes that worry away.
Will it sell or not? In this case you can be sure that Ecomhunt got you covered by showing you live ads on Facebook, targeting suggestions and video ad examples. And all it takes to make it happen is one click of a button using our import to shopify feature.
Ecomhunt also gives you relevant Instagram influencers for each product category.
Ecomhunt's full feature list: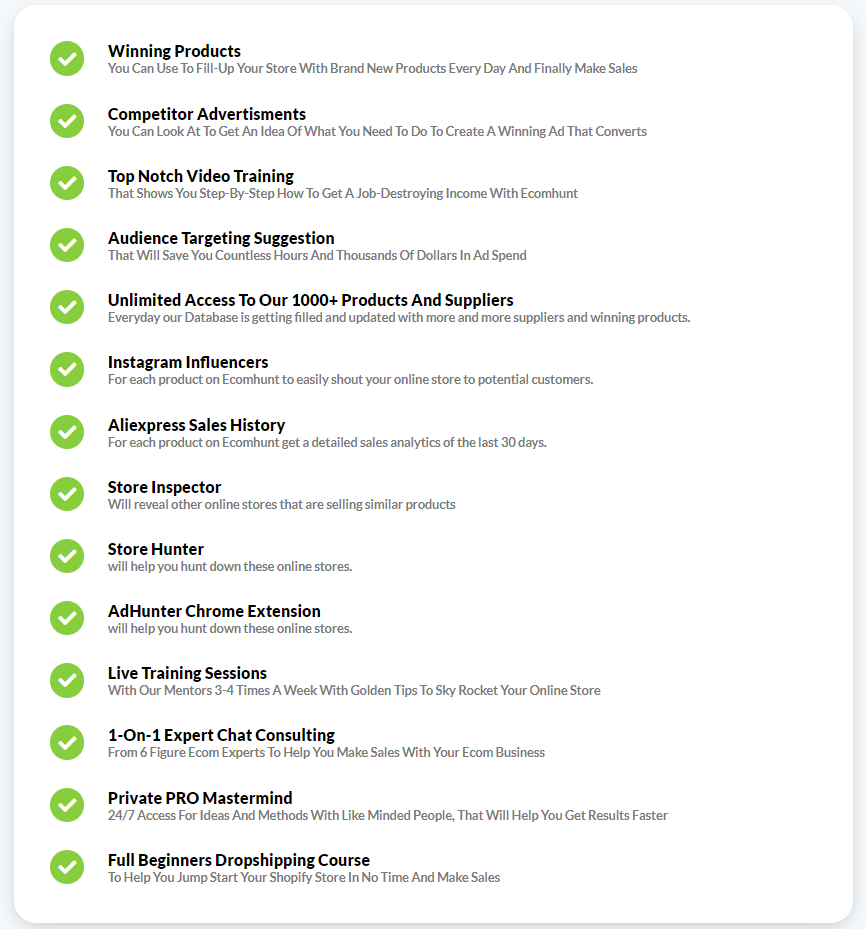 It doesn't matter if you're a total newbie dropshipper or an experienced one.
Join Ecomhunt now and enjoy a secret 31% off discount when you sign up => http://ecomhuntnow.com/
4. Etsy:
Etsy is an amazing research tool for products to dropship but you can't really do it directly from Etsy if you find something you think may work in your niche.
The reasons are:
Some of the products are unique and handmade only by that specific Etsy seller. You won't find it on aliexpress and to dropship that product, you will have to talk to that seller and hope he gives you permission.
The prices on Etsy are retail and even if you have permission to dropship their product, you will have to negotiate the price you get so you don't have to sell it way too expensive.
From our experience, getting an Etsy seller to agree for dropshipping is not an easy task. Most of our requests got refused because they are too afraid and prefer selling on Etsy only.
And this is why we will use Etsy only as an idea research tool and then look for the same/similar products to dropship on Aliexpress. You may be surprised by how many of Etsy's products can be found on Aliexpress(or really similar products). All of these "handmade" products can be easily replicated by someone in china.
And if you're looking for good aliexpress suppliers, make sure to check Ecomhunt recommendations. At Ecomhunt, with each winning product that's listed we also provide a link to an aliexpress seller. These sellers are the best to work with and can always bring more unique products for you to sell on your stores.
Etsy is also a great place to get ideas for your Print on Demand products. From mugs to beach towels, Etsy has it all 😉
5. Pinterest:
Pinterest or how we like to call it – The social network of stuff people want to buy.
Pinterest is an amazing research platform for dropshippers. People all over the world "pin" products they would love to have. Some even create "boards" which revolve around certain niches or simply around them.
Sometimes, all it takes is one person who pinned a product related to your niche that he wants, and you can check out all his other pins and boards(if he has) and get plenty of potential product ideas that you can start dropshipping right away.
With Pinterest going public a bit more than 2 months ago, it's going to grow even bigger than it is right now. If by now Pinterest isn't one of your main research platforms, then it's time for you to use it for your research.
The only problem with Pinterest is that it can be sometimes misleading. We can find a product with a lot of likes, repins and comments like "I want/need this" etc, but in the end it won't sell on our store.
People want that product but they prefer to save their money for a different product that they actually need. This is where we recommend to use Ecomhunt that brings you products people actually buy and not just "want".
To Summarize:
If you're into spending hours upon hours manually looking for your next product then you now have some of the best online research methods. If you're like me and you don't like wasting your time and money on products that may sell… Join Ecomhunt and get access to over 1000 proven to sell products.
Internet Marketer, Sales Manager, eCommerce Expert, and Community Manager at – Ecomhunt