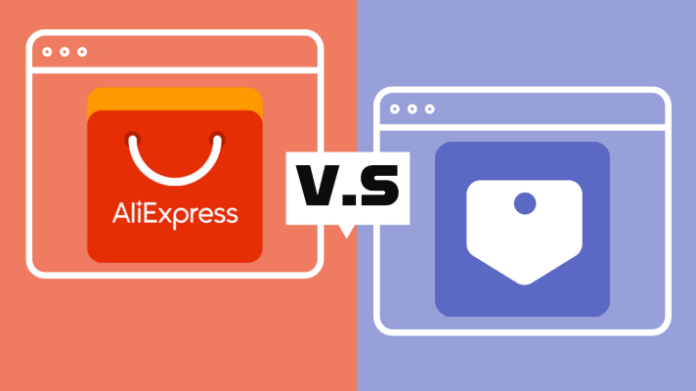 When first starting a dropshipping business, sourcing products is one of the first steps to take.
Taking that into consideration, it is really important to choose the right platform that would work best for you.
In this article we'll be going over two dropshipping sourcing solutions: AliExpress and Spocket.
So if you've considered any of these platforms before, keep reading.
Table Of Contents:

About Spocket
Spocket is a platform that provides shipping solutions and winning products for dropshippers. 

There are thousands of products mostly from US and EU suppliers.
Spocket can be easily integrated into a number of ecommerce platforms such as Shopify and Woocommerce. This makes transferring products and managing your store possible in just a few clicks.

Spocket has currently over 60k entrepreneur users and has shown to be a "the complete package" of a dropshipping tool.
Just to name a few benefits that are included such as:
Faster shipping, auto-updated inventory, sample orders, branded invoices, and more.
About AliExpress
AliExpress is one of the world's largest ecommerce platforms, with over 100 million products, most from Asian suppliers.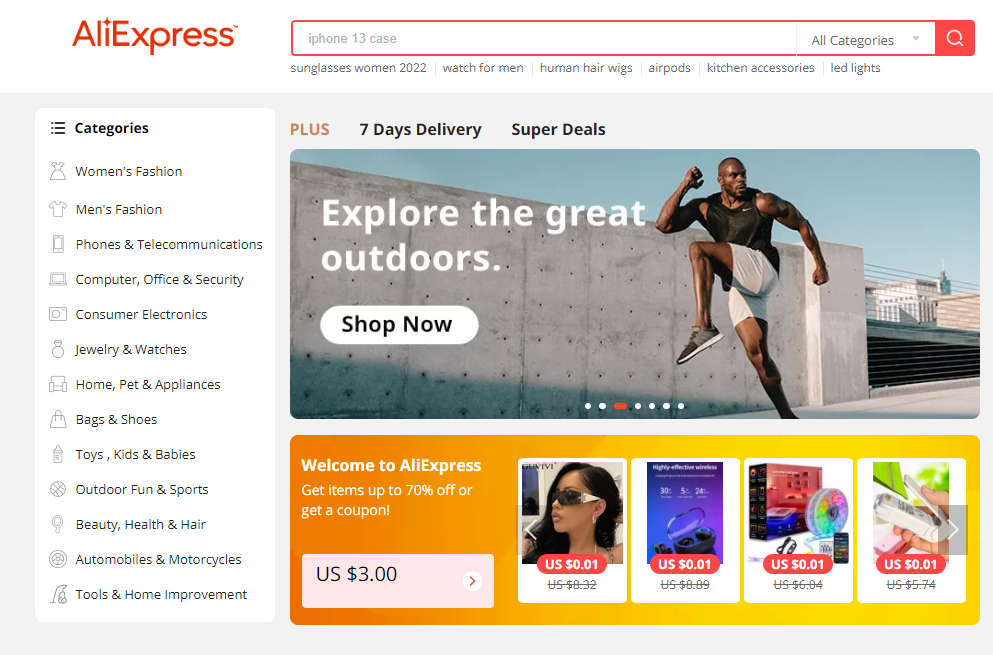 fulfilling orders for your dropshipping business is easy and straightforward, all you need to do is copy their products and add them to your store. Once you get an order request, you purchase the product from AliExpress and let them ship the product to your customer.
You can integrate AliExpress with over 35 ecommerce platforms such as Shopify, Woocommerce, Wix, Bigcommerce and more.
Cost
Spocket
To start using Spocket you have 5 plans available to choose from:
The free plan.
The starter plan at $24.99/month.
The pro plan at $49.99/month or $24/month if paid annually.
The empire plan at $99.99/month or $57/month if paid annually.
The unicorn plan at $299/month or $79/month if paid annually.
Each of these plans has a 14 day free trial and no credit card is required.
The pro plan is a good place to start, since it offers enough products for a dropshipping business to set off as well as premium products to help you stand out and make more sales.
Once the pro plan is not enough you can then upgrade to the empire plan and get an unlimited number of products (10,000 to be precise).
Each of these plan's special benefits is described in the image below: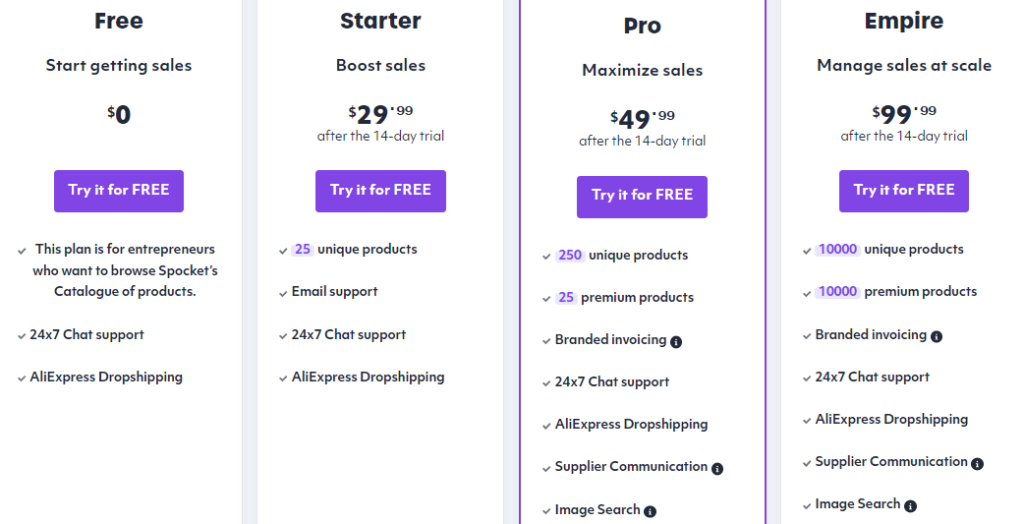 AliExpress
Now the best thing about dropshipping through AliExpress is that it is completely free, unlike other marketplaces. That is if you choose to dropship manually and it is a great option for sellers that want to start without investing extra money.
However, if you do want to make managing your store easier you can purchase the Alidropship WordPress plugin. This plugin can be used as an automation tool making controlling products, sales, and shipping more hassle free.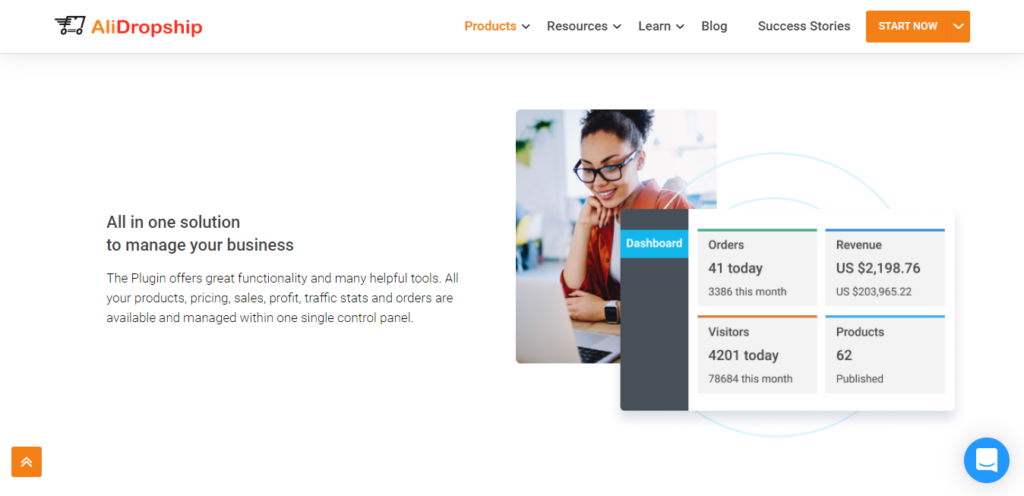 Buying the Alidropship plugin costs $89 and it is a one time purchase.
With this plugin you can automate product pricing, integrate to a WooCommerce store, import AliExpress products easily, import product reviews, and a lot more.
If you're already dropshipping with AliExpress it is something worth checking out.
Delivery Time
Spocket
Online customers are always looking for the quickest way to get their product. The longer the delivery time is the less likely for them to purchase from your store.
One of the main advantages Spocket is known for is their Shipping time.
Since 60% of Spocket's suppliers are from the US and EU, delivery time is a lot shorter and is usually between 2-5 days.
You can minimize shipping time by choosing suppliers that are close to the location of your customers. And the estimated arrival times are specified in every product page.
Make sure to take in account the supplier's processing time as well, that is not included in the shipping time.
The processing time is also fairly short, about 1-3 business days.
AliExpress
The real downfall of AliExpress is that their shipping time can take forever, and complications happen too often.
The standard shipping time takes about 15 to 45 working days! And even with their premium shipping packages take from 7 to 15 working days.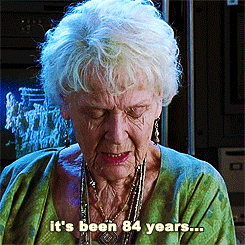 Seriously, most people are not willing to wait that long, especially if they can find the same product somewhere else with a shorter delivery time.
That only can risk your dropshipping business, particularly nowadays where competition is very high.
Easy Of Use
Spocket
Even if it's your first time dropshipping, you will find using Spocket is very easy and beginner friendly. Their website's layout is clean and organized, all the products are arranged by category, and there are guides and blogs for any question you may have.
Here are a few of the perks of Spocket that will ease up the process of managing a dropshipping business.
Auto-updated inventory –
Stock levels are updated automatically at all times. Making sure you never sell products that are out of stock.
Order fulfillment-
It takes a click of a button to process orders, and let Spocket handle the rest. Once an order has been confirmed, the customer details are sent directly to the supplier. Then, once the order is ready it will be shipped straight to the customer.
Order tracking-
Your order is trackable at any given time, the "track order" button will provide you and your customers with the location of your products.
Importing products-
All it takes to import a product to your store is one-click. Product images and descriptions can be easily imported and edited as well.
Automated pricing-
Spocket has a pricing mark-up feature that allows you to decide your profit mark up for all of your products. So that you don't need to price each product manually.
AliExpress
Getting started with AliExpress is as easy, and free. All you need is to create an account and you're good to go.
Once you find the right products, contact the supplier – most of them will offer dropshipping services. Then you can start marketing your products and make sales.
As was mentioned before, you can also use Alidropship to get your own ready made store. Or integrate it with Woocommerce.
And if you're interested in other platforms, AliExpress integrates with almost all e-commerce platforms. This makes importing products, management, and growing your business much easier.
If not using a plugin, importing products from AliExpress is done manually.
Suppliers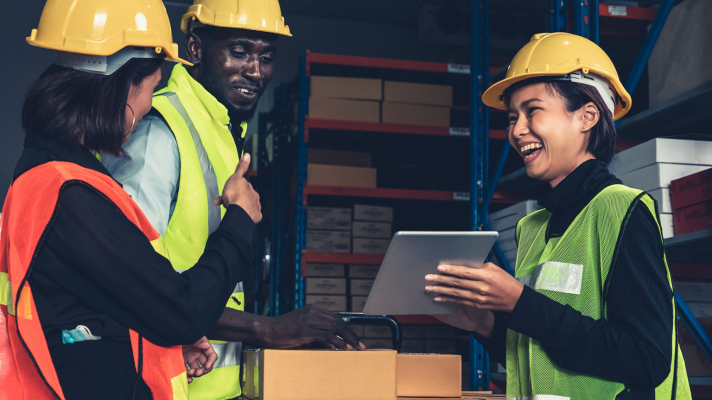 Spocket
One thing they are well known for is their strict product quality control.
And Having suppliers from the US and Europe also contributes to keeping the product quality high. Knowing that the suppliers and vendors meet such high standards, means you don't have to worry about any product being a scam or defective.
Dropshipping high quality products will also make sure customers will gain trust in you and will keep buying more.
The downside of it all is that the number of suppliers are limited, and you cannot directly contact Spocket suppliers.
For instance, if you do wish to dropship products from suppliers outside the US and EU, you'll need to settle for longer shipping times and higher costs.
And if you wish to communicate with your supplier, you simply cannot. But you can always contact Spocket's central support team in case you have any questions.
AliExpress
Low quality products are not foreign on AliExpress. Unfortunately, AliExpress does not have a quality control policy and allows the sellers to manage their products' quality as they please.
This does not mean there aren't high quality products, it just means you need to find reliable suppliers. And with over 200,000 suppliers available, you'll most likely find multiple suppliers for the same product you're looking for.
There are a few ways around this problem:
Ordering samples
Checking reviews
Building supplier relationships
The last one is really important, not only for making sure you're always getting high quality products. But also for getting better deals and priority services.
After building some close relationships with reliable suppliers you can even get to include branded invoices or placing your logo on products.
Pros and Cons
Take a quick look at the sum up of the pros and cons of AliExpress vs Spocket in the image below.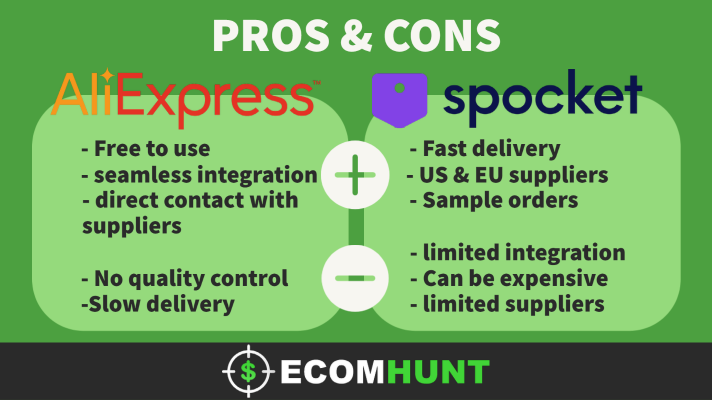 Conclusion
Both platforms have proved themselves to be worth solutions for dropshippers. Each dropshipper will prefer one or the other for different reasons.
Here are the take outs to consider from this article.
If you care about having the best product quality, fast shipping times, can afford a monthly subscription, and want to take dropshipping to the next level. Spocket seems like the best fit for you.
On the other hand, choosing to dropship with AliExpress has many disadvantages. It might be tempting to compromise for the product quality and shipping time just because it is the cheaper option. But as was mentioned throughout the article, doing so can risk your business success long term.
With that being said, if you're not willing to give up on AliExpress's wide range of products and still want to be using it for your dropshipping business.
The good news is you don't have to.
Spocket can integrate with AliExpress using their 'AliScraper' app. That way you can import products from AliExpress using Spocket. It's basically combining both of them, that way you're truly getting the best of both worlds.
Best of luck!
Struggling to find good products to sell? Not sure who's your target audience? Tired of losing money on products you were sure were "winners"?
Then Ecomhunt is what you need! Find hot winning products that are added daily, spy on their ads & stores and import them into your store in 1 click and Start Selling Today!