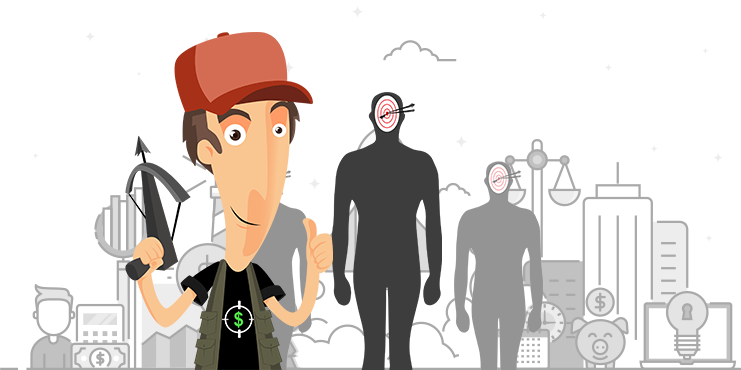 More than any other paid media platform out there, Facebook Ads have revolutionized the way marketers are able to distribute their content and other messages to a highly targeted audience.
In the past, advertisers and media buyers have always been able to go after specific customer segments where they're likely to be – specific TV channels, specific magazines and print media, and even specific websites with display ads.
However, over the past decade, Facebook has built the most complete database of demographic and psychographic data that has ever existed.
It's taken our targeting abilities to levels that those other options couldn't come close to.
WHO ARE YOUR CUSTOMERS ?
Getting to know who your customers really are is a crucial step for a successful Facebook Ads campaign. With more than 1 billion daily active Facebook users, it's absolutely critical that you target only those who are potentially interested in your product.
Luckily, Facebook offers a wide range of targeting options that will help you find the right niche!
How to Create Facebook Audiences
To create and manage your Facebook target audiences, you'll have to use the Audience Manager tool.
You can find this tool in the Business Manager, by clicking on the top-right menu and selecting "Audiences."

On the Audiences page, you can see all your saved Facebook audiences as well as create new ones. To understand the wide range of targeting options that come with Facebook ads, let's start from the basics.
Facebook has three primary audience types:
Saved Audiences
Custom Audiences
Lookalike Audiences
Each of these audience types gives you plenty of additional options for creating the perfect target audience for your Facebook campaigns.
Facebook Saved Audiences
Saved Audiences are the audiences that you can define by choosing people's interests location, age, gender, used devices, income level, etc. You can create Saved Audiences both in the campaign setup phase or in the Audience Manager.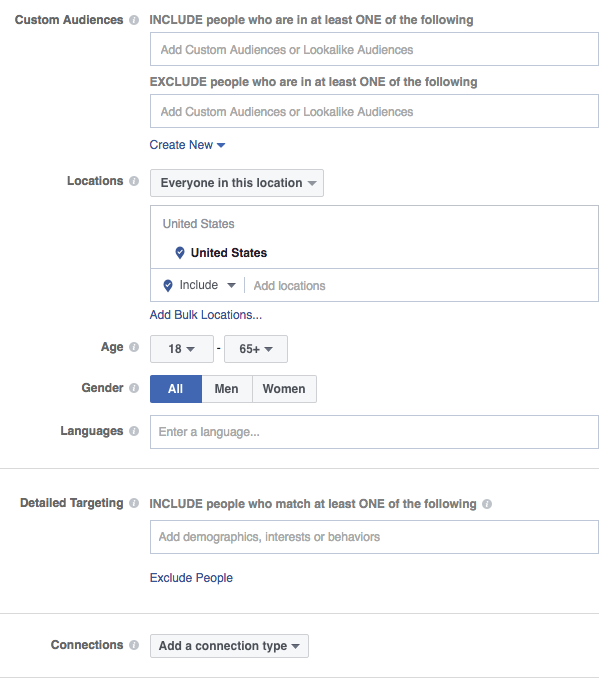 Location-based targeting
Facebook allows you to target people in specific locations, including:
Country
State/Region
Counties
DMA (Designated Market Area)
City
Postal Code
Specific Address Radius
Simply type in the regions you wish to target.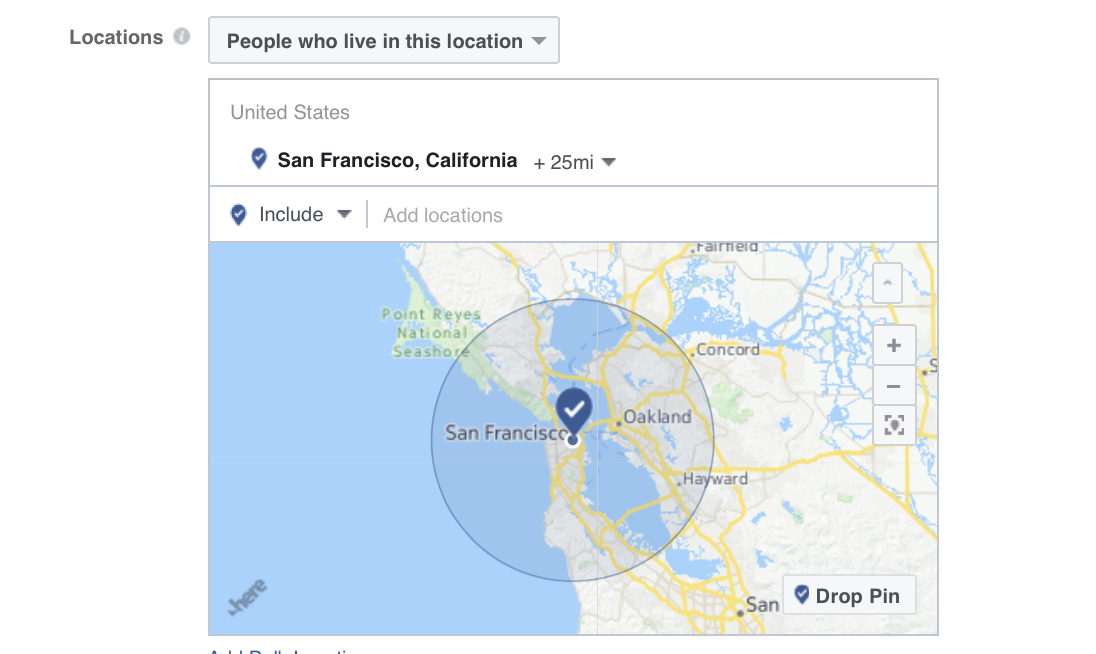 You also have another layer of location targeting, allowing to be even more specific:
Everyone in this location (the default targeting option) – The last updated location of an actual Facebook user
People who live in this location – Location is set by the location on a user's Facebook profile and confirmed by their IP address.
People recently in this location – Tracked by mobile device usage in the geographic area you intend to target.
People traveling to this location – Users who had this geographic area as a recent location that's at least 100 miles away from their home location.
Demographics-based targeting
As you click on the Demographics tab, you'll get plenty of targeting topics to refine your audience based on many options. The basic 3 are:
Age – If you're targeting an audience with a specified age range, you can easily reach them by telling Facebook who your ideal customers are.

Gender – You can also select to target a particular gender.
Language – If you're advertising in a particular language, you might want to only target the people who can understand your ads.
But you can get way more detailed. As an example, you'll be able to target people by their political views, life events, job titles, ethnicity, and so on.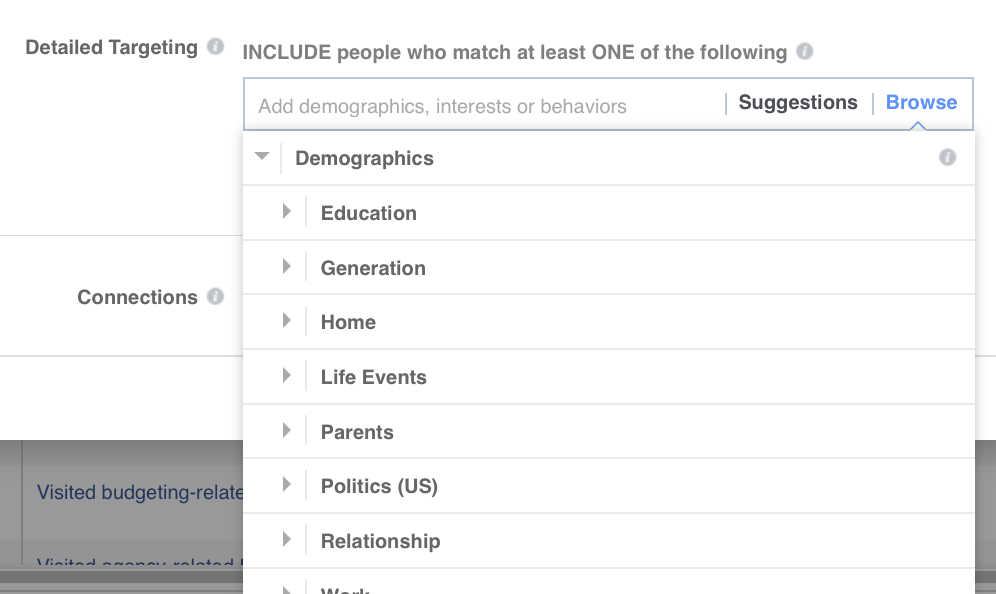 Interest-based targeting
Interests are one of the best (and easiest) Facebook ads targeting options as they allow you to target people specifically interested in a subject related to your product. For example, you could target people interested in your competitors or your broader market segment, or magazines and blogs covering your market.
To target based on interests, you can either browse the menu with hundreds of interests or simply type in one interest, so that Facebook will suggest to you other related topics.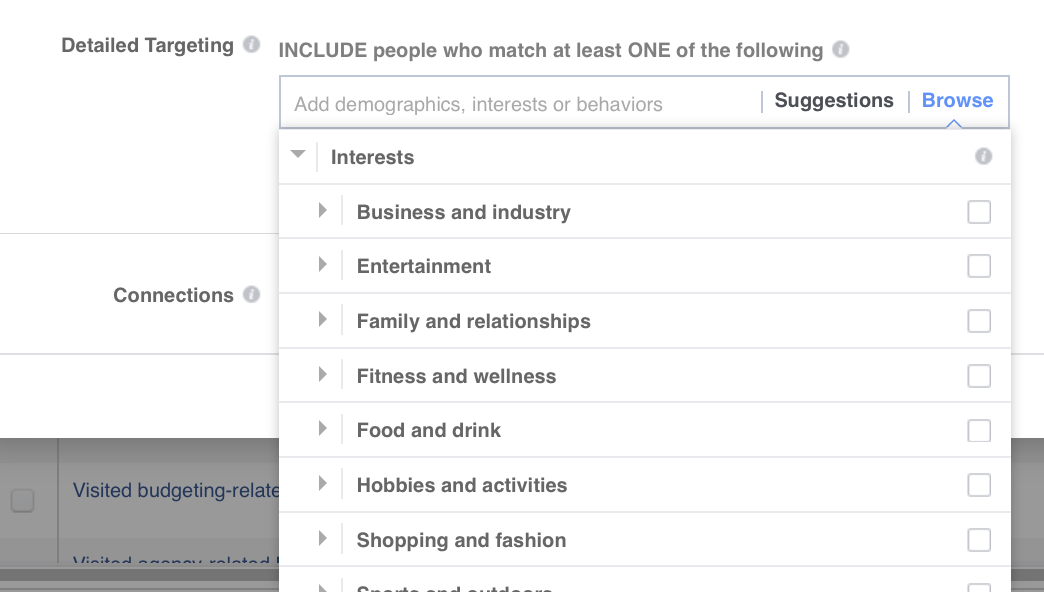 The interests are based on Facebook users' likes and interests, apps they use, Pages they've Liked, and more. Adding more than one interest will target people with at least one of them so you'll make your reach broader.
Behaviour-based targeting
Unlike precise Interests, Behaviors allow you to target people by purchase history, events they like, personal anniversaries, etc. This data is gathered by Facebook analyzing many factors and also using external data sets.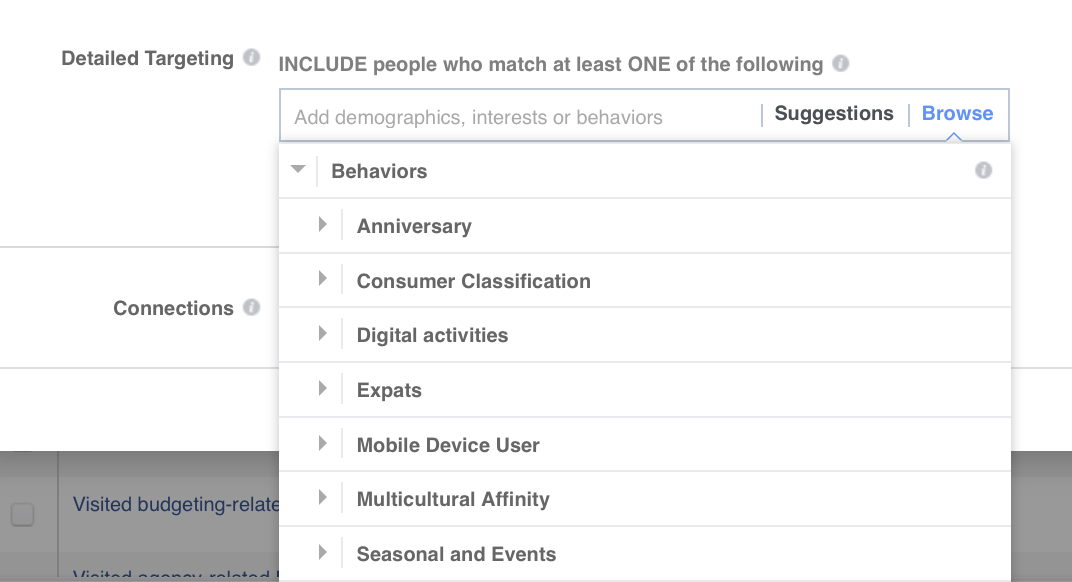 They are not always useful, but when they are they work great! As an example, you can target people currently traveling or planning their next trip … priceless if you're in the hotel or event booking market. Check them out and see if they can work for your business.
Facebook Custom Audiences
Facebook Custom Audiences are probably your most high-value target audiences as they allow to retarget past website visitors and people who have engaged with your content or app. There are multiple ways to create a Custom Audience, and we're going to cover each of them briefly.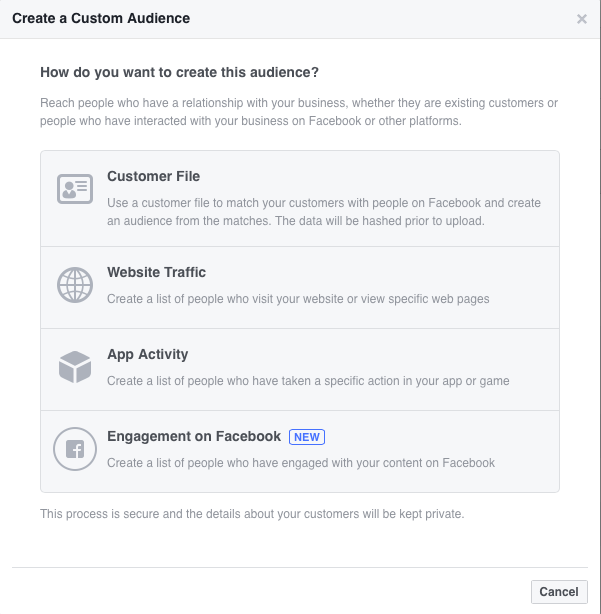 Creating Custom Audiences from Customer Files
This first type of Facebook Custom Audience is based on your existing customer files – the lists of email accounts, phone numbers or app IDs. The Customer File audience is a great way to target your newsletter subscribers or app users.
To create a Facebook Custom Audience, follow these steps:
Create a Facebook Custom Audience
Select the "Customer File" option
Select whether you wish to add a customer file or import contacts from MailChimp.
Import your customer data to create a new Custom Audience
Select the identifiers
Upload a customer file
Give your Custom Audience a name
Your customer files can include 15 different identifiers, the most popular ones being:
Email
Phone number
Mobile advertiser IDIf you need to clean up the data inside your customer files before the import, this Facebook's guide can help you out.


Creating Custom Audiences Based on Website Traffic

Website traffic-based Facebook audiences allow you to create remarketing campaigns for people who have engaged with your website. These are high-value audiences as the users seeing your ads have already shown some interest in it. Important! To create audiences based on your website traffic, you first need to install Facebook Pixel.

If you've built your website on WordPress, you can also create this type of Custom Audiences with the Pixel Caffeine plugin.

Once you've installed the Facebook Pixel, you can simply go to the Audience Manager and create a Custom Audience based on past website traffic.
You can choose between multiple options:
Target everyone who visited your website
Target people who visited specific web pages
Target people who visited specific web pages but not others
Target people who haven't visited your website for a certain amount of time
Other custom combinations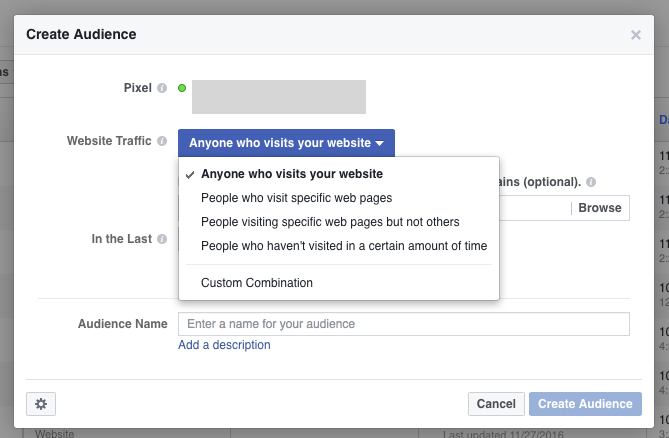 Creating Custom Audiences Based on App Activity
If you want to reach the people who have engaged with your iOS or Android app, you can set up a Facebook target audience to do that. To target people based on the app activity, you first need to register your app and set up app events.
To create a Facebook Custom Audience based on app activity, target people who have taken specific actions (events) in your app. You can also select the timeframe for targeted events.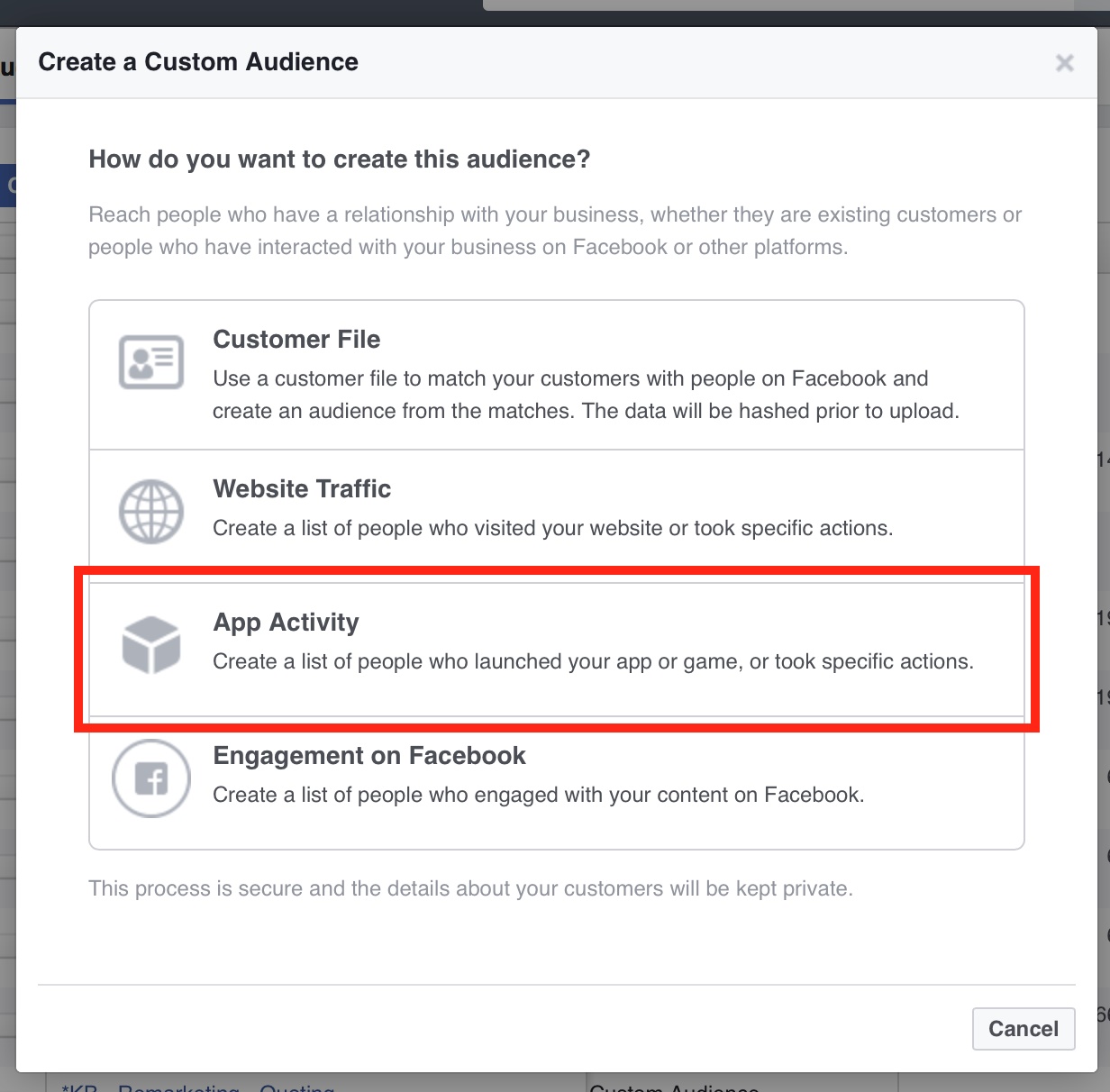 For example, you could select a purchase event and specify "In The Last 90 days" to reach people who have completed an in-app purchase event in the past 90 days. Here's the official guide by Facebook to help you create Custom Audiences based on app activity.
Creating Custom Audiences Based on Engagement
Did you know that you can also target the users that have engaged with your content on Facebook, e.g. viewed your videos or liked a Page post. The latest addition to Custom Audiences is the possibility to target people who have done one of the following:
Visited your Facebook Page
Engaged with your Facebook Page posts or ads
Clicked on any call-to-action buttons
Sent a message to your Page
Saved your Page or posts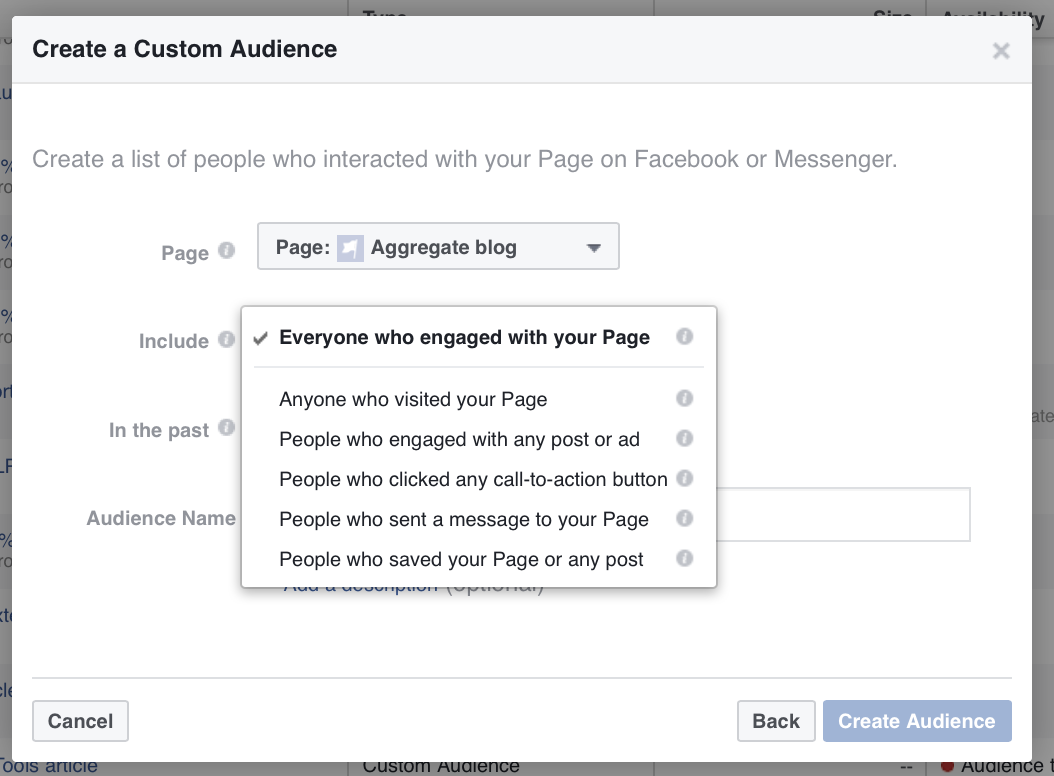 This gives you the perfect opportunity to reach high-potential audiences that are interested in learning more about your brand or product.
Facebook Lookalike Audiences
Facebook Lookalike Audiences let you reach the people who are similar to your existing customer database – making them highly likely to convert as well.
To create a Lookalike Audience, you first need to create a Custom Audience to tell Facebook what type of users you want to reach. Next, select the "Lookalike Audience" from the audience creation menu and select a target country and a percentage (1%-10%) of the targeted country's Facebook users. The percentage signifies the people most similar to your selected Custom Audience.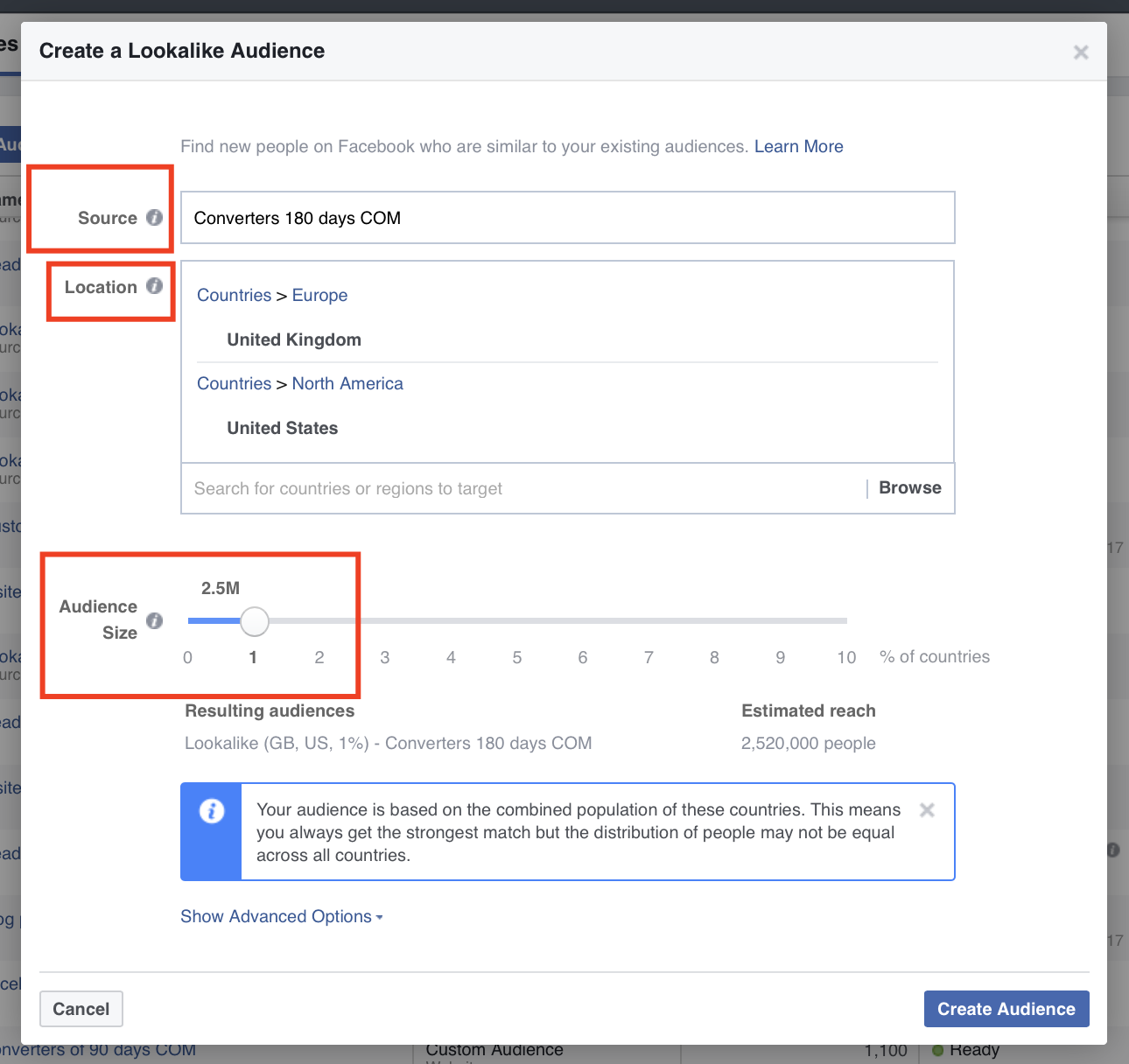 Lookalike Audiences help you to extend your ad campaign's reach so that you only target people who are likely to be interested in your offer.
How To Narrow Down Your Audiences
Sometimes, a Facebook audience can include millions of users. Unless you've got hundreds of thousands of dollars advertising budgets waiting around the corner, you should keep your target audiences smaller and more precise.
When creating Saved Audiences, you can narrow your audience with the AND/OR targeting options. The OR targeting means that when you add new targeting options under the same category of targeting, your audience will grow larger. The AND targeting means that a person who's in your target audience must fall into multiple categories. This will help to decrease your audience size and create niche audiences.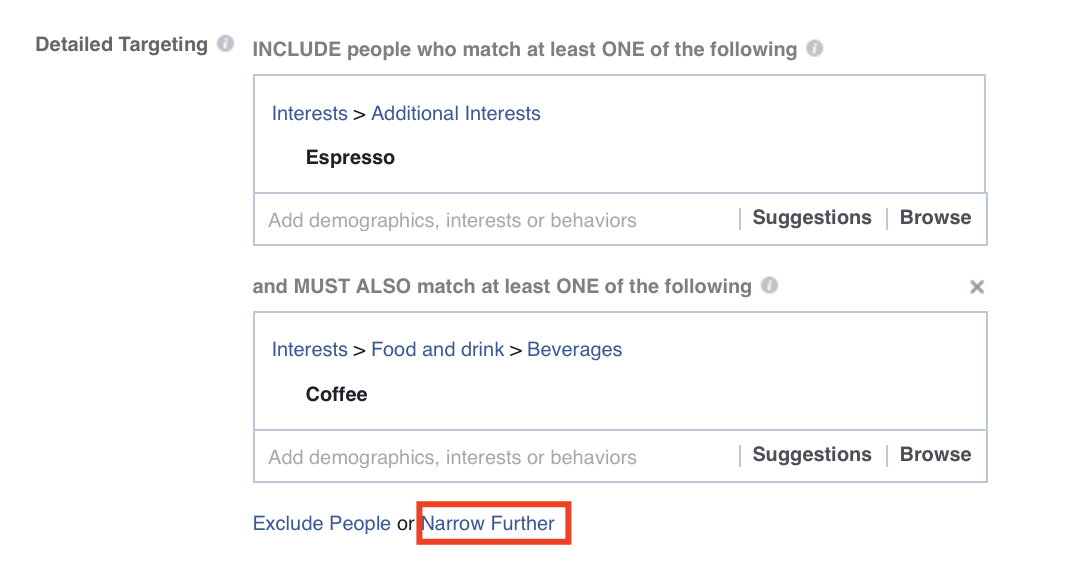 As you may have noticed from the image above, you can also EXCLUDE people who match specific interests or demographics. You can also EXCLUDE specific Custom Audiences from the general target audience. For example, you could exclude past converters to avoid your ads reaching people who are already customers.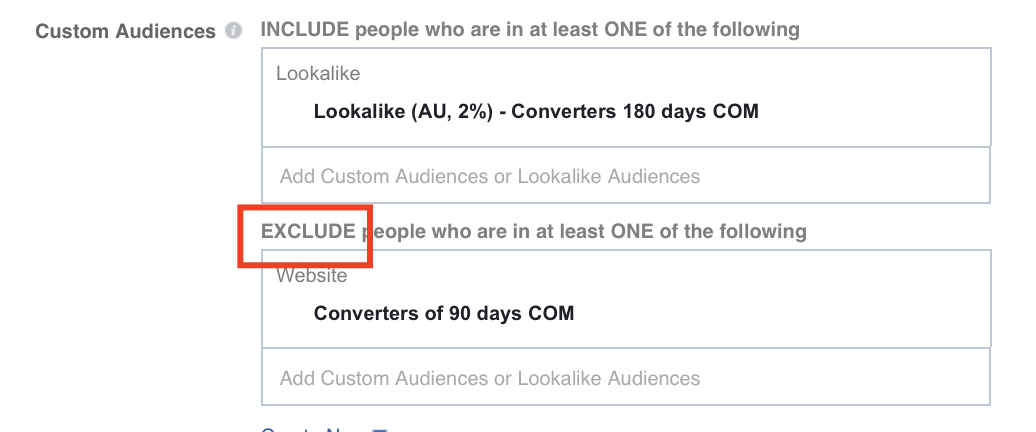 Bonus Tip
If some Lookalike Audience or Custom Audiences are too large (hundreds of thousands of people), narrow them down with interest-based targeting by creating a Saved Audience.
Here's how it works:
Create a Facebook Saved Audience
Select a Custom Audience or Lookalike Audience
Add interest- or demographics-based targeting options
Internet Marketer, Sales Manager, eCommerce Expert, and Community Manager at – Ecomhunt