ChatGPT has taken the world by storm and there isn't probably a person alive who didn't hear about this wonderful A.I. development that can do it ALL for you.
Even Google is afraid of ChatGPT's power and the progress it has brought the world in such a short time. With over 100,000,000 users, it looks like ChatGPT is here to stay and we'll be seeing much more from this A.I. tool very soon.
But we're not here to talk about ChatGPT and the competition it has with Google and other big tech companies. We're here to learn how to make ChatGPT increase the sales of our online store.
So for this week's article, I'm going to show you 4 quick ways you can use ChatGPT to increase your online store sales.
These methods are easy to implement and it will also save you a lot of time in the process. And of course, most importantly, it will help you make more sales on your online store.
Enjoy!
Get Free Traffic To Your Online Store And Make More Sales With ChatGPT By Generating Blog Articles For Your Ecommerce Products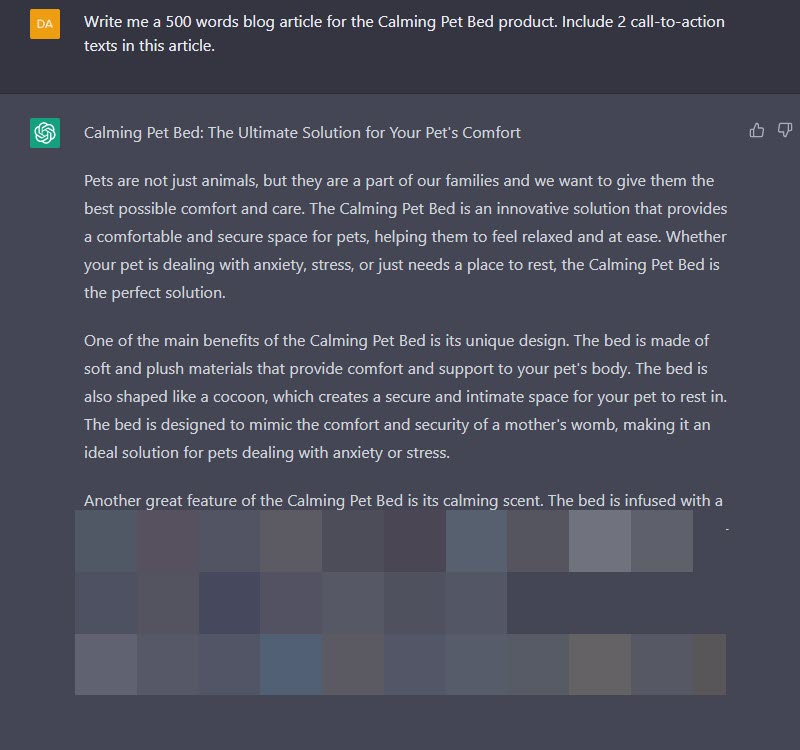 As an online store owner, getting traffic to your store isn't cheap… The average ad costs on every ad platform out there are constantly rising so you have to be extra careful with your marketing budget.
But what if there was a way to get FREE traffic? But not just random traffic that will do nothing on your store. Well… Apparently the option to do that exists and it's much more efficient and faster the help of ChatGPT.
The method is simple – As you can see in the screenshot above, all we to do is ask ChatGPT to create us a blog article for the product we're currently selling on our store.
As an example, I asked ChatGPT to create me a 500 word blog article for the popular pet niche products which is the Calming Pet Bed. And I also asked it to include 2 call-to-action texts as well.
Here is the full result: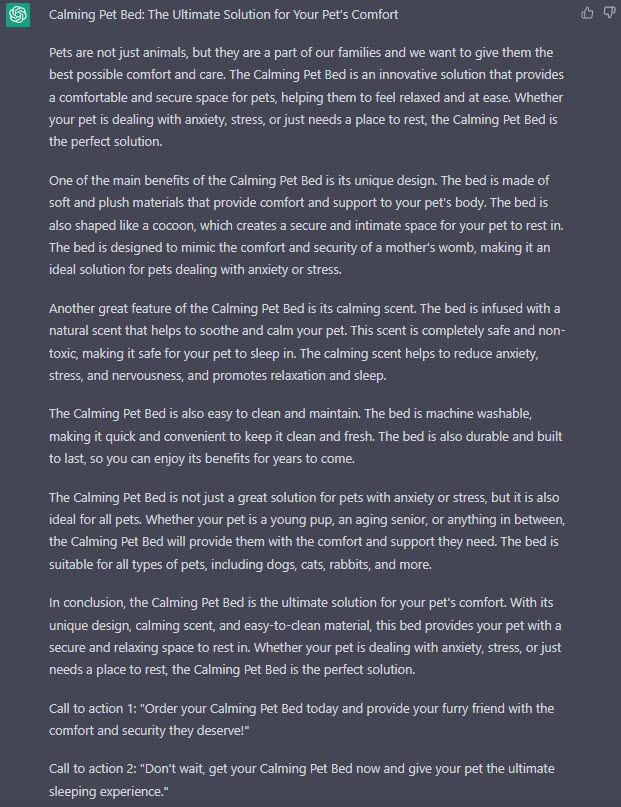 The result is absolutely brilliant! Just like that, in a matter of seconds, ChatGPT has created a blog article for us to post in our online store's blog section with x2 call-to-actions texts for us to use at the end of it.
The only "problem" with this example is that I thought the call-to-action texts will appear randomly in the text itself and not in the end, but that can be easily fixed with a newer prompt saying exactly that.
So what's now?
If you're selling online and have an empty blog section, then it's time to take all of your products and ask ChatGPT to create you blog article for each and one of them.
And that's it… After some time, traffic should start coming from Google from people who are interested in your product or niche. If the product is right for them, and there's a good deal, then sales should be flowing in.
Create Email Marketing Campaigns With ChatGPT To Make More Sales On Your Existing Customers And Recover Lost Sales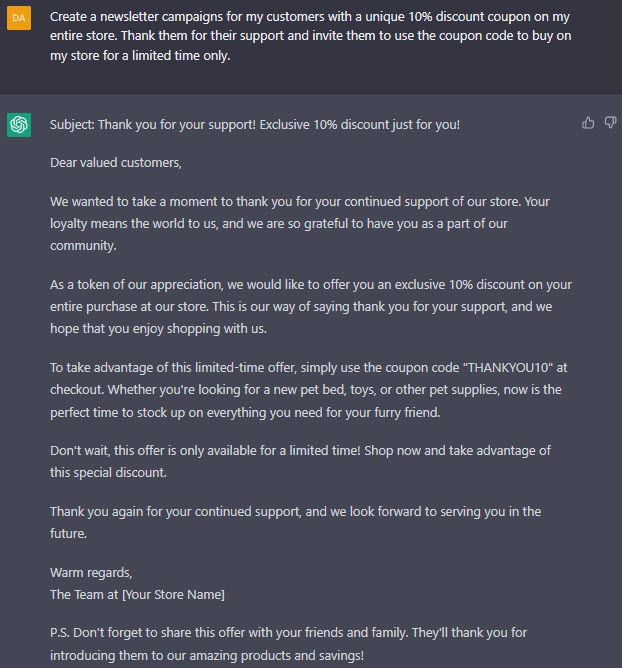 Did you know? It costs anywhere from 5 to 25 times more to acquire a new customer than it is to retain an existing one.
So if you're sole focus is on bringing new customers, and you're doing nothing about your existing ones, then you're leaving a lot of money on the table.
Your existing customers have already gone through the whole buying process on your store, they already received your product(and they're probably also happy about it), then why don't you do something with them…
Something like pushing a newsletter campaigns once a week advertising certain products with a special promo code. Or once every month, a newsletter campaigns thanking them for being loyal customers and supporting your brand.
Just look at the example above to see how easy it is to construct a well-written email marketing campaign with ChatGPT.
Again, in just a few seconds, ChatGPT has generated a really good email for us that we can send to our existing customers and get some FREE sales with the help of it.
Isn't it amazing? All the thinking about how it should be written and the structure are gone! All thanks to this amazing A.I. tool called ChatGPT.
And what about abandonment recovery emails?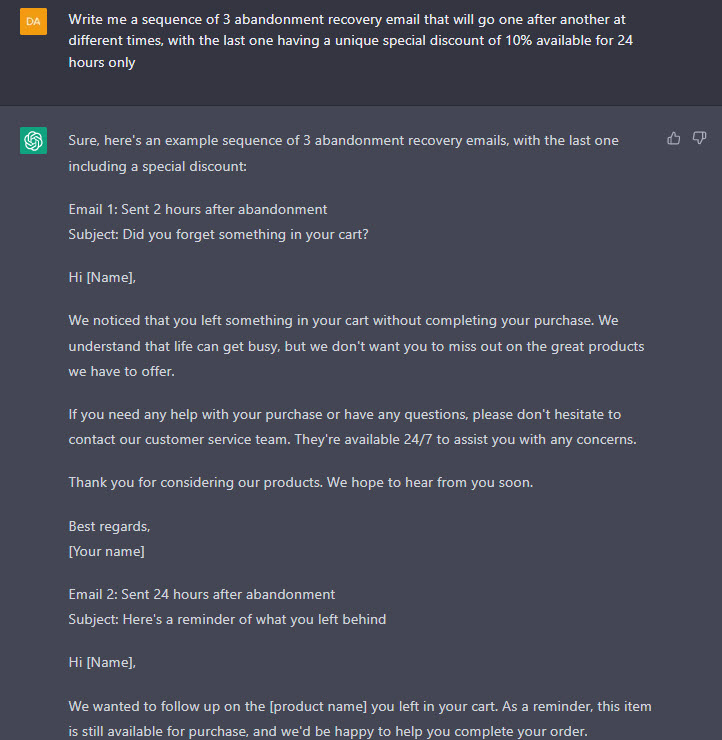 It's exactly the same as we did with the regular newsletter emails – All I had to do is ask ChatGPT to write me 3 abandonment recovery emails and ask for the last one to have a 10% discount.
While the result was absolutely perfect, ChatGPT made a "mistake" and added a 5% discount on the second email when I didn't specifically ask for it. This isn't at all an issue and if the system recommends me to do it that way, then I think it should be at least considered 😉
Other than that, I really liked the fact that it even added the exact hours of the emails sent.
Create High-Converting Product Page Descriptions With ChatGPT To Sell Your Product Better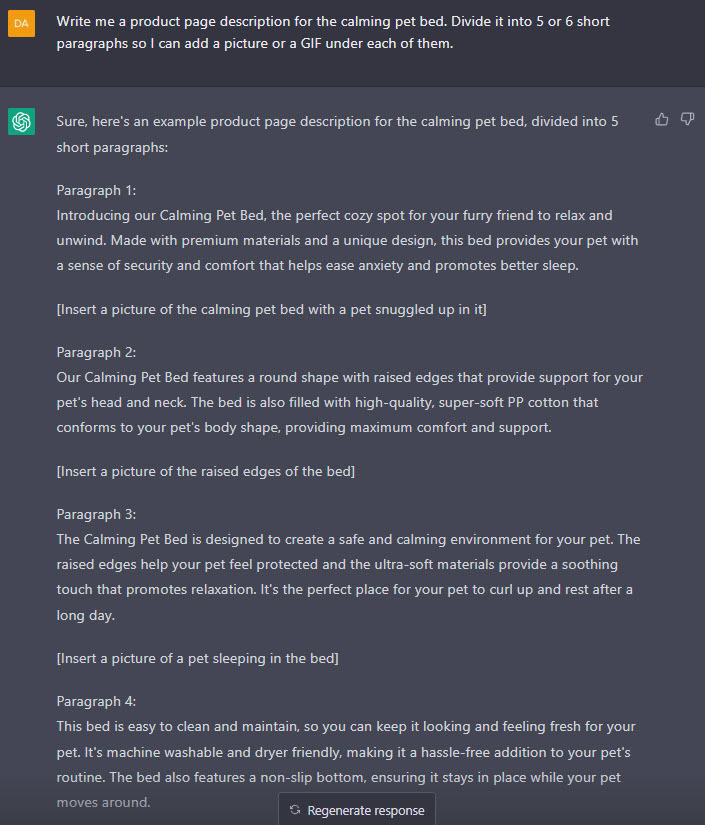 A product page has 2 main roles on your online store:
To explain about the product you are selling in more detail. This means that your customers should see the product you are currently advertising in its full glory. GIFs and Pictures are an absolute must and the text shouldn't be an automated Chinese to English translation as we see on Aliexpress.
To sell your product once more and convince your customers for the last time why they should buy your product.
So if you're not paying to your product page and think that a good ad is all that you need, then you might be losing a lot of sales…
So I went on and asked ChatGPT to create me a product page description for the Calming Pet Bed(see screenshot above). We already know that ChatGPT can create that in ease, so I went and added an additional important requirement.
I asked it to divide the product description into 5 or 6 short paragraphs and to leave some space between them for pictures or GIFs that I will upload later.
And again, the result is absolutely amazing – I received exactly what I was looking for and even more. ChatGPT made sure I know what are the best pictures to add and where in this description.

And that is a pretty cool thing to have which will save us even more time when looking for pictures or GIFs to use on our product pages.
And just like that, we have a ready product page description we can use to convert our customers and guide them to the checkout page.
Build Trust On Your Online Store Using ChatGPT To Increase Your Conversion Rate And Get More Sales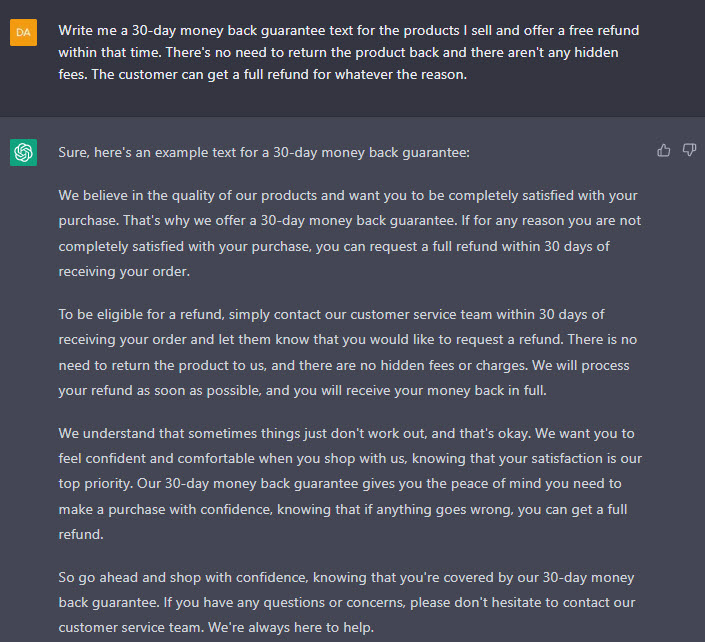 In order to get the maximum amount of sales possible, your store needs also to look and feel trustworthy. And this isn't just the amount of trust badges you manage to COPY-PASTE on your store…
You have to show your customers in a written matter that you are here to conduct real business without the 'funny' in it.
So for starters, you should have a money-back guarantee text at the end of each product page description or in pre-built pages like the Returns/Refunds pages.
I asked ChatGPT to write me a 30-day money-back guarantee text with some additional instructions and it managed to do it pretty well.
Now the customers who enter a store with this 30-day money-back guarantee text will know that there is absolutely no risk to buy from it.
What else do we need? How about a few words about the delivery system we have in place: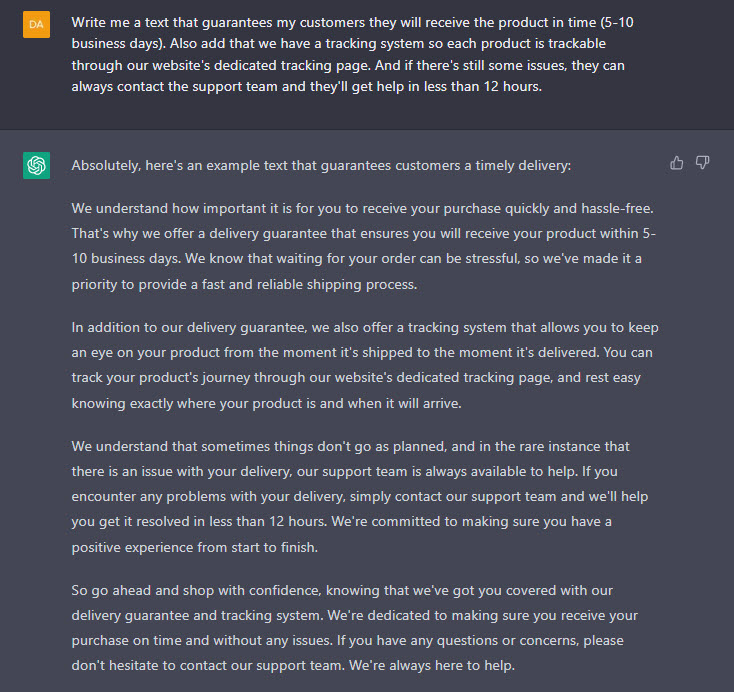 ChatGPT has made it again and in less than 20 seconds it created a full text that I can place in my delivery page on my online store. It's really that simple and all I had to do is write to him like human to human.
With the 30-day money-back guarantee text + the delivery guarantee text, my customers will feel much more safer to purchase from my online store.
To Sum It Up
ChatGPT is a game changer! It has so many uses and if you don't use it for your Dropshipping business, then you're leaving a lot of money on the table.
Instead of writing your own texts or paying someone to do it for you, you can now access ChatGPT completely for free and get it all done for free + get some additional bonuses like you saw in this article.
And what I showed you in this article is just the tip of the iceberg… ChatGPT is constantly updating and there's no end to what it might do for us in the future.
So get to work with ChatGPT and start making more sales!
Struggling to find good products to sell? Not sure who's your target audience? Tired of losing money on products you were sure were "winners"?
Then Ecomhunt is what you need! Find hot winning products that are added daily, spy on their ads & stores and import them into your store in 1 click and Start Selling Today!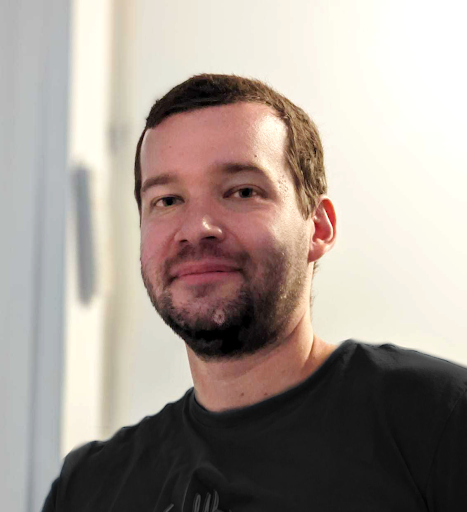 Daniel Aloni is one of the leading mentors in the Ecomhunt family. Daniel is a highly experienced Print On Demand seller with multiple 6 figures successful launches.