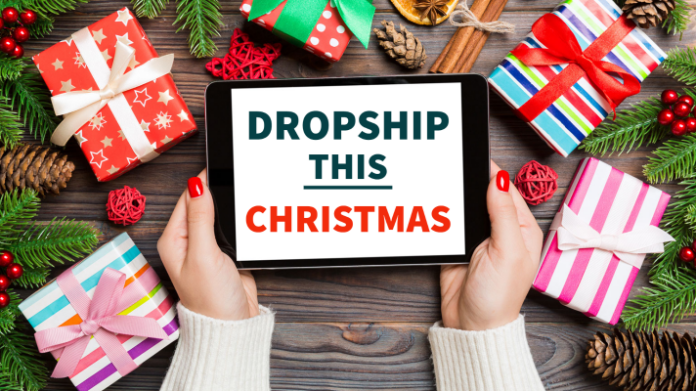 Christmas is right around the corner and so is the opportunity to generate a lot of sales for your Dropshipping store. 
It is estimated that in 2022 holiday retail sales will increase by 3.3% to $1.262 trillion!
Not to mention Cyber Monday and Black Friday that are coming along the holidays, with Black Friday being the second biggest online spending day.
One of the most important things you need to consider in order to maximize your sales this year is shipping your products as fast as possible.
And in this article we'll cover how to do just that.

Table of contents:
Why faster shipping is so important
Customers are impatient, each one of us when shopping online expects our order to arrive as soon as possible. And we will look for the fastest way to get our order to our door.
On holidays, customers are more impatient, and shipping times are even more crucial.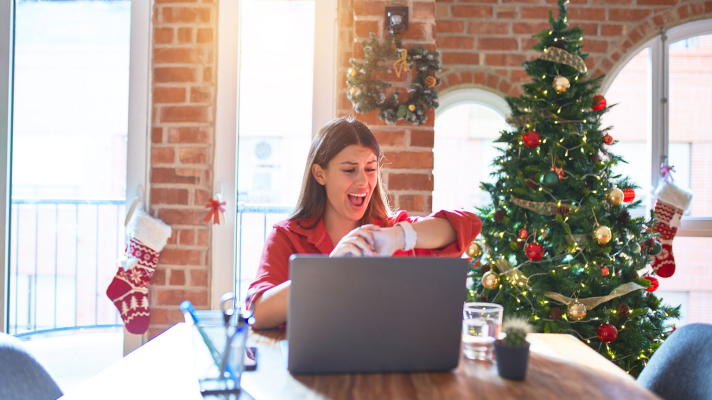 That's because customers now have a deadline, they need their order to arrive at the right time. If they are not certain the product will get to them on time, they will look somewhere else, until they find the place that ships it as fast as possible.
And you need to make sure they choose you.
Dropshipping with Aliexpress
Aliexpress is the first go to solution for most dropshippers. After all, it is easy to use, affordable, and has a huge selection of products.
But its biggest issue is – very long shipping times.
Because Ali's warehouses are located in china, orders take a very long time to get to the rest of the world. 
The standard shipping time takes about 15 to 45 working days! And even with their premium shipping packages take from 7 to 15 working days.
Like was mentioned before, most people are not willing to wait that long, especially if they can find the same product somewhere else with a shorter delivery time.
That only can risk your dropshipping business, and you'll be putting yourself at a great disadvantage considering the holiday season.
Check out our YouTube video to learn more about dropshipping from Aliexpress:
How to reduce delivery times
There are a few factors that determine how long it will take to ship a product to the customer:
Processing time
Supplier location
Shipping options
Each of these factors is discussed below.
Processing time
The overall delivery time of a package is a sum of the processing time and the shipping time.
The processing time is the time it takes to process an order and ship it.
Each supplier has a different processing time, so it is up to your responsibility to choose the right supplier in an attempt to delay the delivery time as little as possible. 
Supplier location
The process of shipping is getting a package from point A to point B. the farther away the points are from each other, the longer it will take for the package to reach its destination.
If the main audience you're selling to is in the USA but your supplier is in China, you are dramatically extending your shipping time.
For this reason, finding local suppliers is the best way to reduce your shipping times. If we compare it to Dropshipping from Aliexpress where it usually takes 2-4 weeks for a package to arrive, with local suppliers you can bring it down to just a few days.
Shipping options
Different shipping options offer different shipping times. Whichever logistics provider you choose is up to you and different platforms (like Aliexpress) in different locations (such as china) will have their own variety of providers.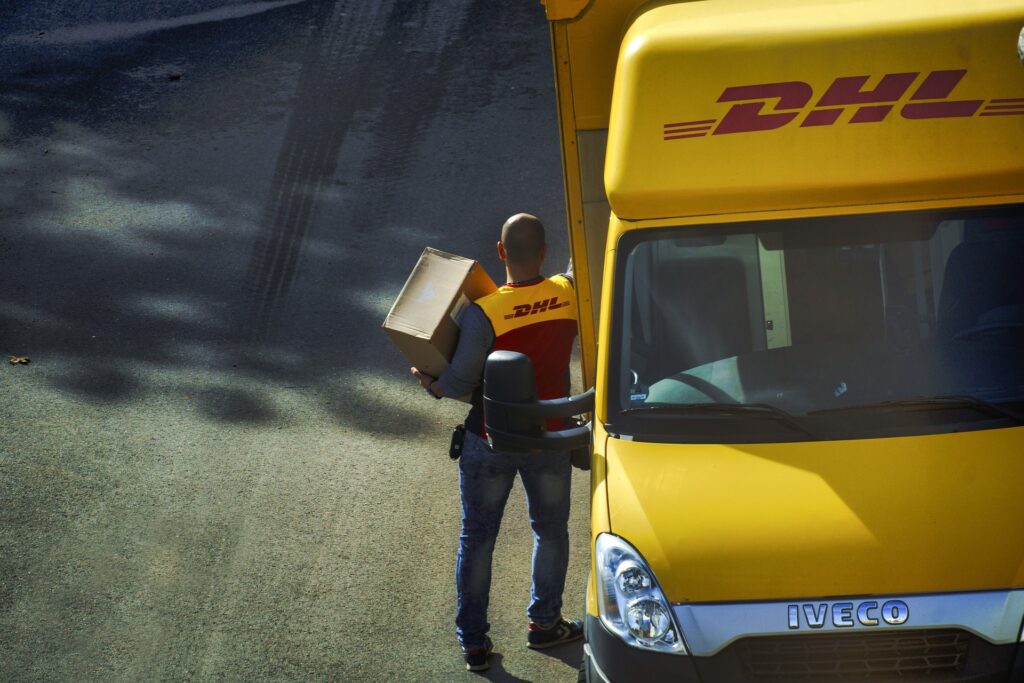 We won't go into detail about the different companies and their services. This is just to bring to your awareness what can determine the shipping times of a certain product.
As a rule of thumb, Standard shipping usually takes longer, about 14-60 days. While third party logistics providers take 3-25 days.
The solution
All of these challenges can be faced easily by choosing the right dropshipping supplier that will provide a faster shipping time.
Our recommendation: Spocket
Spocket is a platform that provides shipping solutions and winning products for dropshippers.

Since most of Spocket's suppliers are from the US and EU, delivery time is a lot shorter and is usually between 2-5 days.
You can minimize shipping time by choosing suppliers that are close to the location of your customers. You can find different suppliers by their location and choose whichever one has the shortest shipping time.
The estimated arrival times are specified in every product page.
Their processing time is also fairly short, about 1-3 business days. Just for comparison, Aliexpress's processing time is between 3-8 business days.
Spocket can be easily integrated into a number of ecommerce platforms such as Shopify and Woocommerce. This makes transferring products and managing your store possible in just a few clicks.
Quality control
One thing Spocket are well known for is their strict product quality control.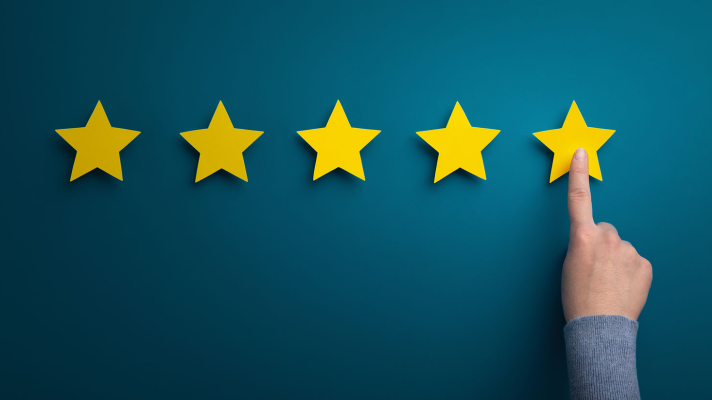 Having suppliers from the US and Europe also contributes to keeping the product quality high. Knowing that the suppliers and vendors meet such high standards, means you don't have to worry about any product being a scam or defective.
Dropshipping high quality products will also make sure customers will gain trust in you and will keep buying more.
This is another thing that dropshipping with Aliexpress really lacks, they do not have a quality control policy and they allow the sellers to manage their product's quality as they please.
That's an bigger problem than the long shipping time because there are circumstances in which customers are willing to wait longer for a product.
It is usually in a scenario where the product is very unique or solves a particular problem.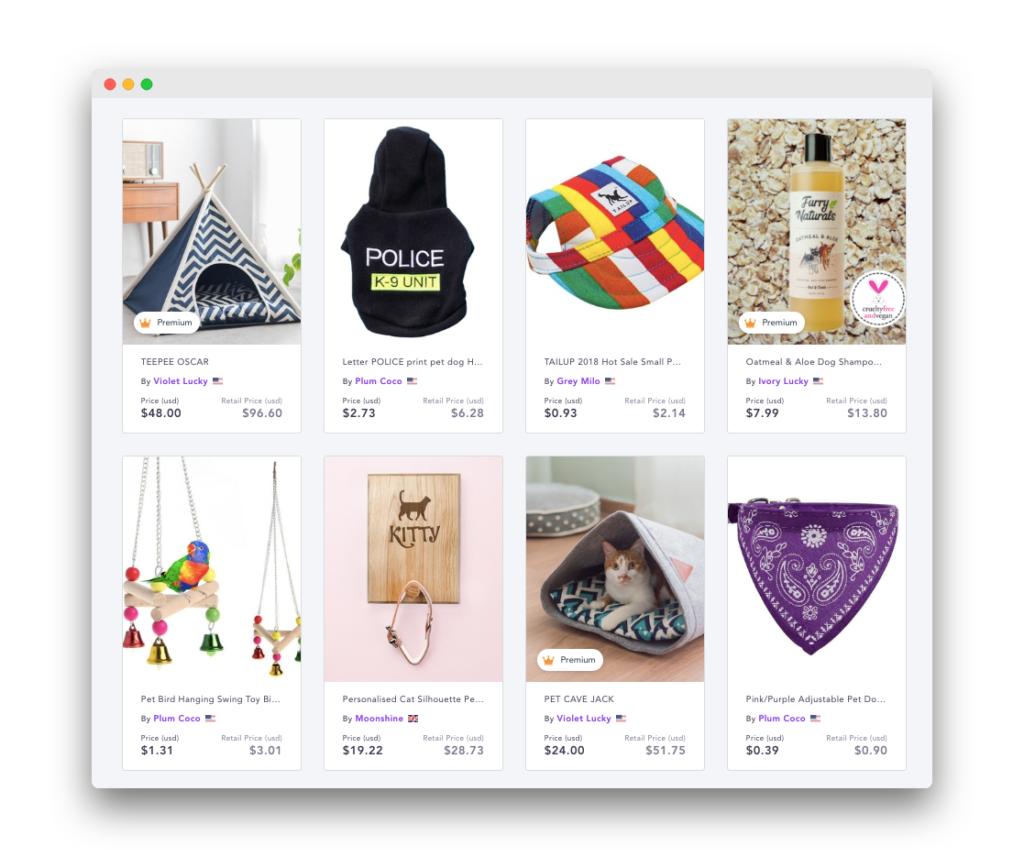 In that case customers have very high expectations, and if the product does not meet those expectations, the customer will be very disappointed and frustrated and will probably never buy from you ever again. 
That's why having a dropshipping solution like Spocket is incredibly helpful. This will save you so much time and effort of looking for the right suppliers and having to keep testing their products.
Pricing
After a free 14-days trial, you can start using Spocket for $24.99 per month. There are also more advanced plans that let you sell more products and have different added benefits:
The pro plan at $49.99/month or $24/month if paid annually.
The empire plan at $99.99/month or $57/month if paid annually.
The unicorn plan at $299/month or $79/month if paid annually.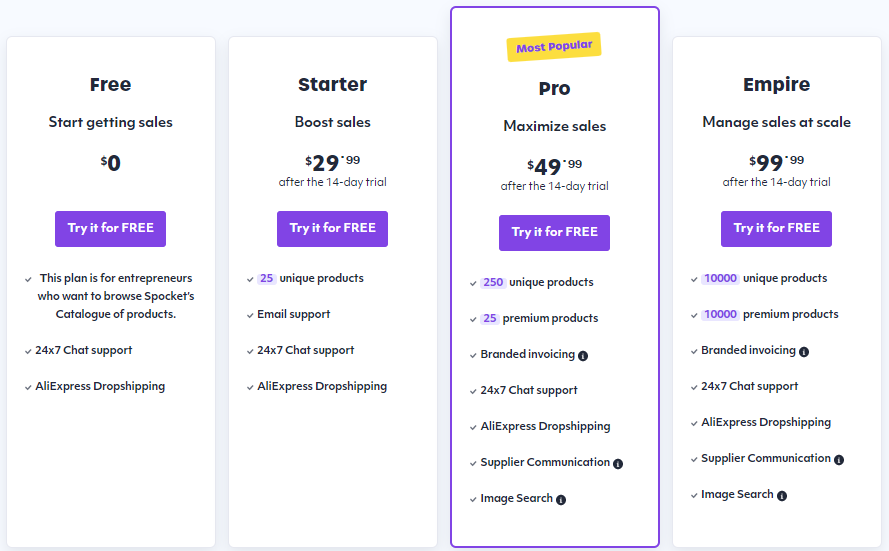 There's also a free plan but it's only for browsing their catalog so I wouldn't consider it as a part of their subscription plans.
Spocket pros & cons
Pros
Faster shipping
Suppliers from different parts of the world
Order samples for quality control
Can be integrated with ecommerce platforms like Shopify and Woocommerce
Optimized order fulfillment
Trusted suppliers
Automated order processing
Pricing process can be automated
Cons
Packaging is not customizable
Can not be integrated with major marketplaces such as Amazon or eBay
There is no free plan for selling with Spocket
You can't contact suppliers directly
Conclusion
Long shipping times are a concern for many dropshippers, especially towards the holidays.
In this situation dropshipping with Aliexpress will be in most cases to your disadvantage, mainly for two reasons: One is long shipping times and second is poor quality control.
For this reason, it is recommended to consider alternative dropshipping supplier solutions.
Spocket is definitely the ultimate choice for your dropshipping business.
They have faster shipping times and better product quality. They basically solve any of the major drawbacks Dropshippers face with Aliexpress. 
And yes it is a pricier option, but if your business success is important to you then making investments is part of the game. And this one will be worth it.
Struggling to find good products to sell? Not sure who's your target audience? Tired of losing money on products you were sure were "winners"?
Then Ecomhunt is what you need! Find hot winning products that are added daily, spy on their ads & stores and import them into your store in 1 click and Start Selling Today!