If you're looking for a winning product to sell this Christmas, one that will take your Dropshipping business to the next level, then these Indoor Non-slip Thermal Socks are exactly what you're looking for!
This product is exploding on Facebook as we speak and people are absolutely LOVING these thermal socks. And with Christmas just around the corner, there's a big chance you can take these socks and scale them like crazy.
So if you're serious about making some bank this Christmas, then make sure to read the whole article because I will be reviewing the product, the ad that currently runs on Facebook, and the Shopify store selling it.
I'll point out the mistakes made by the original seller so you can avoid them and do a better job when testing this product on your store.
Don't miss out on this product and start selling it now!
1. The Product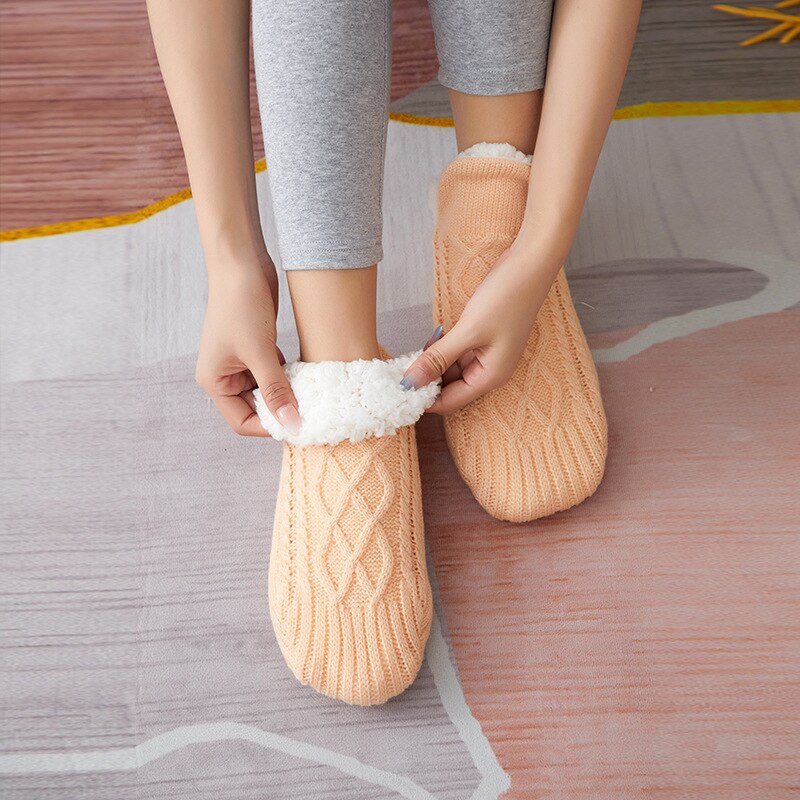 This week's winning product is going to be one of the best sellers this Christmas. These indoor non-slip warm socks are just perfect for the Cold season and you'll be making bank if you start testing them right now!
And it's not just for Christmas… These socks can be sold for months after Christmas so you'll have an almost evergreen product in your hands that keeps making you a steady profit.
What I love the most about this product is that you can sell it to anyone – Women, Men, and Children. Anyone will be happy to wear those no matter the age or gender.
So the possibilities are endless in this case and scaling to new audiences won't be an issue 😉
2. The Ad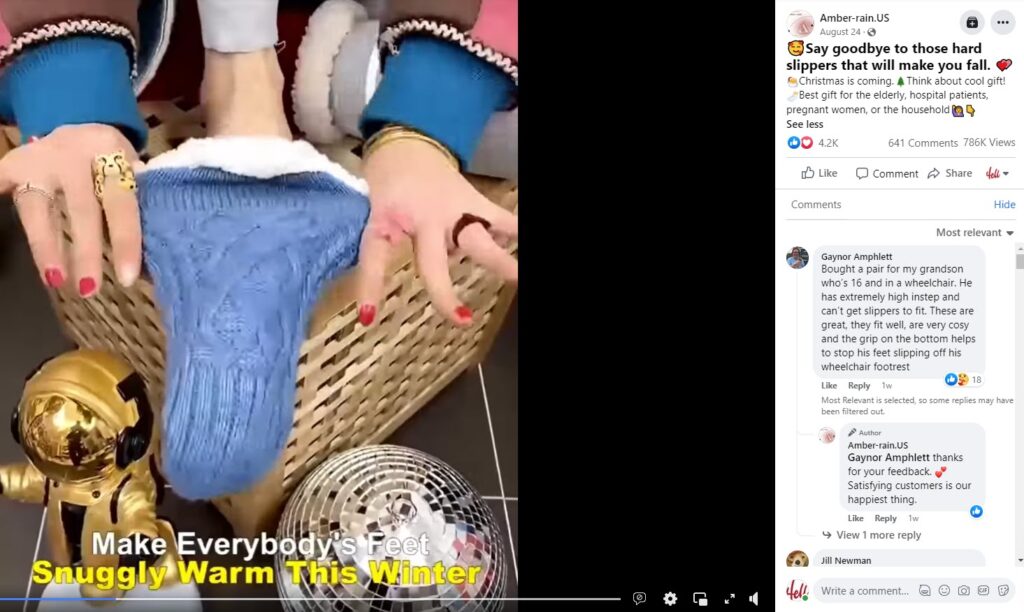 To be honest, I have nothing bad to say about the video ad for this product. The music is cool, they didn't forget to include text description, and there's a call-to-action at the end of the video.
The shots used for this video ad are interesting enough to stop their target audience and actually watch the video(especially important in the first 3-4 seconds).
And the quality of video is sufficient – Not High Definition but at least not a 360p quality like I've seen happen plenty of times…
The ad copy:

The ad copy text mentions Christmas and how cool of a gift a pair of these socks would be.
Also a very important part is actually telling people who are going to benefit the most wearing these socks. A reminder to those who may have forgotten about someone who actually needs these socks.
The only problem I have with this ad copy is the amount of emojis used… I just think it's a tad too much and I personally include a maximum of 2-3.
And if you're wondering if this page is still running ads, just check out their ad library: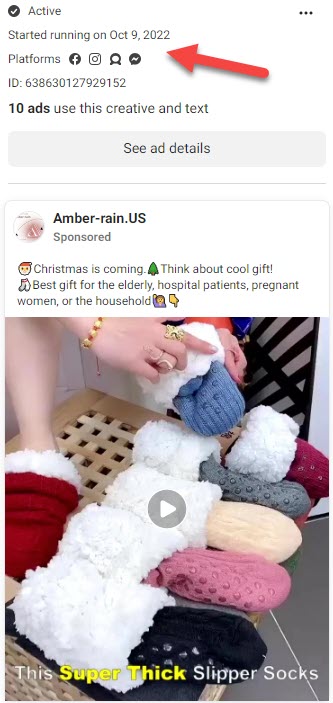 Latest ads for this product launched on October 9th – As expected.
3. The Store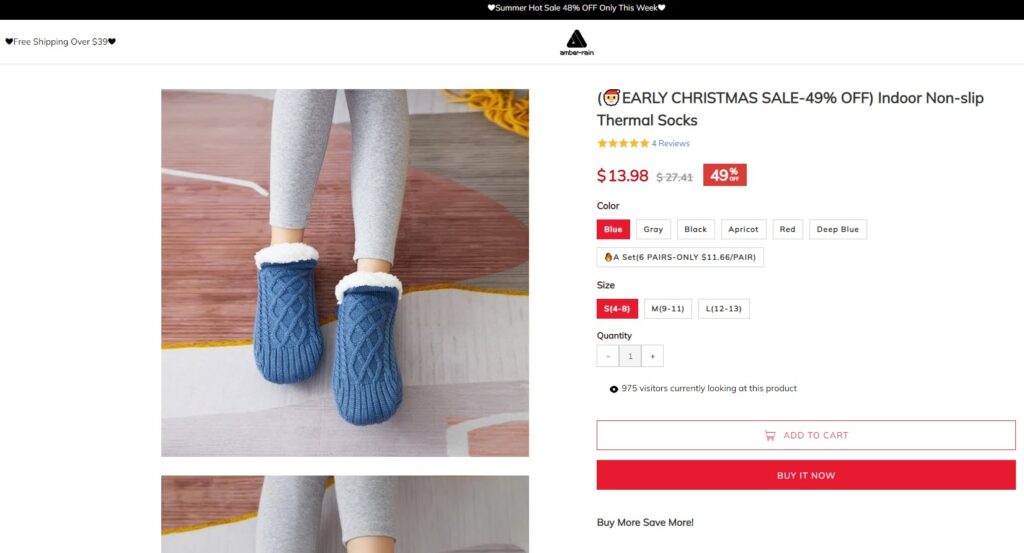 Now the store is a bit of a mess… It isn't a disaster like some store I've seen but it has some aspects that can confuse the customer and maybe even drive them away.
We'll start from the announcement bar that says 48% off on Summer sale when the title of the product advertises their early Christmas sale(also with a different discount amount).
So first things first, you have to make sure your discounts align and the same throughout the whole store. Something as small as this can confuse your customers and make them think instead of clicking on the Add to Cart button.
The second issue are the quantity discounts: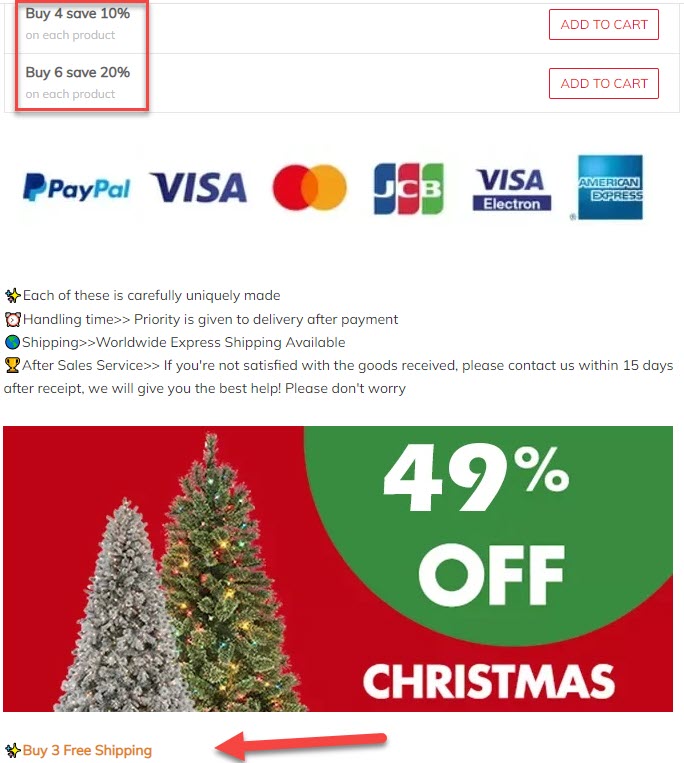 Quantity discounts are a MUST with this product and it's good to see that these are available. But why can't I see a quantity discount for 2 & 3 pair of socks on top? In the same table where an Add to Cart button is present.
I guess it's because of the low price for 1 pair of socks so they can't really offer a discount on 2 or 3 pairs. But even with that, the customer doesn't have to scroll down to find out that he gets free shipping if he orders 3 pairs…
A better option would be to create a custom variant of 3 pair of socks and write "Buy 3 & Get Free Shipping" in it. Not at least the customers won't miss this deal.
As for the rest of the product description, I think it's pretty good: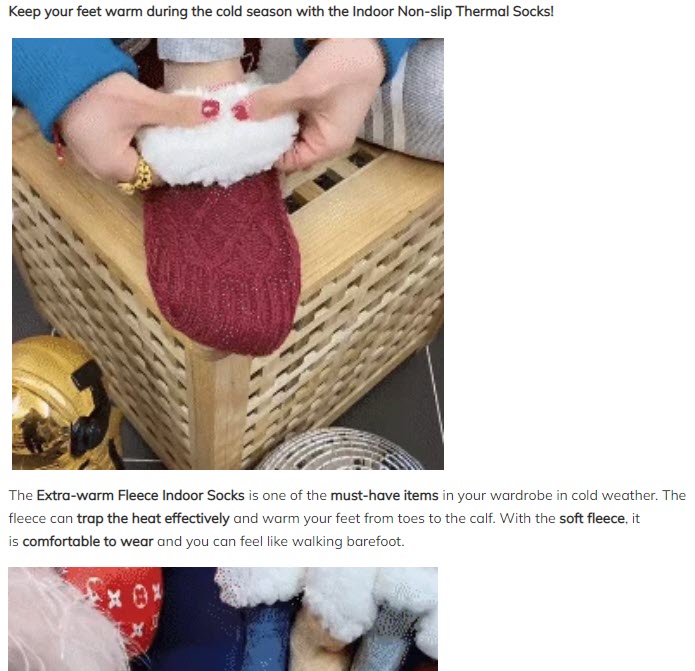 Plenty of pictures, GIFs, and text description with normal English in it and not something that was auto-translated from Aliexpress.
But right after that, you get to the "You may also like section":

And in this case, the products are totally random so the only thing this section does is prolong the checkout process.
Instead of keeping the focus on these amazing socks, this section diverts your customers and shows them random shiny products from your store.
Chances of someone actually picking up a random product and purchasing it with the socks are EXTREMELY low so it's better to remove this section if you have no real plan for it.
Focus on closing the deal first and later you can advertise other products when the money is already in your pocket!
Reviews: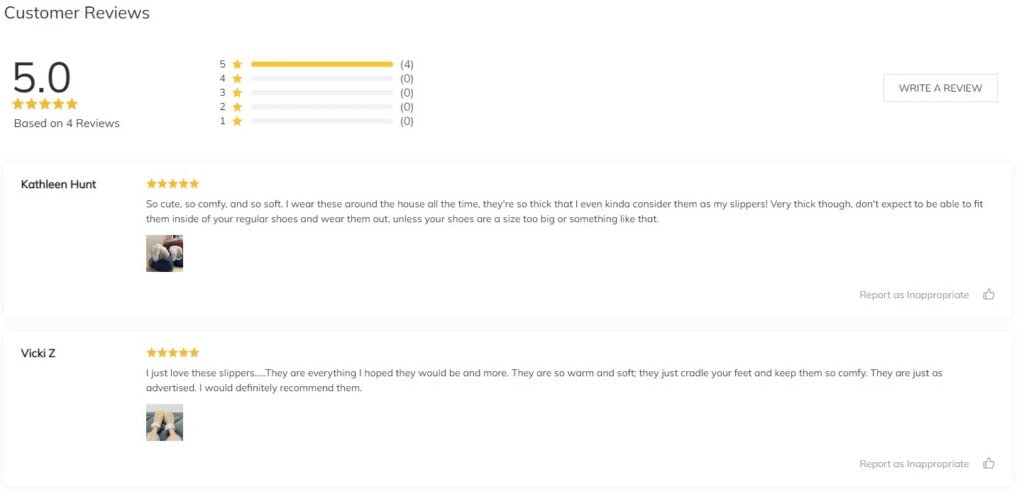 So they have imported customers reviews for this product from Aliexpress but unfortunately only 4 reviews just isn't enough.
I understand that sometimes there aren't many photo reviews to import from Aliexpress, but you can always include regular text reviews which are also good.
And in this case, I am 99.9% sure that there are enough sellers that sell this product with a big amount of photo reviews you can use. You just need to do some research.
4. Checkout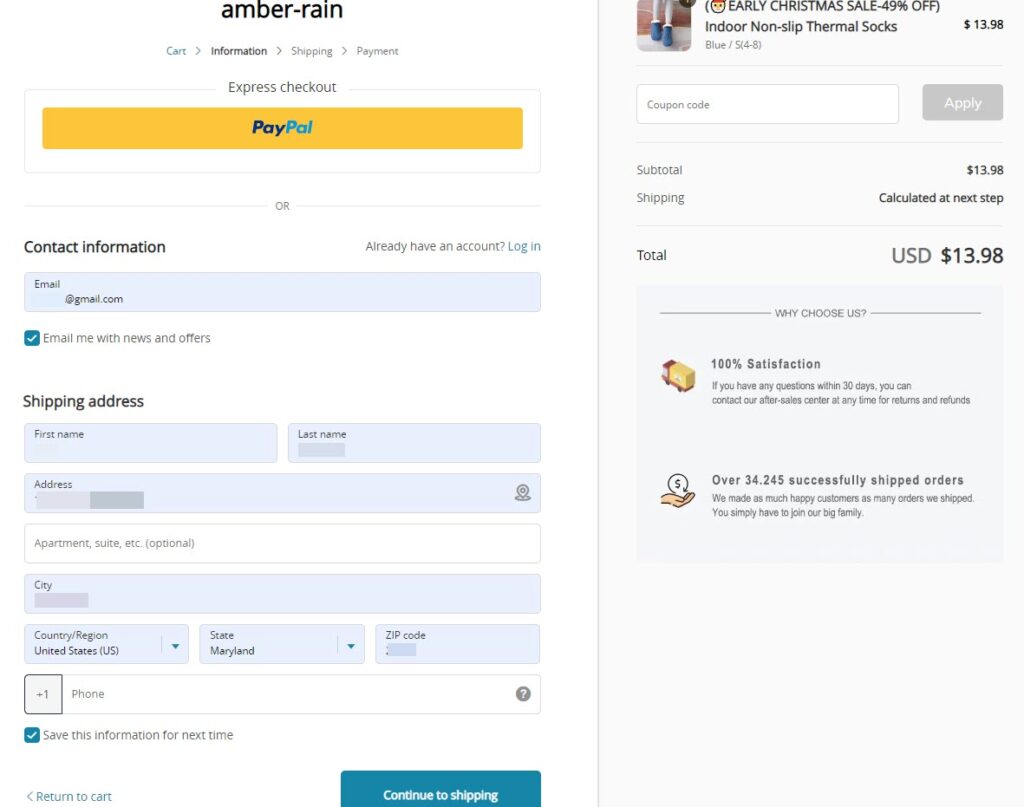 Unfortunately there are even more problems in the checkout flow…
Starting with the missing logo which they simply forgot to upload on the checkout page as well. This makes the store seem a bit less professional.
Next thing is the mandatory phone number field:

I get that some of you want to use SMS marketing but you really should think about its worth. If you have a good SMS marketing plan structured, then be my guest and do it.
But if you don't… Then you simply risk losing more customers who absolutely HATE telemarketing and don't want to give their phone number away.
I personally keep the phone number field as Optional.
What I did like in this checkout page is the "Why Choose Use" section. It's a nice touch that makes the checkout page a bit better but this still doesn't cover for their mistakes.
Shipping page: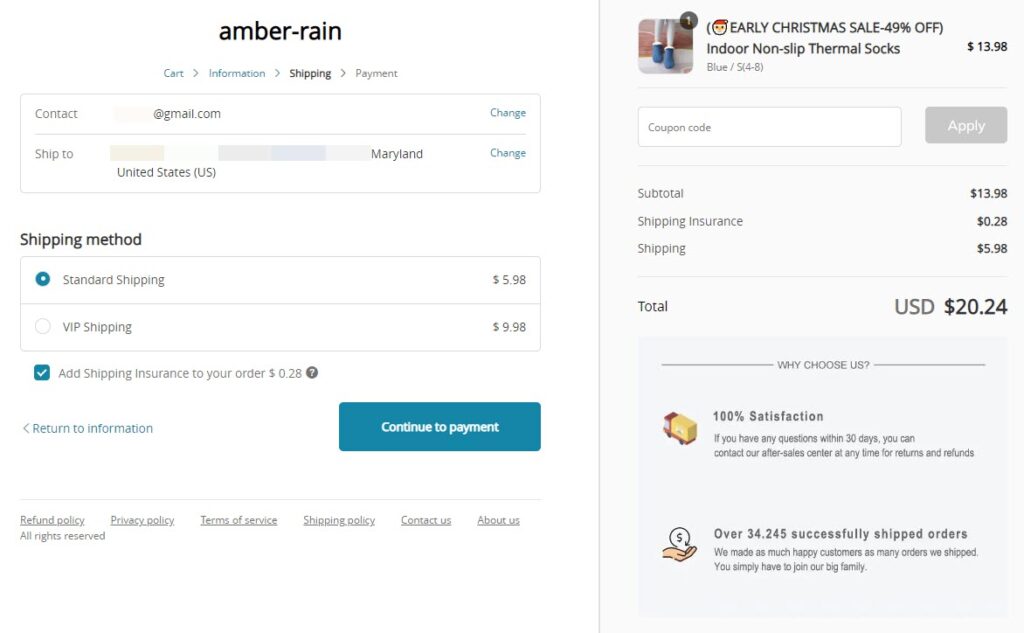 Here's what I don't like about their shipping page:
The shipping option – If you offer a VIP shipping, then at least let people know how much time it will take for the package to arrive. You don't want your customers wondering back to your main page only to read about the shipping times of the VIP package. Write the shipping time for each option so people know right away which option to choose.
The shipping insurance – I get it that it's a really small price but it just feels a bit scammy. Why is this option checked by default? What does the insurance cover? What happens to my package if I have no insurance? This raises too many questions and I personally think the additional 28 cents aren't worth it.
Payment page: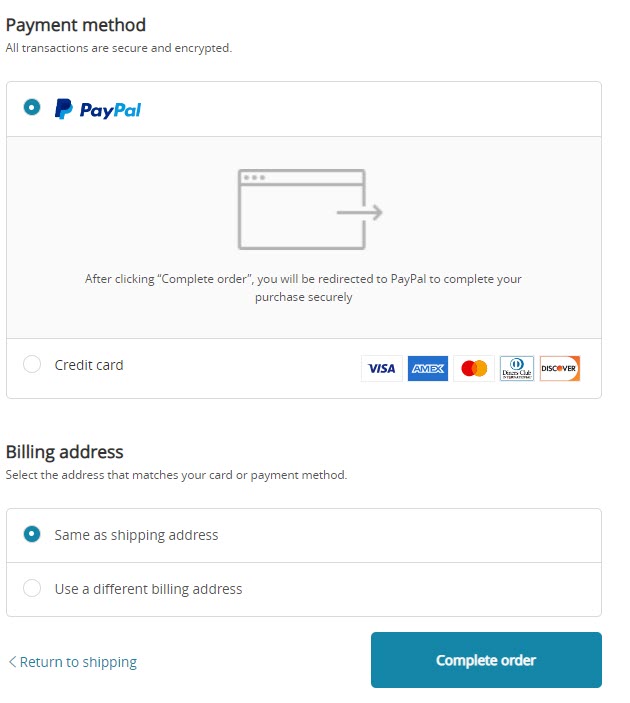 At least the Payment page is standard and doesn't have any "donate" buttons that will drive the customers officially insane. Nothing good or bad to say about the Payment page.
5. Selling Strategy
First of all, you can't be selling these socks for too cheap like the store I just reviewed. You can easily price these socks for $19.99 or even $24.99 a pair + Free Shipping.
You can even use companies like Spocket or CJ Dropshipping to find a supplier who can source these socks for much cheaper.
And as you already know, for this product quantity discounts are a MUST!
You can offer a good discount starting from 2(10%~15%) and an additional 5% off for each extra pair customers pick up.
On top of that, don't offer too many color options – Choose up to 5 color options and roll with them. You want your customers to choose fast and proceed to checkout. Too many options can confuse them and it will definitely prolong the checkout process.
To Sum It Up
As you can see, this product is crushing it on Facebook with plenty of people commenting on the post that they already bought a pair.
With the right ad and a better optimized store than the one I reviewed here, this product can be your next big winner this Christmas and take your Dropshipping game to the next level!
So don't wait too much on this product and start selling it right now!
If you have questions, feel free to ask me in the comments.
Good Luck!
Struggling to find good products to sell? Not sure who's your target audience? Tired of losing money on products you were sure were "winners"?
Then Ecomhunt is what you need! Find hot winning products that are added daily, spy on their ads & stores and import them into your store in 1 click and Start Selling Today!