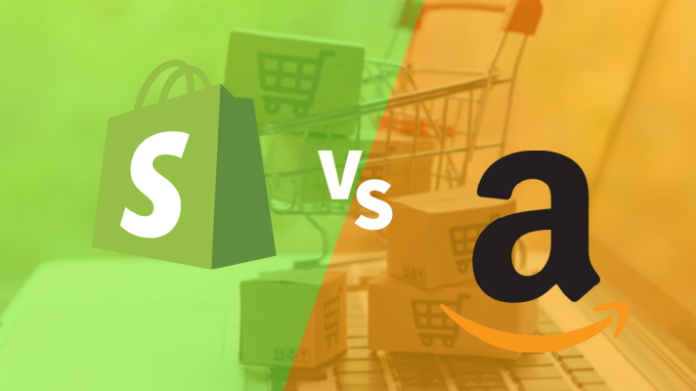 The demand to know which dropshipping platform is best is growing as more and more people are interested in making money online by starting their own dropshipping business.
There are lots of great platforms out there, but each one has their own advantages and disadvantages.
To ease up your dropshipping journey,
This article covers the differences between Shopify and Amazon.
Let's dive right in!

Table of contents:
About dropshipping with Amazon
To start dropshipping on amazon all you have to do is to get a seller account. Once your account is approved by amazon you can start selling on one of the biggest marketplace in the world.
Sounds good right?
Only that we haven't gone through amazon's drop shipping policy.
In order to dropship on amazon you must follow their own set of rules, otherwise amazon can restrict you from selling.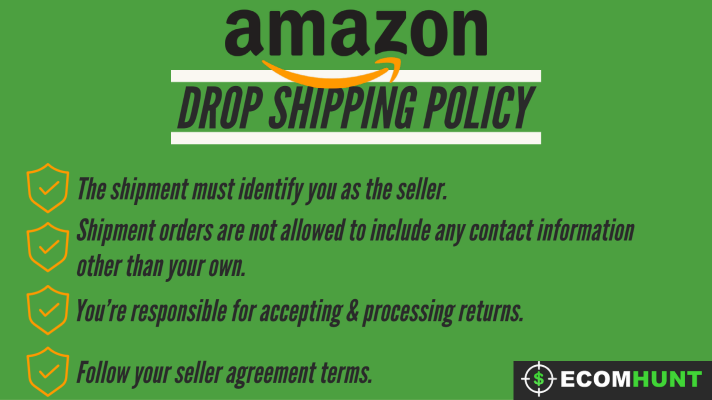 Another important thing to mention is that when dropshipping on amazon you want to use their FBA program (fulfilled by amazon).
That way you're letting amazon take care of your orders, returns, customer service, tracking and more.
But it is not free! So keep that in mind.
Besides that, there is one alternative way of dropshipping with amazon you might want to consider. That is, dropshipping from amazon.
Meaning that you're listing a product on a different site such as shopify, but you're buying the product from amazon. That leaves amazon do all the hard work for you, like shipping the product straight to the customer.
About dropshipping with Shopify
Shopify is a hosted ecommerce platform that allows you to open an online store while offering all the tools you can think of. As well as dropshipping and marketing tools.
Their goal is to make creating and managing an online business easy and beginner friendly.
Including drop shipping businesses.
Selling on Shopify requires you to create an account, design your website and to take care of promoting your business.
One of the best aspects of dropshipping with Shopify is their large variety of dropshipping apps and suppliers.
Cost
Amazon
Setting up a seller account on amazon comes in two options:
Individual– this plan costs $0.99 per item that is sold. Meaning you pay individually for each item. That is instead of paying a monthly subscription fee. With this plan you're limited to selling only 40 items each month. On top of that you also don't have access to amazon's advertising nor advanced selling tools.
Professional– this subscription plan costs $39.99/month. Here you are not limited to a number of items or amazon's tools. You also have access to all of their features such as: API integration, advertising, setting your own shipping fees, and more.
Now let's talk about fees,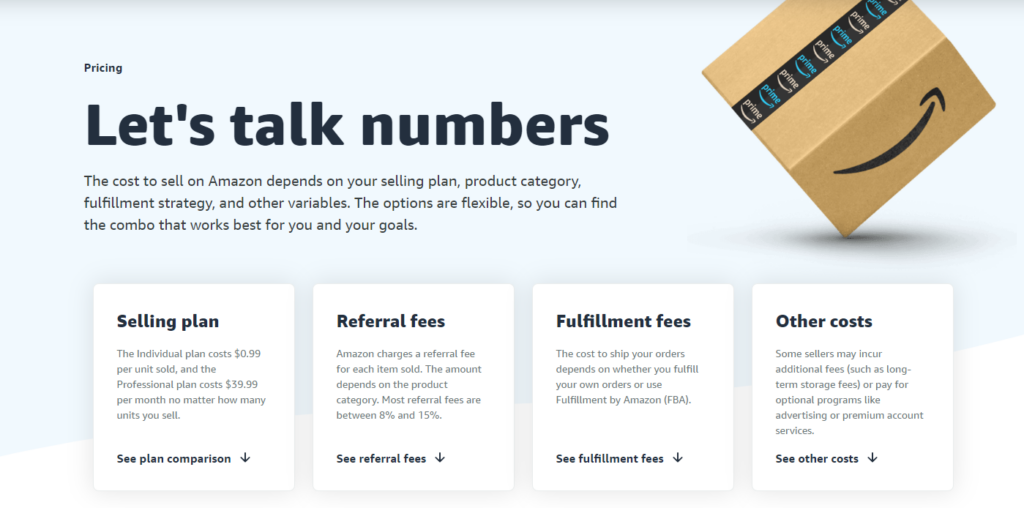 Amazon's fees can be divided into 3 categories:
Referral fees– these fees are applied after each sale and their worth varies depending on the product type. The minimal referral fee is for most cases $0.30 and the referral fee percentage is usually between 8% and 15% , but can get up to 45%.
Fulfillment fees– these fees are in other words – shipment fees. And it depends on whether you want to ship the products yourself or use fulfillment by amazon (FBA) to handle it for you. FBA services include: packing & shipping your orders, customer service, and product returns.
If choosing to ship the products yourself, you will not be charged excluding certain products: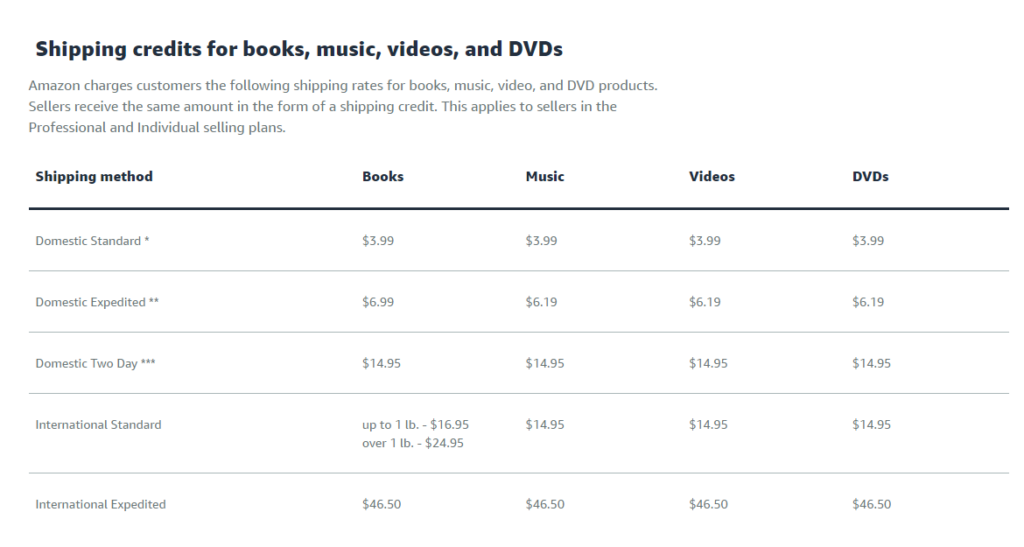 If choosing FBA the fees are per unit based on the size and weight of your product.
There are also storage fees using FBA so you want to avoid having excess inventory for a long period of time.
Additional fees– FBA and inventory fees fall into this category, as well as high volume listing fees, and refund administration fee.
Shopify
Shopify's fees are much more straightforward in comparison.
There are the monthly fees "aka" subscription fees:
Basic Shopify: $29
Regular Shopify: $79
Advanced Shopify: $299
Shopify Plus (enterprise): starting at $2000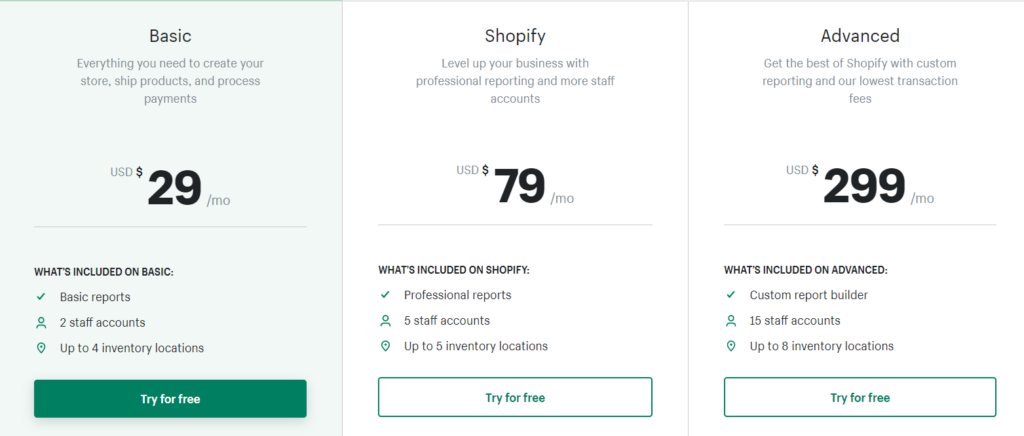 Each of these plans has many ecommerce tools and versatility at managing your store.
You are offered off the bat with features such as: customizable templates, abandoned cart recovery, SSL certificate, gift cards and more.
Shopify also ffers a free 14-day trial for any one of these plans.
And then there are transaction and credit card fees.
The cost of these fees change depending on what payment gateways you're using, and what is your Shopify plan.
The more expensive the plan is, the lower are the credit fees.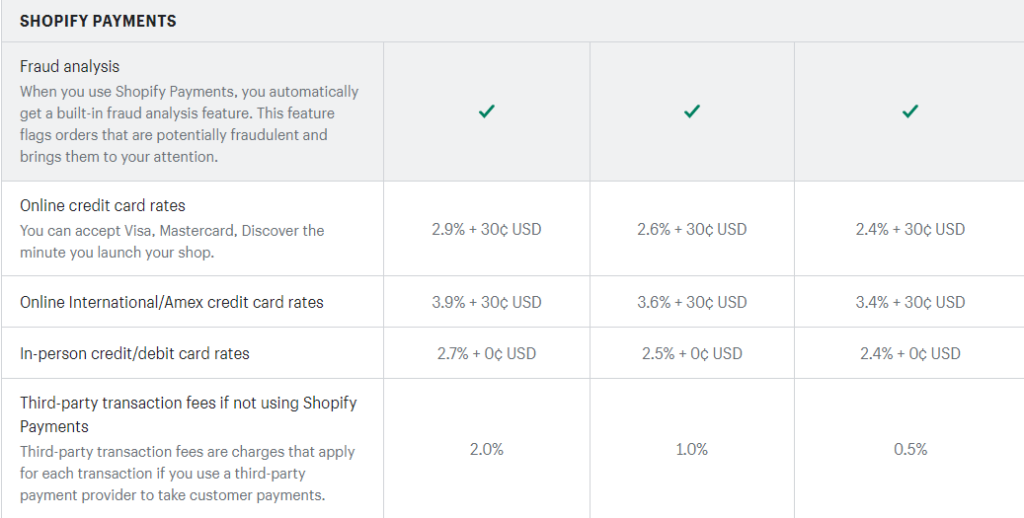 Note that Shopify has their own payment solution: Shopify payments.
With shopify payments you're not paying additional transaction fees that you would have been paying if using third-party payment gateways.
With third- party payment gateways, you're charged per transaction about 2.9% + 30 cent – And an additional fee for 0.5% – 2% (depending on the Shopify Plan).
Shopify payments start at 2.9% + 30 cent per transaction.
Control
Amazon
The main thing that makes amazon easier to use as an online store, is that they are in control of almost everything.
And that can be a good thing or a bad thing, depending on what you're looking for.
With amazon you don't need to worry about building a website, since you're selling on their website. But that is also they're main downfall.
You have no control over what your store looks like, and you cannot personalize it to your own niche. You're also being limited in other areas such as branding, marketing, and advertising.
In addition, everything you sell in your store will be under amazon's design and not your own. There are a very minimal amount of templates available, but still all in the same "amazon" way.
As a result, customers are more likely to recognize the products they're buying as amazon's products rather than your own.
So if you care about branding and want customers to recognize your store, amazon would not be the best option for you.
Shopify
Once you're Running a business with Shopify, you are the boss.
In contrast to amazon, with shopify you have a lot more control over the experience of your store.
You have control over many aspects of your store all from shopify's dashboard, such as templates and themes, apps, and a variety of tools, all for your service.
Don't forget that the look of your store tells a lot about you and your brand, so customizing the look of your store is especially important in attracting the right customers for your store.
And there's really a lot of flexibility around it – all thanks to shopify's theme editor.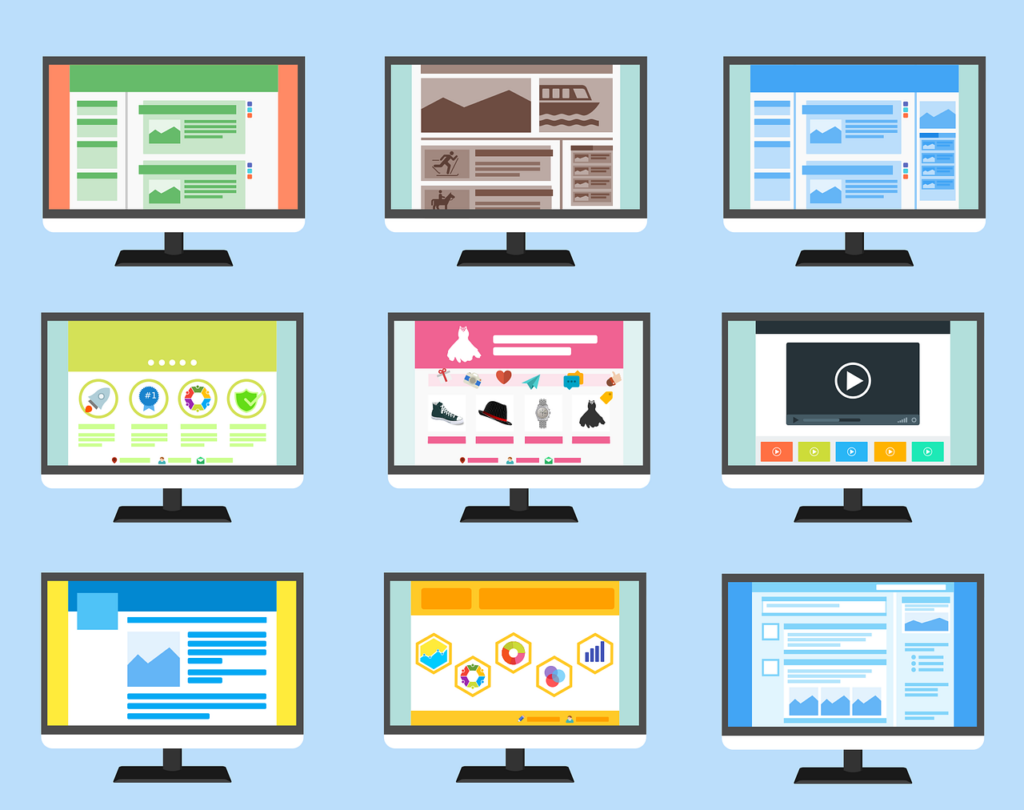 And if the templates are not to your liking, you can even design your store by changing the HTML, CSS code, and javascript of your layout. Although not everyone acquires those skills.
Aside from having control over the aesthetics of your website, you are also in control of how you want to sell and advertise your products, and much much more.
Traffic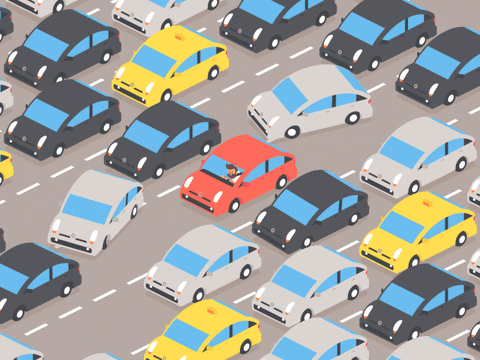 Amazon
There's no arguing that amazon is the better choice for sellers that don't want to bother with attracting customers.
Like mentioned before, amazon is a marketplace, and a big one. With hundreds of thousands of visits every single day traffic is constant.
But still, there's no guarantee of generating sales. You still need to put a lot of work in making customers buy your products especially since amazon is a highly competitive platform.
And don't forget that you are also competing with amazon itself:
Amazon is also selling their own products.
Amazon can use your sales data. Meaning that they see which products are selling best. This can allow them to get involved in the same product niche, making competition even harder.
Shopify
You may have the most beautiful eye-catching website and have put in the hours to brand your business. And still, without working on your marketing, no one will know about your store's existence.
That is the major difference between amazon and shopify.
In order to make sales, you must learn how to advertise your store and products.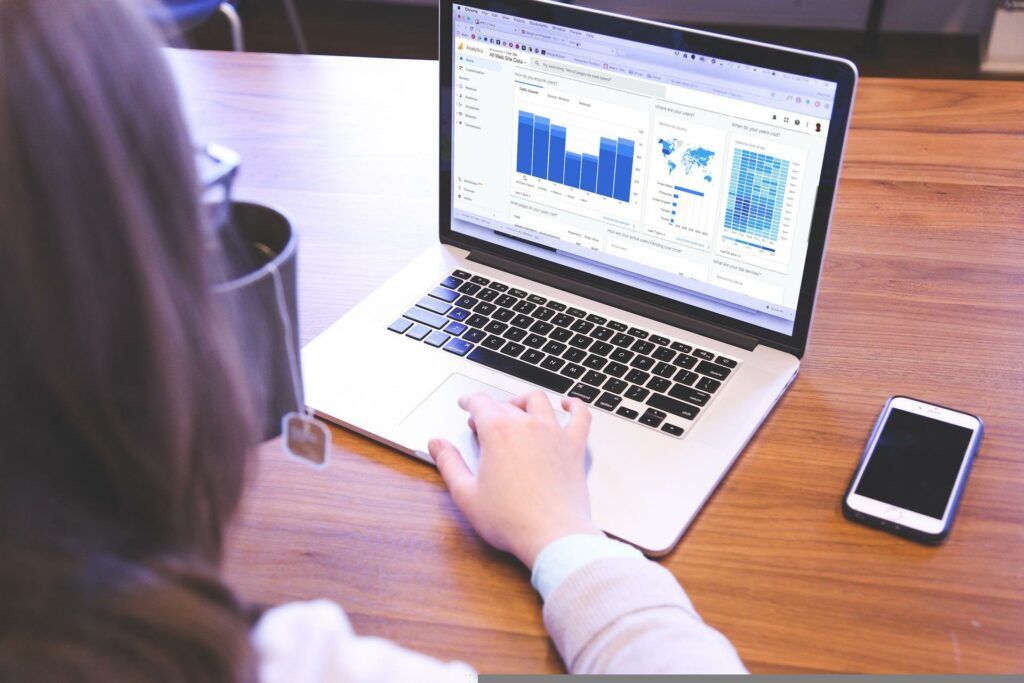 That includes: multichannel marketing on platforms like facebook and instagram, email campaigns, SEO marketing, and content marketing.
And before you say " but I don't know how to do any of these things".
Shopify has many apps and tools to help you out. For example, shopify has a built in blogging tool, so you can write and upload blogs to your website – which is a great way to attract more people to your store.
The good thing is that once you get customers to trust you and your store, you'll have enough return customers.
And then you won't need to invest as much on advertising.
Pros & Cons
Take a quick look at the sum up of the pros and cons of Shopify vs Amazon in the image below.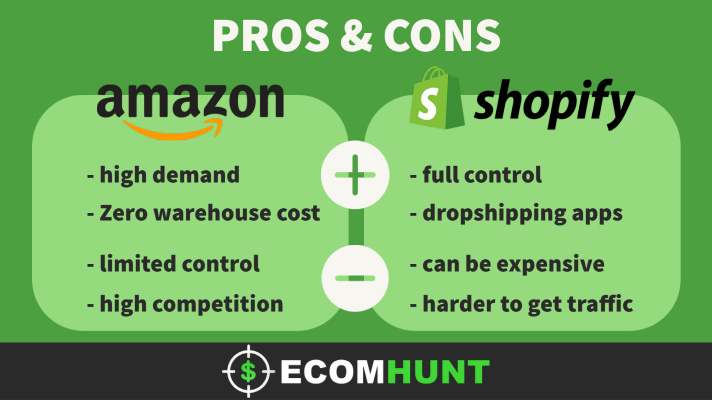 Conclusion
Let's first cover the main difference between Shopify and Amazon:
Shopify offers you to build your own online store while amazon is an online store.
In other words, with shopify you're selling products in your own shop, while with amazon you're selling a product in their shop.
And that is the main thing you should be considering when deciding which one is right for you.
Dropshipping with amazon means you don't have to worry about branding, web design or advertising.
But it also comes with a lot more competition, and the ways in making your products stand out from others are limited.
Shopify is great for dropshippers that want the most control over their store. With shopify you have access to so many apps, tools and customization options. You can turn your business to be exactly how you want it, and have much more freedom.
But that puts you in complete charge of the success rate of your business.
If you don't want to choose one way or the other – you don't have to!
You can list products on amazon from your shopify store!
That way you still get the freedom and control of having your own online store while also getting a lot more traffic from listing on amazon's marketplace.
You can integrate your amazon account to shopify by using the amazon fulfillment app from the shopify app store.
I hope the information in this article has helped you out, for other comparison articles check out:
The Best platform for dropshipping : Shopify vs Ebay
Which is The Best Dropshipping ecommerce Platform? Shopify vs Woocommerce
Struggling to find good products to sell? Not sure who's your target audience? Tired of losing money on products you were sure were "winners"?
Then Ecomhunt is what you need! Find hot winning products that are added daily, spy on their ads & stores and import them into your store in 1 click and Start Selling Today!