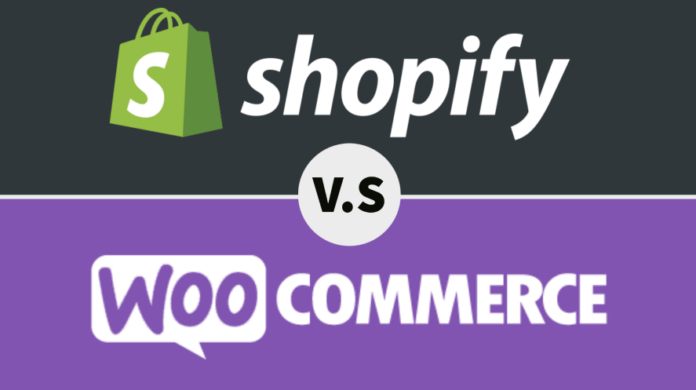 When it comes to dropshipping, one of the first decisions you'll need to make is choosing a platform to build your online store.
There are a variety of options to choose from, and if you're just starting out it can be quite daunting.
In this article we'll be comparing two of the most popular ecommerce platforms: Shopify and Woocommerce.
To help you choose which one is best for your dropshipping business.

So what is the difference between Shopify and woocommerce?
generally speaking,
Shopify is a platform that offers everything you need to build an online store.
It has many built in tools that handle all the technical aspects of your business so you don't have to.
such tools are integrated payment processing, templates, SEO and marketing tools, email marketing and so on.
Woocommerce is an ecommerce platform built on word press as a free plugin.
you can create and manage an online store and it is highly flexible with a lot of customization options.
It has SEO features from WordPress, and others such as inventory and tax management, flexible and secure payments.
We'll be comparing each of these features side by side:
Price
Easy of use
dropshipping integration
Scalability
price
Shopify has 3 price plans.
Basic plan for $29 per month
Shopify plan for $79 per month
Advanced plan for $299 per month
All of the plans include: online store, unlimited products, free SSL certificate, unlimited contacts, abandoned cart recovery and more.
In addition to any of these plans you'll need to pay monthly fees and transaction fees for each and every order.
The Shopify payments cost 2.9% + 30 cents per transaction for the basic plan. And for the advanced plan you get the lowest transaction fees – 2.4% + 30 cents per transaction.
If you're using other payment gateways, a 2% fee will be charged on every transaction for the basic plan,
but only 0.5% fee for the Advanced plan.
Woocommerce is available as a free plugin, so you can download and install it for free.
The prices are varied between different hosting providers.
In terms of transaction fees, Woocommerce doesn't charge any of your sales.
Easy of use
Shopify takes care of all the technical aspects of managing an online store, so there's no need in installing added softwares, and there's no need to know how to code.
There is a large variety of features and themes to choose from, but it is limited since you can only use the tools provided by Shopify and their extensions apps.
https://bsscommerce.com/shopify/best-shopify-theme-for-custom-products/
Shopify has a clean straightforward interface.
Using the menu on the left side you get access to features and content that you can edit or customize.
With the drag and drop interface you can edit page templates and manage your product pages, sales, and inventory.
With Woocommerce there's a lot of things you'll need to take care of by yourself.
you'll need to install many plugins to manage, secure and everything else that is needed for your website to work smoothly.
Although it might sound tiring, and does require more effort and experience,
with plugins you have endless flexibility abilities.
You get full control over how you want your website to look and function.
While Woocommerce has a familiar interface that can ease the setting up and management process, It does not have a built-in drag & drop design builder.
You can however purchase WordPress page builders.
dropshipping integration
Shopify has a variety of dropshipping integration apps on its app store.
These apps are a must have in order to find reliable suppliers from the US, UK or China.
This is important so you can provide high-quality products at your store.
keep in mind that each supplier/marketplace has their own charging policies.
Overall, Shopify's dropshipping app library is truly the most impressive, with over 200 apps, providing a thorough catalog of dropshipping suppliers.
Woocommerce marketplace offers many dropshipping plugins.
These plugins allow you to import thousands of products from dropshipping marketplaces.
You can also add a third-party dropshipping plugin for better product management and customer support.
Of course, each plugin will have different prices. Depending on the supplier you might have other fees and charges.
Altogether, Woocommerce plugins provide a lot more flexibility to your dropshipping business.
Scalability
One of the most important aspects of an ecommerce platform is to be able to maintain the same page speed and performance while your website traffic continues to grow.
Shopify has the ability to keep up the fast speed and page performance as your business grows,
as long as you upgrade to the suitable plan for the amount of traffic and orders of your store.
And that's all there is to it-
As long as you upgrade your Shopify plan everything else is taken care of.
The Shopify Plus Plan has also enterprise services that offer:
Automate processes
fraud prevention
Sell in multiple currencies on a single store
localize your content across expansion stores
Manage staff access and permissions
Woocommerce hosting plan is not sufficient for handling traffic growth. Like everything else, installing plugins are required to manage your store growth.
Like was mentioned before, there are a lot of options for what resources you'll want to use and all are under your control.
However, the full control over managing your store comes with a price – and the Woocommerce hosting costs will increase.
conclusion
one of the things that would determine which platform of the two will be most fitting for your dropshipping business –
is mainly… your expertise level
OR
how willing you are to hassle and learn.
why do I say that?
Because the main thing that differentiates Shopify and Woocommerce are how easy they are to use.
Between the two, Shopify is easier to use and a lot more beginner friendly.
But it can be limiting since the only tools you can use are what they offer – which is for most cases, more than enough.
especially if you're just starting out.
Other advantages for using Shopify are Built-in marketing and CMS tools, Fast-loading speed, 24/7 customer support team, and access to major dropshipping suppliers.
The disadvantages are limited SEO functions and less customization options.
Woocommerce seems like the fitting option for advanced dropshippers or for newbies that are looking for a more affordable option for starting out.
Built-in SEO features, multiple dropshipping plugins, easy to import and manage dropshipping products are a few of the profits of managing a dropshipping business with Woocommerce.
The fact that this platform is highly flexible and can be adapted to different types of online shops, does come with the downside of having to learn how to manage your online store.
And as your business scales up the more effort it will take to optimize your website.
With that being said,
If you want to have 100% freedom and control over your store without being limited, Woocommerce will be the better choice for you.
If a straight- forward, hassle free platform is what you're digging –
Shopify is the answer you've been looking for.