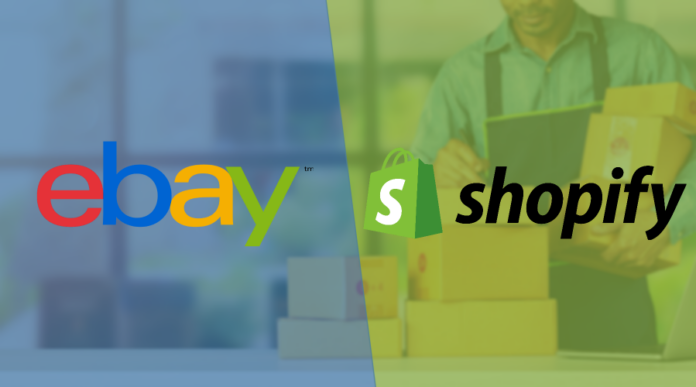 If you're thinking about starting out your own dropshipping business but not sure where is the best place to start your online store.
Or Maybe you already ruled out some options but couldn't decide, which is the better platform to sell: Ebay or Shopify
To help you out, this article explains everything you need to know about each platform –
So you can decide which one is more suited for your needs.
Here's what we'll cover:
About Dropshipping With Ebay
While Ebay got some bad reputation over the years, since their dropshipping policy restriction in 2019. It still can be a good place to start your dropshipping business.
With ebay being the second biggest ecommerce platform in the world, with about 159 million active buyers. It is not something to be overlooked.
Dropshipping with ebay means you're purchasing items from a wholesaler or supplier, and resell it through ebay.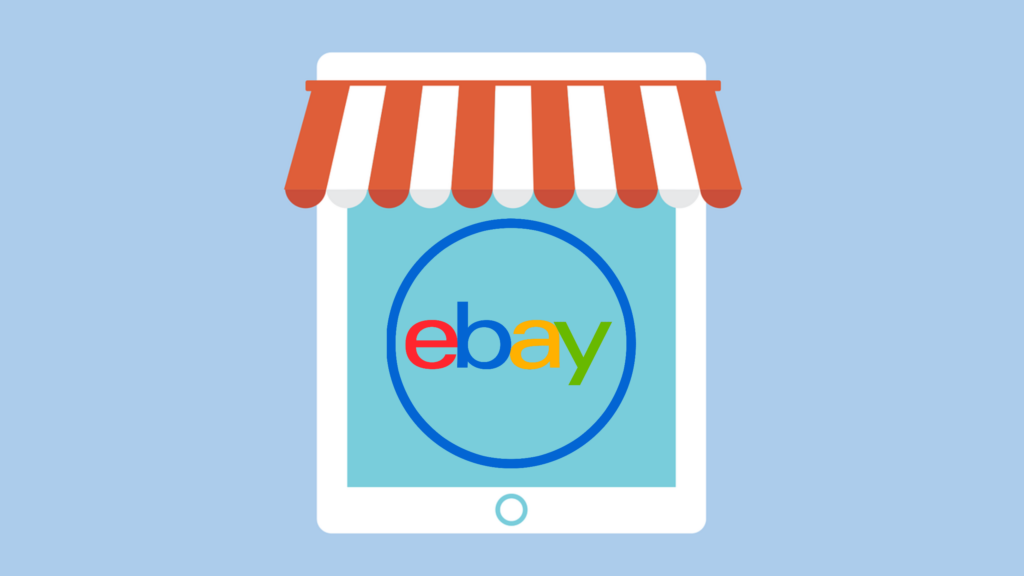 You can also set up your own ebay store, but of course, all within ebay's website.
But before you start, you must take into consideration ebay's policies:
Only fulfilling orders from a wholesale supplier is allowed
Guaranteed delivery time within 30 days
Ensuring the item is delivered is your responsibility
The buyer's satisfaction with the product is your responsibility
Not following these guidelines could result in your account being suspended.
About Dropshipping With Shopify
Shopify is one of the most popular ecommerce platforms and one that you should definitely know about if you don't already.
All you have to do to start dropshipping is to build your own online store, and make sure to get buyers by advertising.
Building your website with shopify is quick and easy. With a bunch of features and customization, management and shipping tools that offer you control over your business.
Cost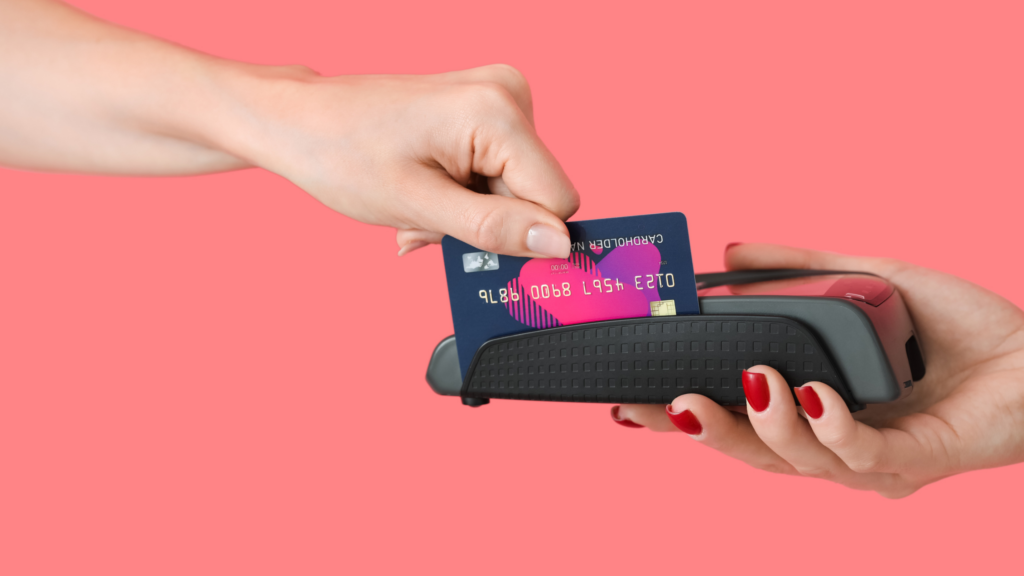 shopify
In order to start using Shopify for your online store you need to pay for either one of these subscription plans – each month
Basic Shopify: $29
Regular Shopify: $79
Advanced Shopify: $299
Shopify plus (enterprise): $2000
Shopify offers a free 14-day trial for any one of these plans.
It is important to mention that the shopify plans include many features and tools that are really useful for getting started and managing your store.
Including: inventory locations, sales channels, Abandoned cart recovery and more.
On top of the monthly costs, there are also transaction and credit card fees.

The cost of these fees change depending on what payment gateways your're using, and what is your Shopify plan.
Shopify has their own payment solution: Shopify payments.
With shopify payments you're not paying additional transaction fees that you would have been paying if using third-party payment gateways.
With third- party payment gateways, you're charged per transaction about 2.9% + 30 cent – And an additional fee for 0.5% – 2% (depending on the Shopify Plan). Shopify payments start at 2.9% + 30 cent per transaction.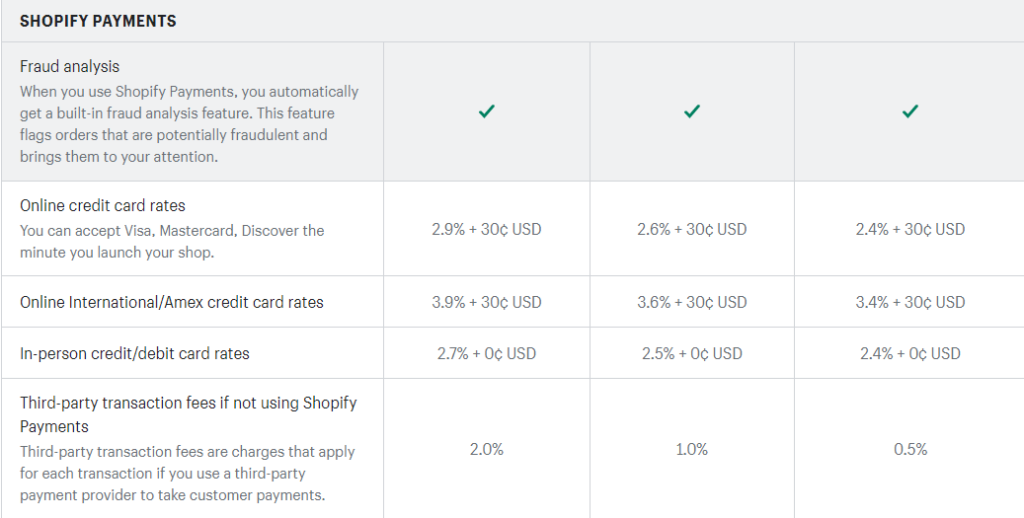 Ebay
Ebay's seller fees are divided into 3 main categories:
Insertion fees
Final value fees
Store fees
Insertion fees are charged with each listing. Each month you can get up to 200 listings for free, after that each listing costs $0.35.
Final value fees are charged after each sale. For most products, Ebay takes 10% of the total value of the sale. Other products that fall into different categories, have different value fees.
Such products can be: sneakers, jewelry, books, guitars and so on.
Store fees vary depending on the plan you choose. And are only relevant if you're interested in setting up your own ebay store.
Each plan fees offers a certain amount of free listings per month and are elaborated below: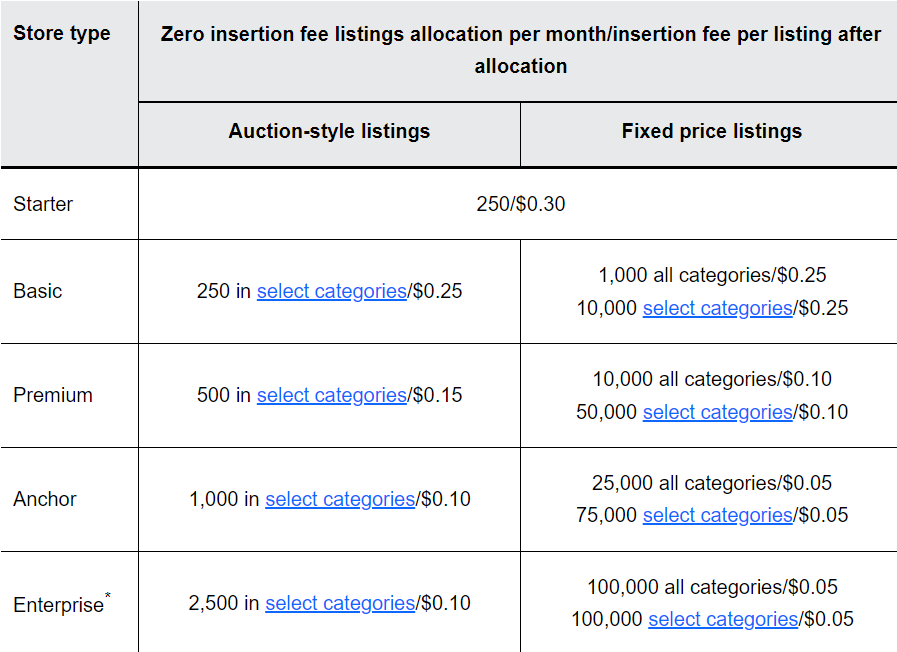 Everything you need to know about Ebay's fees are available on their website. In addition, you can also use Ebay's fee calculator to calculate final value fee and profit.
Traffic
shopify
Managing a dropshipping business on Shopify means that it is your job to drive traffic to your own website. And at first, it will require time and effort to do so successfully.
But once you do, you're building a community of customers that will build trust in you and your store. Hence, making sure they'll always come back. That way you're retaining your customers and keep selling more.
First, to get customers to visit your store you need to invest in advertising your website. And that can be tricky and sometimes expensive. But, doing it the right way and not giving up can really pay off in the long run.
keep in mind that once you have enough return customers you won't need to invest as much on advertising.
Ebay
As of 2022 ebay has about 187 million users worldwide.
With it being such a big market place, with millions of active buyers, driving traffic to get sales is less of a problem and there's no need for investing money on advertising.
But, it also means there's only so much traffic that you can get. In order to get a large amount of traffic you need to build brand loyalty, along with a relationship with your customers.
The problem is that in order to build trust buyers first need to recognize your store. Which rarely happens when purchasing products on ebay.
The reason for that is that customers think of ebay as the seller instead of your store. They usually don't even pay attention.
Not retaining your customers means less traffic to your store, Resulting with lower profits.
Easy Of Use
Shopify
Shopify is very easy to use –
Once you get the hang of it.
It can take some time to learn how to use it, especially for complete beginners.
But it doesn't take very long to settle in and gets a lot easier over time.
What makes shopify easy to use?
Clean and simple interface
Easy to customize
Easy to set up and manage
24/7 customer support
Drag and drop tool
Templates
Order are managed automatically
No need to have prior knowledge with coding or web designing.
The main drawback is that dropshipping with Shopify does require experience with advertising as well as analytics.
In other words, it requires more knowledge, effort and patience.
Ebay
Dropshipping with ebay couldn't be more simple.
Really all you need to do is to open an account, create a listing and you're off to go.
There's no need in any prior knowledge for you to start selling,
and no need to worry about web design, templates or third party apps.
Ebay even has a DSM tool –
It is a free dropshipping software that offers product sourcing, price & stock monitoring, SEO optimization and orders automation.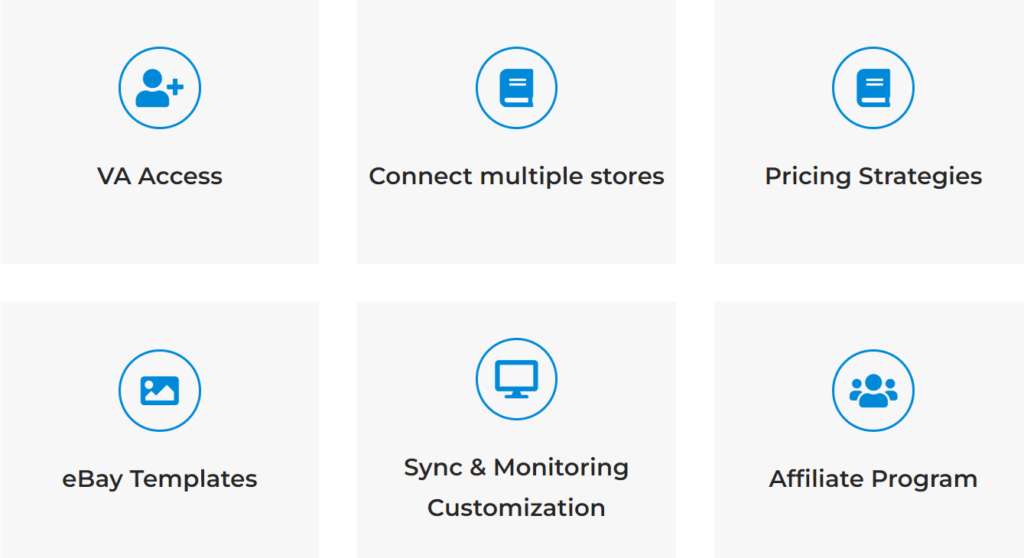 And more features such as:
Schedule products when to go live
Title optimization using keyword recommendations
Monitoring products for price changes and stock levels.
Auto-order feature for processing orders.
Really anyone can set up an ebay store, no excuses!
The Risk
Shopify
When you first open a store on shopify there's a lot of investments to be made. It starts with the subscription plans, the transaction fees and the advertising.
And still, doing all those things does not guarantee sales.
There are a lot of things that need to go into consideration to make a successful dropshipping business.
With that being said there is a potential to not make enough profit, resulting in losing money.
However with it being risky it also means that there's a higher chance of making really big profits long term.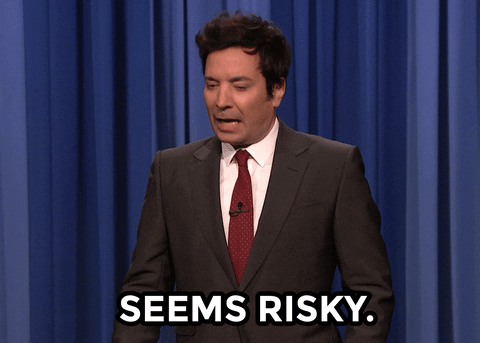 In that case, it is worth the risk as long as you're being smart about it.
Ebay
Dropshipping with ebay is very low risk, but always keep in mind that with a lower risk the long term growth potential decreases.
Furthermore, starting to sell on ebay costs close to nothing. So – there's not a lot to lose if you're just starting out and want to test the ground.
But like was mentioned before, it is way harder to make a good amount of sales.
For one, ebay is a highly competitive marketplace, which lowers the chance of buyers finding your store. Or if they do find your store, then buying your products when there's already the same exact one on a different store.
With that being the case, it can be very difficult to stand out from hundreds of other stores or sellers.
And if you're trying to keep the prices lower to stand out, you're risking your business not being profitable enough.
Pros and cons
Take a quick look at the sum up of the pros and cons of Shopify vs eBay in the table below.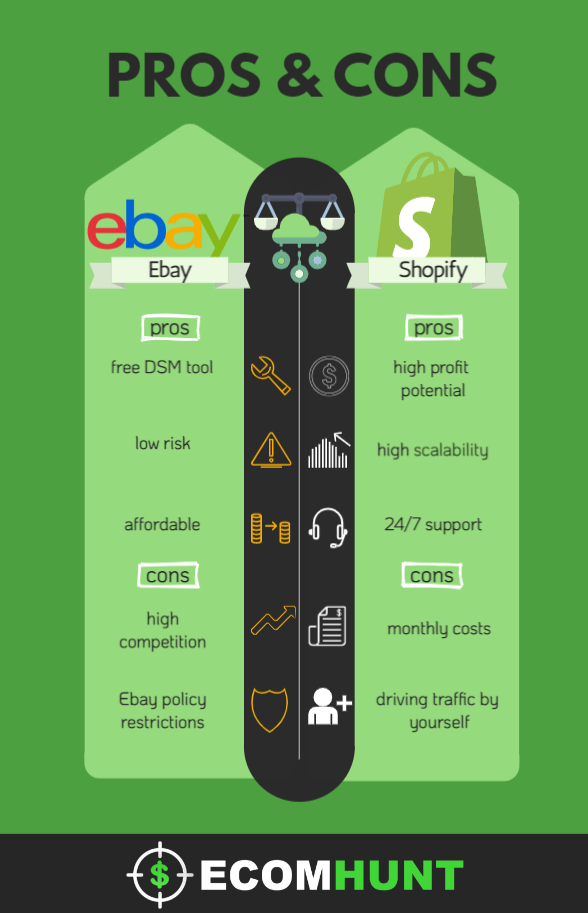 Conclusion
We covered all the major topics regarding the advantages and disadvantages of dropshipping with Shopify vs Ebay.
Let's recap –
Shopify offers almost everything for your dropshipping business to take off.
While it is a riskier investment, the possibility of making a high income online store and long term growth is higher.
It is a good option for serious sellers that are interested in building their own branded store, to grow their business and that are willing to put in the time and effort into making it a successful one.
Ebay is the low risk, easy to set up, affordable option. There's no need to worry about traffic, design or branding.
On the other hand, the profit growth potential is much lower meaning it's much harder to make a significant income.
Dropshipping on ebay is recommended for sellers that want to start dropshipping as a side hustle or that just want to try out dropshipping without much of a commitment.
If you don't have a big budget, or want something that is quick and easy to manage just to make some extra sales. Ebay is a good place to start.
If you're still pondering,
I recommend testing some products with ebay. Once you're ready to go you can transfer your products directly to Shopify and start managing your store from there.
And if you're still hesitating you can first link your ebay store to your shopify store and manage them both simultaneously.
Best of luck!