If you're looking for a great cat niche product to sell this Summer, then this water drinking fountain for cats is exactly what you're looking for.
And not only this product is a MUST HAVE for cat owners everywhere, it also has a huge profit margin which will make you a lot of money during the Hot season!
In this week's article, you'll find a full product review including the store selling this product and the original Facebook ad which is going VIRAL right now.
So don't sit out on this and start selling this product right now!
Enjoy.
1. The Product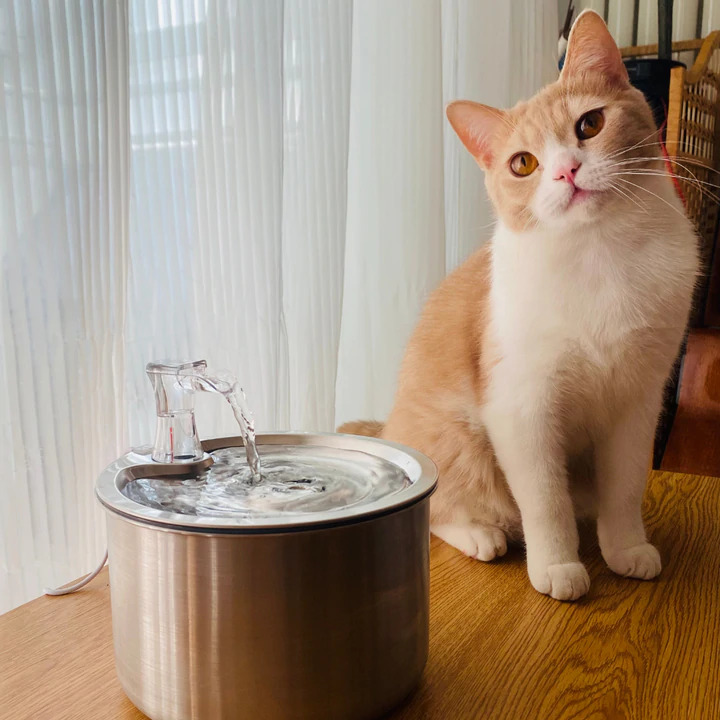 This week's trending product is this amazing drinking water fountain for cats that will make them drink more and stay healthy for longer.
The best thing about this product is the profit margin which is absolutely HUGE!! You're looking at a $55~$60 profit per sale with a retail price of only $99.99.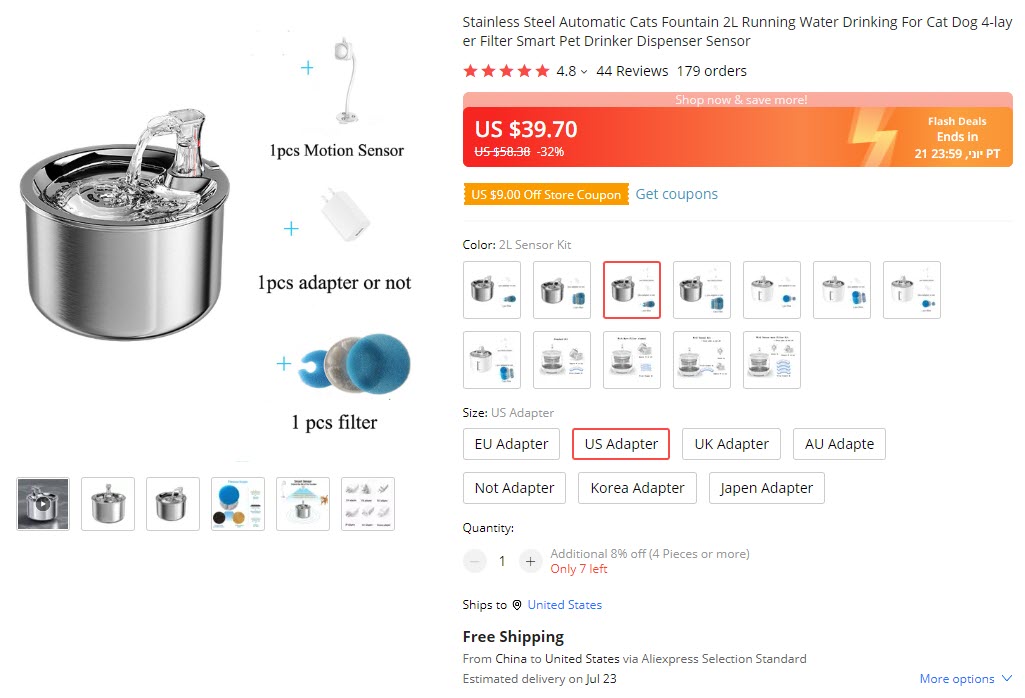 Cat owners will definitely buy this one for their furry friends, especially now as we enter the HOT season…
And judging by the Aliexpress reviews, this product is exactly as described – Truly a premium product that's worth dropshipping!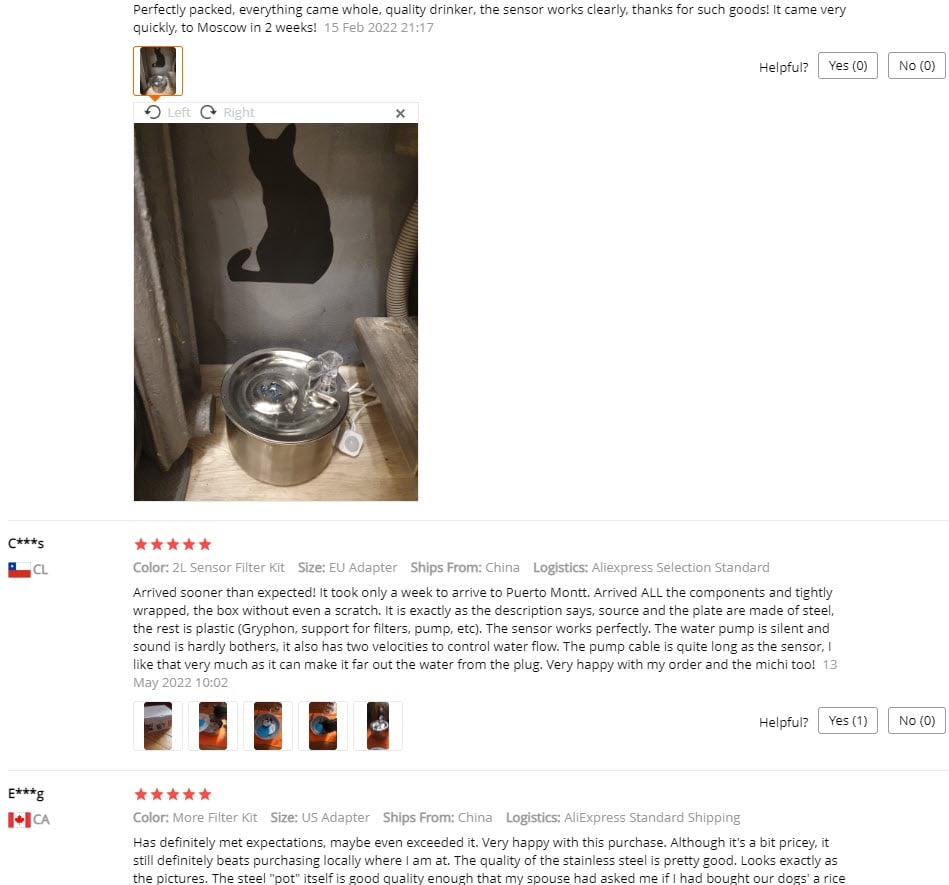 Oh… And then there's the CRAZY amount of Facebook ads running for this product and the super positive feedback from the customers.
Once we get to the ad review part, you'll see that the original seller is in the scaling stage right now.
So if you want to make a really nice profit this Summer, then definitely start selling this product right after you finish reading this article 😉
2. The Ad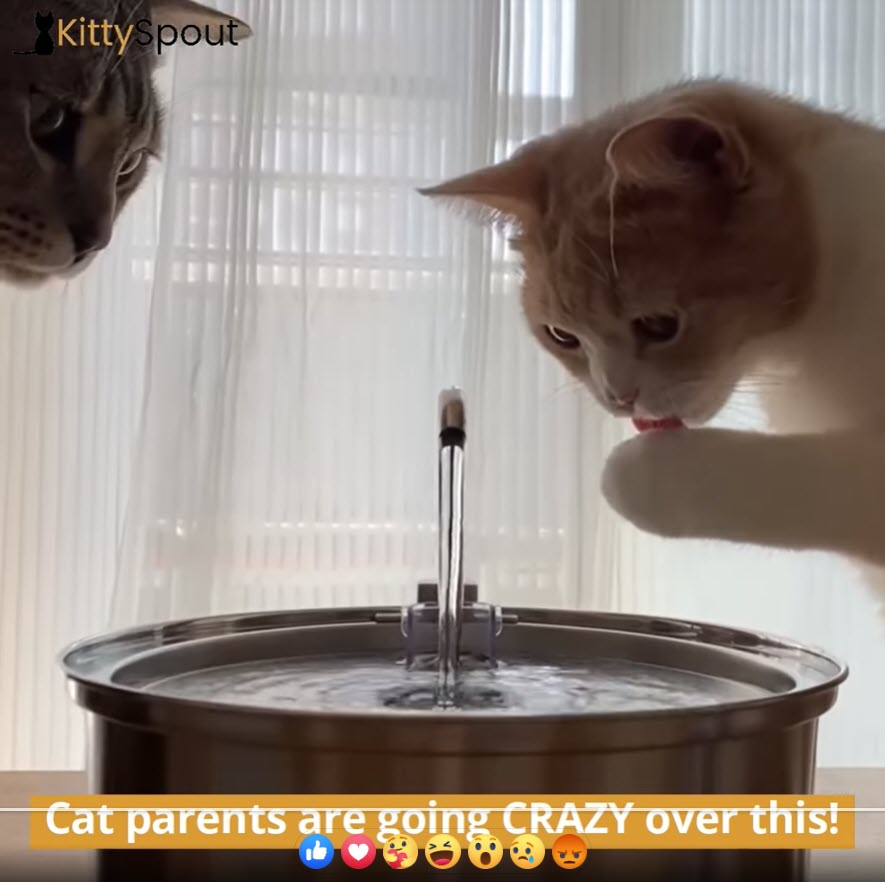 In my opinion, the video ad for this product is perfect – Starting from the detailed description which shows the customers all the benefits of this product, to a really nice call-to-action that not only advertises the current deal they're running, but also hints for a free gift which each order.
So for me personally, this ad is perfect and there's nothing I would change in it.
The ad copy is also pretty good: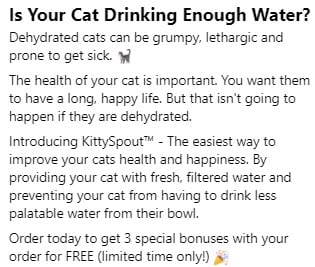 I like it that they touch a few important health points to make cat owners more prone to buy this product. The only thing I am missing is a product link in the ad copy, but that's just me nitpicking.
Now let's take a look at the ad library: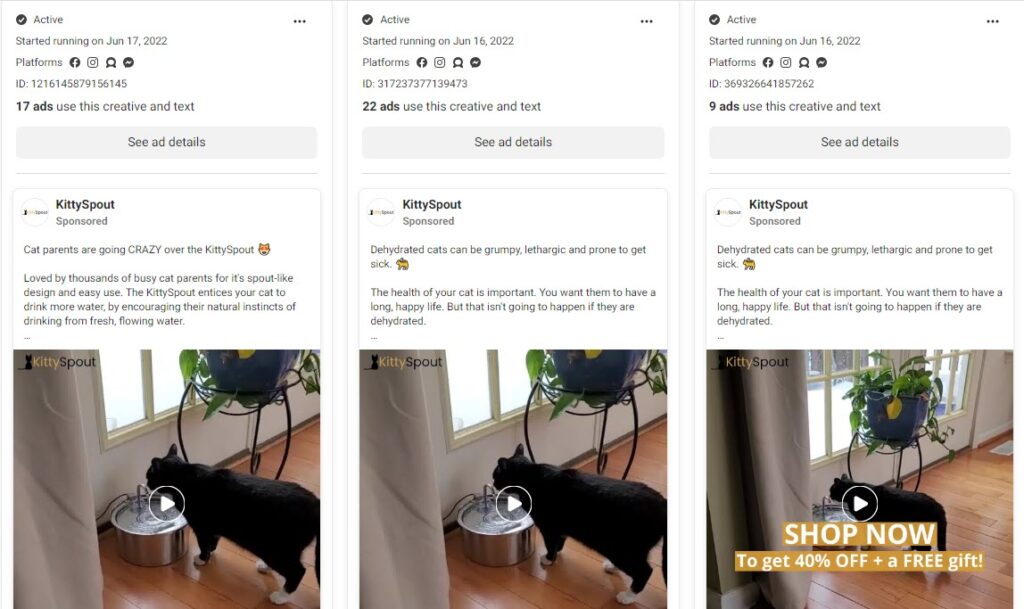 As you can see, they're launching lots of ads each day and their ad library is filled with many more different ads for the same product.
Even zooming out to 25% wasn't enough to cover all the ads they are running at the moment for this product

Most of their ads are pointed to the same video with just a different thumbnail, but they do have also photo ads running.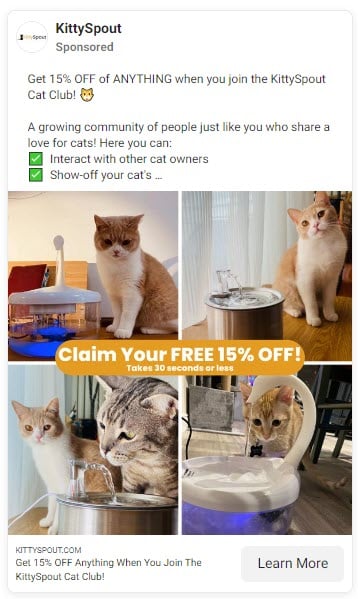 Looks like this product is a big hit for them, but at this point I would expect at least a second video ad to be launched and not just a thumbnail change.
Remember to always refresh your ad creatives because your target audience can get tired of seeing the same ad again and again.
3. The Store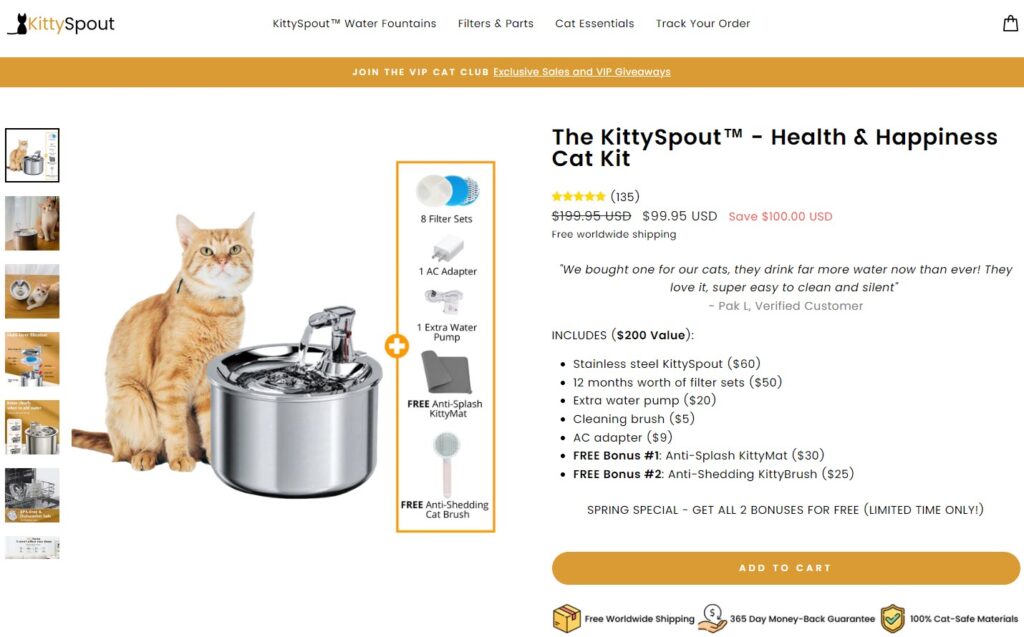 Well this looks like a one-product store but with a big focus on their cat drinking fountain which is obviously their best seller right now.
They do sell more products, but this one has the most attention so the front page has mostly this water fountain advertised.
They also have different kits which they sell and that's smart because you don't want to always stick to the same deal every time.
Maybe the $100 retail price is too much for some customers, even with the free gifts, so if they reduce the price and offer a kitty fountain with less gadgets included, there's a chance to convert the customers who left because of the price.
Overall, just by looking at what they did in this store, it looks really well thought – This online store is a perfect case study and you should definitely take notes from them when building your own store.
Ok moving on with the review…
So the package we are looking on right now is selling for $99.95 and it has 2 free bonuses on top of some extra filter sets, 1 extra pump, and an adapter(really important – Like I said, really well thought!)
The way it is presented, both in the product picture and the text on top of the Add to Cart button is superb. On top of that, you also have that small review which helps to encourage more customers to take this product and buy it.
Product description: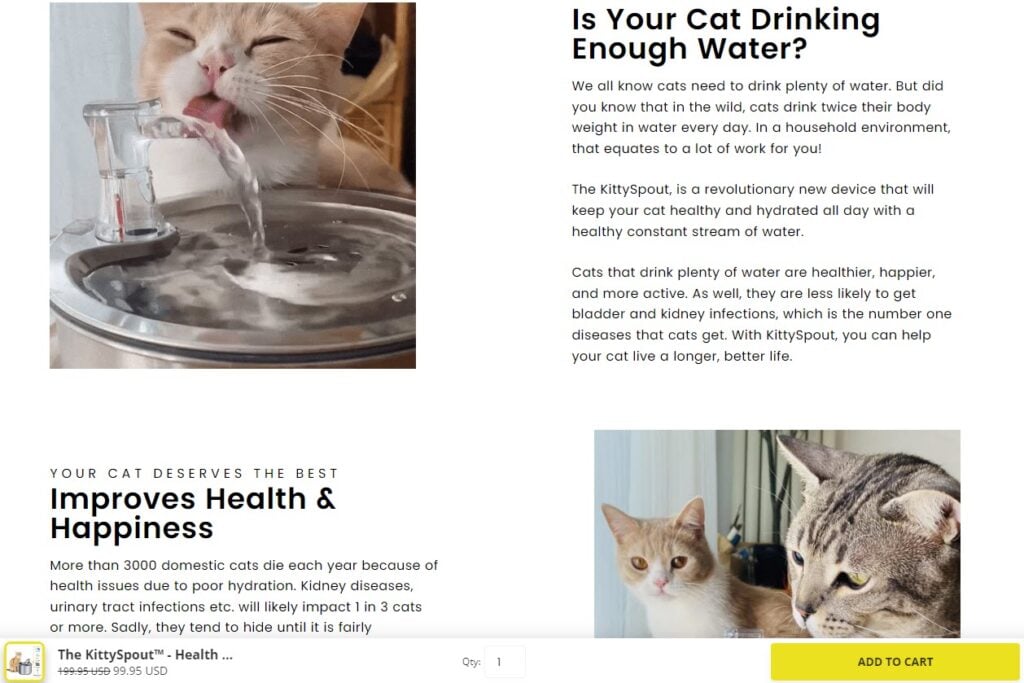 The product description has it all – Great looking GIFs and pictures of cats drinking from this fountain and a clear description on the benefits of this product.
There's also a sticky Add to Cart button which is great for those who got lost reading the description and want to finally buy this product without having to scroll back up.
On top of that, they also have the super important Guarantees which increase the trust rate:

And here's something new which I never saw when reviewing dropshipping stores – A screenshot displaying the Facebook reviews and all the good talks about their product.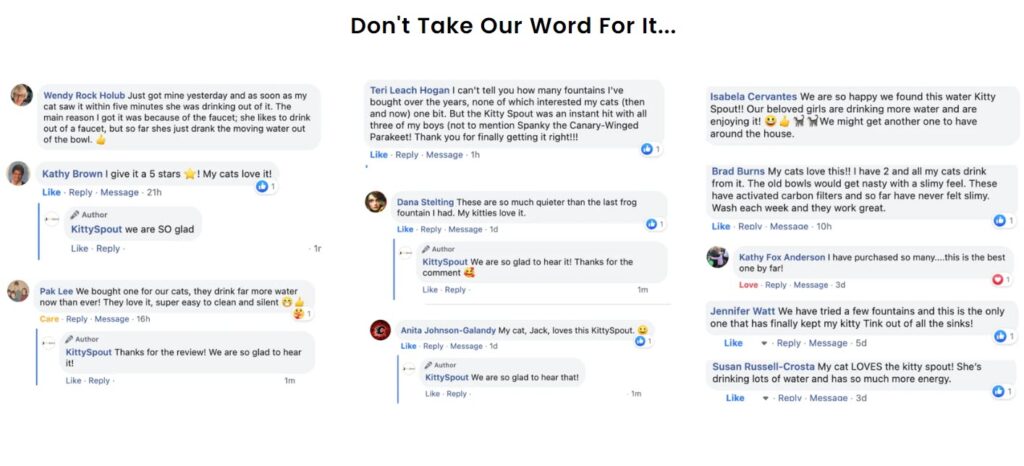 I absolutely LOVE this little touch… It adds so much trust to their store and it will definitely increase the conversion rate.
And most importantly, the customer text & photo reviews: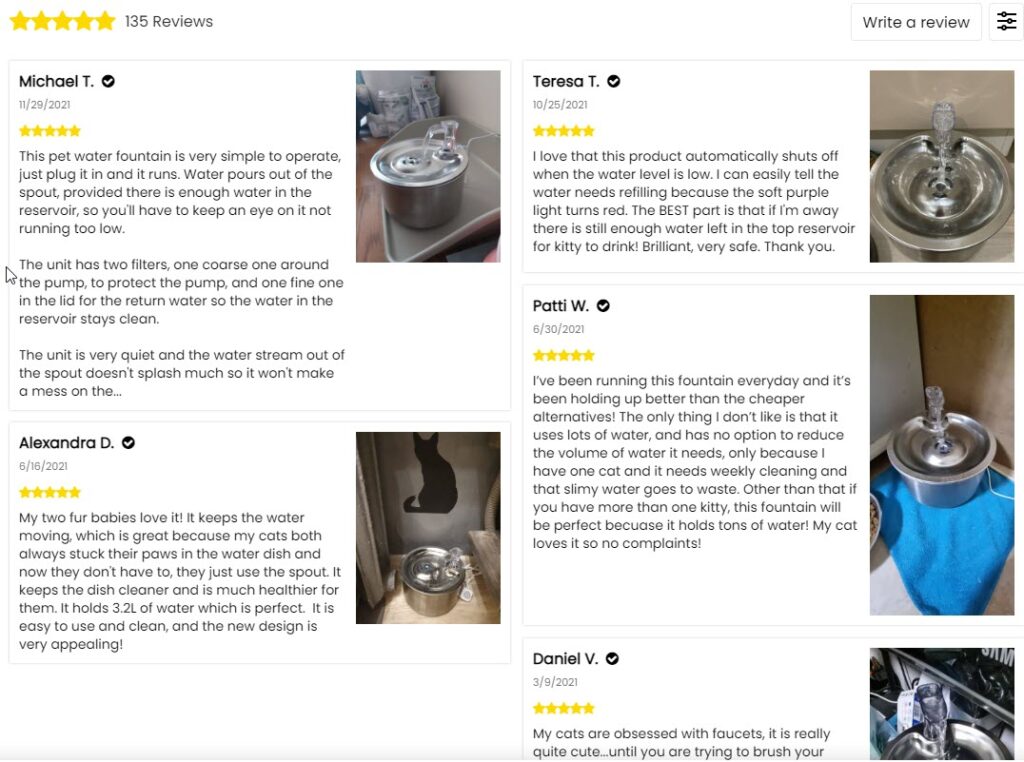 An absolute must have for any dropshipping store – A good looking customer review section with real product photos will help you increase your store's conversion rate and get you more sales.
4. The Checkout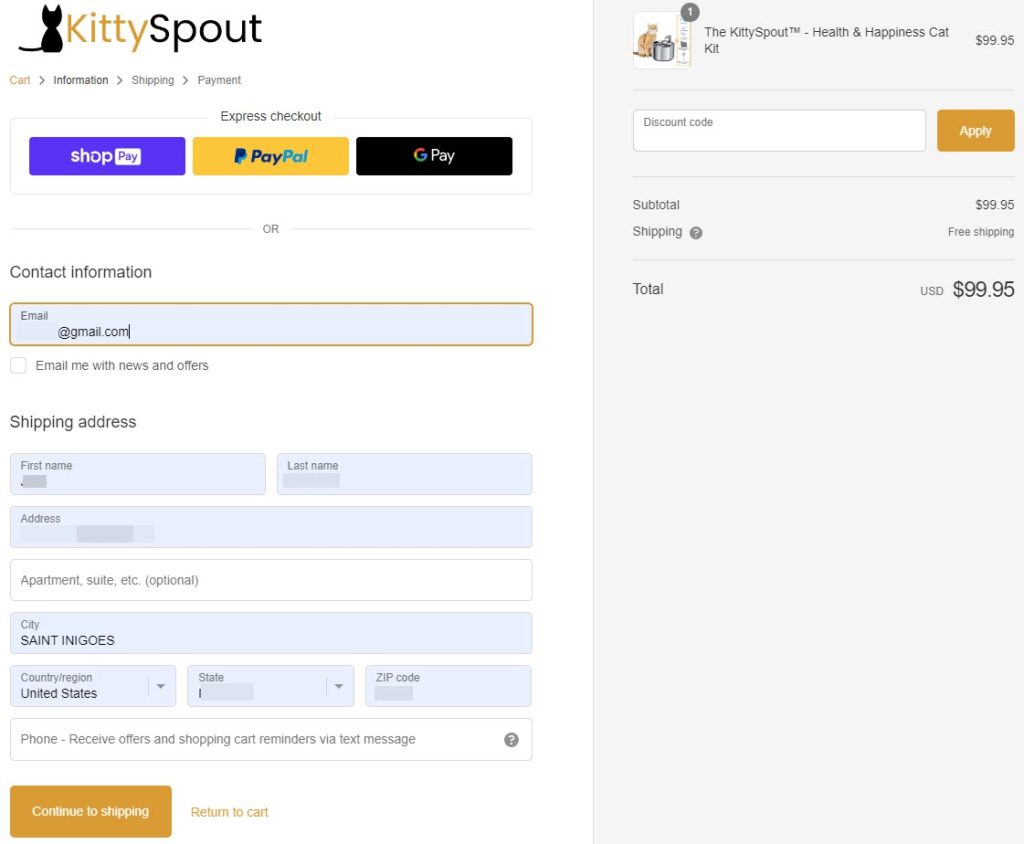 The checkout page is pretty standard and nothing's out of the ordinary here. The seller didn't forget to upload a logo to the checkout page, and the phone number field is set up as optional.
Setting up the phone number field as optional may increase your conversion rate as there are people out there who absolutely hate giving out their personal phone number.
Though it's advised to at least write "optional" to let people know they don't have to put their phone number.
Cart page:

And before jumping to the next change, just take a look at the cart page. It's a standard cart page but the text below the checkout button is really powerful.
Love that money-back guarantee to keep your customer's mind clear of doubts about this product. Well done!
Shipping page: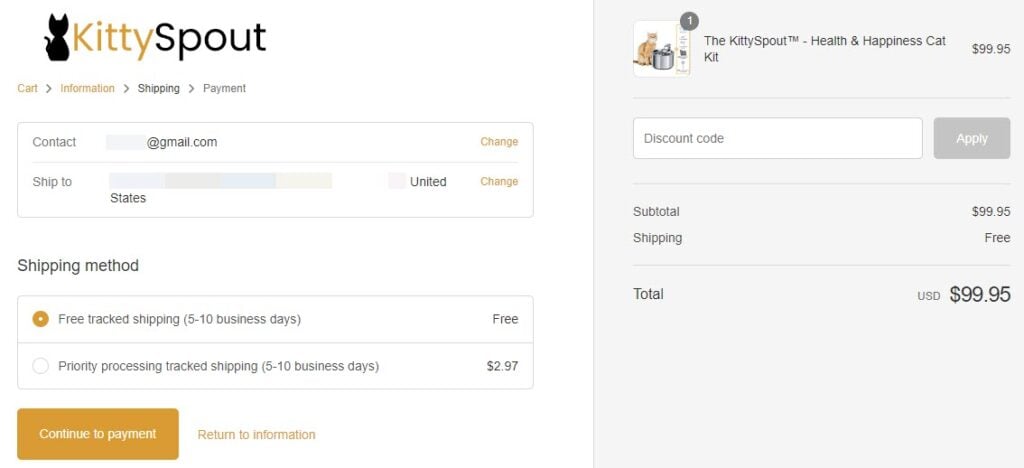 In both options, the priority and the free one, they make sure to state the delivery time which is awesome. It's important to let your customers know the shipping times for them to not go back and look for it themselves.
And here, the paid option is only for priority handling which is pretty cheap, only $2.97, and I think it actually works on some customers and increases this store's AOV(Average Order Value).
Payment page: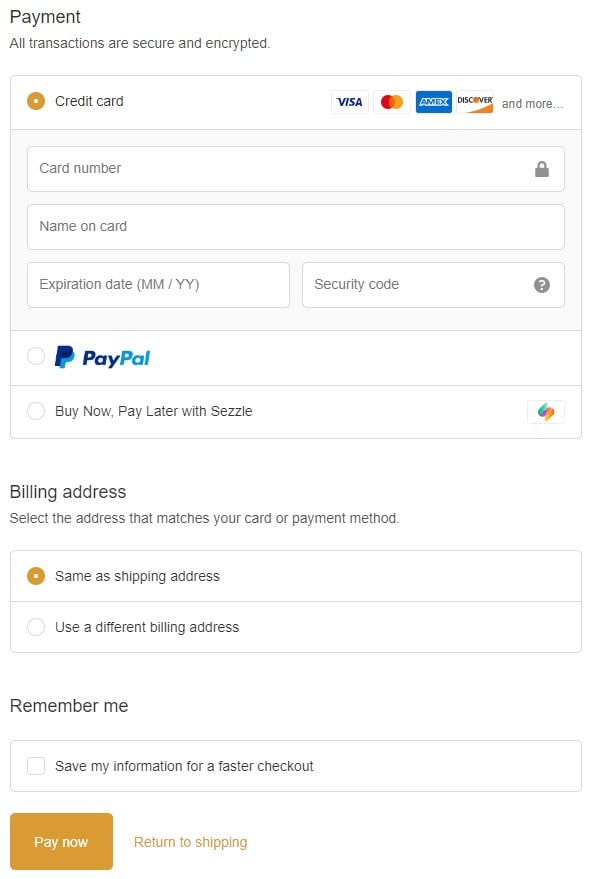 Nothing special about the payment page, pretty standard with both PayPal and Credit Card payment options.
To Sum It Up
The dropshipper selling this product gets an almost perfect score for his job. Everything from the ad to the store selling this product is well thought and sales are definitely rolling in.
If you're looking for a great product to sell this Summer, then start selling this product right now and take inspiration from the people behind this store.
If you have questions, feel free to ask me in the comments.
Good Luck!
Struggling to find good products to sell? Not sure who's your target audience? Tired of losing money on products you were sure were "winners"?
Then Ecomhunt is what you need! Find hot winning products that are added daily, spy on their ads & stores and import them into your store in 1 click and Start Selling Today!