If you're looking for a great Home Décor product to sell right now, then make sure to check out this Bohemian LED Lamp!
This product is getting a lot of engagement on Facebook and it's only a matter of time before it goes really VIRAL.
Don't miss out on this product! Prepare some ads and start selling it now to make some bank too.
The best part about this product is that it can also fit as a Garden Decoration product, which means the total target audience for this product is absolutely HUGE
And as for the ads, you don't have to invest too much in order to sell this product. WHY?
You'll have to read the article to really know what I mean 😉
As always, you'll get a full ad and store review for this product + some really useful tips & tricks to make it easier for you to dropship this product.
Enjoy.
The Product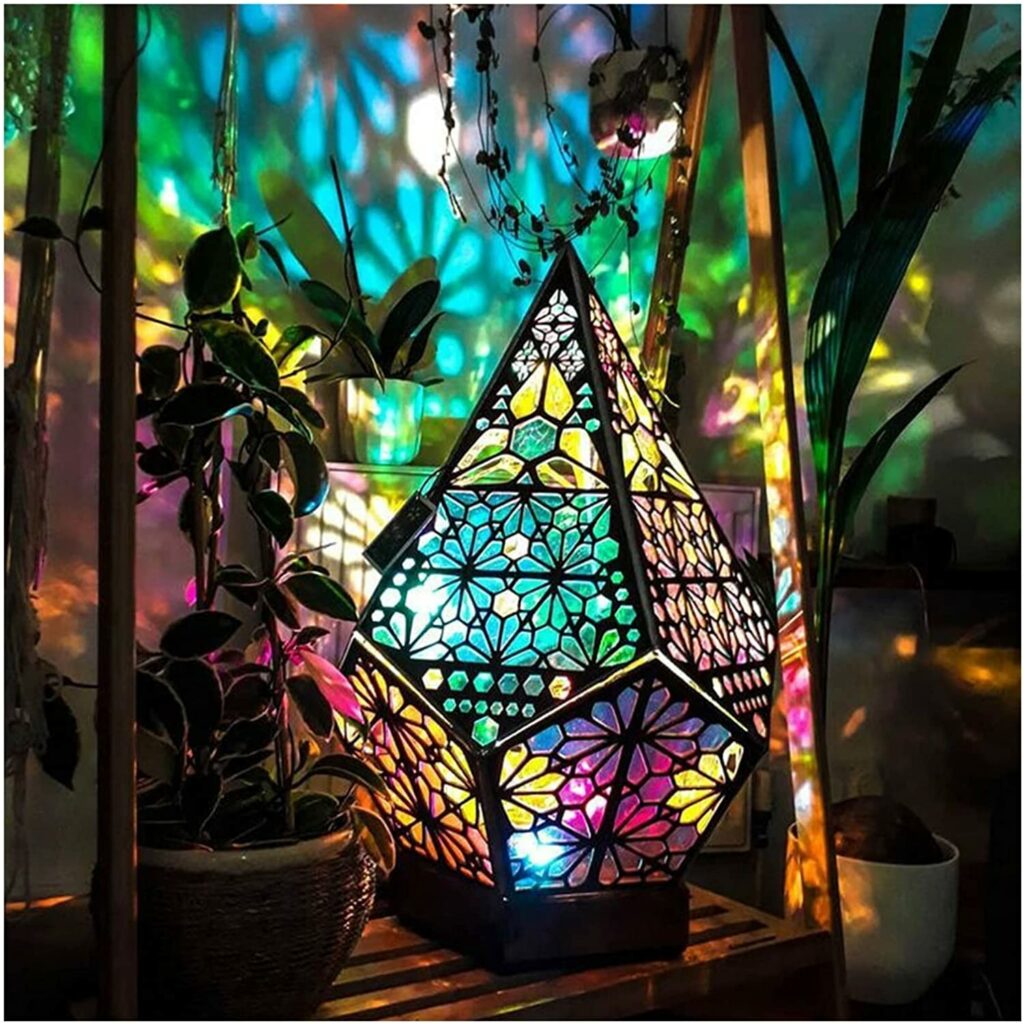 This week's trending product is this beautiful Bohemian LED Lamp which gives any room in the house an amazing look.
This product was added to Ecomhunt less than 24 hours ago, and since then the original Facebook ad has gained almost 300 likes.
Facebook ad Engagement when it was first added to Ecomhunt: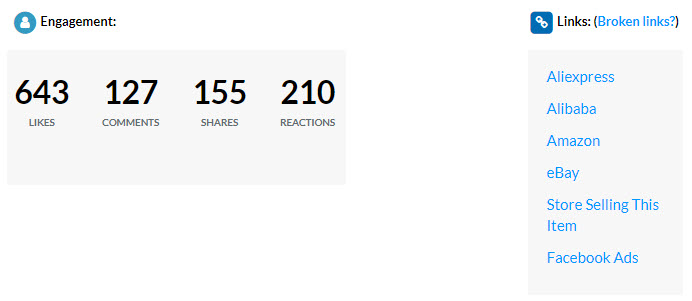 Current engagement on Facebook after less than 24 hours: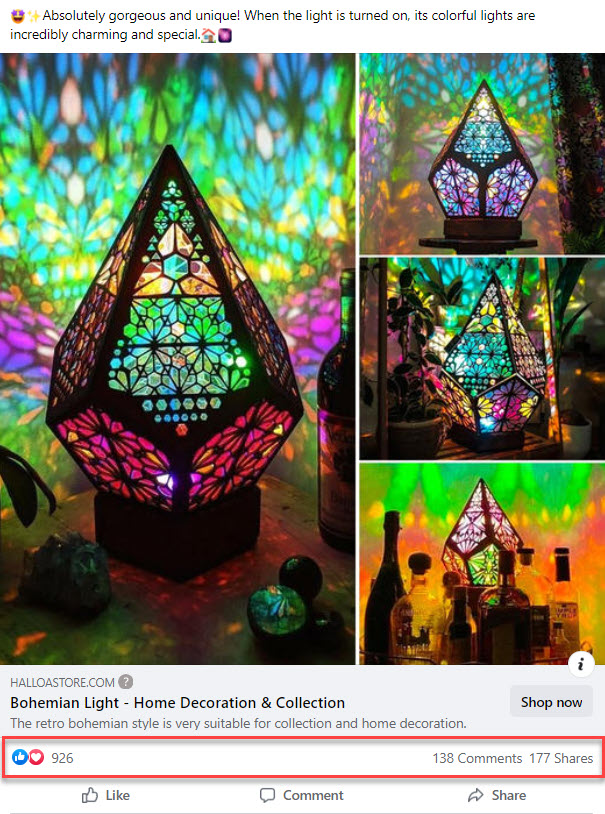 As you can see, so far this product is doing really well on Facebook. People are commenting, tagging their friends, and most importantly buying it for themselves.
We also have plenty of material we can use for our ads and product page, so we're basically covered with everything we need to make this product work.
This product looks like a REAL winner so don't sleep on it and launch your ads once you finish reading this article.
The Ad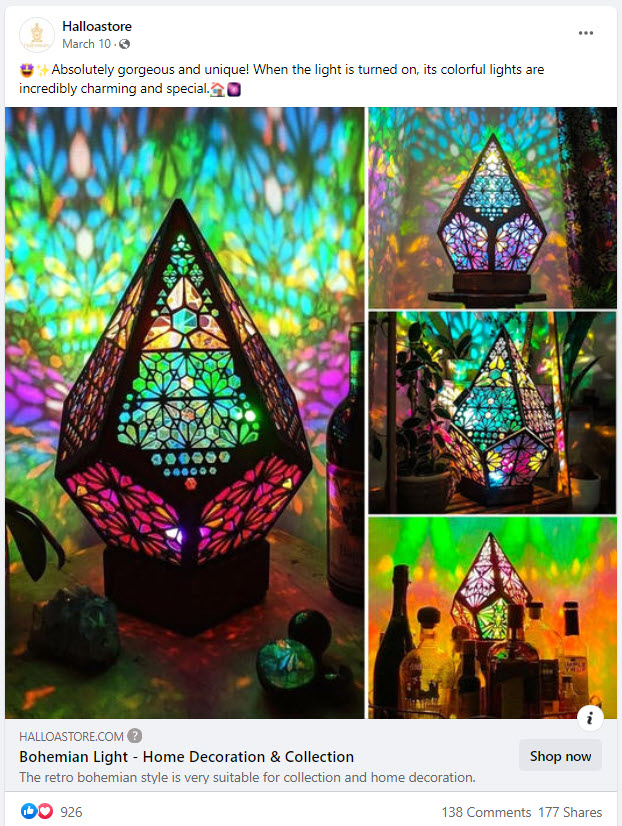 They're not using video ads to sell this product on Facebook. This product is gorgeous and it's easy to understand what it does, so they went with photo ads and looks like they're doing well.
If you're in a hurry to test this product, then you can also go with simple photo ads just like they did(just don't copy the same thing!).
By the way, this is what I that you don't have to invest too much into the ad in order to make sales.
Now if you want to really invest into your ad creatives, then I suggest testing both video ads & photo ads. I think that a video ad can truly show the beauty of this lamp and make more people interested in it.
I may be wrong here but I honestly think you should give a video ad a try here.
Other than that, I have nothing bad to say about the photo ad or the ad copy. Photos are high quality and their ad copy is pretty standard so I don't see any mistakes.
Let's check out their ad library: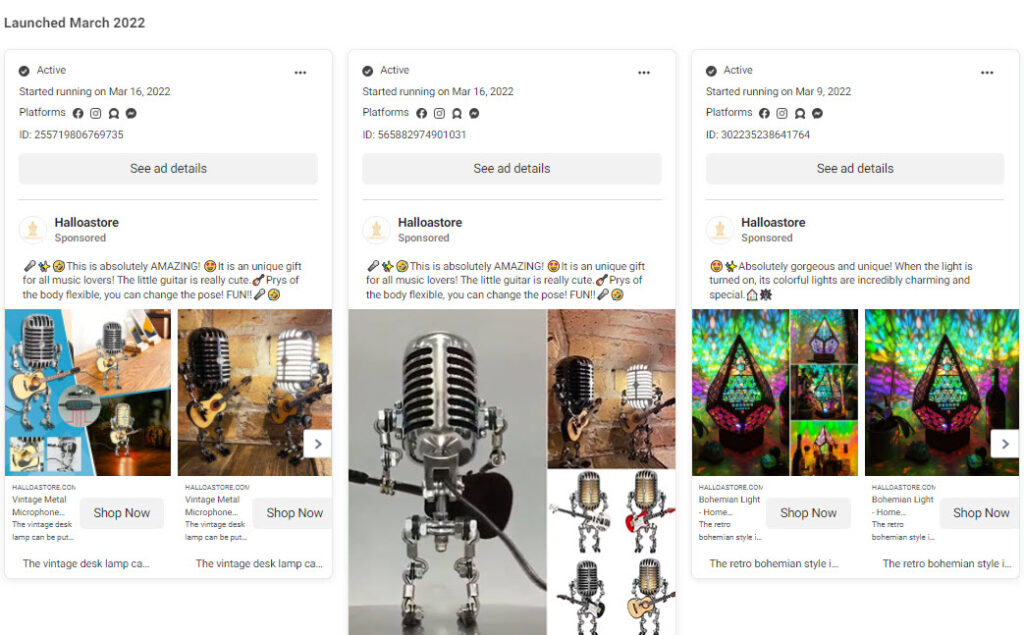 They don't have any video ads running for this product and the only new thing I saw was this carousel ad which is probably a retargeting ad.
And as always, checking out the ad library pays off because there's another cool product there that you can dropship.
Always check the ad library – it can really pay off!
The Store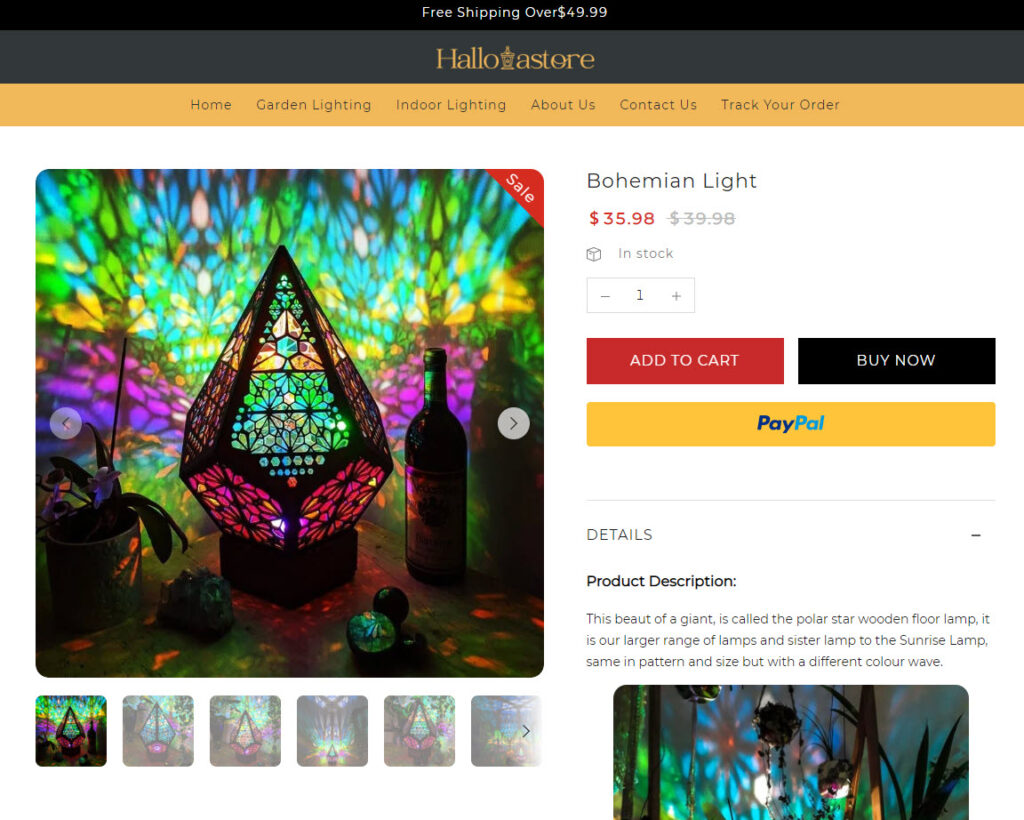 Overall, I really like the design and the colors they have used on their store. A clean design with a good color choice, and normal looking and readable fonts.
The only problem I have design wise is with their logo. I personally have no problem with text logos but this one specifically is a bit weak.
You can easily upgrade this logo and make something that will look much better.
Product description: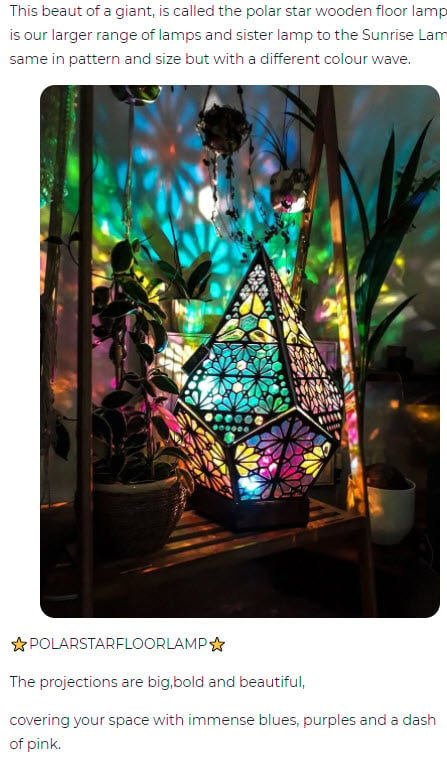 The description is a bit too weird to my taste…
It looks like a mix of random product features with auto-translated Chinese to English text, followed by real customer reviews including some photos.
Not a big fan of this product description and I think a much better job can be done here.
If you're looking for better product description examples, then check out my previous product review articles and you'll definitely find a good example.
At least they have some kind of guarantee at the end which is nice.
Reviews: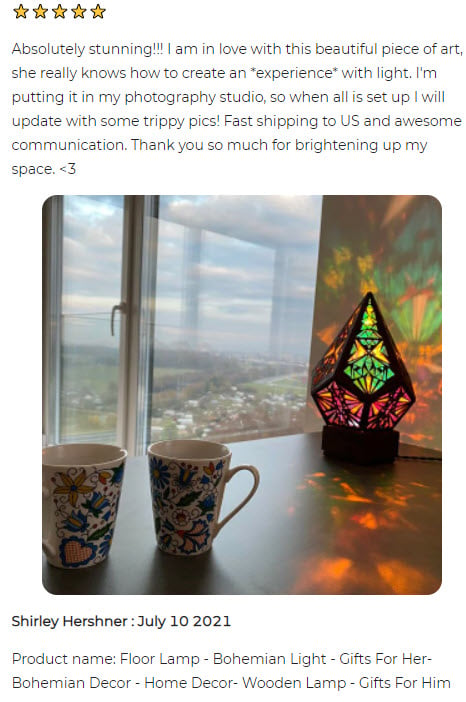 They don't have the standard product review section everyone is used to see, and instead they put a couple of customer reviews into the description.
Unfortunately, a few photo reviews in the description just isn't enough and some of your customers might not understand that these are actually reviews.
Always add a review section to your product page and import review from Aliexpress or whatever marketplace you like. In this case, there are enough text & photo reviews on Aliexpress for us to import.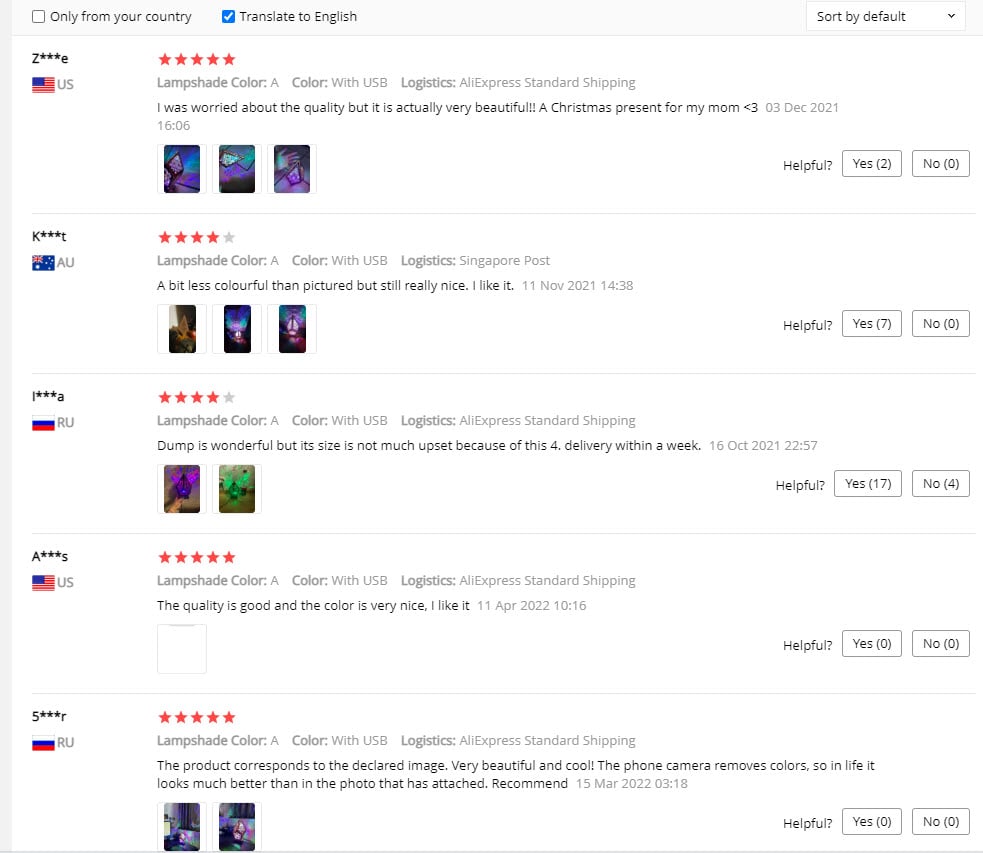 All you need is to download a product review app from Shopify, install it on your store, and everything else is automatic. A few mouse clicks and you have a great looking review section filled with real customer photos.
Real product reviews add trust to any store and this increases the conversion rate as there will be more customers trusting you enough to buy your products.
You May Also Like product suggestions section: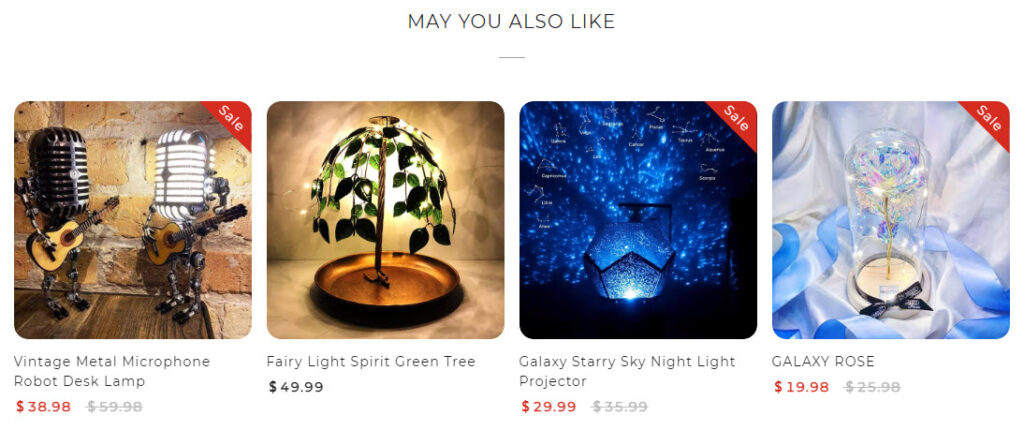 I'm not a big fan of these automatic product suggestion, although this time at least the suggested products have some sort of connection to the product they're originally selling.
I don't like these product suggestions because they move the customer away from the product you're currently selling.
Instead of moving to the checkout page, the customer might click on one of the suggestions and start exploring other products non-stop.
Eventually not buying a thing and only wasting time…
I prefer keeping my customers focused on the product I'm currently selling and closing the deal as fast as possible. I can always sell them other stuff later.
You see, we're not Amazon – The chances a customer will enter our store and add a bunch of random products to his cart and purchase them is REALLY low.
That's why it's better for us dropshippers to keep our customers attention on the product we're currently advertising. At least this way we'll have a chance to get some sales and profit.
Checkout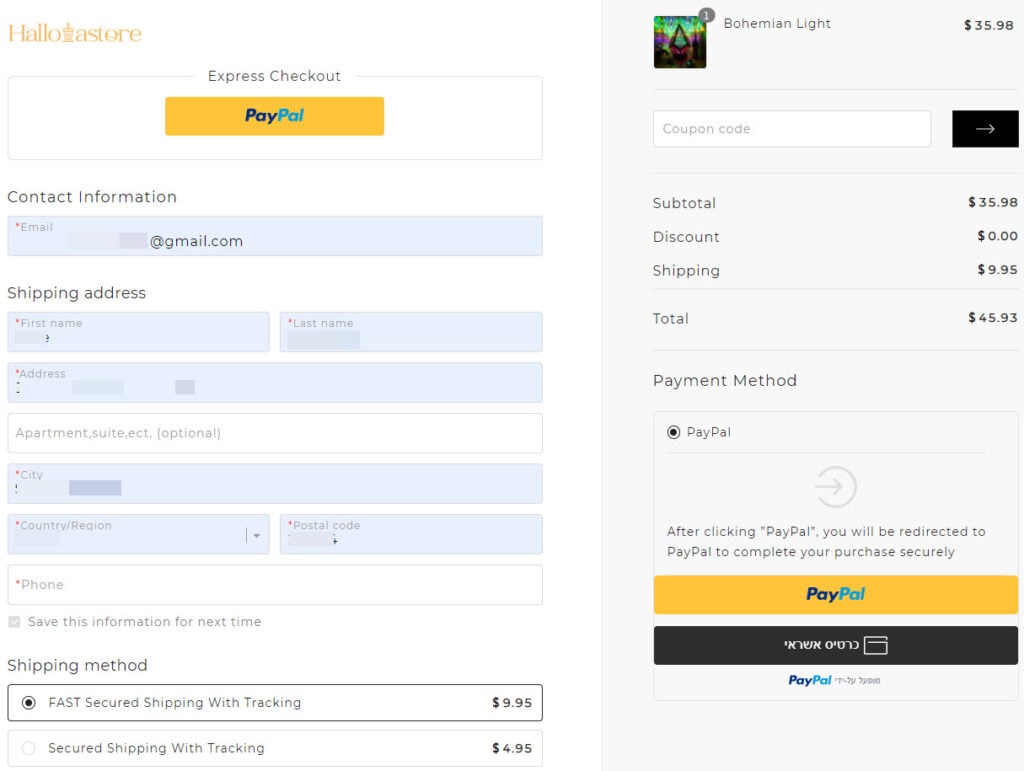 A pretty standard one-page checkout with regular shipping prices and some "tricks" to get a customer pay a bit more for a "faster" shipping.
If you offer multiple shipping options, at least let people know the difference between each plan. Don't put the customer in a situation where he has to guess your shipping times.
Instead let him know both on the product page AND on the checkout page about your shipping times for every available shipping option.
The phone number field isn't optional and this means customers can't pay without giving their real phone number.
Now this isn't a mistake but I prefer keeping the phone number field always optional. Some customer don't like giving their phone number and you can lose sales over that little thing.
On top of that, if you don't plan to use SMS marketing then a phone number isn't really needed. Make sure to set it up as optional in Shopify's Checkout settings.
Other than these two issues, everything else on the checkout page looks fine to me.
Selling Strategy
Product cost on Aliexpress is about $20 including shipping. It isn't the cheapest one but it's good looking enough to price it for at least $39.99 or maybe even $49.99.
If I were selling this product, then a price tag of $49.99 + Free Shipping is pretty fair. You have good looking photos you can use to make this lamp seem like a premium product.
On top of that, I recommend applying quantity discounts as I saw a couple of comments from people on Facebook that said they bought 2 or more pieces.
Just make sure to give a good discount for each additional piece you sell – Start from 10% or even 15% and jump by 5% on every piece added to the cart.
To Sum It Up
This product has the potential to really explode on Facebook and make the dropshipper selling it richer.
If you followed my product review, you can see there are still a lot of stuff you can fix/upgrade to easily get more sales than the original dropshipper that sells this product.
This is your opportunity to take this product, prepare some good looking ads, implement all the tips mentioned in this article, and start making some sales.
If you have questions, feel free to ask me in the comments.
Good Luck!
Struggling to find good products to sell? Not sure who's your target audience? Tired of losing money on products you were sure were "winners"?
Then Ecomhunt is what you need! Find hot winning products that are added daily, spy on their ads & stores and import them into your store in 1 click and Start Selling Today!