If you're looking for a great product to start dropshipping this February, then make sure to check out this amazing Winter coat women will absolutely LOVE.
Winter is still here and it will stay with us for at least another 2 to 3 months(depending on the country), so this product is exactly what you need to close the cold season in profit.
This Winter coat is brought to you straight from Ecomhunt and as always, you'll get a full review from me which is going to help you sell this product like a pro.
From ad review to a full store review, I'll show you exactly what needs to be done so you can take this product and make some bank too.
Enjoy.
The Product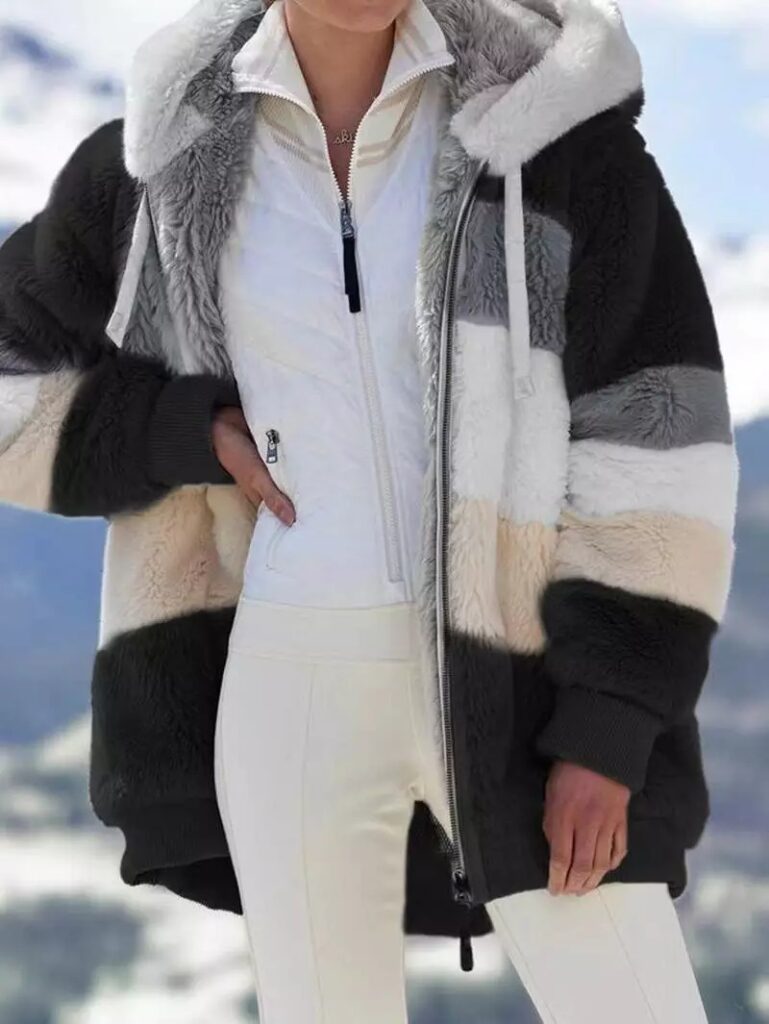 This week's trending product has that premium look that just made me stop and check it out. It has really great reviews on Aliexpress and the amount of orders is in the thousands.
Everything about this product just yells that this one is a winner and you should definitely also jump on it if you still didn't.
I like the fact that there are many colors to choose from(although we're not going to sell them all – I'll explain you why later), and that there are big sizes available so this isn't just for the skinny fashion girls.
You can sell this one to young women, moms, and even grandmas! Just pick your audience, create an ad and launch your campaigns 😉
The Ad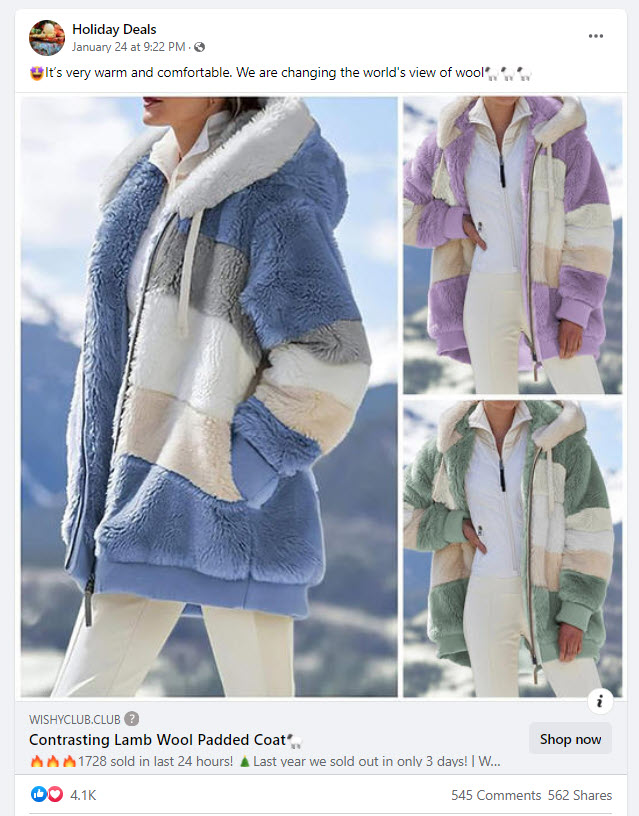 OK so as you can see, the original dropshipper is using a photo ad to sell this product. This is a great example to those who think you can only sell stuff on Facebook(or other ad platforms) using video ads exclusively.
A simple photo ad showing 3 different styles of the same coat with a call-to-action button and looks like it's doing great for him.
So just remember that sometimes a photo ad is enough to get sales and you don't have to invest time and money on bombastic video ads.
Though if a photo ad is working, it doesn't mean you don't need to test a video ad as well. It's always a smart idea to test different type of creatives so don't limit yourselves to only one.
Other than that, I have absolutely nothing bad to say about this ad… The ad copy is quite nice, the photo ad looks great, and the description(just under the product title) does a good work to scare the buyers that they're running out of stock.
One thing that would make this photo ad perfect is to add the store link also to the ad copy. The Shop Now button is clearly visible but it doesn't hurt to have another link in the ad copy.
The Store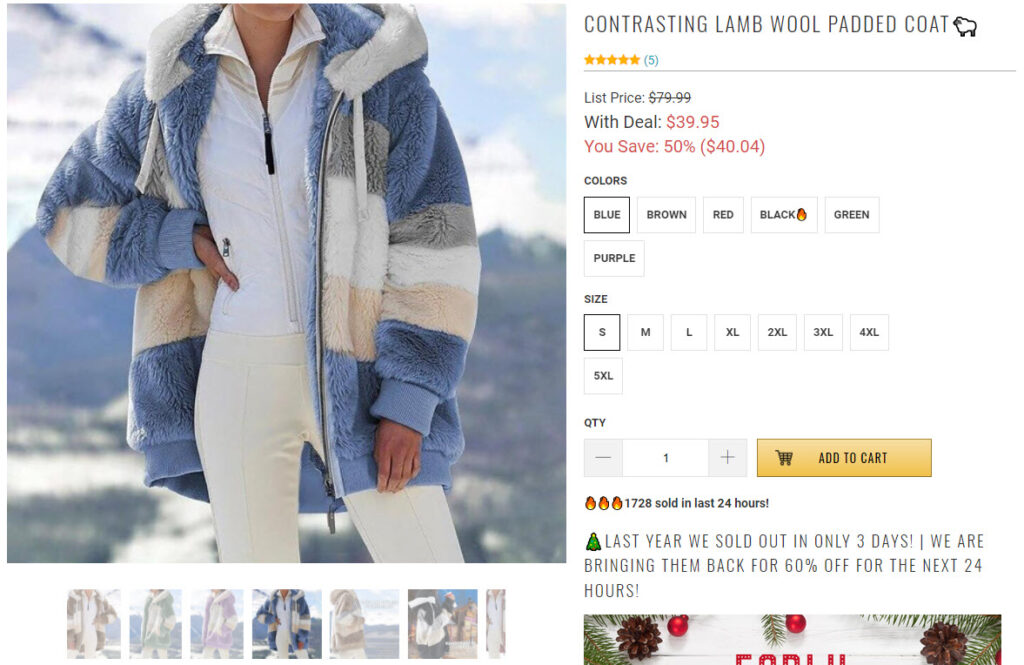 This is a general store that sells a lot of stuff from various niches, so I'm only going to review the product page this time. A quick glance in and I can tell that the store was done with some thought behind it.
The description has plenty of GIFs and different pictures of the product and the text isn't some Chinese to English auto-translation text that I saw on PLENTY of dropshipping stores.
There's also a really nice looking size chart that makes it super easy to understand what size to pick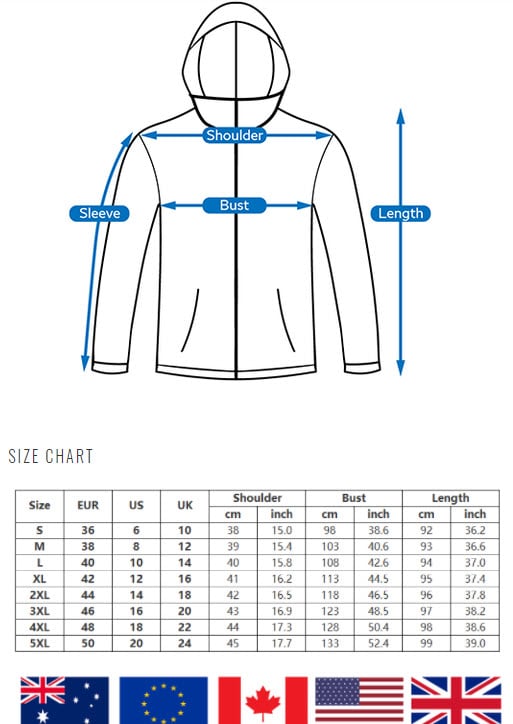 It's really important to have a size chart that everyone can understand… I've seen plenty of size charts that were either small to even understand what size to pick or size charts that didn't have different sizes for EU & US.
A bad size chart will definitely hurt your sales and you can expect a lot of refunds if you forget to show different sizes for different countries.
Things I didn't like about this product page that you should avoid doing:
1. The "You may also like" section

Imagine a customer is about to purchase this coat when suddenly she sees all these interesting products you have displayed in front of her – What do you think will happen next?
Will she proceed to checkout OR maybe click on one of these products? The short answer is that some of the customers are definitely going to click and explore other products.
This may seem like a good thing to you thinking your customers are going to add more products to their carts… But in reality, most of them will just look at different products and forget why they were in your store in the first place.
You want to have your customers FOCUSED on a single product and to make them buy your product as fast as possible. Once you have their payment, then it's time to sell them more stuff using different remarketing techniques.
Or you can just upsell them different stuff when you process their payment. This way they're already in good buying mood which can make it easier for you to earn extra money by selling them other stuff.
You're not Amazon, so just keep your customers focused on a single product and convert them quickly to make profit.
2. Too many colors

I know this is a fashion product and that having multiple options is going to help you make more sales, but too many options are going to do the opposite.
You want your customers to have different options to choose from BUT you also want them to be able to choose fast. You don't want them to just sit and think which color is the best because this is just going to prolong the buying process.
So for this product 5 colors or even 4 will be more than enough. You can easily see which colors are the most popular on Aliexpress and pick the first 4 to promote.
This will make it easier for your customers to choose and more of them will proceed to checkout faster.
3. Product reviews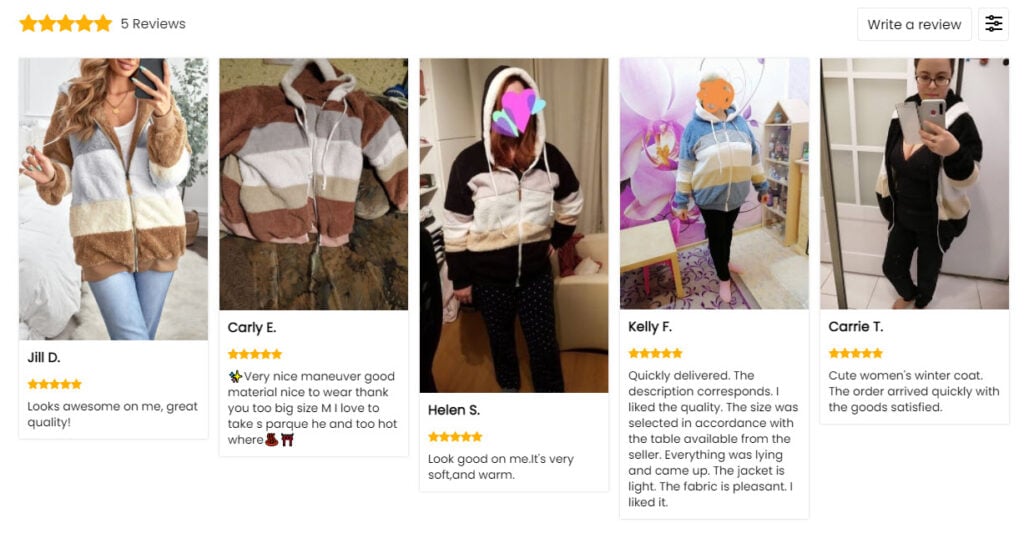 Having actual reviews with photos on your product page is a MUST HAVE nowadays and as you can see this seller has done exactly that.
But my problem here isn't with the reviews but with the amount of reviews he decided to import.
He could've easily imported at least a dozen of photo and text reviews from Aliexpress but for some reason he decided not to do it.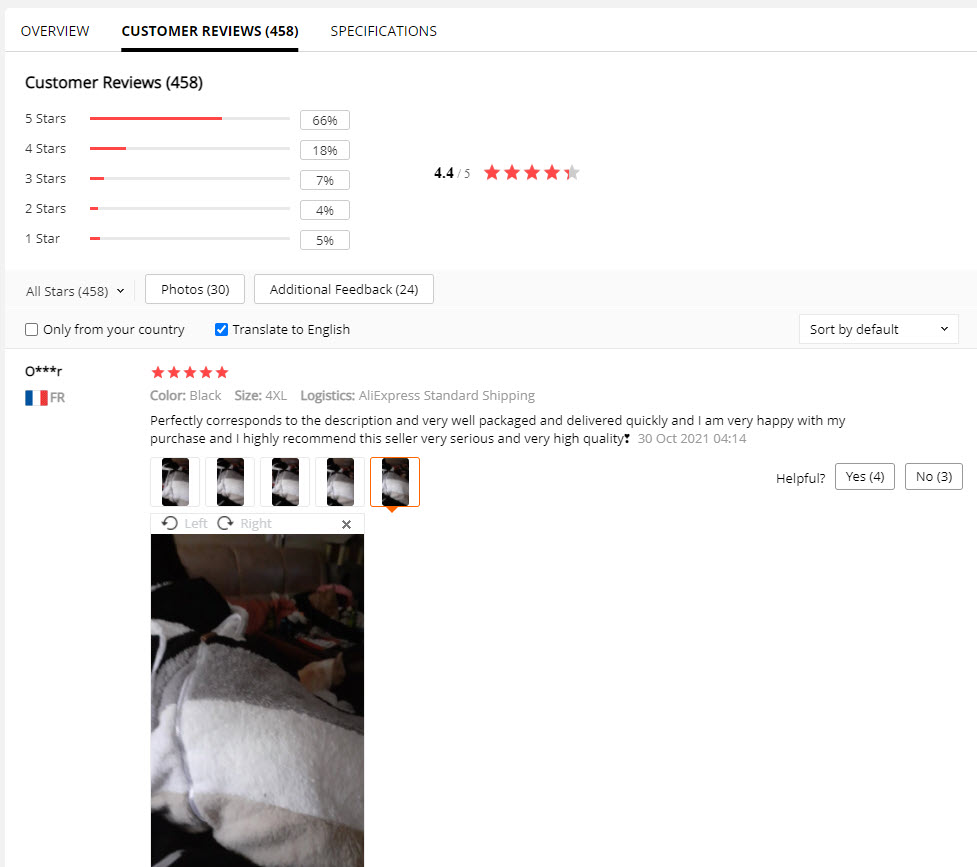 I have no idea why he didn't import more reviews but it's important you don't do the same mistake. Import at least 20 to 30 reviews to make your store look more legit.
Make sure the best looking ones are always on top and the rest can be in the back.
The Checkout Process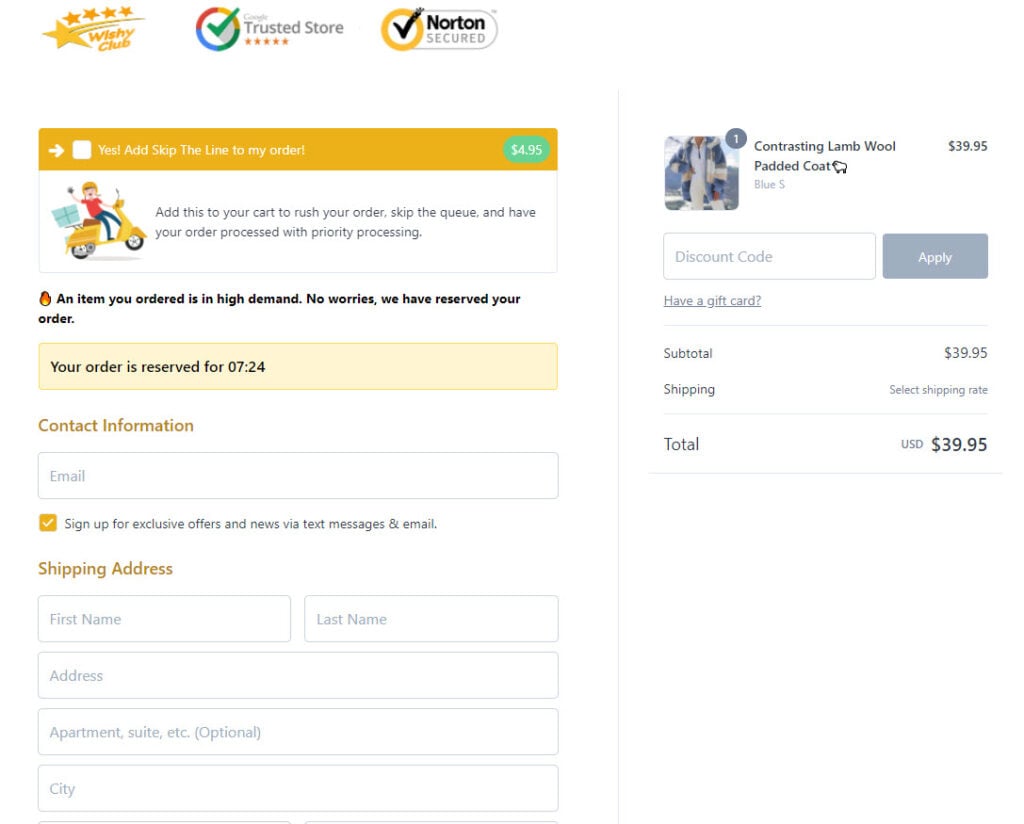 Looks like this store isn't using the regular 3-page checkout and instead they have it all in one page. If done correctly, a one-page checkout is going to boost your conversion rate and make you more sales.
Everything is in one page so the customer doesn't have to click and wait between the checkout stages.
My advice is to start with the regular checkout and if everything goes right you can later move on to a one-page checkout to increase even more your sales.
Just remember that a one-page checkout requires an app to be installed and you will need to follow quite a lot of instructions to make it active on your store – Do it only if you're ready and after doing some research!
Back to our review…
This looks like a regular one-page checkout with some cute tricks to make a bit more money from the customers. I really like the priority processing option which I think can work really well here.
Other than that, everything looks good to me.
The only thing I would change is maybe not charge shipping for the product at all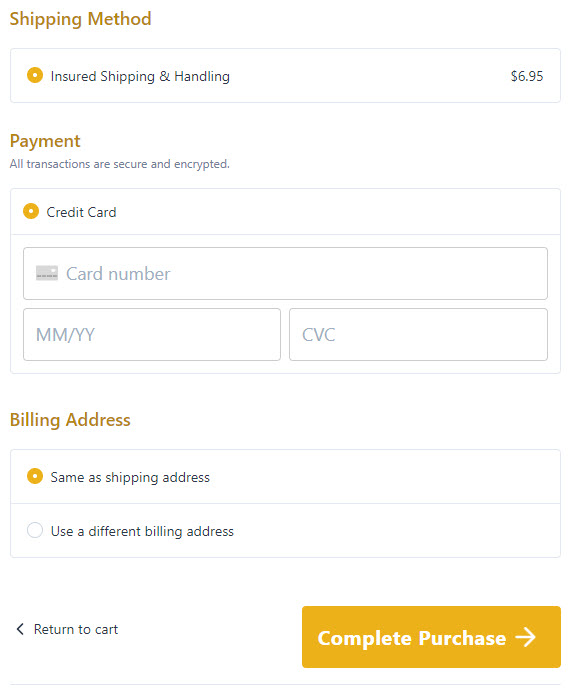 I think that for this product a Free Shipping promotion is more suitable especially when you can easily mark it up higher to get the same profit back.
This is a premium looking product so selling it for $44.99 or even $49.99 + Free Shipping isn't going to hurt your conversion rate much. And more importantly, your customers won't be bummed out on the checkout page.
To Sum It Up
This product can easily sell for $44.99 or even $49.99 + Free Shipping, so try it out first before deciding on lowering the price and adding shipping costs.
Most customers like Free Shipping promotion and it works especially good with women as customers.
Make sure to follow the tips in this article and implement them on your store when selling this product. Don't make the same mistakes and you should be good to go.
If you have questions, feel free to ask me in the comments.
Good Luck!
Struggling to find good products to sell? Not sure who's your target audience? Tired of losing money on products you were sure were "winners"?
Then Ecomhunt is what you need! Find hot winning products that are added daily, spy on their ads & stores and import them into your store in 1 click and Start Selling Today!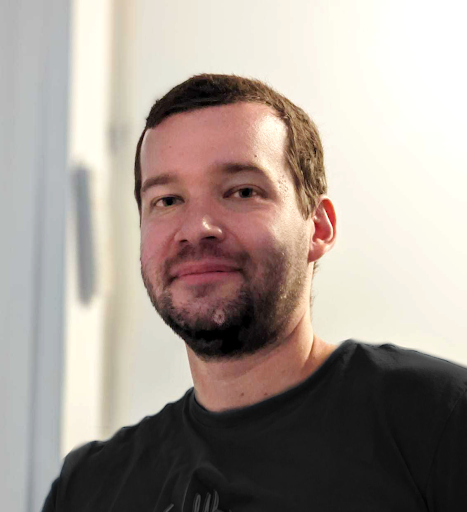 Daniel Aloni is one of the leading mentors in the Ecomhunt family. Daniel is a highly experienced Print On Demand seller with multiple 6 figures successful launches.