Here are 5 professional tips that will help you take any product and explode with it this Valentine's Day!
From using Social Media Influencers for some flash sales to get results fast, to adjusting your store for Valentine's Day and setting up the mood for more sales.
These 5 tips are great for both beginners and intermediate dropshippers, so make sure to check out the whole article to not miss a thing.
Enjoy.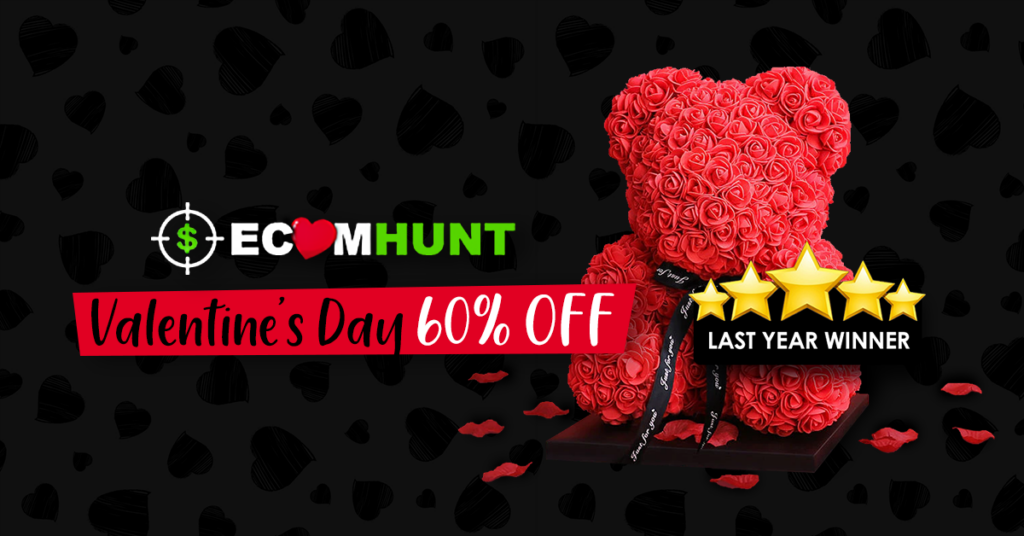 1. Advertise Flash Sales With Influencers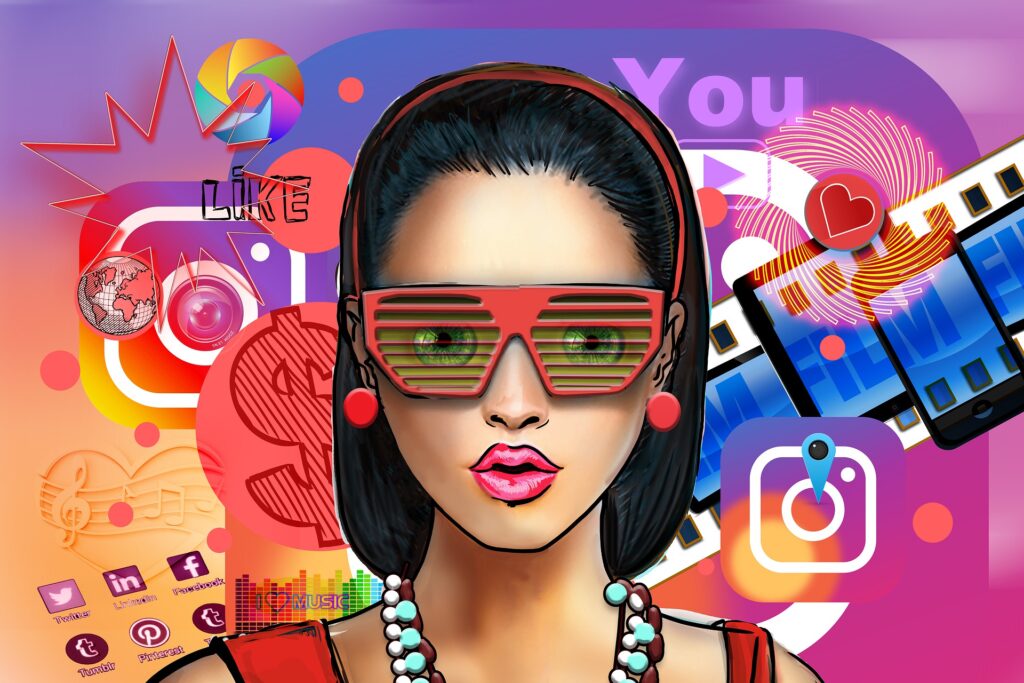 If you want to get results FAST, then it's recommended to try out promoting your product using social medial Influencers. Unlike Facebook or Google, you can usually get more traffic to your store for a much cheaper price.
This doesn't mean the traffic will be of the same quality, but it's good enough to get you some sales going if the product is interesting enough.
It's also important to understand that Facebook ads requires a lot more learning and testing, so if you plan on a flash sale then you must know exactly who is your target audience.
And you'll also need to have a Facebook Pixel ready with some data on your audience before you just spend a few hundred bucks to advertise your flash sale.
How to find a good Influencer:
You absolutely MUST NOT pick an Influencer to work with without doing any research! Before you approach a potential Influencer, be it on Instagram or TikTok, you should study his audience and calculate how much engagement he gets.
It would be a shame to fall on a Bot account that gets fake likes and comments from other bot accounts on each of his posts.
There are paid services out there that can recommend good Influencers and measure their performance for you. These are pretty safe to use and you can easily find an Influencer to work with for a reasonable price.
If you like to do your own research, and also maybe find an Influencer not many know, then you can do your own research.
I wrote an article about it here: https://blog.ecomhunt.com/2019/10/22/5-tips-to-successfully-promote-products-using-instagram-influencers/
This article is mainly about finding Instagram Influencers to work with and how to avoid scam accounts that will bring you zero results.
And of course other important tips like price negotiation, discovery optimizations, and more.
Make sure to check it out 😉
2. Try Different Targeting Options & Combinations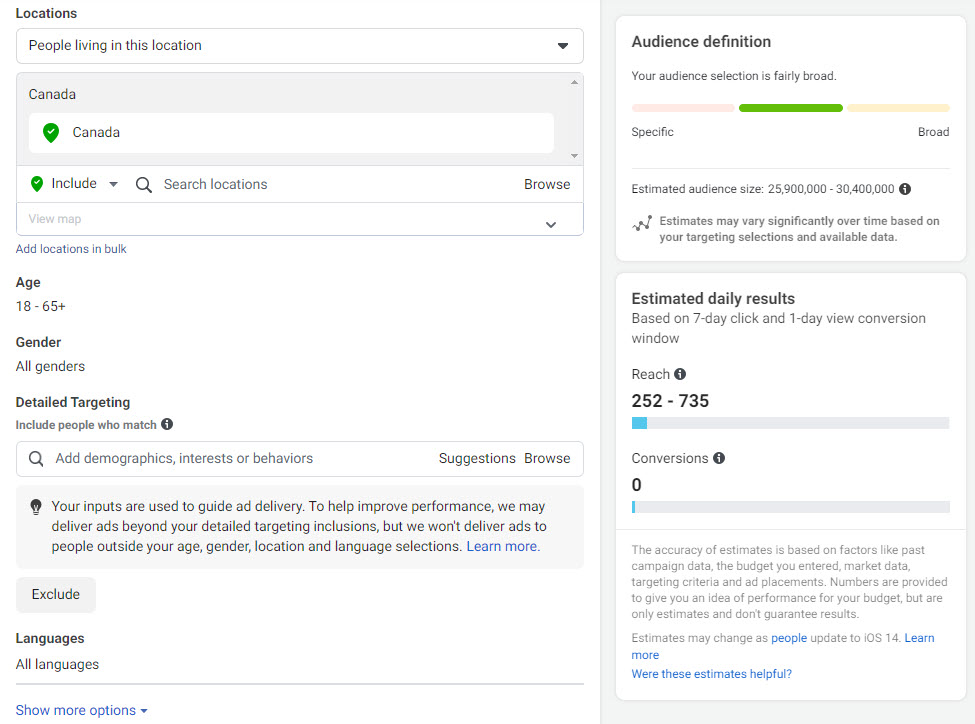 This tip is mainly for those who are already getting sales and look to increase them, but it can be also applied for new campaigns as well.
The point here is to help you think a bit outside the box…
There are plenty of targeting options and combinations available for us to target on Facebook. So instead of sticking to the same strategy as everyone else, it can be very fruitful to try out other options.
For starters, USA isn't the only country in the world so try targeting other countries. If you can deliver the product to that country, and it's possible for the people there to buy online, then I see no reason not to try it.
Especially if you're speaking the same language which can give you even a bigger advantage over other dropshippers.
Second of all, looks for different interests you can use or think of some smart combinations that can bring you a "fresh" audience to target.
For example:
If you're targeting Married men this Valentine's Day to buy their wives a gift, then you're probably using the standard "MARRIED" targeting behavior on Facebook.
This option is used by everyone who's looking to sell to married men, so it's expected that this audience's CPM will be higher.
So what can we do to counter it? A pretty easy method will be to mix the same audience with other interests.
Instead of targeting just married men, you can add another interest to "freshen" it up a bit: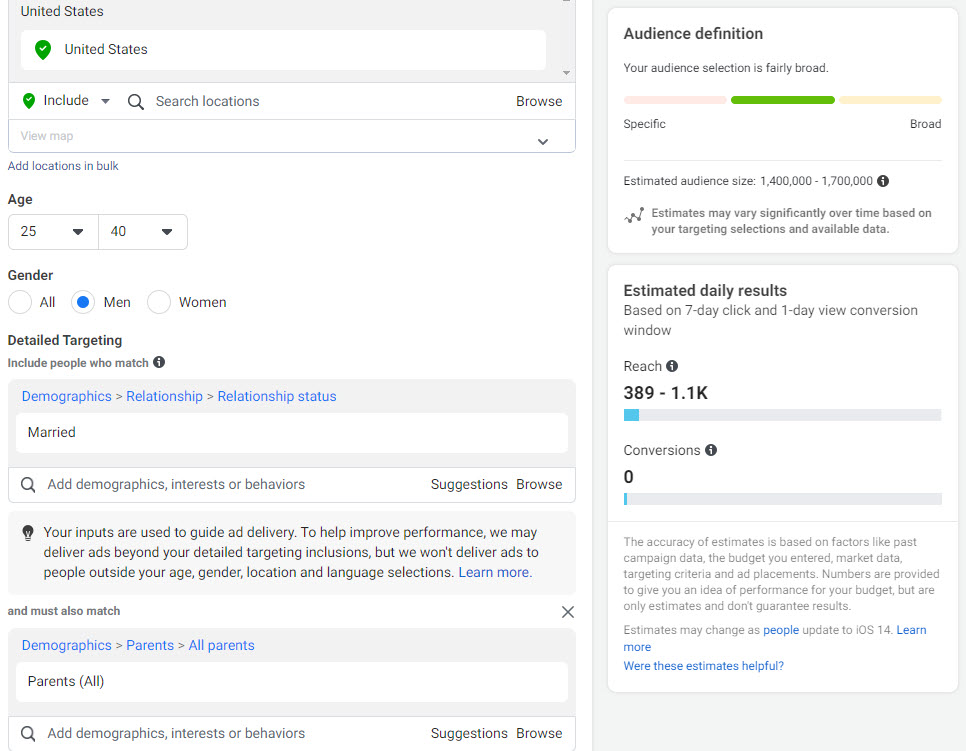 As you can see, I narrowed my audience down by adding Parents(All) to the mix so now I target only married men with kids.
Now this is a simple example, but it can be used with almost any interest as long as the audience is still interested in your product.
You can put High-School graduates, Cats, Dogs, Furniture, and almost any interest and you'll still have married men as your main audience.
It's just a different batch of the same big audience that everyone is targeting which can keep your audience always fresh.
By the way, this is one of the scaling techniques which I use if I have a good product running. I do a random change to an audience I am targeting and see if it brings back results.
If it does I keep it and it it doesn't then I close the adset – As simple as that.
If you want to learn more about scaling Facebook ads, then make sure to read this article here. It's an old one but still relevant to this day and has my own LIVE results from a campaign I ran a few years ago.
3. Re-Design Your Online Store And Make It All About Valentine's Day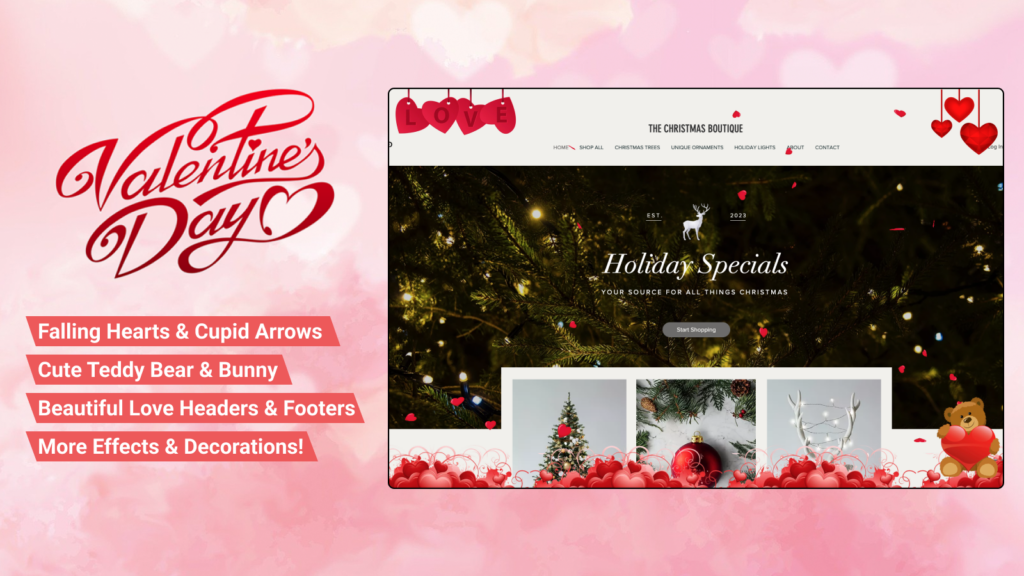 It's important to set up the mood for big holidays like Valentine's Day. This little trick is used to make your customers think like they're in the right place to make their purchase.
Instead of just seeing the same minimalistic design, spice it up a bit with animations and decorations to make your store look more professional and to really stand out from other dropshipping stores.
And the best part is that you don't have to spend hundreds of dollars on custom designs! A quick search on the Shopify App Store and you can find plenty of apps that offer the service you're looking for a pretty cheap price.
Setting up your store for Valentine's Day shouldn't take more than 15 minutes using these apps and you can even find ones that also offer custom Valentine's Day popups and more stuff like that.
4. Quickly Create And Offer Valentine's Day Related Print-on-Demand Products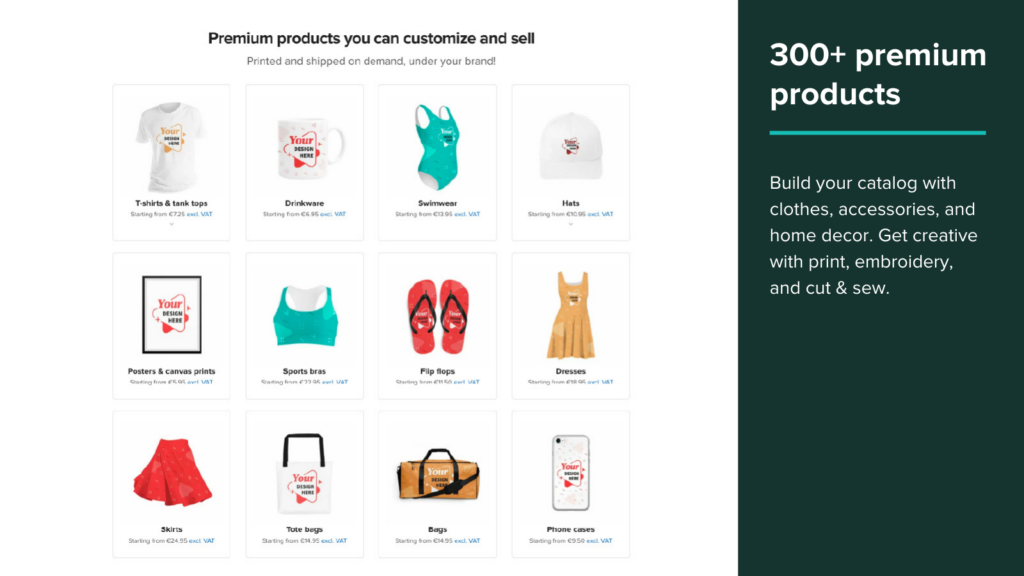 With hundreds of products to choose from and with an unlimited amount of design ideas, you can easily create and publish POD products to your store and upsell them to your customers this Valentine's Day.
It can be a cute mug design to show one's love or a funny t-shirt – There are plenty of options here and each of them can bring you some extra profit.
The good thing about these apps is that the whole process is automatic. Once a product is bought, it will be produced and shipped straight to your customer.
You don't have to worry about anything… Maybe just about the quality but with the right provider this shouldn't be a problem(do some research before choosing one).
If you don't want to ruin your checkout flow with upsells, then it's possible to offer these products once the customer completed checkout.
Be it by using post-purchase upsell or just by using email marketing to promote more products.
5. Sell What Is Already Selling, But Do It Better!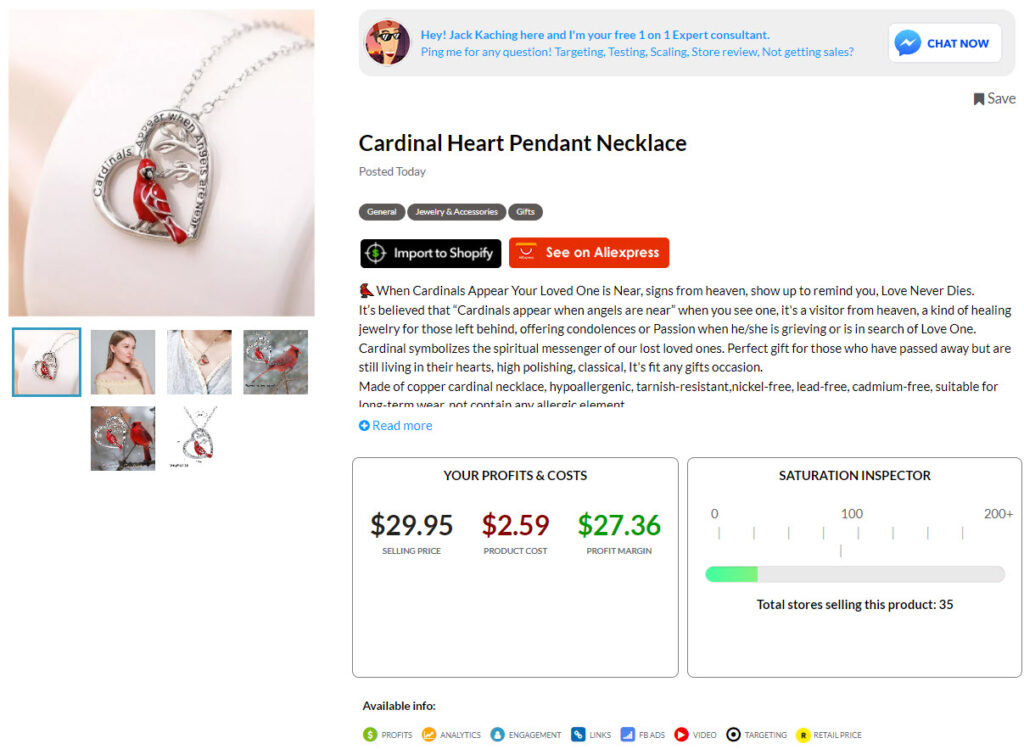 Sometimes it's better to stick to what is working instead of trying to reinvent the wheel. Especially if you don't have enough experience to spot the winners yourself.
Many dropshippers there are looking for that "unsaturated" product no dropshipper have ever tried to sell in hopes they'll hit the goldmine with it.
But in reality, this is almost impossible nowadays and you'll just end up with less money to work with…
Instead you should just stick to products that are already proven to sell and try and make a better job at selling them.
Let's take a look at the Facebook ad for this cardinal heart pendant: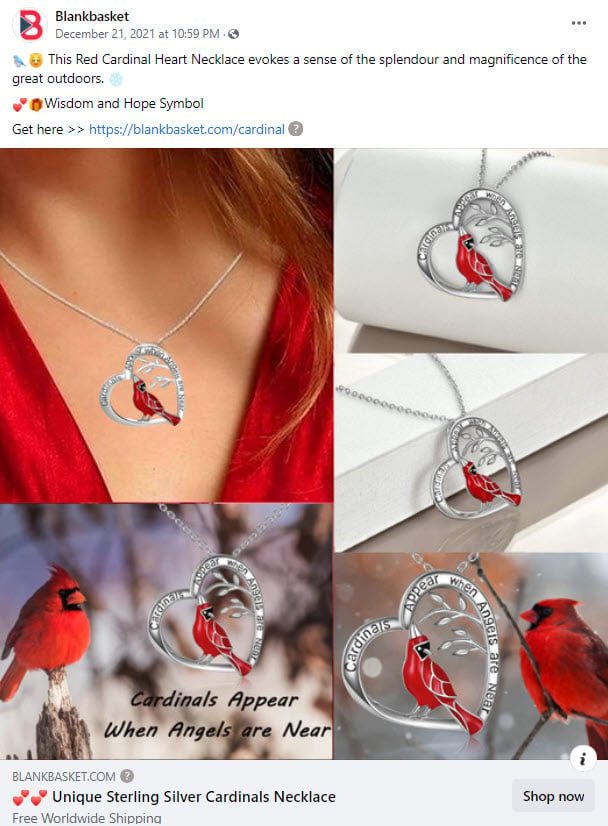 The dropshipper selling this product is using a photo ad and looks like it's working pretty well for him. The engagement is great and people are interested in this product.
But to tell you the truth, this photo ad isn't the best and I myself can do a much better job if I was to sell this product. Give it to an experienced designer, and he'll give you back a much better photo to use for your Facebook campaigns.
On top of that, there's also a video ad option and it can work even better.
And let's not forget that there are other aspects that can affect the performance like the store, the checkout flow, the pricing, the deals, and more…
Aside from the ad which I think can be done MUCH better, all it took me is one glance at the store selling this product and I already found stuff I didn't like there that affect the sales.
Other than the regular stuff I just mentioned above, even if everything was perfect about this product, you can still sell it differently by using other targeting options.
Target different countries, different interests, use Influencers, try selling on other ad platforms, etc…
Plenty of options to sell this product and the most important part remains that this product is already PROVEN TO SELL.
To Sum It Up
Set up the mood and implement these 5 tips to make more sales this Valentine's Day!
Sometimes it's better to stick up to stuff that work instead of searching for "new" ways to sell… Especially if you don't have the experience or the time for it.
So if you follow my tips here, I bet it would really help you out on making this Valentine's Day your best one yet.
If you have any questions, feel free to ask me in the comments.
Good Luck!
Find the hottest winning products to sell this Valentine's Day – Don't miss out on our special Valentine's Day sale!