If you're looking for a great product to sell and explode with it in 2022, then we found the perfect dog niche product you should dropship right now.
This dog play mat is doing really well on Facebook as we speak, and it looks like the original seller is nowhere near stopping his Facebook ads.
Use this opportunity to launch your own ads(and better ones) for the same product and "ride" on its success to make some bank too 😉
In this week's article, I'm going to review everything there is about this product – From the original Facebook ad to the online store selling it.
On top of that, you'll also receive some pro tips and targeting suggestions to make it easier for you to sell this product.
Enjoy.
The Product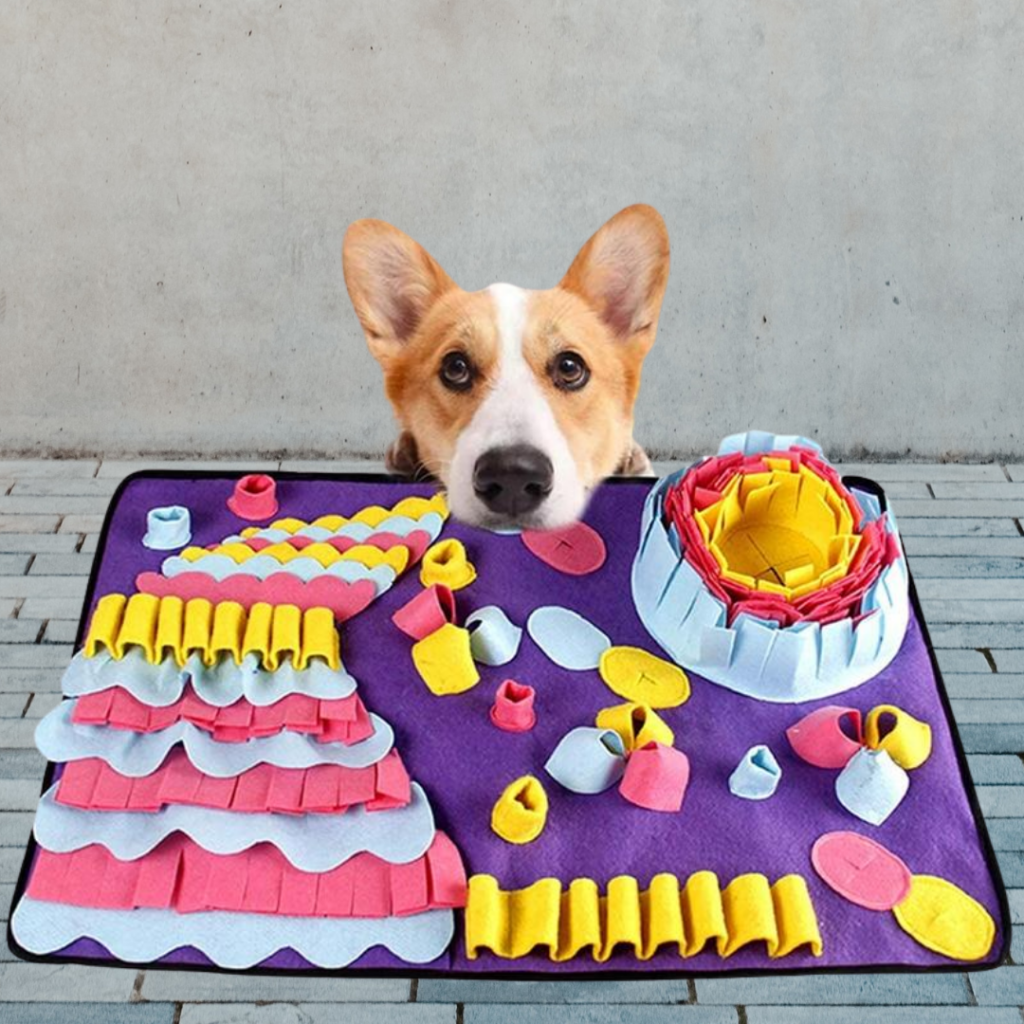 This week's trending product is this awesome dog play mat which I found on Facebook. It's a great product to keep pets entertained for hours and hours.
It's really easy to use and doesn't require any assembling – All you have to do is to hide small treats in the designated hidden pockets and the dogs will do the rest.
Based on the results I see on Facebook, this product looks like a winner with a lot of dog owners buying one for their pets.
So don't wait too much on this product and start selling it right now!
The Ad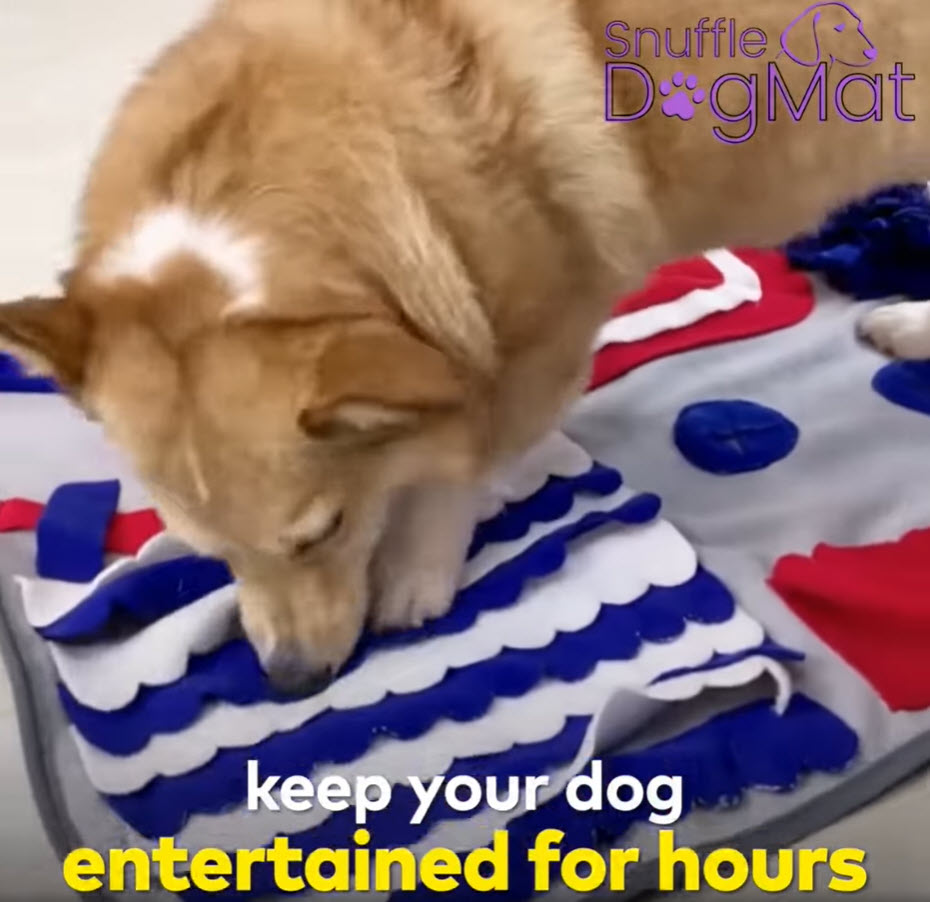 There's nothing really special about this ad… It has a few shots of different dogs playing with the mat, text do describe the product and regular license-free stock music.
But it's good enough to make people stop from scrolling and watch the ad. So in my opinion, this ad gets a good score from me and you can follow the same structure to make your own ads for the same product.
The only thing I would change is the call-to-action text – Instead of the regular "click the link to buy" text, I would advertise the current deal/discounts I'm having.
If you want to really upgrade your ad then here's a few tips to make it really stand out:
Add some reviews to your video ad – Add a few pictures of happy customers to your video ad or find footage of someone actually reviewing the product which is much better. You can pay someone at Fiverr to do a simple video review of this product and use it later in your ads.
Find HD footage of your product – Some of the footage used in this ad isn't really HD and you can clearly see the quality reduction in some of the shots. It ruins a bit the user experience which can lead to less people clicking on the product link(even if they like it).
Use professional dropshipping video services – Usually there's a big difference between a video ad you create or one that a professional team does for you. Services like Waving Pandas have a huge experience producing dropshipping videos and it's quality will be the highest you receive.
Test multiple scroll stoppers – Don't stick to the same ad and test different beginnings to make sure the best performing ad is the one you actually spend money on. Test a few ads and let Facebook decide which one is the most liked by your audience.
Use some visual tricks to increase the watch duration and the engagement – It can be something as simple as changing the description text location on the video, and it will already have some effect on your audience. Move some frames, zoom in/zoom out, and use some other simple editing tricks to keep your target audience more engaged.
And if you ask yourself how I know this seller is still running ads, just check the Facebook ad library to see all the active ads currently run from the product Facebook page.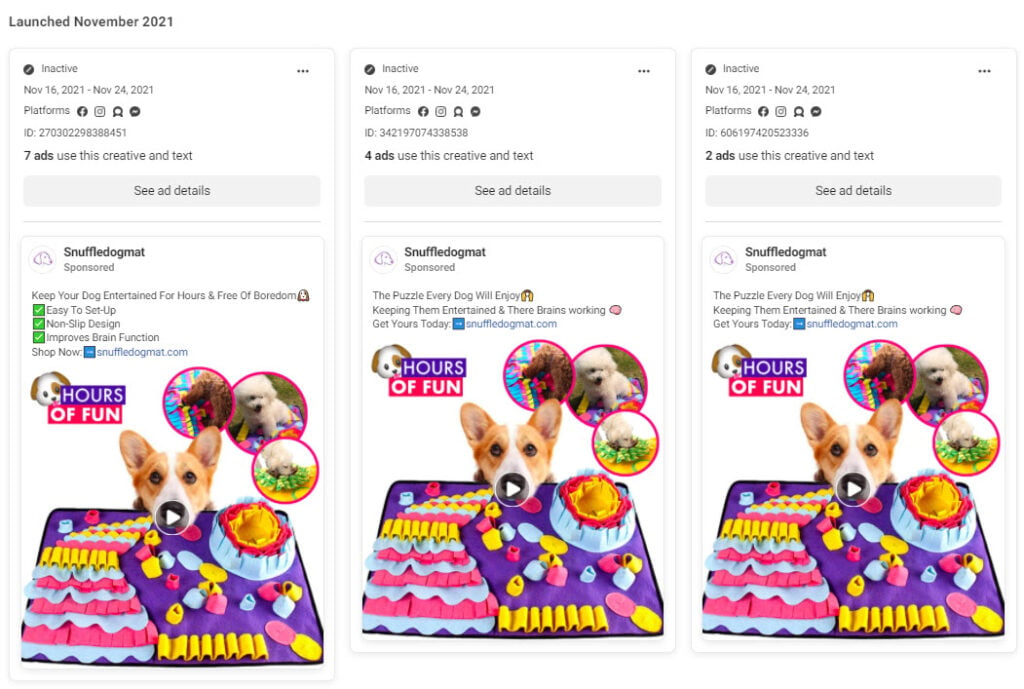 There are ads active since November last year and even more ads launched on December 25th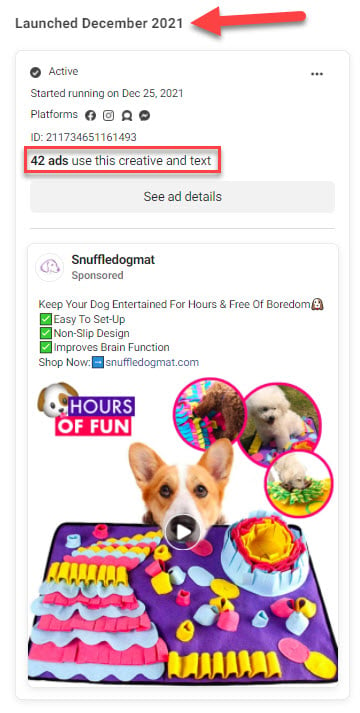 Enough to understand that this product isn't going anywhere soon!
The Store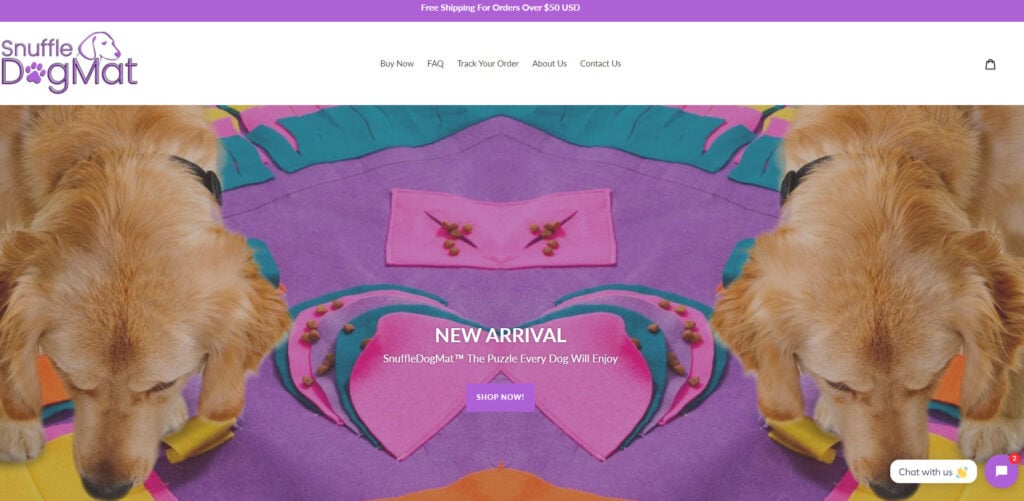 This is a one-product store designed specifically to sell only this dog play mat. A one-product store requires a bit more "branding" than general or niche stores, and it also costs more money to operate.
For a one-product store to work, you'll have to get a custom domain name, a logo, a few banners, and of course pay for an additional store the regular monthly fee.
But it's definitely worth it if you know how it should be done – One-product stores usually have a MUCH higher conversion rate and if the branding is good, you can price your products higher and pocket in a bigger profit.
If you find a great product to sell and decide to build a one-product store around it, instead of pushing it into a general one, the risk can pay off big time.
In this case, I don't know how much it actually helps because this store doesn't "branded" to me. The logo isn't the best, the banners are too simple, and the rest are just product pictures with descriptions on them.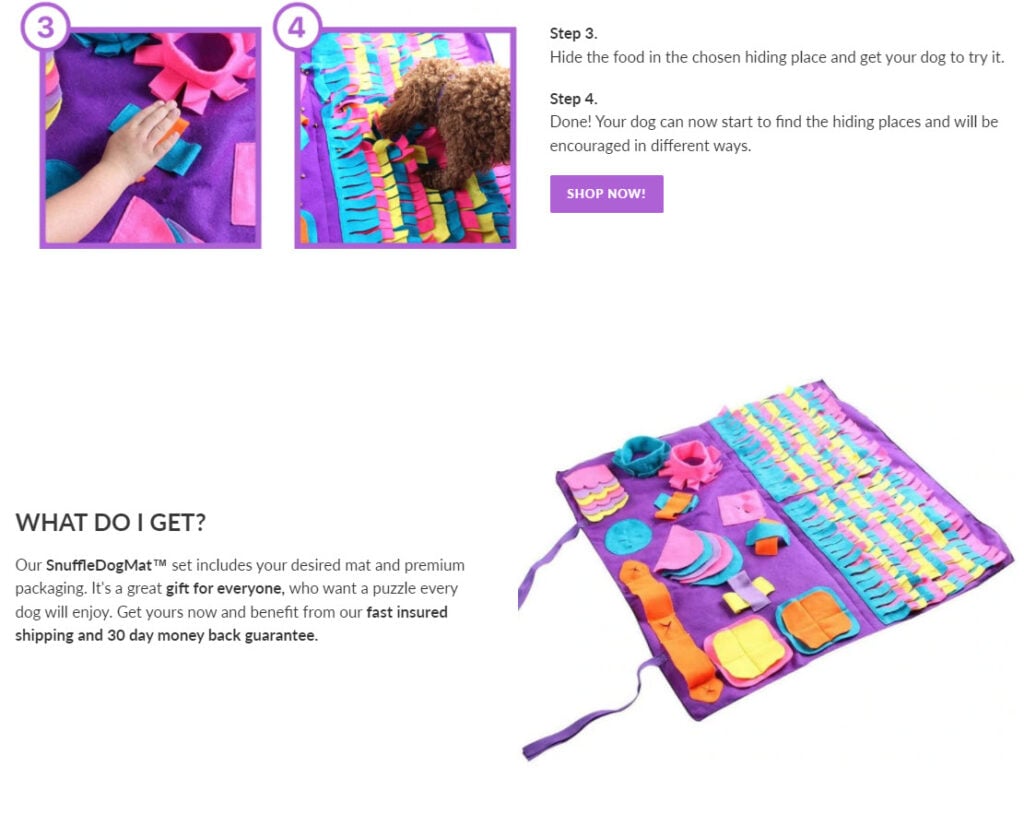 If you can't design or don't have the time to design a good main page for your one-product store, then it's better to send the traffic straight to the product page.
At least there you have product reviews, a better looking description, and the actual bundles/discounts displayed and ready to be activated with a click of a button.
And even if you do have a stunning main page for your one-product store, it's still sometimes better to send the traffic straight to the product page.
If you want to learn how to build a great looking one-product store, then make sure to check out our CEO's Youtube video series where he builds a one product store from scratch.
It's a 4 part video series that covers absolutely everything there is to know on how to build a stunning one-product dropshipping store. He also managed to get sales going for him as a test so it's definitely worth a watch 😉
Let's move on to the Product Page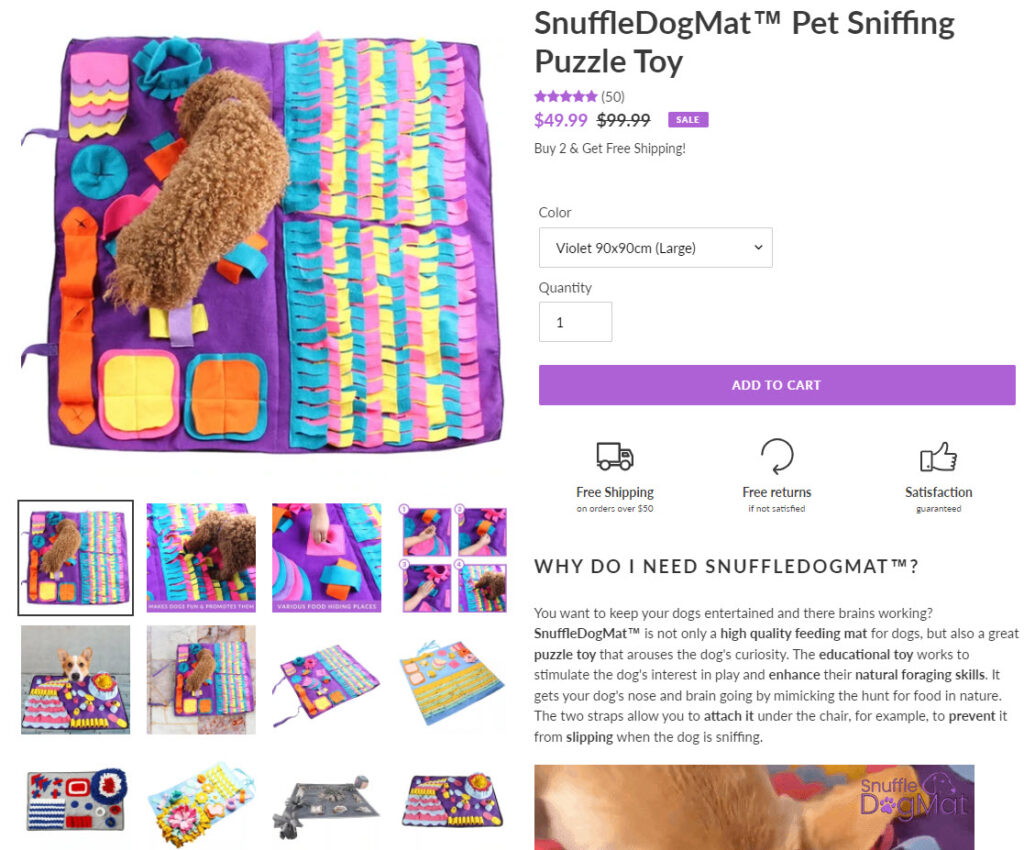 The product page is definitely a better choice and the original seller should've directed his traffic to this page and not to the main page.
The description is well structured(although there are a few typos) with GIFs and pictures that basically explain everything there is to know about the product.
And they also didn't forget to add some guarantees at the bottom which is great!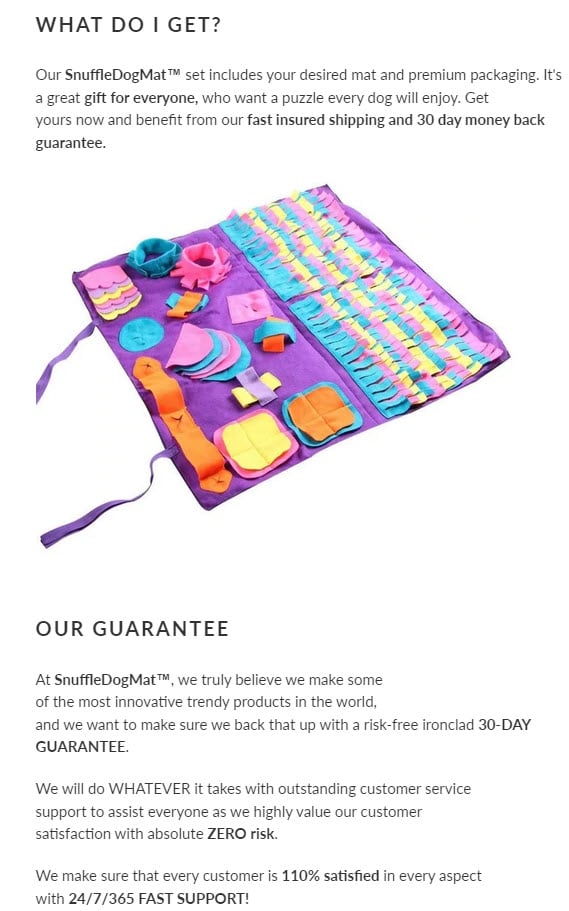 A few words about expected shipping times is also advised to have so make sure to add that to your description if you decide to sell this product or any other product.
Reviews: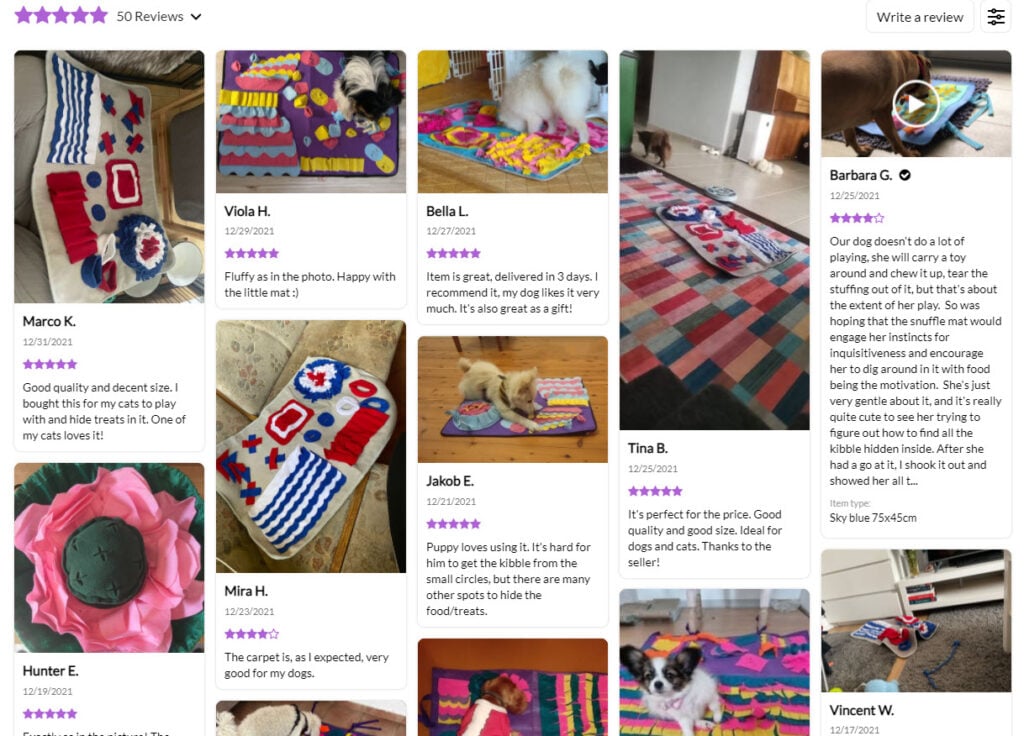 The imported reviews are looking great and there's nothing bad I can say about them. They also aren't all 5 star so it makes the reviews looks much more legit.
Stuff I didn't like:
1. Too many variants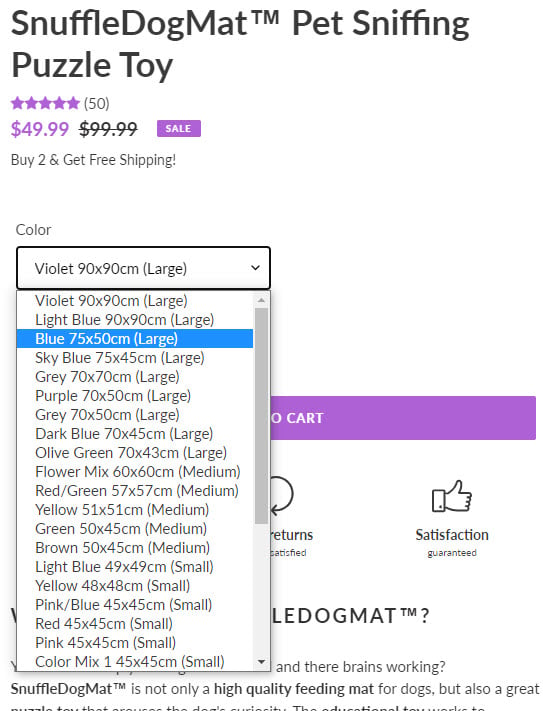 This product has a lot of options to choose from but it doesn't mean you have to use them all.
When it's not needed, especially with products where it isn't that important, having so many options will ruin your conversion rate.
Why? Because your customers will have a hard time choosing between all the options and there's a chance they will eventually give up and leave without buying.
There's a psychological explanation behind this so you can always Google "The paradox of choice" and read/watch all about it.
So instead of offering so many variants, pick the best looking ones(3-5 options) and run with it. In this case, with all the available sizes, it's better to go with a maximum of 3 variants and also limit the size to maximum 2 options.
2. No Bundles & Bad Discounts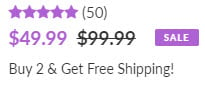 Don't be a cheapskate! This product isn't that expensive on Aliexpress and with a $49.99 price tag there's enough profit to make.
I think this product should be offered with a default free shipping option and there's a need for quantity discounts as well.
Customers who want to order more than one product should get a nice discount on two or more items.
The original seller is offering free shipping for orders more than $50, so I do hope for him there's free shipping on one item only.
It's a shame if this isn't the case and we'll see if that's the case when I review the checkout flow.
Other than the issues above, I think everything else is fine.
Cart Page: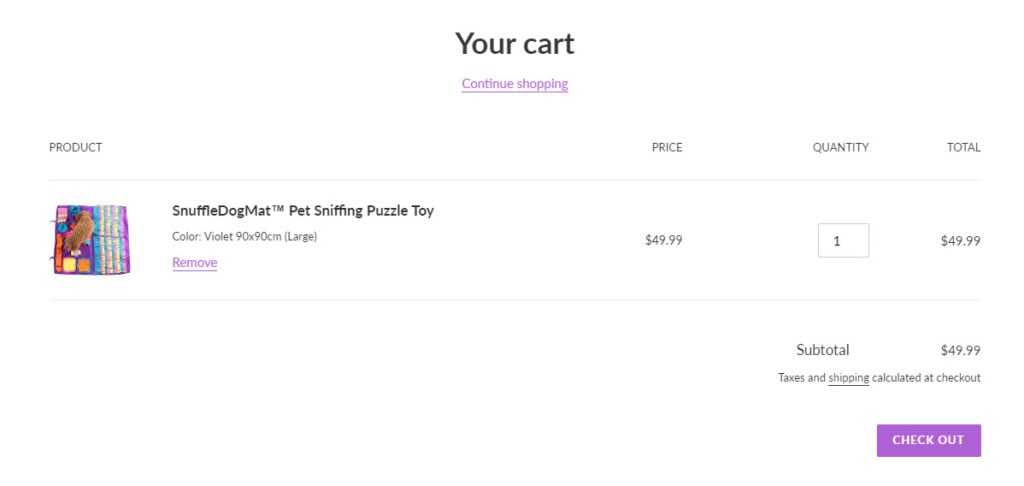 Standard cart page, nothing really special about it… It would be nice to see some review widget below, but it's fine as it is right now.
"Taxes and shipping calculated at checkout" text is present so it means they do charge a shipping fee. Again I really hope it isn't going to be charged on a 2 cent difference.
I know I told there's no quantity discounts here, but once you click on the Checkout button there's a nice popup upsell that needs to be mentioned.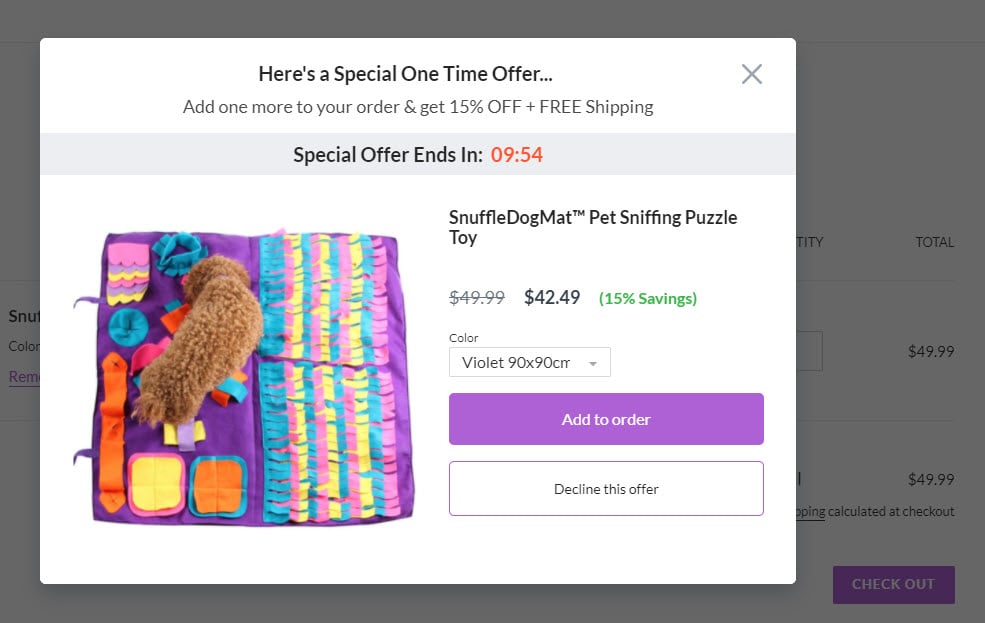 The seller offers another item for a 15% discount and with a free shipping discount. It's a nice deal and I bet it works for him BUT you still need to check what will happen if you offer free shipping on all items.
Me personally, I would just go with free shipping on at least the large size, and maybe charge a really small shipping fee on the smaller sizes.
Checkout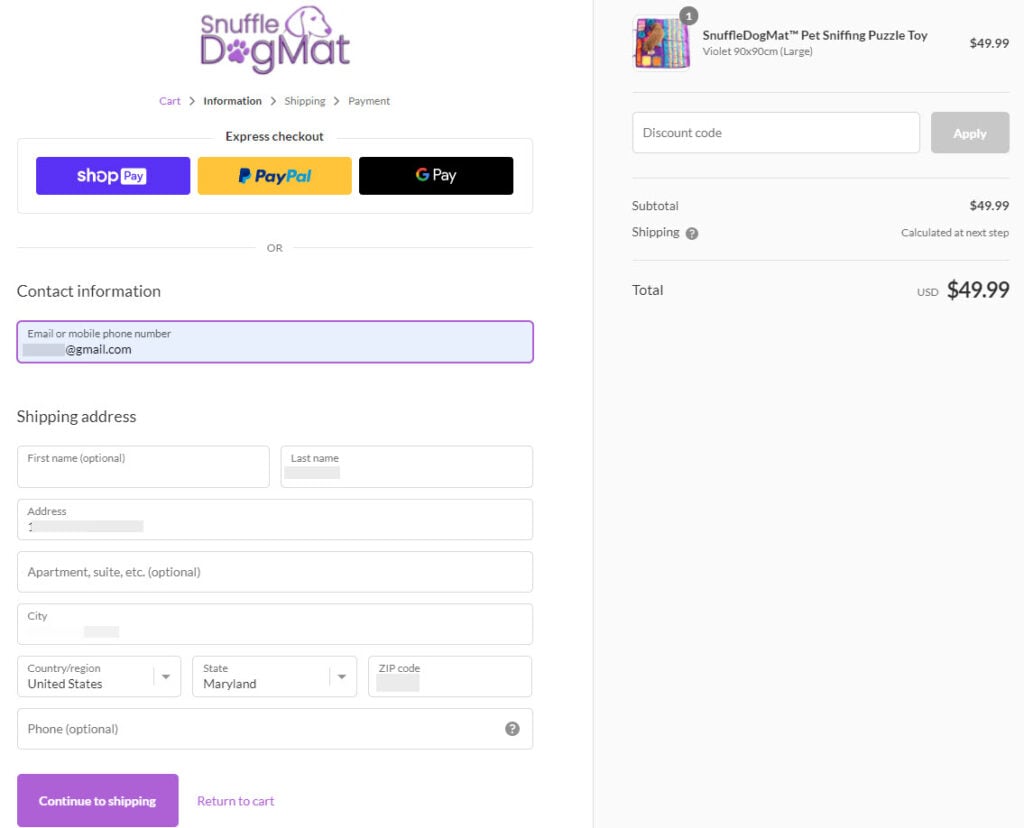 I chose to buy only 1 piece for $49.99 to see if they would charge me shipping. As for the contact information page, nothing's wrong here.
The original seller didn't forget to add a logo to the checkout page, the phone field is optional, and there isn't any unnecessary field that can prolong the checkout process.
Shipping page: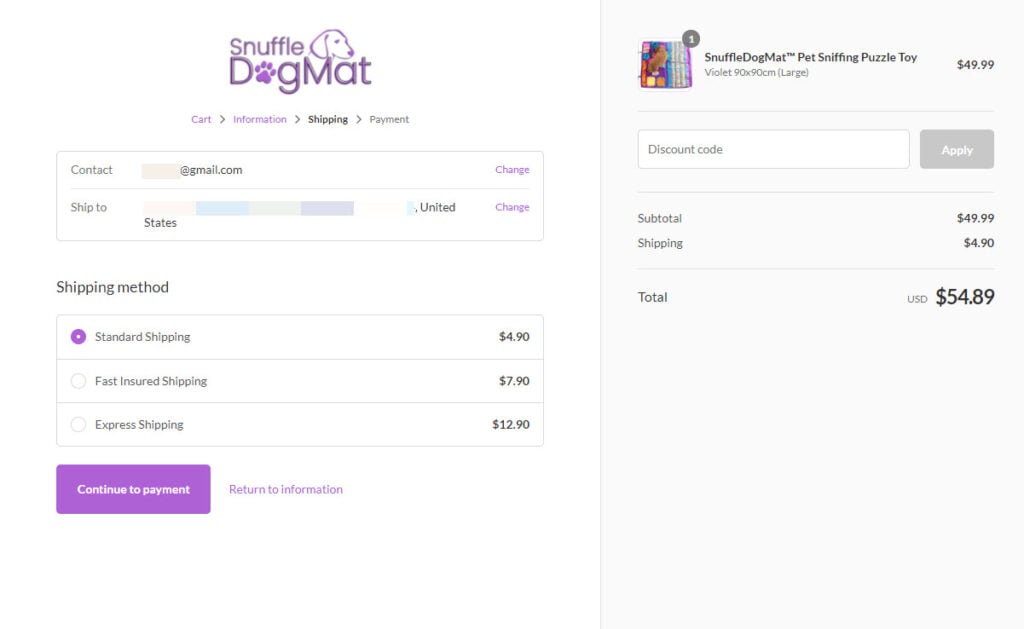 As predicted… The seller is charging shipping for a 2 cent difference and in my opinion it's a mistake but let's leave it for now as there's a bigger mistake right here.
There are 3 shipping methods right here and non of them has any info about how much time it will take for the product to arrive.
It's fine if it was only the Standard Shipping option, but the other 2 options absolutely MUST have shipping time info on them. You can write the time in brackets when creating these shipping profiles and it should be fine.
For example:
"Standard Shipping (10-14 business days)" / "Fast Insured Shipping(5-7 business days)" / "Express Shipping(1-3 business day)"
These shipping profiles will answer your customer questions and they won't need to go back to the shipping page link to check for the shipping times.
Payment page: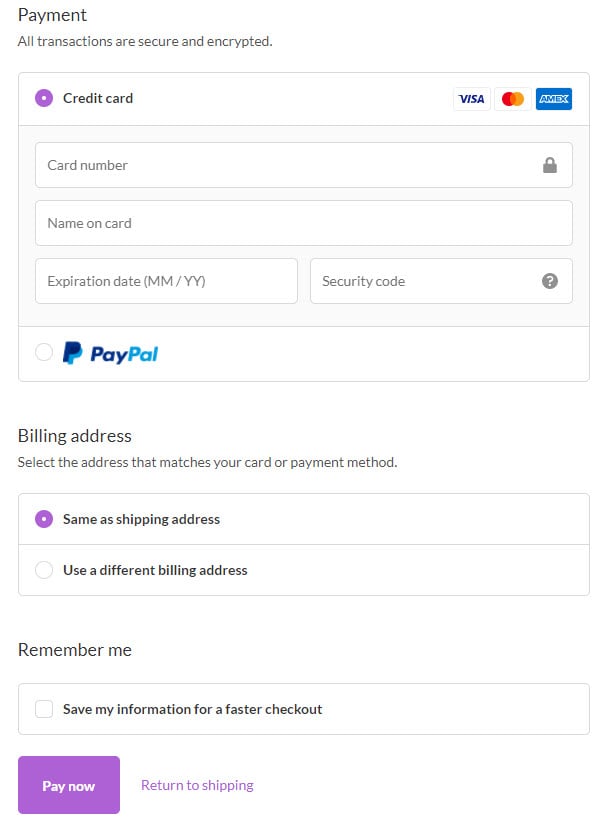 Standard payment page with both PayPal and Credit Card payments available – No mistakes here so there's nothing to fix.
Targeting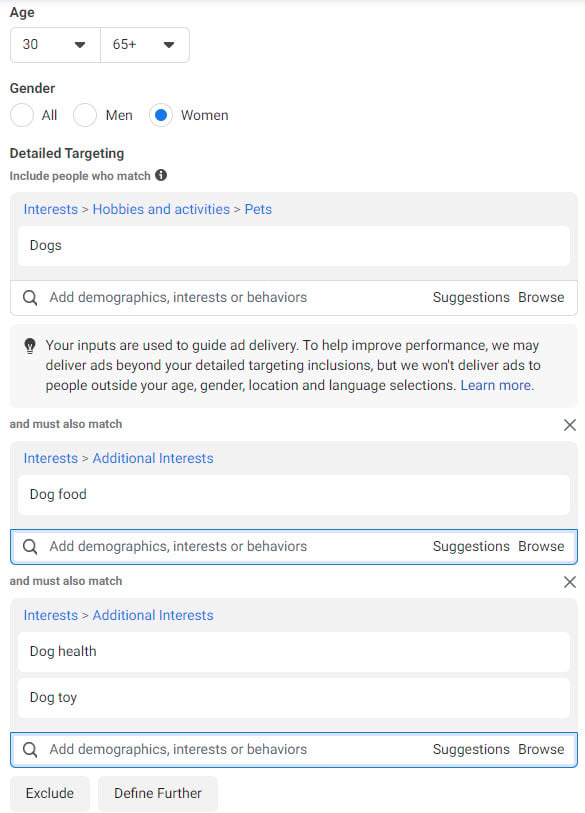 Targeting for this product is really simple and we have plenty of interests we can play with. From my experience, women are the ones that buy the most dog products so allocate a bigger portion of your budget on them.
As you can see, I used simple dog interests and layered them down. I'm looking for real dog lovers and not just people who liked a dog video because they found it funny.
The second targeting option is to target small dog breeds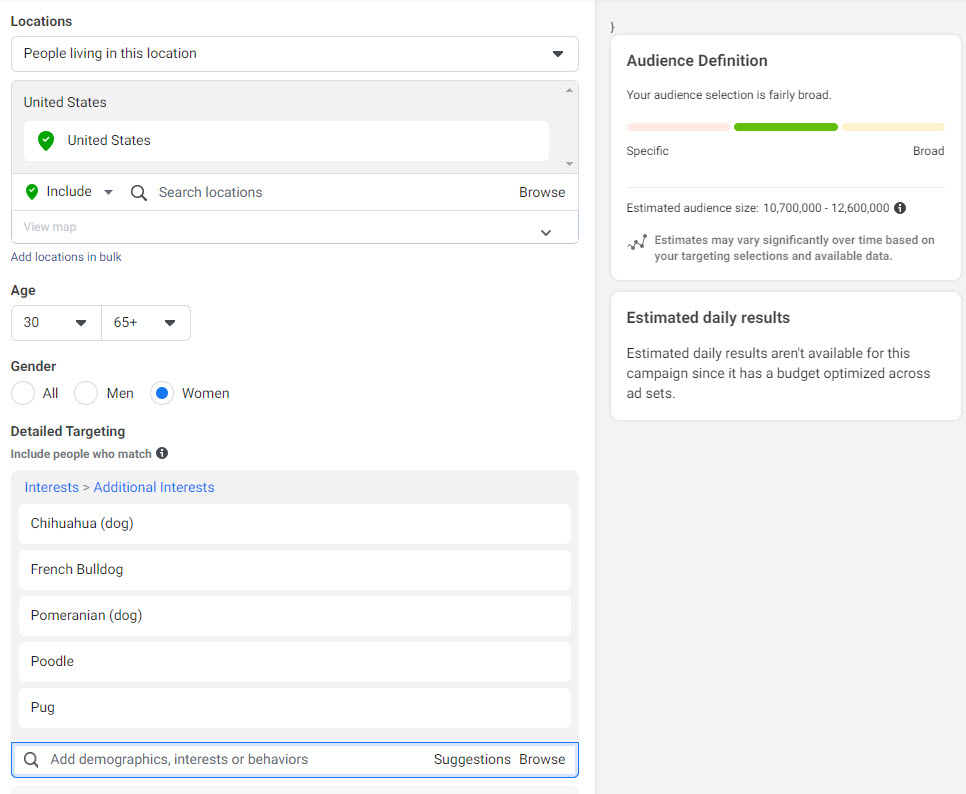 I chose to target small dog breeds because this toy isn't really suited for the big ones. Bigger dogs will tear it up in no time so there's no real need to show it to them.
You can add a few general dog interests just below all the small breed interests, but it's fine to target as I show above.
To Sum It Up
This product is definitely a winner and it looks like the original seller isn't going to stop selling it soon… Use this opportunity and launch better ads for this product to make some bank too.
Follow the tips in this article, don't make the same mistakes as this seller, and you'll have a real chance to take this product to new heights!
Good Luck!
Struggling to find good products to sell? Not sure who's your target audience? Tired of losing money on products you were sure were "winners"?
Then Ecomhunt is what you need! Find hot winning products that are added daily, spy on their ads & stores and import them into your store in 1 click and Start Selling Today!
Last chance to get our Christmas deal – Hurry up and get Ecomhunt at an amazing price that was never seen before!