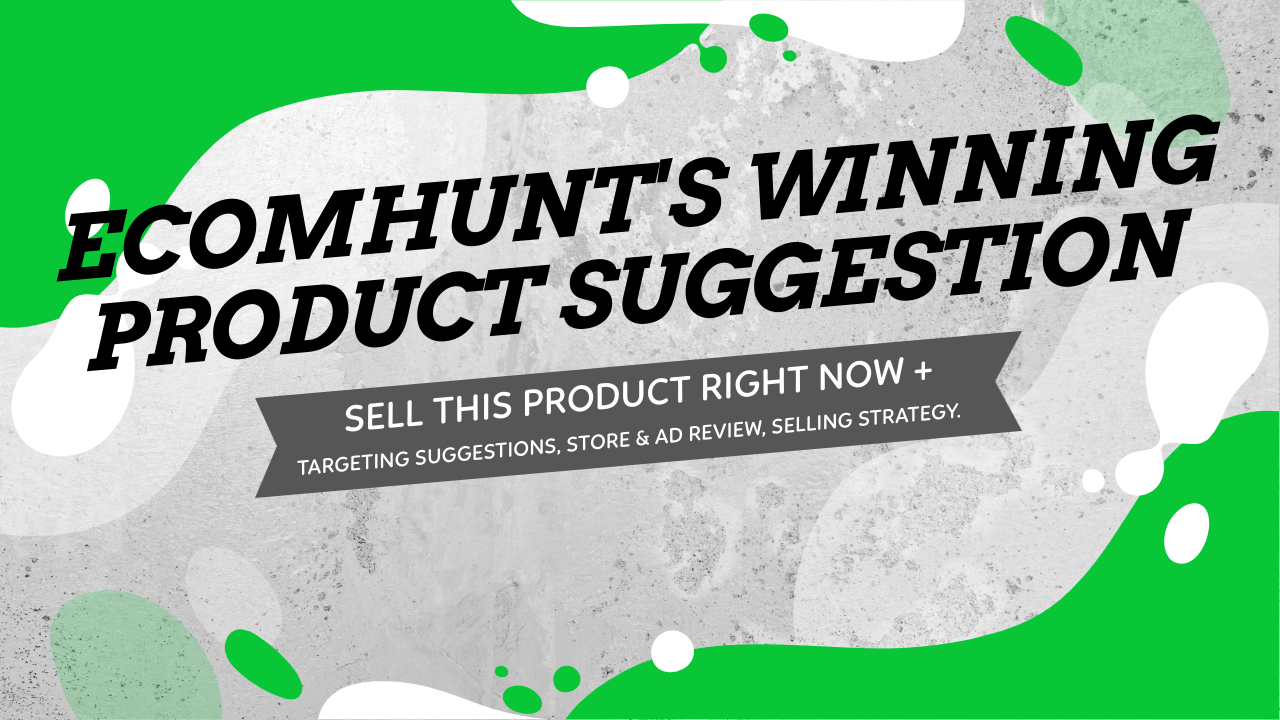 Apart from selling Christmas themed products, November is also the best time to start selling Winter themed products. These Winter products don't need any Christmas delivery guarantees and you can keep selling them long after Christmas is over.
So for this week's article, I have found an amazing product on Ecomhunt with almost unlimited selling potential and decided to share it with you. I will review everything about this product starting from the video ad to the store selling it. You will also receive a few targeting suggestions which I think will work the best for this product and a full selling strategy to get the most out of your traffic!
This article is going to be really detailed with a lot of examples which is perfect for both beginners and advanced dropshippers. Hope you like it ?

1. The Product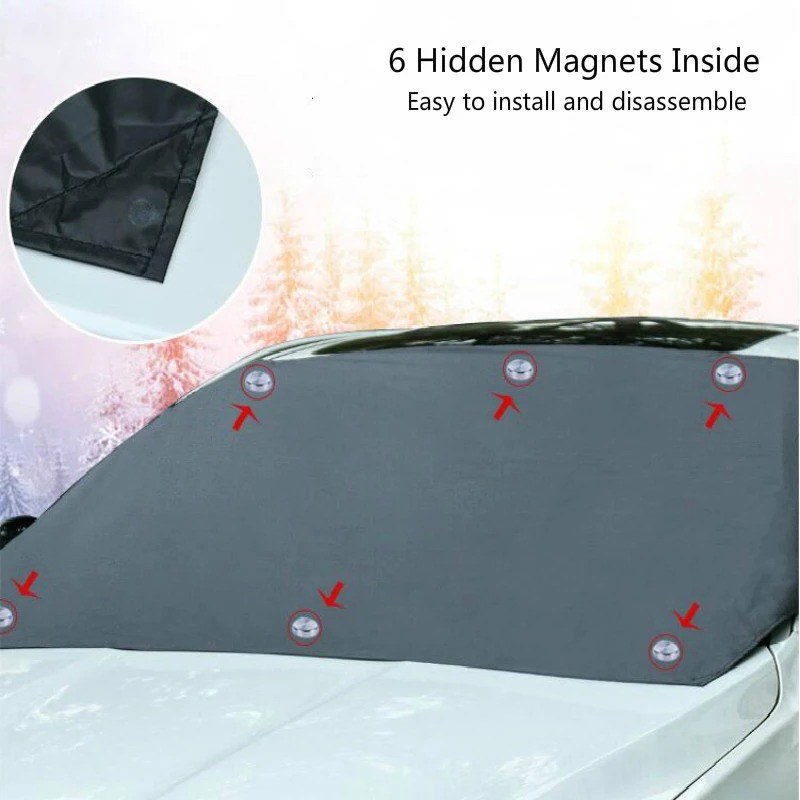 Today's winning Winter product is this awesome snow windshield cover which solves a problem a lot of car owners have each Winter. The problem is the ice and snow that gets stuck on the windshield during the night and the car owners have to remove it every morning before going to work.
Fortunately for me, I come from a pretty hot region so our Winters are mostly just rain but I know about this problem from my friends and family who live in cold countries and have to deal with it every Winter. This is a real issue for a lot of car owners worldwide and this product provides a quick and cheap solution.
What I like the most about this product:
1. It's a problem solving product – As I already said, this product solves a problem a lot of people have and this kind of products are the best to sell. It's not some cool lifestyle product, it's a must have product which saves a lot of hassle for car owners. If you ever find yourself in a dilemma thinking what product to test next, then always go for the problem solving one.
2. It's One Size – This product has a universal design to fit almost any regular car out there AND there's only one size to choose from. Your customers won't need to worry about sizes and measuring, which ensures a much faster checkout process. The less time your customer spends thinking about styles, sizes, etc, the faster he will get to the checkout page to complete his purchase.
3. It's a Winter product – There won't be any delivery guarantees to worry about and you can keep selling this product as long as it snows. This means you have at least till March or even April to sell this product.
4. It has a global need – This product can be sold anywhere where it snows and it doesn't need too much explaining to do. You can start by targeting USA and Canada which is the obvious choice and the first one probably for many dropshippers, but if you feel like targeting Germany or Sweden, then you start with them first.
Important: When targeting countries where English isn't the main language, you can choose English(All) in the targeting options to get your ad shown only to those who understand it. This way you can still run ads without the need to translating your product page and parts of your store.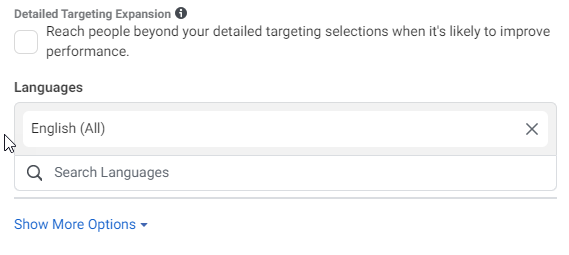 5. It's pretty cheap – It costs about $7 including shipping which gives us a pretty big profit margin to work with. I've seen windshield snow covers sell for $30 and even $40 in big numbers so selling this one for $30 won't be a problem and we'll have a $20+ profit margin to work with.
2. The Ad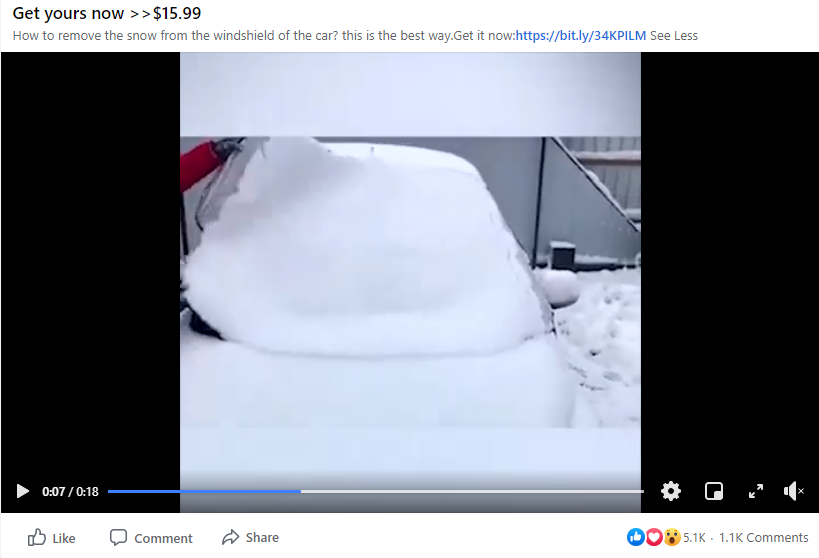 The video is not the best and it has some major flaws:
1. It isn't the same product – Some parts of this video show a totally different cover with side mirror covers and extra elastics to secure it on the vehicle. The product on Aliexpress has only magnets and no side mirror covers so showing something different isn't how it should be done.
This could've been avoided simply by asking for a video from the seller or by looking at other sellers who sell the same product and using their videos instead.
2. The beginning of the video isn't catchy enough – The ad begins with the woman installing this windshield cover instead of removing it right away and showing what this product does. Our role as dropshippers is to catch the attention of our targeted audience in order for them to click on our ad.
Make sure the first seconds of your video are catchy enough for your target audience to stop and watch the rest of your video and eventually click on your link. In this case, showing the woman removing the cover and the snow with it should work much better than showing her simply installing the cover.
3. No call-to-action at the end of the video – It shouldn't take more than 5 minutes to add a simple call-to-action text at the end of your video ad. It doesn't have to be a fancy text filled with special effects… A simple "Click Shop Now to get yours" text is better than not having anything at all.
4. Not the best description text – A simple text like "Stop wasting time on removing snow and ice from your windshield – Get our Premium snow cover today!" is much better than what they did.
If you want to start with a question, you can do something like this "Aren't you tired of removing snow from your car's windshield every morning? Then our windshield snow cover is the solution you were looking for!"
Their text is like a question from the user manual which makes the product seem boring. You need your target audience to feel excited about the product which is finally there to solve all their problems(no matter how simple it is).
5. Price in the title – I think they put it in the title because $15 is pretty cheap so they thought it will get them more clicks. There's some logic behind this move but I personally never write the price anywhere in the description or in the video ad.
Don't confuse your target audience by showing them the price and let them enjoy your video first. Once they click on your link and visit your store, that's when they'll decide if the price is right.
I give this video ad a score of 5/10 – You can easily create a MUCH better video ad showing the right product and one that does a better job catching the attention of your target audience. The cheapest video ad service on Fiverr will make a better job than they did.
3. The Store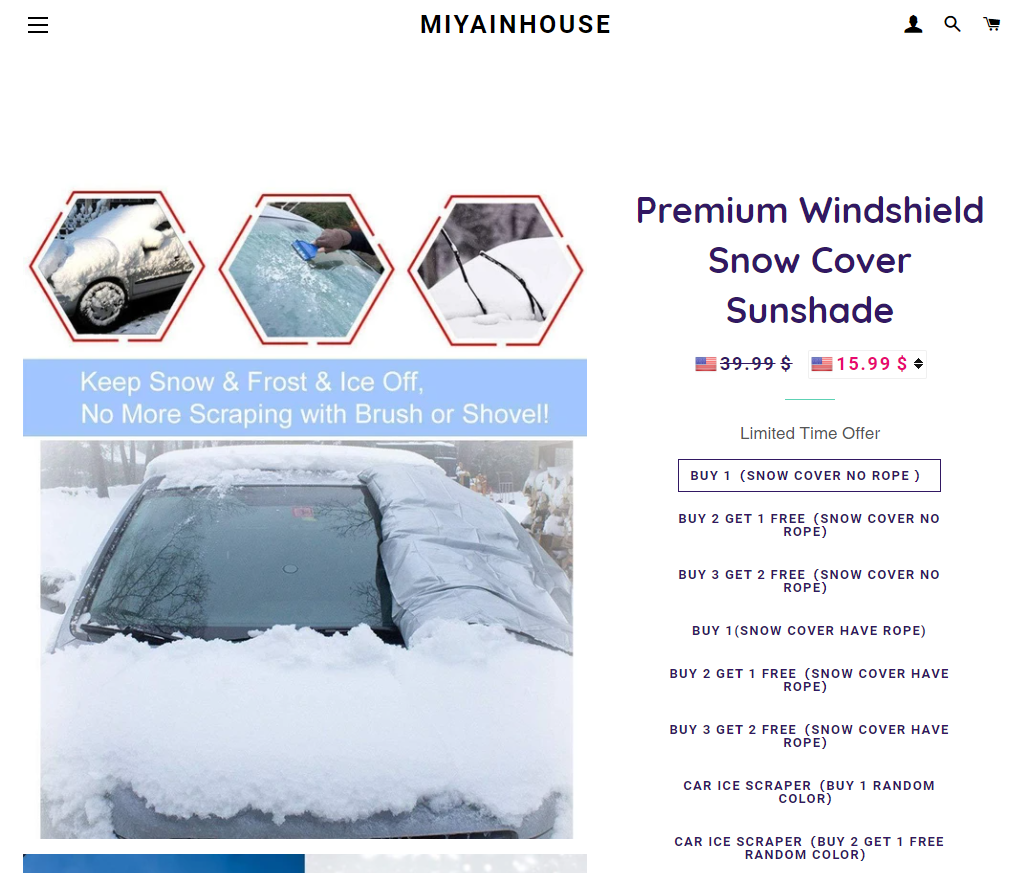 They did a much better job with the product page than with the ad so I'll start with the good stuff first:
1. The product description – The description design is perfect! It has pictures, GIFs, guarantees, shipping, and trust badges. The text on the other hand isn't the best(in some places) and some of the photos/GIFs show not the same product found on Aliexpress(same case with the video ad). But overall it's good and you can copy the same structure and use it for your own products.
2. The title – I always said to be creative with your titles and give the products you sell a cool name. In this case, it's just a snow cover so adding Premium to it is actually the best choice and some customers will perceive it as one.
The bad stuff:
1. No reviews – It's almost 2021 and dropshippers still don't import reviews… Reviews are the only social proof you can have on your store that tells people you are actually legit and the product you sell is real. A big percentage of online shoppers check reviews before deciding to purchase the product so importing them from Aliexpress is a must! Especially when it can be done with a few clicks.
2. The price – $15.99 for this product is too low and it will leave you with no profit margin after the ad costs and all the other commissions. They probably hope the low price combined with the bundles will make them order more than one piece. Everything about this is wrong, even the bundles and I'll explain why when we get to the Selling Strategy.
3. The bundles – Their bundles are a scam! One cover is $16 so 2 covers should sell for $32, but when I click on the Buy 2 Get 1 FREE the price is suddenly $40.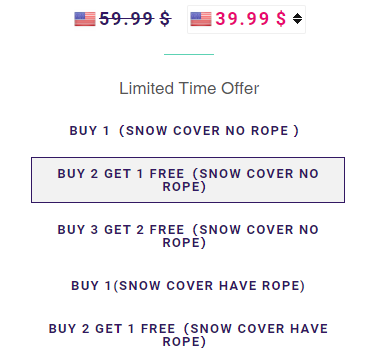 This isn't how it supposed to work and all it will get you are angry customers which will leave your store once they do the math.
4. The extra products – The first mistake is to offer snow covers with rope instead of sticking to the one with magnets only. It's just going to confuse the customers because they now don't know which one is better and they'll have to check the photos to see how the one with the ropes looks like.
The second mistake is to offer ice scrapers which is a totally different product AND goes against the whole purpose of this snow cover. Why would you need an ice scraper when the snow cover protects your windshield from ice?
On top of that, this isn't even an upsell but an actual variant… Here's a meme for every customer checking out their store: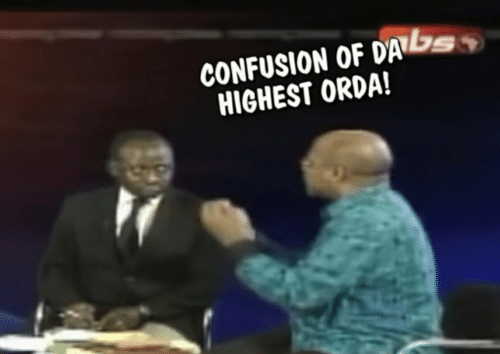 If you stumble upon a product with many styles, colors, whatever, then think if it's worth for you to offer them all. Too many options to choose from can be overwhelming to a customer who simply wants to order your product and get on with his life.
In this case, there's absolutely no need to offer the second snow cover which comes with ropes so all the seller had to do is to offer one snow cover and that's it.
5. Keeping the You May Also Like section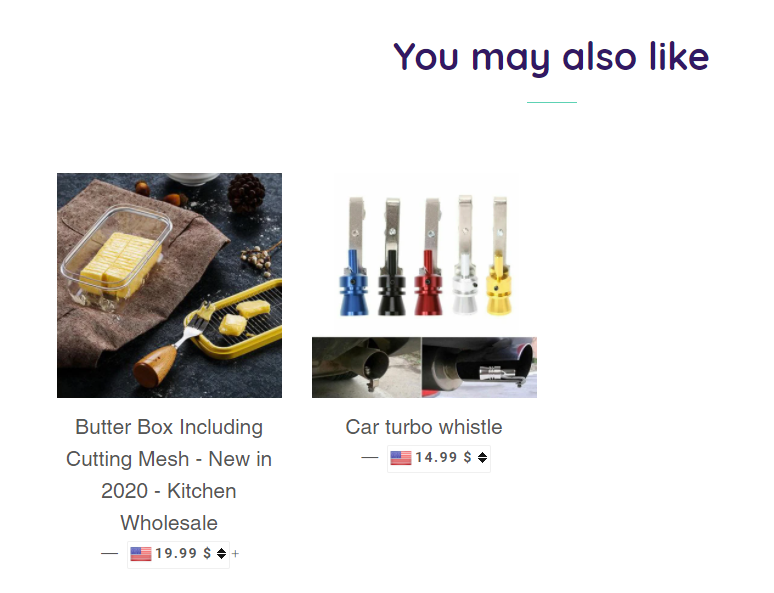 We should first focus on making a quick sale of whatever we advertise on Facebook. This "you may also like" section is just going to make our customers stay more on our store without taking the action we aimed for which is clicking on the Add to Cart button.
It's like 1 in a 10,000 customers who's going to visit the snow cover product page will actually pick one of these unrelated products and proceed to checkout. Focus on getting a sale as fast as possible and later you can use email marketing or general retargeting ads and offer other products to already existing customers.
6. The logo – It's just simple text with nothing more. When I see stores that run traffic with logos such as these, I really don't understand why they couldn't pay someone $20 to design something cute and get done with it. I am a great believer in saving on Shopify store designs like getting free banners and not paying for them. But when it comes to a logo design, I always make sure to have something nice for every store I run.
I wish I could check their actual performance and the conversion rate, but even without that I know they lost TONS of sales because of these mistakes.
I give the product page a score of 5/10.
If you want to learn more about creating the perfect optimized Shopify store, running ads, and everything else, then make sure to check out our newest masterclass course here.
Get access to

70 video lessons

which will take you from a beginner to a complete pro! (with some crazy bonuses you can't afford to miss)
4. The Checkout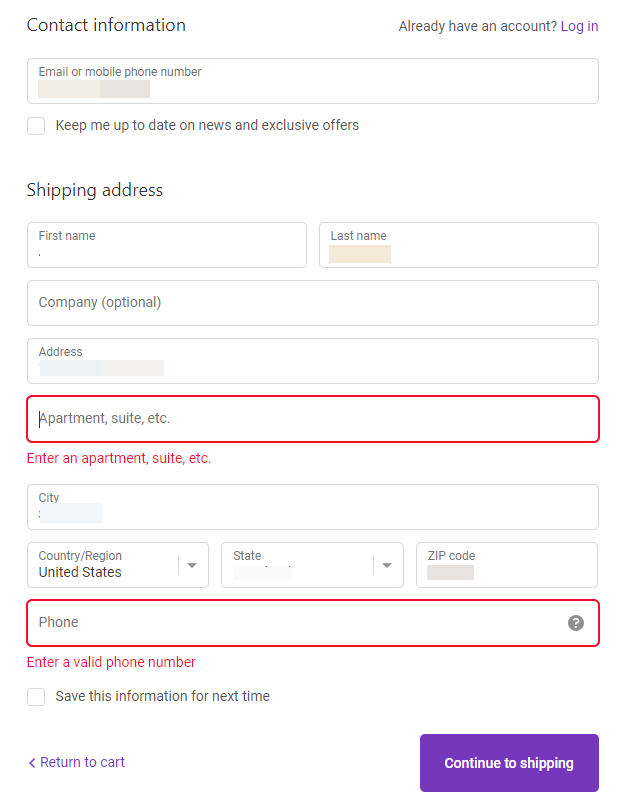 One of the most common mistakes is to keep the phone field mandatory – I explained it a thousand times already but some people hate giving their phone number and it's basically the only private thing they have. Even if the phone number is going to be used only by USPS, they still prefer keeping it private to avoid spam calls.
So if you don't have any special use for the phone numbers you collect, then just make this field optional to not lose any sales. But for some strange reason, this shop is also asking for the 2nd address like apartment number or suite which many don't even have in the US(and other countries).
I can't think of a reason to make this field mandatory as well and if I said earlier that they're losing tons of sales due to a bad product page, then here it's even worse.
This is a great example of how to take a fine product and f*ck it up completely.
5. Selling Strategy
First of all, start by increasing the selling price and go for a minimum of $24.99 or $29.99 + Free Shipping. I think this snow cover can easily sell for $29.99 + Free Shipping as I saw plenty of other covers sell for the same price. This is a problem solving product, it's one size, and if you have a great ad + product page, people will pay the price.
Forget about all other styles and just offer the winter snow cover that costs $7 including shipping on Aliexpress. Keep it simple and offer only the snow cover with no other products as upsells or bundles.
The best option to increase your AOV(Average Order Value) is to offer quantity discounts. Start by offering at least 15% OFF or even %20 OFF for the 2nd cover as there are enough households that have two cars. Your best chance is to get enough people to buy 2 covers so you should start with a good discount!
Don't be cheap and offer 5% or 10% discount for 2 covers. This isn't tempting, especially when BFCM is here and all online stores out there offer crazy discounts.
Ride on the Christmas wave and make you discounts look like part of your Christmas sale, or BFCM sale. I suggest giving your store a festive look by downloading a Shopify app that puts some snow and other effects to your store. It should be a good combination to give it a more "Wintery" vibe which can help you make a few extra sales.
Think about what country to target first – USA is the default choice of many dropshippers so maybe skip it and go for Canada for less competition. If you speak German or French, then use this to your advantage by creating an ad and a product page in your language. We have dropshippers who sell to only one European country all the time and they're making really nice profits!
6. Targeting
The first option is to simply target both genders and use car related interests: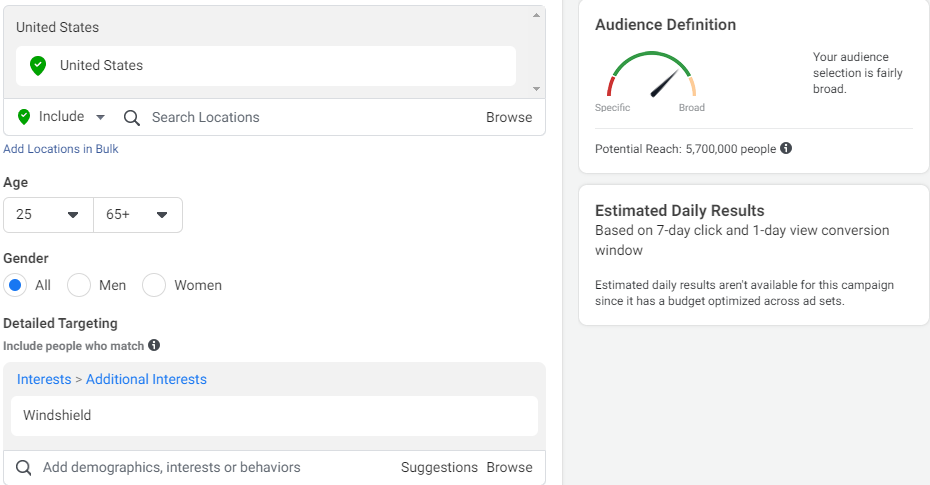 If you're running a CBO campaign with multiple adsets, you can give each adset a diffrent interest by clicking on suggestions. It can be seat belt, headlamp, tire, etc, whatever you like and hope Facebook will show it to people who really need this snow cover.
If it were me, I would at first target only men as I think men worry about this more than women: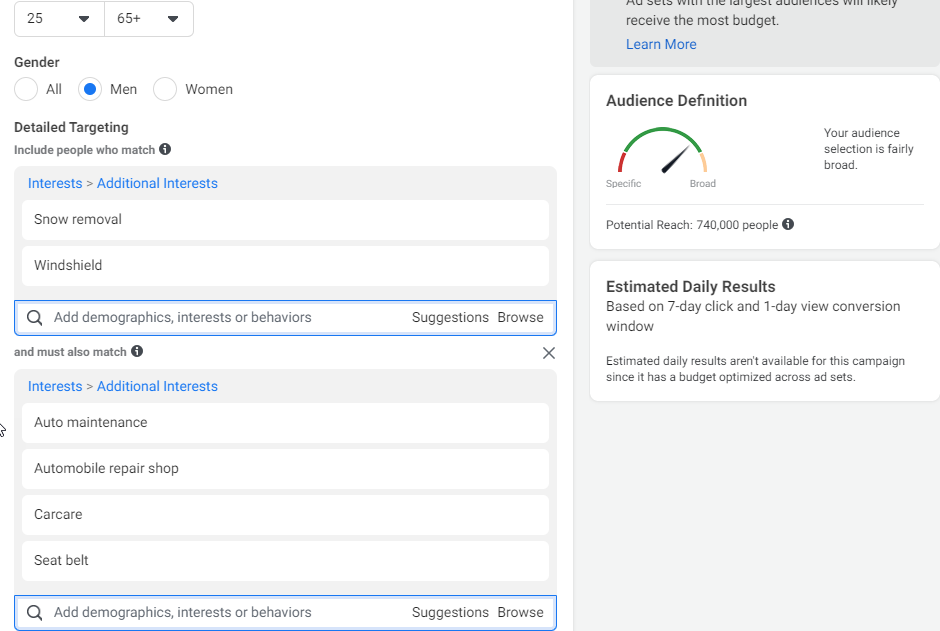 You can either go with the same method as above by using only one interest per adset or you can go for a combination like this one to find men with a bit more passion for their cars. Plenty of ways to target car owners but I think the best one is just using car related interests.
I think car brand interests are a bit more general and a big chunk of that audience might be without a car – You might like Mercedes or BMW brands but it doesn't mean you have a car. While if you're in the seat belt audience, then the chances are much higher that you actually own a car.
Another option to maximize your chances is by targeting states with a lot of snow. Instead of targeting just USA, find a list(google it) of the coldest states in the USA and target them only. You'll have a better chance to reach the relevant audience faster than other dropshippers that target USA only.
To Sum It Up:
A great example of a great product, with a huge potential, ruined only because of bad video ad and store. Fortunately for you, I reviewed everything I could and pointed you to the right direction so you can take this product right now and get sales going.
Act fast and sell this product before other more experienced dropshippers milk it dry!
If you have any questions, feel free to ask me in the comments.
Good luck.
Struggling to find good products to sell? Not sure who's your target audience? Tired of losing money on products you were sure were "winners"?
Then Ecomhunt is what you need! Find hot winning products that are added daily, spy on their ads & stores and import them into your store in 1 click and Start Selling Today!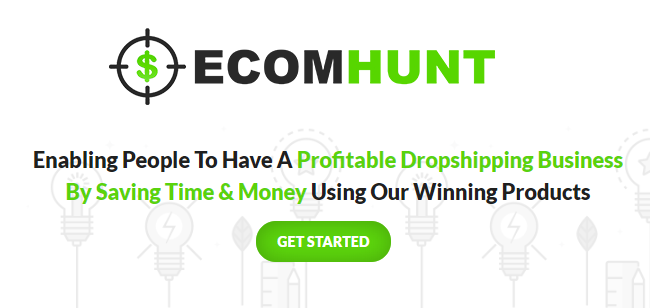 Must Read Articles: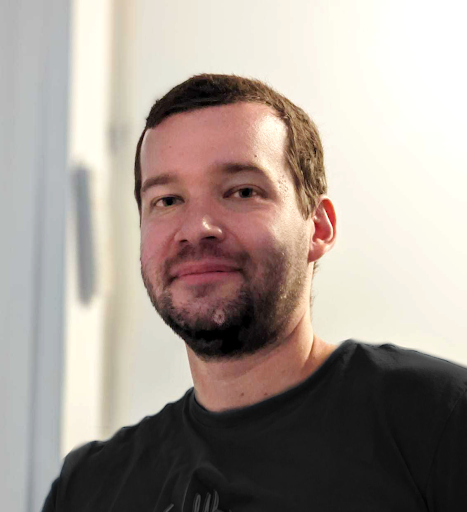 Daniel Aloni is one of the leading mentors in the Ecomhunt family. Daniel is a highly experienced Print On Demand seller with multiple 6 figures successful launches.